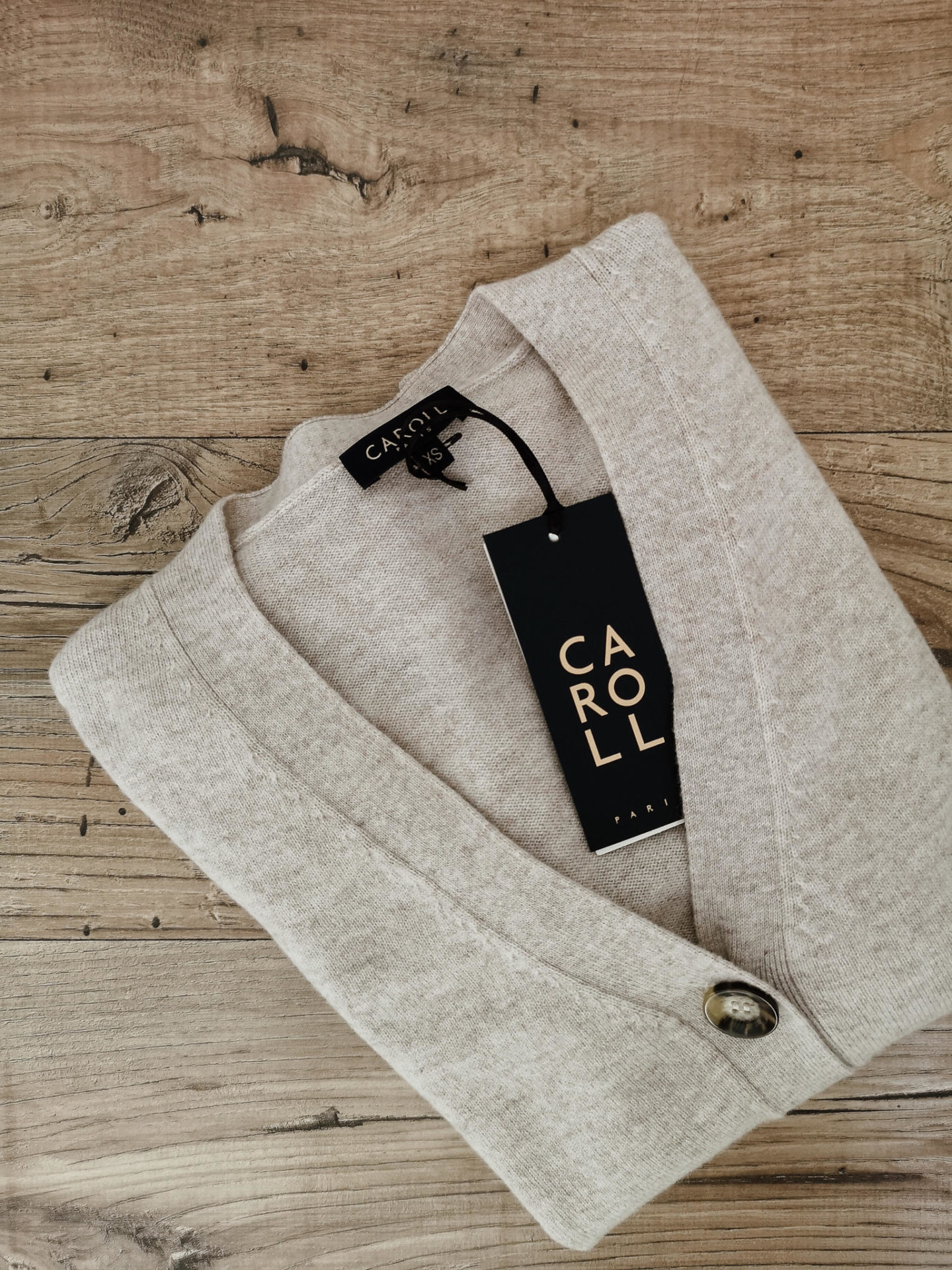 Beige, Beige, Beige. I don't think I have to tell you that it's all about beige this winter. Even in early spring, beige and other nude tones are still going strong. With my pale skin and blue eyes, beige is typically not a good match for me. Hello washed out face! BUT! With beige being such a big trend and an easy one to incorporate into my wardrobe, I made it my mission to find one piece of clothing that would work for me.
I walked into the Caroll Paris store in Antwerp looking for a certain skirt and walked out with the cashmere blend cardigan from the first photo. My beige match made in heaven! The oatmeal color is still beige enough to count, it is loose, super soft, surprisingly warm AND the large tortoise buttons tick another trend. Also, it was on sale for -60%.
Cardigans like these always become a staple in m wardrobe. Knowing that, it doesn't surprise me that I've worn it at least once a week since I bought it in January. I didn't always take a photo, but I did a handful of times… .
Here are 6 ways I've styled my beige cardigan this winter!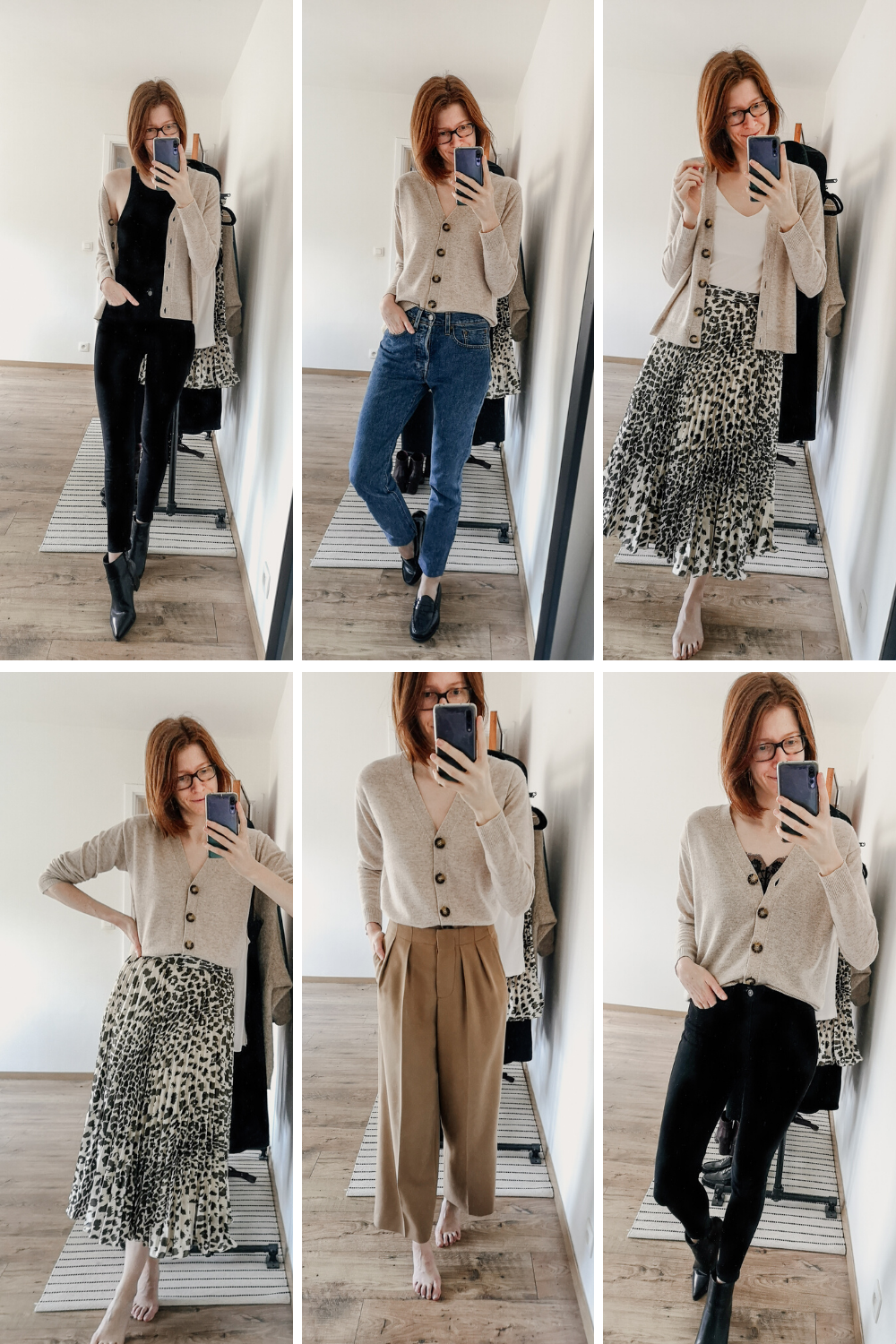 Outfit 1: Skinny jeans + Racerback tank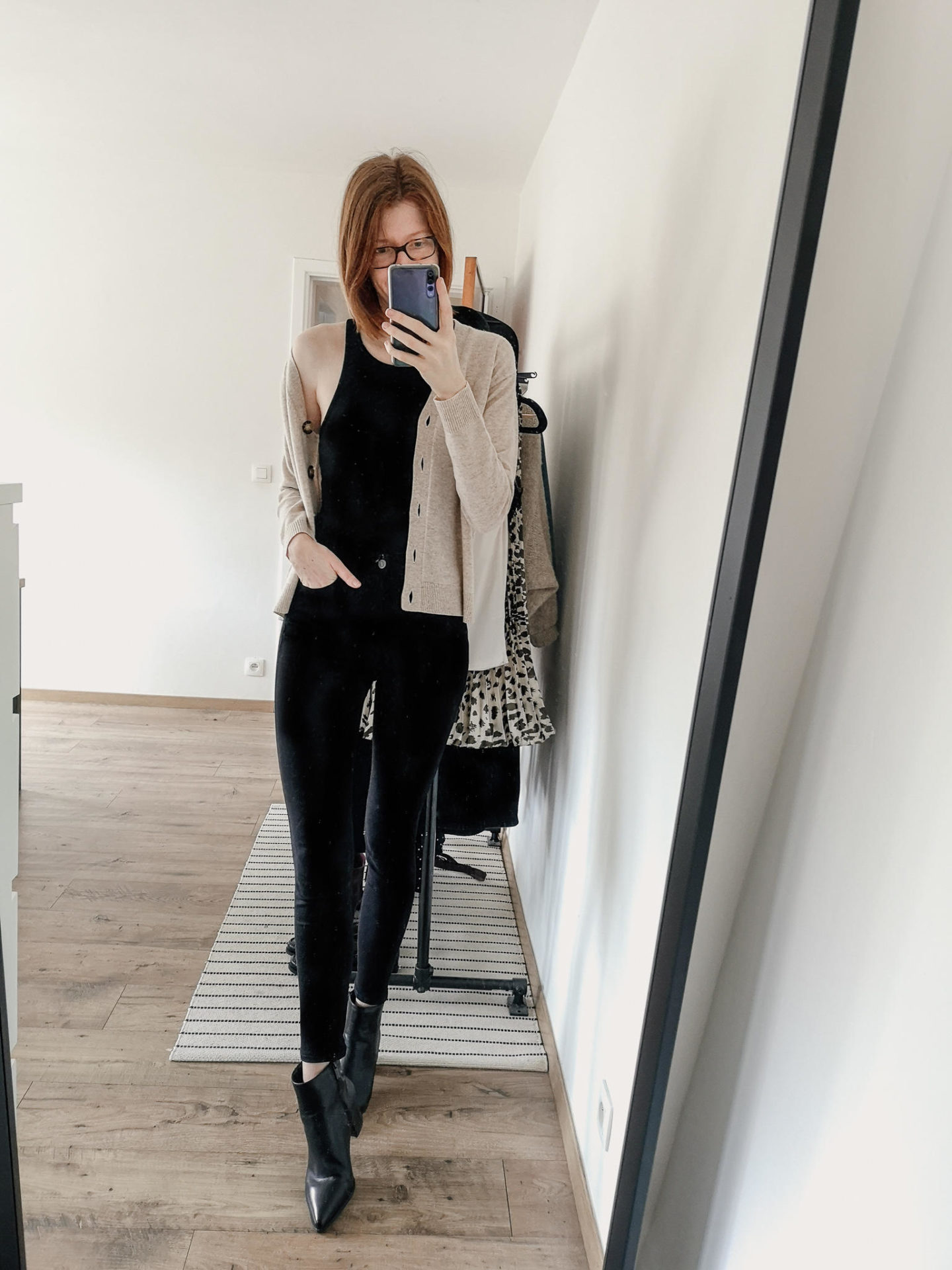 Weekday racerback tank top|Topshop Jamie Jeans | Bristol heeled booties
This all black look was a favorite of mine in January. Before I had my oatmeal cardi, I paired it with my chunky grey one from River Island. The problem with that one is that it is so chunky, it doesn't fit under my winter coat, haha.
My skinny jeans and racerback tank top are skintight, so I love that the loose cardigan takes the 'sexiness' out of the outfit. I would feel a little too 'out there' in this outfit without a jacket or cardigan on top.
outfit worn for: drinks with a friend
Outfit 2: Mom jeans + Chunky loafers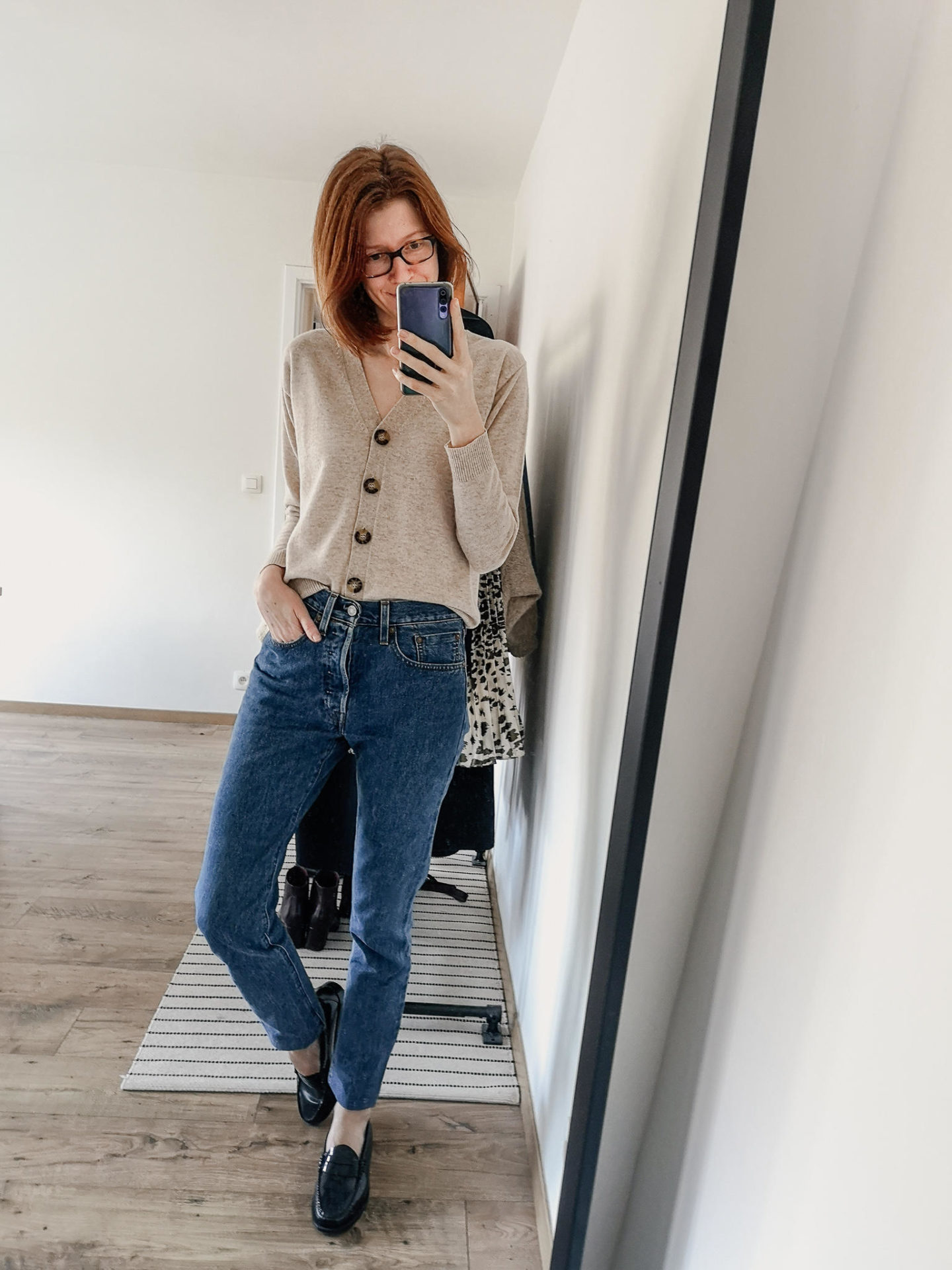 Levi's 501 jeans | Bass Weejuns Loafers in patent leather
The button up cardigan made a real comeback this winter. After being put in a corner and labelled 'old-fashioned' for years, it finally got its chance to shine again. Not that I ever really stopped wearing mine, haha. I'm a firm believer that no wardrobe is complete without a set of cardigans in basic colors. They are an utterly useful piece of clothing to have!
I love the look of my beige cardigan with these loose-fitting mom jeans. I tucked them it at the front to make this simple pairing a little more interesting. To make the look more 'me' I added my GH Bass loafers, but sneakers would work great with this too.
Outfit worn for: daytime coffee date in the city with a friend
Outfit 3: Tank top and leopard print midi skirt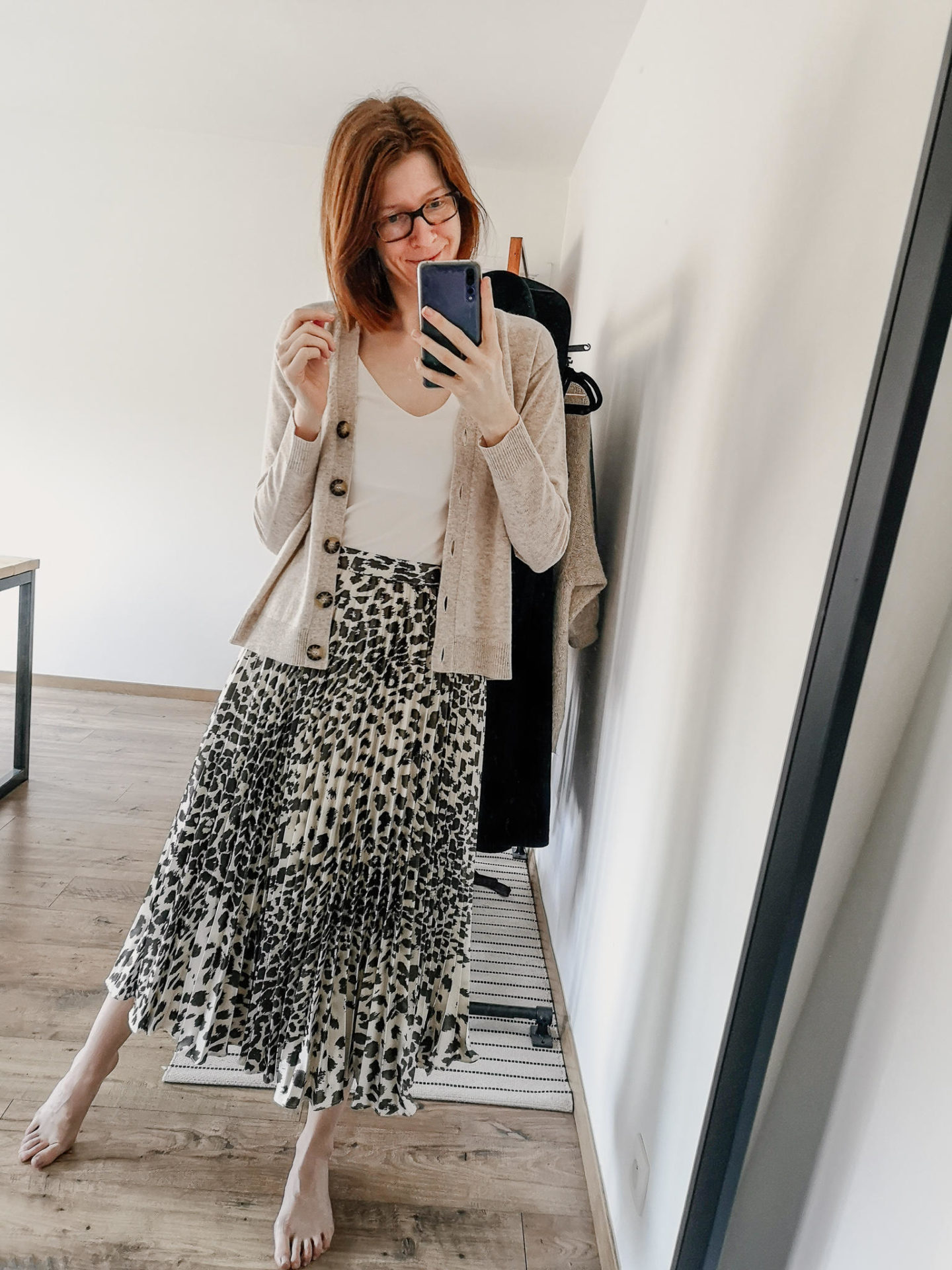 H&M Camisole | H&M Leopard Print Midi Skirt
I just noticed that I'm not wearing shoes anymore with the next few outfits. My bad! My wardrobe is on the 2nd floor of our house and my shoe closet is on the ground level, so… yeah. I usually get dressed, snap a picture and only put on my shoes moments before running out the door, haha. There's that.
My leopard skirt was a questionable buy from H&M this fall. I showed it to you on Instagram and half of you loved it, but the other half really dissed it. I thought about returning it, but in the end decided to keep it (obvs) and have worn it more than I thought I would. You might see it around the old blog a few more times this season!
I paired this look with tights and my black OTK boots for a classic look.
Outfit worn for: family visit on the weekend
Outfit 4: Leopard is a neutral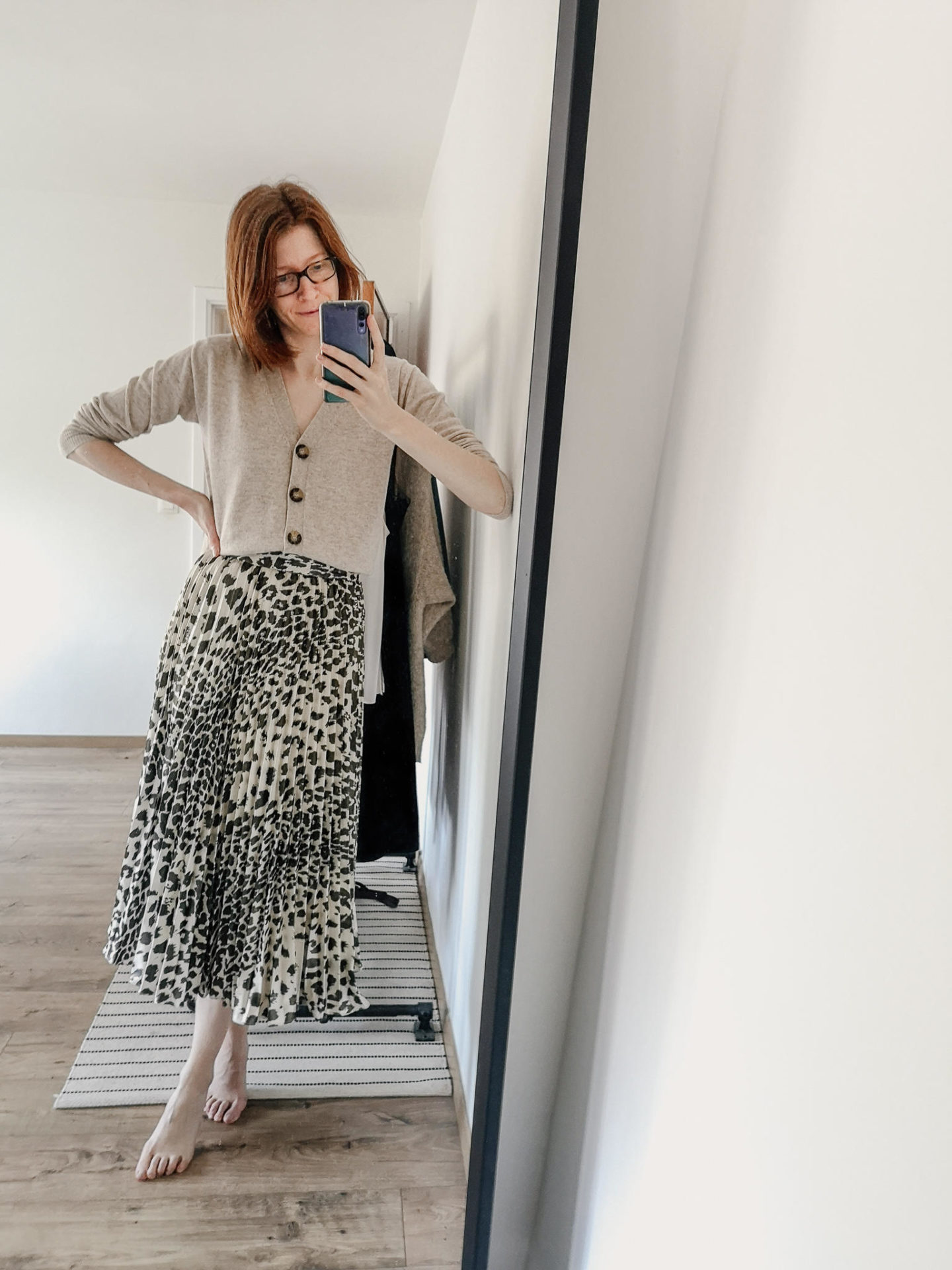 H&M Leopard Print Midi Skirt
Same as the outfit with the mom jeans, but with a skirt. I love that these large tortoise buttons make this cardigan an interesting piece on its own rather than just a handy extra layer to throw on.
I feel like this outfit would be great for work when you don't need to be super professional or work in an office with a strictly formal clothing policy.
Paired this with tights and my OTK boots again.
Outfit worn for: a visit to the market & lounging at home
Outfit 5: Wide leg fluid wool trousers + sneaker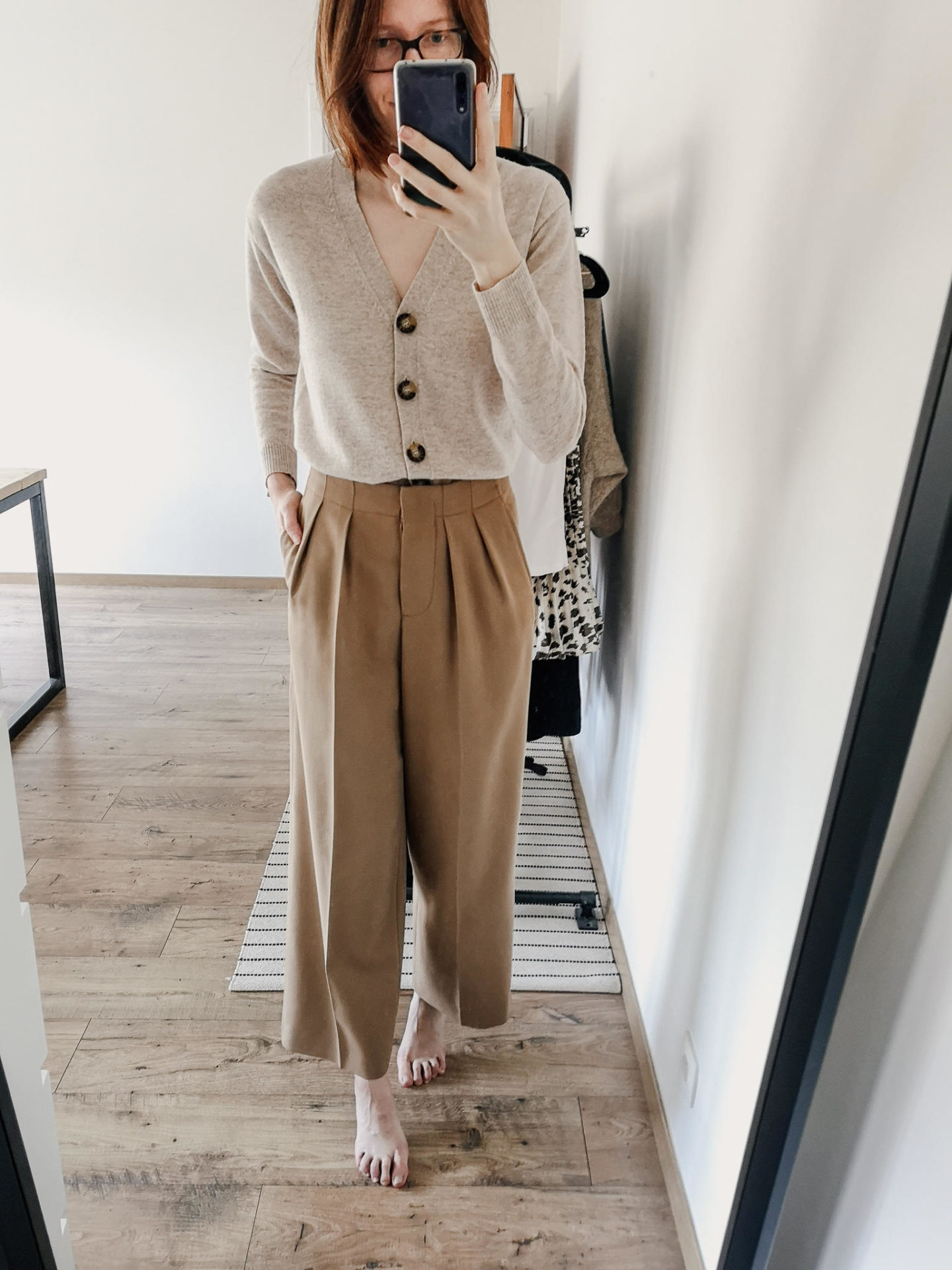 Arket Fluid Wool Trousers | Converse All Stars
Buttoned cardigans are basically sweaters with more options. Here I've styled it once again like a sweater, but with my fluid wool trousers (another wardrobe staple!). I added my high-top black converse All Stars. We actually made a series of outfit photos of this look the past weekend, so you get to see it with shoes on soon as well, haha.
Outfit worn for: dinner at my parents house
Outfit 6: Date night appropriate with lace cami + heeled booties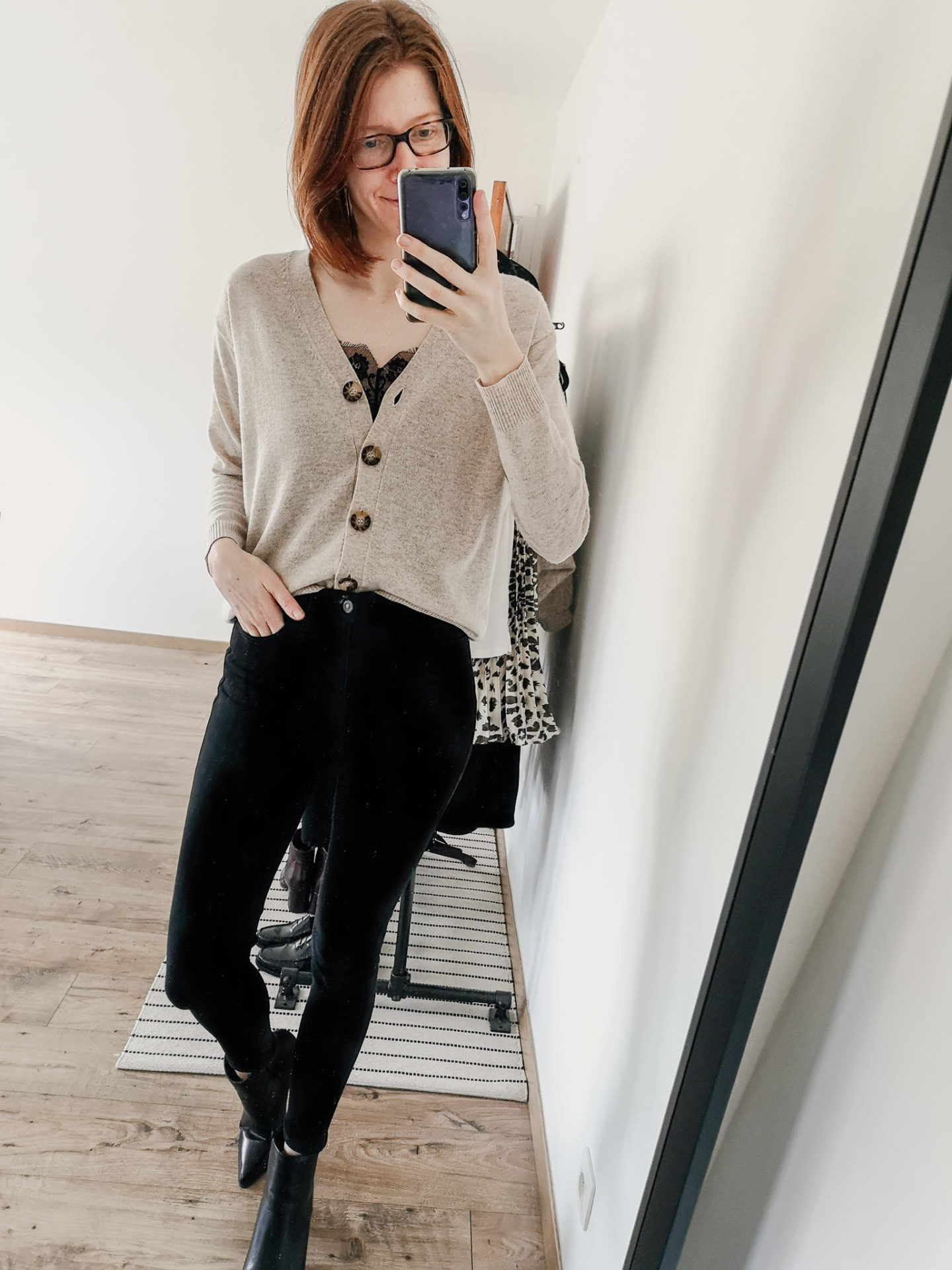 Samsoe&Samsoe lace trim Camisole | Topshop Jamie Jeans | Bristol Heeled booties
This was actually my valentines date night look this year. I had my red and pink phase somewhere in 2013 and would like to believe that I have moved on from that style phase. The lace trim camisole is one of the more 'sexy' pieces that I have in my wardrobe today. Not that I considered it to be sexy until a client pointed out how it reminded her of a negligé. Erm… .
Outfit worn for: Valentine's day dinner at vegan resto Camion in Antwerp