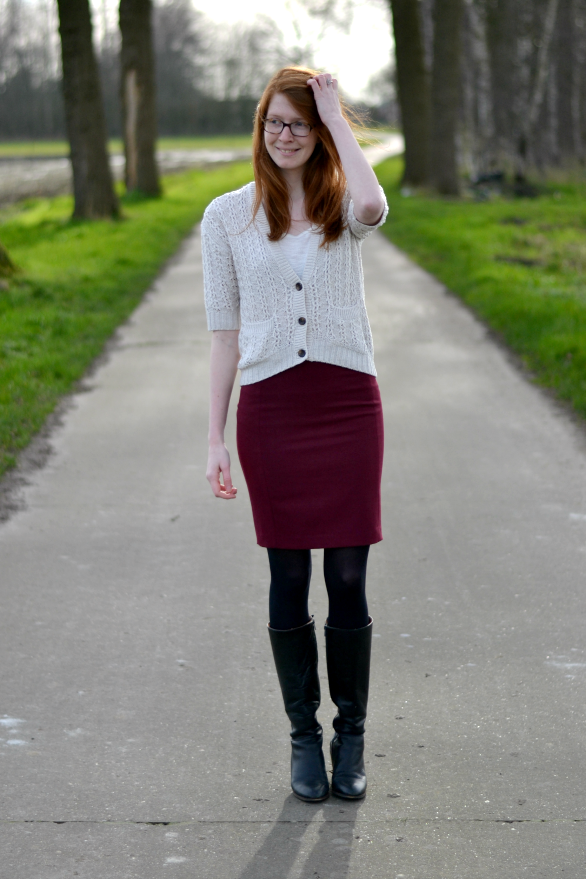 cardigan: H&M • skirt: H&M • t-shirt: Only • tights: Veritas • boots: Footwork • glasses: Kinto
Short sleeves. Yes. Here in Belgium, we're dreaming about Spring out loud. It's been nice and warm outside the past few days, and today I even went to class without my winter coat, wearing cropped jeans and open shoes. Pure bliss.
The mild temperatures allowed me to choose this 3/4-sleeved cardigan for my third shopping-my-closet outfit this weekend. I bought the cardigan several years ago, with a gift card that was nearing its expiration date. I always cling onto my gift cards until the very last moment and eventually spend them on something random. Same story with this cardigan. I took it home, folded it nicely and put it in my closet for almost a year. The next year I went through a phase where I wore it at least once every week. Over my marigold dress, my purple floral one, with skirts and jeans: the possibilities seemed endless. It made it onto the blog multiple times too! Maybe it was exactly the fact that I wore it so much, that eventually made me forget about it. It bored me, and felt like I had worn it in every way I could pair it.
When I started these series I promised I'd pair every wardrobe misfit, with a wardrobe favorite. That this maroon pencil skirt is a favorite of mine is no secret. And I have the proof! Seeing the collage below makes me even more sure I need Lightroom back. Desperately.