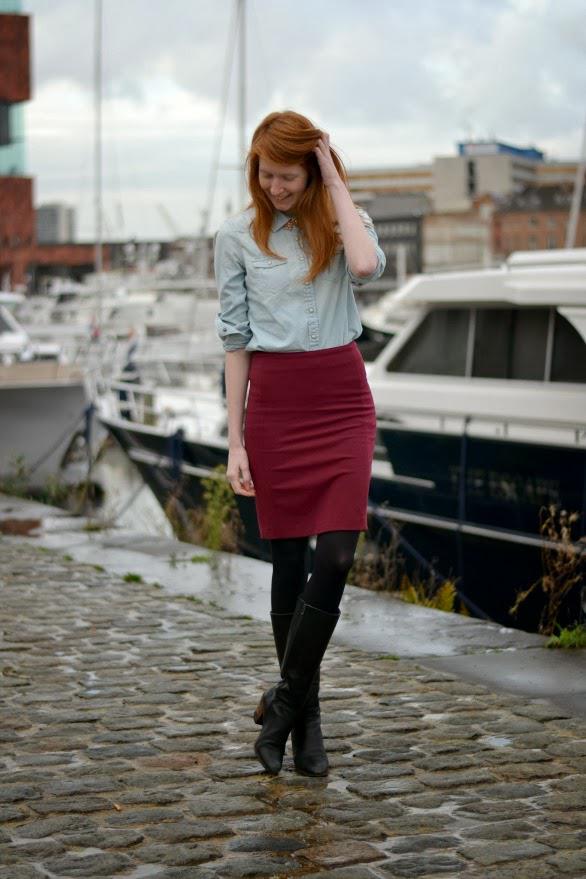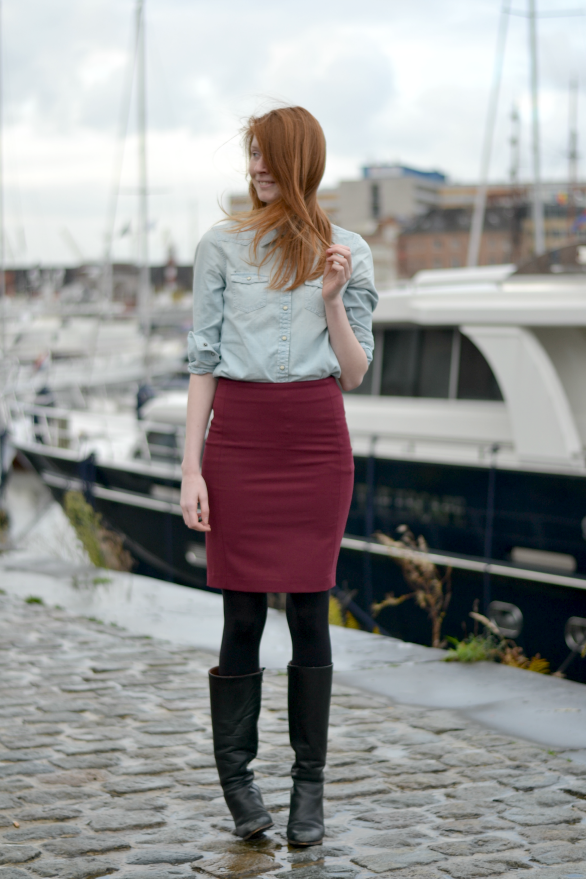 Denim shirt: American Eagle • Pencil skirt: H&M • Boots: Men at work • Necklace: Forever 21 • Tights: Veritas
While going through this set of pictures in my photo folder, I quickly realized that these photos might not make it to the blog after all. The harbor is not the best place to go for outfit pictures in the fall, I learned. Wind + long hair = a messy business. Add rain and you get a recipe for outfit-photo-disaster. I am hopelessly trying to tuck my hair away in 99% of the pictures we took that day and let just that be one of the rules of outfit photography: leave your hands out of your hair. I'm also toe-gazing. And avoiding the camera. Someone better call the fashion police.
On a brighter note: my J.Crew package arrived and I am
super
excited about the
white lace top
that I bought for myself! If all goes well, it should be on the blog soon. It was a splurge, buying this item, but it'll be perfect for the Holidays. I plan on wearing it with my
faux-leather shorts
and a sparkly necklace for NYE and it also pairs really well with the pencil skirt in todays outfit. Speaking of the Holidays, I am completely in the dark about what to gift to the boyfriend. I just prepared my handbag so I can head to the shopping street and collect some inspiration after I finish my post. I really should list everything he mentions throughout the year. It would make gift shopping so much easier! I wanted to shop for gifts early this year, so that I could avoid the big crowds in December, but it looks like I'll have to defy them after all. I do not have a single spark of inspiration, and when I ask the boy himself, all he says he wants is me with a ribbon in my hair. If that were true, than maybe I should have ordered that
plaid shirt
I wanted from J.Crew too.