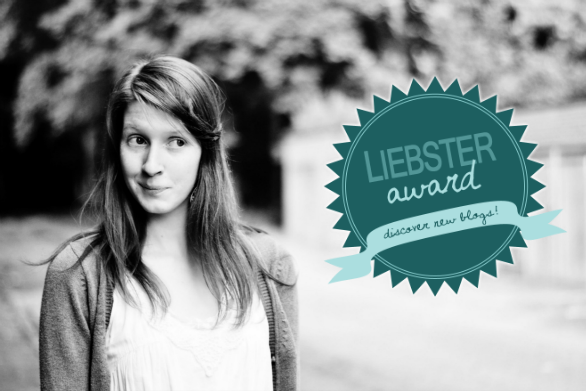 I've met a fair share of fellow ginger-haired bloggers
since my first days on the blogging block. But other Nikkis? Not so much! When
Nikki from
Dream In Neon
happened upon my space here on the web,
she promptly nominated me for the Liebster award, because us Nikkis
have to stick together. She asked me 10 questions, that I very willingly
will answer below.
Which blogger do you
admire the most?
It's always hard to pick
just one, but I've loved
Chronicles Of A Country
Girl
since my early days as a
blogger on Blogger. Those who are familiar with the URL of my blog, will see a
connection immediately. Kates blog sparked my interest in photography after a
few years of being out of it, and somewhere 5 years ago she answered a few of
my questions that led me to choose Nikon for my photography hobby. I still
often browse through her photographs, and even sat outside in my parents garden
last weekend to snap the birds as they flew up and around my dads DIYed
bird-feeder.
What is your favorite
place you've ever visited?
I have been through Europe, and am still
discovering new places every year, but I don't believe I'll ever go somewhere
more exciting than London. That city blew me off my socks. Behind every corner
lies a new photo op, there's plenty of restaurants to enjoy and attractions to
visit. And the shopping isn't bad either. With Gap, Anthropologie,
Banana Republic, And Other Stories and even a J.Crew Regent Street is the place
to be.
Who's the most inspiring
person you follow on instagram?
This summer I stumbled
upon
Paris in Four
Months
, a Parisian photo blog written
by Karin Olson. To simply say that I
love
her
photography, is an understatement. Karin really knows her way around her
city and her camera, be it a DSLR or an iPhone. The photos she shares on
her blog are gorgeous and always have the perfect subjects. Her
Instagram
account is equally magical. I'm going
to Paris again in April, so I keep a close eye on her account these days!
What is your craziest
memory with your best friend?
This is a funny question, as I was sitting with my friend K earlier today
and we were talking about how goody two-shoes we were. We once did
something my mom would lock me up for, and it was 7 years ago. Don't expect too
much of a cool story, it's actually even romantic. We were 15, and one of our
friends had met a boy online that she really wanted to meet. She didn't dare go
alone, so K and I went with her on her "first date". I don't
think any of our parents knew, and back in the day meeting with online friends
was considered very dangerous (might not be the best word, but
anyhow). We were smart enough to pick a public place, the ice rink, and we had
smuggled our phones onto the ice just in case we needed to call someone if
something would go wrong. We basically avoided the boys (he had brought friends
too, apparently), I fell on the ice a
million times and one of his friends laughed at me so much I hated his friend
for three years after that and we went home without saying goodbye. My
girlfriend and the ice rink boy eventually dated for little over three years.
And I? I'm still dating that friend who laughed at me as I face-planted into
the ice more than once. That day on the ice rink has led to so much I could talk about it in a
million blog posts. I like to believe it's the single most crazy thing we did,
just for the amazing consequences it had.
Who is your favorite
musical artist?
I used to be a fan of The
Lostprophets. Those of you who have been or are fans too might have also heard
the news about the lead singer being arrested and
later convicted for child abuse. The band split in late 2013. I can't listen to
it anymore. I now mostly enjoy top-40 hits
kind of music and most recently have had Dark Horse stuck in my
head.
If you could eat any
food, all day/everyday, what would it be?
Pancakes, and I'm having them for dinner tonight. I love food that I can
top-off the way I want to. My love for frozen yogurt is other proof
of that fact.
What are your top 5
favorite stores to shop at?
Number one is definitely J.Crew. I can basically see my blog-friend
Naomi's
face as I write this, haha. I like
J.Crew because they often have fresh styles, that fit me well and that come in
exactly the right colors. Their poppy red is my favorite shade of red! Others
stores I frequent are Gap, Madewell and Essentiel. Fifth, I have to say Esprit.
To my own surprise I've grown very fond of their collections the past year.
Since the brand had a face-lift, I like to think of them as the European
J.Crew. Be it a little less colorful, they are each others equal on
many other fronts.
Who is your celebrity
fashion icon?
I'm not sure if Jenna Lyons is considered a celebrity, but I do google her
outfits once in a while to gain inspiration. The J.Crew lookbook is a number
one source for me too. Mostly I still draw my inspiration from other bloggers.
We're (almost) all real girls and real women, and because of that I get more
inspiration from their looks than from lookbooks. I find there's nothing more
fun than browsing blogs or Pinterest when I'm out of inspiration, or when I'm
having one of those infamous "I have nothing in my closet"-days.
I graduated as a social
worker in June last year, fully convinced that I wanted to step into social
economy and help people with less abilities gain control over their work life
again. Yet, I've recently successfully finished my first semester at university
and hope to obtain a Sociology Masters in 2015. My choice to return to
the school benches after my internship probably shows for my insight in the
future: I have no idea what I want, when I want it or how I want to achieve
it.
Describe
your personal style in 3 words.
I'm going for colorful,
feminine and classic. Okay, I'll be honest, I'm still working on the colorful,
but over the last 4 years I've really worked on getting the much needed
classics in my wardrobe. Think little black dresses, blazers and a trench coat.
After out-growing my teens, I realized all-black looks didn't work for me after
all and that hoodies made me look even more boyish than I'm already built.
Overall, I'd describe my style today as classic and feminine, and from the
feedback I receive from you guys, I think you feel the same about it!
What is your
favorite item in your closet?
When I bought my favorite black dress from
Zara it was a guess. Like I just mentioned, I had realized black wasn't my
color, and I had also sworn to my mom that I wouldn't buy another black item
for a year. I made her that promise in January and it was only March when I
broke it. Back in the day, I my mom paid for most of my clothing, so when she
saw the black dress she cut-back my clothing budget for the summer season.
The Liebster award is normally given to blogs with a small following. It's already late in the evening, and I should read at least one more chapter in my Social Research Methods book before tomorrow, so I'm not feeling inspired to sum up 10 questions of my own. What I can do however, is hand you a list of my 5 favorite bloggers that deserve some love! Their blogs might be small (still), but their talent definitely isn't. PS: They're all Belgian too.