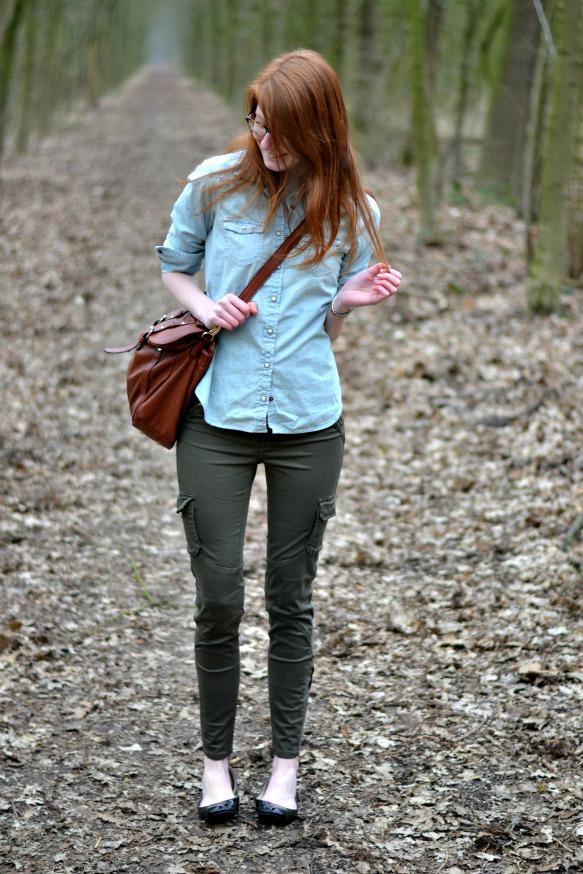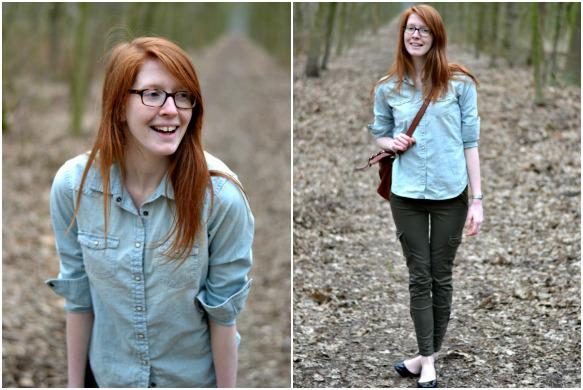 Zara jeans // American Eagle denim shirt // Essentiel bag // Nine West flats
I just got hit by this tickling feeling in my stomach. It's that feeling I get that let's me know that right now is the moment I should be writing something. A paper, a part of my thesis, a blog post, comments. Anything really. It's that feeling that let's me know that my mojo is here. I like it. But for some reason, right before this feeling hits me, I always feel just "blah". You know? Like, I can't even come up with the simplest English words and all my brain wants to do is be lazy, work in Dutch and watch another re-run of Behind Mansion Walls on the Discovery network. Don't you guys just love that show? Christopher Mason is awesome. Anyway. These mojo moments are rare. Sometimes they come up for two minutes, then I'm halfway through a post and suddenly it's gone and I'm stuck again. Sometimes it stays for a full day and I write three full stories on Storylane and actually am content about them. Do you want to know something really personal? It's probably going to be too personal, but, I strongly suspect that my mojo is actually just my hormones. Or maybe I just get inspired by something I can't quite put my finger on. That would be a logical explanation too… Hmm… The things you wonder on a Monday evening.
I also warned you that I wasn't going to take these pants off… . Well, yes, okay, these pictures where taken on the same day at 3 meters apart and I totally just took of the yellow cardigan and threw the denim shirt on. Now you know all about my outfit photo routine. Hey, mind trying to figure out how we shot these one two three series at once? Mind breaking. I should be on a talent show.
Totally referring to the Power Puff Girls in the title of this post.