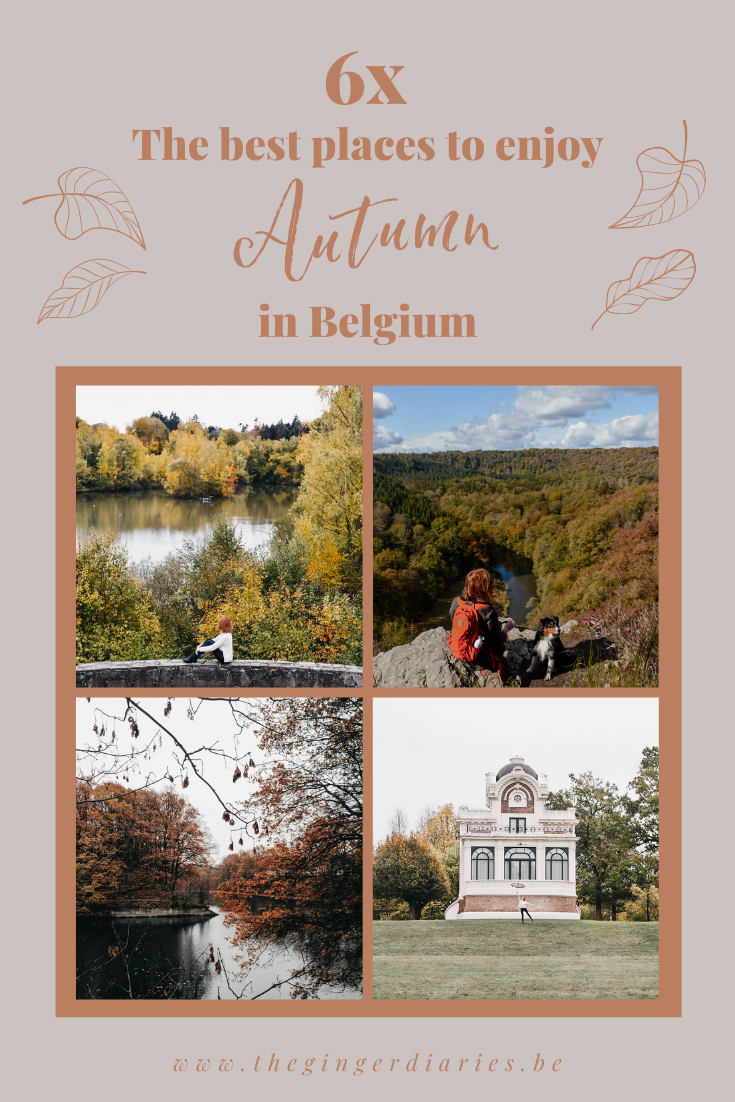 Fall is by far my favorite season. I've said it on this blog in 2012 and I'm saying it now. There's something so magical about those golden colors, gloomy days, hot drinks, the anticipation of the Holidays coming up,… To me there's nothing quite like it!
I feel like last year I got to enjoy fall to the fullest. My boyfriend and I visited A LOT of different places both in Belgium and beyond. I shared it all through my social media and you all had so much love for my photos! I also got a lot of questions to share my favorite spots in a blog post and today I'm finally taking the time to write that list out for you. It's not all inclusive and I bet there's a lot more to discover in Belgium, but these are my favorites that I've personally visited so far! I hope you enjoy reading!
1. Chateaux de la Hulpe
If you follow me on Instagram, you'll know this one by now. We return here every year. In fact, I posted about it in my stories just this weekend! Cjhateaux de la Hulpe is located near the Sonian forest (Brussels area) and combines both a beautiful landscape garden and entry ways into the forest. You'll find a large variety of trees on the domain, resulting in an abundance of different fall colors. The views across the large pond near the main entrance (Chaussée de Bruxelles) is one of my favorites for leaf spotting. You can read more details in my blog post about Chateau de la Hulpe.
Location: Chaussée de Bruxelles 111, 1310 La Hulpe
2. Koninklijke Loge Hoeilaart
Just a few kilometers away from Chateaux de la Hulpe, hidden in the Sonian forest, lies the royal lodge of the former hippodrome of Hoeilaert. While only the large open space in the middle of the woods gives away that this was once a horserace track, the royal lodge is still standing there as if it was build only yesterday. It's been beautifully restored and is used today as an event venue. I've had the pleasure to attend an event there once! The tiny building with a striking outlook is easily accesible and only a short 2 kilometer walk from B&B Hippodrome (where you can also park your car). From here you can trek into the Sonian forest as well or visit the arboretum which is no doubt a beauty to the eye at this time of year.
We usually combine a visit to Chateaux de la Hulpe and the royal lodge in one day.
Parking near Tumulidreef 7, 1560 Hoeilaart
3. Gewestbossen Ravels en Arendonk
This beautiful forest on the border of Arendonk, Ravels and The Netherlands in the north of Belgium is the definition of peace and quiet. It's a bit of a hidden gem, as mostly local come her and you won't see many 'outsiders' (contrary to La Hulpe). My boyfriend grew up here and took me there for Sunday walks when we first started dating. A lot of my early outfit pictures were taken in these woods, haha. It's at it's most beautiful in late fall, when all the oak and beech trees have turned golden brown. There are a few marked hikes, but we know these woods well enough to freestyle our way through. I've written a blogpost about Gewestbos last year with lots more photos and details!
Location: Jachtweg 27, 2680 Ravels
4. Merksplas Kolonie
And this is where I grew up! This bench is only a few hundred meters away from my parents house, haha. I might be biased, but no fall is complete without a visit to the prison colonies of Merksplas, Hoogstraten and Wortel. Large low-traffic lanes connect all three colonies, but you can also go deeper into the woods. Both hikers and bikers will get their fix here as there are plenty of marked routes for both. The old prison farm in Merksplas has been restored in recent years and is now the starting point of most routes. At the farm you'll find a visitors center, large parking and a restaurant (which is currently closed due to COVID restrictions).
Location: Kapelstraat 8-10, 2330 Merksplas | Website
5. Fortengordel Antwerpen
There's a lot of beautiful parks in and around Antwerp where you could easily get you're fall fix, but my favorites are definitely the old fortresses surrounding the city. There are two circles of fortresses, but I'm only acquainted with the inner circle of 7 fortresses (originally there were 8, but one was demolished). My two favorites are Mortsel and Edegem, but that's probably because I currently live right in the middle between these two, haha. Especially in November, when the oak and beech trees come into play, these fortresses are the ideal spot for an afternoon walk. There are biking routes to multiple or even all fortresses, so you could also make it a day trip if you'd like.
The ones in Mortsel and Edegem both have dog parks that we frequent with Ozyy. If you spot us, come say hi!
In the summer both fortresses have a summer bar with large patio's. If you visit during Fall I can highly recommend you stop by Kawa Coffee at the Mortsel Oude God station to warm up with a coffee! The fortress of Edegem is not too far from Hof Terlinden where you'll find both a brasserie and a restaurant.
Directions:
Fort 5 Edegem: parking at crossing of Donk & Rogier van der Weydenlaan, Kerkplein or Buretlaan. Bus 32 from Antwerp stop "Edegem Kerk"

Fort 4 Mortsel: Payed parking at Stadsplein. Tram 15 from Antwerpn stop "Station Oude God".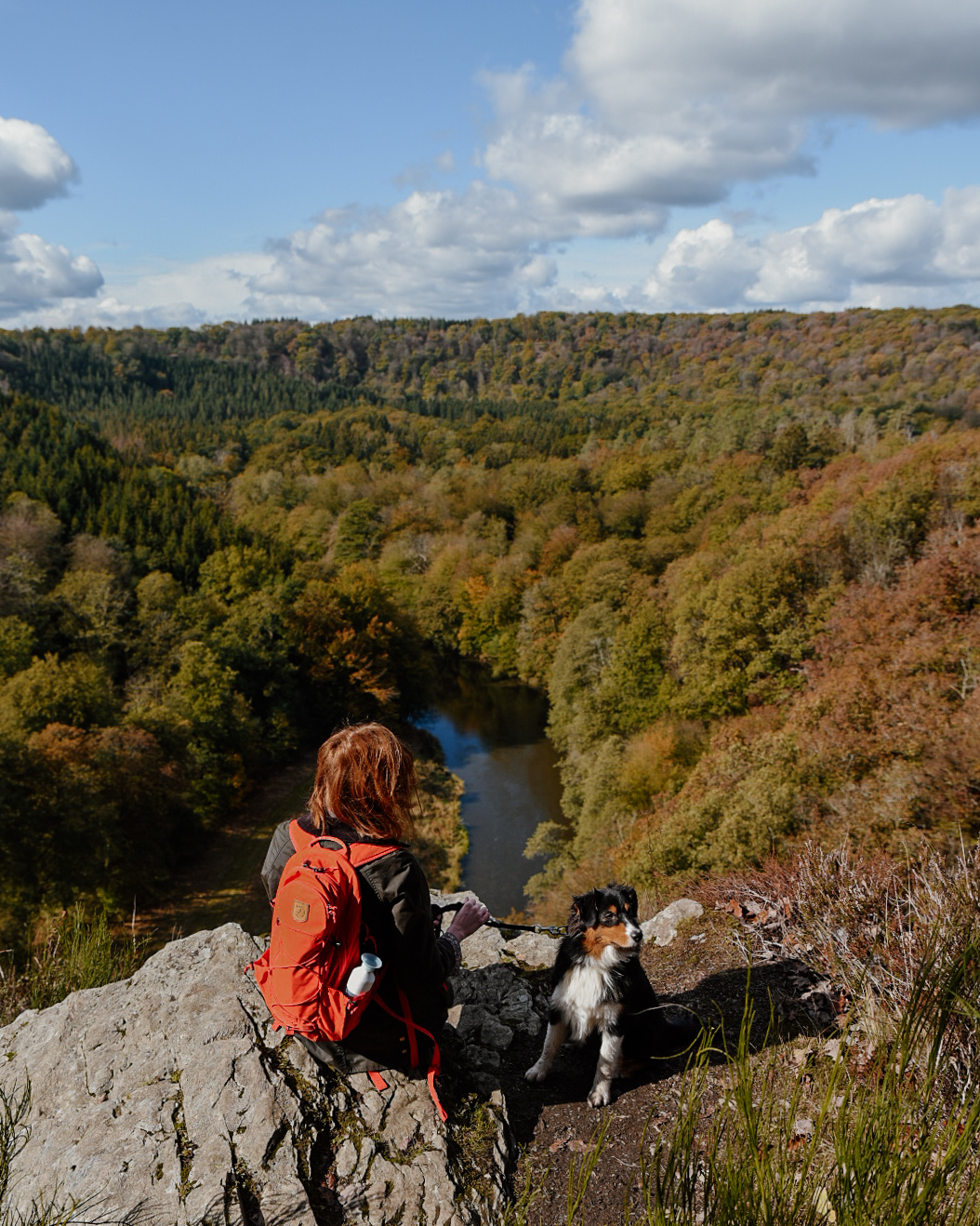 6. Rochers du Hat (Chiny)
Thanks to COVID restrictions, we skipped our planned trip to Germany and are spending Fall 2020 in the south of Belgium instead. So far we've visited Fondry des Chiens and the area around Les Lacs de l'Eau d'Heure, but I'm going to put Les Rochers du Hat on this list because I liked it even more! Les Rochers du Hat is a viewpoint over the Semois Valley in Chiny. You can see the view in my photo above. Not too bad, eh? There are a lot of different hiking options in the area and we chose this 5 kilometer hike. At some point on the trail the blue arrow points both left and right. Go left for the shortest way up to the viewpoint. I have no idea where the path to the right takes you… . The trail goes almost entirely through the forest of Chiny. Only at the end you have a short stretch of road to cover. We both really loved it! After you finish the trail you could drive to the Abbey of Orval to stock up on Trappist and Cheese!
That's it from me!
Well, no, not entirely. There are a few more spots to discover in the high lights on my Instagram profile.
Feel free to add your favorite spots to enjoy Fall in Belgium in the comments and please do let me know if you follow up on any of my tips! I'd love to see your adventures on social media.
Thank you for reading and enjoy fall!!