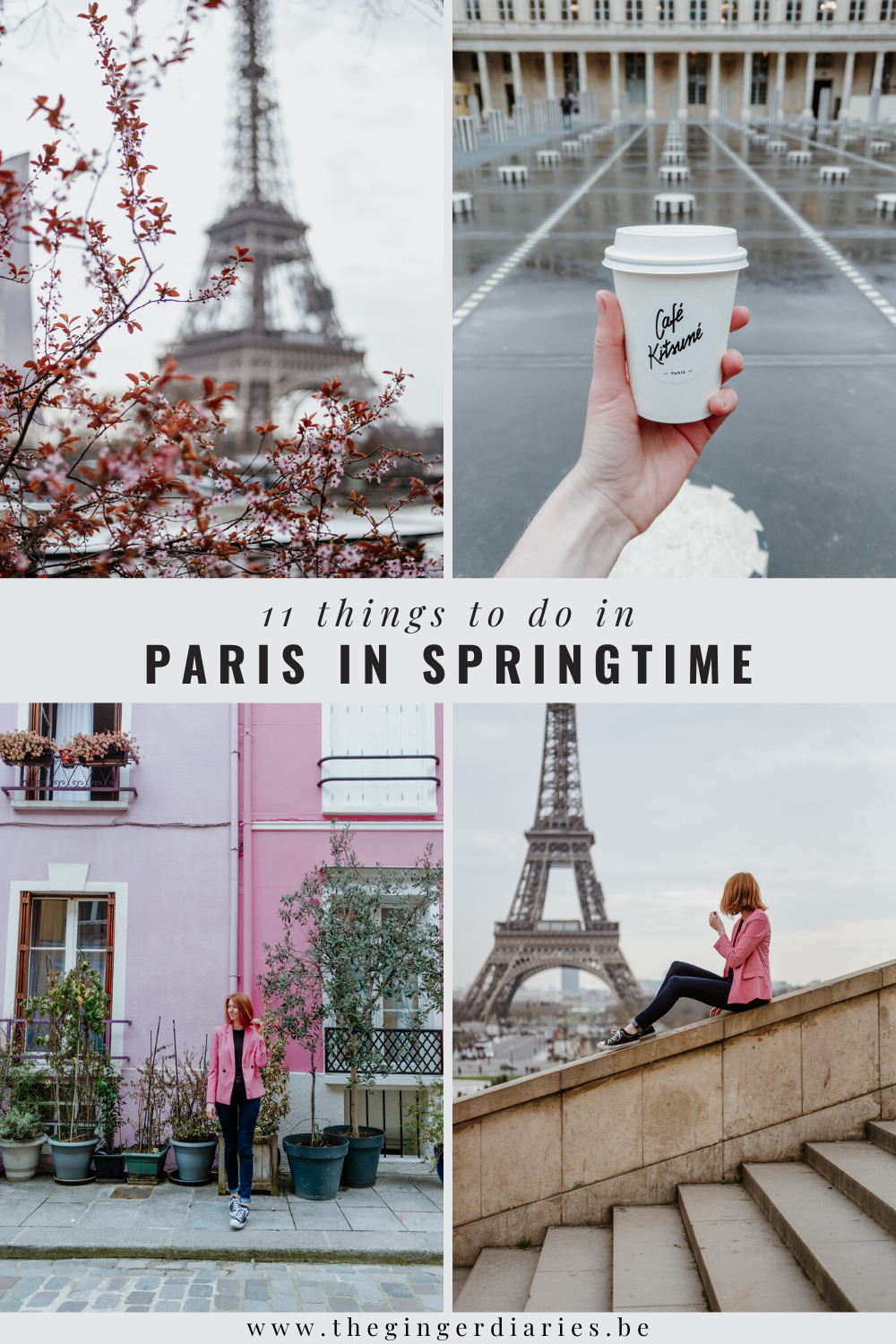 Paris is always a good idea, but even more so in the Spring. Why, you ask? Well, because IMHO there's little better than enjoying a delicious Pierre Hermé macarons or two under a blossoming cherry tree in the Jardin de Luxembourg. I've taken you around Paris many times before on this blog, but today I'll be walking you through the city of love in the Spring. Here are 11 more things to do in Paris in the Spring! Ready? Here we go!
1. Eat Falafel in Le Marais
Le Marais has been a go-to for tourists for many years now and if you've ever been there, you are probably familiar with the falafel restaurants. With lines going around the block, these spots are hard to miss. You'll find the most popular ones around Rue des Rosiers. I love coming here at least once for lunch when I'm in Paris. It's a must!
Oh, and please leave some room for dessert! Now you're in Le Marais, you might as well stop by L'Éclair de Génie (Rue Pavée 14) and pick up a treat. The passion fruit variations are my favorite. A little expensive, but so worth your pennies. You'll thank me later!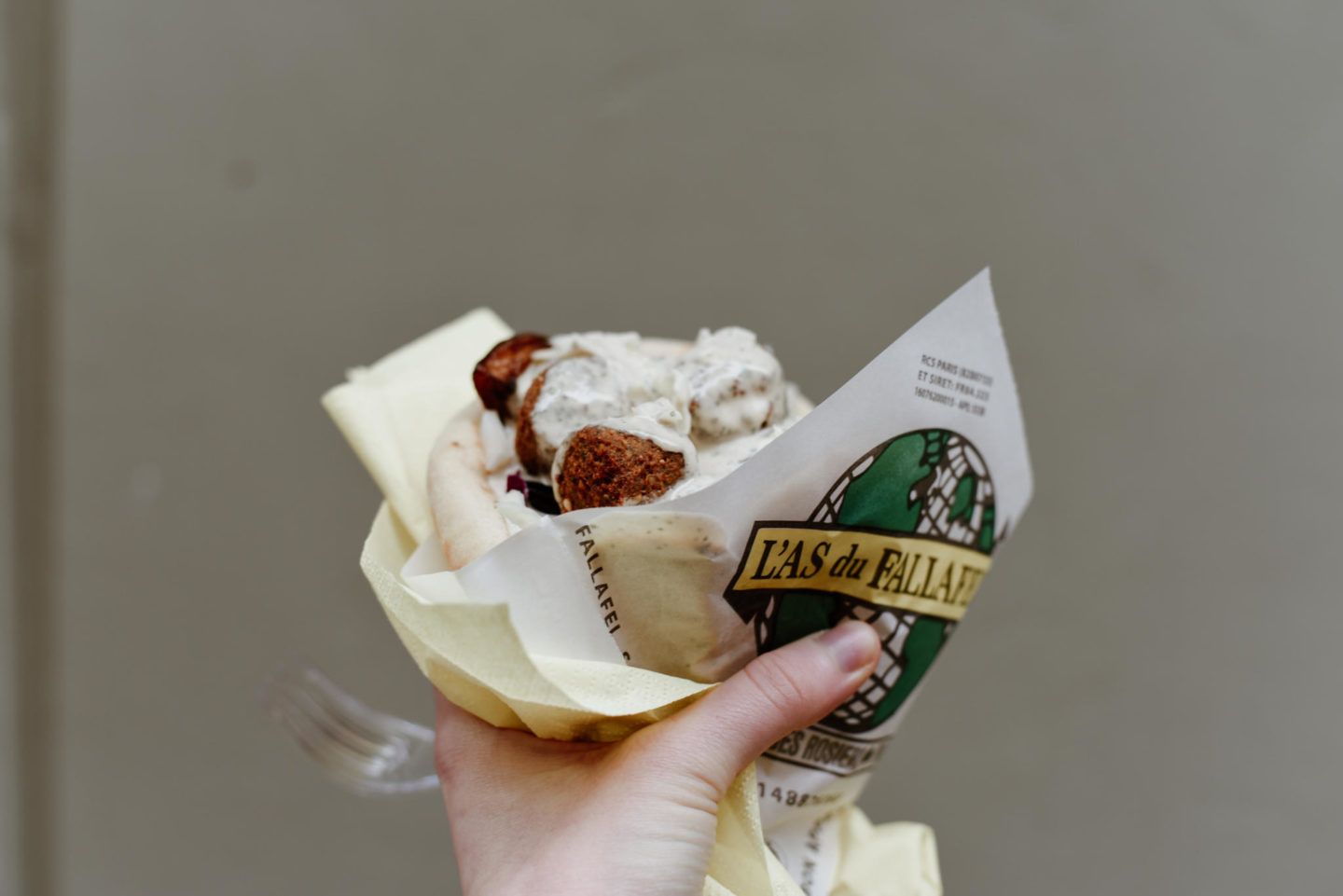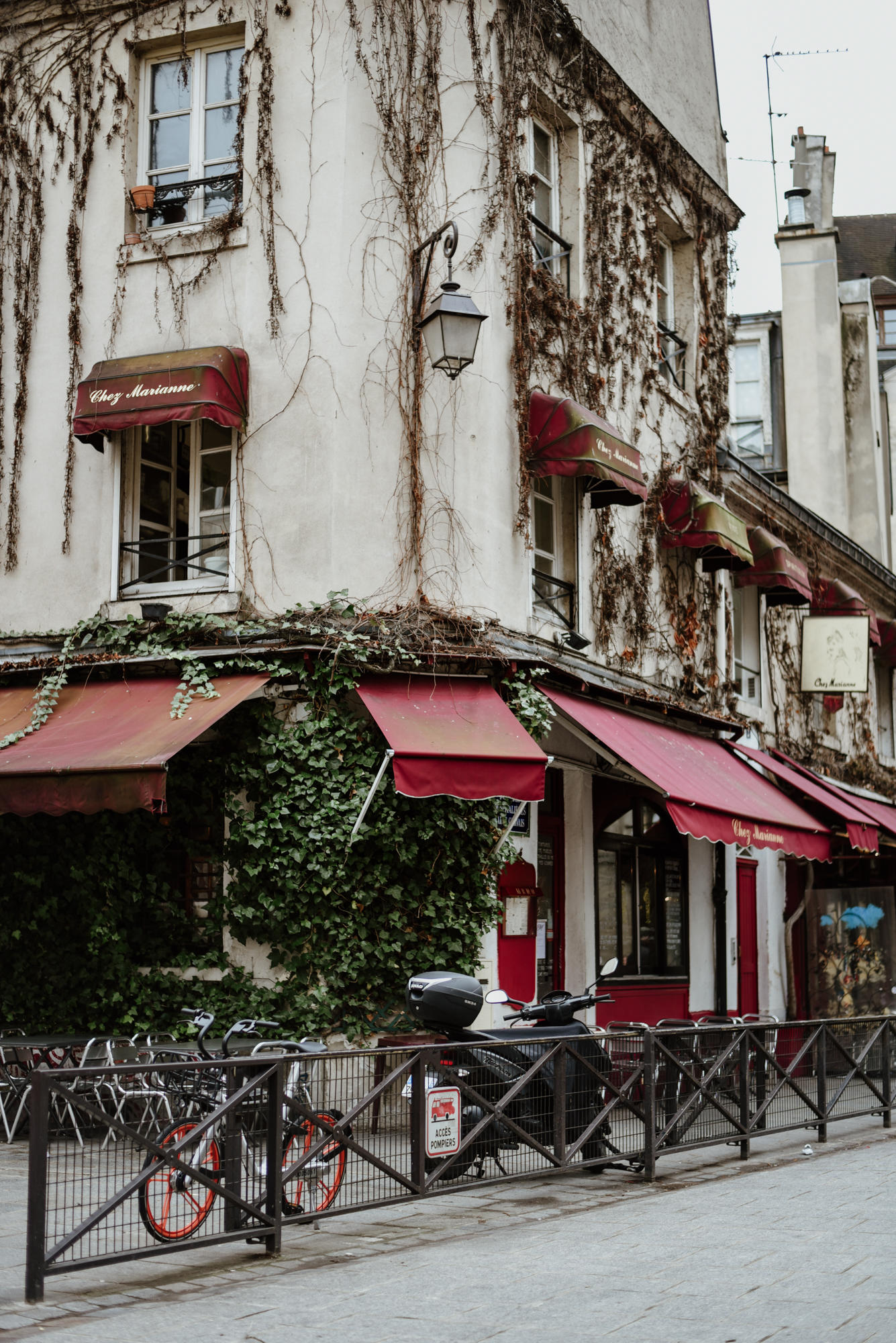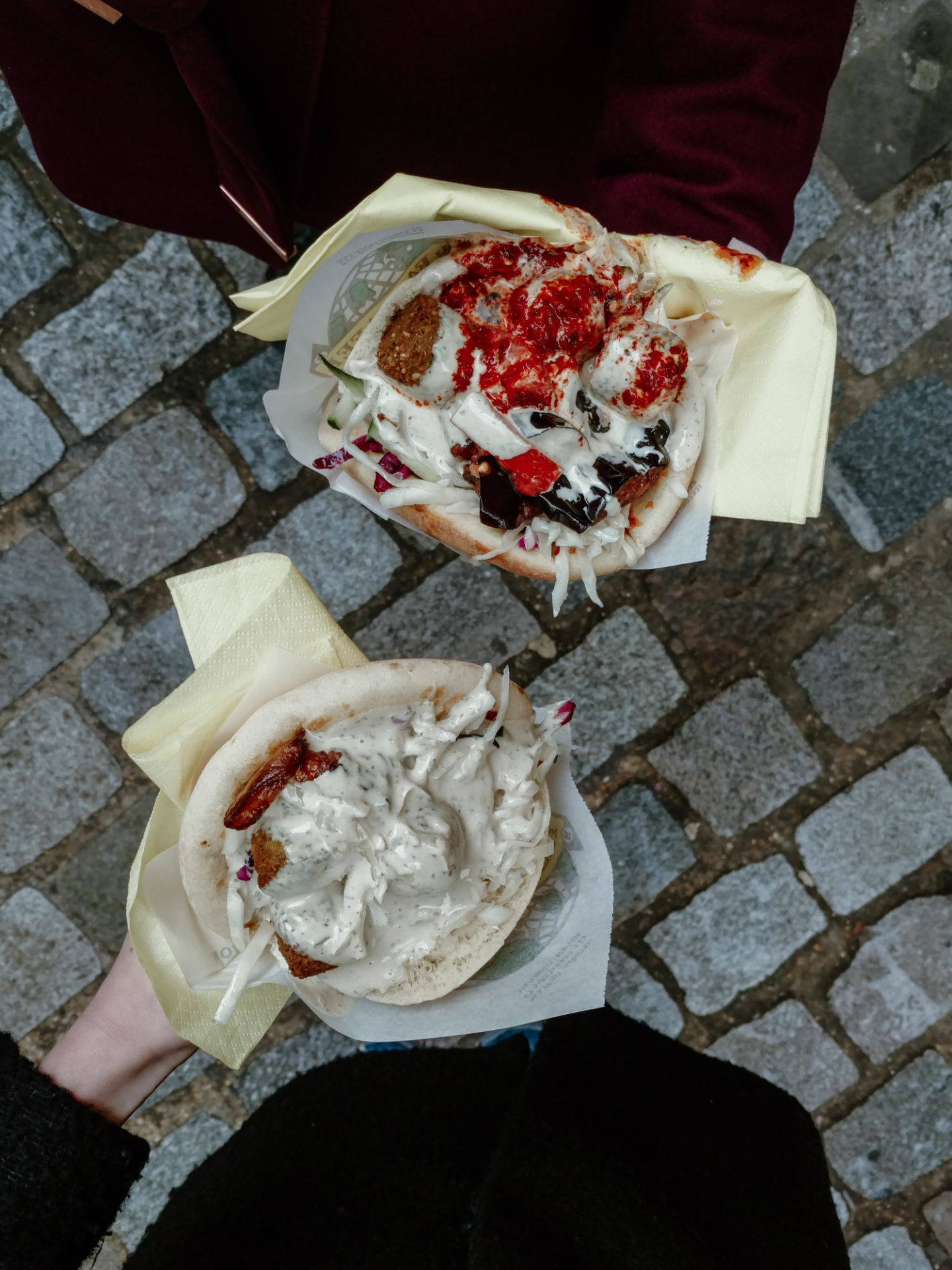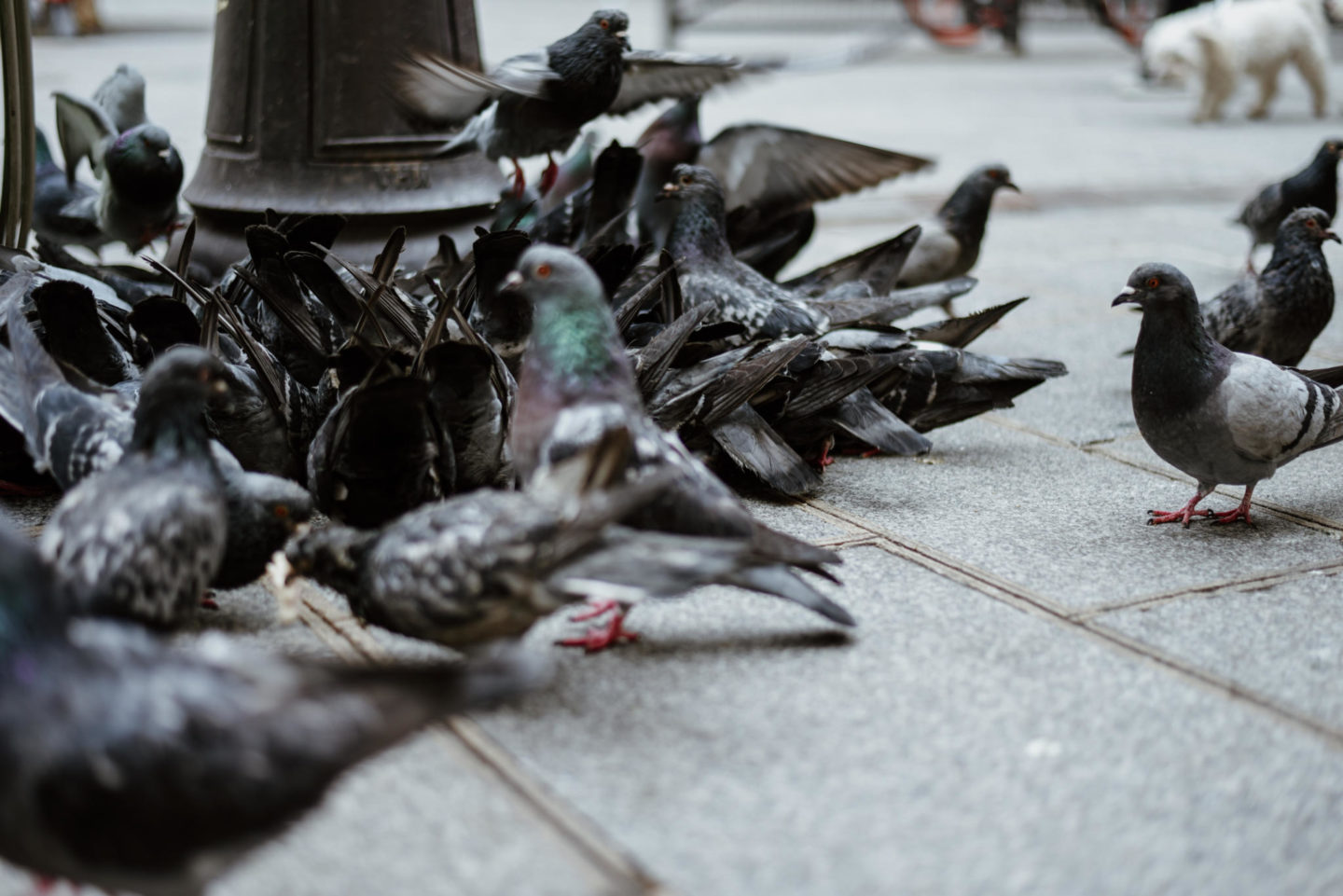 2. Photoshoot around the Louvre
The Louvre doesn't need an introduction. We went inside for a moment on this trip and didn't have to queue thanks to our European passports and our -26 age (at the time, haha). Just flash your eID at the entrance and you're good to go! I have been inside and seen the Mona Lisa quite a few times by now, so I didn't take any pictures. We mainly visited the museum because the friend who I was travelling with had never been to Paris before.
The outside of The Louvre is actually my favorite part. It's such a magnificent building to photograph and it has many hidden corners that make excellent backdrops. We had a little fun snapping photos of each other before going in. I rather like some of them, so here they are!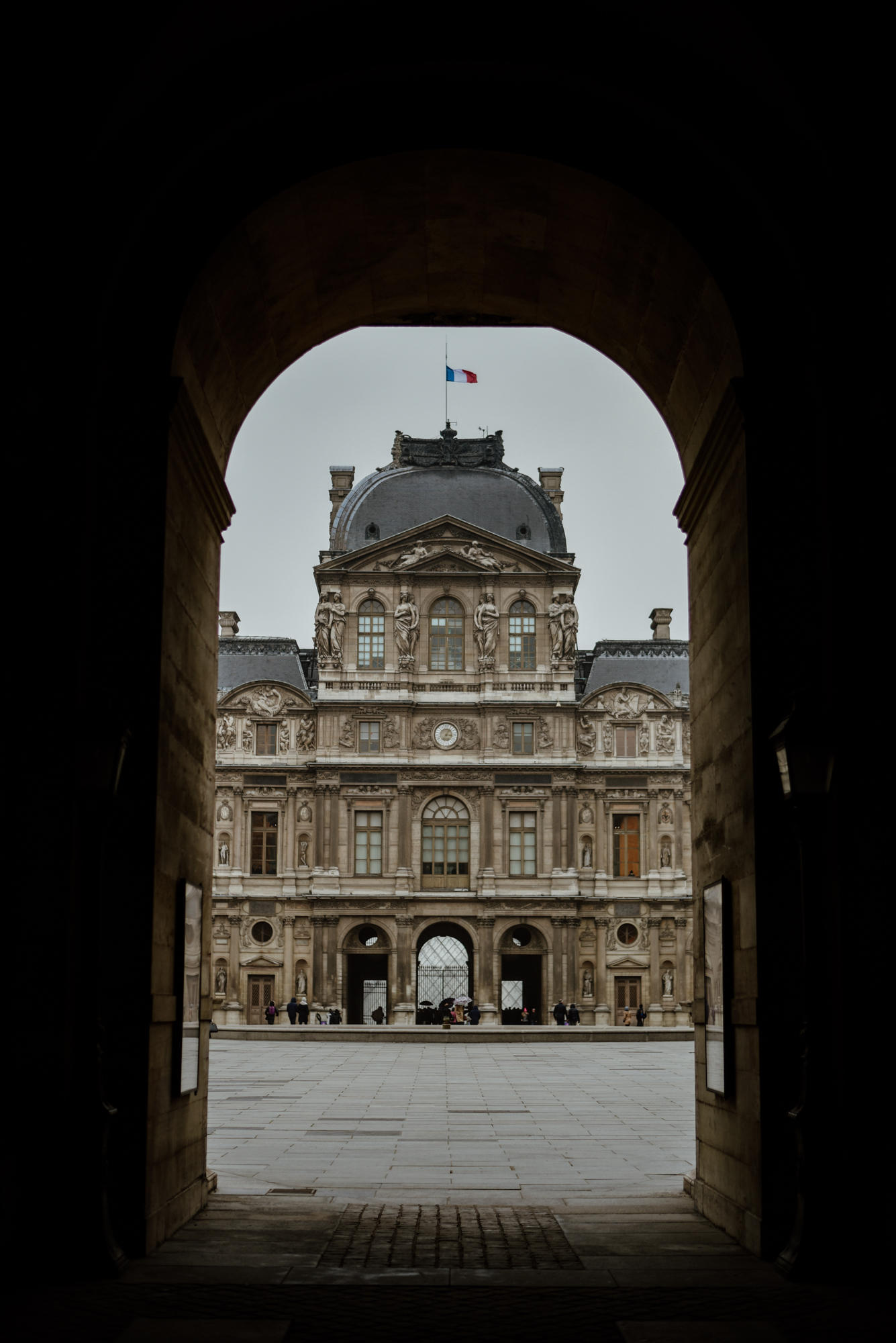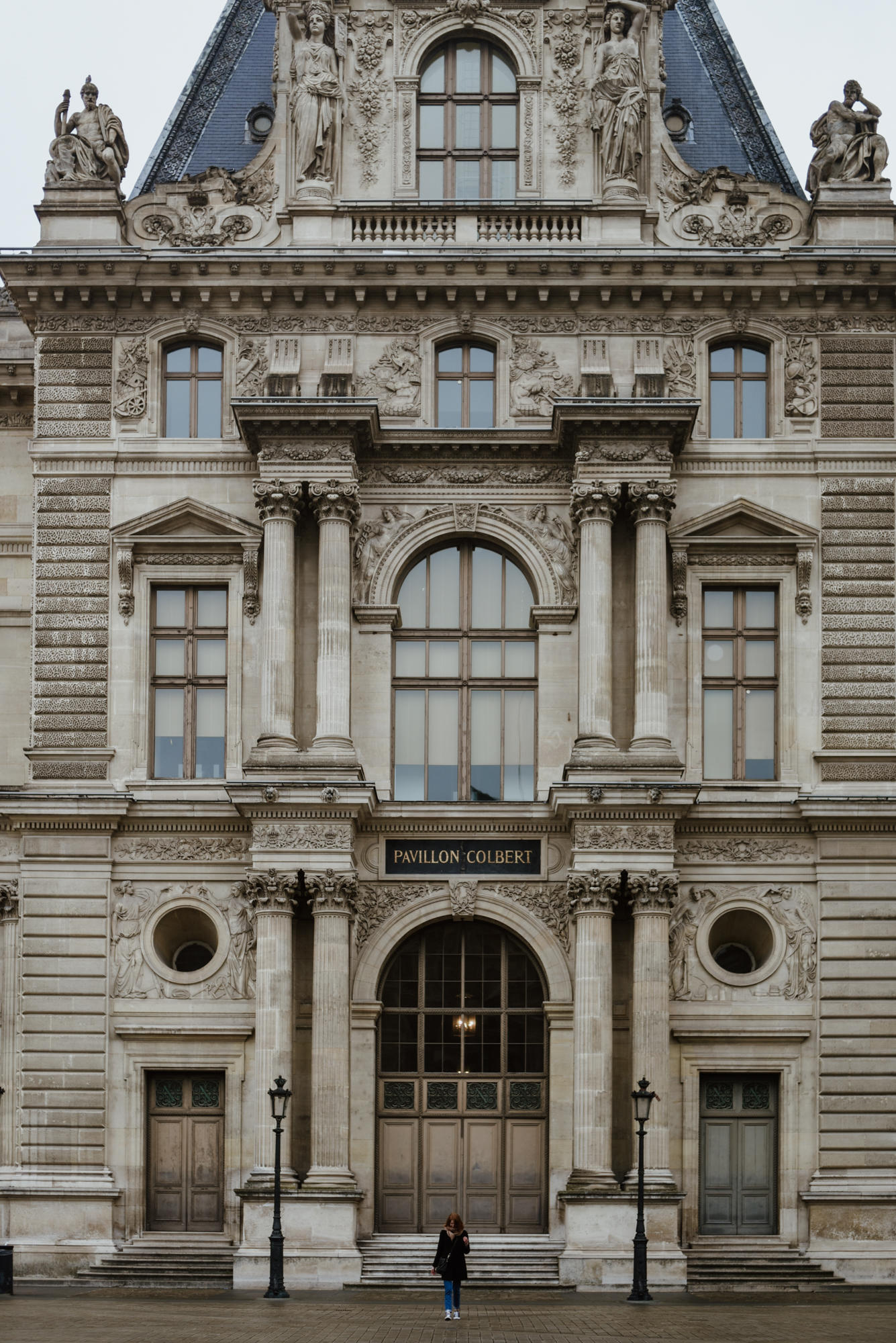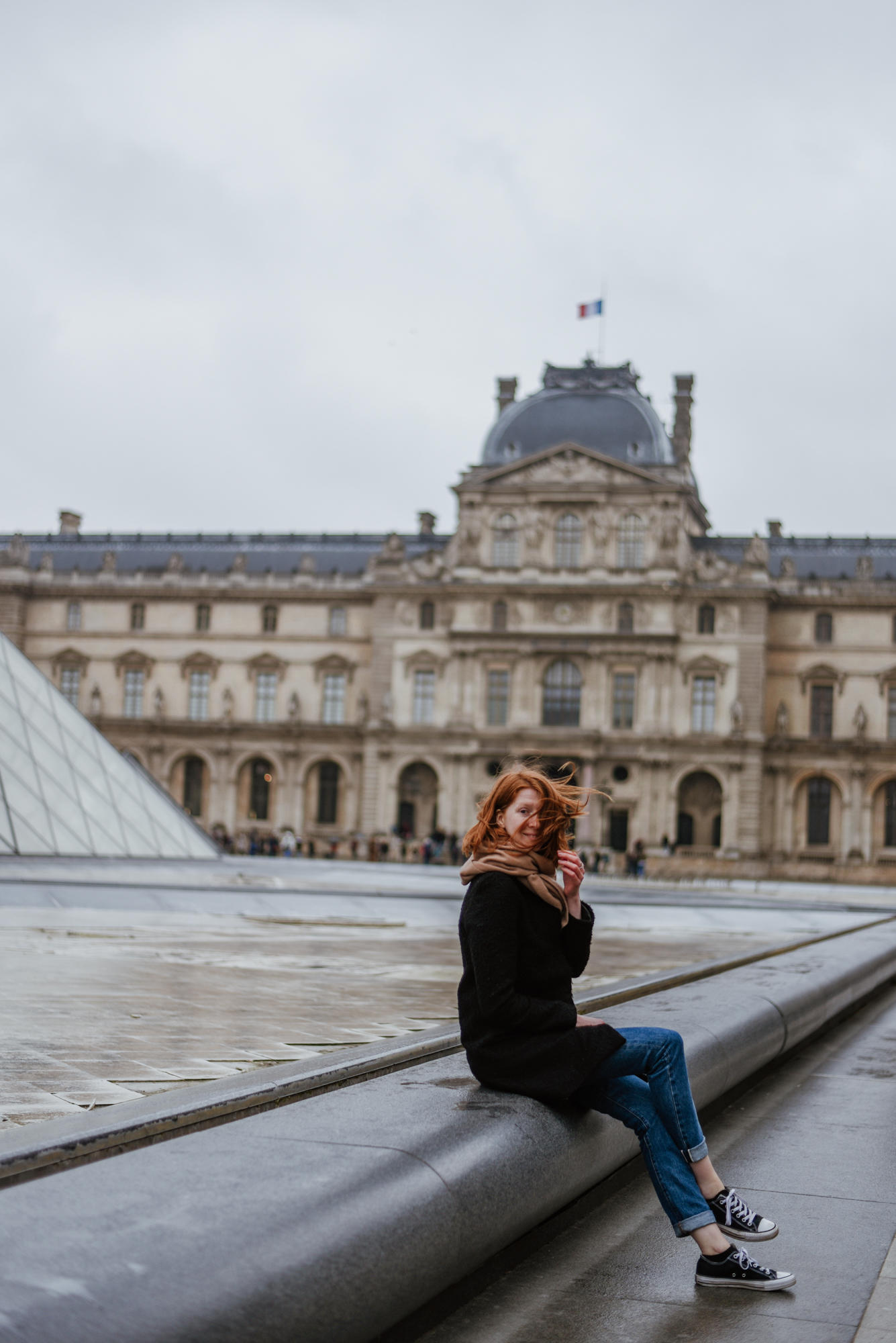 3. Dancing in Le Palais Royal
It took me 5 trips to Paris to discover Le Palais Royal, but on my last three visits I revisited this gem every time. Sometimes I only pass by on my way to Café Kitsuné (Galerie de Montpensier 56) and other times, when the courtyard is empty, we dance around Les Deux Plateaux. It was raining on this day, so we got lucky with the crowds and danced a little in the rain.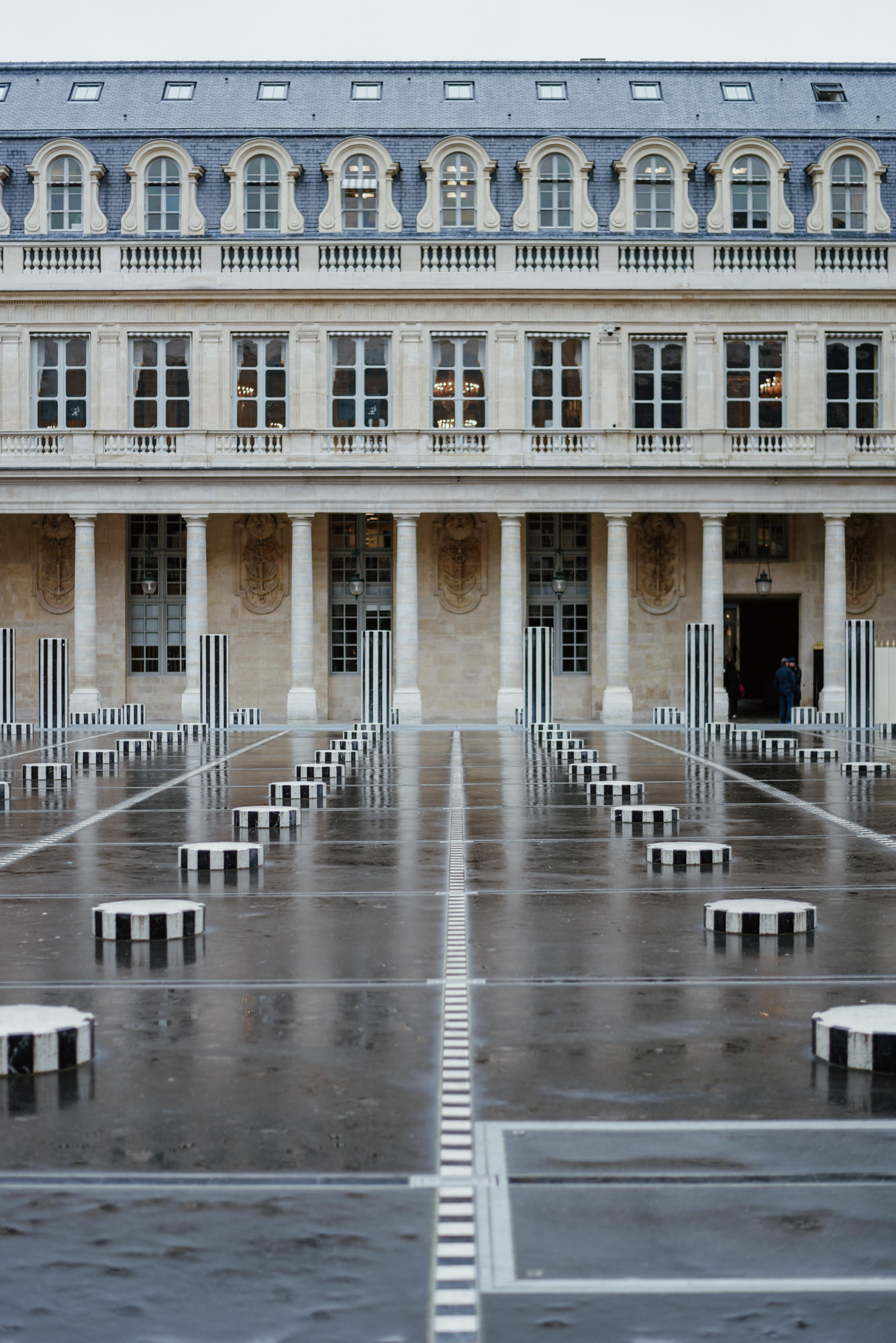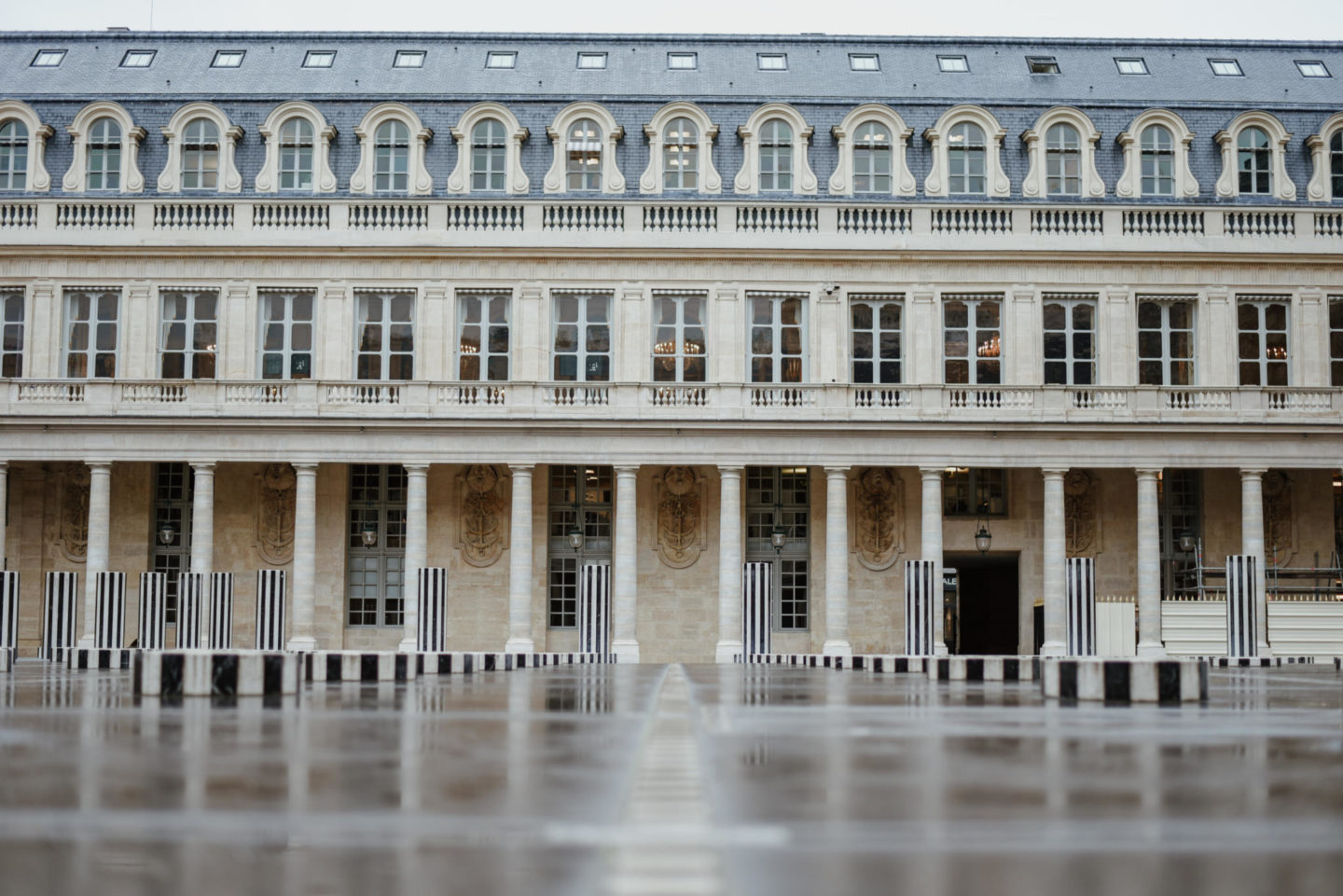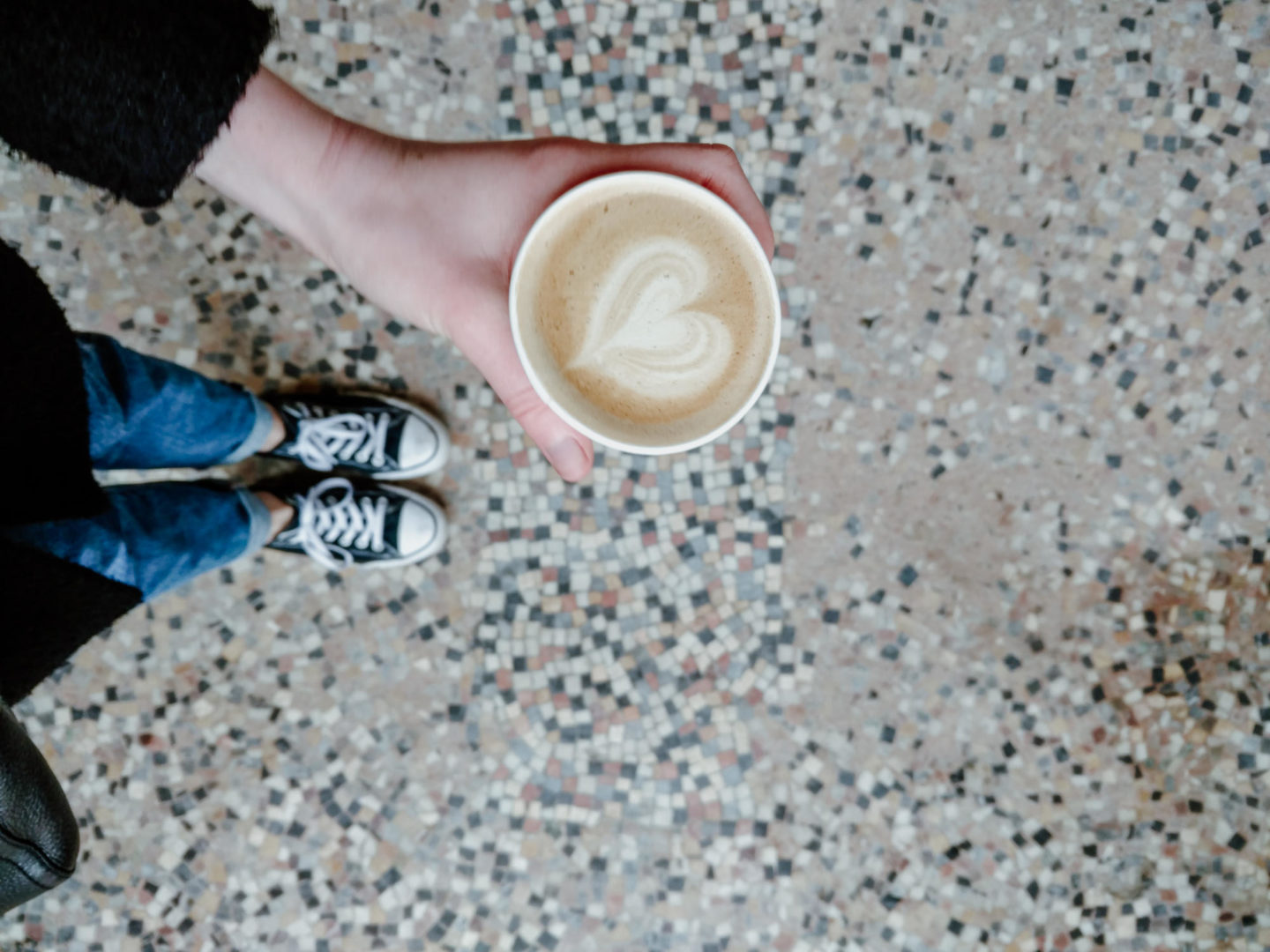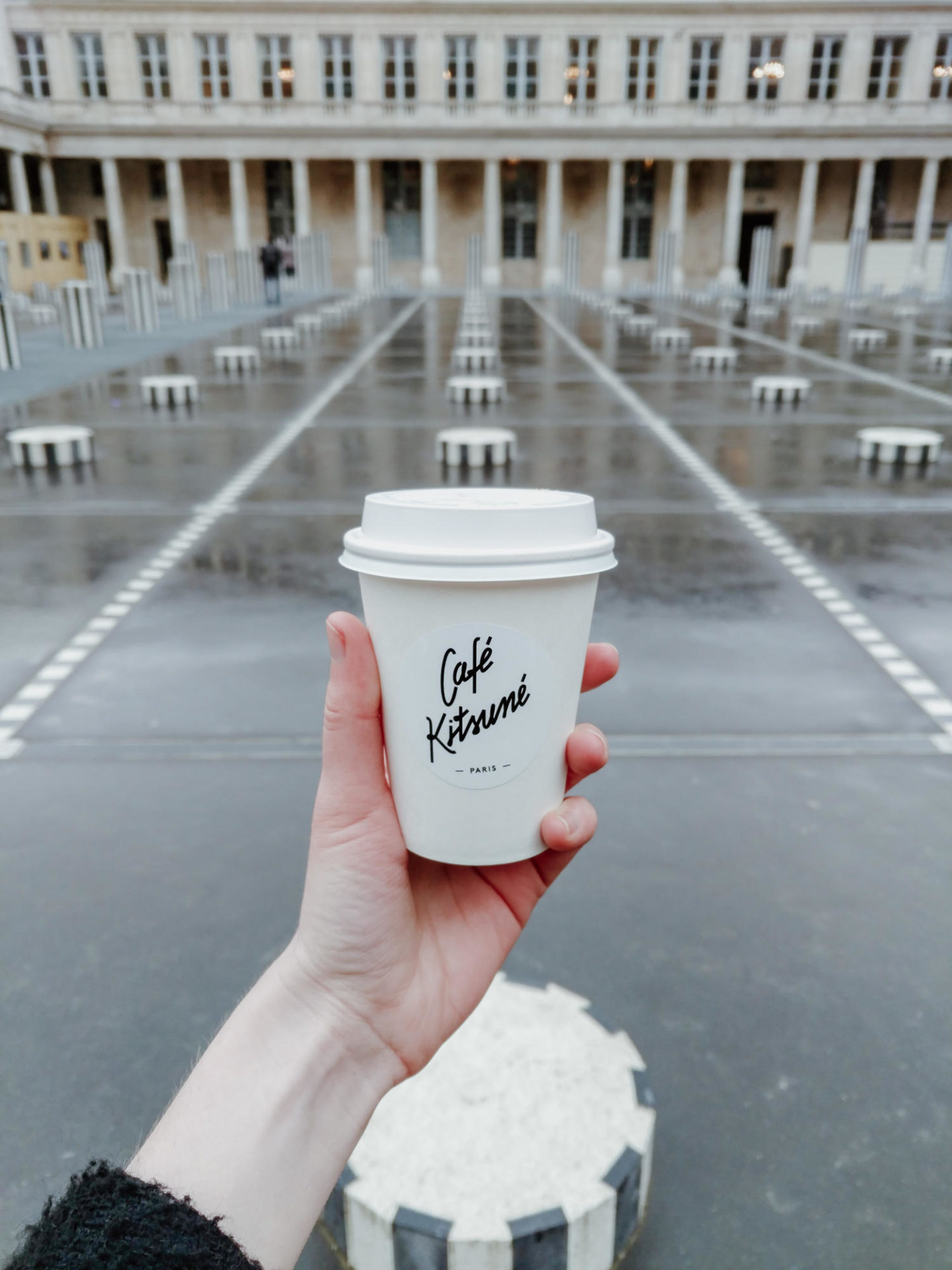 4. Admire the views inside and outside Galleries Lafayette
One of the best publicly accessible viewing platforms in Paris is the one on top of Galleries Lafayette. I've watched the sun set over Paris from here a few times already and in the summer months you'll also find a rooftop bar up there. On this day in March 2018, it rained and all we got was a foggy view but the Eiffel Tower is still clearly visible in the distance!
The inside of Galleries Lafayette is just as incredible as their rooftop views. It's unlikely that you've never seen a snap of their enormous glass dome on Instagram before. Isn't it beautiful?
While you're here, don't forget to stop by the food court or stalls. I love buying Pierre Hermé macarons here for the weekend, hehe.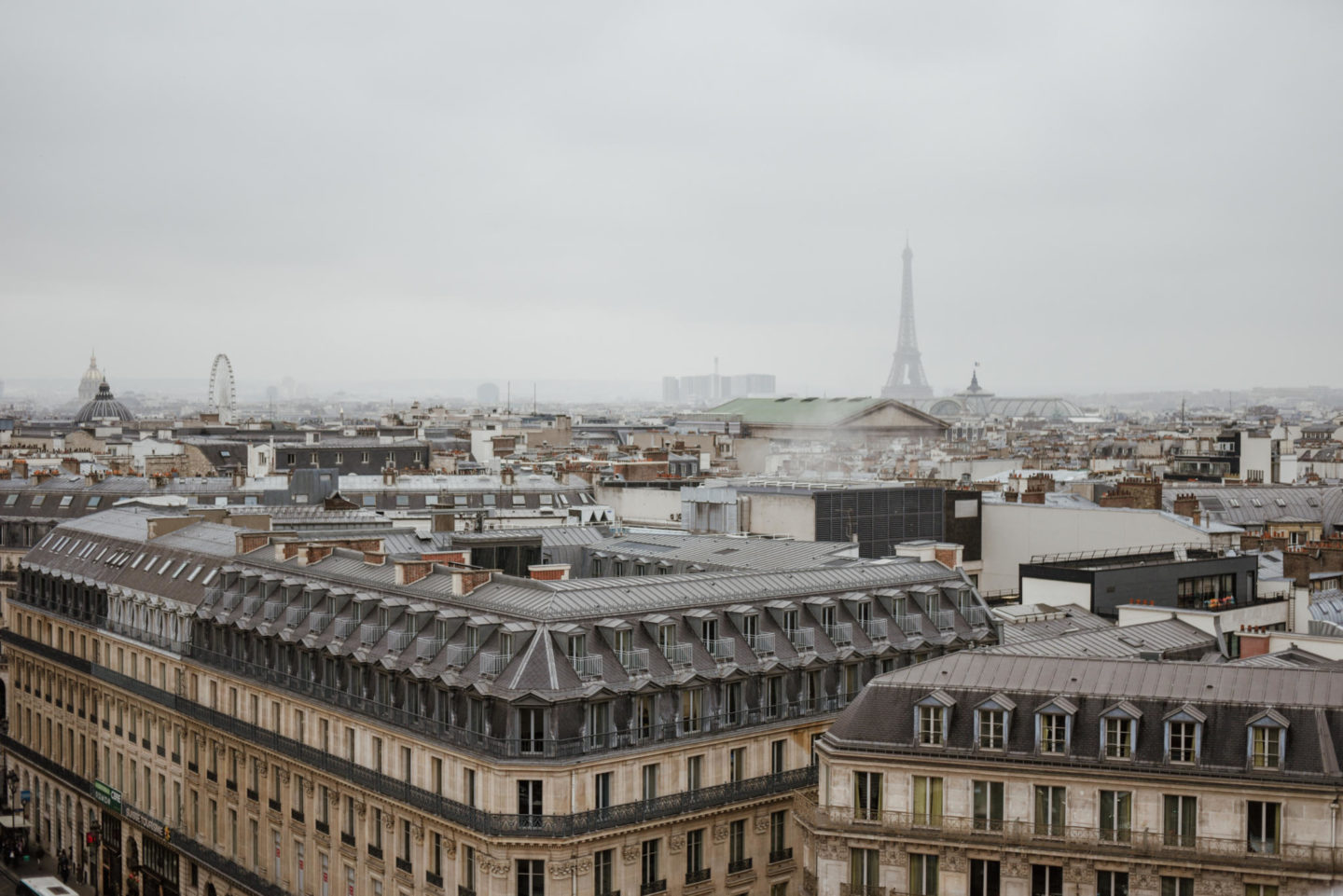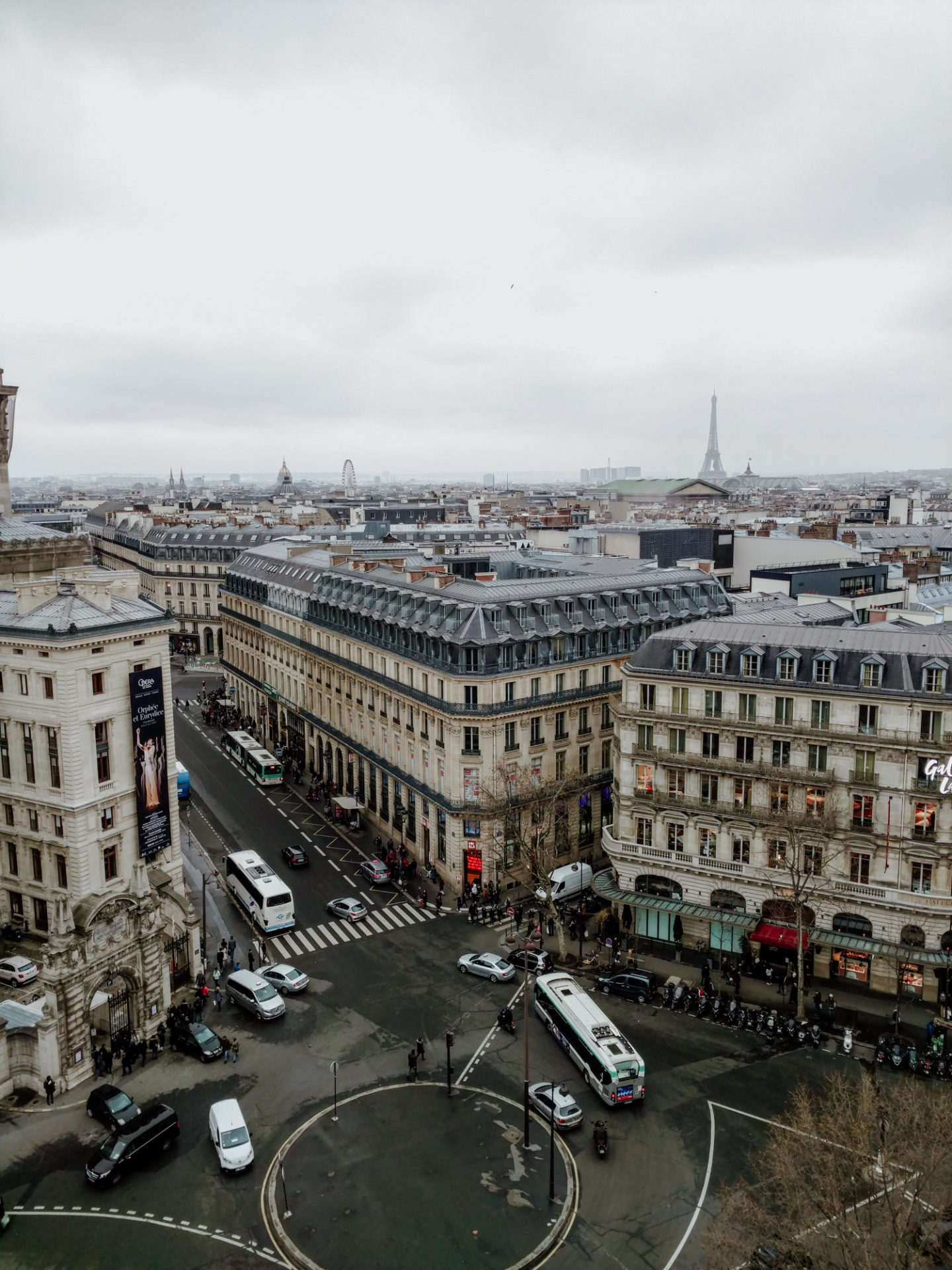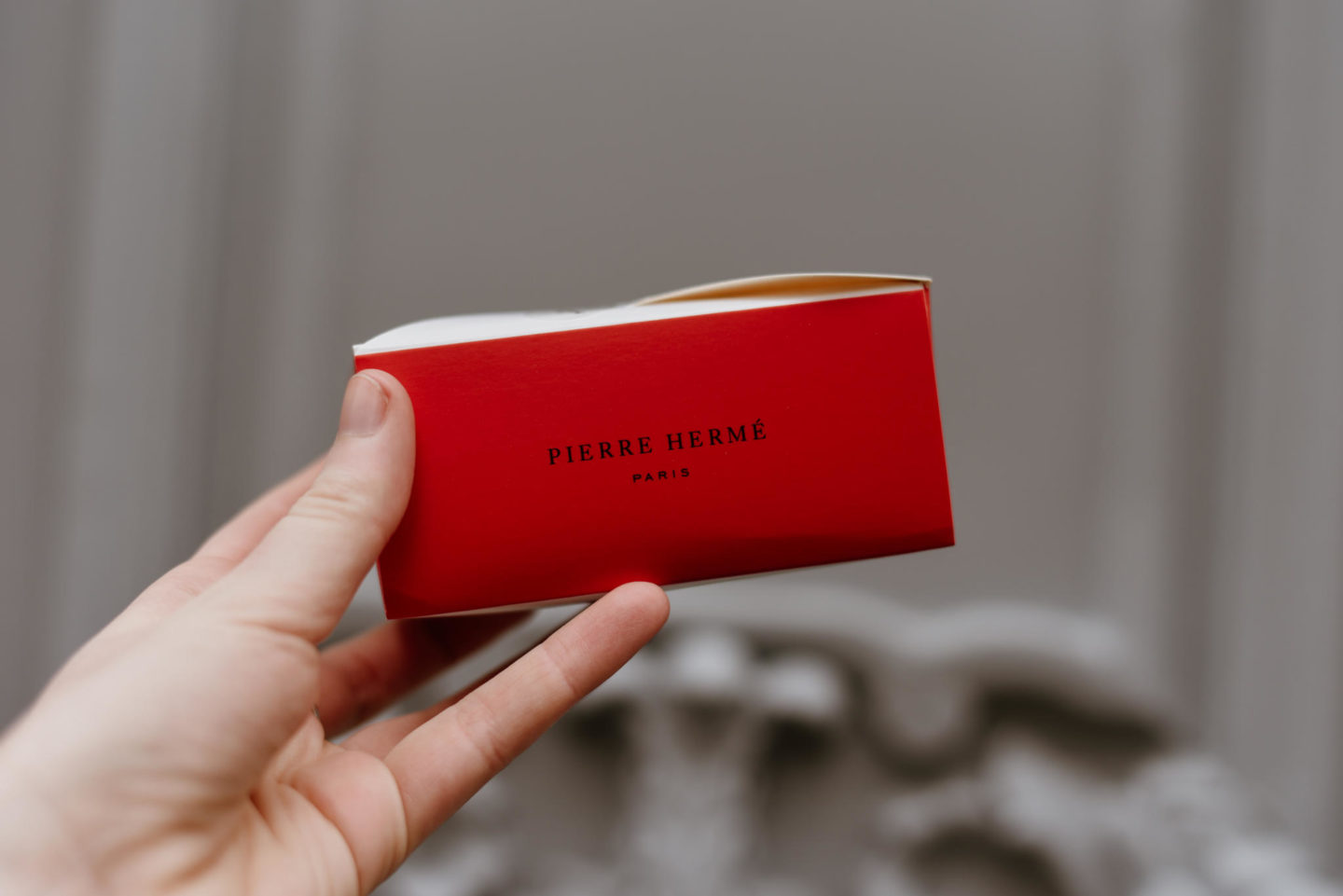 5. Watch the Eiffel tower… from every possible angle
This one isn't hard. Wether you're looking from Champ de Mars park or Trocadéro, the Bir-Hakeim bridge or Passerelle Debilly, the views on the Eiffel tower are always worth a stop and stare.
In the Spring, you might get lucky and find the cherry blossoms in Champ de Mars park blossoming. We came a little too early for that, but found some other pink petals on the banks of the Seine River. Quay Branly is also lined with empress trees, which burst with purple blossoms in the Spring.
Every night on the hour, the Eiffel tower starts to sparkle. Unless there's a special celebration you'll *only* get regular sparkles. The first time I ever came to Paris was on July 14th, the French national holiday, and we got treated to a big light show.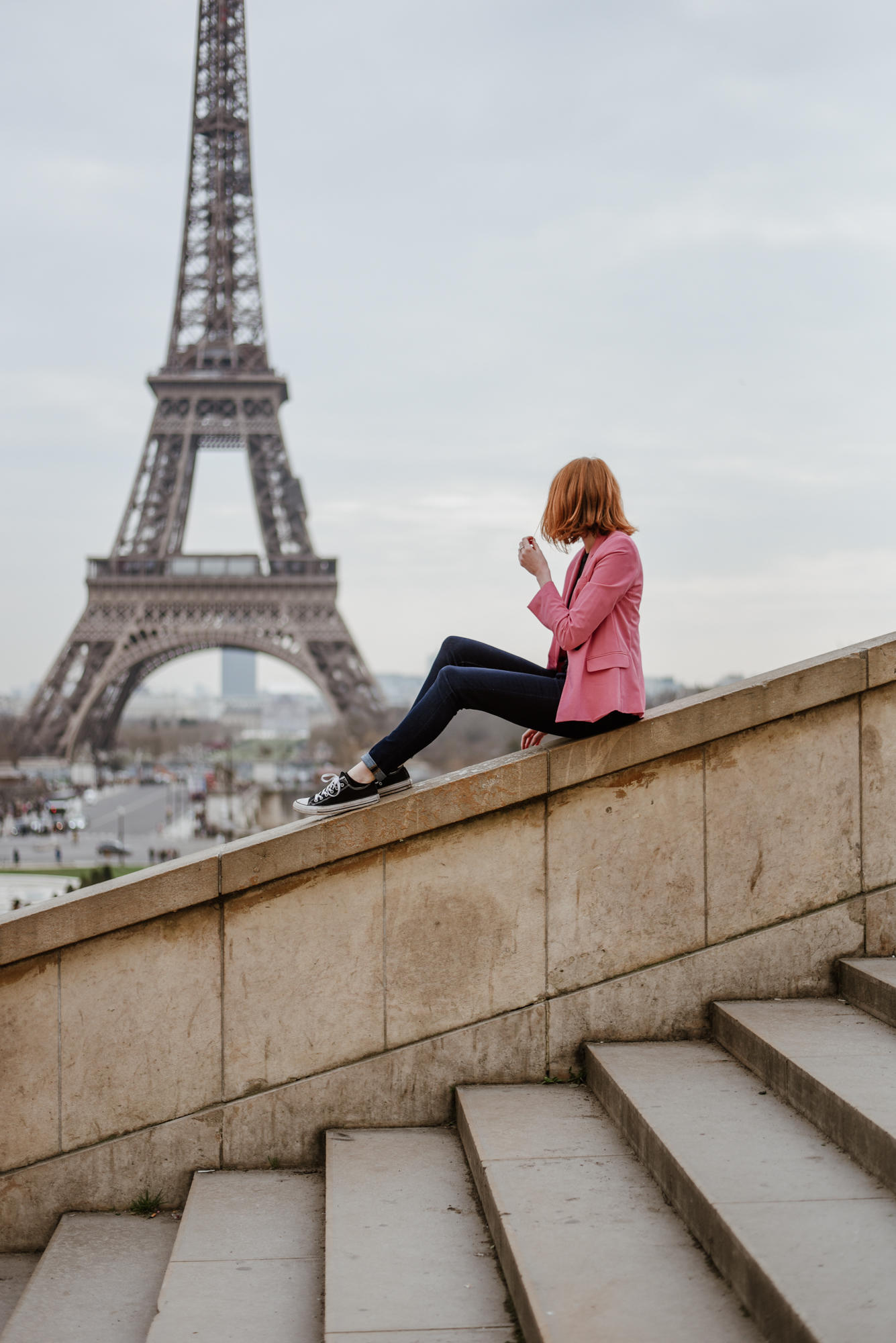 6. Organize a crêpe stall crawl at Mont Martre
My favorite part about Mont Martre? The many, many crêperies.
But first this. Beware of the pickpockets and shifty souvenir sellers on the stairway up the Sacre Coeur. Every time we come here, we get harassed by at least one of these shady figures and it can really dampen your day. There are some who will try to sell you bracelets and grab your arm if you're not paying attention. They wrap a cord around your wrist and pull it really tightly until you give them money. It's sad, but I've encountered them all 8 times I came here and this time was no different. I screamed really loud when a man tried to grab my friends arm and he gave up, but not everyone does that. So please, please, please be careful. I've found that these men are less active on the middle stairs that go up to the basilica, so my advice would be to take those and not the staircases to the left and right. And keep your hands in your coat or pockets.
Once you're up by the basilica, don't forget to turn around and admire the view. You can't see the eiffel tower from here, but that doesn't mean the view isn't worth a picture or two.
Follow the roads behind the basilica to find Mont Martre. You could visit the art stalls on Place du Tertre or roam the tiny streets in search of the best crêpes. The latter being my personal favorite activity, haha.
What you might not know is that the Instagram-famous pink house with the green shutters is also located in Mont Martre. Just go to Rue de l'Abreuvoir 2 to find it! It's actually a restaurant called 'La Maison Rose'.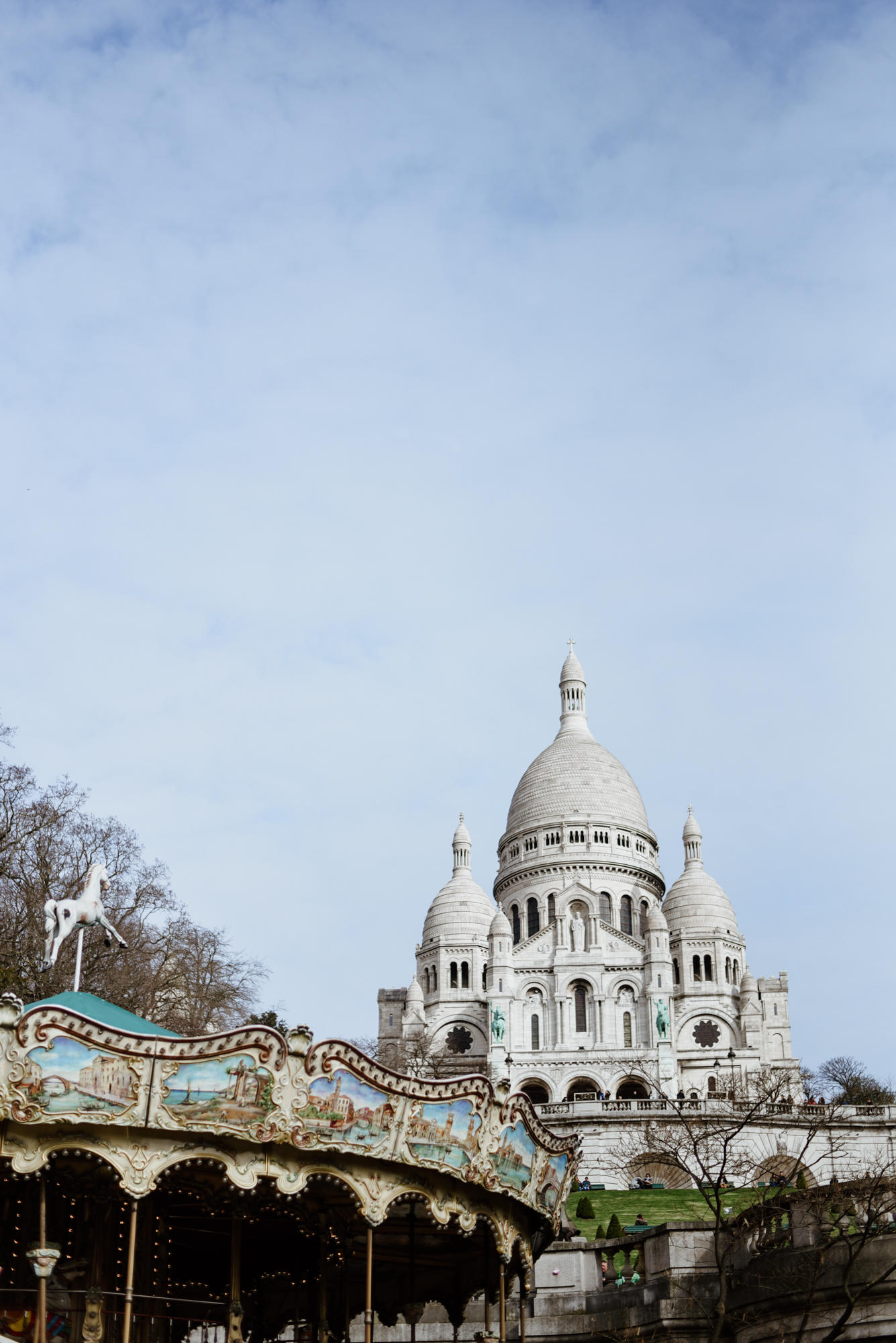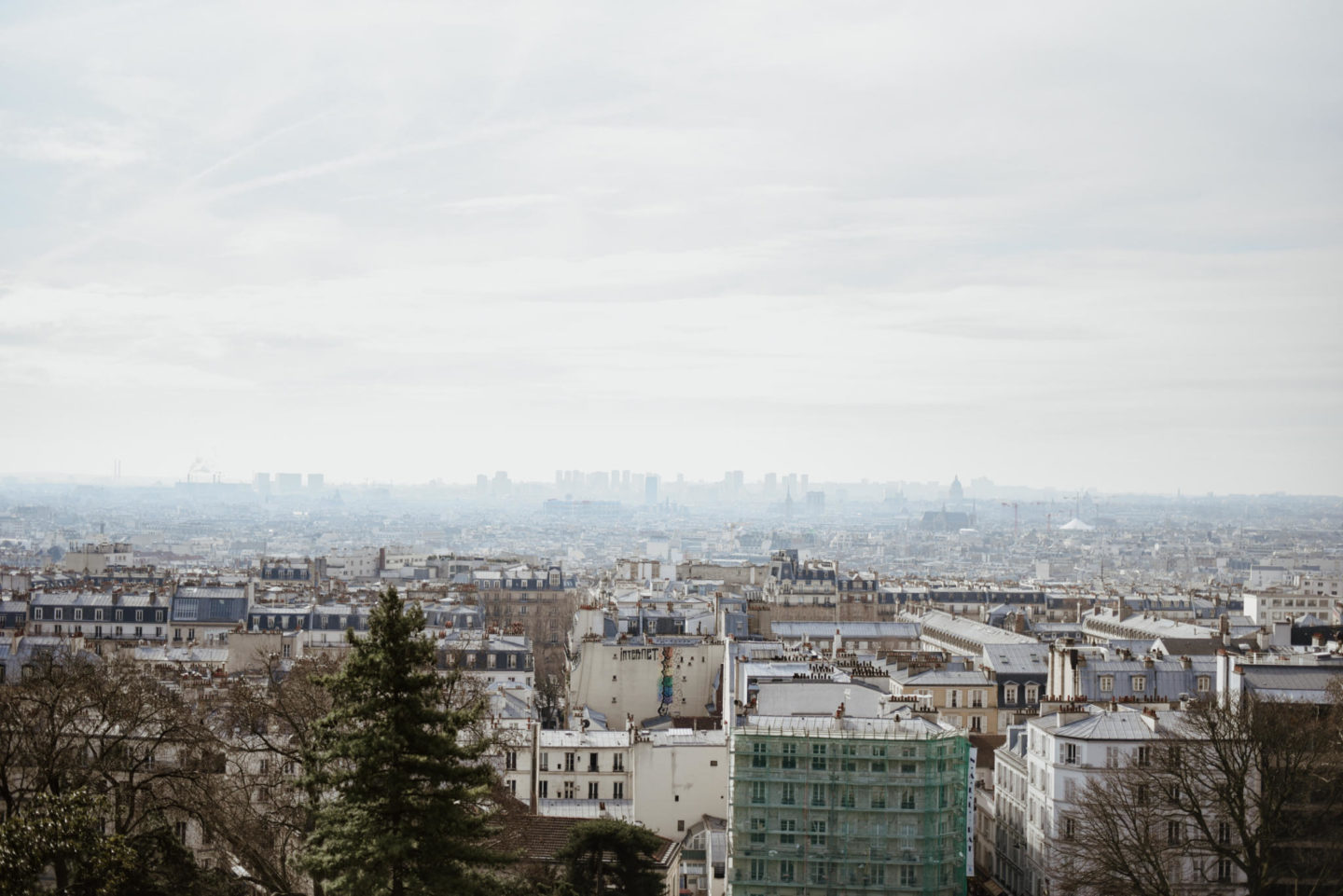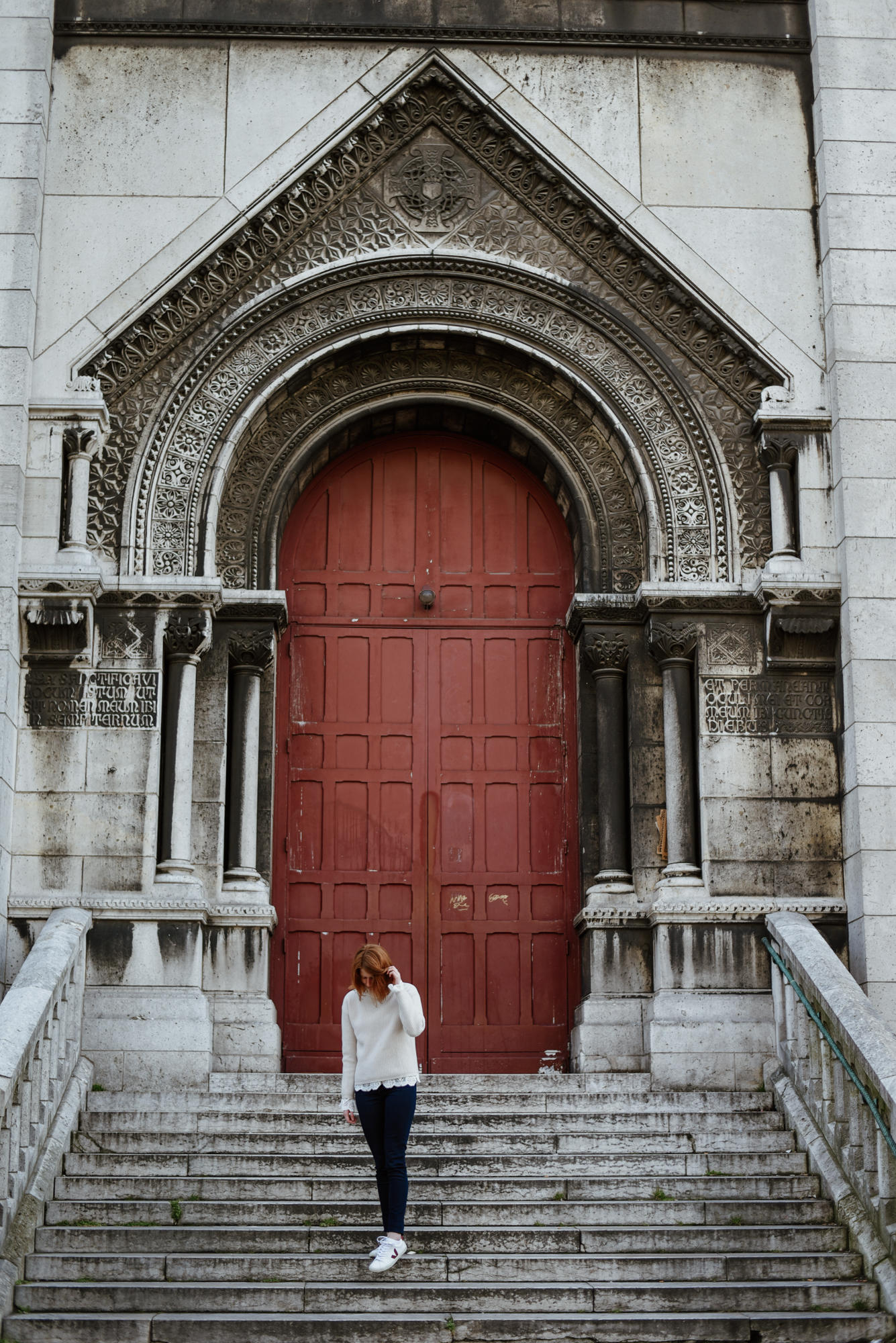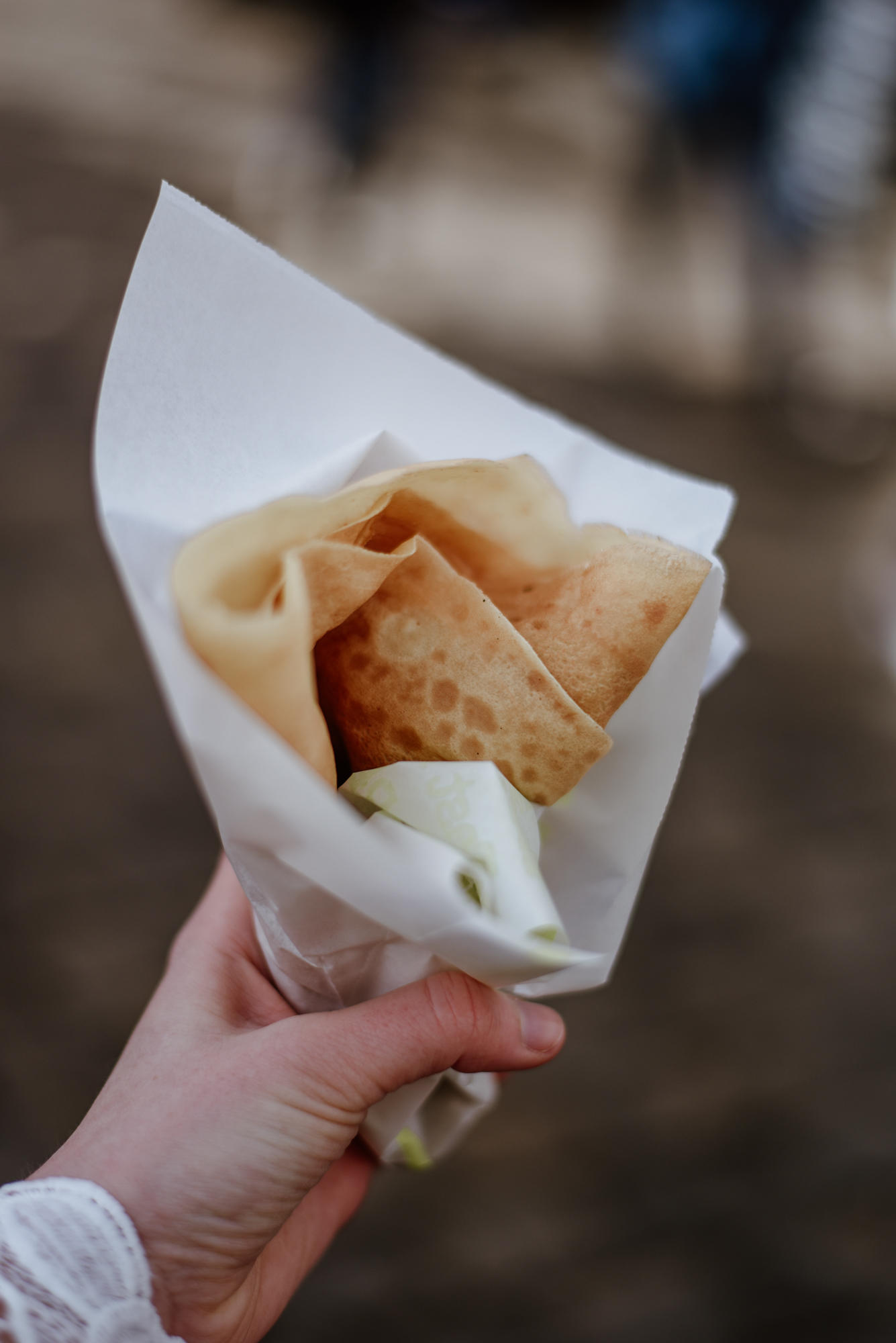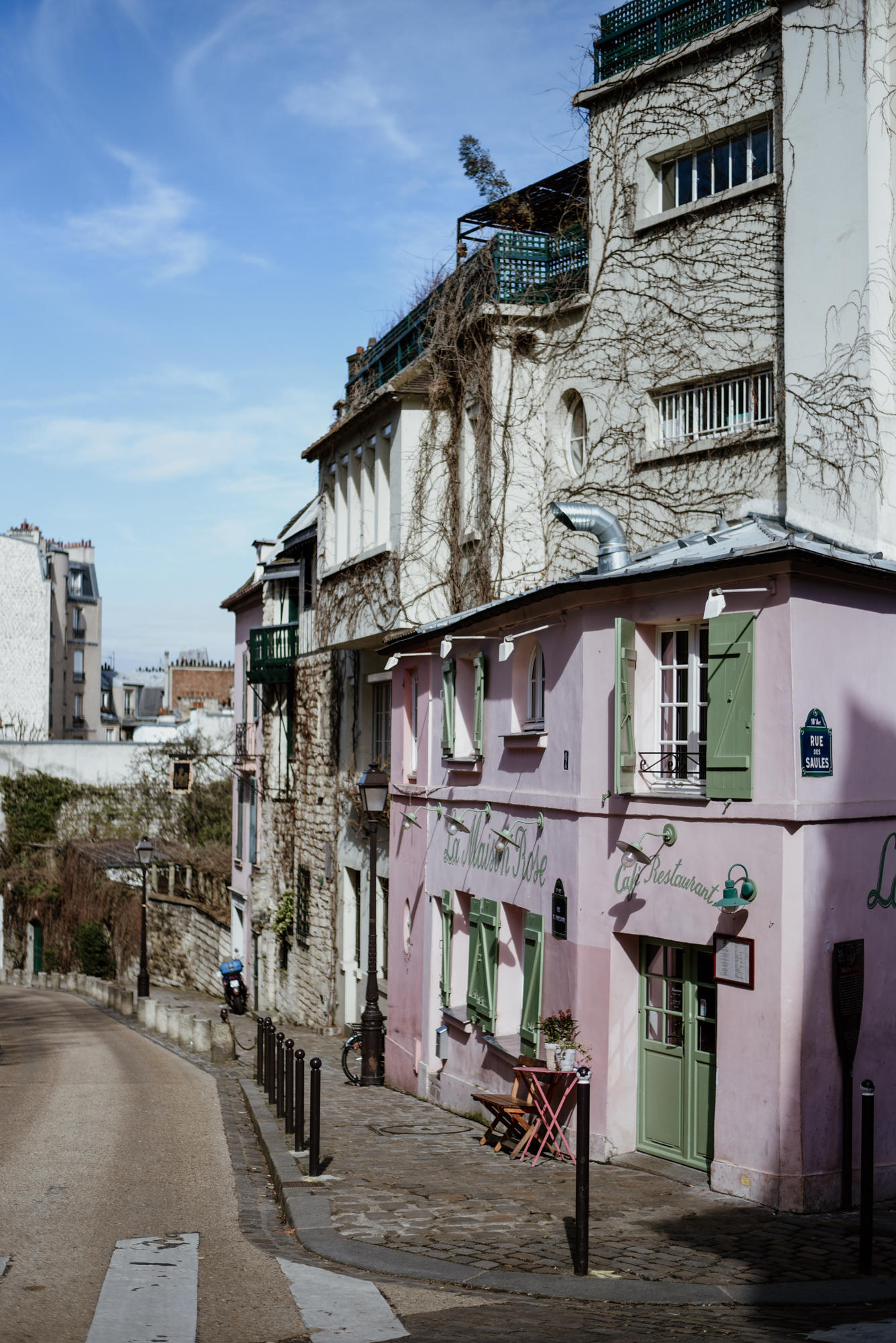 7. Go blossom hunting in Le Jardin de Luxembourg
Ask me my favorite park in Paris and I'll answer Jardin de Luxembourg. I've featured it on this blog numerous times and after all these years it remains a favorite. I've seen Jardin de Luxembourg in the fall and dedicated a whole post to it. I could have written another one about the gardens in Spring with the amount of photos that I made this time! Luckily for you, I have some self control and decided to only edit a few and add them to this post instead, haha.
The whole area around the garden is worth a visit. We usually start on Rue Bonaparte, where we buy pastries from Pierre Hermé. You could picnic in Jardin de Luxembourg, but Place Saint Sulpice is actually also a really lovely place to hang out for a while and eat those pastries. If we're around for lunch, we try to find a table at Judy's Market (Rue de Fleurus 18). This vegetarian cantine serves really good, healthy dishes. Perfect to balance that pastry diet I've been promoting throughout this blog post.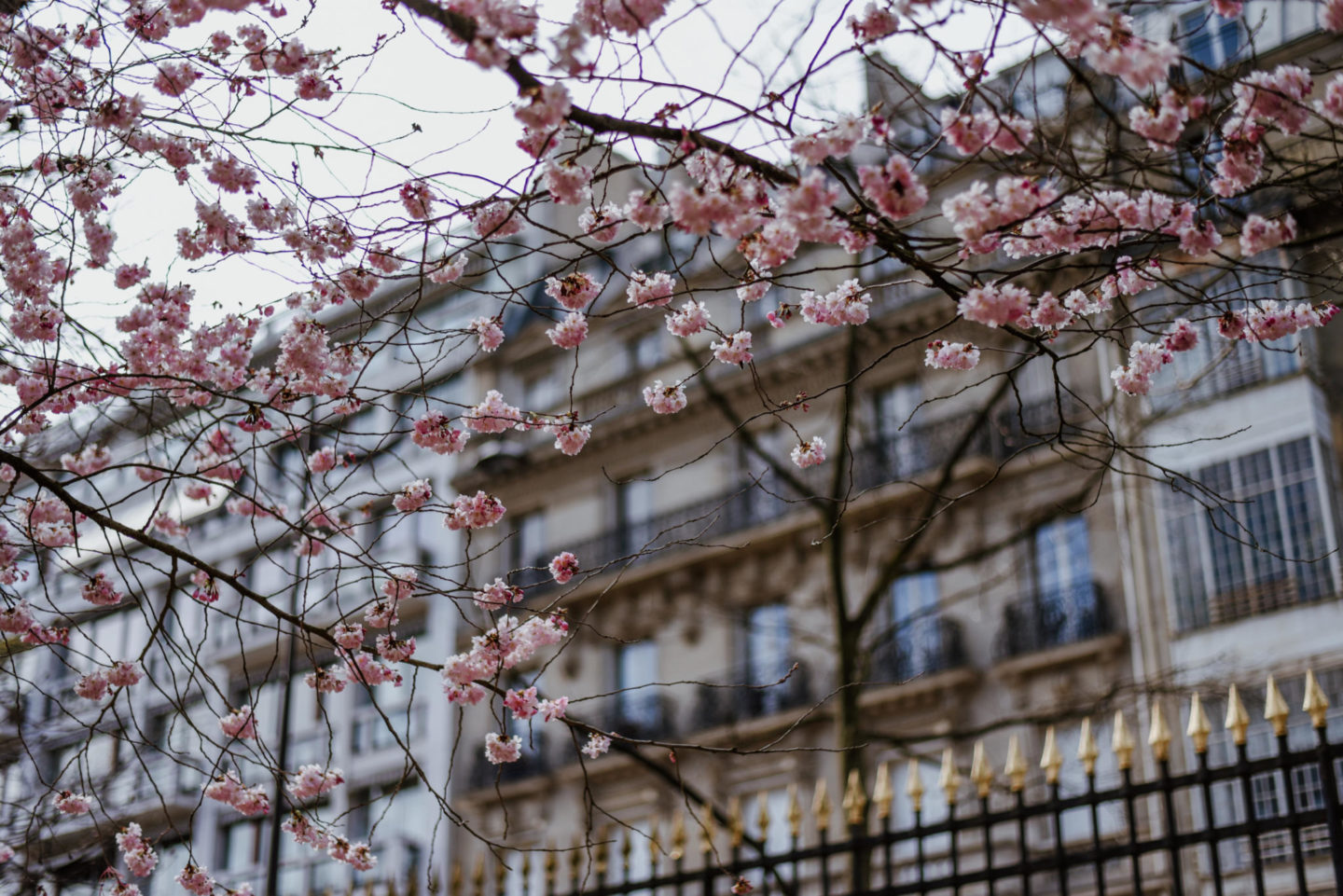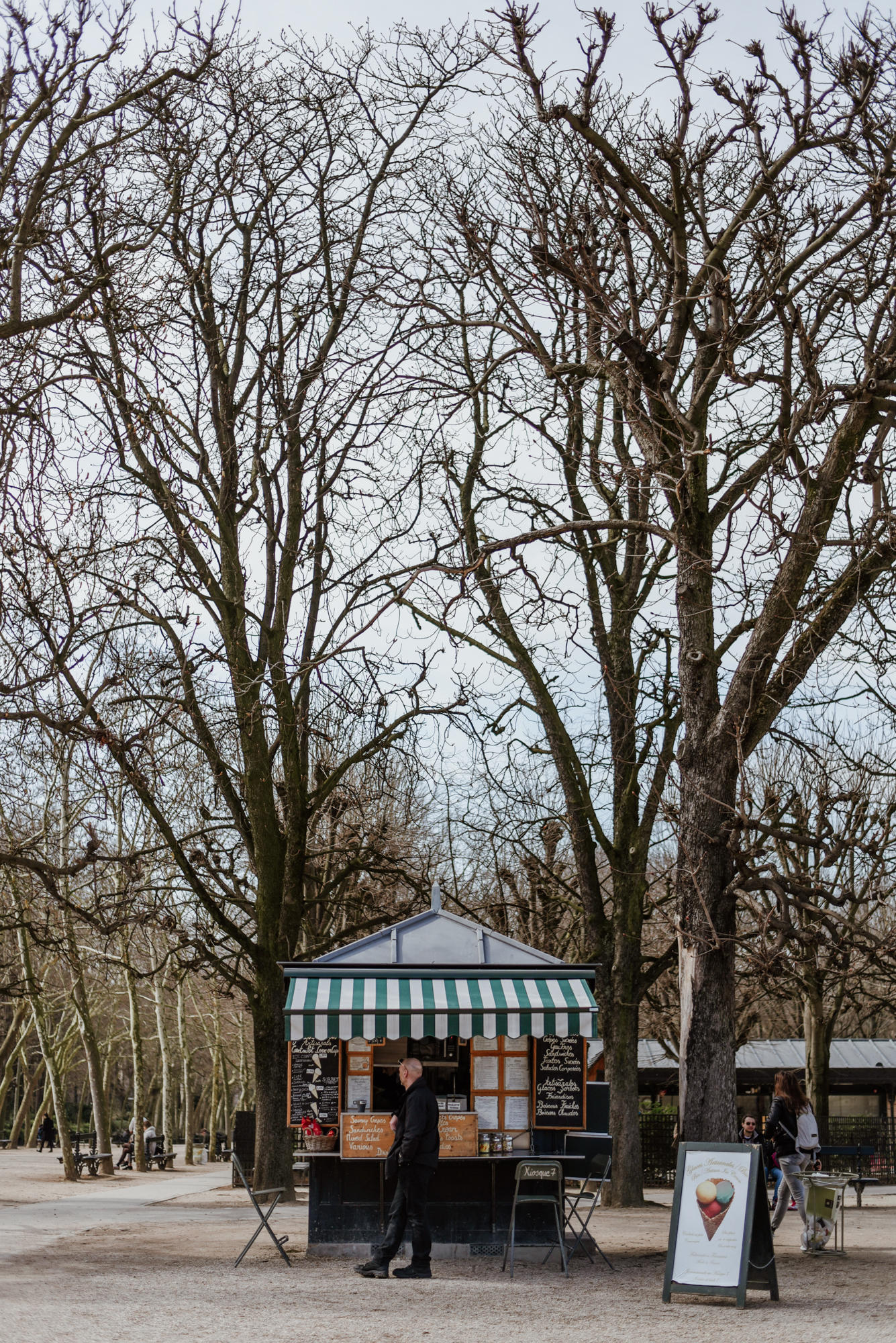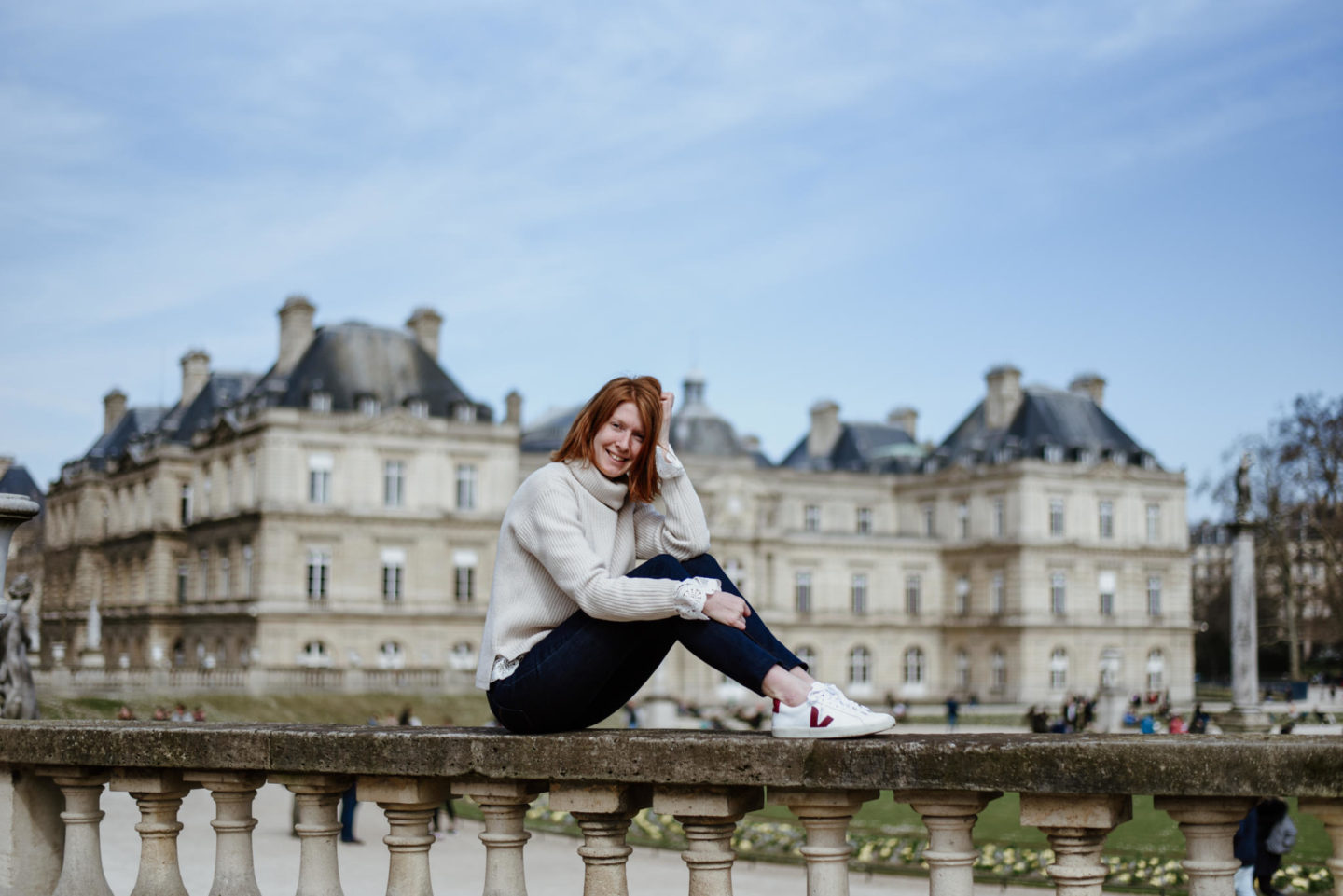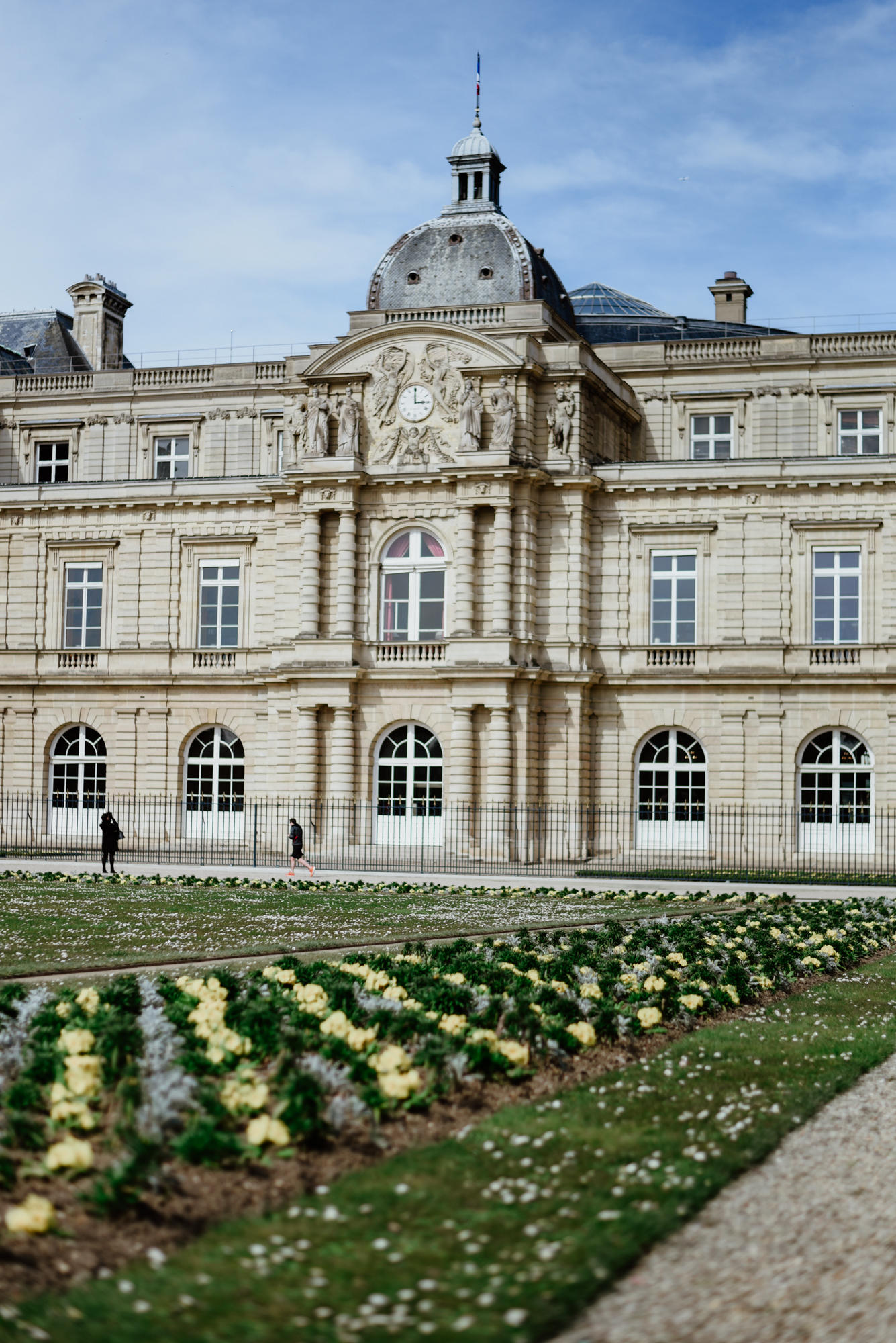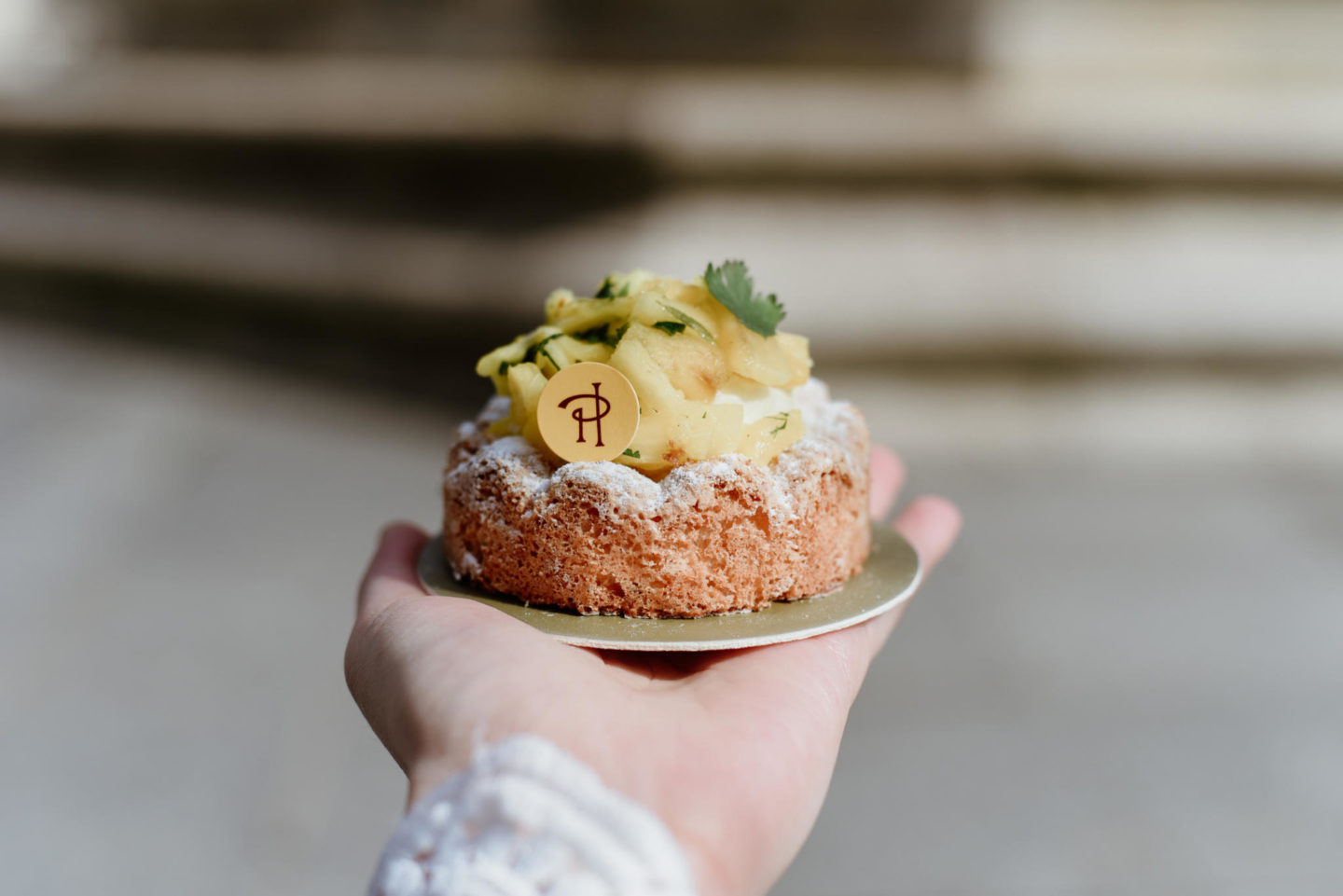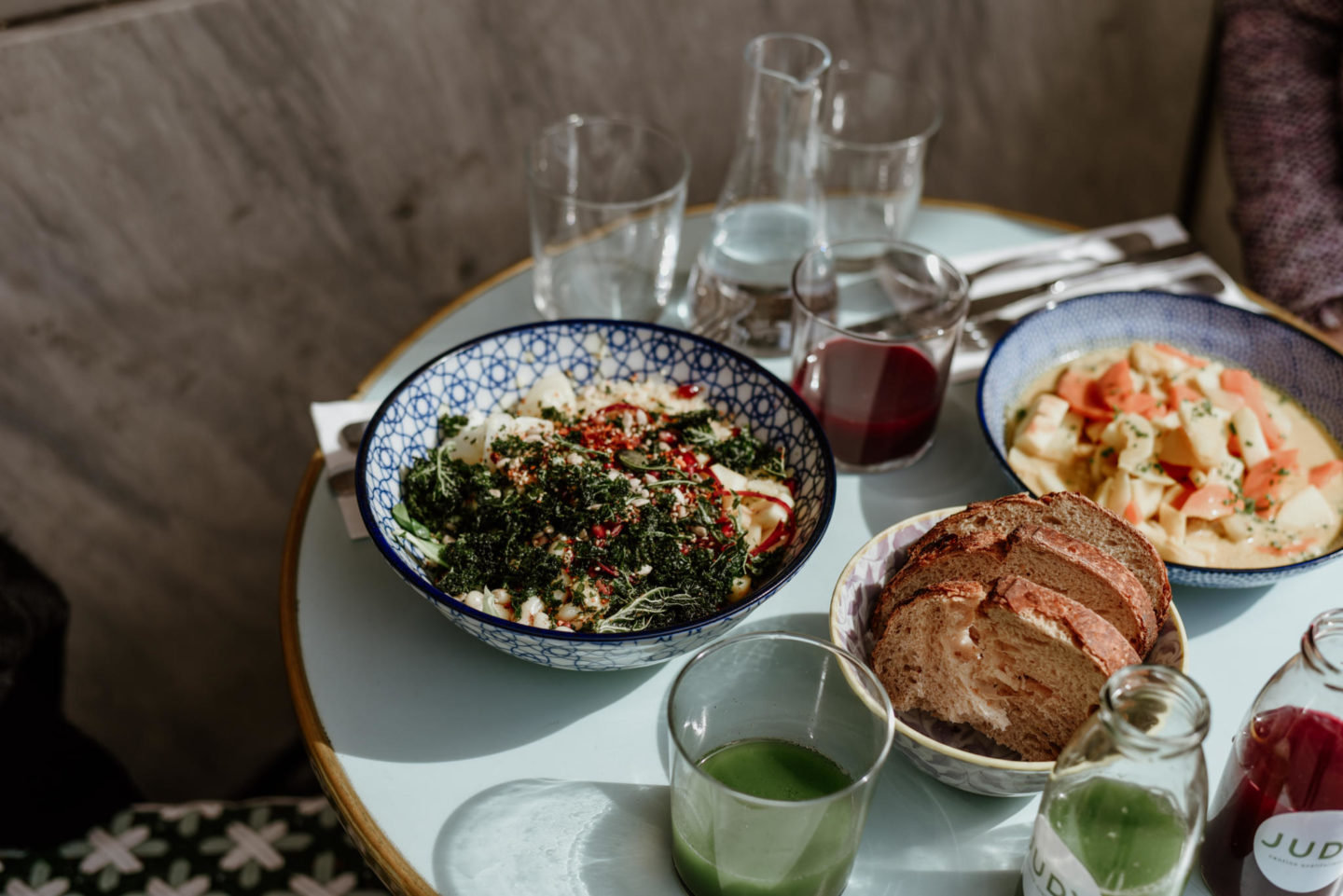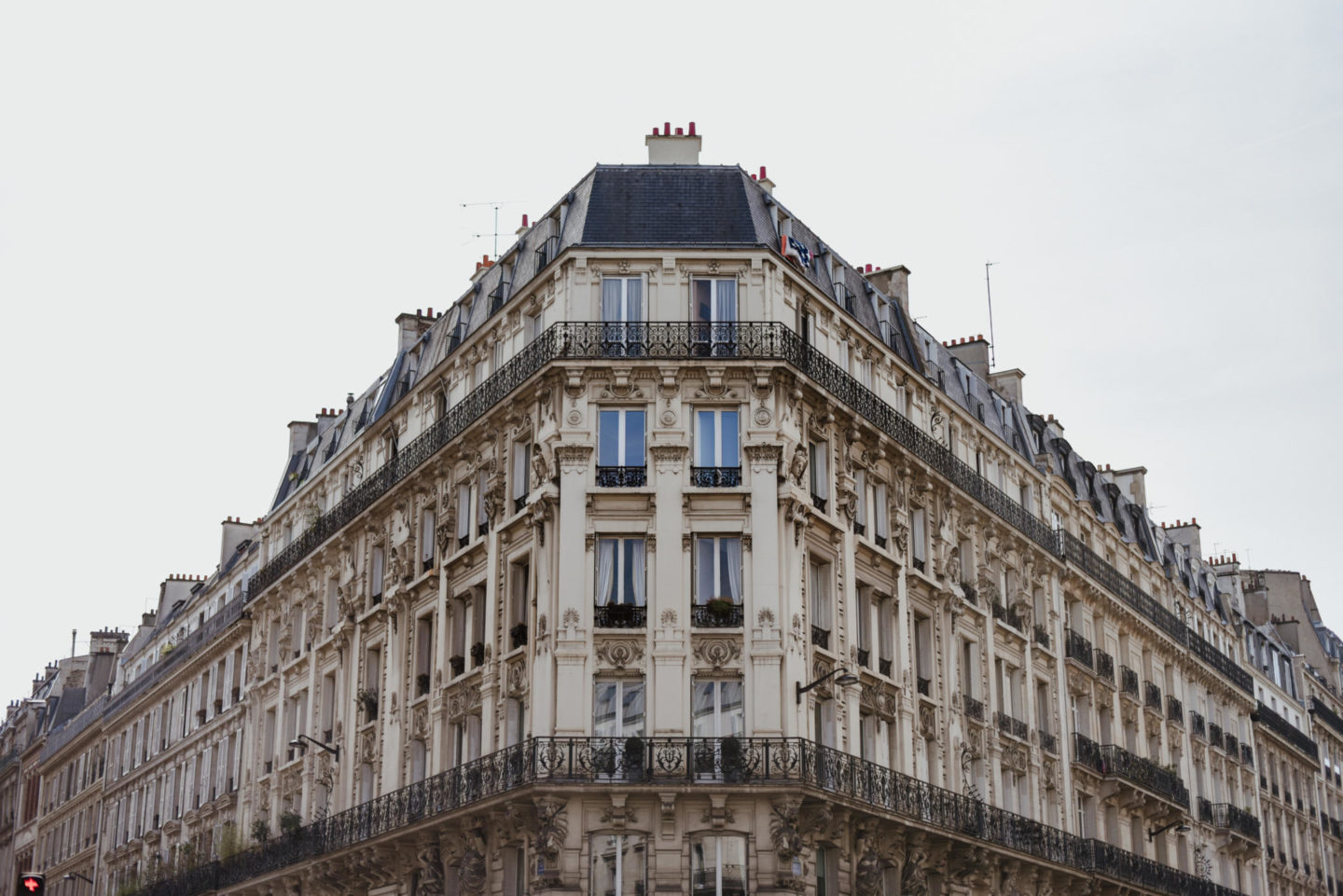 8. Find the cutest café on Rue Mouffetard and have un cafe cremé avec un croissant
Another favorite part of Paris is Rue Mouffetard in Quartier Latin. The daily market that's held here is legendary, but we arrived too late in the day and they had already wrapped up. We popped into DOSE – Dealer de Café, a cosy-looking coffee bar for a croissant and cappuccino to warm up.
There are plenty of typically french cafes, both old and new, to be found on La Mouffe. Mornings around 9-11am are the best time to visit if you want to catch the market and have a typically french breakfast (coffee with a pastry) in one of the cafes. If you arrive later in the day (like we did), you'll find a lot of places closed until the late afternoon.
If you're looking for more things to do in the neighborhood I highly recommend you walk to Jardin des Plantes for a stroll around the gardens or a visit to the National Museum of Natural History. Their galerie de paléontologie et d'anatomie comparée should not be missed!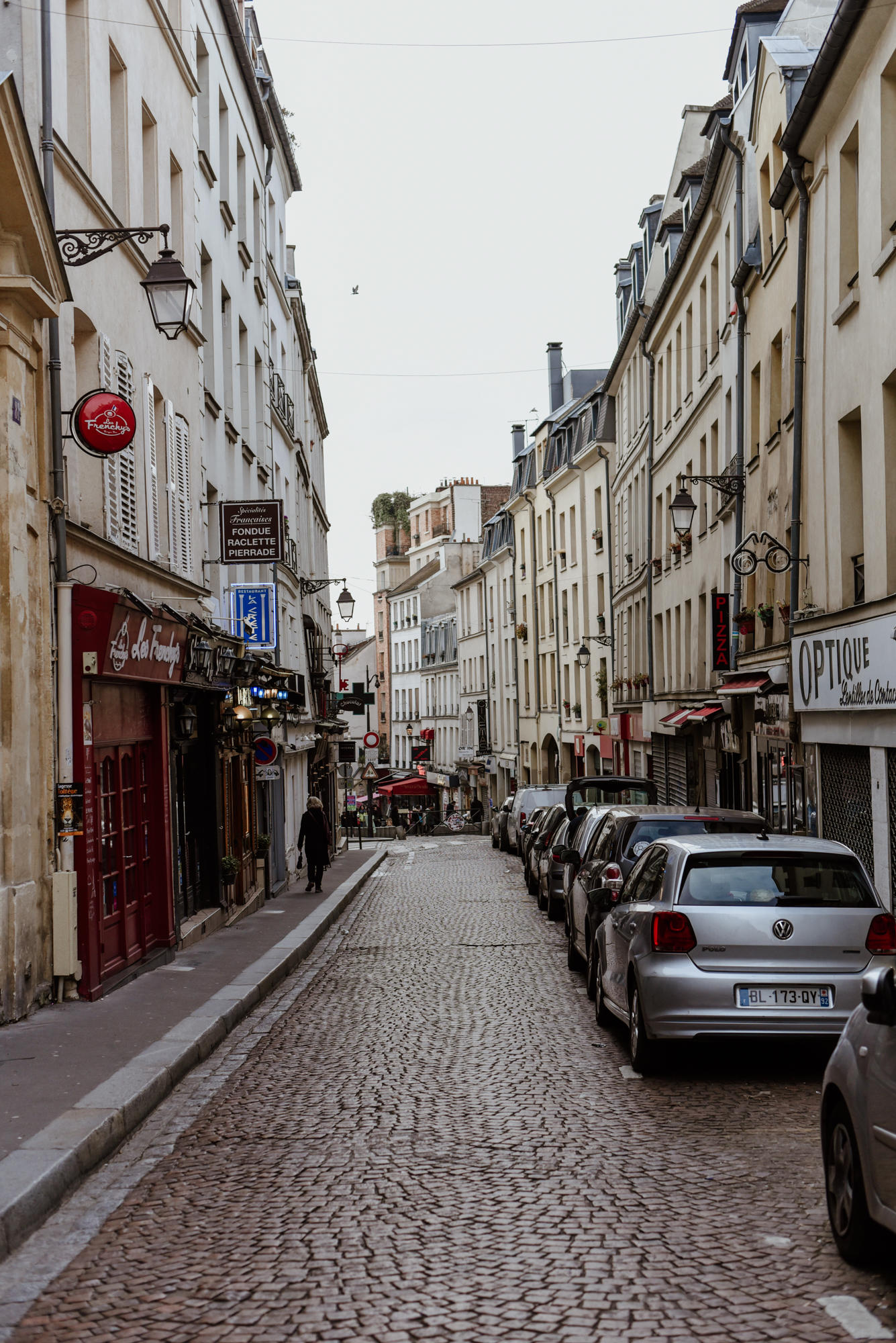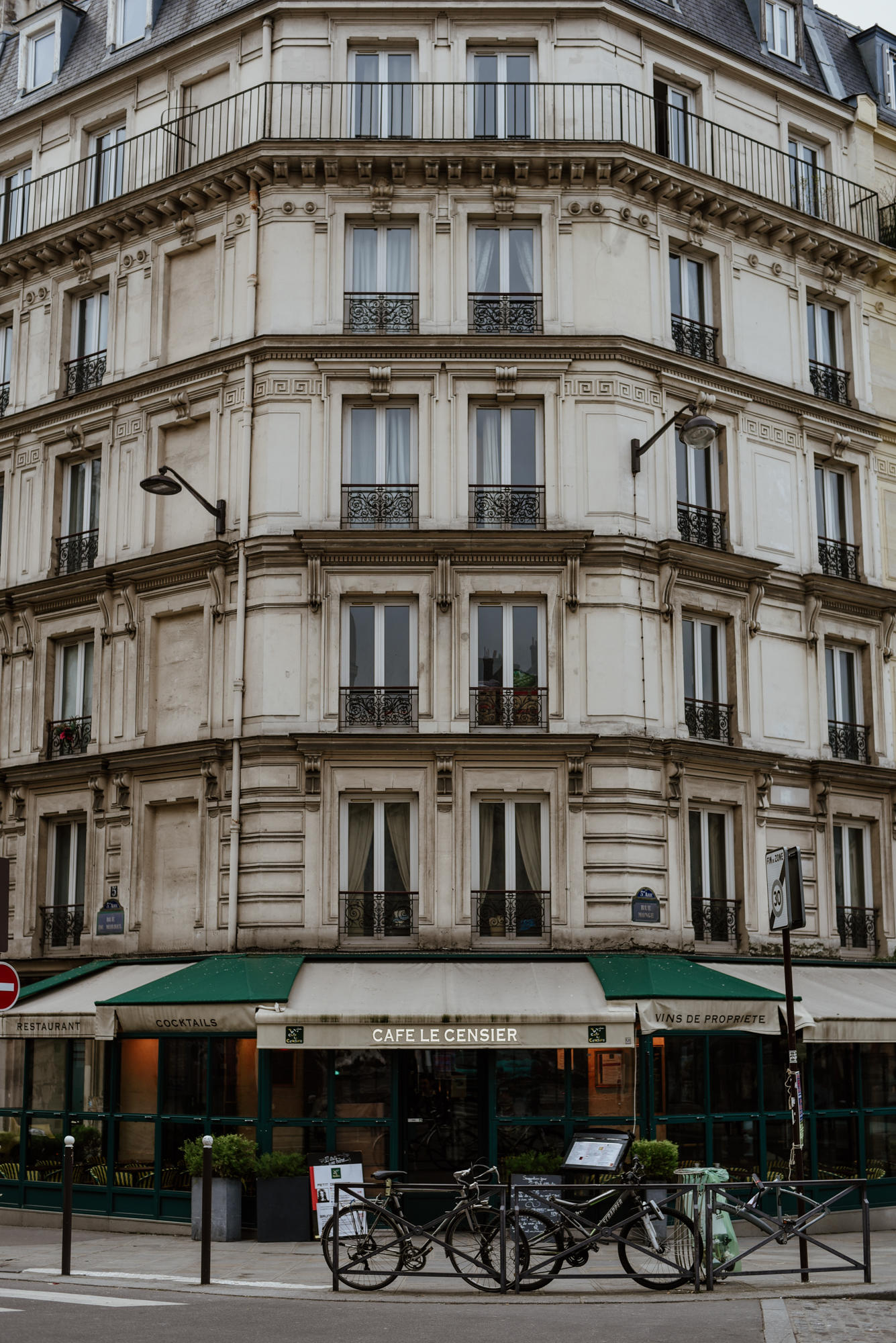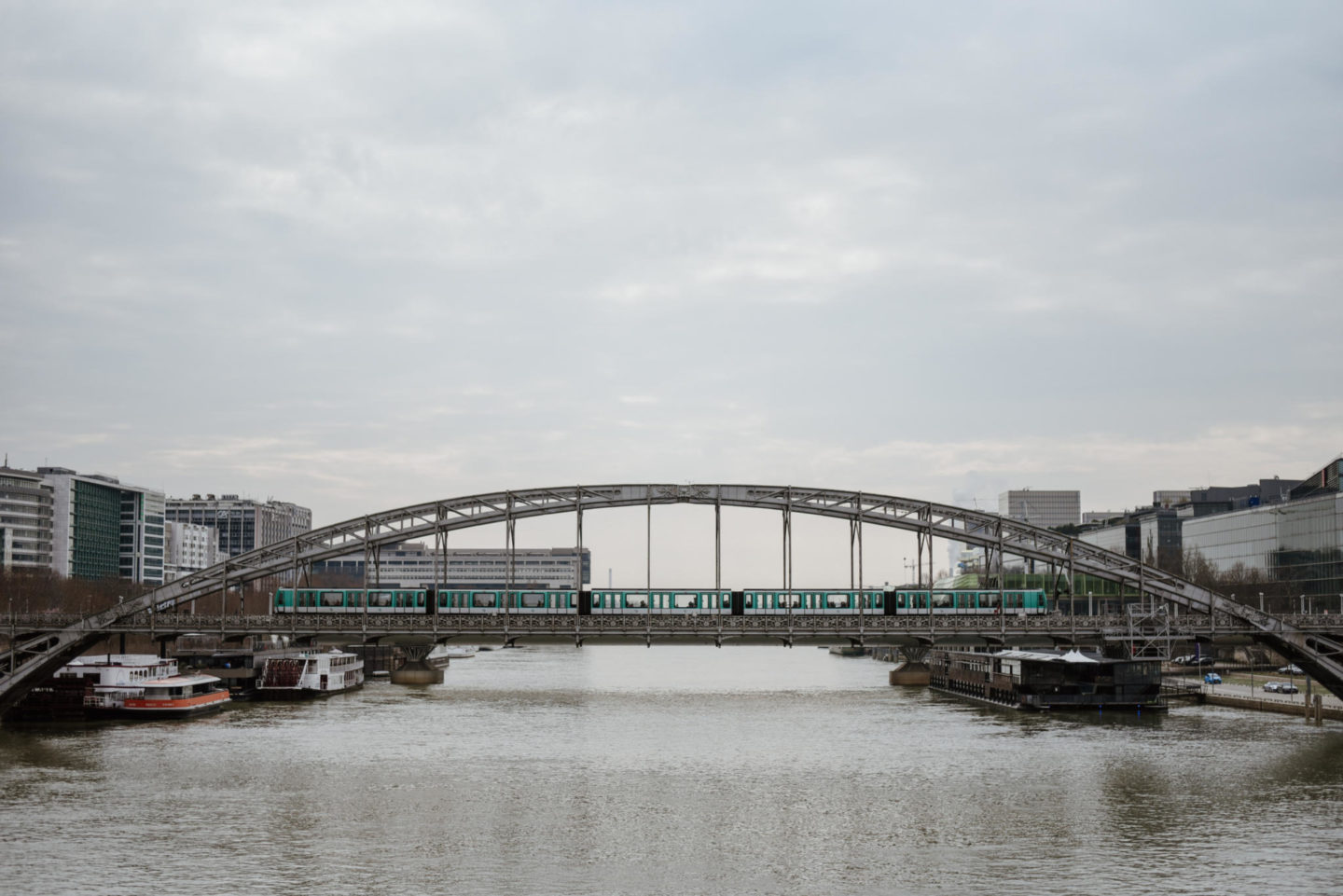 9. Brighten up Rue Crémieux with a colorful outfit
The most non-french street in all of France. That's the only way I know how to describe Rue Crémieux. Okay, so maybe you'll find pastel pink houses in places like Île de Ré as well, but in Paris? Let alone an orange, turquoise or purple one. One street, every house in another color and a whole hurdle of tourists taking pictures, myself included. A little bit of Disneyland right in the heart of Paris!
I may or may not have worn my bright pink blazer from Bershka on purpose.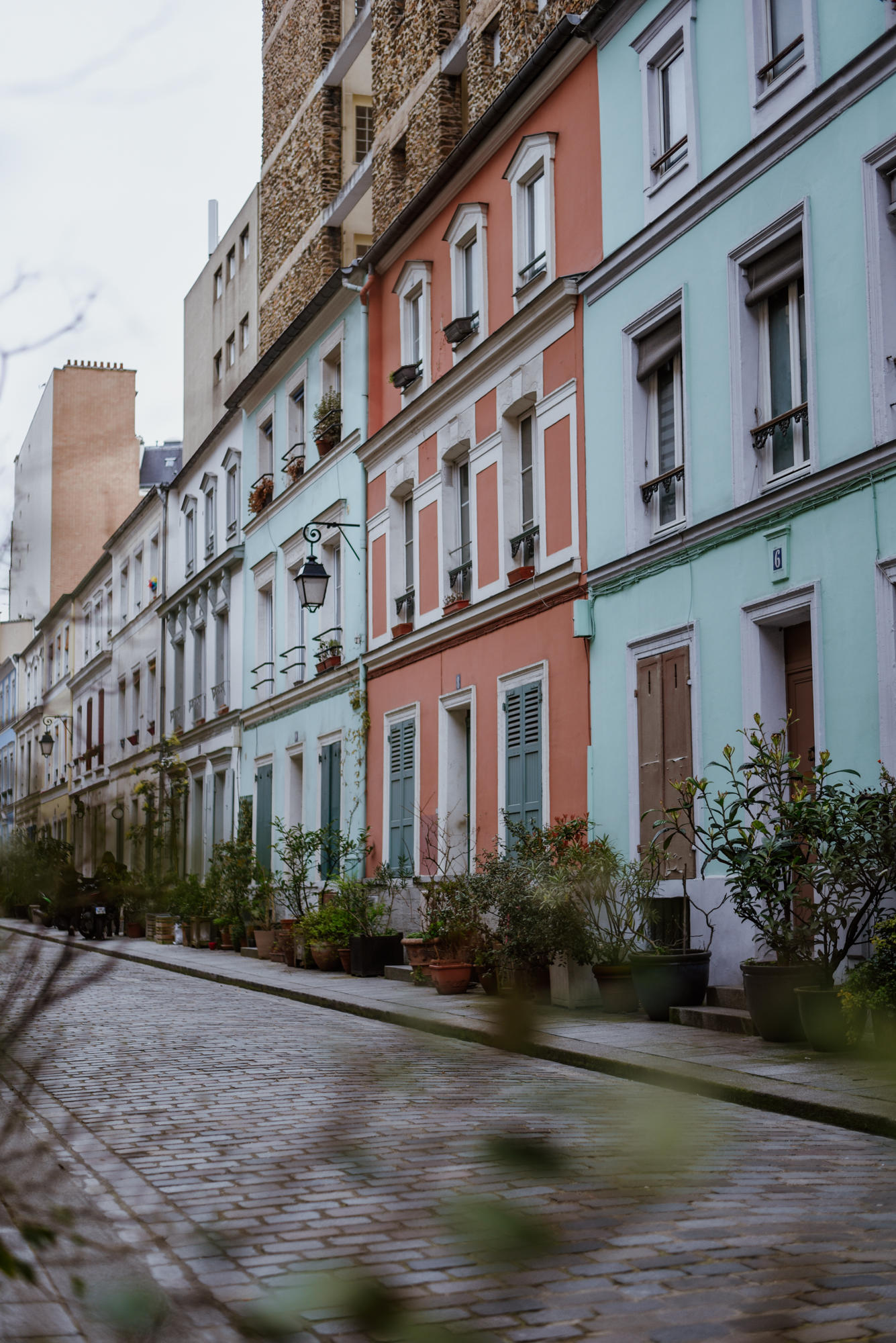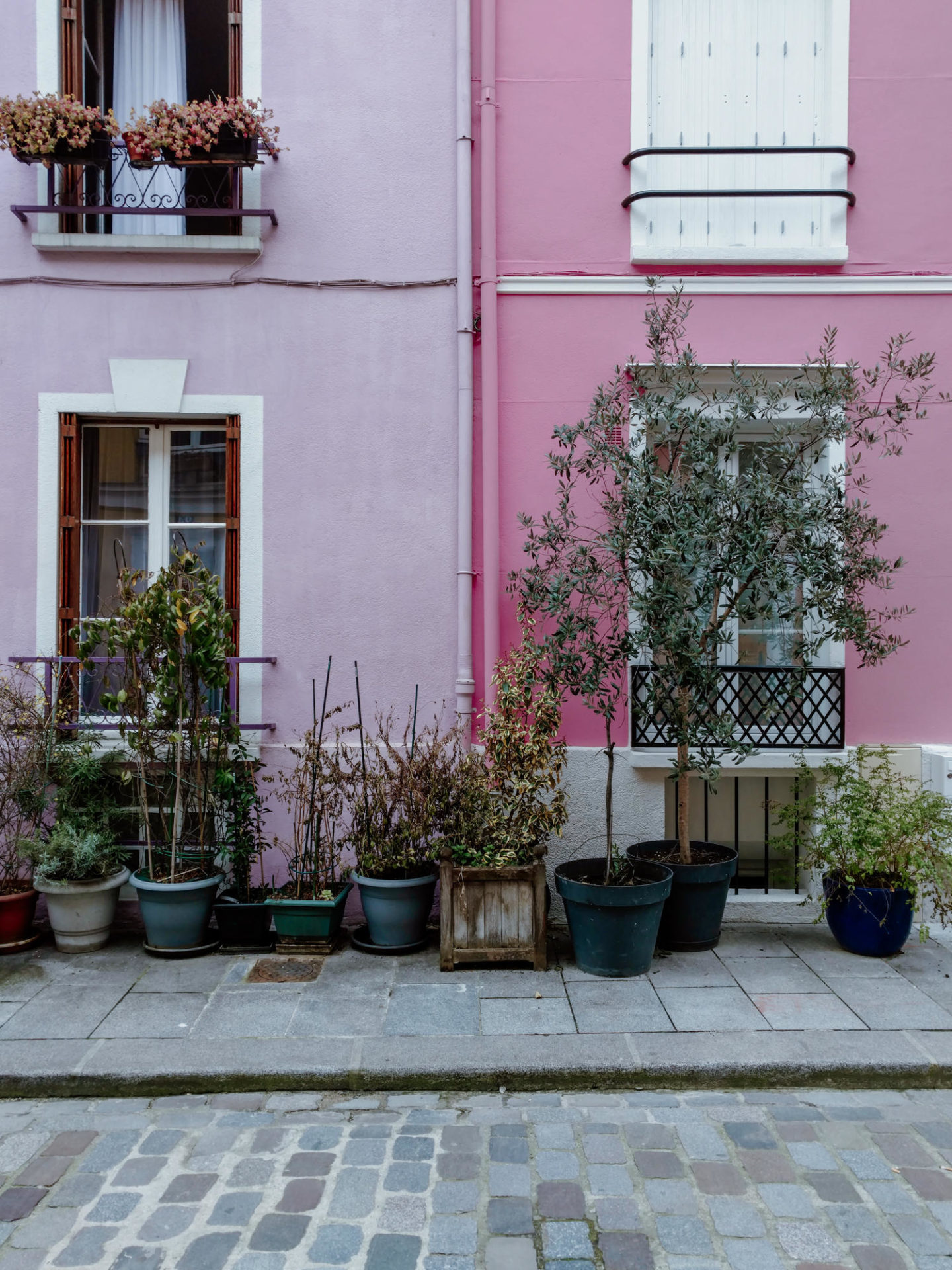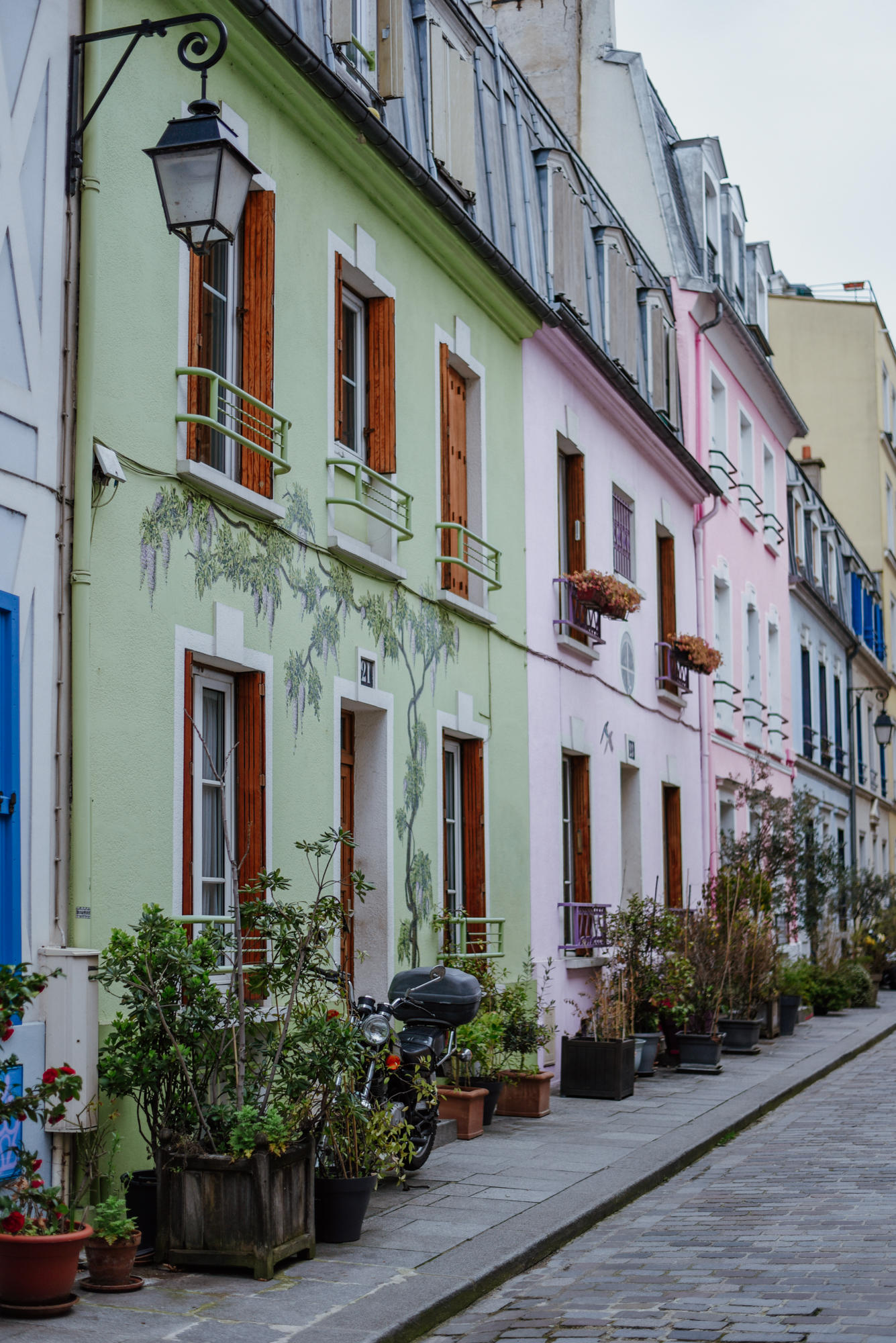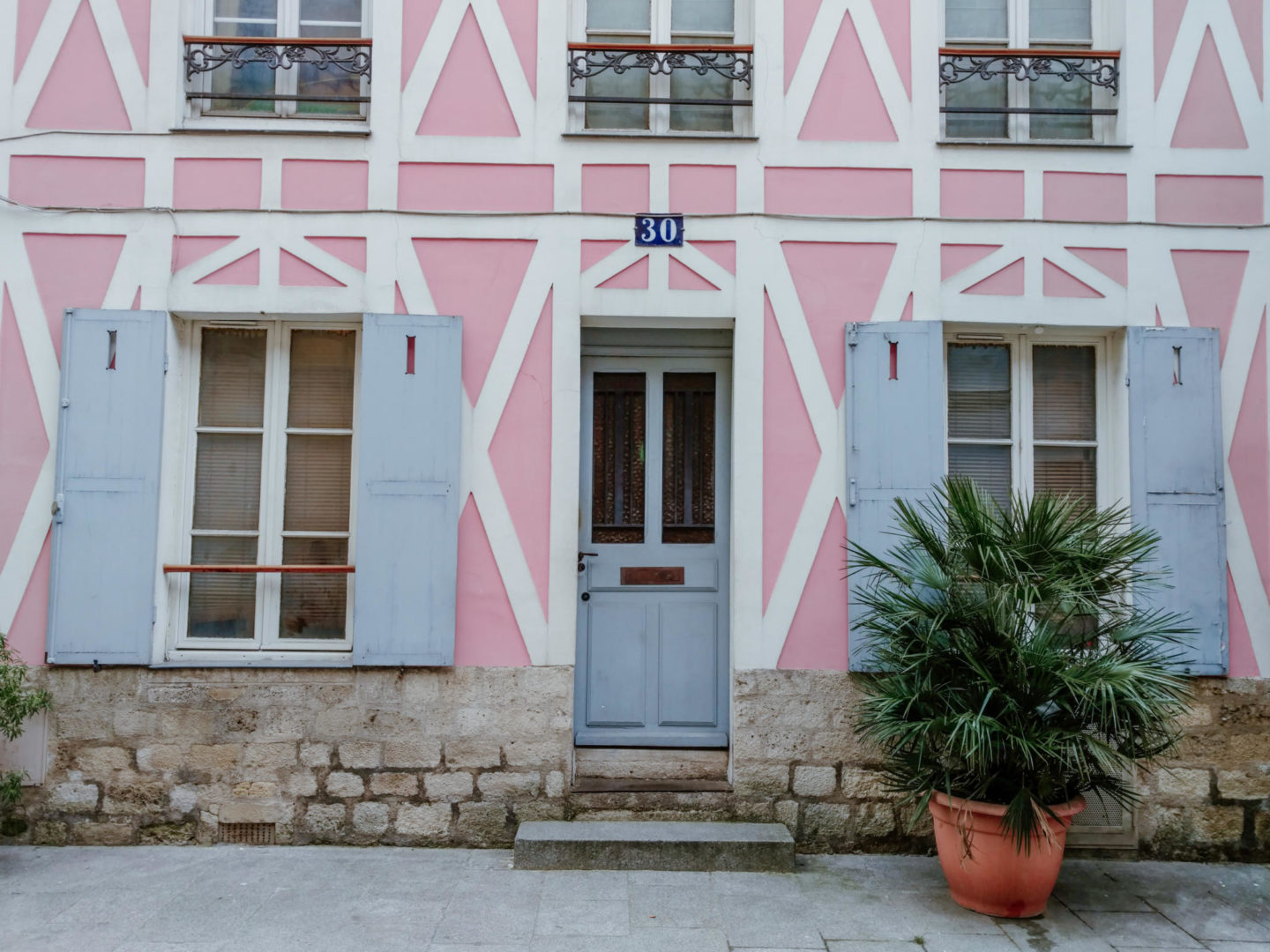 10. Have a photo shoot on the Pont Alexandre-III
Undoubtedly one of the most picturesque places in Paris. This art-nouveau style bridge connects the Grand Palais and Les Invalides, so it's pretty hard to miss it when you're visiting Paris. The sun was finally shining and my friend and I had some time to spare before catching a Thalys train back home, so we decided to have an impromptu photo shoot with this colossal beauty.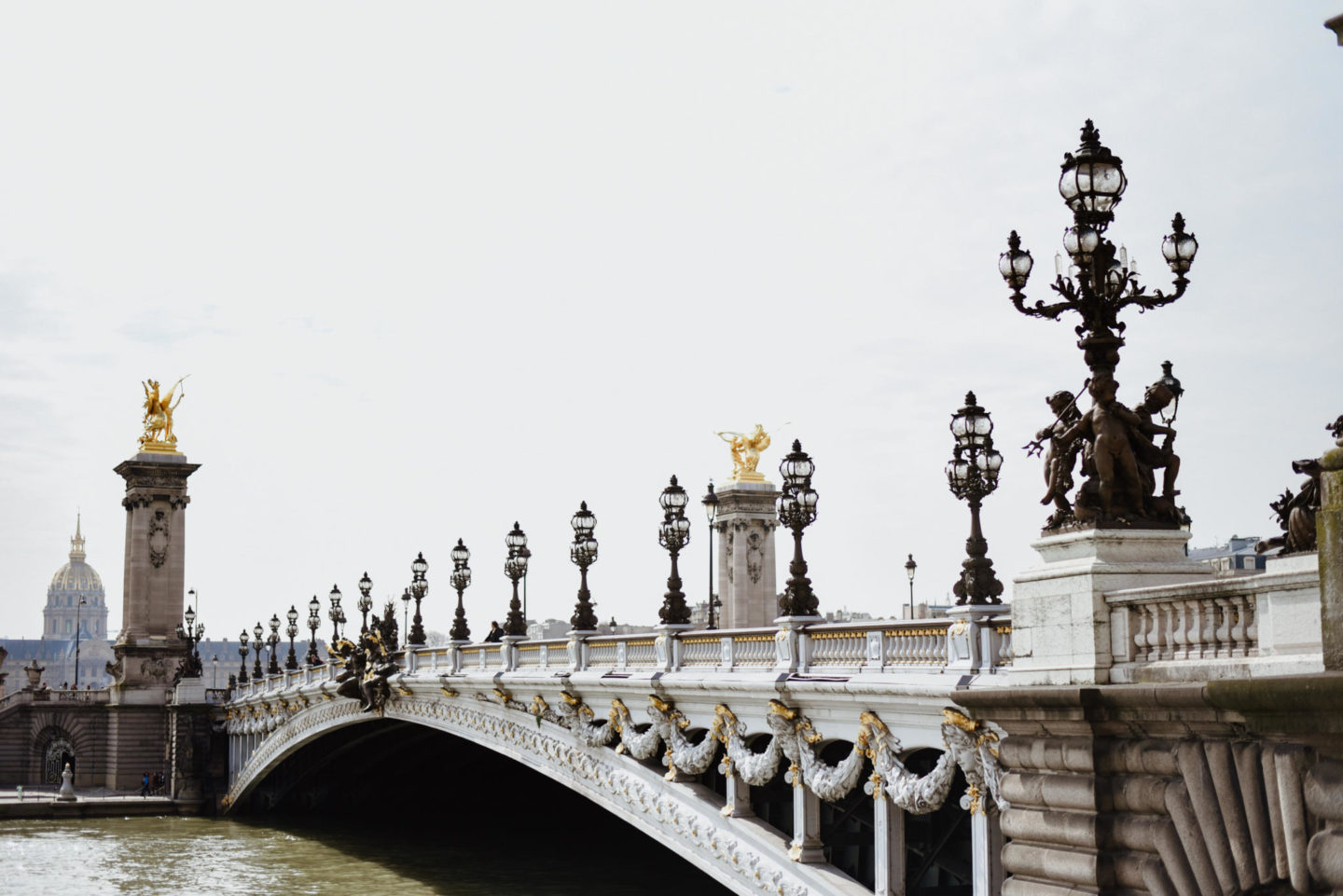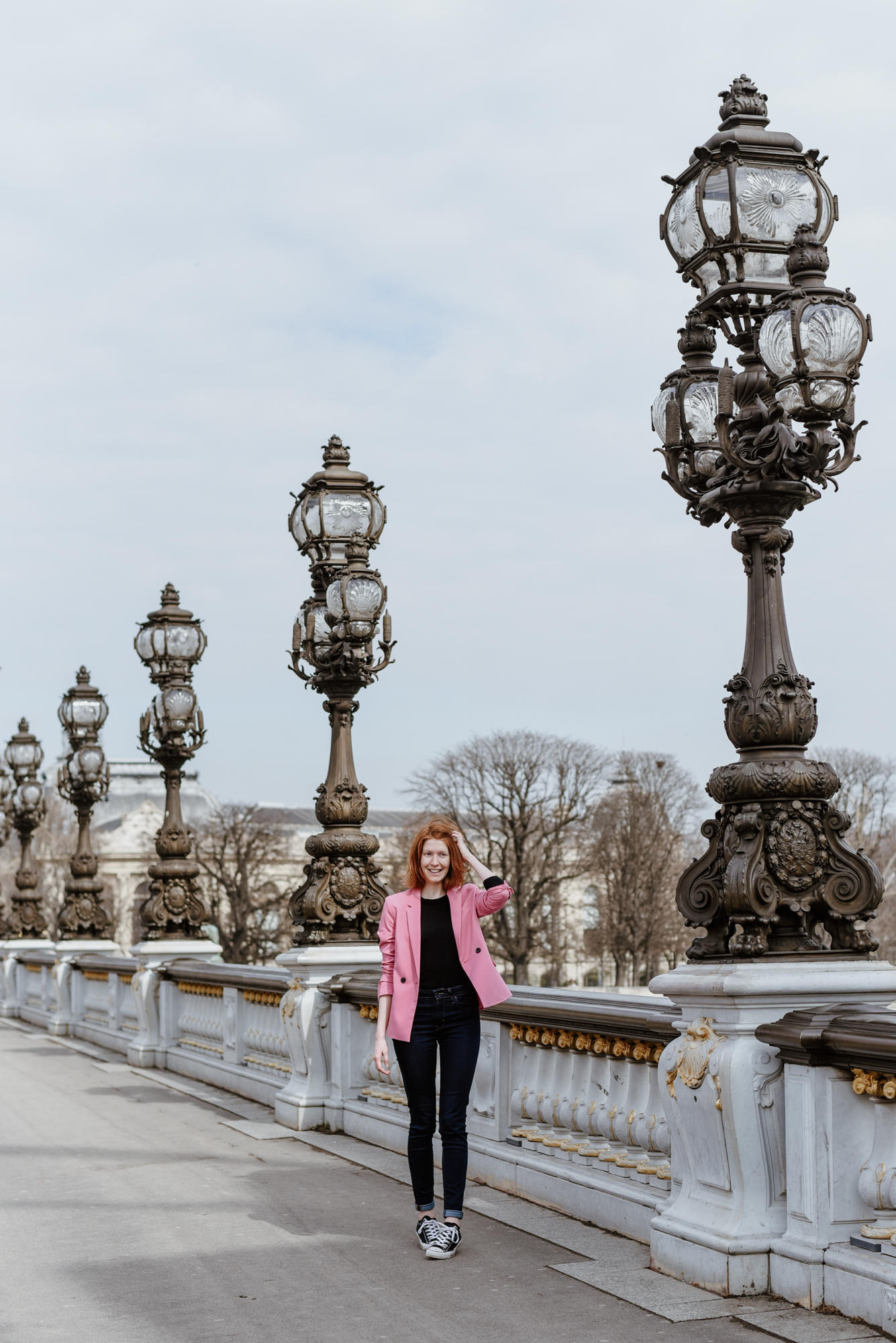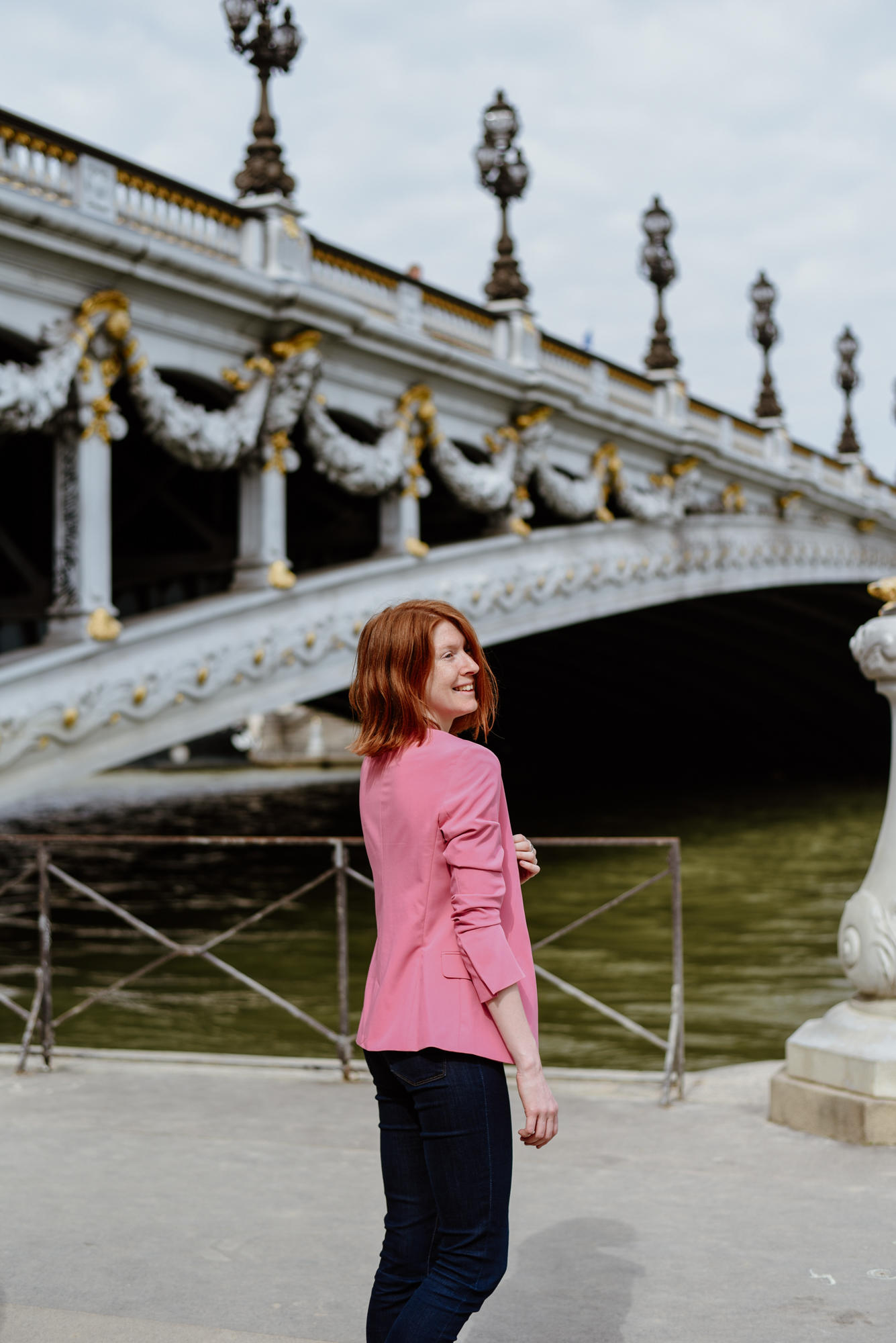 11. Find Carousels both old and new
On our way back to the hotel we popped out of the subway to see a little bit more of Les Jardins des Tuileries. We actually hoped to score a table at Angelina (Rue Rivoli 226), but didn't get lucky. Instead we bought more crêpes in Les Tuileries and watched kids play around the old carousel. Back to Place de La Concorde we went, to take in one last iconic view (the big ferris wheel) and then it was already back to Belgium for us.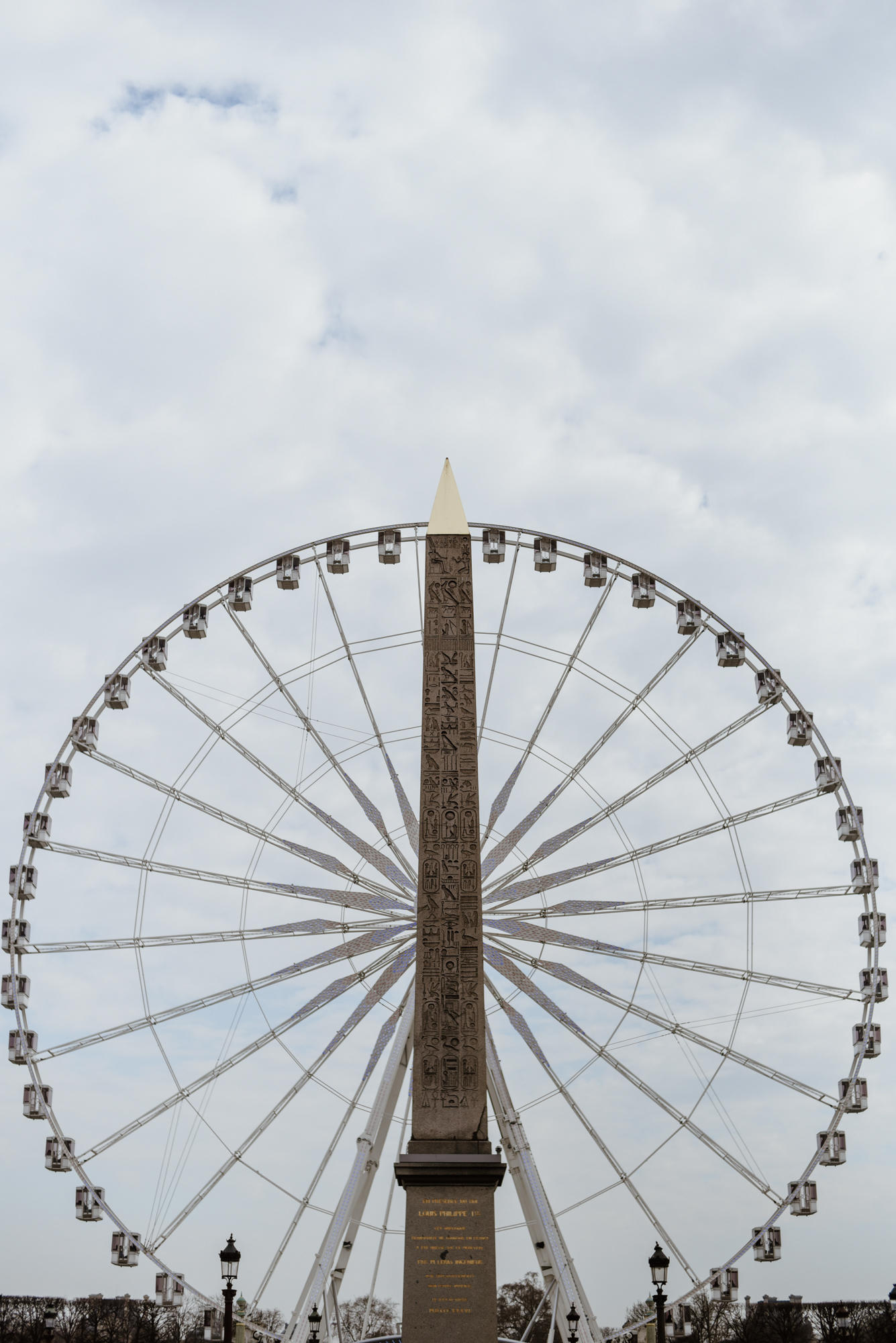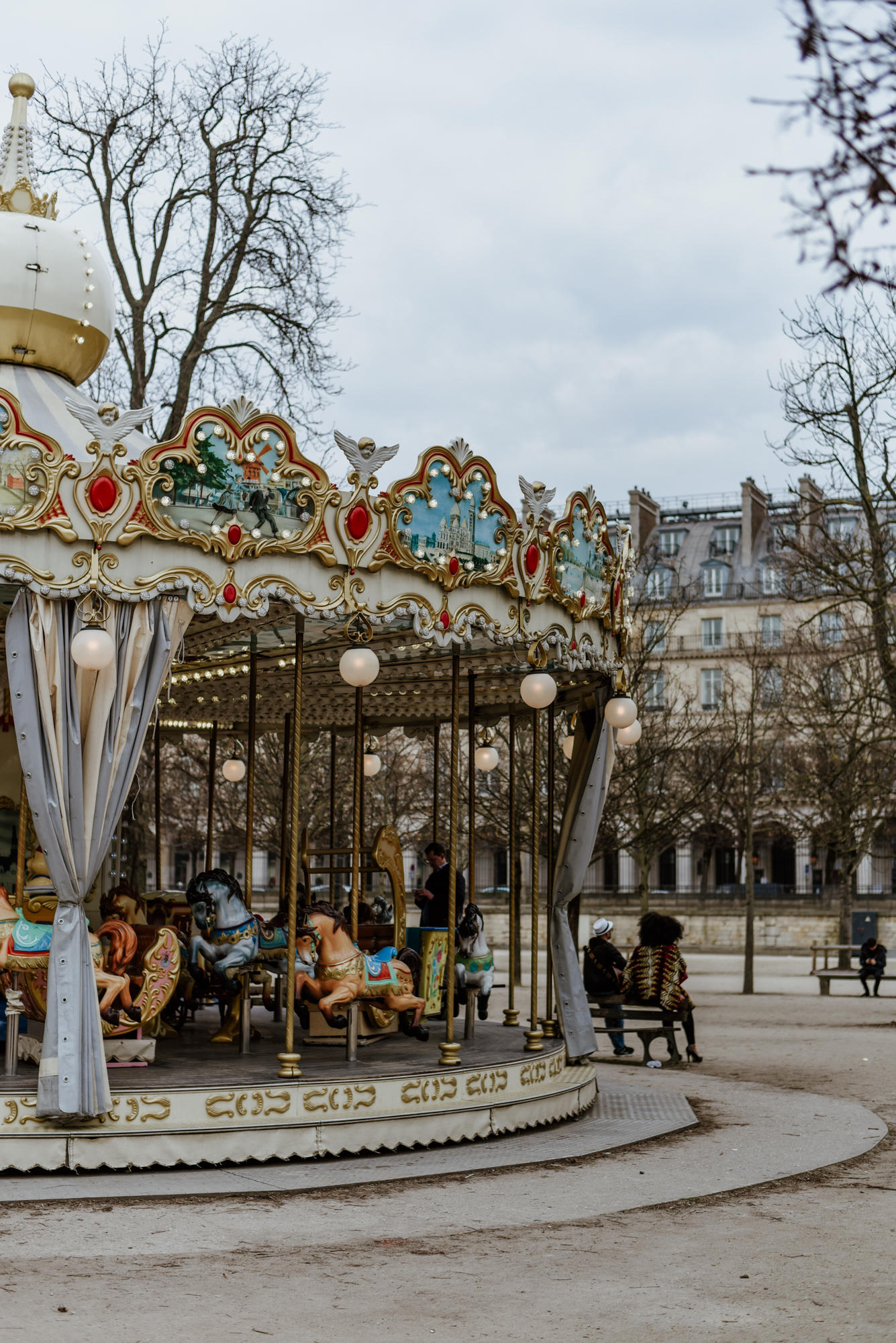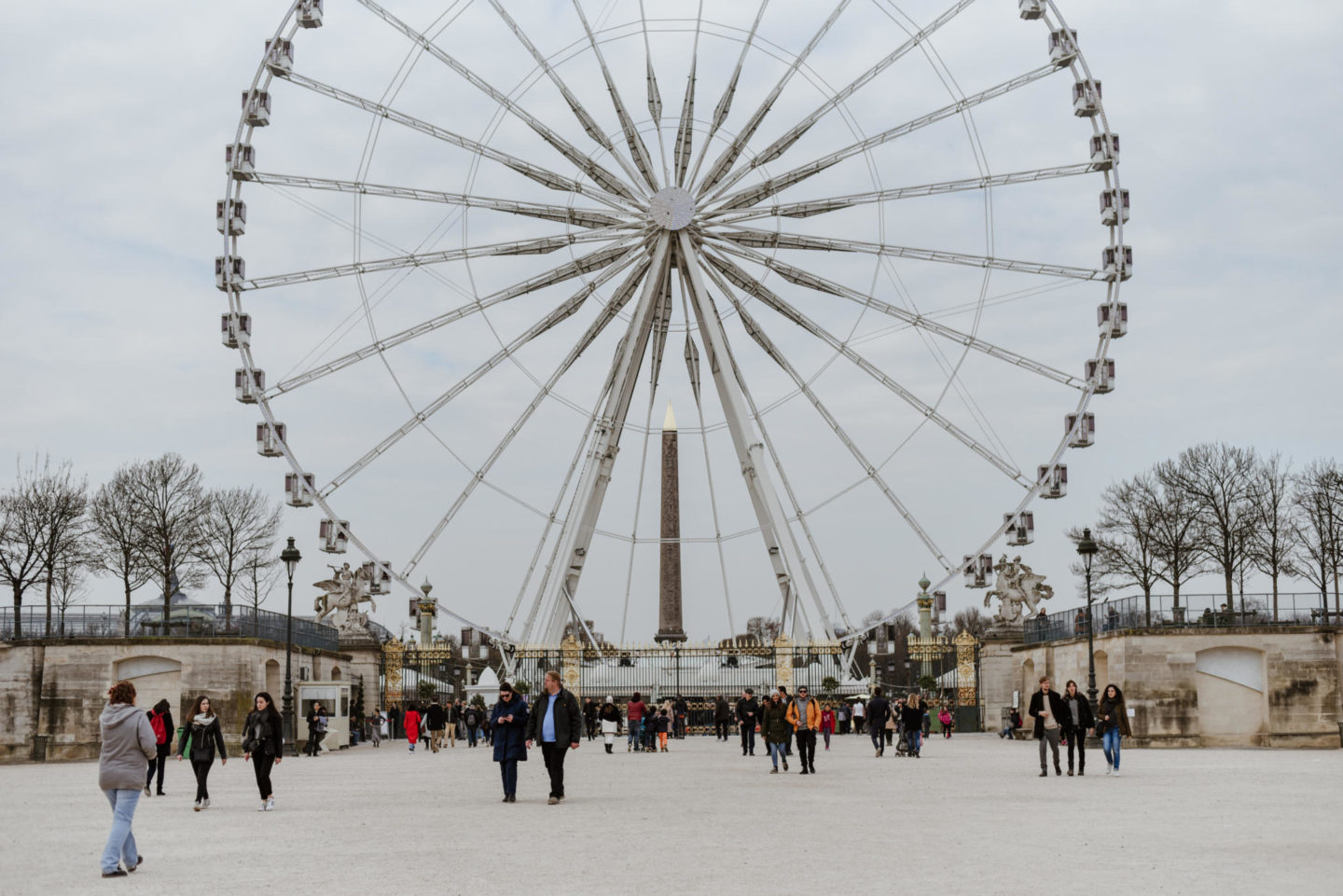 Pin this post for later!