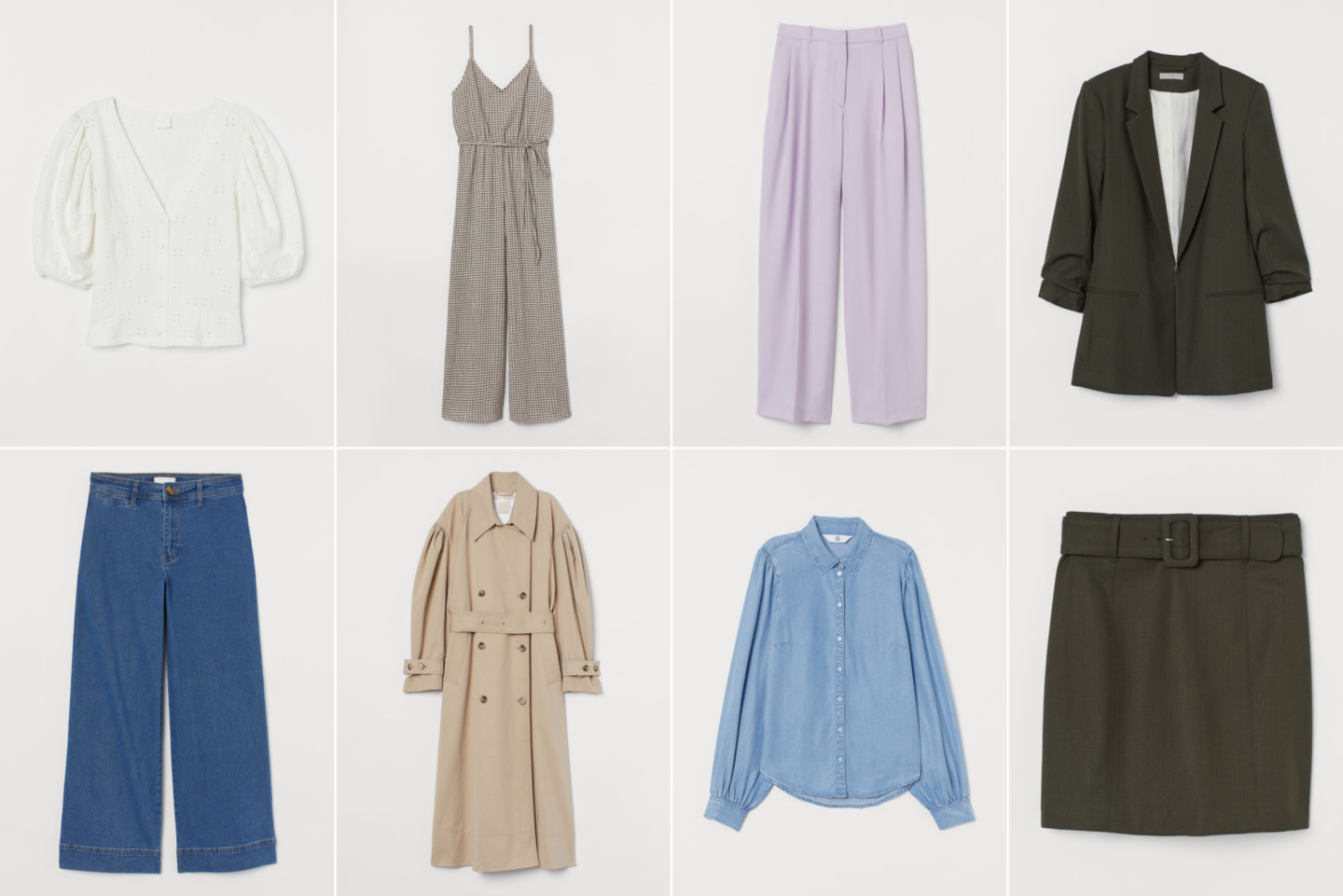 A little side note before you read on: I created and wrote this post last week, before our country went into lock down. I still want to post it today. Admittedly, it feels a little strange to be talking about shopping for clothes in the face of a pandemic and while all the stores are closed. I know everyone seems to be encouraging online shopping right now, but I'm holding back because I don't want to put a burden on our postal system with unimportant orders.
As a teenager who was just starting to explore her style, Zara was my go-to shop. Yes, Zara. Not H&M. Especially in the Spring and Summer, I'd go crazy and spend all of my hard earned money on Zara dresses and skirts. They did the best of the best affordable cotton items and I went all in on those. I still wear a few of the dresses I bought back then (one seen here in 2011, but I got it in… 2008).
But Zara changed and so did I. I'm not going to lie: I'm not a fan of the Zara collections from the last couple of years. It feels like they're trying hard to make instagrammable clothing and in doing so, completely miss the ball when it comes to wearability. It's pretty much impossible to find a good, non-polyester dress in there that fit's just right and isn't in a strange color, odd length or with poofy sleeves.
Thankfully, H&M still has their Basic and Modern Classics collections which I absolutely love. They've been killing it this new season with lots and lots of wearable, breezy pieces that might not be the coolest to pose on Instagram with, but that will definitely get you through a spring or five without looking too 2020.
None of the pieces that I personally bought are available online at the moments, so I can't link to them. I'll add pictures of me wearing them at the end of the post with product codes, so you could check another time if they've come online or not.
Spring Colors & Basics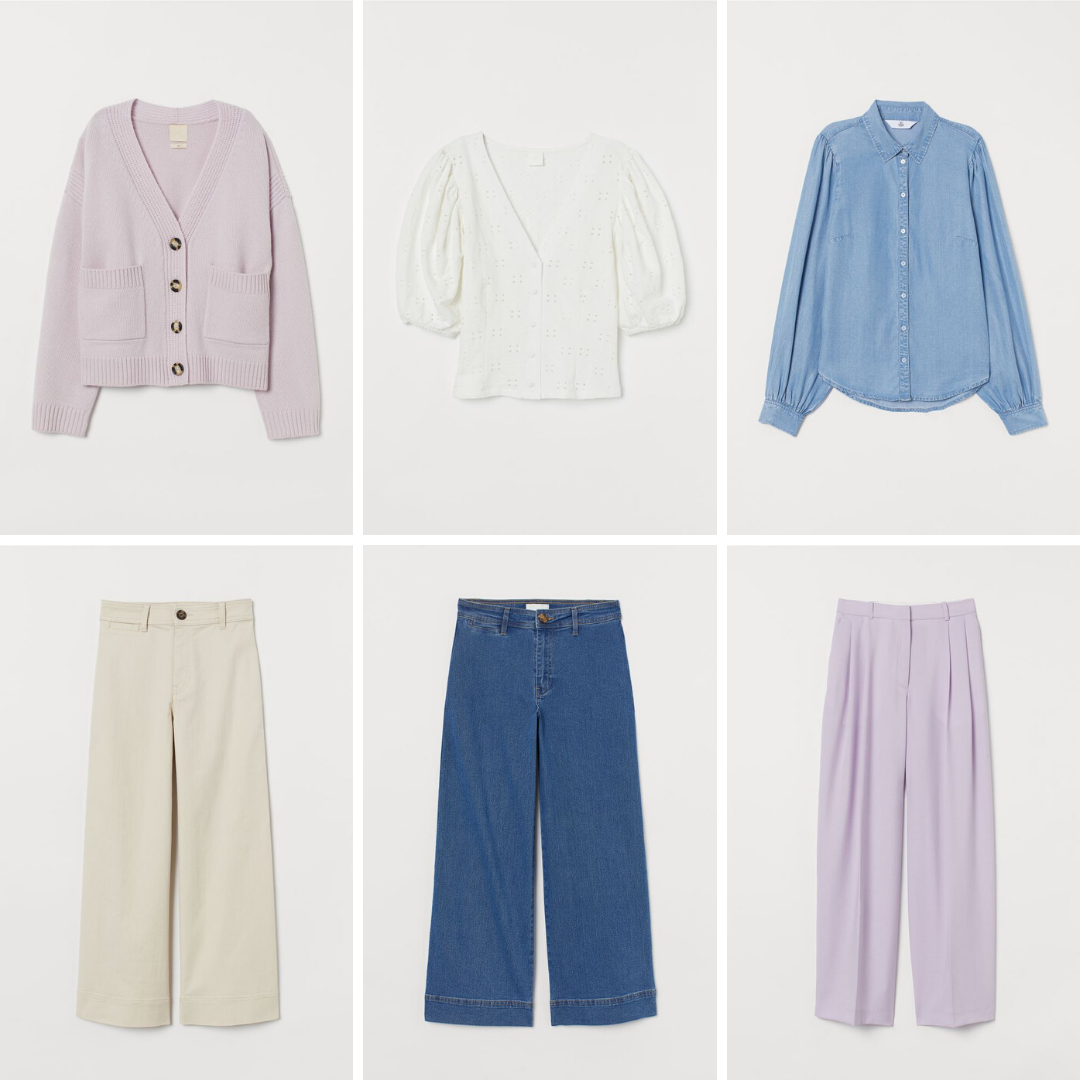 boxy lilac cardigan (€59,99) | cropped broderie anglaise blouse (€14,99)| lyocell blouse with wide sleeves (€24,99) | high waisted culotte (€14,99 – comes in 4 colors) | lilac wide fluid trouser (€49,95)
The wide lilac trousers are what started this whole blog post. My eye fell on them in the 'new in' section on the website and I was oddly drawn to them. I usually avoid pastels and think they're not for me, but this year I caught myself a few times trying on lilac pieces in stores. I decided not to get them, but only because I don't think I can create at least three different outfits with them that I would actually wear.
That lyocell blouse o the other hand… I think I need that in my wardrobe yesterday! How cute would those look with white jeans, huh? I'm super stoked that one of my favorite ever 'blogger trends' seems to be making a comeback this season. I've seen denim shirts, skirts and dresses all over. I already have this dress in my closet now, so I might just be set for the season.
The Perfect Trench + Midi Dress Combination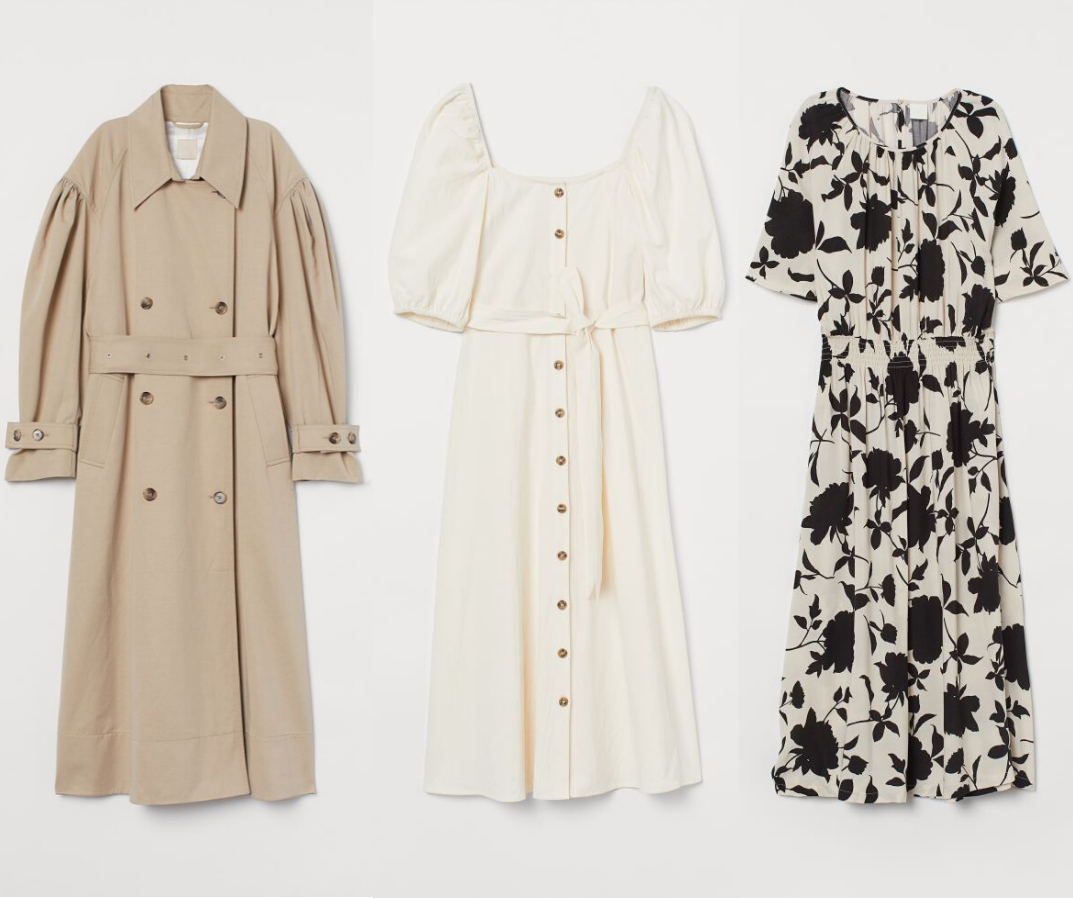 trenchcoat with dropped shoulders (€99,00) | cotton midi dress (€29,99) | floral midi dress (€19,99)
After years of not finding any good trench coats, I finally found a replacement for my old H&M trench. I wore that trench all through college and university before finally I outgrew it. Literally (hehe). That also means I had been without one for abut 5 years now and I really missed having a good trench in Spring. I didn't get the one above from H&M, but I totally would have if I hadn't just bought mine a week before. They had it in the store and I tried it on for good fun. It has those dreadful poofy sleeves, but they're not too much thanks to the dropped shoulders. The color was also perfectly beige, not too light and not too yellow. A winner!
The dress in the middle keeps tempting me. I love my flimsy, cutesy summer dresses but I think this one will be see-through and the sleeves will put me off in real life. It does look really good on the model on the website, though. Just add a wicker bag and a cute sandal and your set until October!
Cute Springtime Work Wear Pieces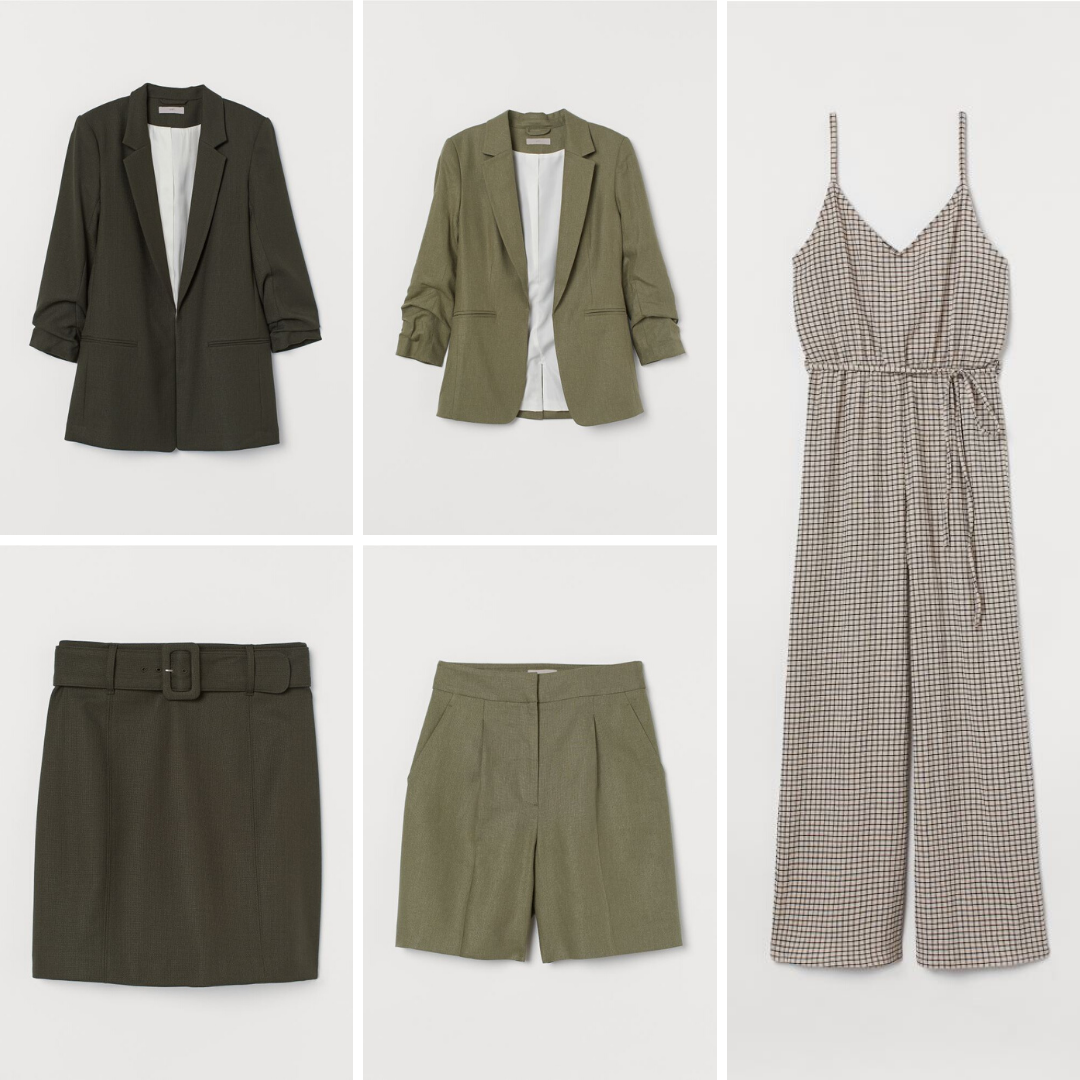 blazer with ruched-up sleeves (€39,99) | belted mini skirt (€24,99) | linen mix blazer (€39,99) | linen bermuda short (€29,99) | ankle length jumpsuit (€24,99)
I tried on that skirt set in store and was *this* close to buying it. It works with opaque tights and a thin sweater or sans tights and with a cute tank top. This set is an all seasoner and I love that about it! I did eventually go with something else that I had more use for in my current wardrobe (see below). There's also a Bermuda version in a linen blend that I actually like a little more I think? I'm not a fan of shorts with tights, so for me it's a spring/summer only set, but I like the lighter khaki and the shorts have a modest length.
That jumpsuit however… I need it. Just like the lyocell blouse. Yesterday. It's a breezy piece to have for the warmer days, perfect for travelling as well and can be transitioned into nearly every season. For spring/summer I'd wear it on it's own with a tan sandal and simple matching bag. With a leather jacket and a black tank top underneath I could easily wear it into fall.
What I Bought March 2020
I had first bought a floral midi skirt after your encouragements on my Instagram Story tr-on. I tried on a few different outfits with it at home, but decided it wasn't for me. I went back to the shop and exchanged it for these creme/beige gingham pull-on pants. H&M does really good pull-on pants, by the way. They're like leggings, but dressier and kind of office appropriate. No print screams spring to be like gingham (more groundbreaking than florals?) and I feel like I'd get much more wear of of these trousers than the floral midi skirt I had originally bought.
gingham trousers product code: 0846356
While I was in the store to exchange the skirt, my eye fell on this khaki suede jacket. I also tried on the khaki skirt suit featured above, but the jacket won. I didn't buy it that day, but went back the next, haha. I'm so stupid, I know. It had been raining cats and dogs for four weeks in a row, so a faux suede jacket was the most irresponsible thing to buy, but I'm sooooo happy with it. Pairs beautifully with all those white blouses I've collected through the years.
faux suede jacket product code: 0852103
And for full transparency: This post is not sponsored and does not contain affiliate links because I live in Europe and RewardStyle and the likes aren't fully functional here. It's just little ole me who created a list of pieces I'd buy if I had all the money in the world.