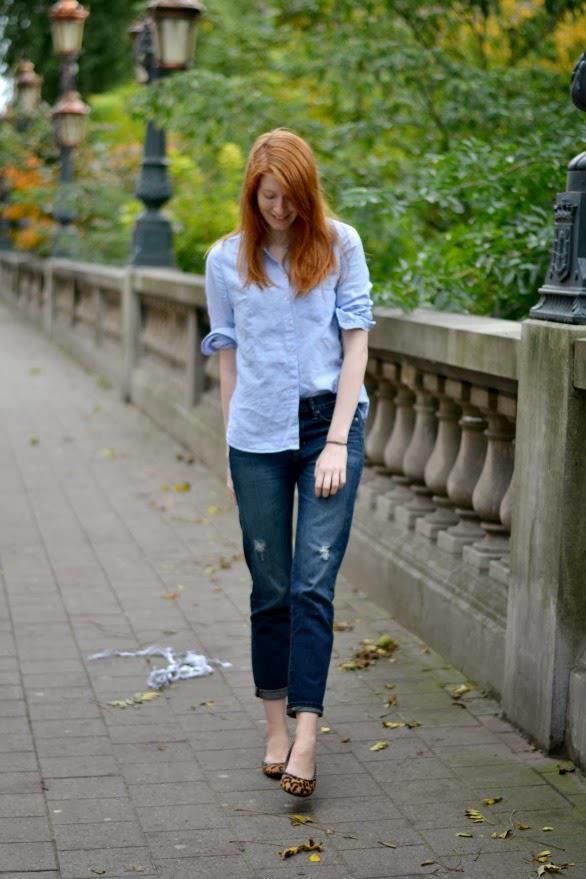 Gap Jeans & Shirt • Anne Klein Flats
2085 words are lying nicely printed out next to me. My first essay is finished, and I'm still not sure about it, and everyone is still freaking out on Facebook but this thing is going into my professors mailbox first thing in the morning. Now it's time for a bit of well-deserved blogging.
Haters gonna hate and tucking in your shirt only half tends to get a lot of hate. Especially the generation previous to mine doesn't really appreciate it. *cough* Mom *cough*. I don't really understand what my mom made such drama about yesterday, because I feel like this just-out-of-bed type of dressing is simply perfect for the weekend. I do need to admit that I suck terribly at getting it right though. I bought the shirt at Gap in London, after debating for a good half hour whether or not classic blue would be a good choice for me. It might not sound like a big deal, but when your dad is a prison guard and has these light blue shirts as a uniform you do not want to wear this. He can't.stop.making.jokes. about it. I still love my shirt though, and because it's such a classic, I have created quite a long list of imaginary outfits to pair it with. If my photographers are around, prepare to see this shirt a lot more this fall!
Now we're talking fall: the fall foliage is coming, I just know it. Since my essay is now finished and I don't have another assignment yet, K and I have planned a nice weekend outside. I know, Sunday was only yesterday and here I am already talking about the next. But you can't blame me, because this is – next to Spring – the most awesome season. After sharing my "10 things I don't like about fall" list last year, I thought I'd proclaim my love for the season more this year. Anyway, I just noticed it almost 5:30 and so I have to go pick up my in-laws at the Airport. Those lucky ducks were on a vacation to Zanzibar and my gosh, you should have seen the pictures they posted on Facebook. I can't wait to hear their stories. I'll be back on Thursday! See yah!