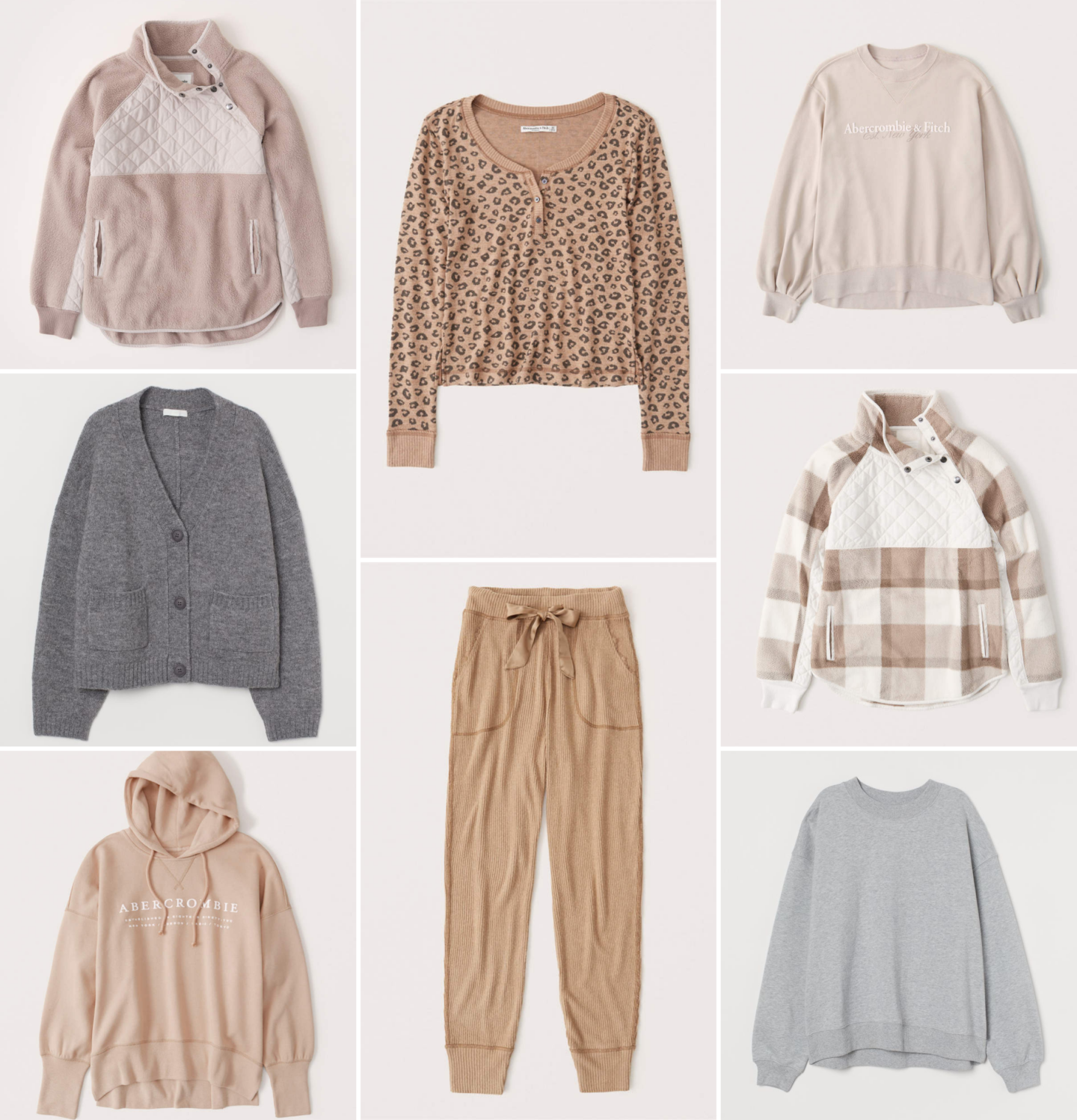 And just like that we are in lockdown again. With winter and the holidays coming up, I invested in a few new comfy loungewear pieces to wear around the house (and, let's be honest, dog walking in the neighborhood). Here's everything I had on my wish list, in case you need some shopping inspiration too!
01/ Fleece with asymmetrical buttons (A&F – €82,00) – Fleece is not everyone's cup of tea, but I love it. It's the warmest and the softest fabric out there, it's easy to wash and it lasts (contrary to wool). This fleece pull over has been on my wish list since last year and Ilmight have added it to my Christmas Wishlist. Wear with leggings and cozy slippers for the perfect comfy at home look.
02/ Dark grey knitted vest (H&M – €29,99) – H&M does the best affordable knitwear, in my humble opinion. Much like everyone else on the high street, they are betting on a lot of loungewear sales this year. I loved this vest from their pajama section, because it can perfectly double as an everyday cardigan.
03/ Oversized hoodie with logo (A&F – €65,00) – Abercrombie does comfortable clothing so well. This oversized hoodie comes in 6 colors including camel, beige and grey. Just add a #PSL, leggings and camp socks and you're good to go… I mean, lounge.
04/ Cozy top with leopard print (A&F – €49,00) – I don't even like leopard, but this is tempting…
05/ Cozy joggers (A&F – €52,00) – Matching joggers to the top, but they also come in a variety of colors. There's one in the same leopard print as the top I mentioned before. Should I…?
06/ Boyfriend sweatshirt with logo (A&F – €52,00) – For those who don't like hoodies… there's the sweatshirt!
07/ Fleece with asymmterical buttons (A&F – €82,00) – Same fleece, different color. In fact, it comes in TWELVE colors.
08/ Basic grey sweater (H&M – €19,99) – The single best high street hoodie out there? H&M basics collection… no doubt about that.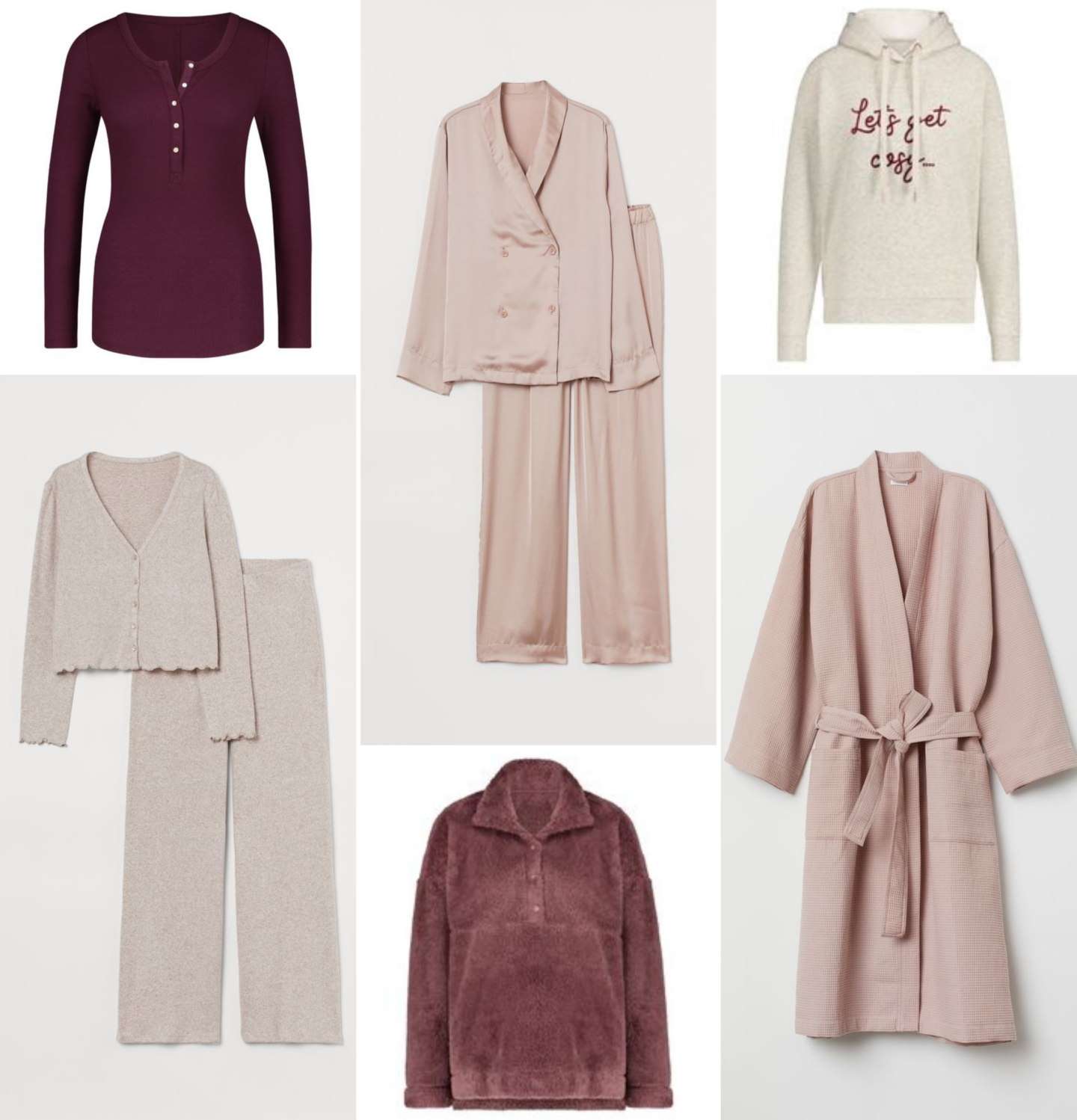 01/ Long sleeved pyjama top (Hunkemöller – €23,99) – I love me some good purple/burgundy colors in the fall. Henleys also happen to be my favorite style of top this time of year. Well done, Hunkemöller!
02/ Soft pajama set (H&M – €29,99) – I've seen girls wear this type of trousers out and about, but I think I prefer them for inside wear only. Can't blame them though, because these looks comfy AF. Bonus points for the matching top!
03/ Faux Satin pajama set (H&M – €29,99) – I've always wanted a satin pajama set. With my current bank balance, I think I'll have to settle for this faux set from H&M. Still cute though.
04/ Snuggle fleece (Hunkemöller – €27,99) More fleece because you can never have too much fleece in your life. That's just my humble opinion. I've been a big fan of teddy fluff and this fleece vest plays into that trend so well. Perfect for a snuggle fest on the couch.
05/ Let's get cozy hoodie (Hunkemöller – €29,99) – Yes, please!
06/ Cotton mix bathrobe (H&M – €29,99) – Had this on my wish list for the first lockdown but never bought it. It comes in nine different colors and is loved by many influencers on The Gram. Not sure if it is cozy enough for winter, but it sure looks cute!