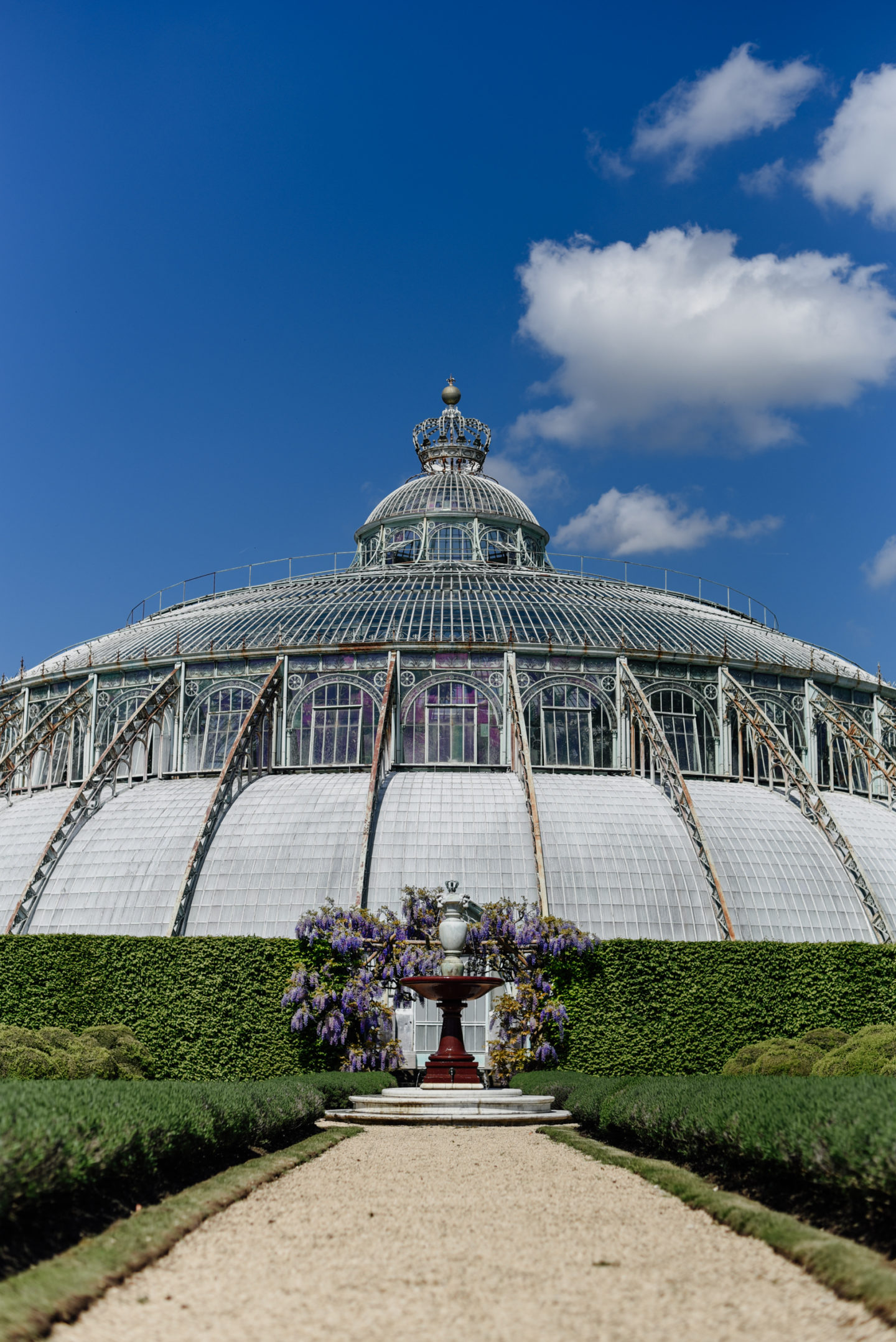 Three travel post in a row? I'm on a roll!
Outfit posts have always been the main subject on The Ginger Diaries, but in recent years travelling has become a much larger part of my life. Since 2016 I have traveled a lot more and outfit posts became less relevant for me. You might have noticed that I was less active on my bog from 2016 onward. I wrote a blog post announcing that I wanted to diversify the content on my blog, but I guess I never really did? I recently found the time to sit down and sort through my travel content back log. I missed so much more than I thought! Today's post being one of them.
Although I mainly post about my trips abroad, we are also avid day trippers. For those we tend to stay close to home. The first one I want to tell you about is our visit to the Royal Greenhouses in Laeken. It's no secret that I love botanical gardens and after visiting those in Dublin, Edinburgh, London, Stockholm and even New York, I thought it was about time I visit our own.
Belgium has two large, well-known greenhouses. One is open year round and the other is privately owned by our royals and only opens for three weeks every spring. Today I'm taking you on a tour through the latter: The Royal Greenhouses of Laeken!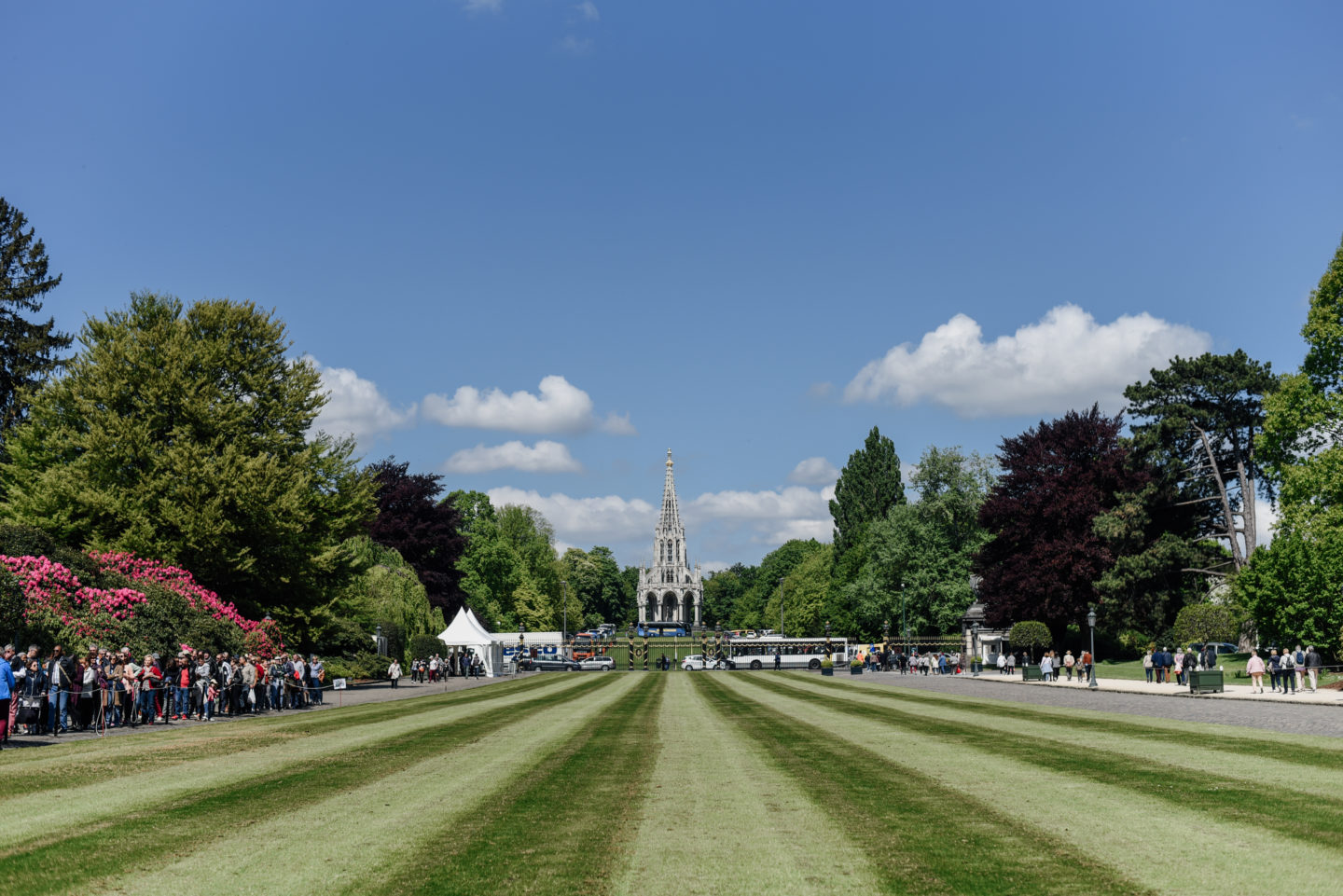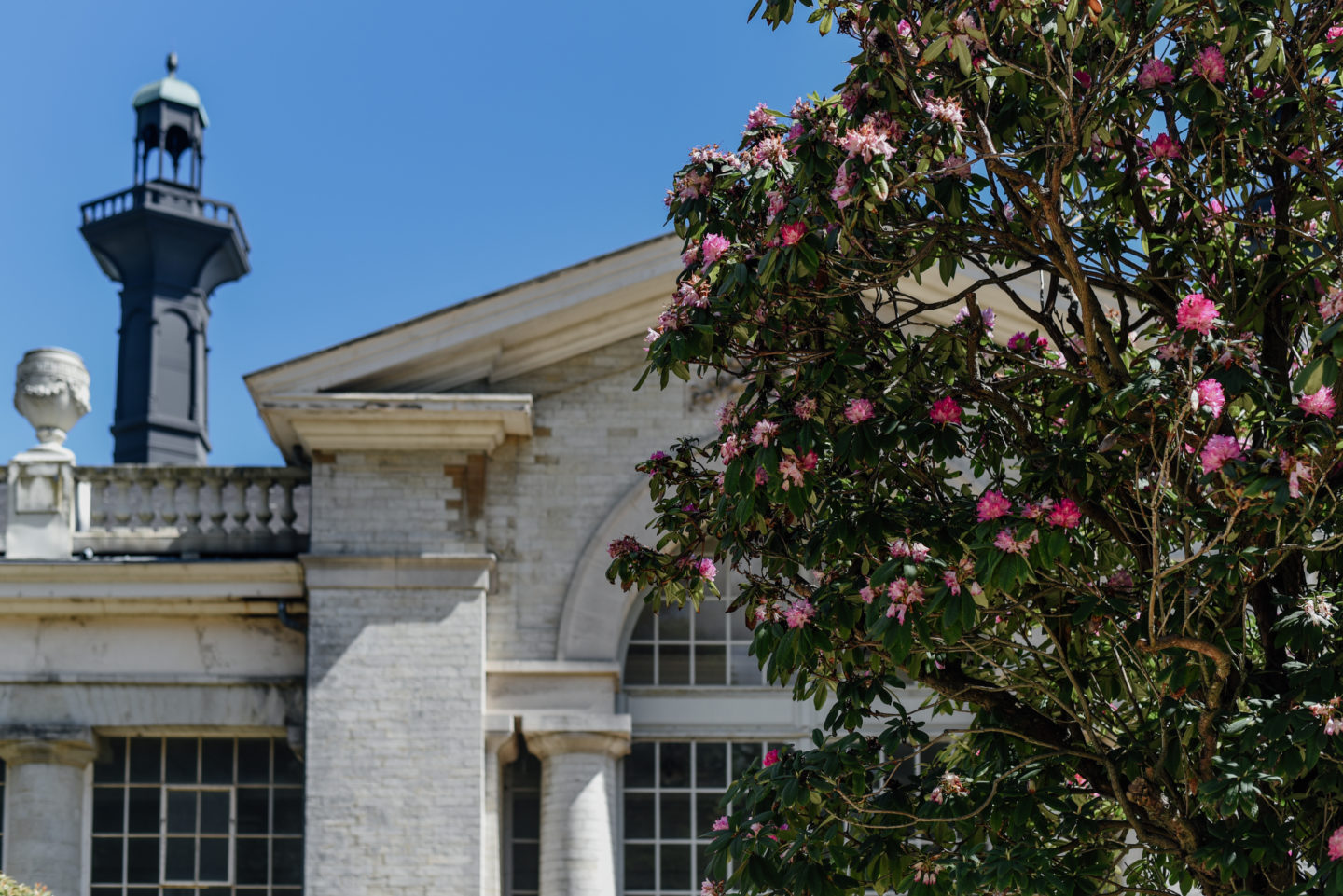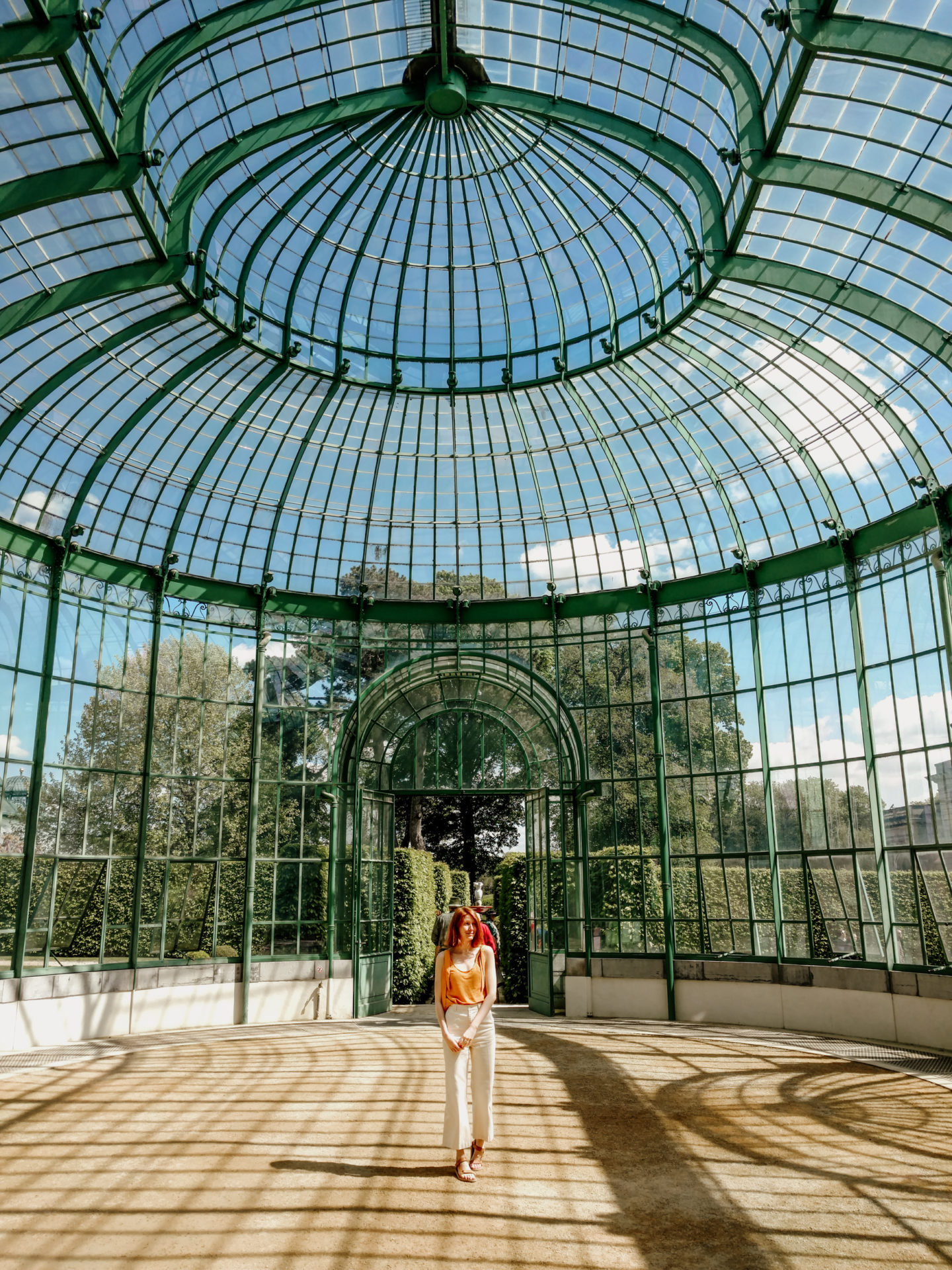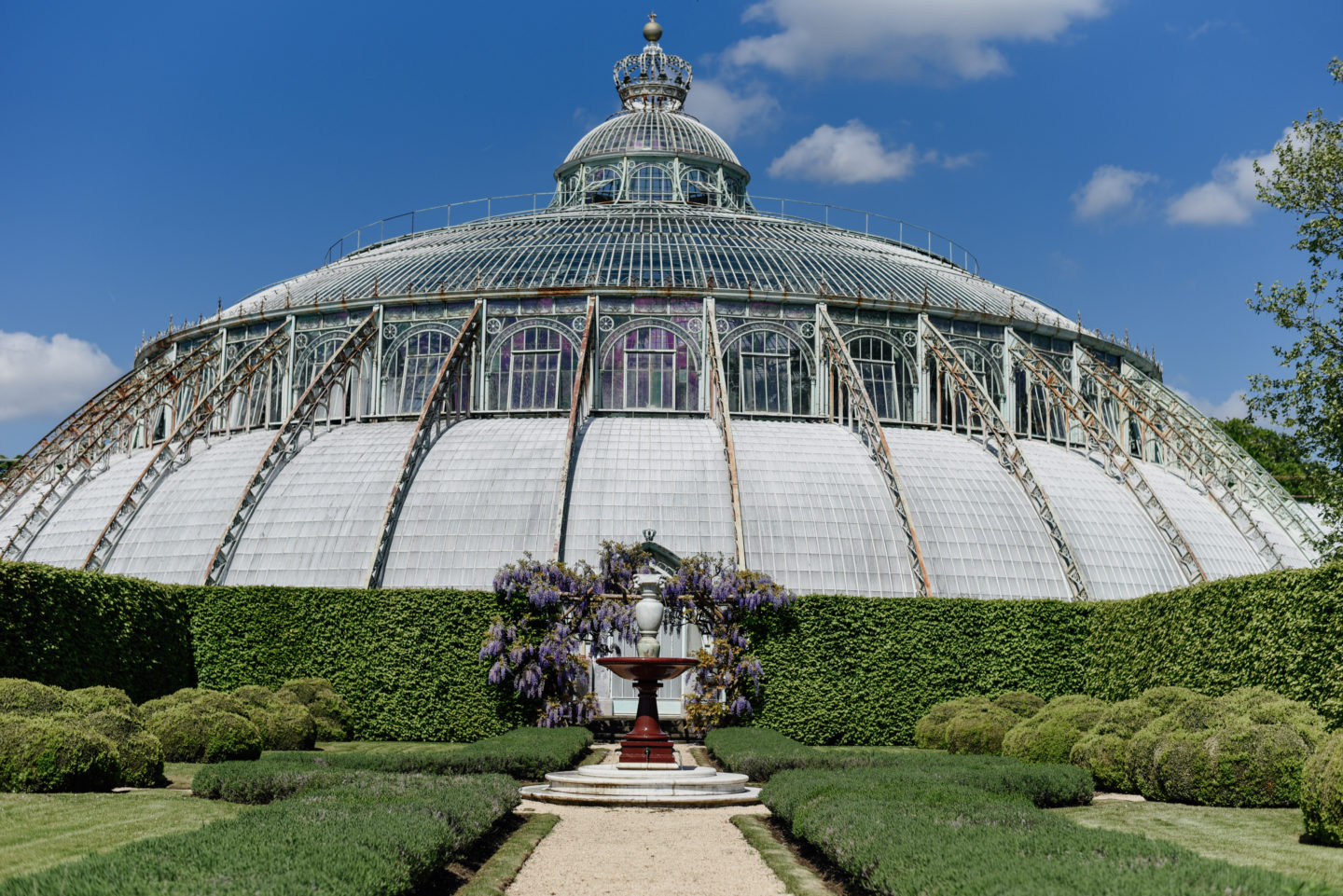 Yup, that's a royal crown on top of the glass dome!
In 1873 king Leopold II commissioned architect Alphonse Balat to design a complex of greenhouses. Even before he ascended the throne, King Leopold II was a traveler and collector. The greenhouses were to be build next to the existing Royal Castle of Laeken, which is where our Belgian royals reside.
As you can tell from the photos, these are not your average greenhouses. Instead of building just one, the king had a complex of seven greenhouses build. They are connected with glass walkways and adorned with iron and glass cupolas in Art Nouveau style. It took 31 years to complete the glass palace, with the Winter Garden being its crown jewel.
Important to note: Belgium has a history of colonization under king Leopold II. These greenhouses were meant to show the colonial power Belgium had over Congo during that time. However beautiful the site is, we should not forget how it came to be.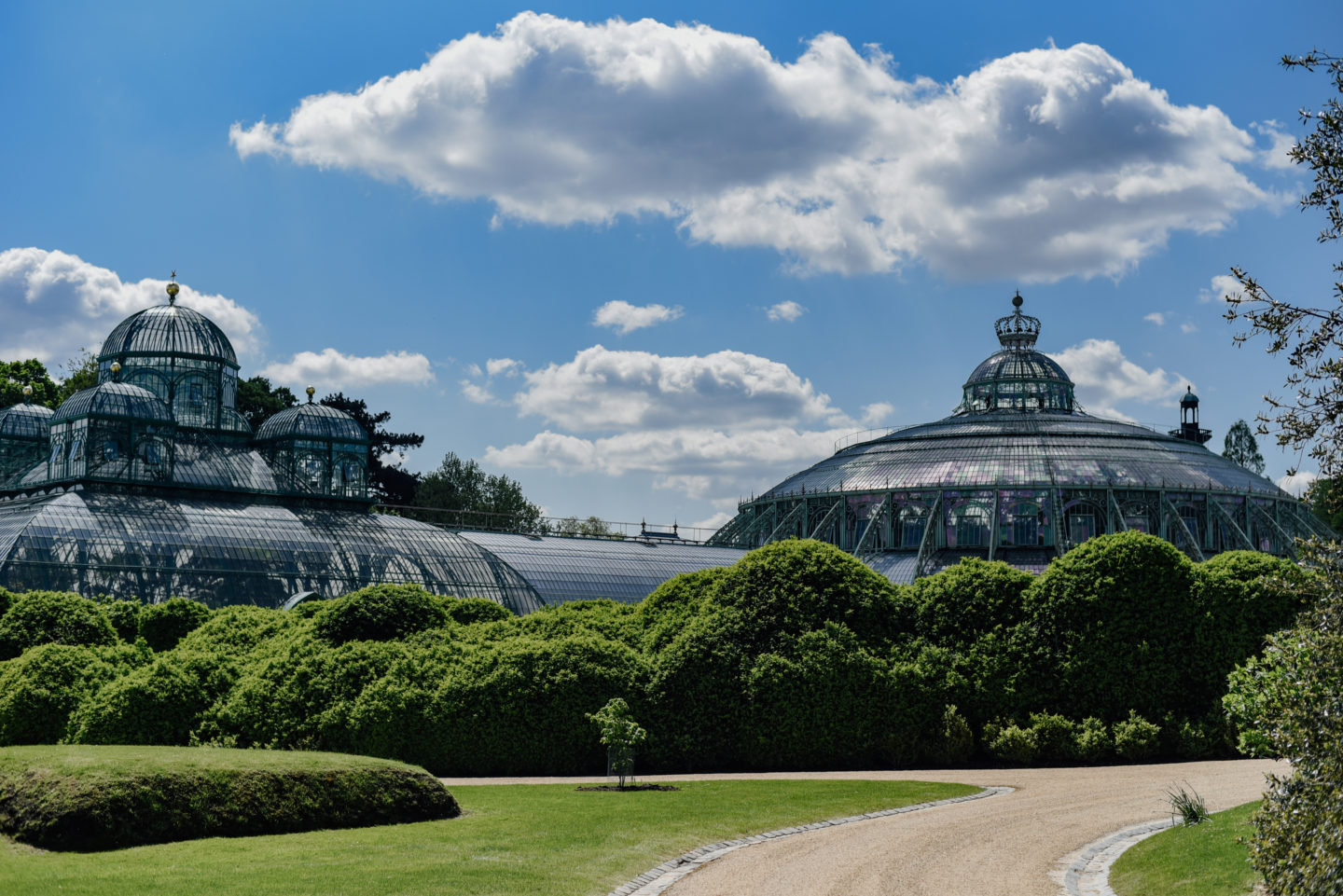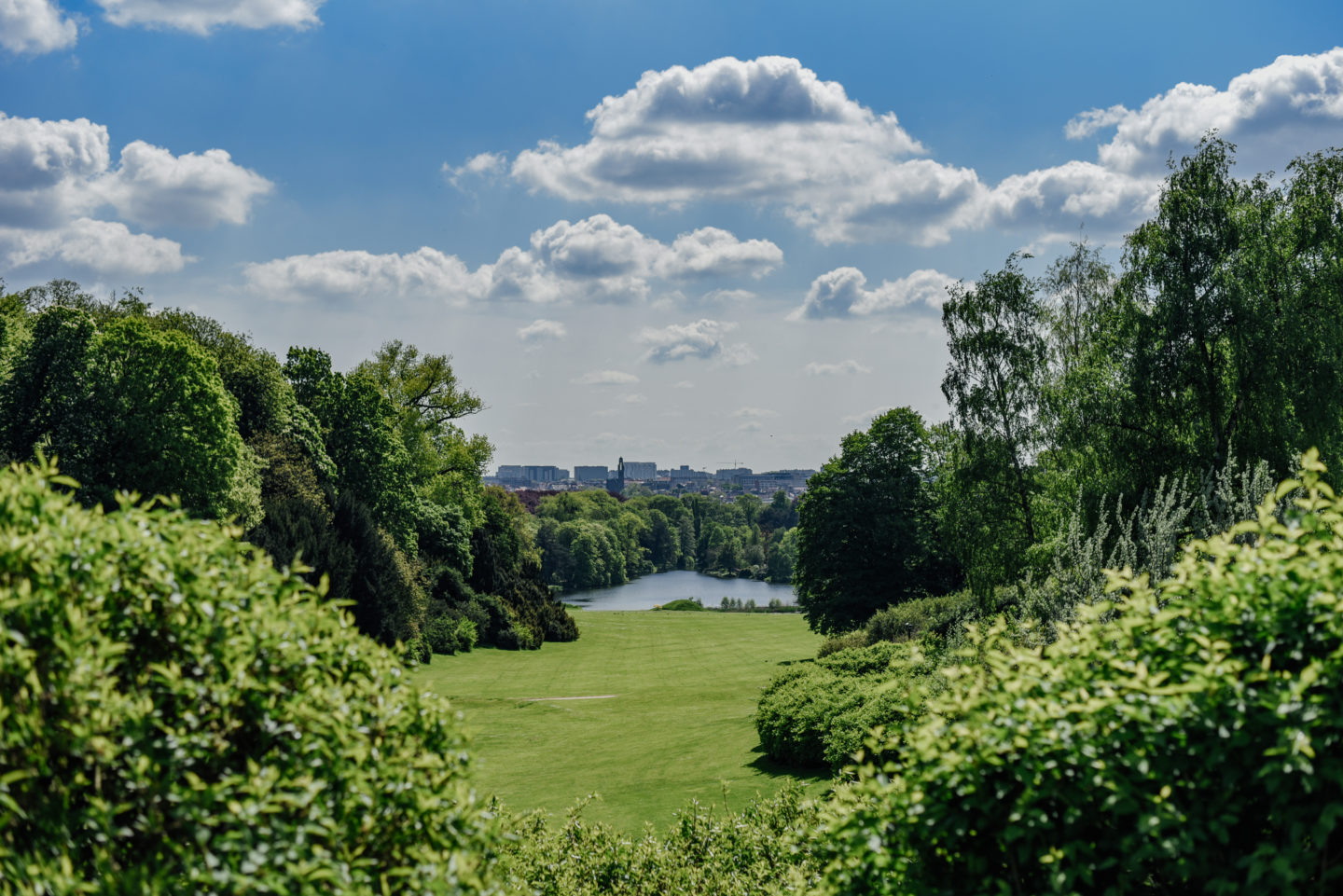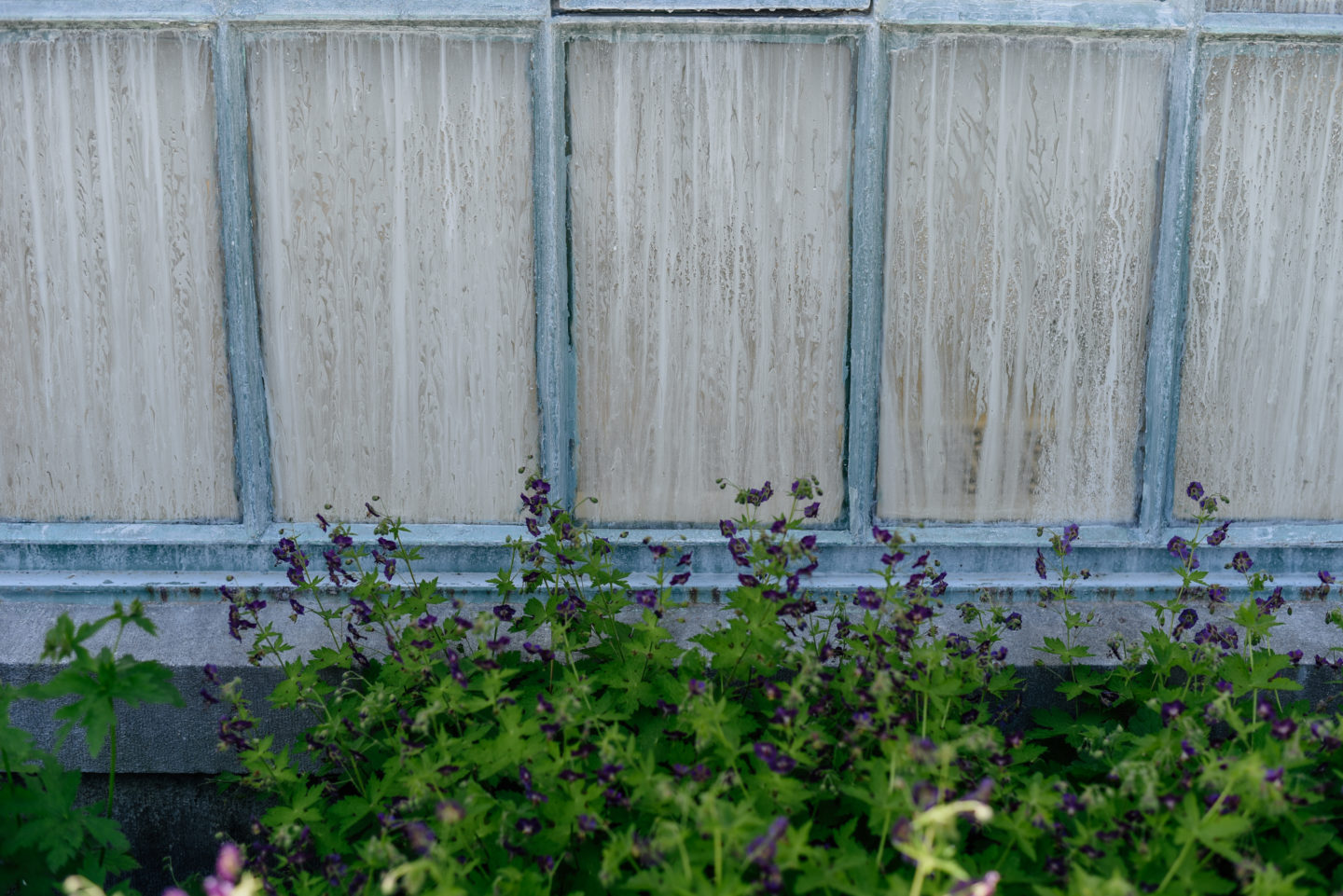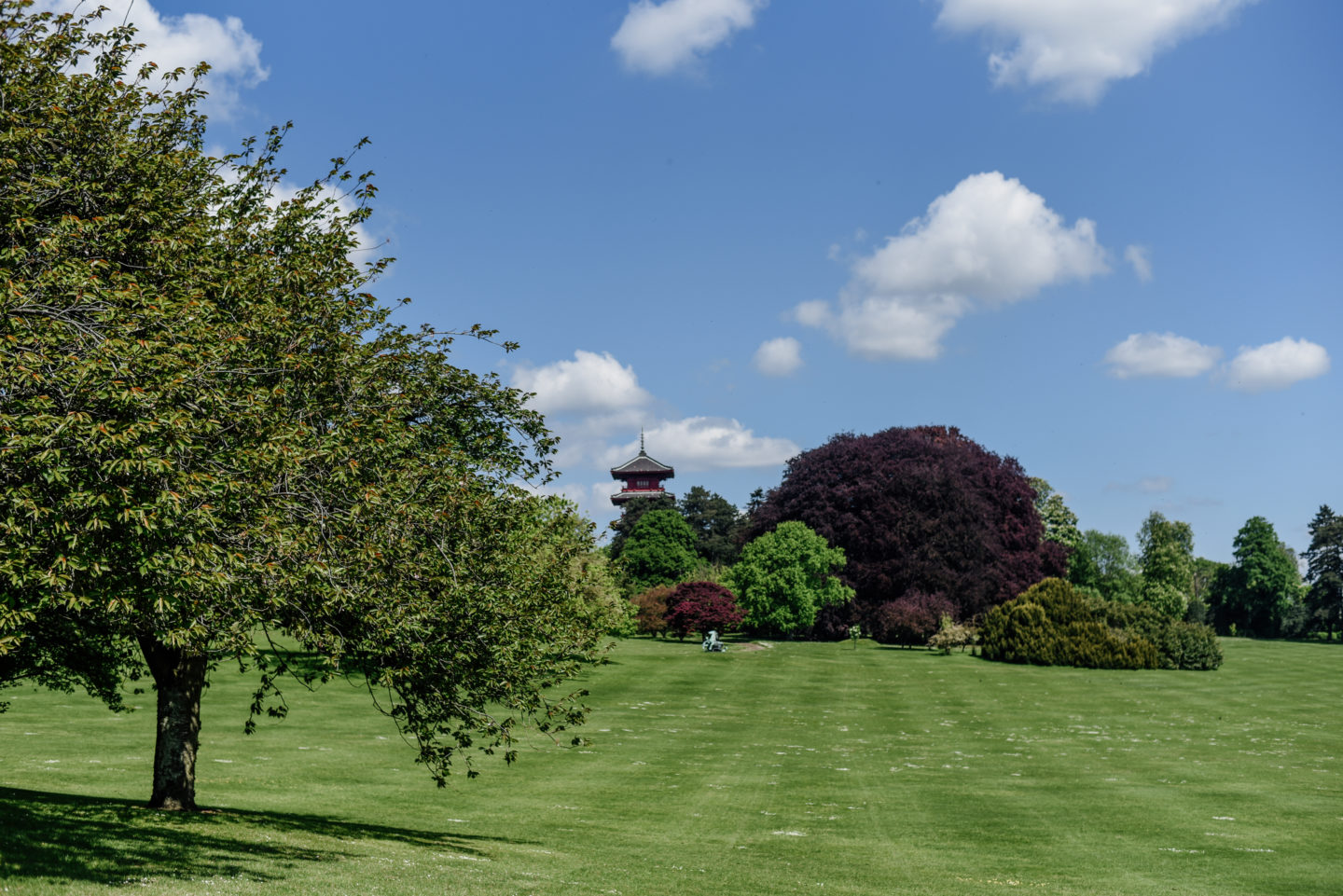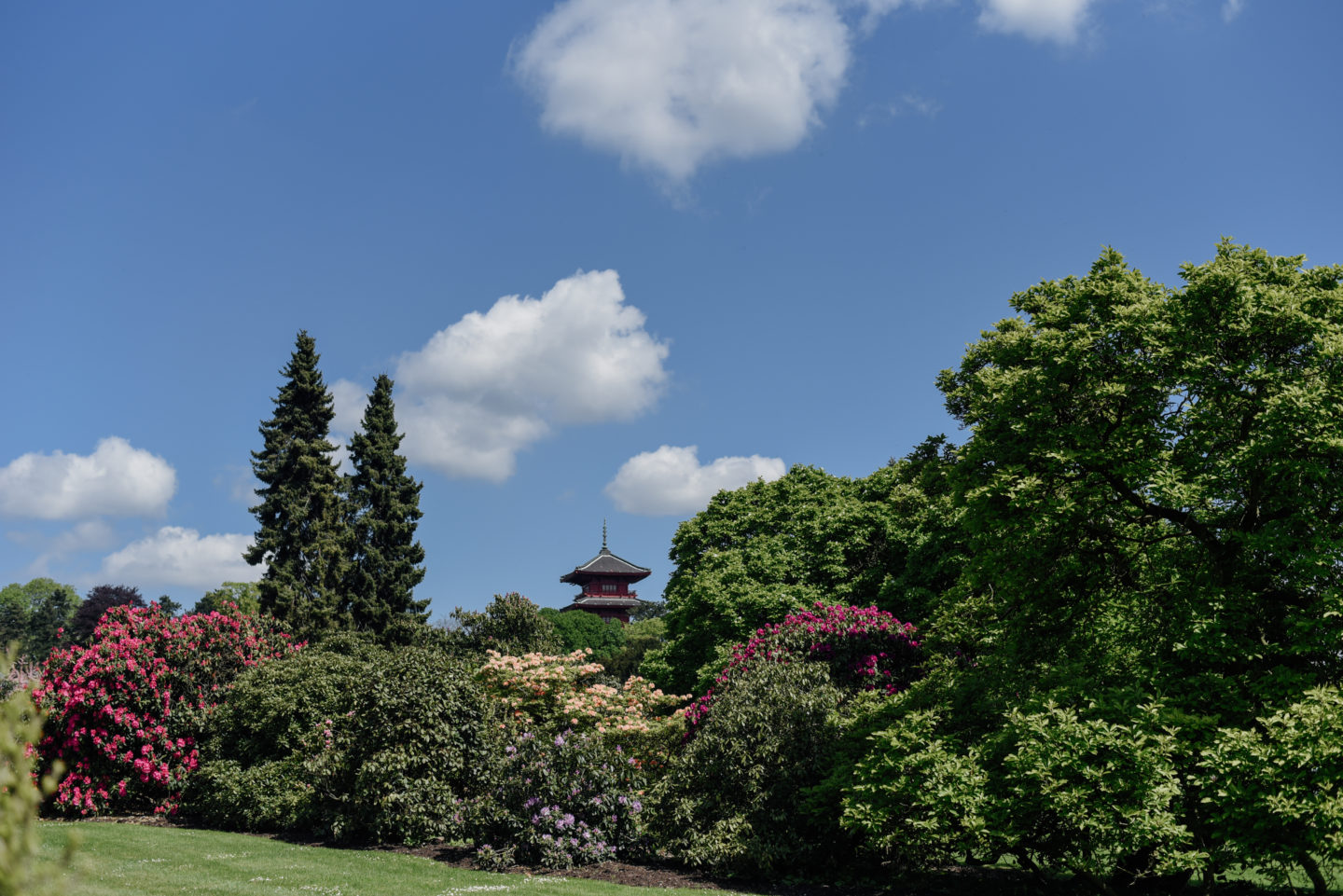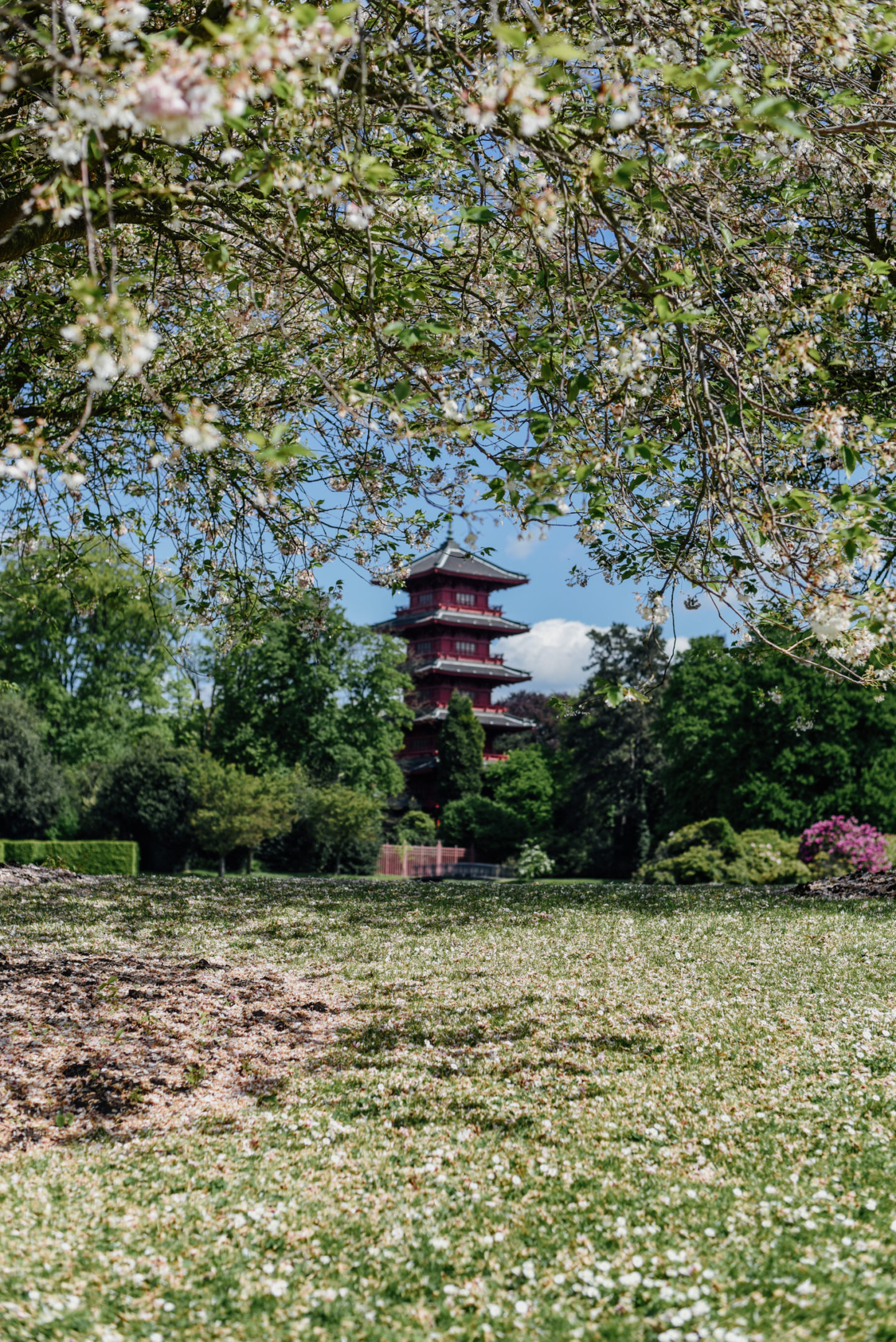 As I said before, The Royal Greenhouses of Laeken are only open at a certain time every year. The timing is perfectly aligned with the garden's peak of the season to give you a glimpse into the exotic paradise our royals have build and maintained throughout the past century. To make sure visitors do not damage the gardens, you have to follow an indicated route.
The route starts in the Theater Greenhouse. That's the one you see me posing in above. When exiting the first greenhouse, you enter the Royal Park of Laeken and are greeted with an amazing view on greater Brussel. The 120ha park is only partially open to the public, but don't let that stop you from admiring the views.
My favorite part of the royal park is definitely the panoramic views on the Japanese tower. The tower is inspired by Japanese pagodas and build in the early 20th century to house a museum of eastern art. It has been closed for a few years now awaiting renovation, so we sadly couldn't visit it.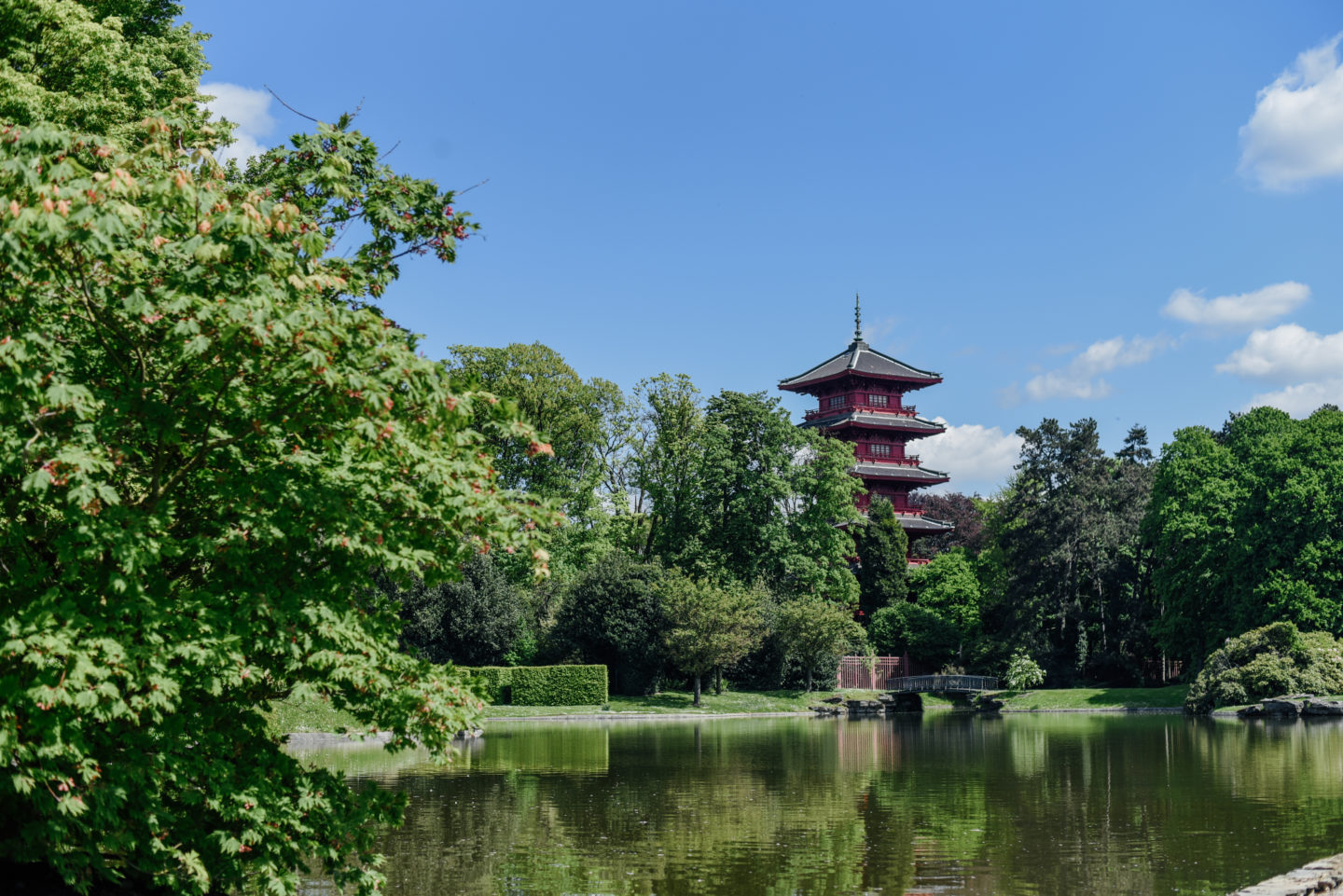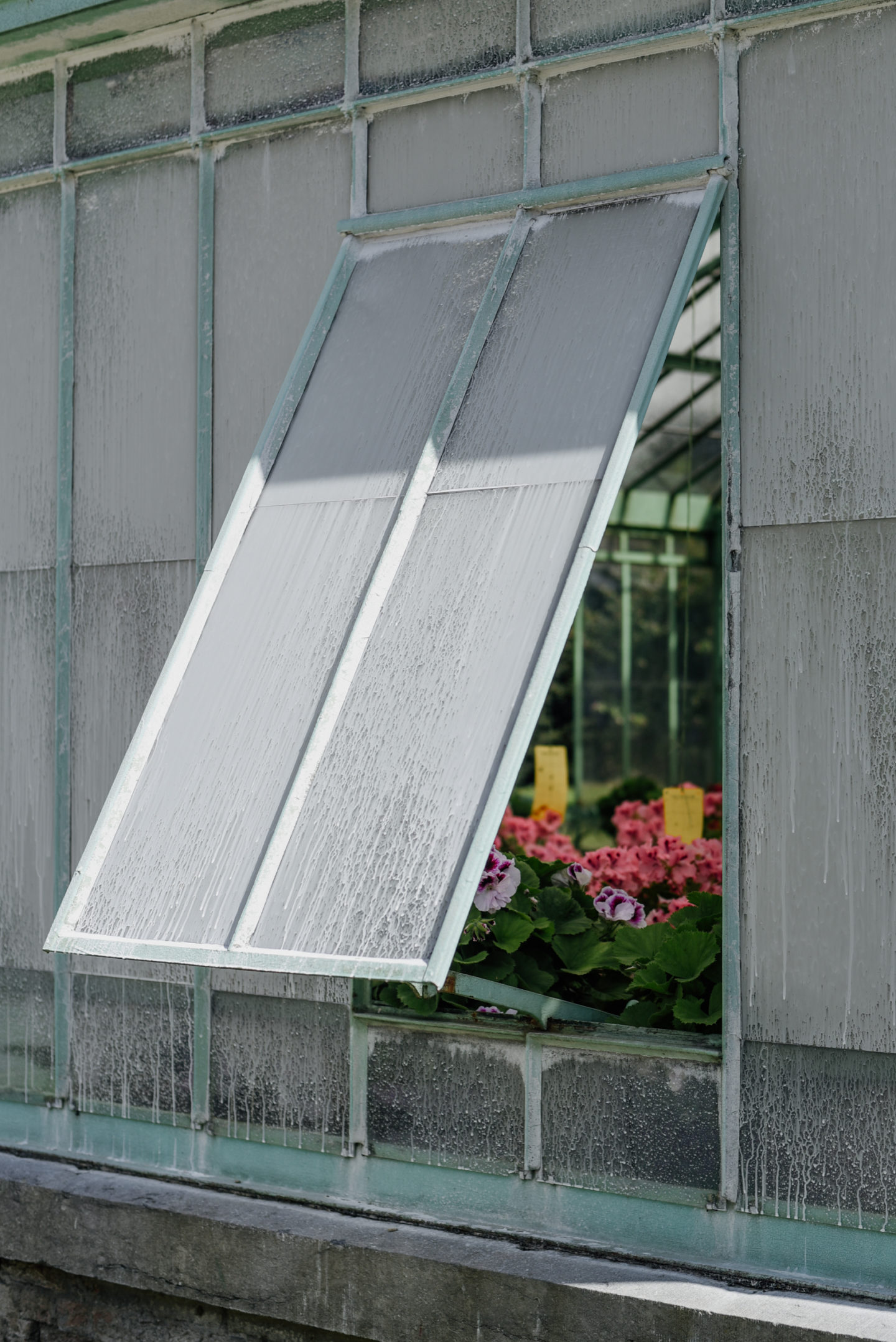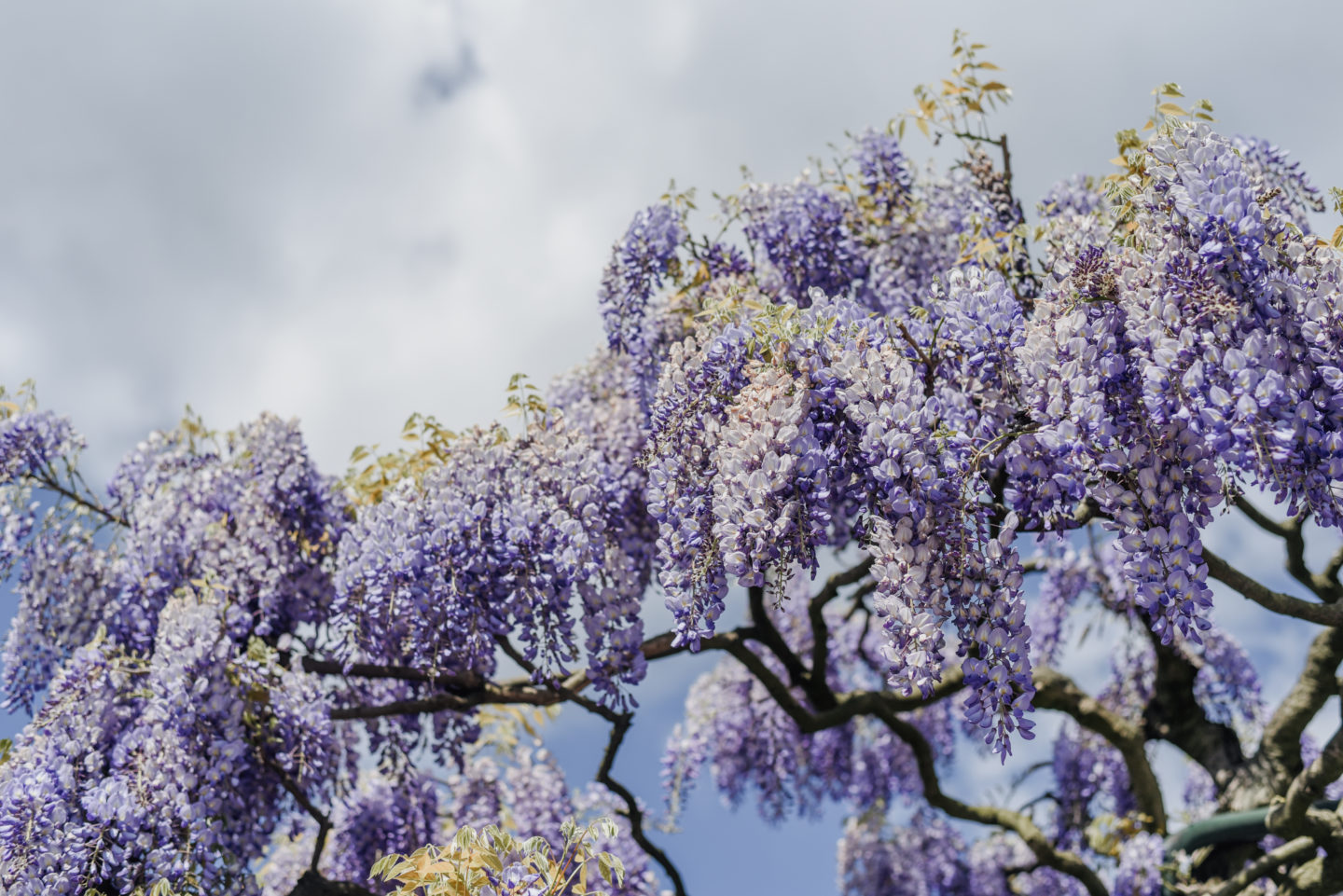 The walking route led us all along the exterior of the greenhouse complex. I was eagerly anticipating the entrance and almost forgot to admire my larger surroundings! Don't be like me or you might miss out on the beautiful wisteria. Here and there I spotted an open window and took a peek inside, but nothing prepared me for the colorful beauty I was greeted with upon entering….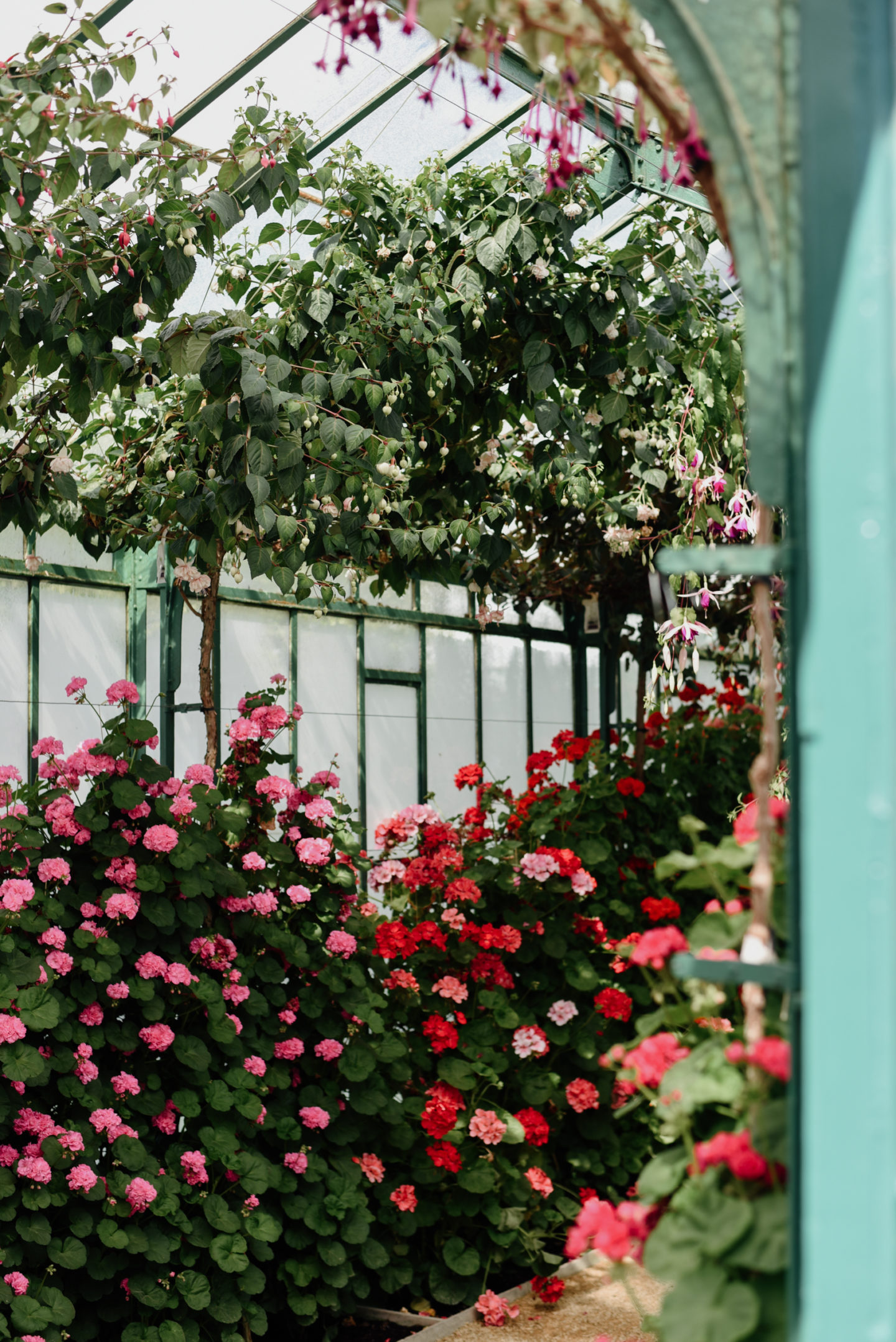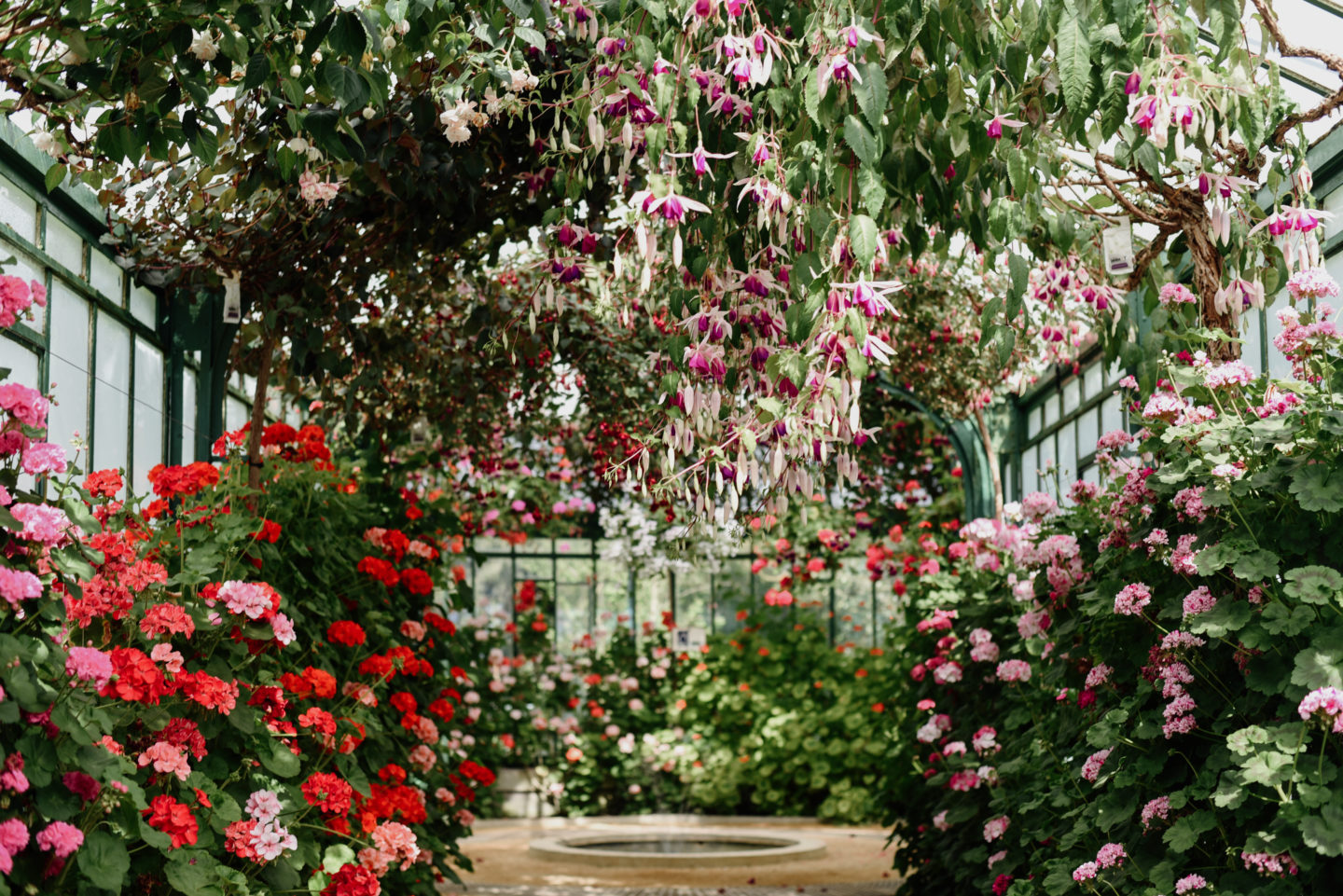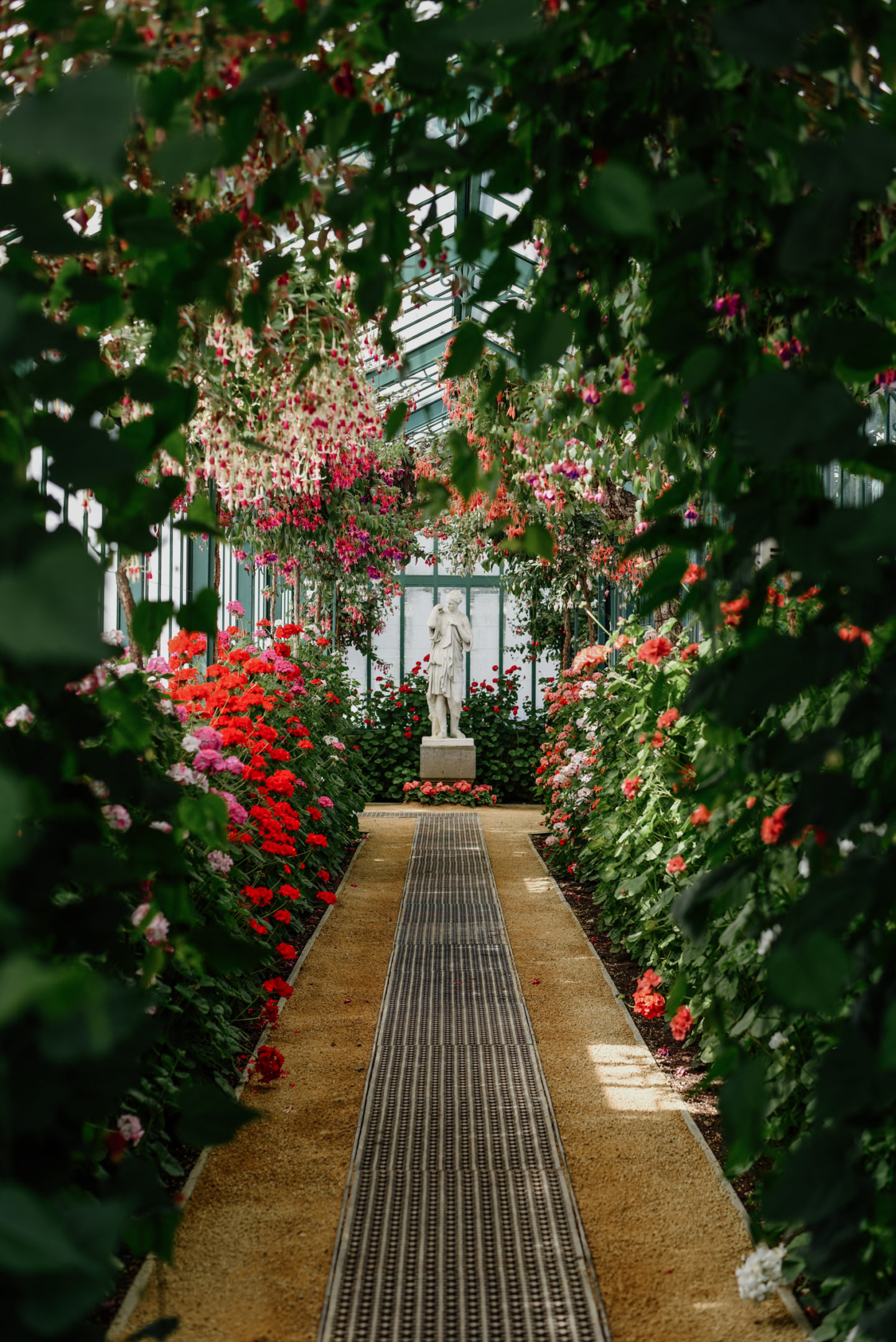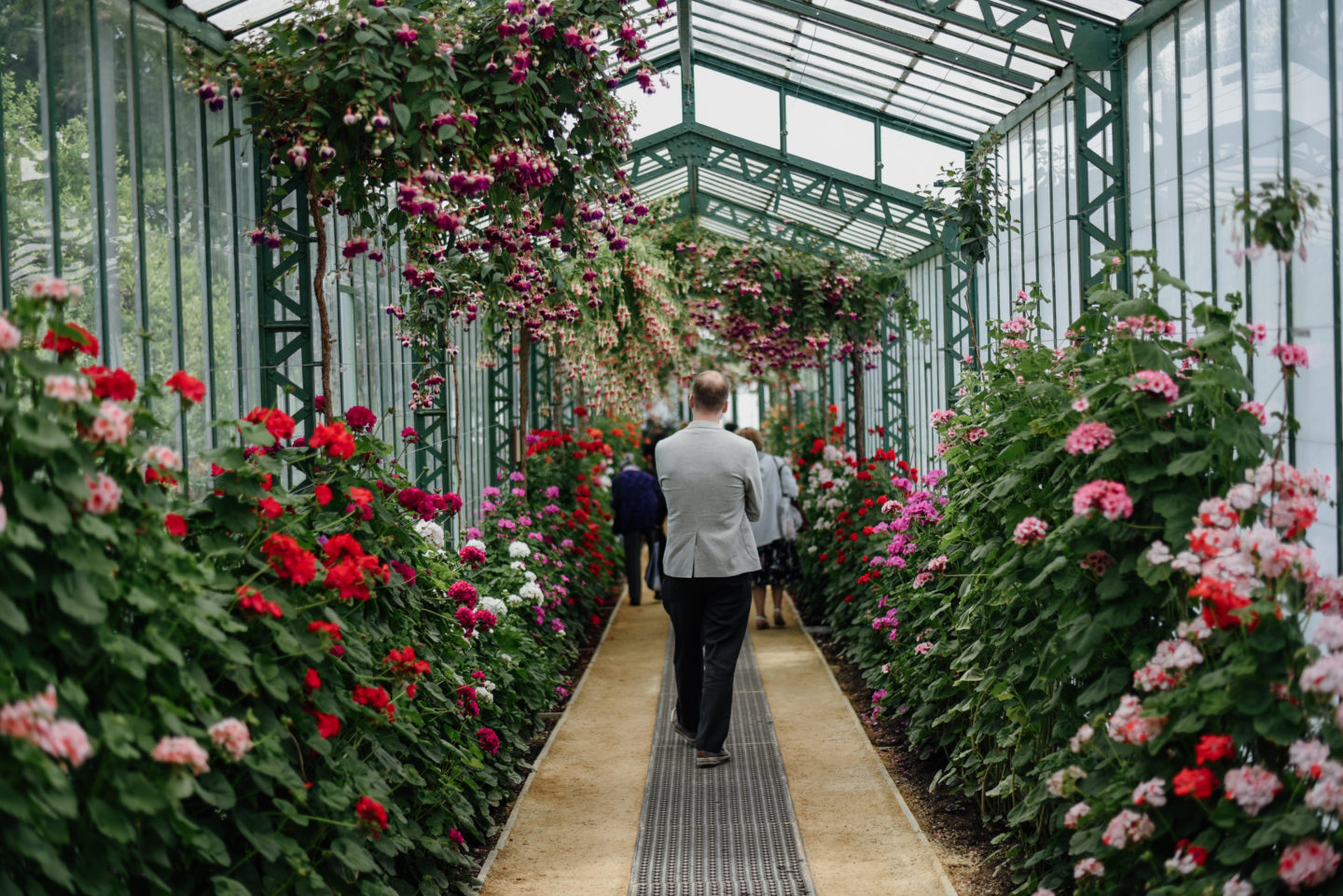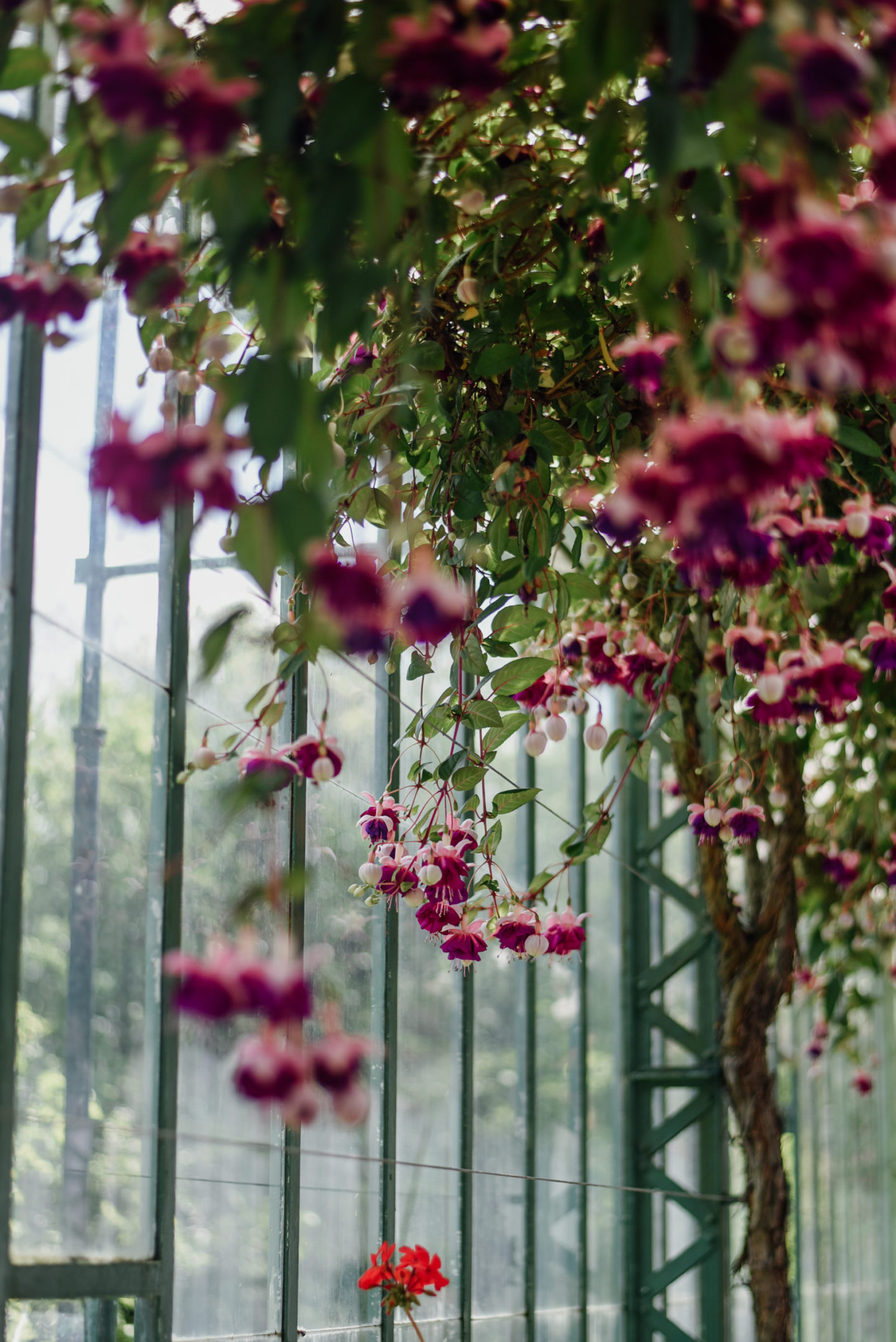 I mean… come on? We first passed through glass arcades full of geraniums and fuchsias. Not all of the arcades are accessible, but I suggest you take a few photos here as the other parts of the greenhouses were very crowded and less suited for photography. The walkway continues to take you through the palm house, azalea house and a 200m long geranium gallery. By this point it became so crowded that I didn't get to take any good photos anymore. The greenhouses and other rooms were mesmerizing nonetheless, but you'll have to take my word for it.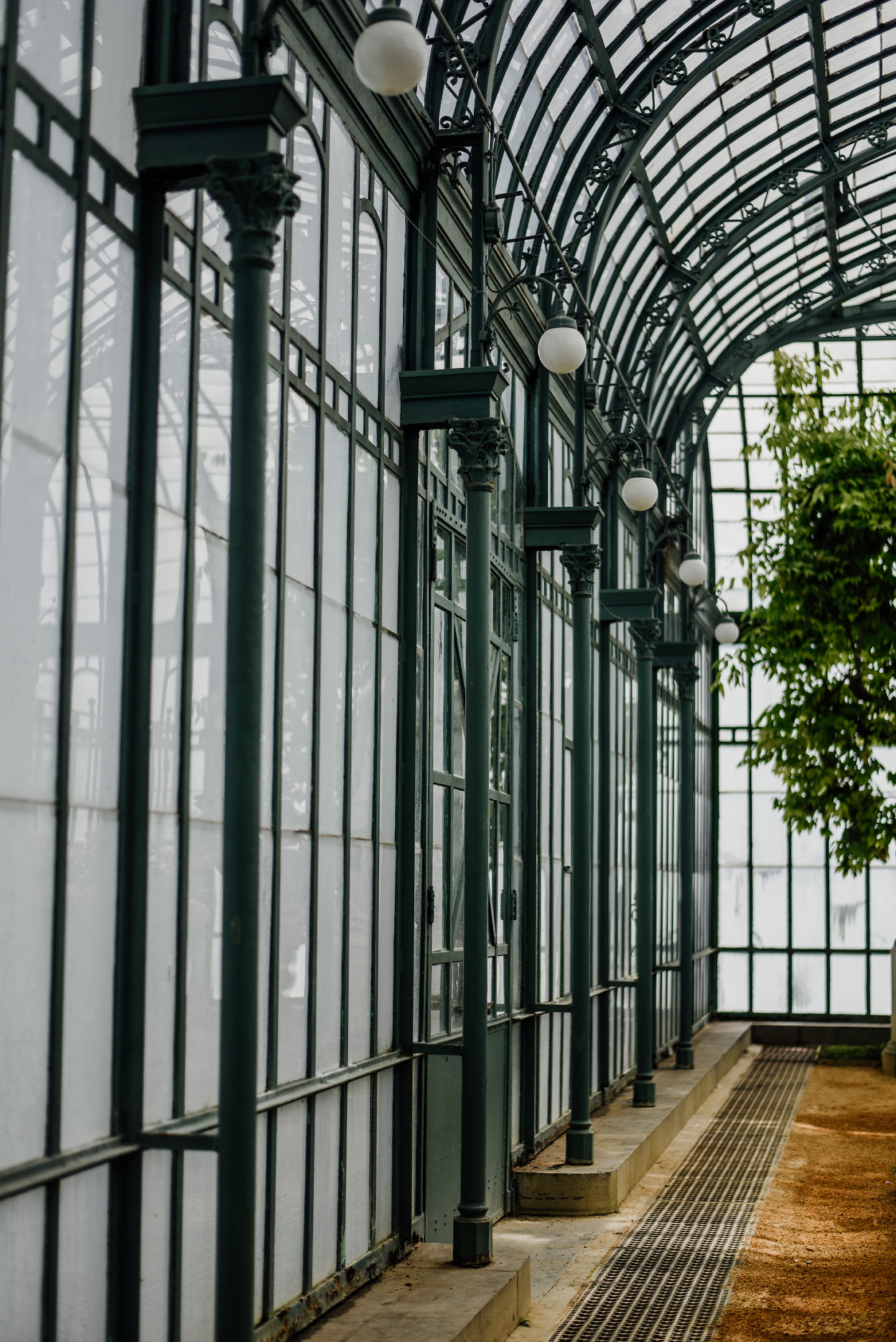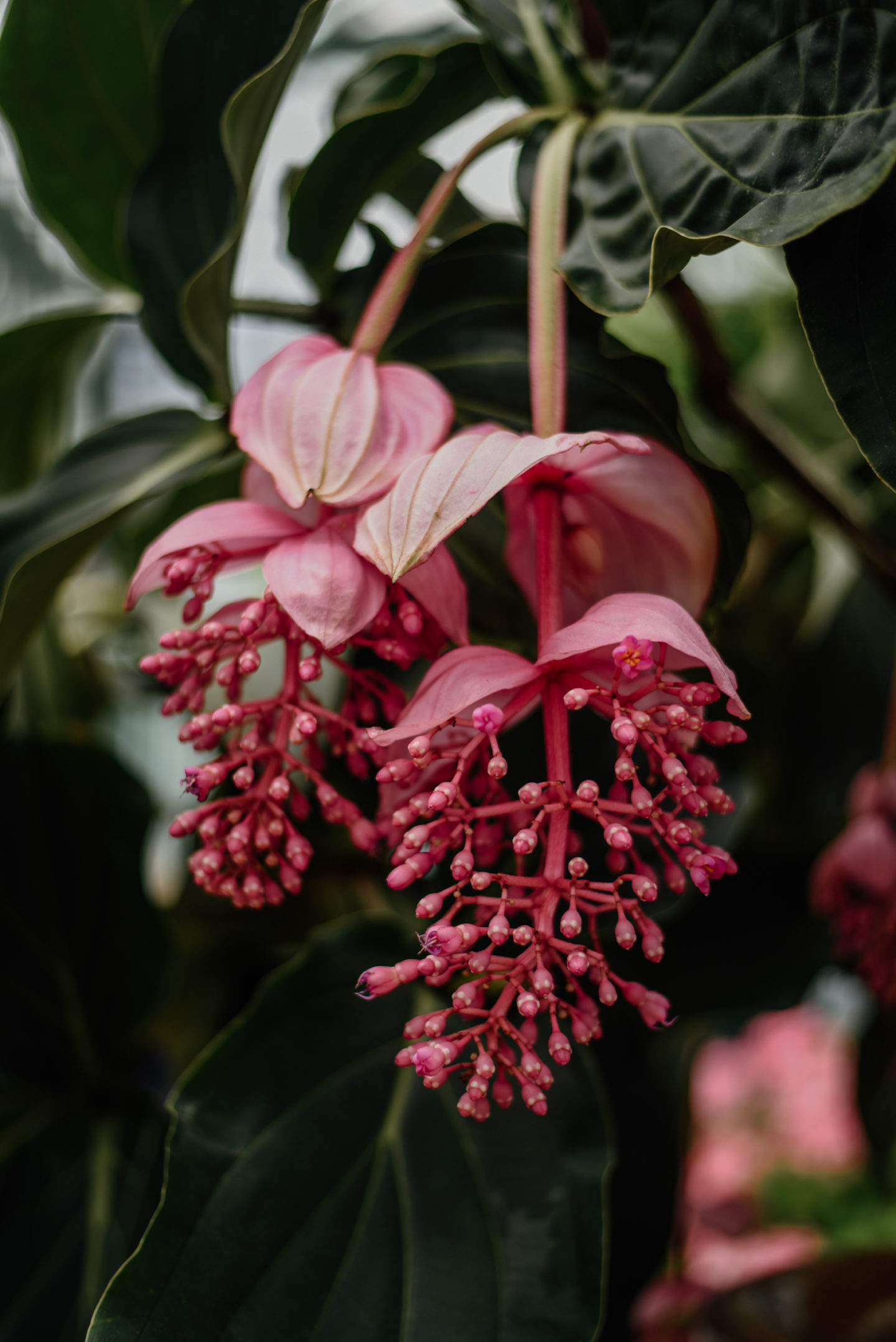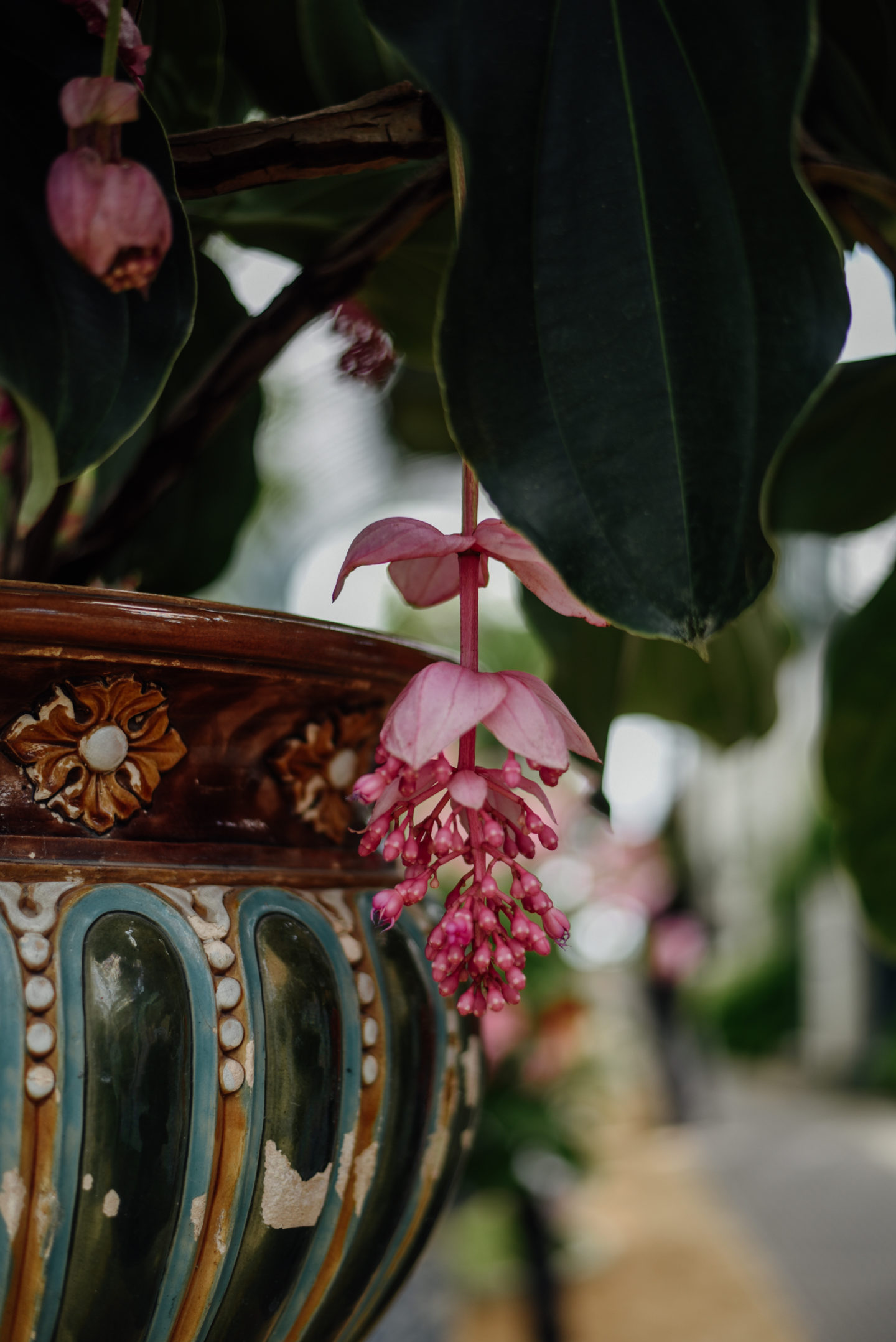 The Pier is a long, smaller greenhouse that was used to receive guests who attented events held in the garden. In the middle are two large, eastern vases that king Leopold II brought back from his travels to the East. In them are Medinillas, which are one of my own favorite exotic plants.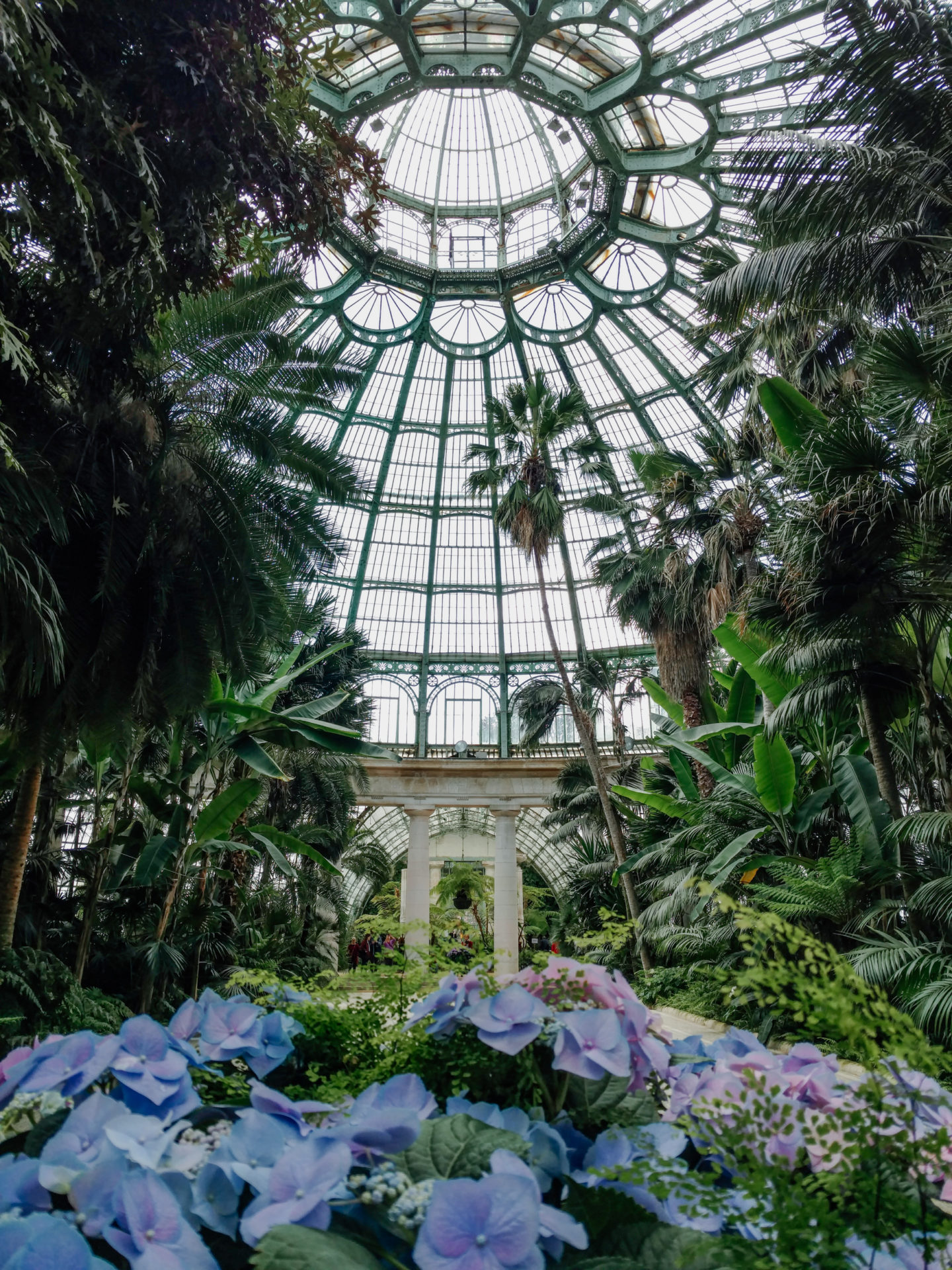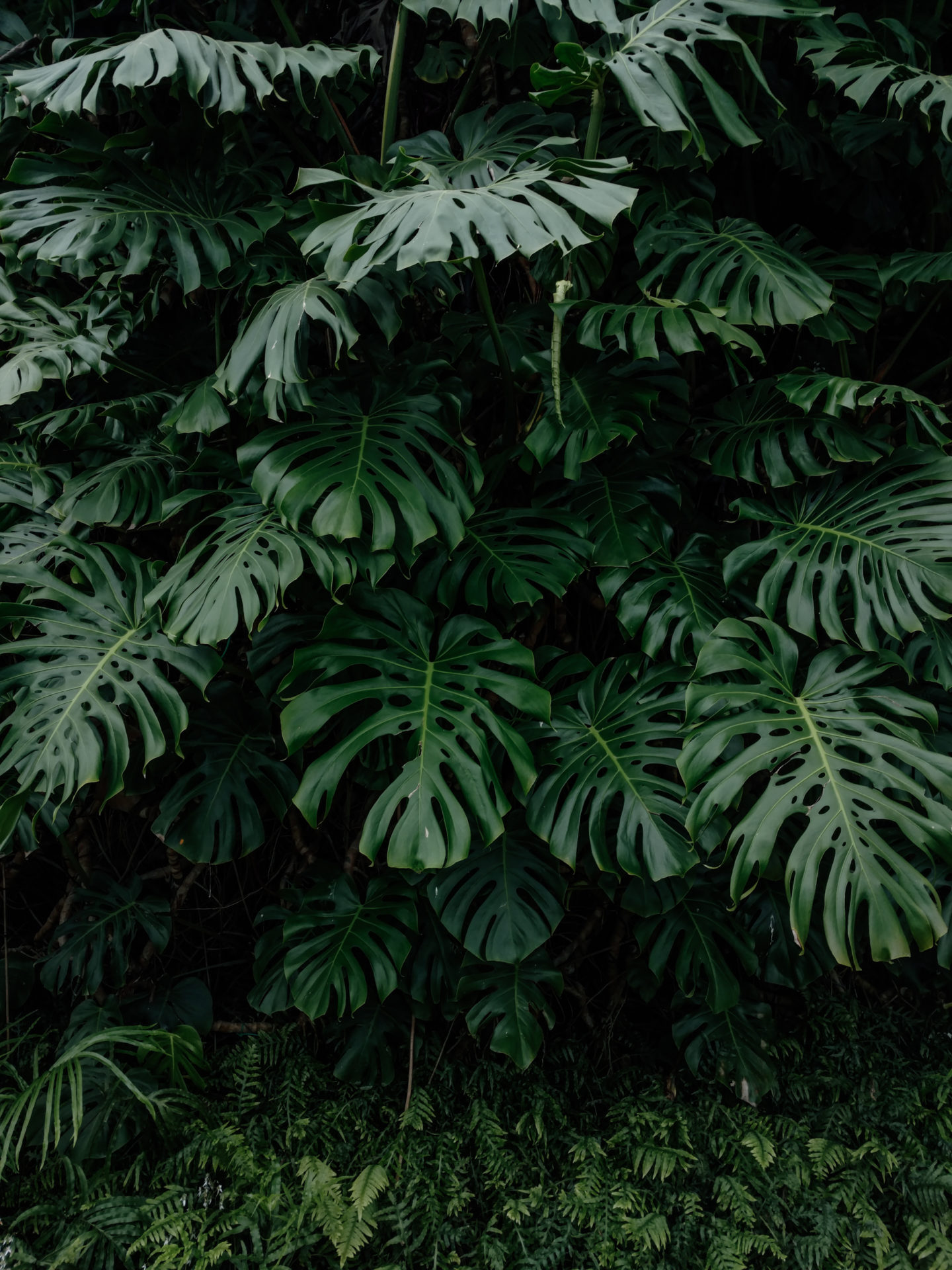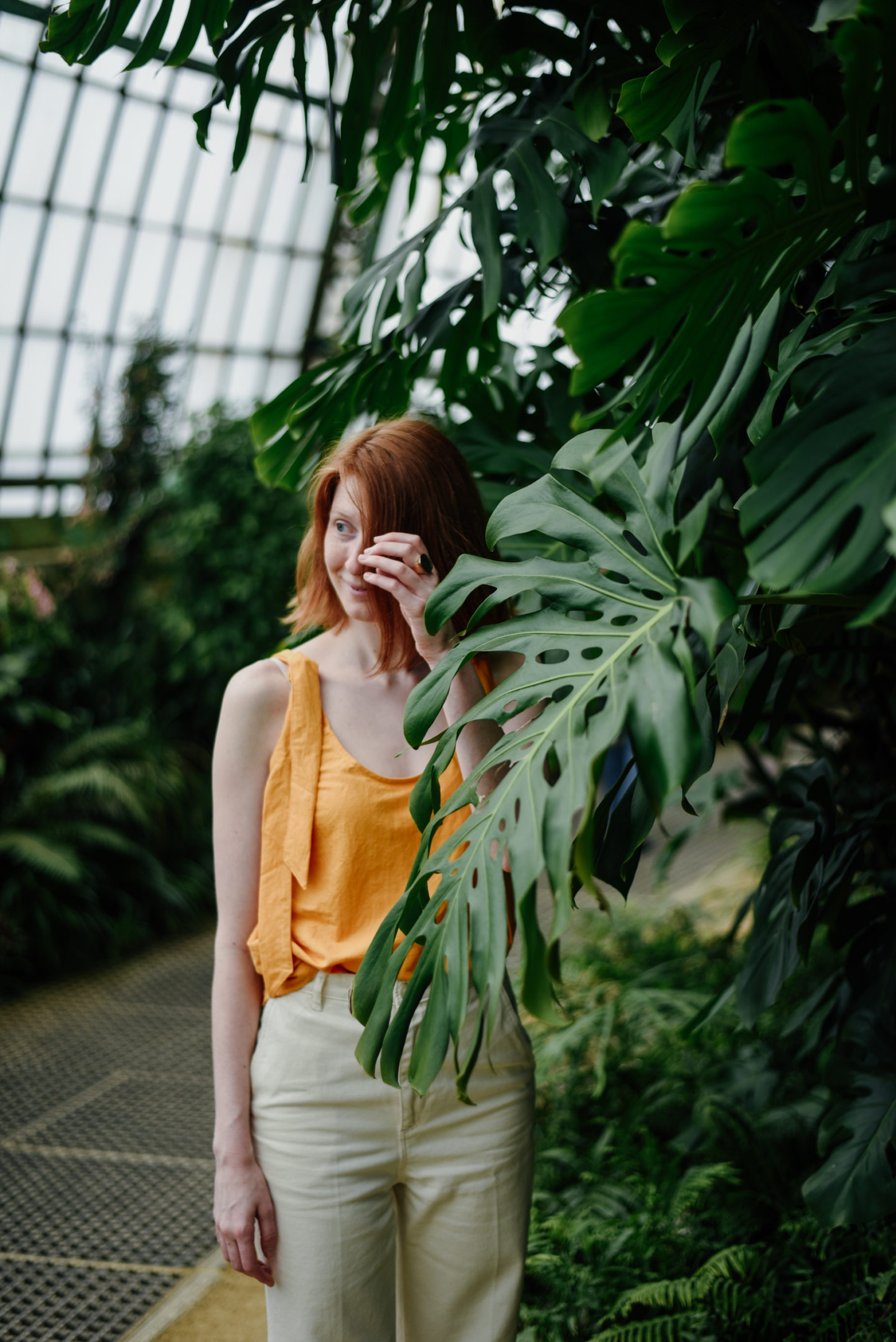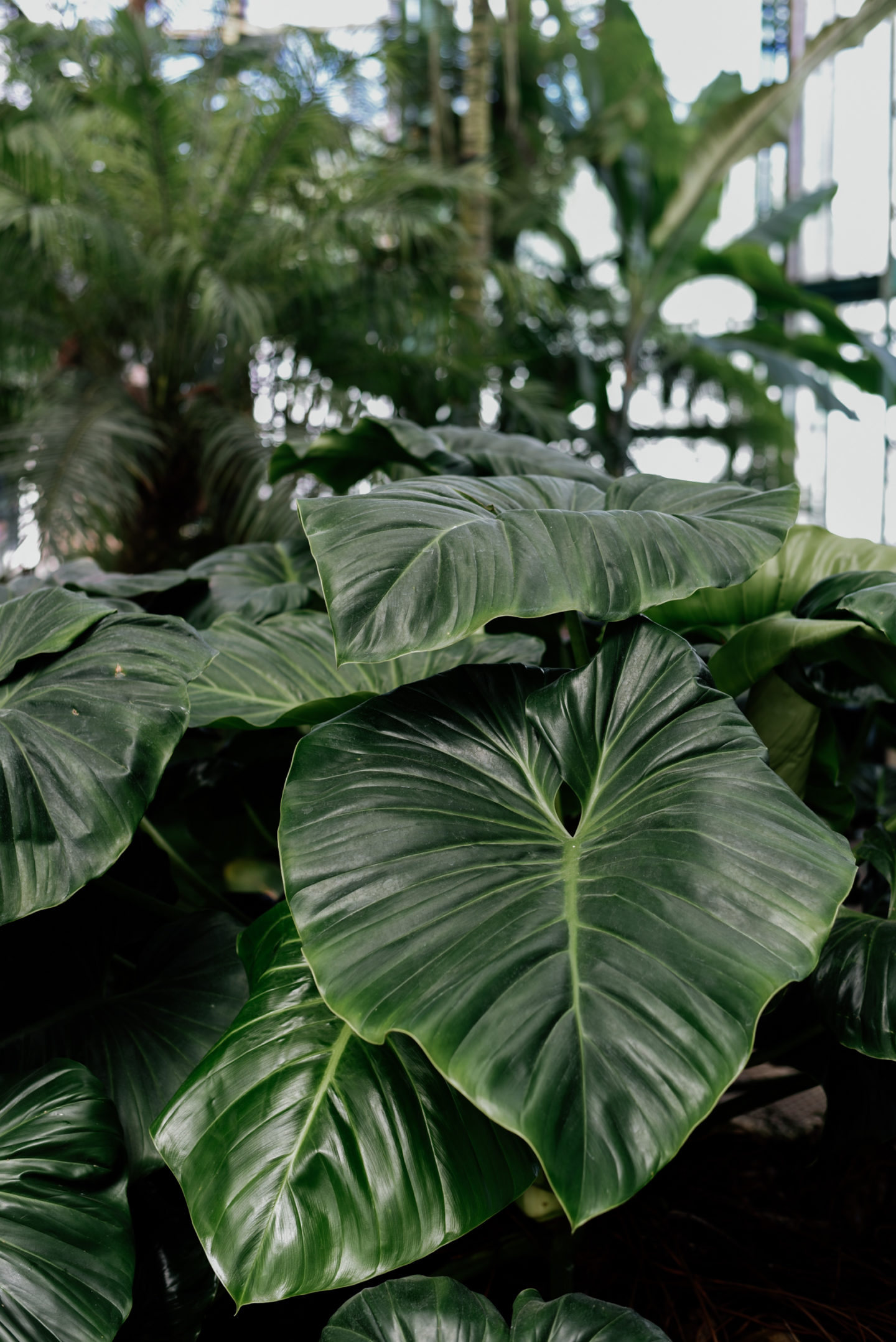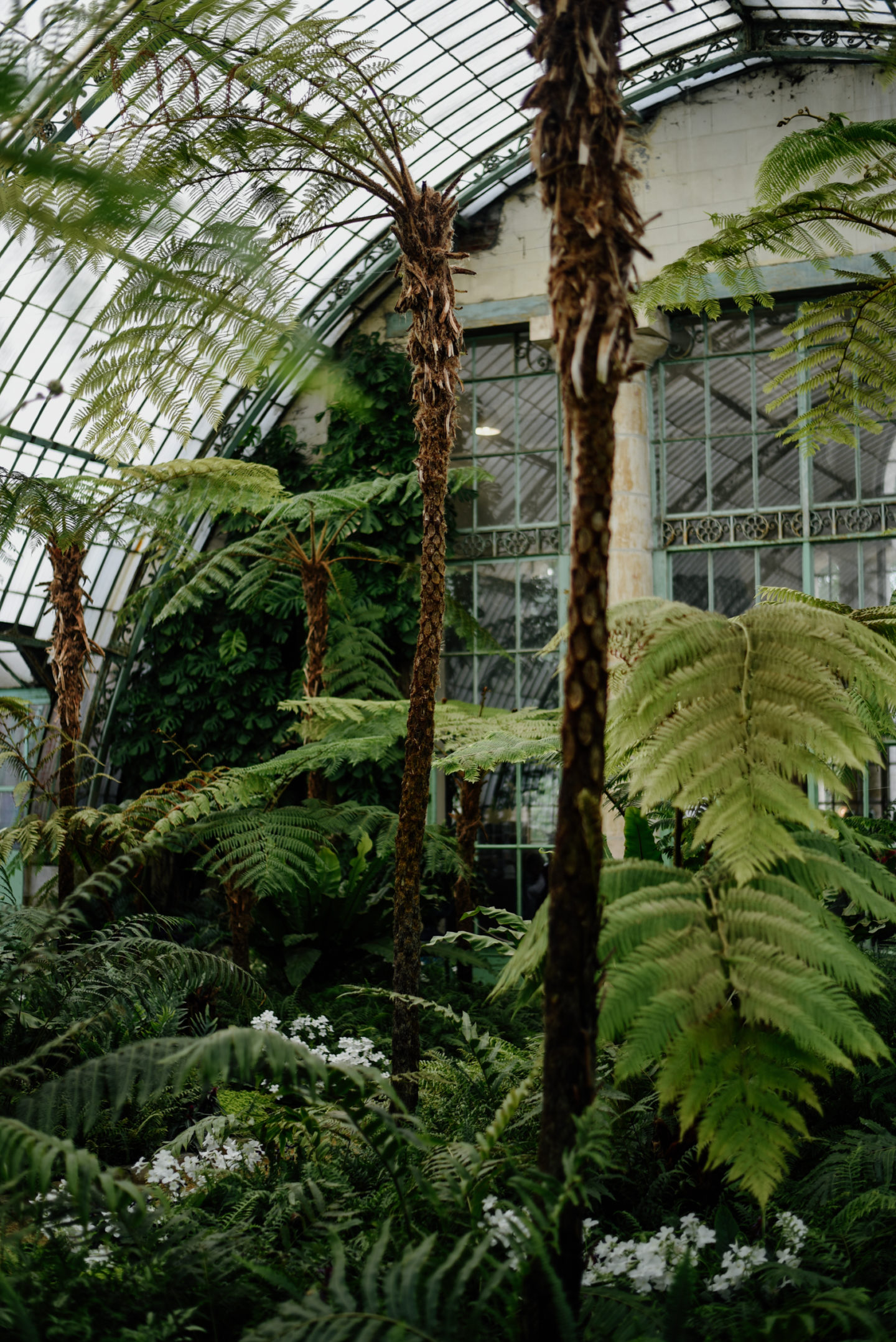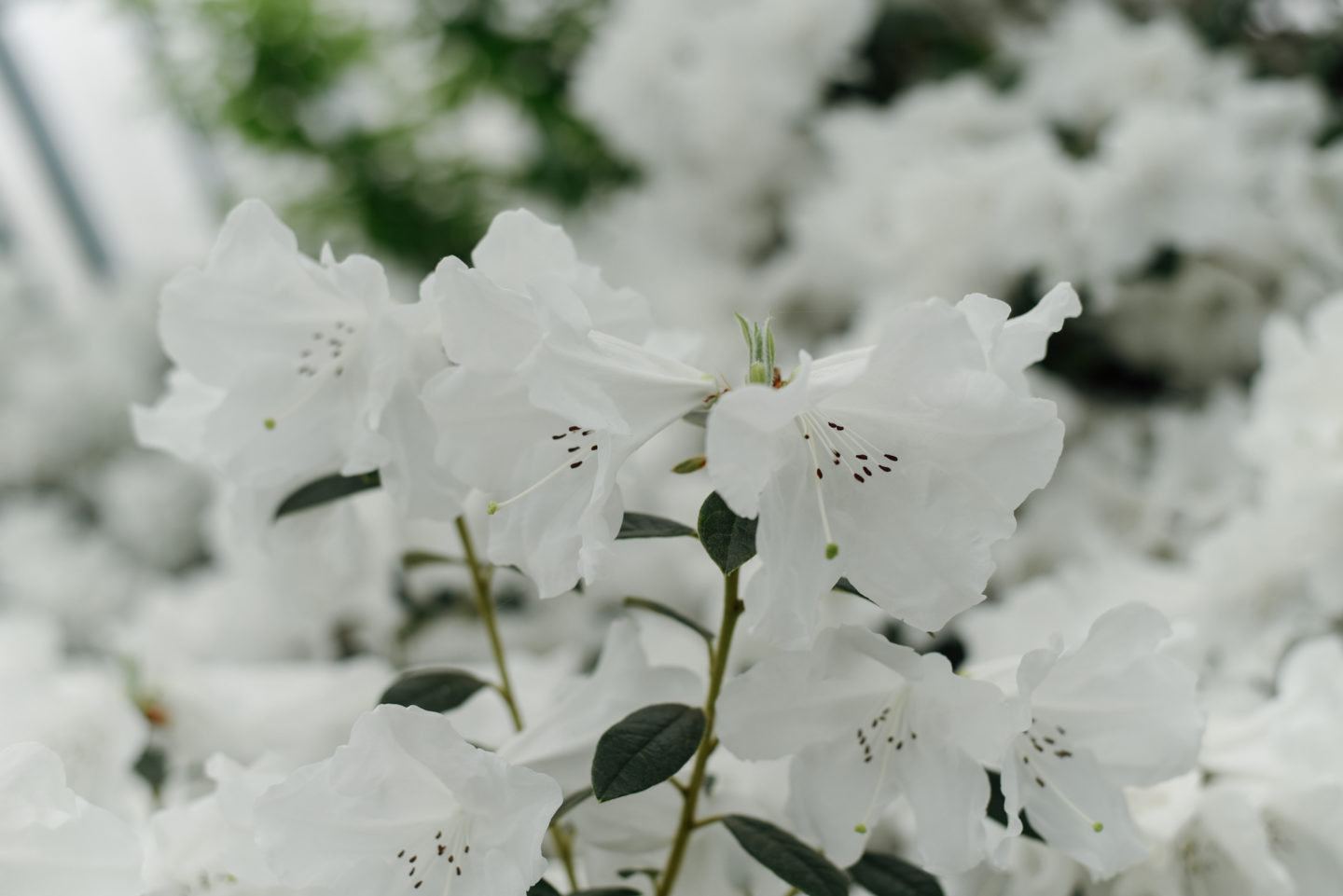 Finally you enter the Winter Garden. This is the largest of the seven greenhouses. Designed to reflect a royal crown, the large dome is high enough to house palm trees and other tropical giants. Some of which were brought in by king Leopold himself. It's hard to describe just how beautiful the design of the Winter Garden is. The enormous Monstera Deliciosa was one of my favorites and I was happy to find a quiet corner to take a few photos.
The winter garden was originally build as a location for royal events and still serves that purpose today. What do you think I should do to get an invitation?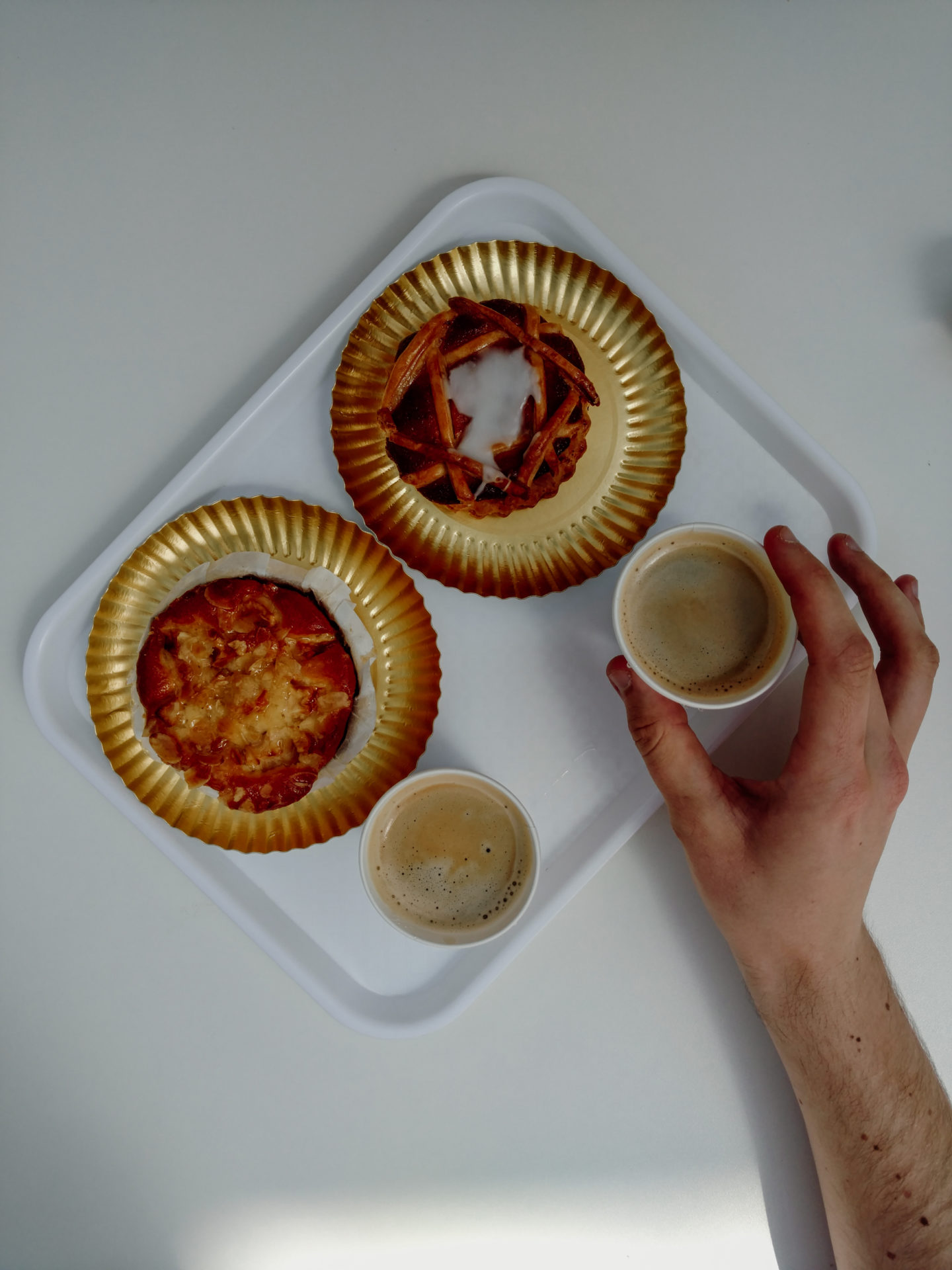 Te tour ended in the Orangerie. We paused here for a minute with coffee and cake and talked through everything we had just seen. I have been to many, many botanical gardens in my life and couldn't believe how I missed this masterpiece when it was right under my nose!
If you'd like to visit the Royal Greenhouses of Laeken yourself, then you should mark your calendars for the last two weeks of April and the first week of May. That's when they usually open, although the dates can differ every year.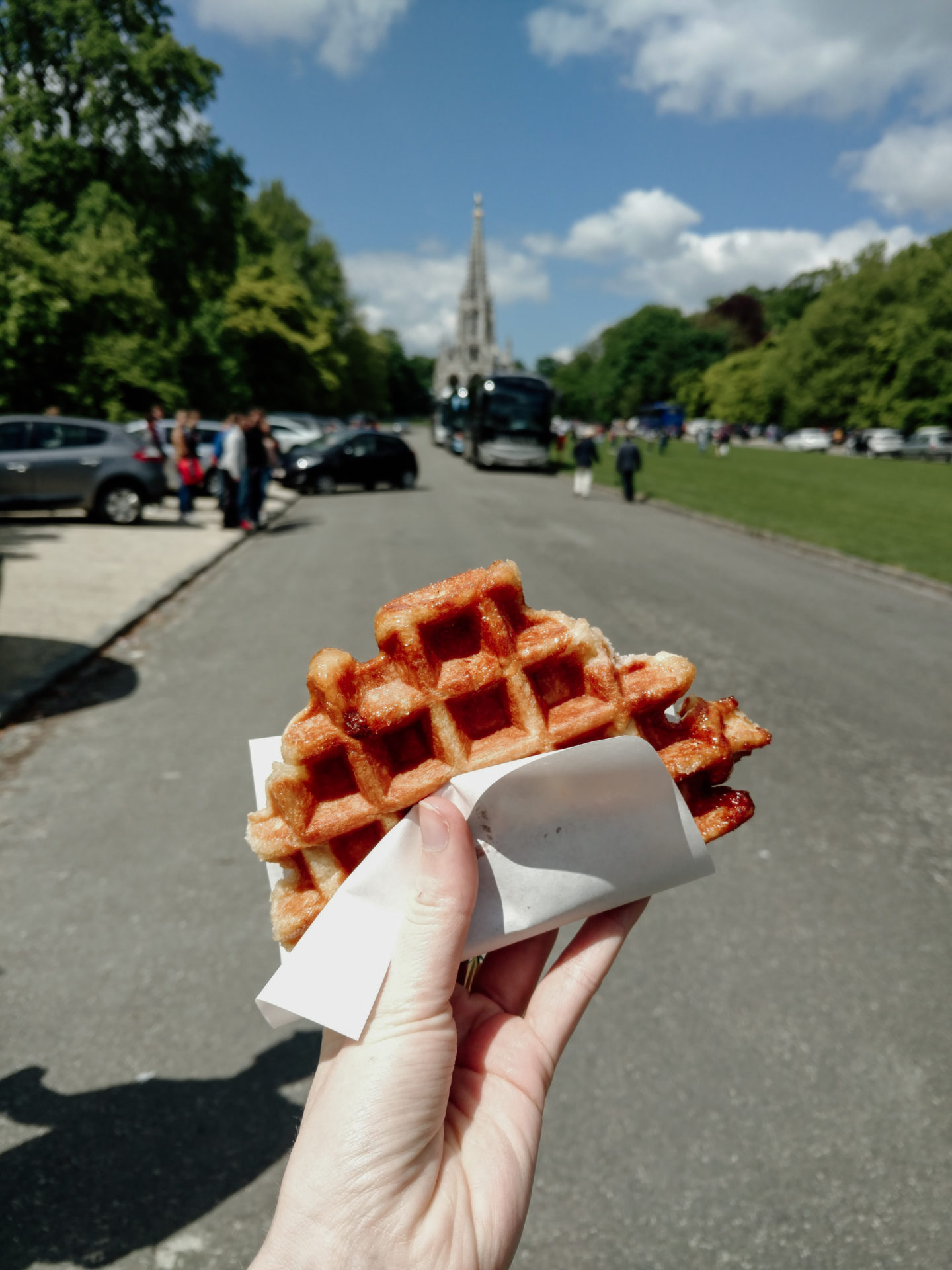 Always grab a snack for the road! Who doesn't love Belgian waffles?