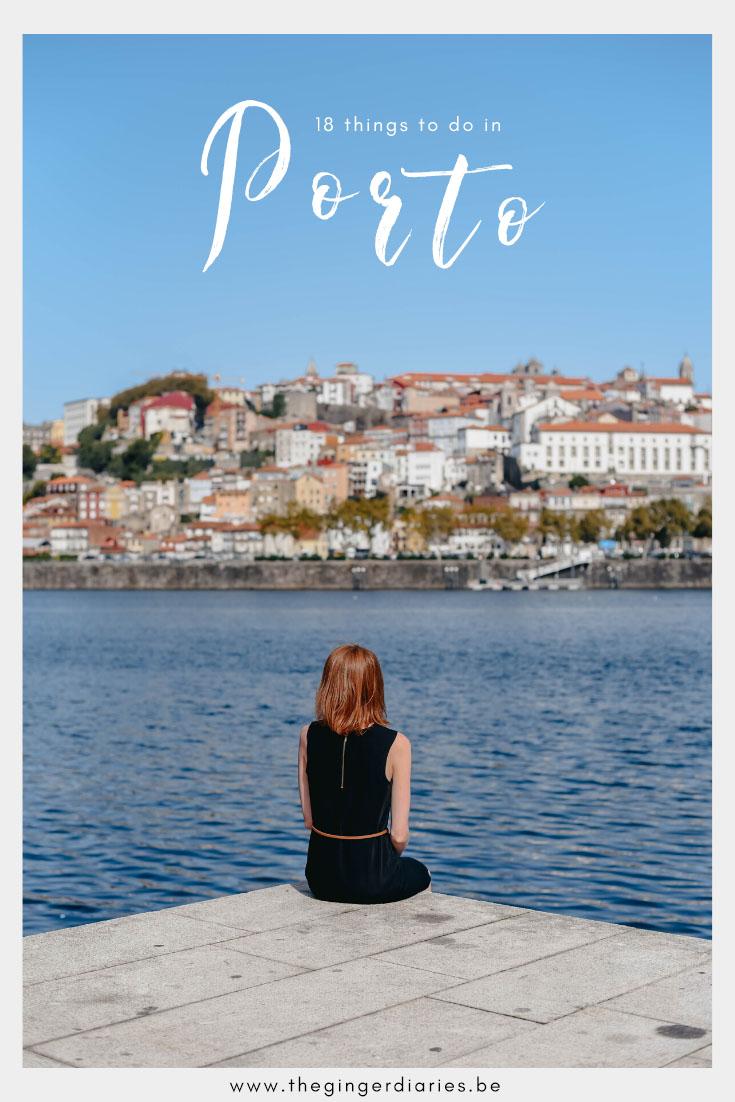 O Porto, Porto, where do I even begin Porto?
I traveled to a lot of cities in the last 10 years, but not one has felt so homely as Porto. There was something about it that made me feel as if I was walking the streets of Antwerp, my home. Was it the small, but vibrant city center? The Duoro river waterfront? The cathedral? Or simply too much port wine? Fact is, I rarely enjoyed a city as much as I did Porto.
My friends and I stayed in the city one glorious autumn weekend before travelling onward to the Algarve coast. As always, I brought my camera along to capture all the good stuff. Here's a recap!
Day 1
Arriving at Best Guest Porto Hostel
Confession: I actually arrived the night before, around 9 PM, directly from Tenerife. While my friends went out to party in the city, I crawled into bed after the first can of Sangria. So let's just count this as day 1!
The three of us stayed in a 4 person female-only bunk with private bath in Best Guest Porto Hostel. This hostel had the absolute best location, right near São Bento station and on a road directly to Praça da Ribeira. Literally everything else was within walking distance too. The hostel itself was clean and quiet. It probably helped that I shared a dorm with 2/3 people that I knew, but still. Breakfast was standard, but not bad at all. Good hostel, for the best price! The staff helped us get a taxi to the airport at 5 AM. I think that taxi driver still remembers us singing along to Bon Jovi in his back seat, low on sleep at 4 AM. Good times, good times.
Alright, let's explore Porto!
Find the prettiest azulejo tiles in Porto
Let us start with the obvious. Who doesn't know the colorful ceramic tiles? Azulejos are made in all colors of the rainbow, but the blue ones are probably the most famous. Both the insides and outsides of a lot of buildings and houses in Portugal and Spain are decorated with azulejos. You will see tile work anywhere you look in Porto, but for your convenience I listed the sites that you surely shouldn't miss when you're visiting Porto!
My photos above were all taken on a single walk around Porto. We started at São bento, then headed to Igreja de Santo Ildefonso and finally walked to Igreja do Carmo. There is a more efficient way to walk, I'm sure, but we were only strolling aimlessly.
The photo's below were taken at the following locations:
1-3: São Bento railway station
4-5: Igreja de Santo Ildefonso
6-8: Igreja do Carmo
You can find more Azulejo façades at:
Capela das Almas / Capela de Santa Catarina
Inside the Porto Cathedral Cloister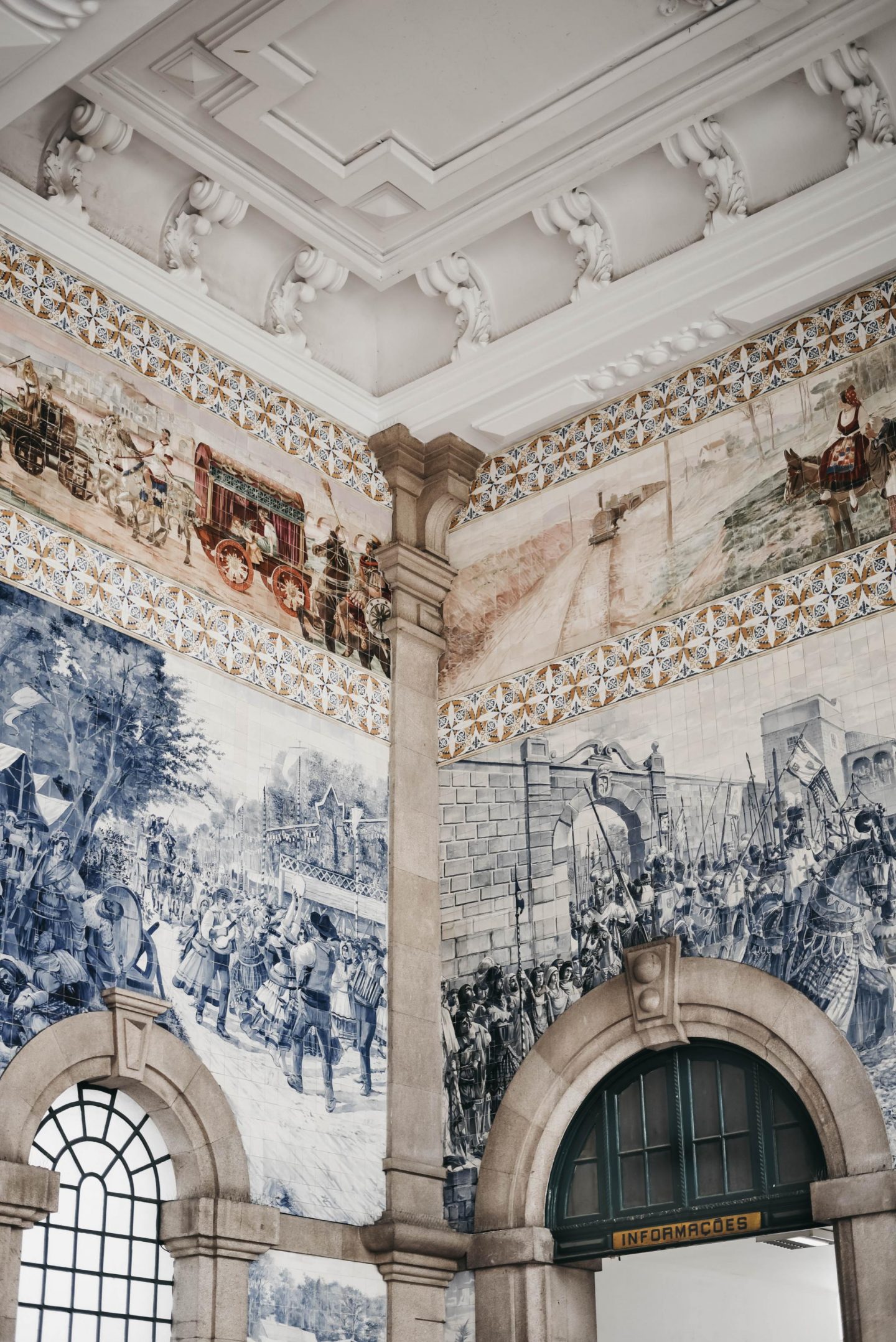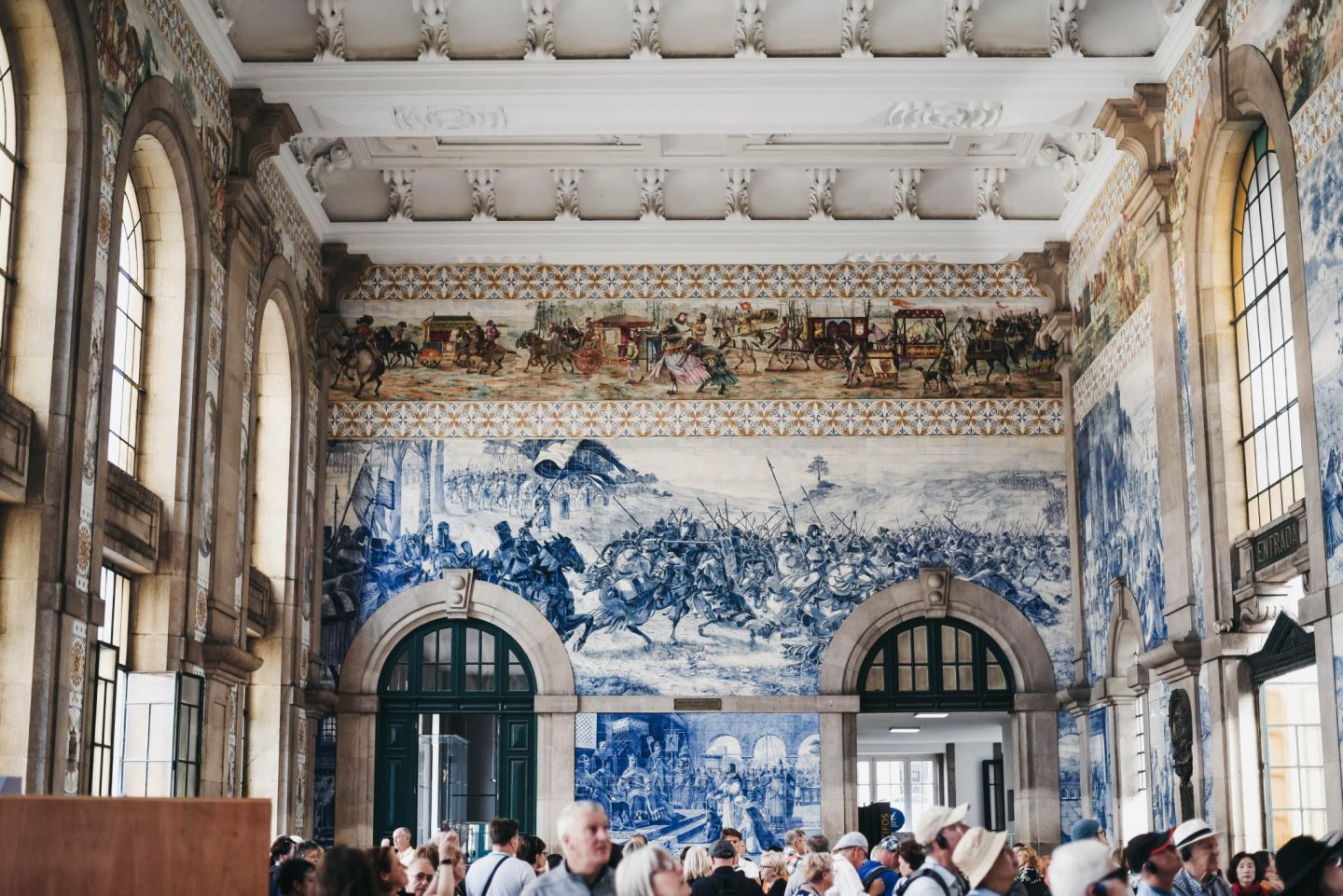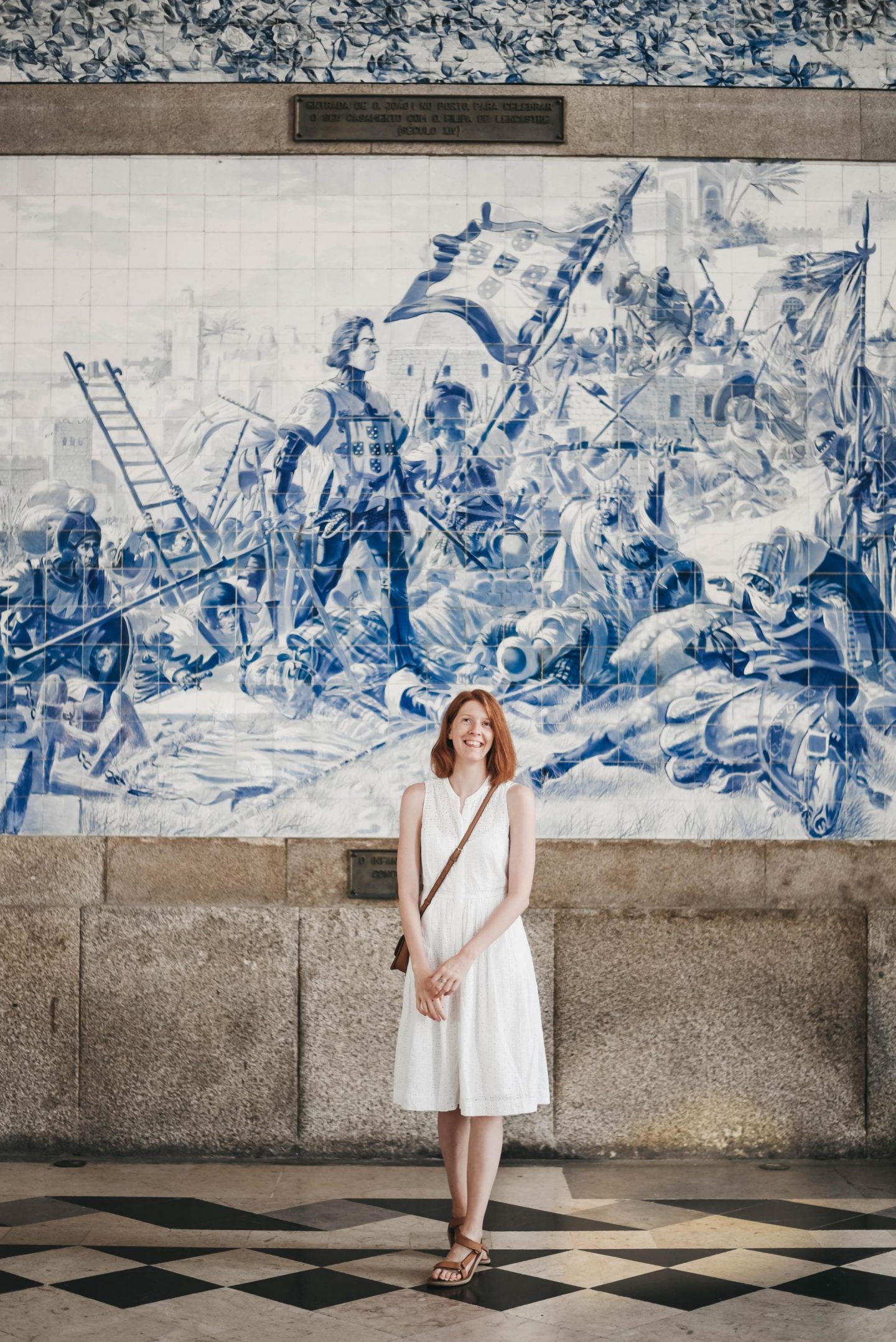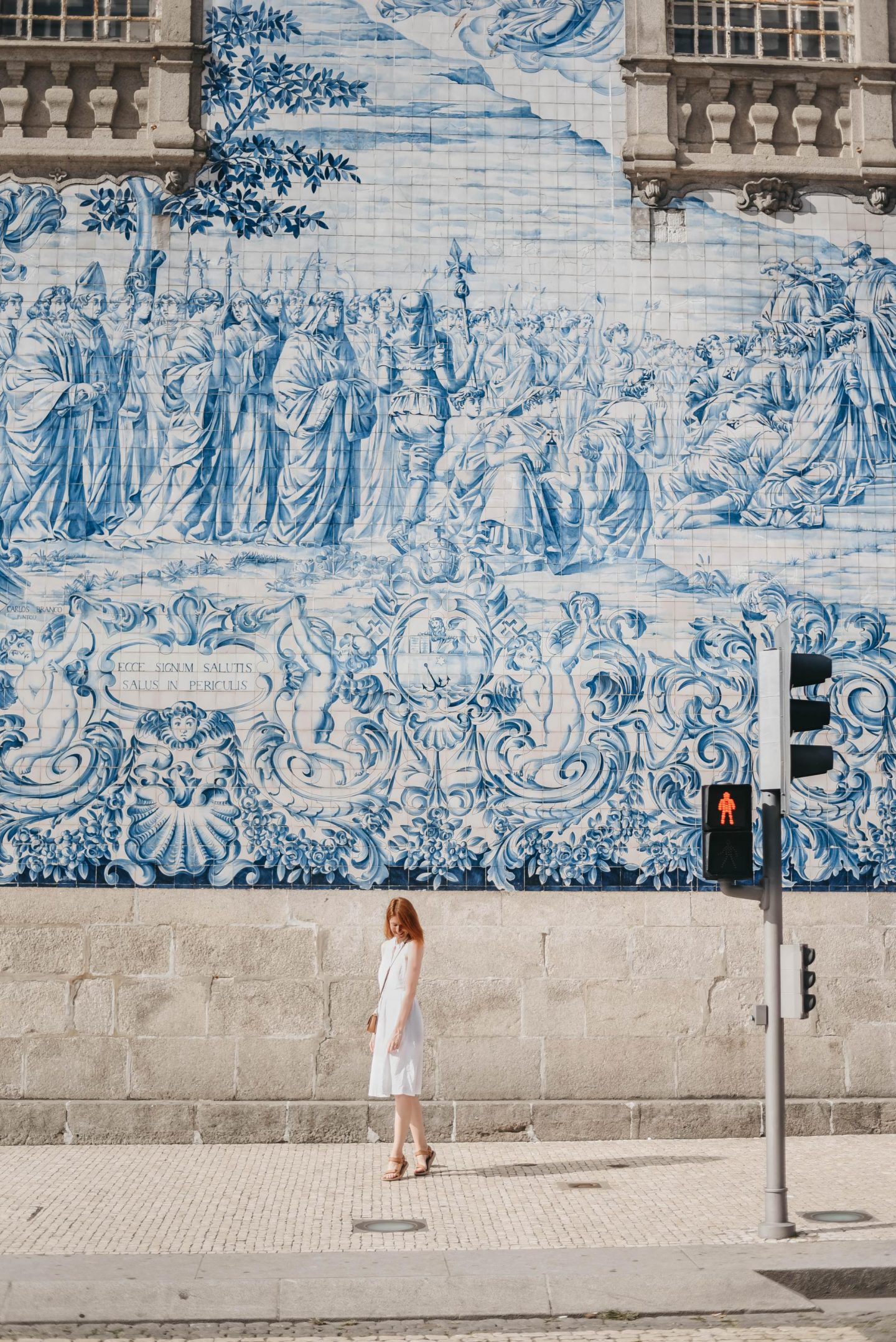 Stop for coffee at Combi in Porto
Anyone who knows me, knows that I run on coffee. I see it as my mission to track down the coolest coffee places when I travel and I think found hands down the best coffee in Porto.
Combi Coffee is a specialty coffee bar and coffee roaster that serves up some mean good caffeine. I was traveling with two girlfriends who do not drink coffee, so I should thank them for letting me go in and savour the goodness that was their iced coffee.
Combi Coffee still had a coffee shop-in-shop in The Feeting Room back when we visited in October 2018, so that's why it looks different in my pictures than it does now.
Even without Combi Coffee, The Feeting Room is still worth a visit. If only for the beautiful view you have over Largo dos Lóios from their first floor.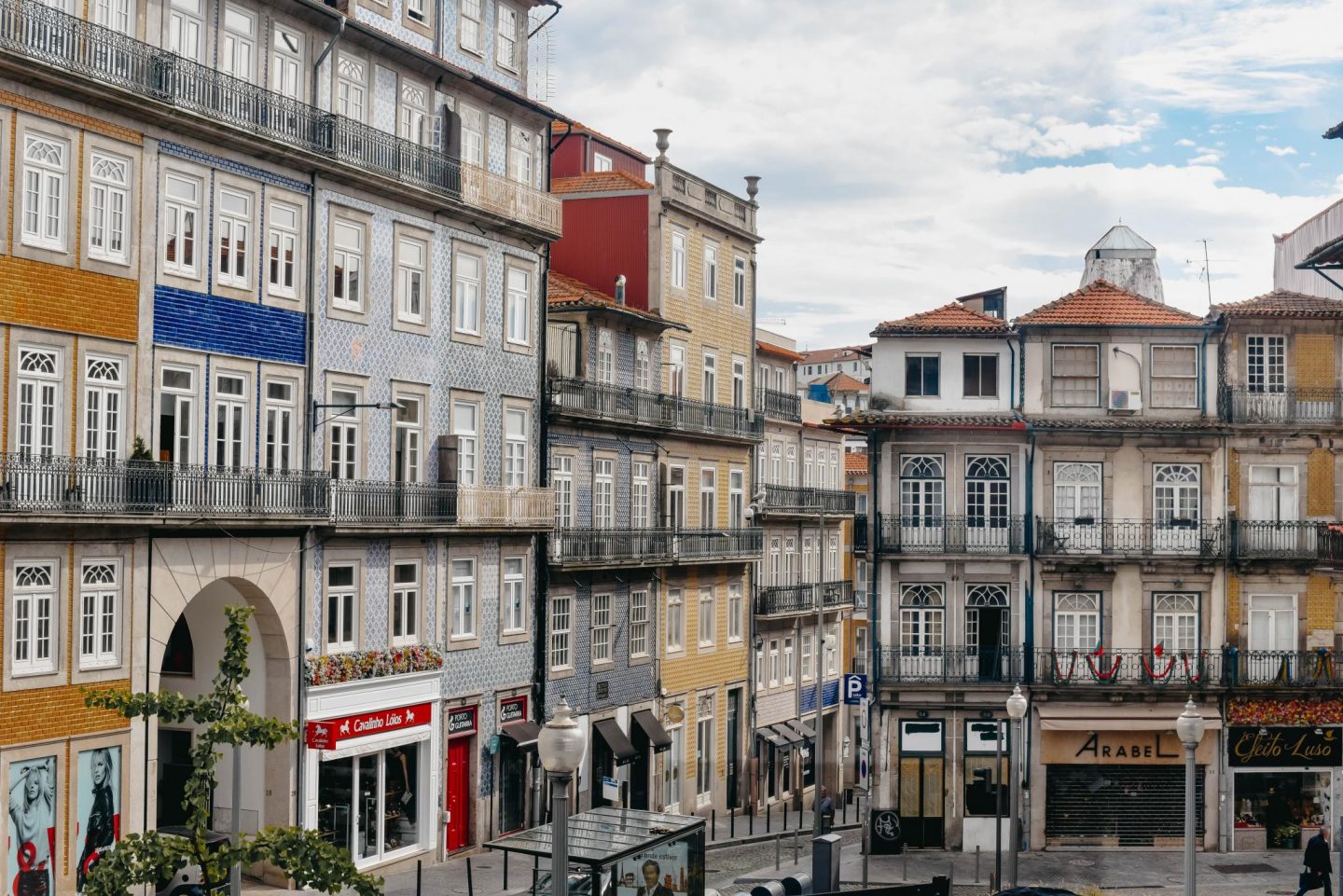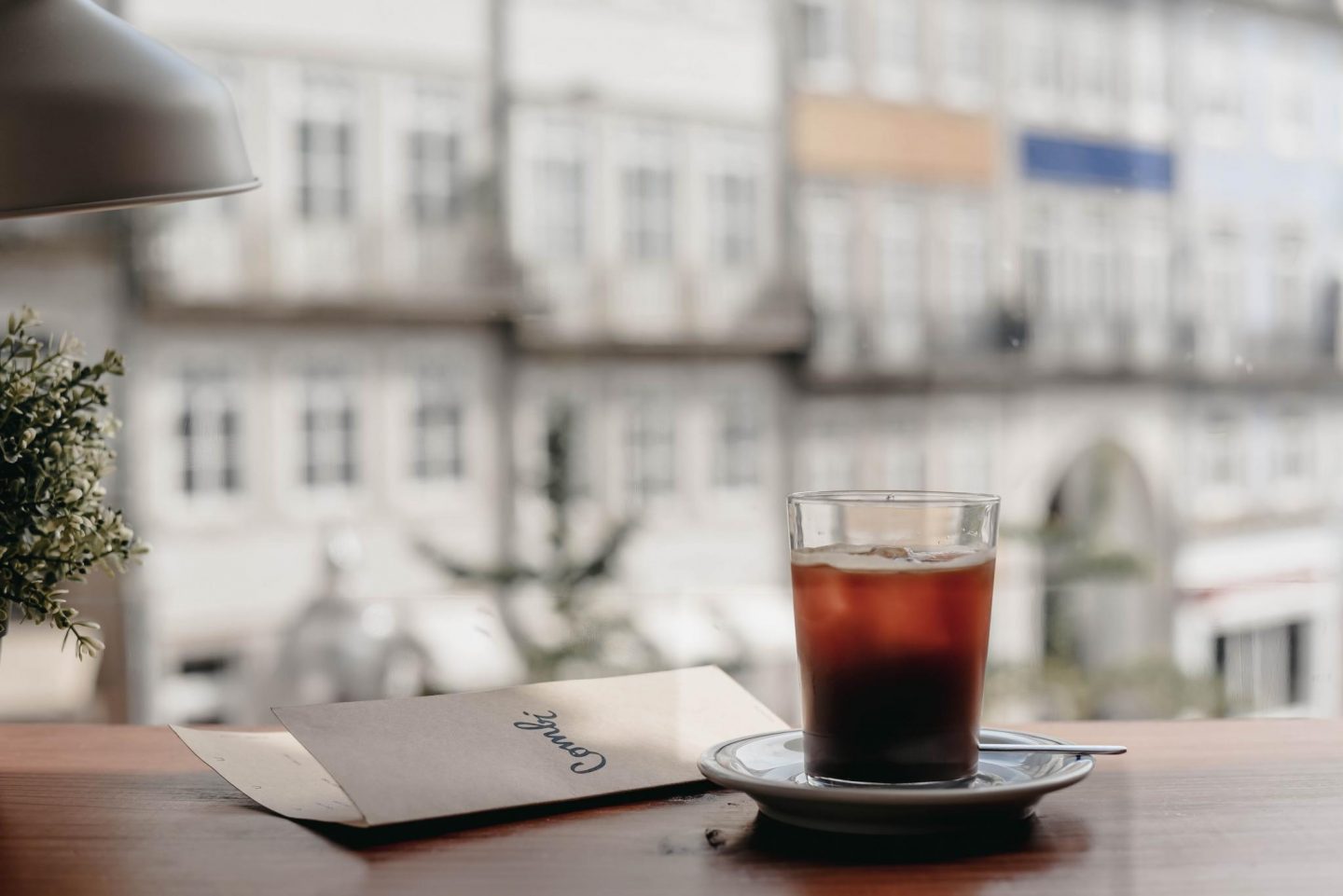 Eat a Pastel de Nata by the Duoro River
The world should know that Belgians make some really good sweet pastries, but apparently so do the Portuguese. Portugual is a sweet country! From the world famous Pastel de Nata to Pão De Deus, Brigadeiros, Pastel De Feijão, and Salame you will find sweet treats in abundance in one of the many Pastelarias.
We were hungry and looking for take-away lunch that we could enjoy on the quay. Visiting a pastelaria was a logical choice! As you can see we each got a Pastel de Nata (of course we did) and then added whatever we liked. The half moon pastry with biscuits is a Salame, the pastry with icing sugar was puff pastry with almond filling and the plain one on the right had a savory cheese filling.
After lunch we held an impromptu photoshoot on the quay. Who do you think is the better poser, me or the grey gull?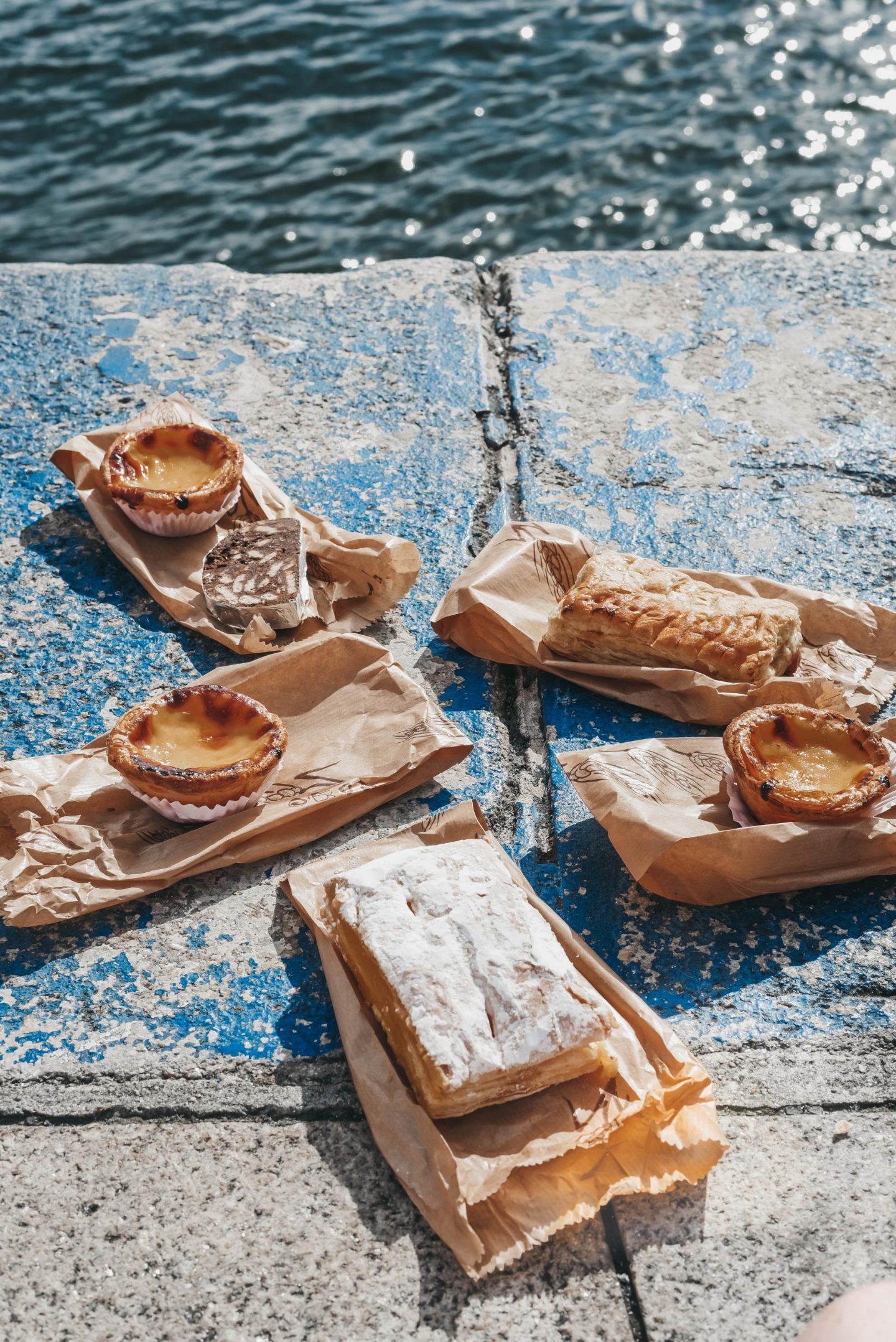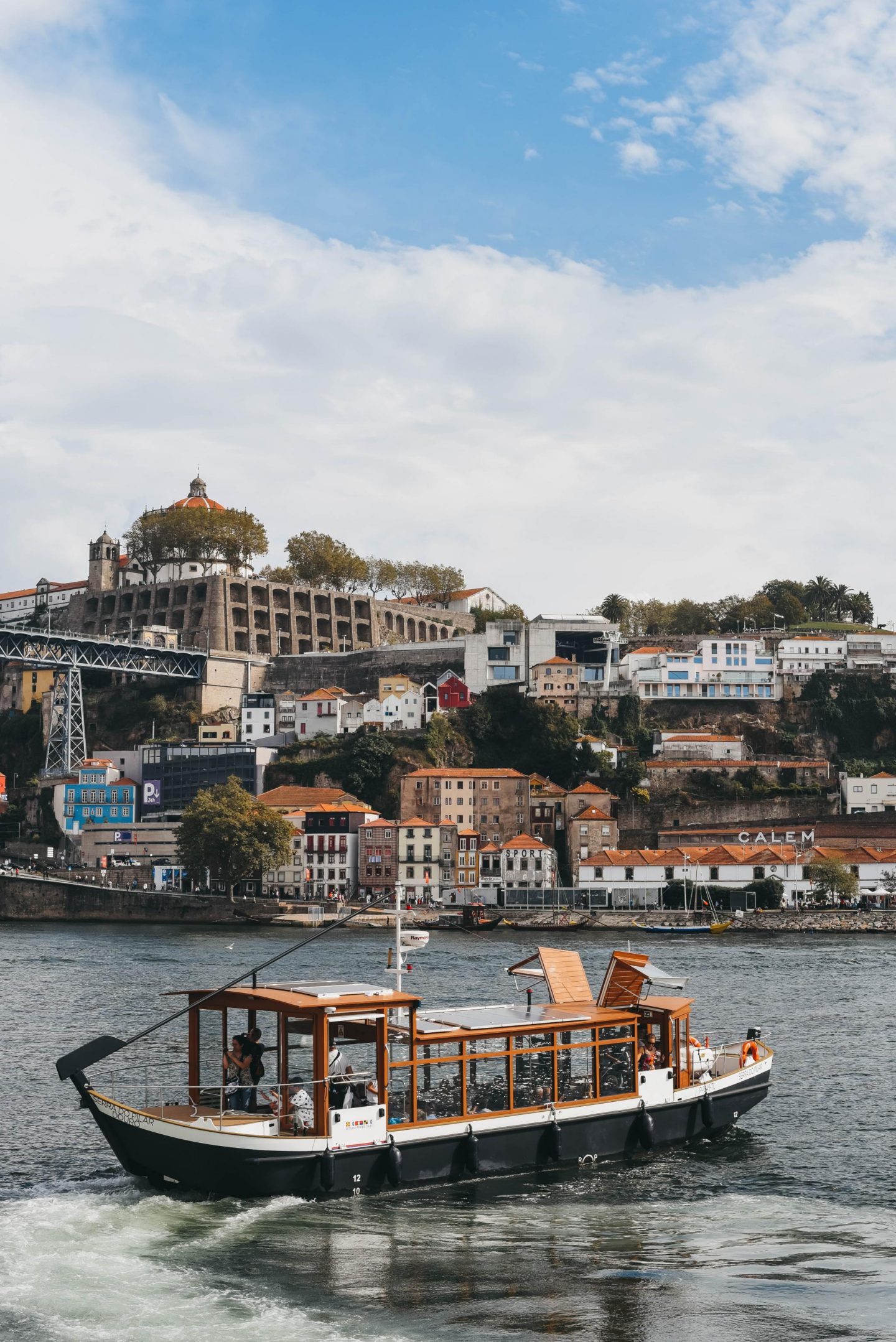 Watch the night fall over the city from Sé Catedral do Porto
We were treated with 3 golden sunsets in a row during this trip. We witnessed the first from the street that runs around the cathedral. I am a sucker for good panoramic views and this one right here is gold, solid gold. From Terreiro da Sé you have incredible views over old town Porto and the Duoro river.
Terreiro da Sé and cathedral are free to enter, but if you wish to enter the cloister you do have to pay a small fee (2018).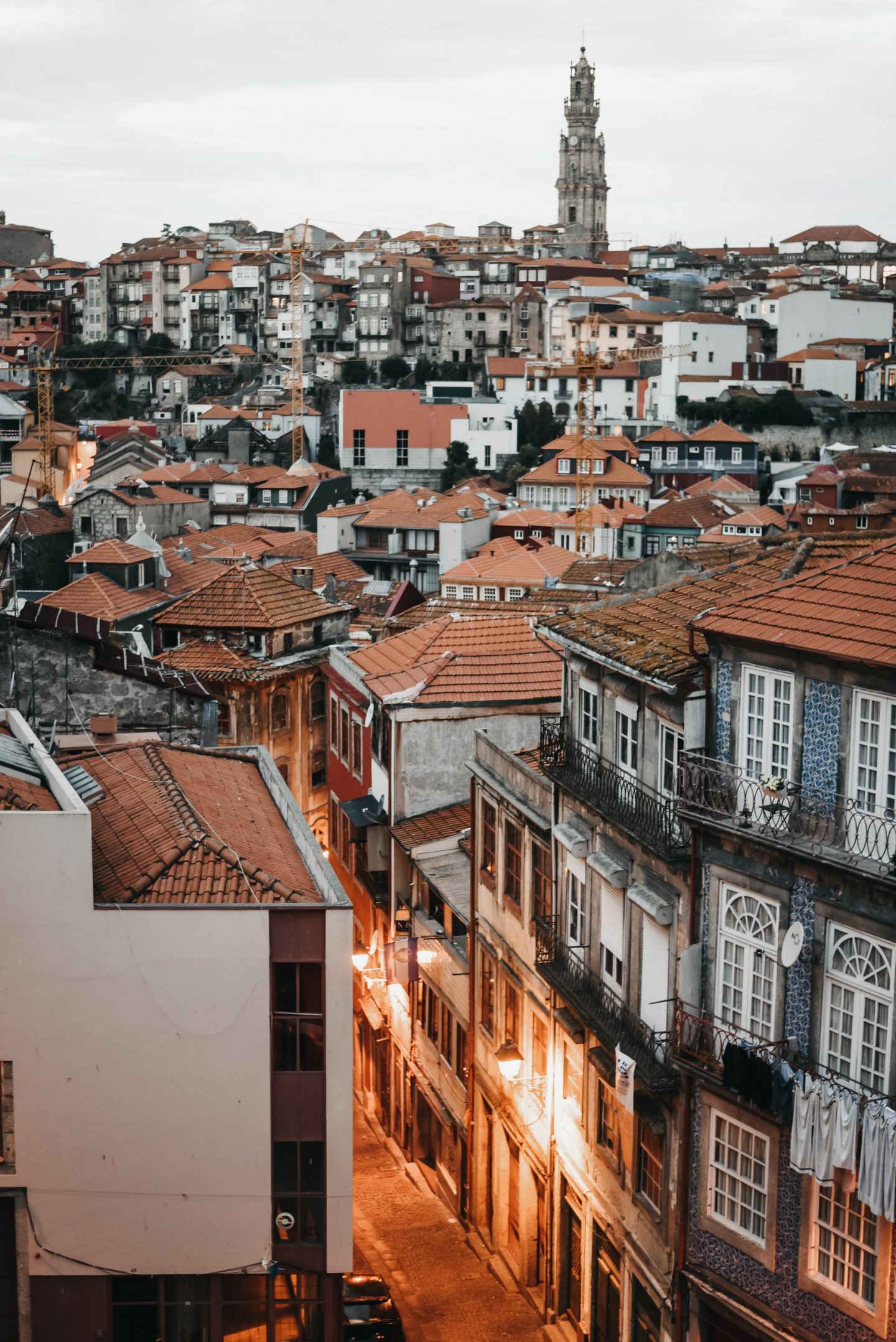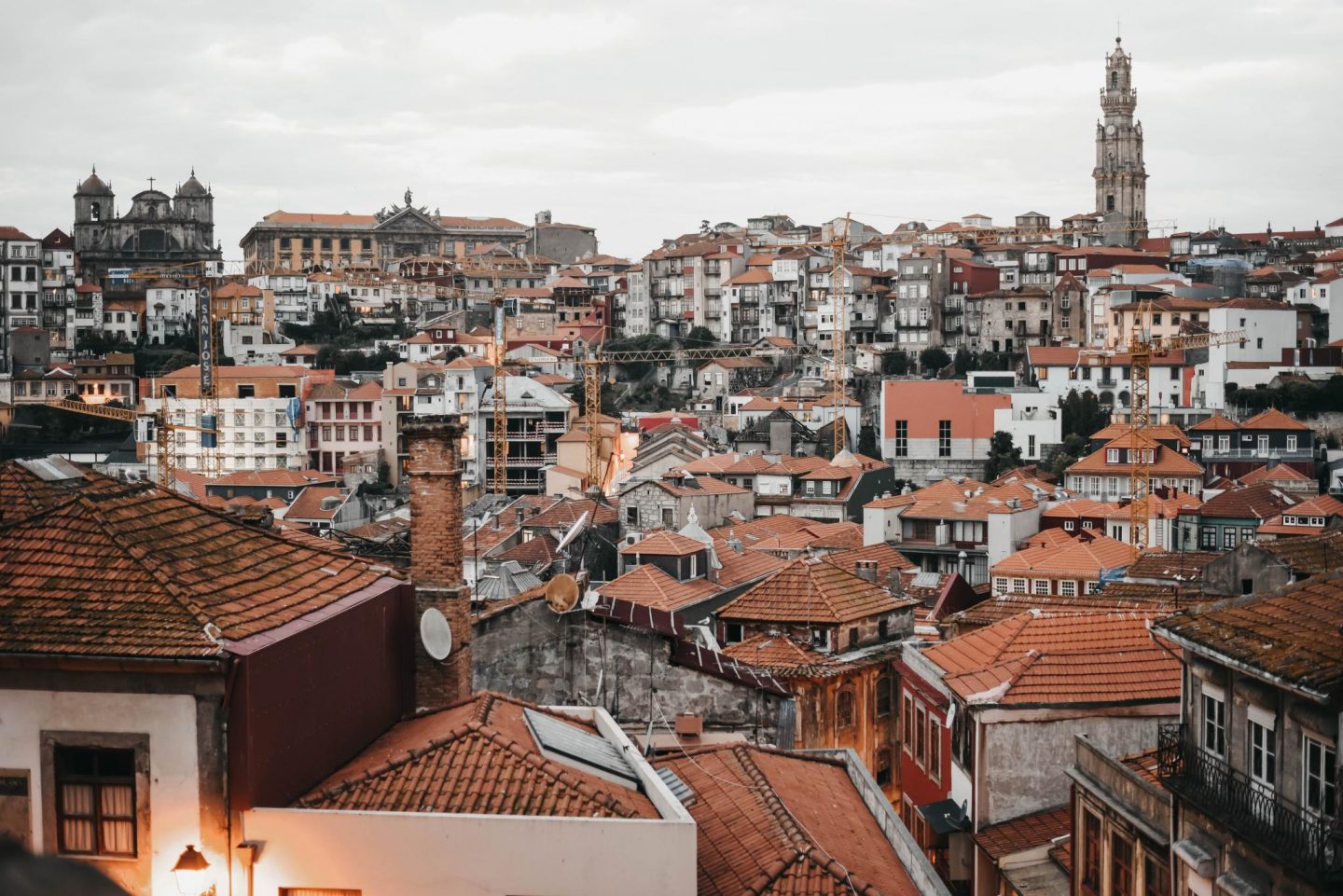 Day 2
Visit Livraria Lello
Behold my worst fear: crowds!
Livraria Lello is that bookstore you see on Instagram just about every five minutes. It's popular and so we expected a big crowd.
We decided to go to Livraria Lello earliest in the morning to avoid the masses, only to see a line down the block even before they had opened. We bought our tickets and queued, but upon entering it was as if I had entered a world of madness.
The inside was literally a pile of humans. They regulate how many people are inside at the same time, but let's say they allow a generous amount of people in. Everyone was photographing, blocking ways, crawling and grabbing their way through the tiny bookstore. It was a hot mess! I tried to find a quiet corner to stand while my friends looked for souvenirs, but I kept being pushed around by people who suddenly to look at my exact corner at that exact second. What is up with that? There was no place to go and I got so worked up that I just got out of there.
Both my friends eventually decided on Harry Potter and the Cursed Child for a souvenir. A very topical choice considering that J.K. Rowling supposedly used Livraria Lello as an inspiration for the Flourish and Blotts bookshop in her Harry Potter series.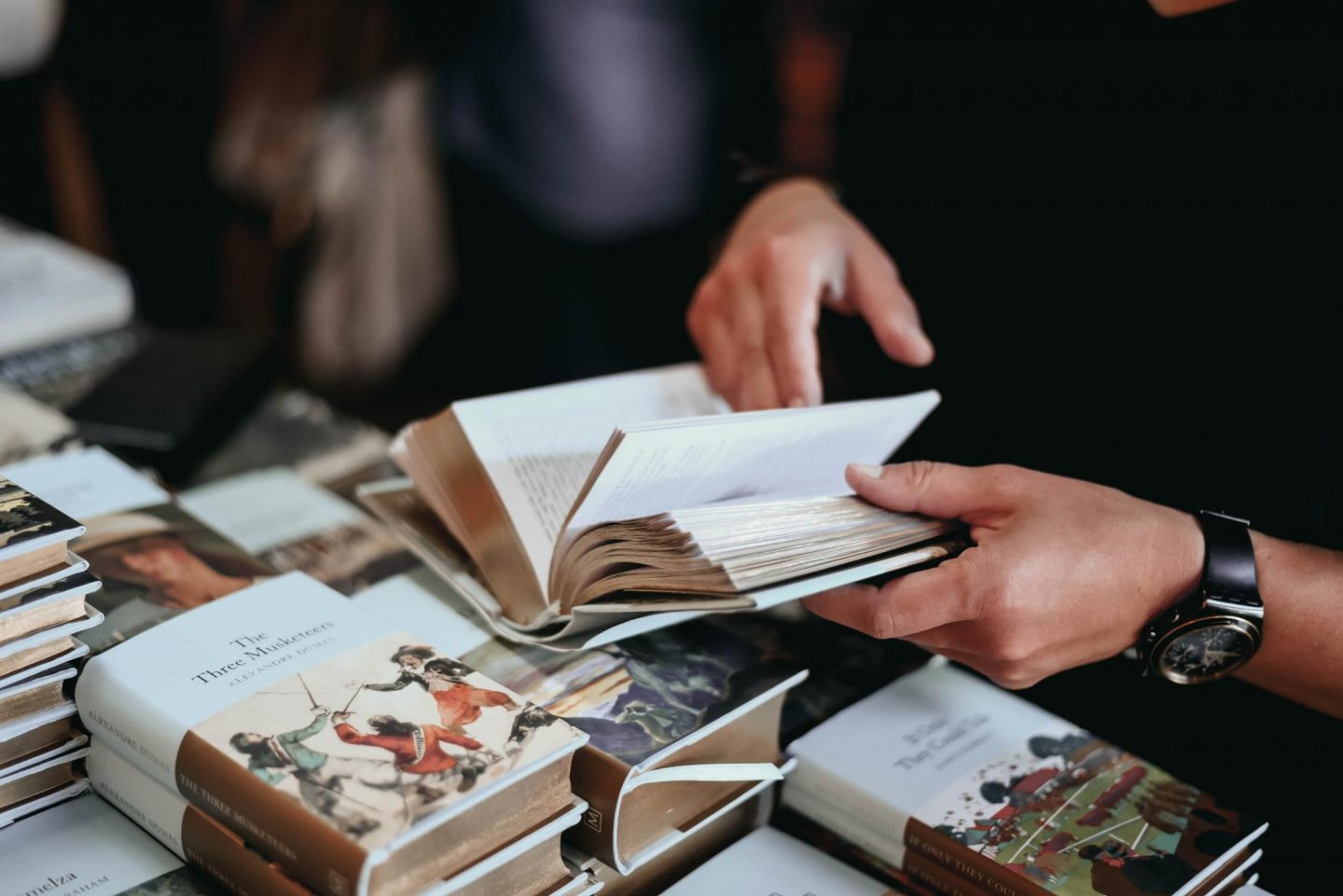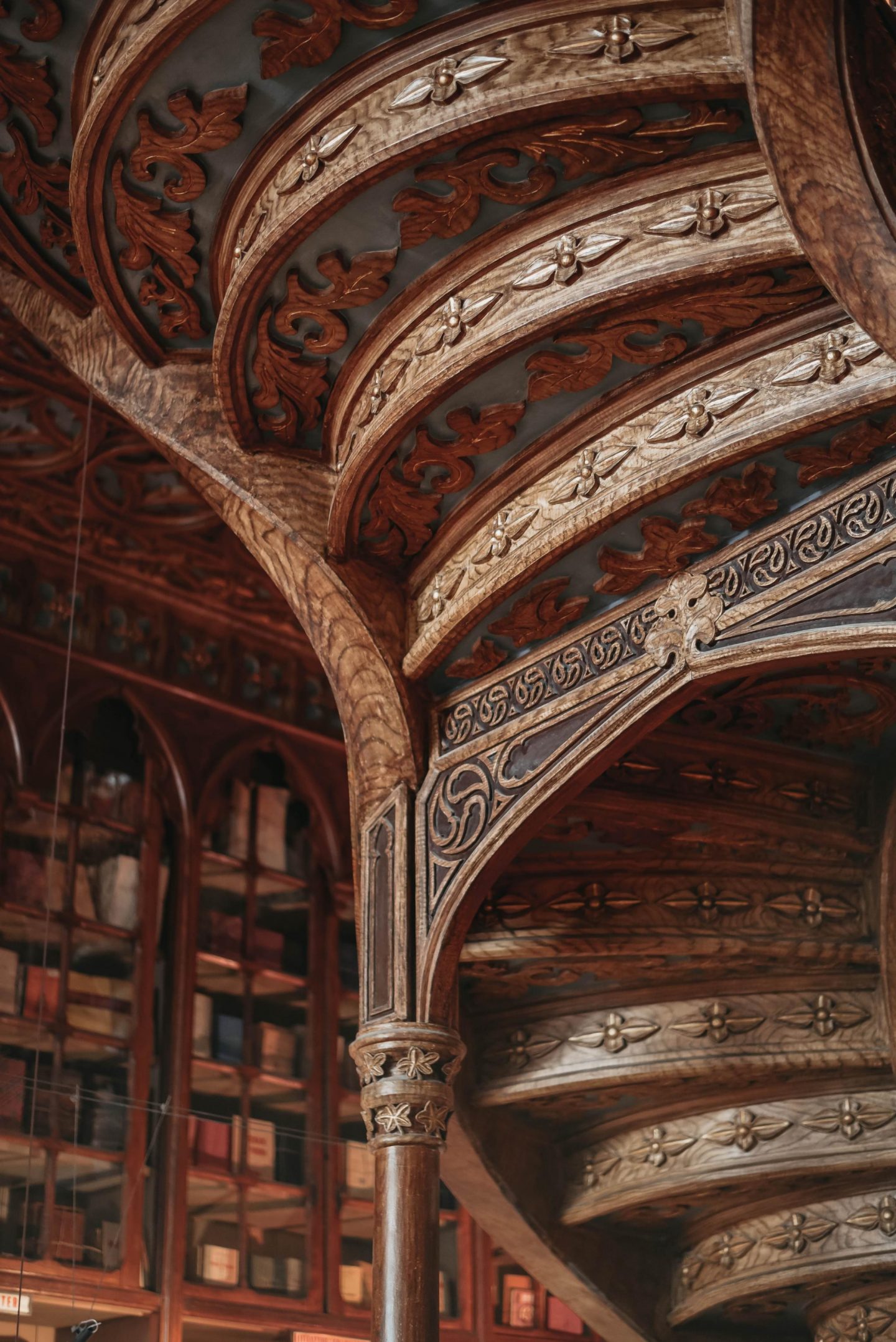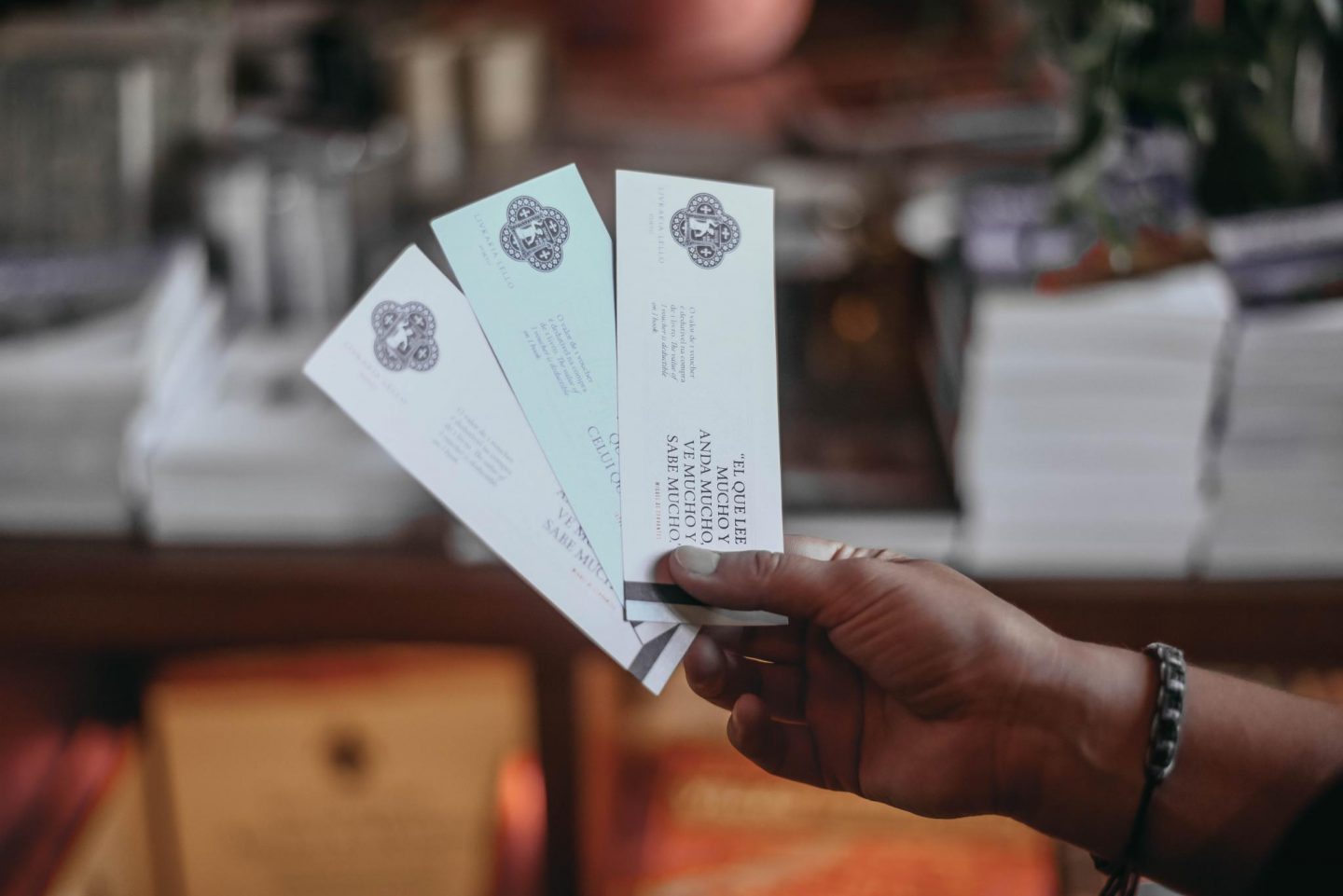 Climb the Torre dos Clérigos
Behold my second worst fear: heights!
I have a terrible fear of heights, but did I mention that also I have an great love for panoramic views? So… Up the tower I went!
The 75 meters long tower of the Igreja dos Clérigos rises high above Porto. If you pay a small fee you can enter the tower and climb all 240 steps to the top. A very brave undertaking, in my humble opinion!
I didn't last at the top for very long. My fear kicked in almost immediately, haha. BUT! I am so happy that I went up, on wobbly knees and everything, but UP.
If you are, like me, prefer to keep your feet on solid ground, then Praça de Lisboa is something for you. This raised park is an oasis of green in the middle of the city and has a rather cool design. On the ground level you can find a shop gallery with coffee shops and different kinds of retail. It's a nice place to hang out and rest your feet for a while. There's also a 'rooftop bar' with a beautiful view on the Torre dos Clérigos!
The first photo below is taken from inside the shop gallery at Praça de Lisboa and pictures the tower. The third photo is the view on Praça de Lisboa from atop the tower.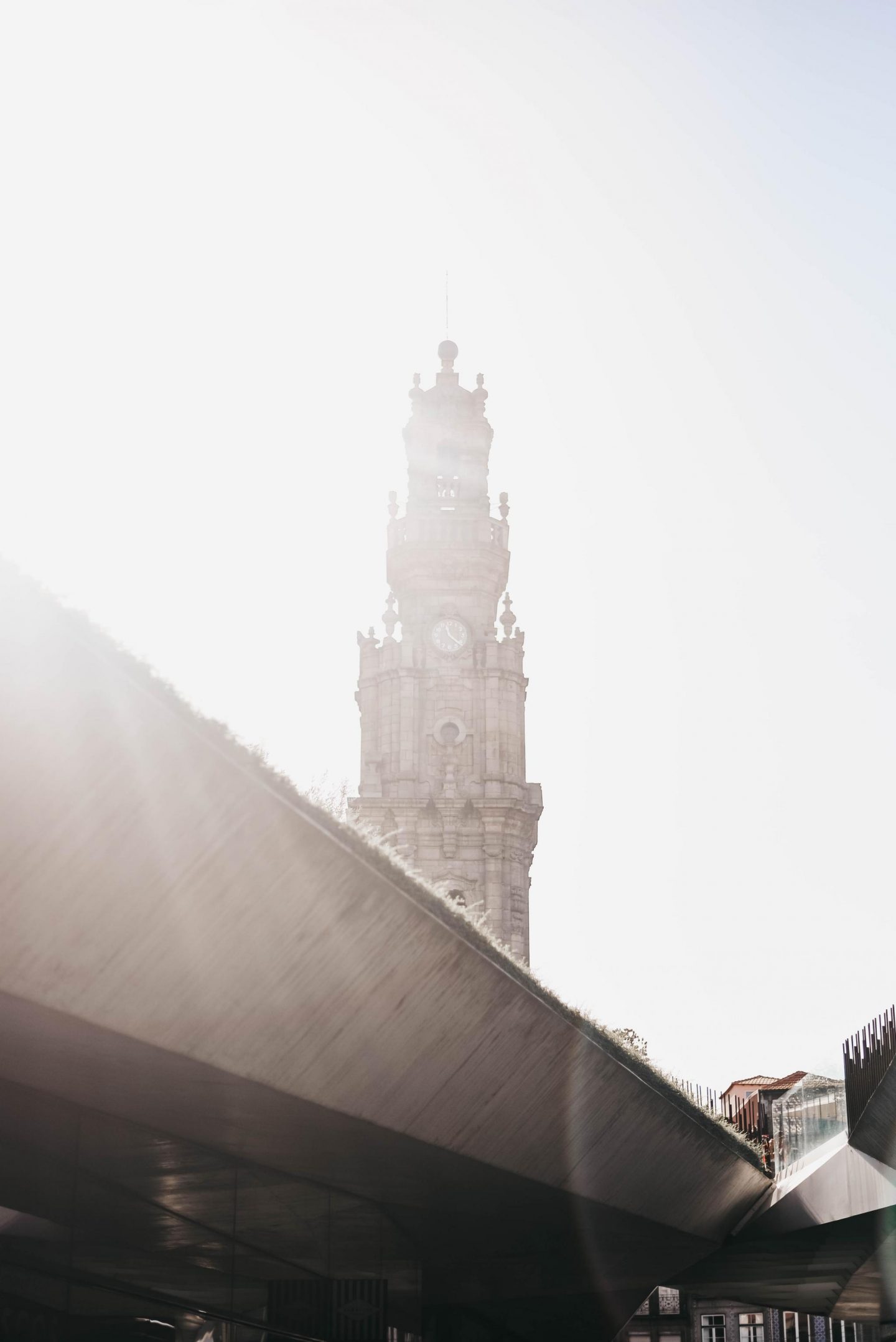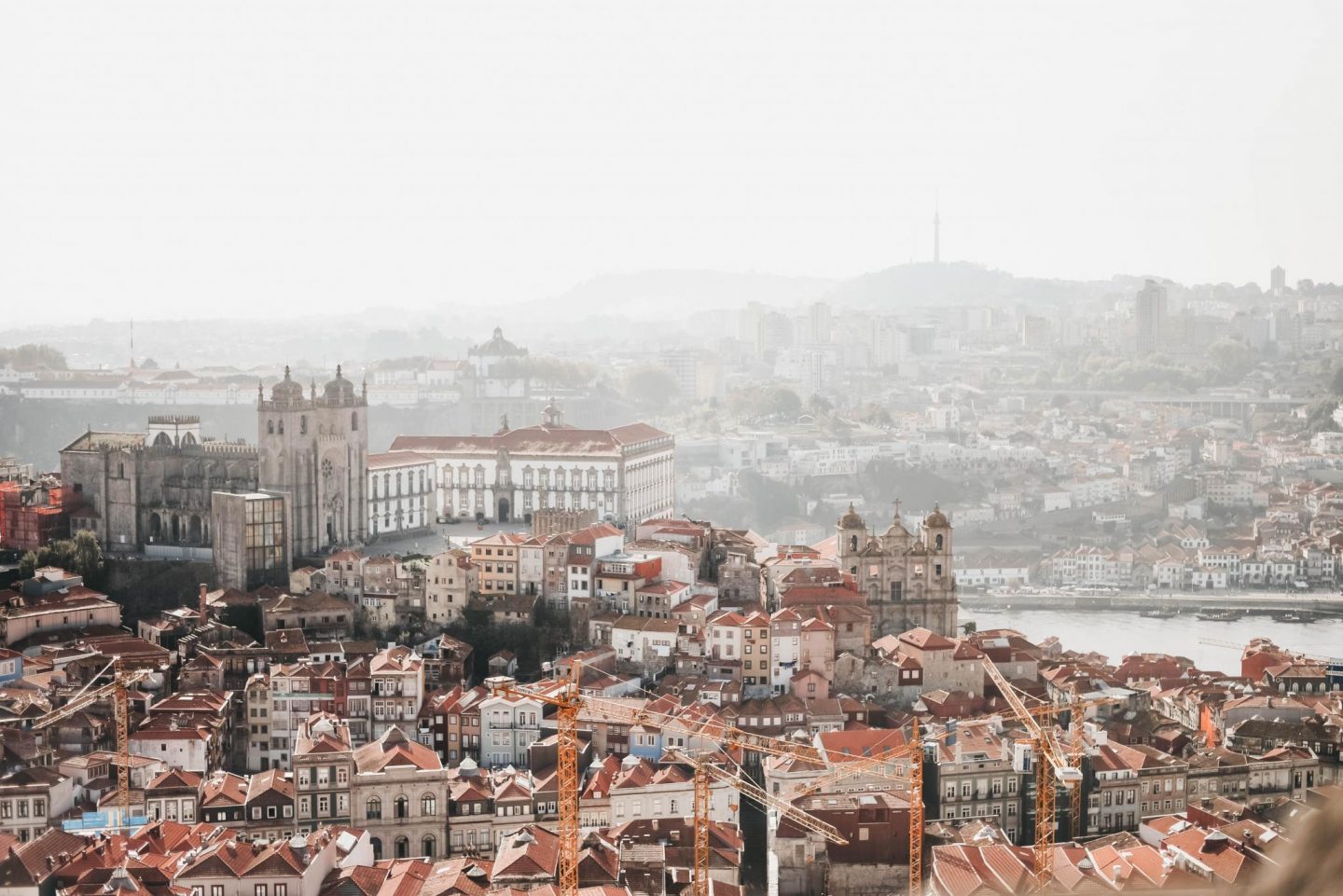 Visit Sé Catedral do Porto in the daylight
Why only visit one panoramic viewpoint when you can visit two, amirite?
I deliberately chose to post photos that are taken from the exact angles as the ones from the sunset on day 1. It amazes me how light can change the way you see something!
You can also clearly see here how the Torre Dos Clérigos dominates the Porto skyline.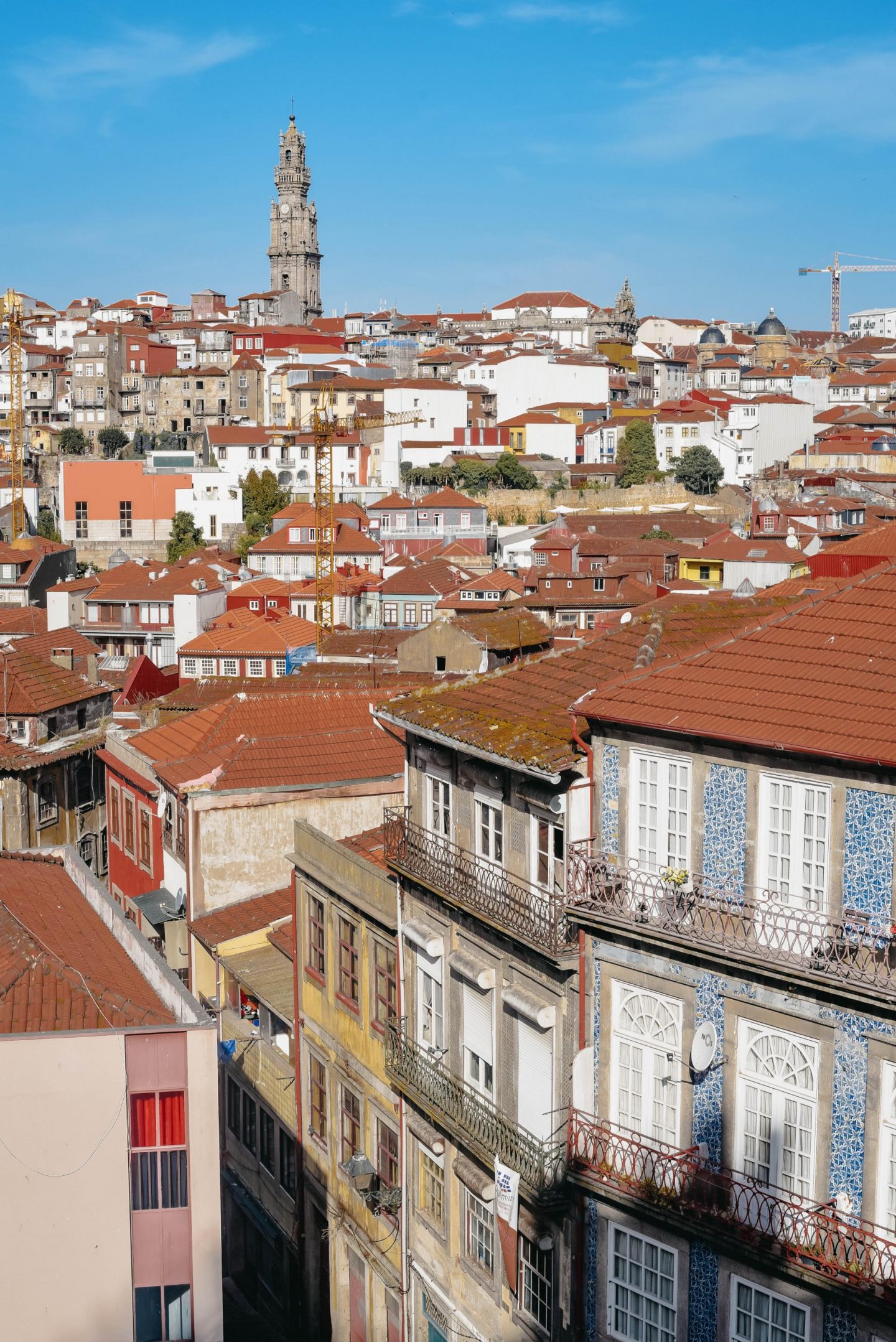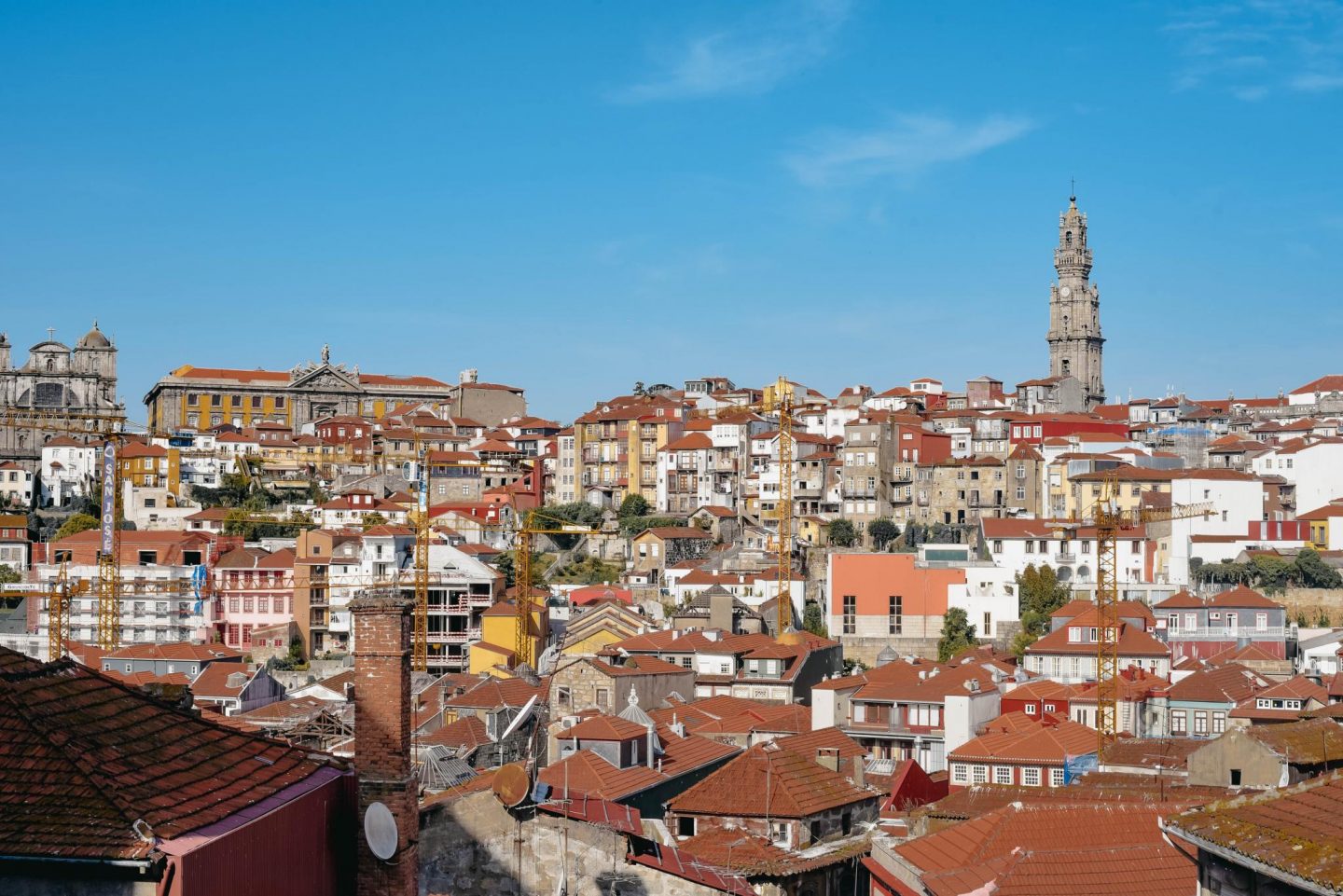 Admire the colors of Praça da Ribeira
From the cathedral follow the small and winding streets downhill to Praça da Ribeira. This location next to the Duoro river is probably the most well-known square in Porto. The colorful facades that line Praça da Ribeira are featured in every Porto travel guide out there. It shouldn't surprise you that it is a lively place full of tourists, street artists and… pigeons.
Here you'll find plenty of restaurants and café's as well as stalls offering boat tours around the Duoro valley. The attractive location will make you want to stay around, but trust me when I say the best fun is actually had across the water!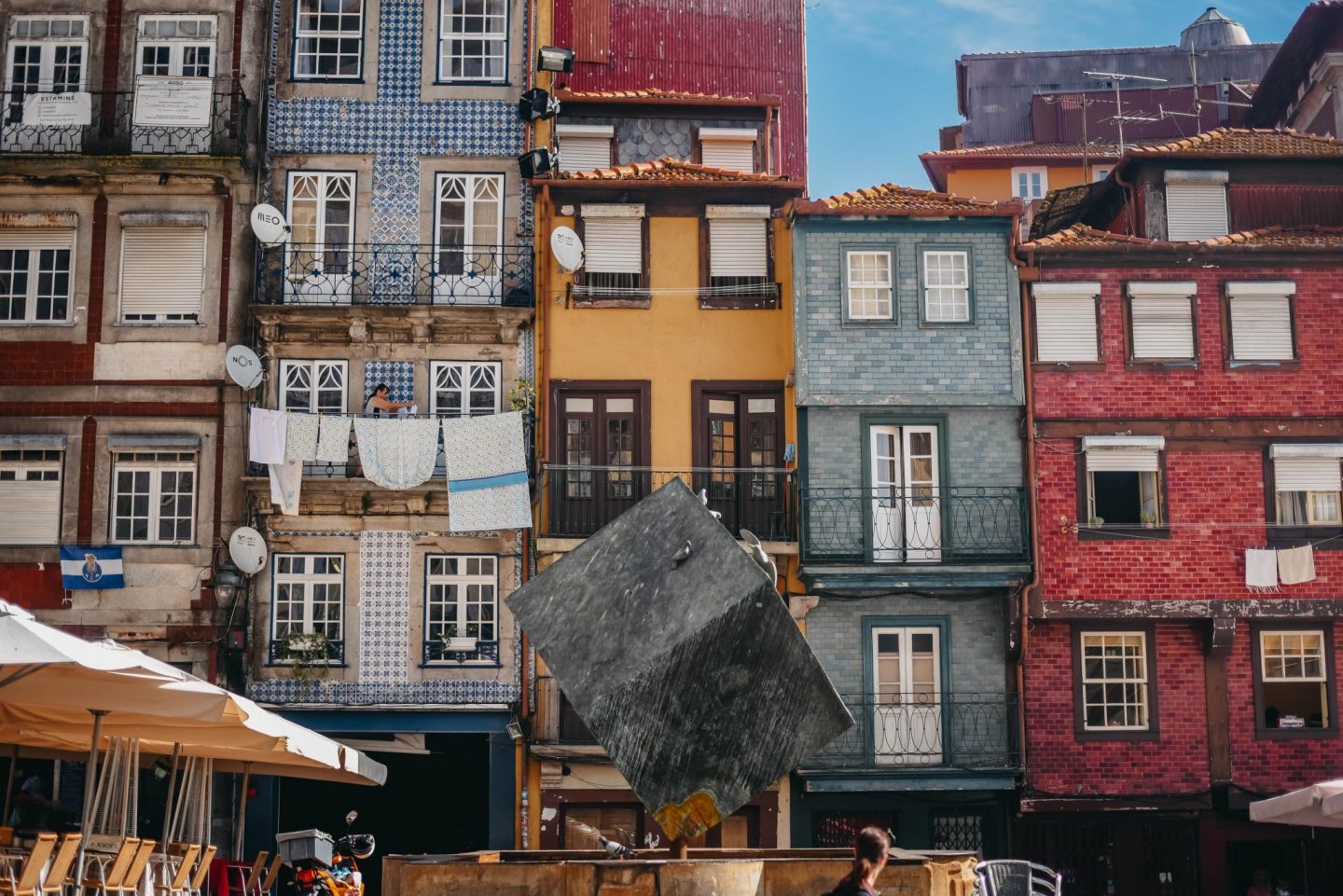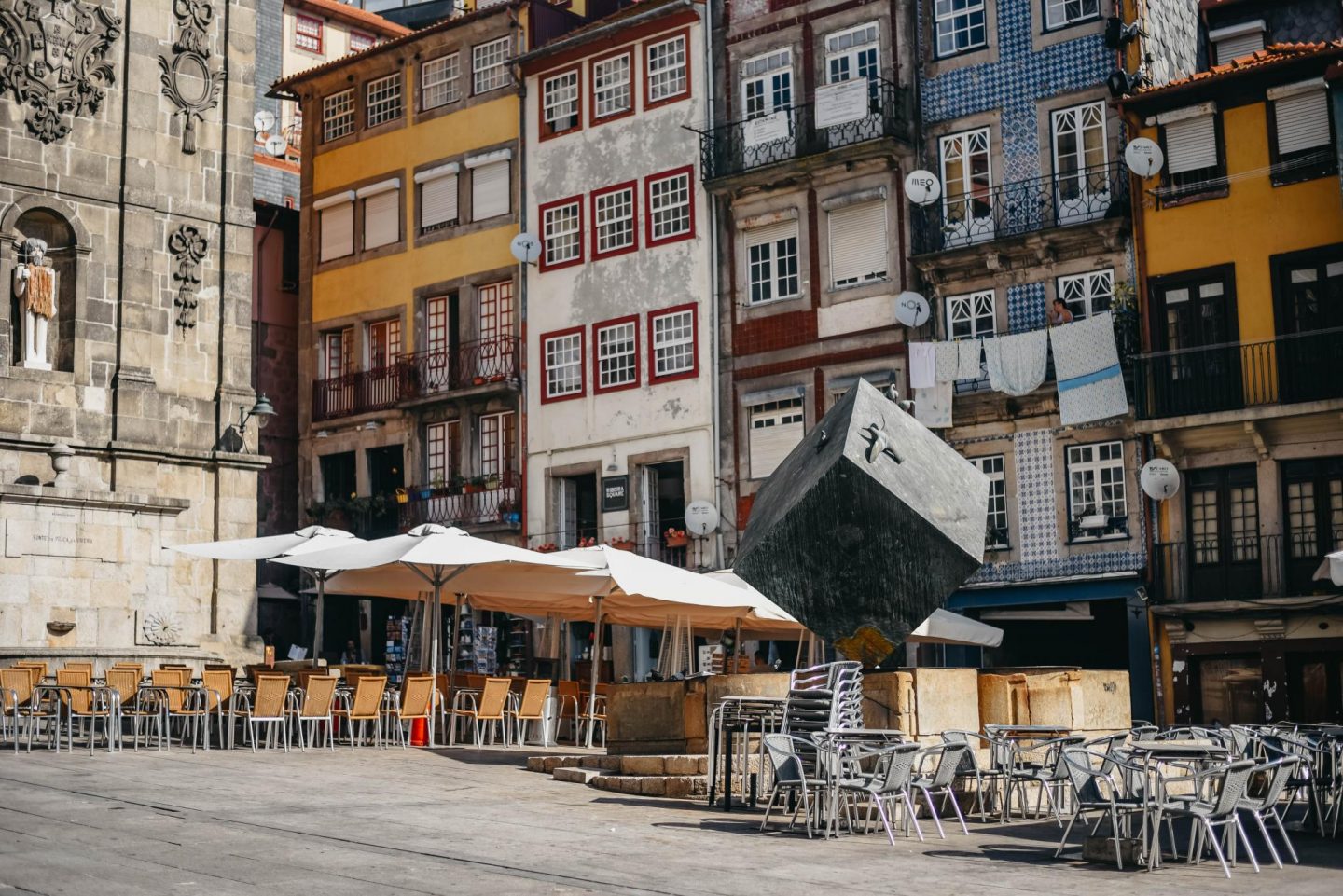 Cross the Ponte Luís I
Aha, another Porto landmark! The bow bridge has been built in the late 18th century and has two decks: one on the top and one below. The lower deck connects the river walkways on both sides of the Duoro and is used by cars and pedestrians. The top deck connects the higher parts of the city and is used by trams and pedestrians. Both decks offer beautiful views over Porto (yes, me again with my panoramas!) and are well worth a stroll!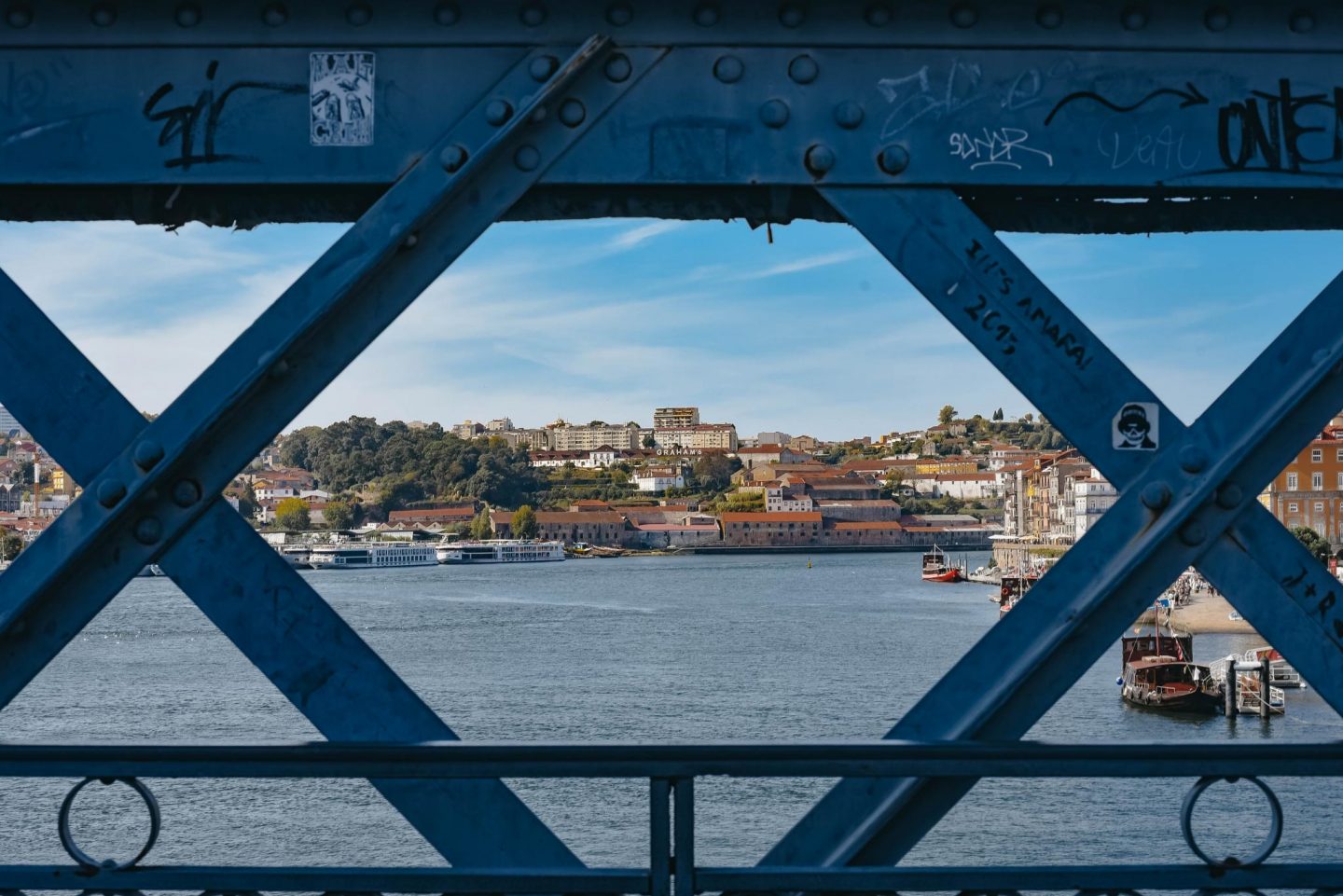 Buy a ticket for a boat ride on the Duoro River with Port wine tasting
Someone tipped us that the cheapest combi ticket for a boat tour and port wine tasting could be found on the riverfront in Villa Nova Gaia. All the port houses and their respective cafes/tasting rooms are also found here. See why I tried to lure you across the Luis I bridge?
We compared a few offers and eventually went on a tour with Porto Calem. I don't actually have any decent photos from the boat tour, but it was a good 30 mins of fun listening to the history of the Duoro Valley, the seven bridges and port wine while cruising with the sun on our faces. Yes, it is a very tourist-y thing to do, but hey, guess what… we are tourists!
After the boat tour we joined an English guided walk through the Porto Calem cellars. Our guide John passionately explained the what's and how's of port wine and afterwards we got a chance to taste two different port wines.
I had never tried Port wine before and am actually not into strong liquors at all. I even rarely drink alcohol and when I do one glass of red wine or one sweet cocktail are all I'll have. My friends had a good laugh at the funny faces I pulled while tasting port. Good for once, will not try again, haha!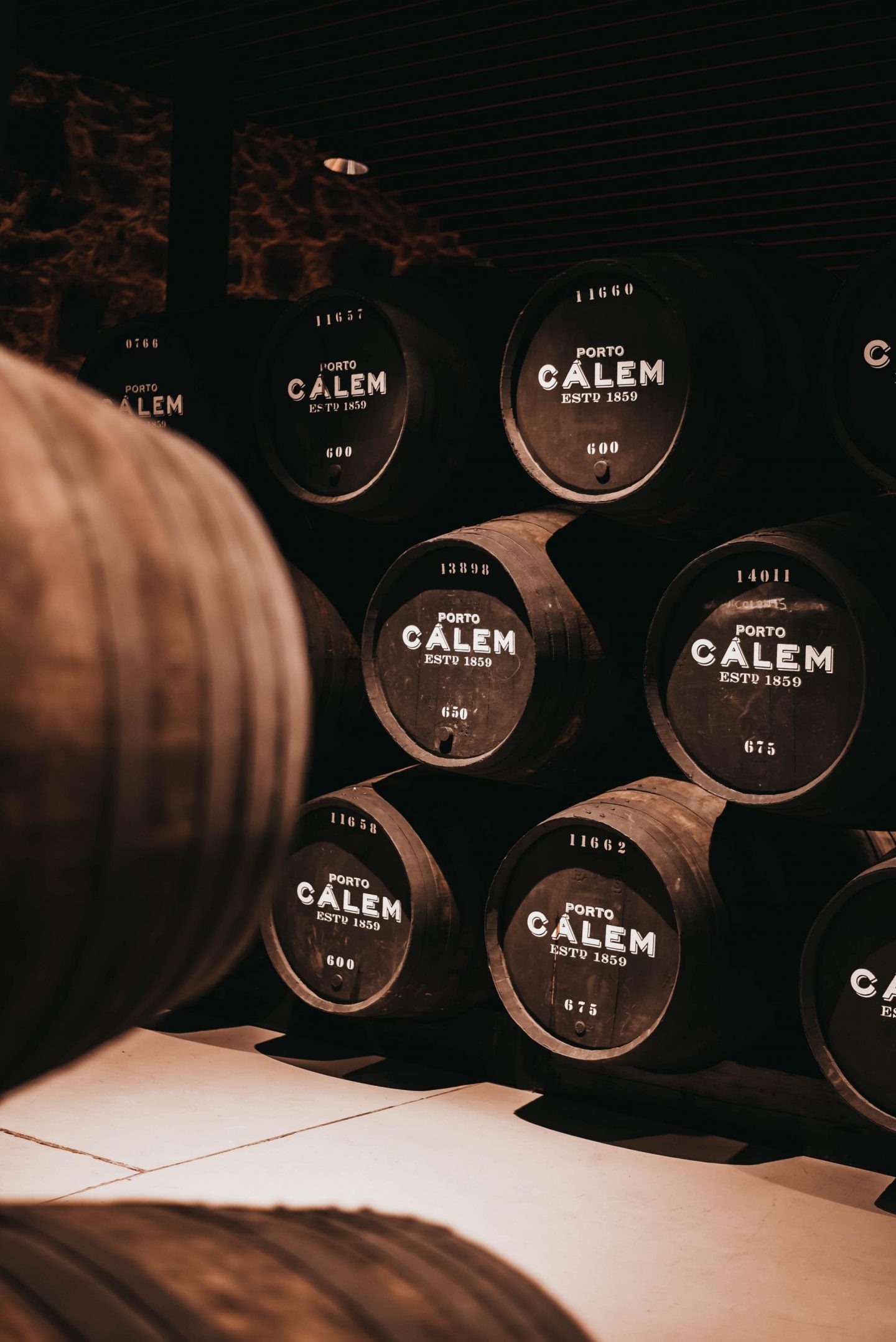 Stroll through Vila Nova de Gaia
As I said, Villa Nova de Gaia is the epicenter of port production and home to many port cellars and breweries. It's also home to the street artwork Half Rabbit by Portuguese artist Bordalo II. He created this piece from materials and trash that he collected in the city. The artwork has become a popular attraction in Porto, but did you know that the bunny has 'friends' all over the world? A Rat in Paris, a squirrel in Dublin and a weasel in Hamburg to name a few.
We walked all the way down the riverfront to the shipyards near Graham's port house and admired the views on old town Porto. The last photo was taken at the very end of the walkway.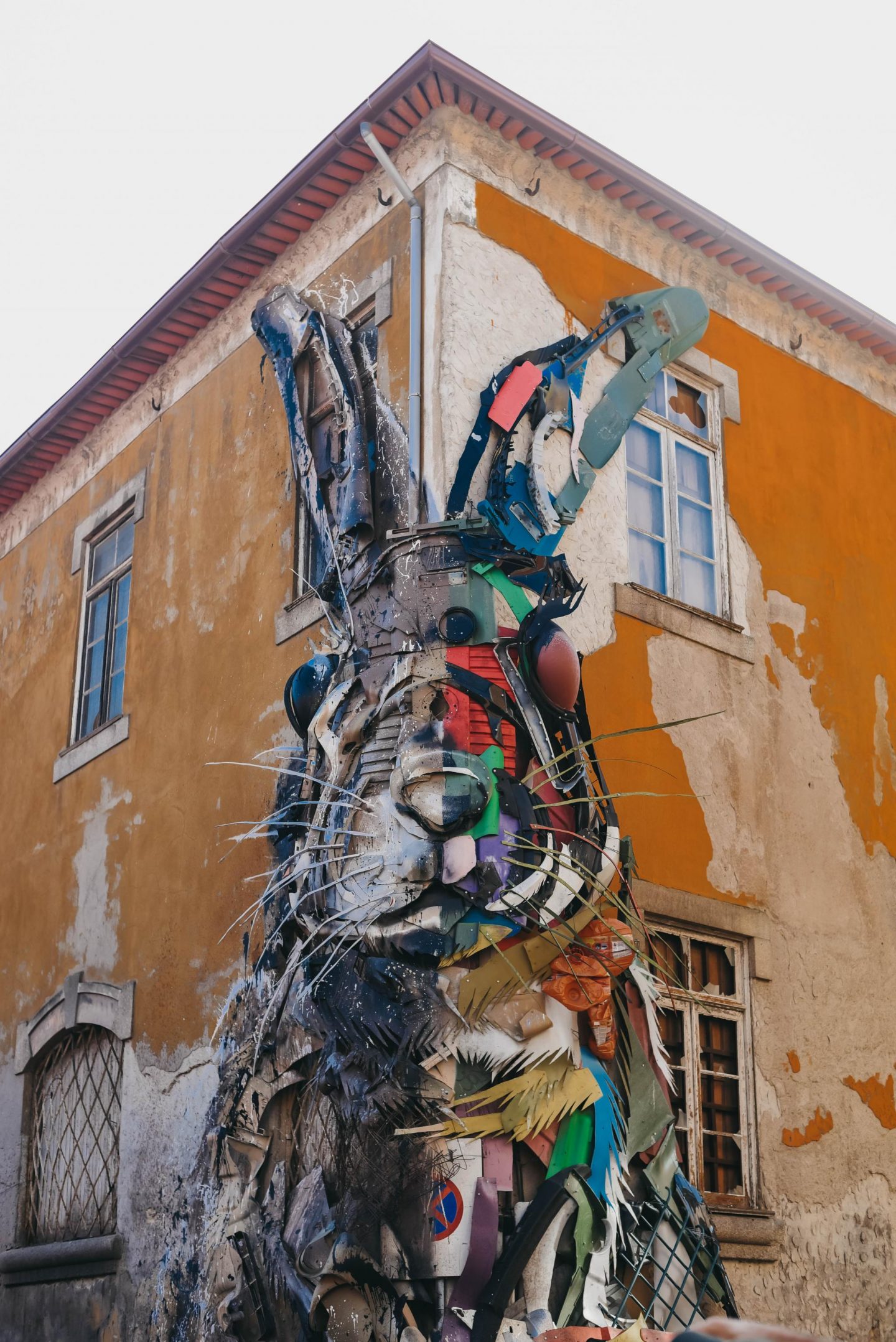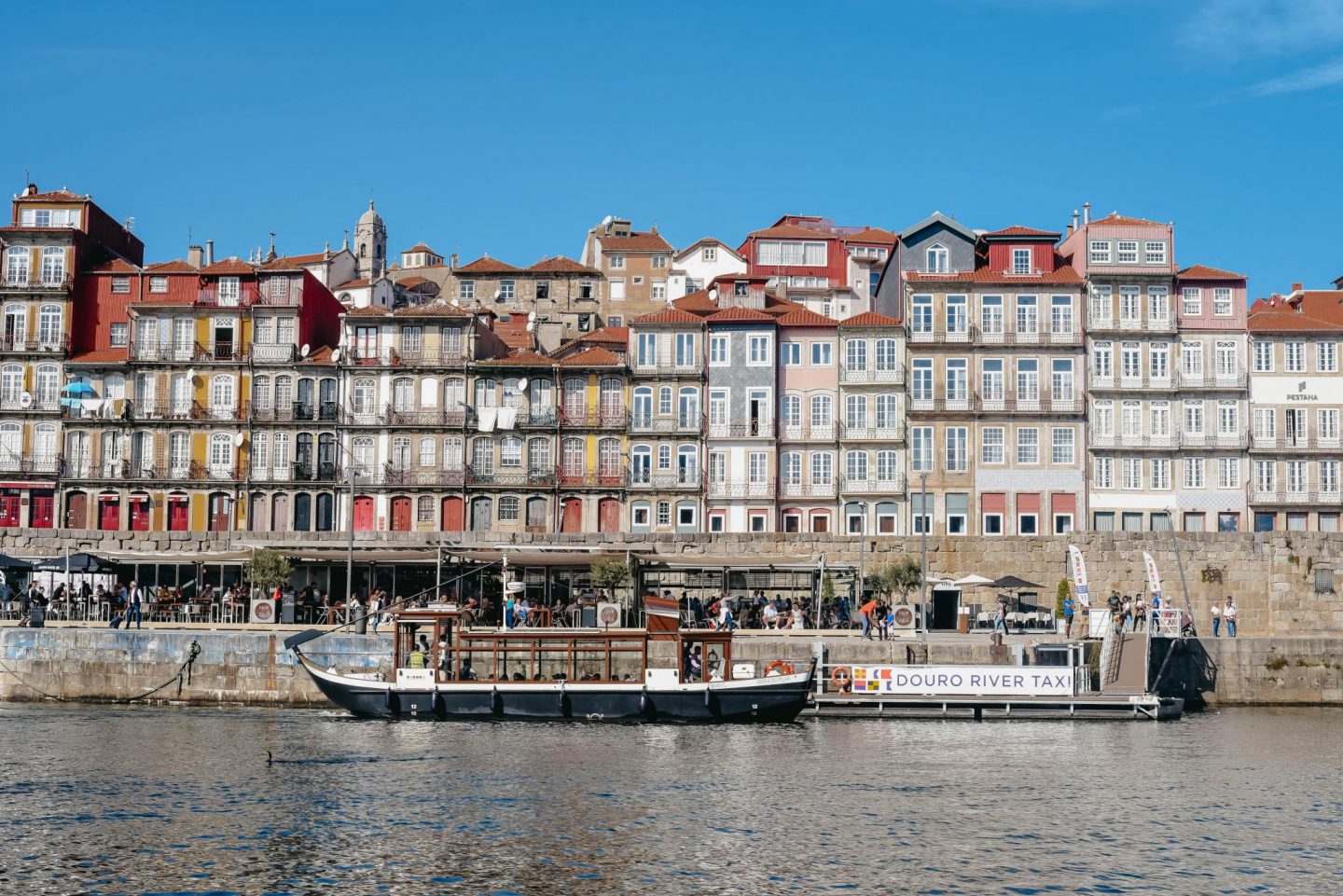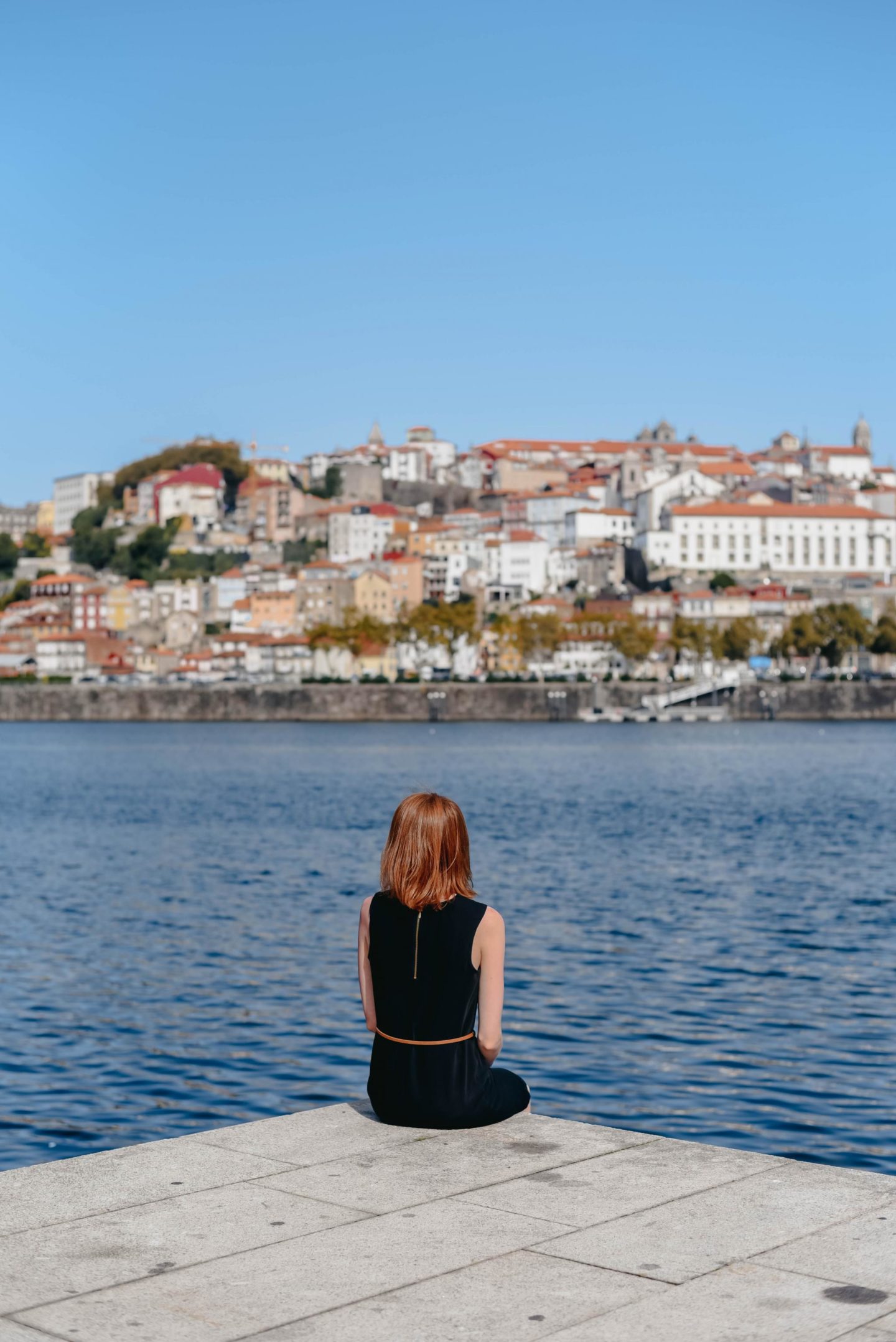 Watch the golden hour from Claustros do Mosteiro da Serra do Pilar
We wanted to take the Teleférico de Gaia up to the Monastery, but one of my friends declared it a waste of money and wanted to hike up there. Let me just say the cable car is worth its €6,00 ticket, especially when you've already had a long day of walking, haha. The monastery is HIGH up the mountain.
The view at the end is very rewarding though and was quiet possibly my favorite from all of Porto. There's a small park surrounding the monastery, so as soon as we got there we laid ourselves down for a while and watched the sun set. Afterwards we walked the top deck of the Luis I bridge back into the main city. It was glorious!
If only the street artist playing knew more than 2 songs… .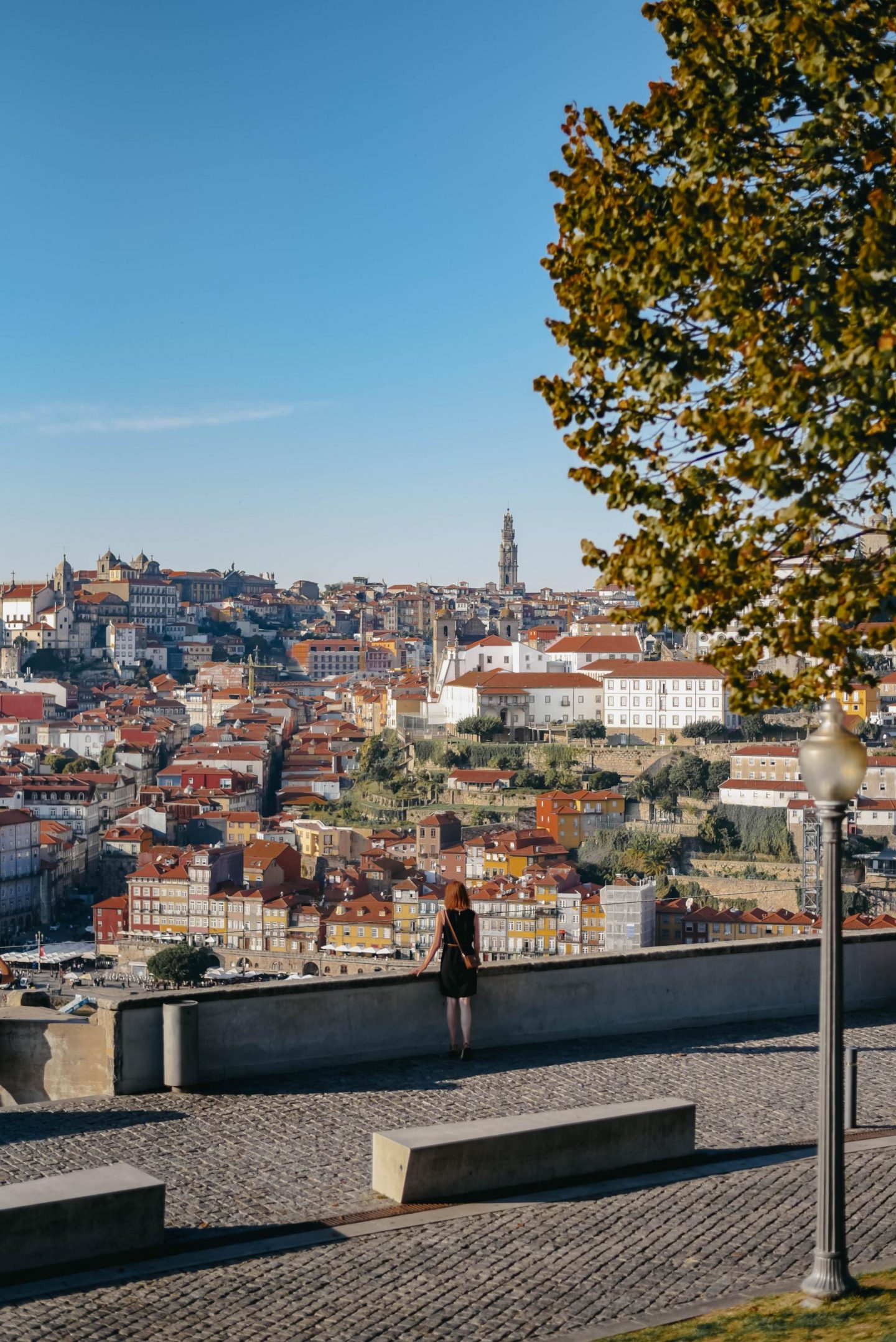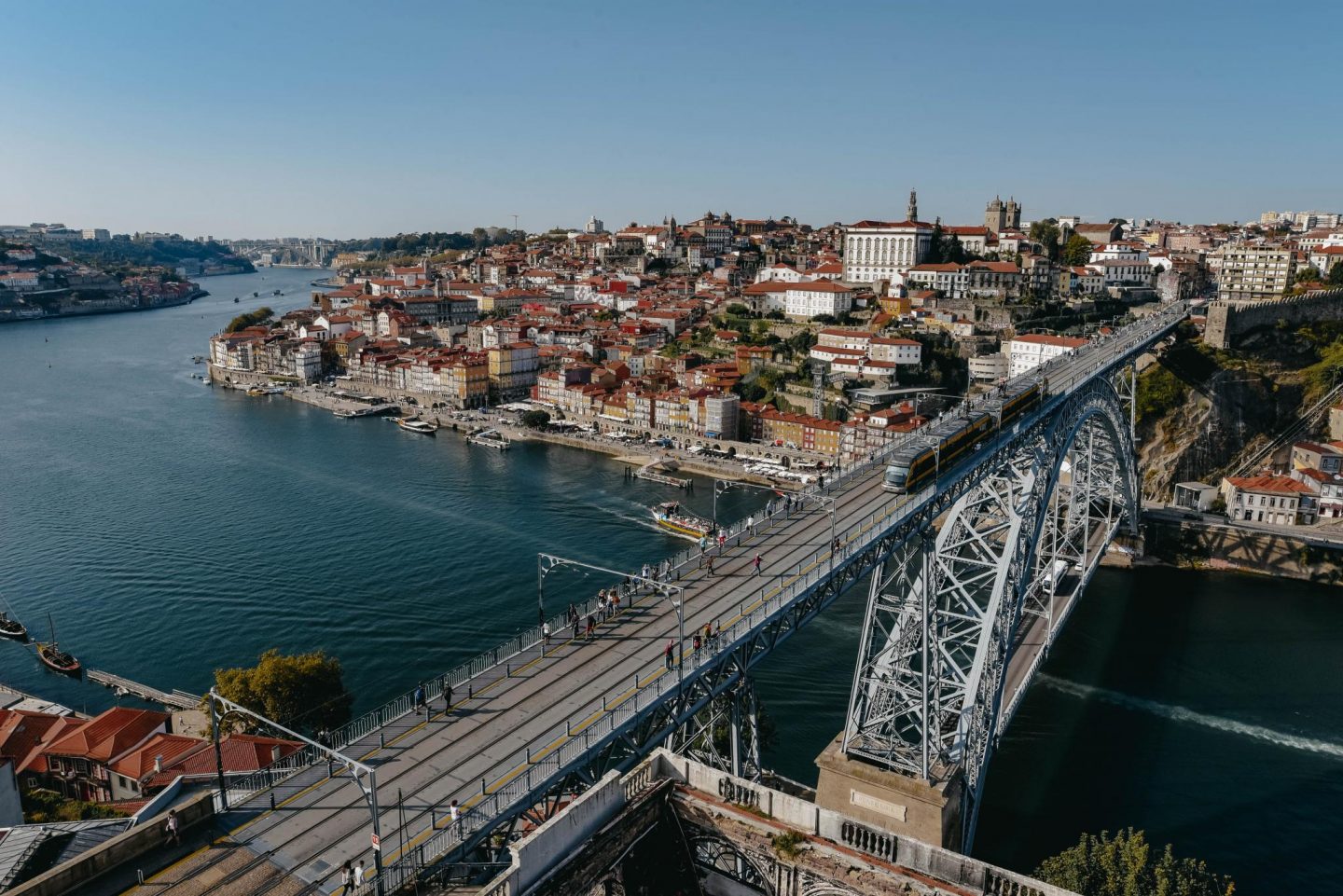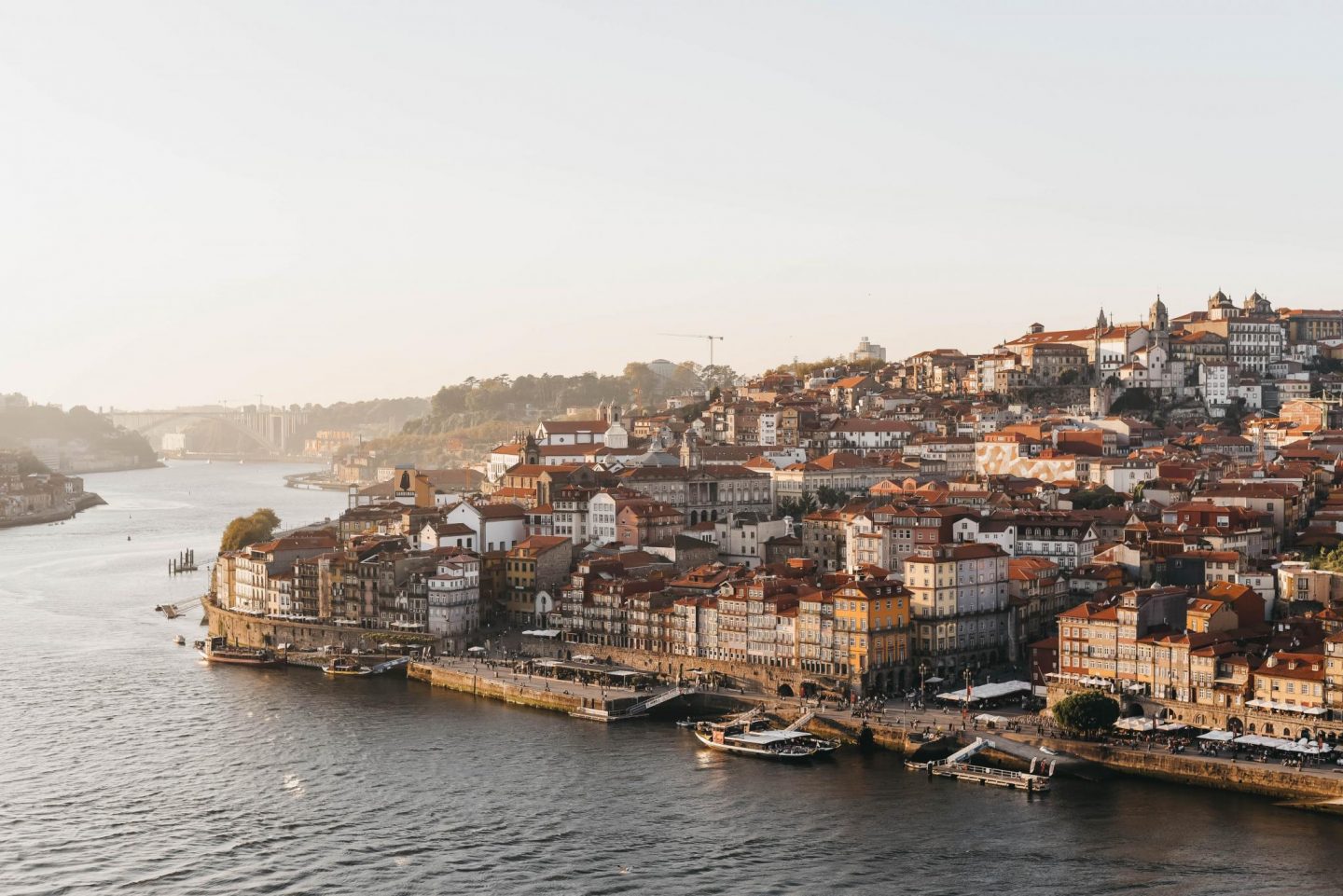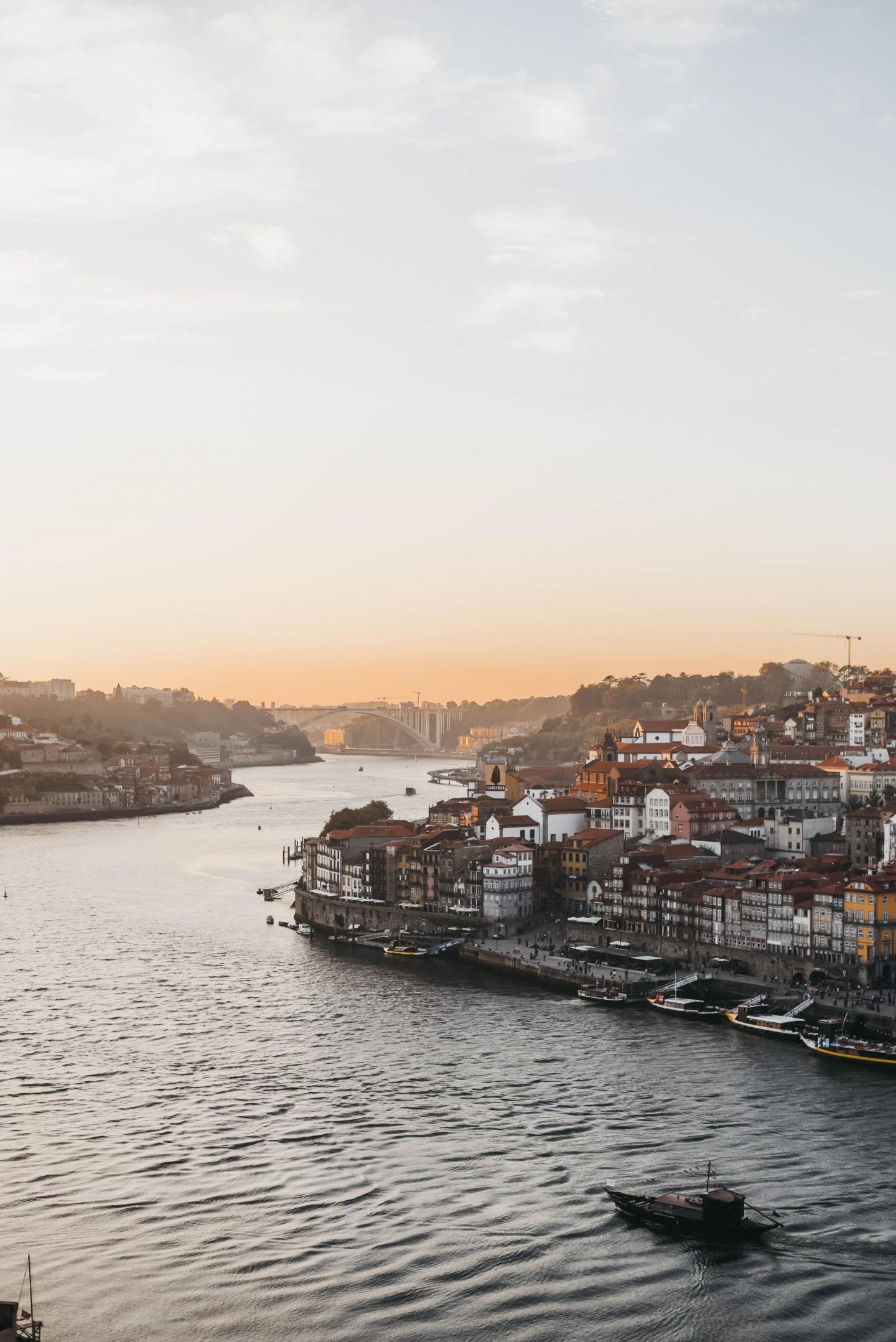 Day 3
Spot the peacocks in Jardins do Palácio de Cristal
The internet raves about Jardins do Palácio de Cristal, but when we got there, all we found were bare flower beds, closed cafes and… dozens of peacocks! We walked through the park and could definitely imagine it being a beautiful place in spring/summer, but Fall didn't seem to be its best season. There are fountains and even an old tower that you can climb on, so we just did that and went back to the city center.
Jardins do Palácio de Cristal is 1,5 KM of ups and downs from São Bento station, but you can spot many beautiful azulejos along the way!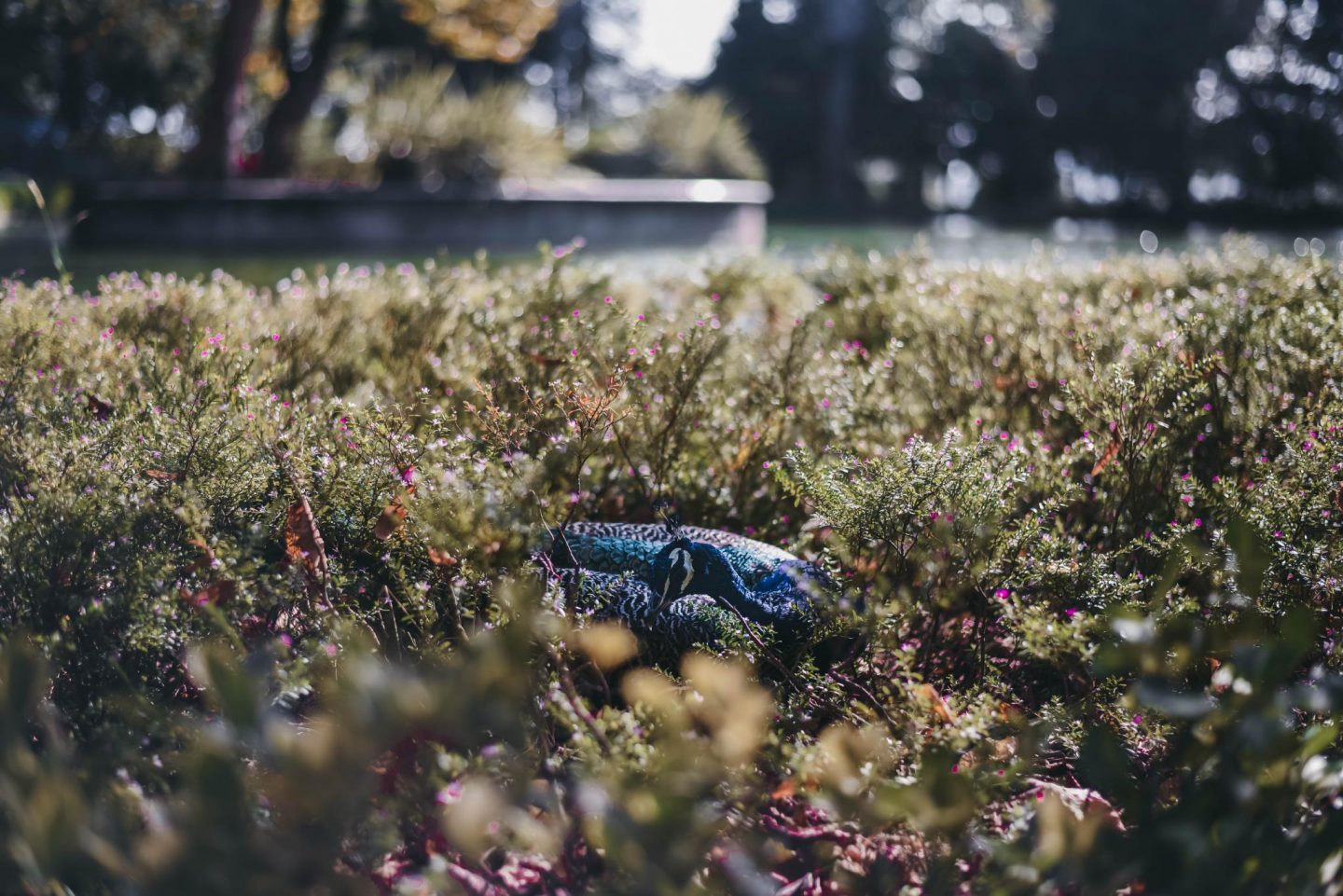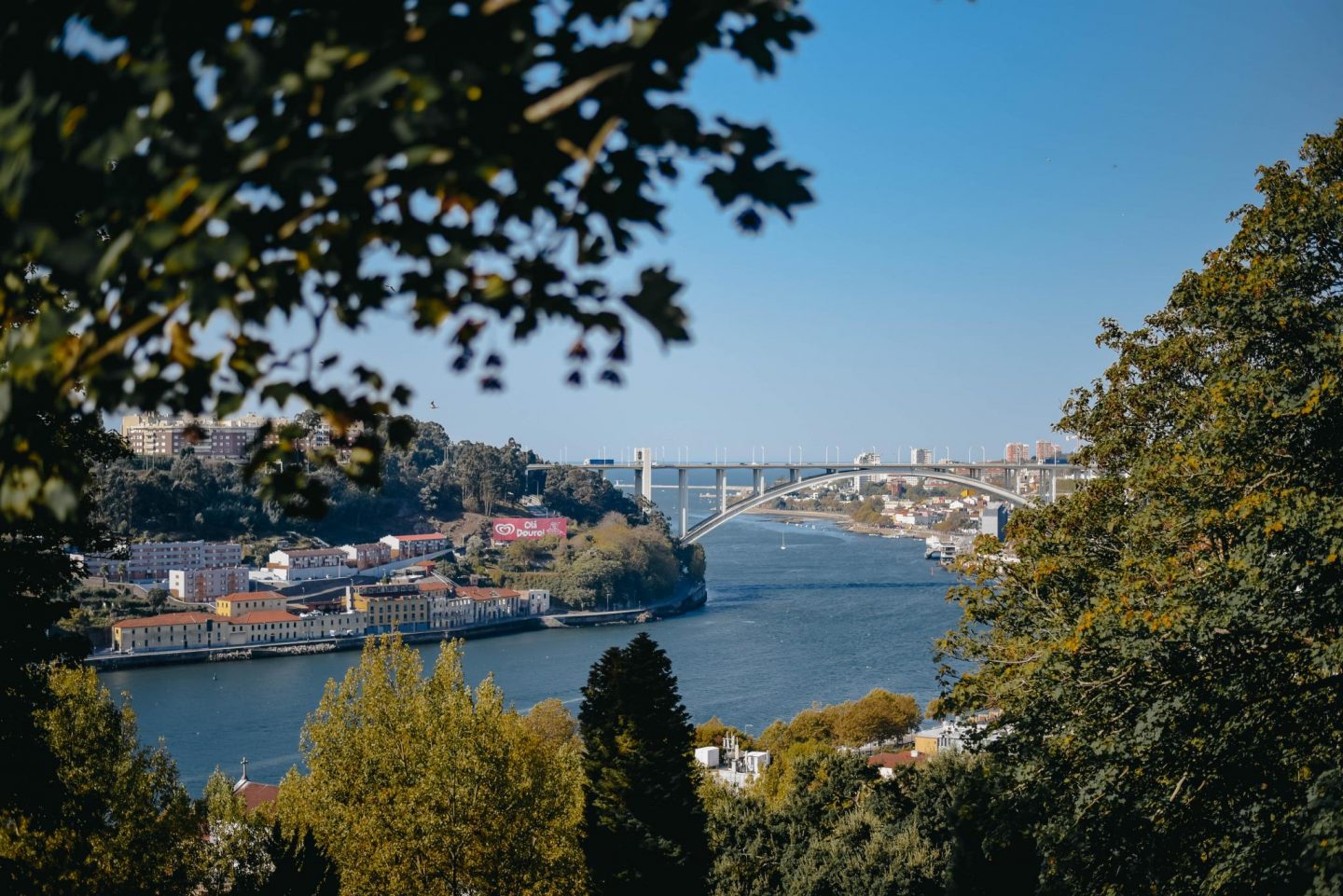 Brunch at Zenith Porto
They had Eggs Benny on the menu so I had to come here!
I sincerely hope you aren't tired of me and my love for Eggs Benedict because I'm not stopping any time soon. Poached eggs for life!
Anyway.
Zenith is a popular spot, so when we got there somewhere between breakfast and lunch the place was PACKED. They managed to seat us at a community table in the back and we had to wait a while to get served, but I'm used to that in these types of cafes. The food at Zenith is nothing special really, just what you'd expect a hipster lunch cafe to be (avocado toast and american pancakes anyone?), but that is exactly what I like so you don't hear me complain. I am basic like that, okay?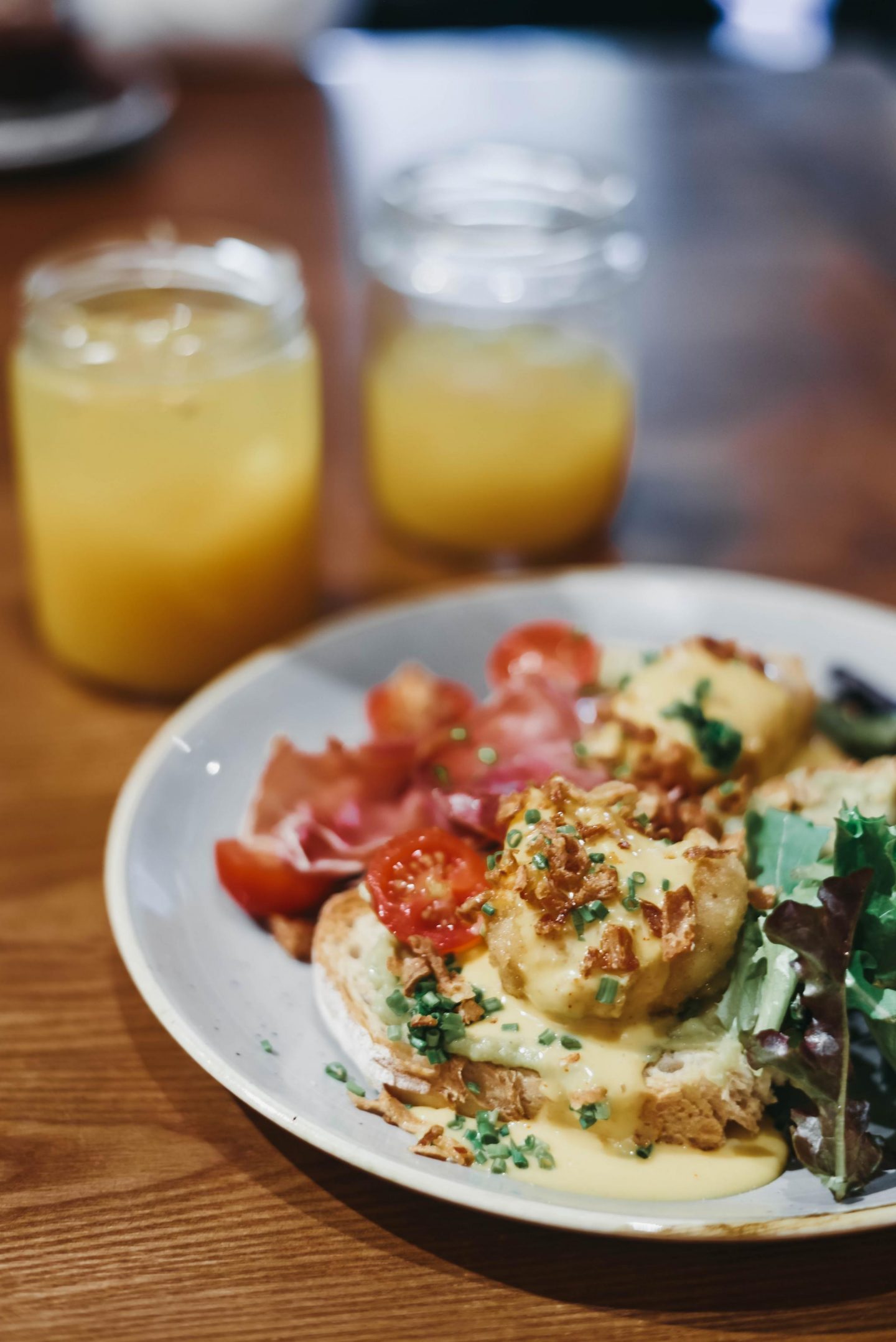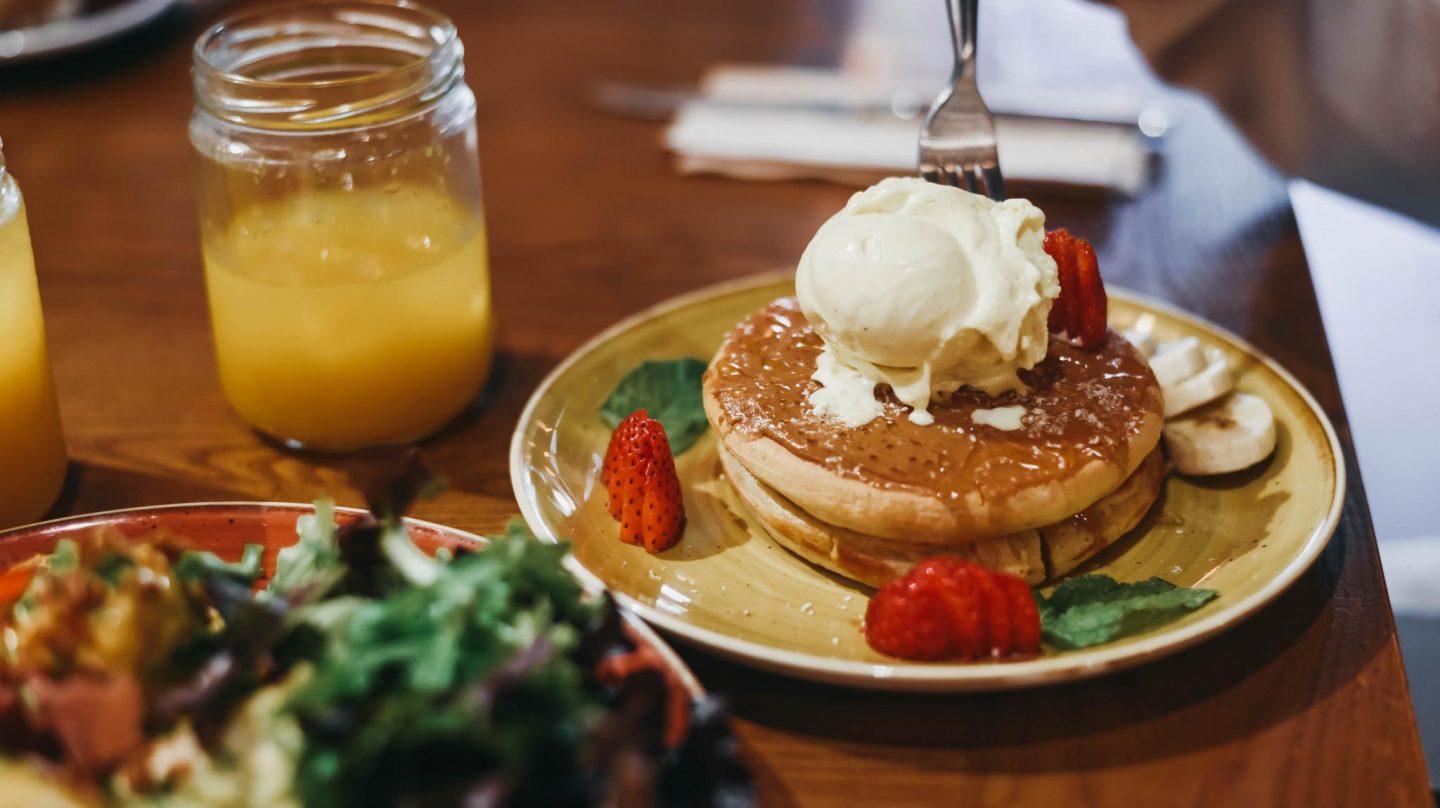 Have port wine on a terrace in Vila Nova Gaia
After a pleasant experience at Port Calem earlier, we decided to head back to their tasting room in the afternoon. I had planned to order plain water, but that's the waiter surprised me with a cocktail suggestion: portonic!
Have you ever heard of portonic? I surely had not! It is exactly what you think it is: gin tonic, but with port wine instead of gin. White port tastes sweeter than gin, so this cocktail was right up my alley (I'm not a ginto fan).
My friends tried a three different Portos from Calem and have been raving about them ever since!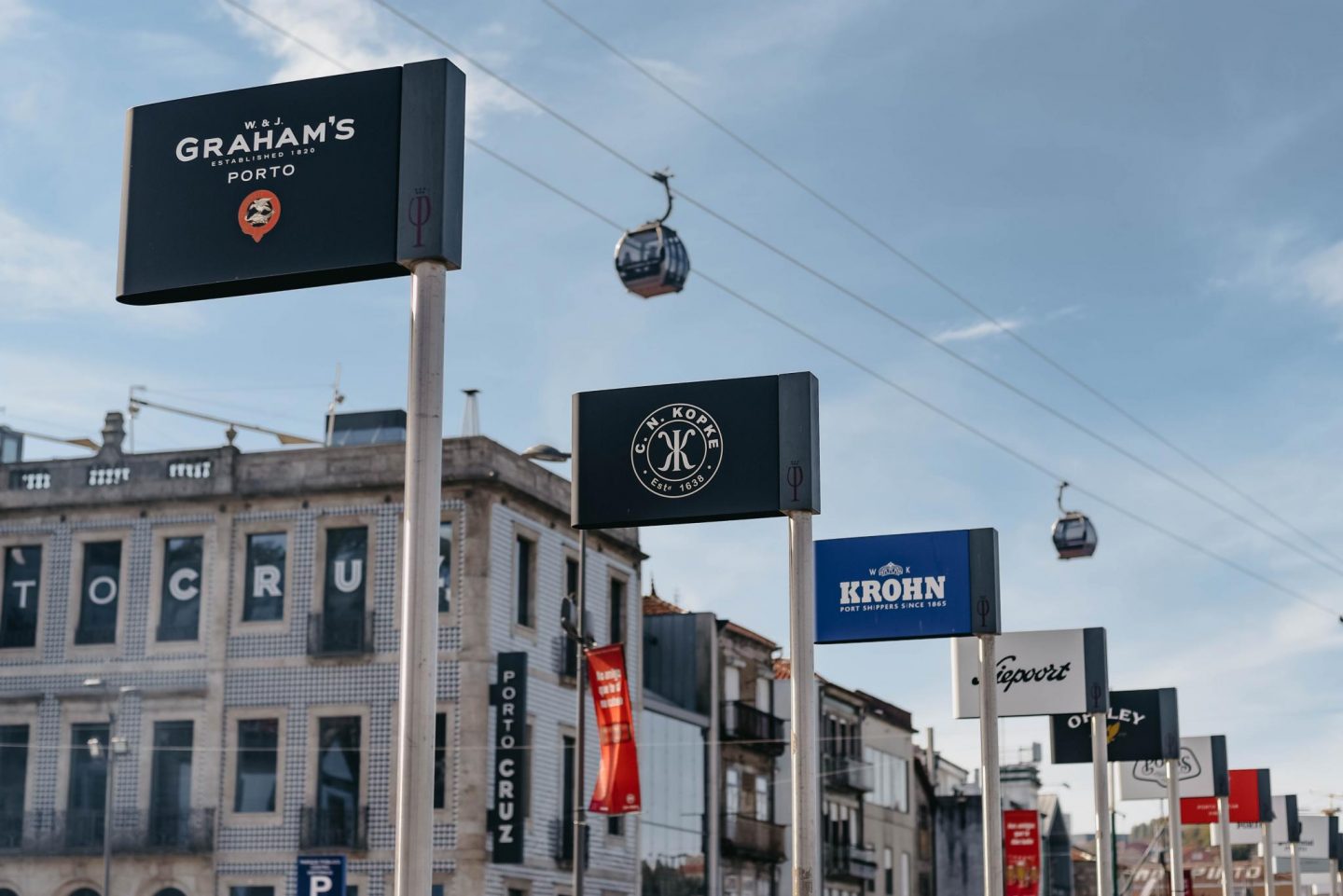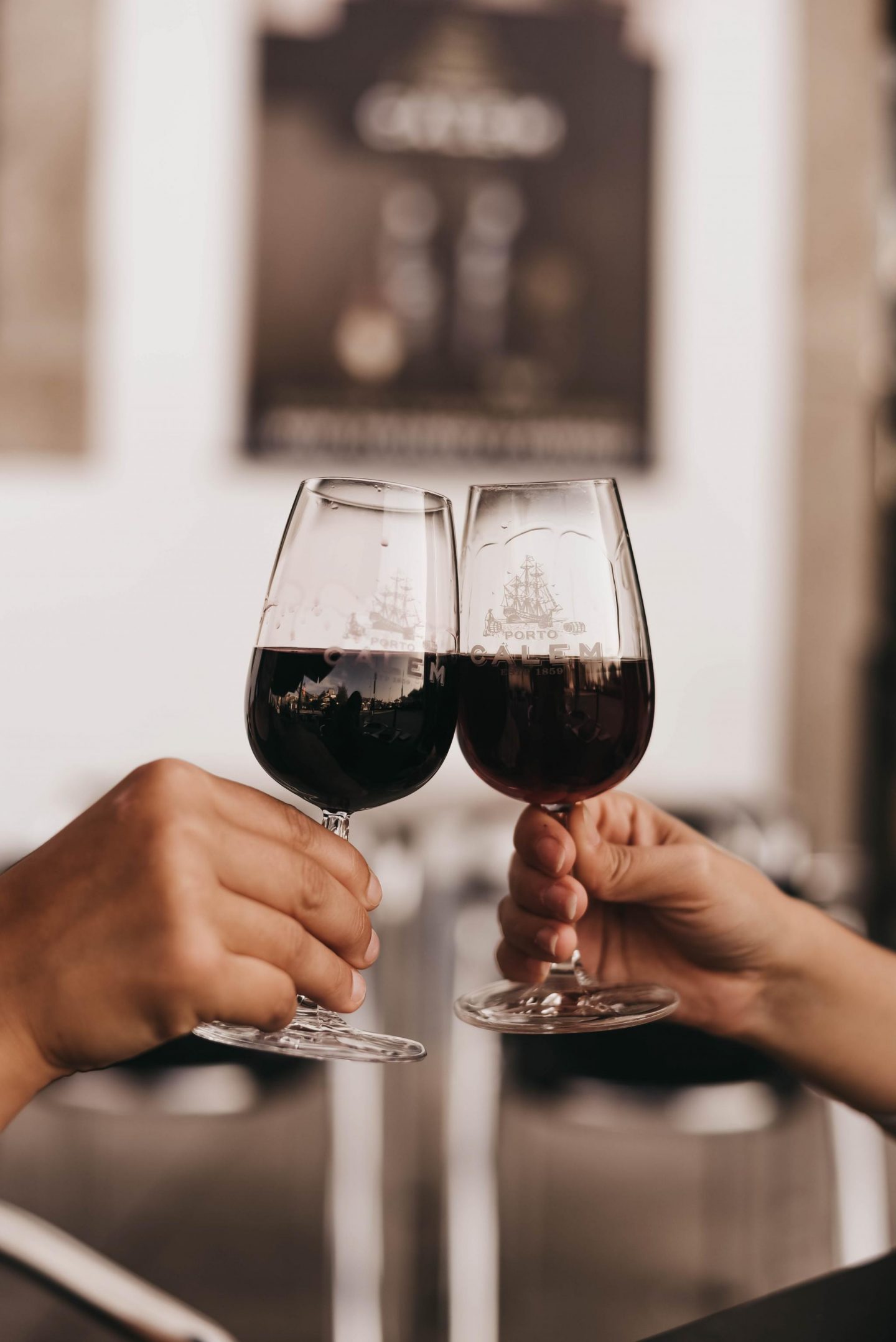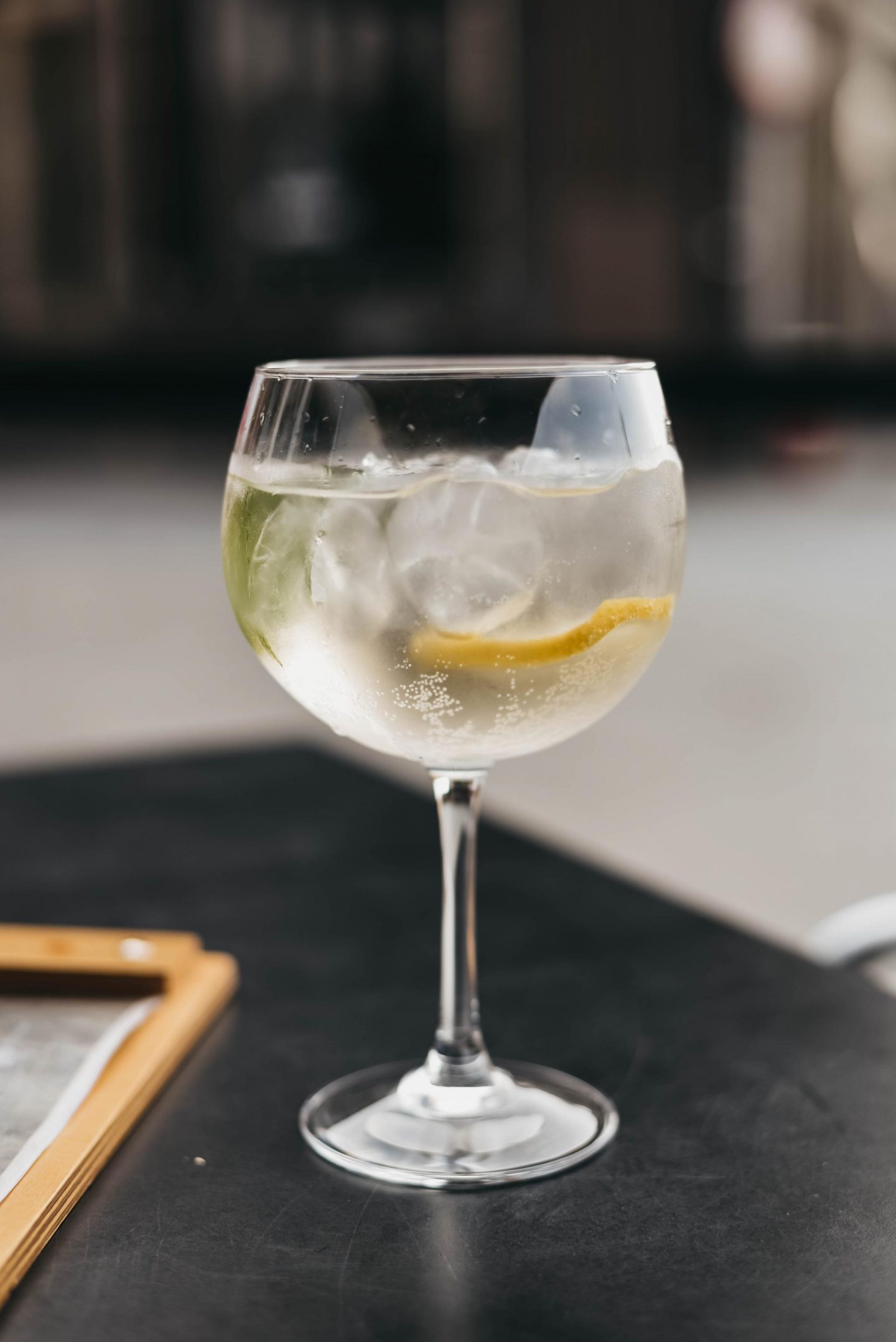 Snap a photo for The Gram at the Teleférico de Gaia
One of my friends has a colleague from Porto and he was in town. As we waited for him we decided to head up to the monastery again (I know) and snap a few photos for the good ole Gram.
From the exit patio of the Teleférico, you have a beautiful view over old town Porto and the Luis I bridge. While we were waiting for people to move along so we could get snappy happy with our cameras, we befriended an American couple who recognized us as Belgians. They took our group picture, but considering the privacy of my friends I'll just share the photo with only me in it here.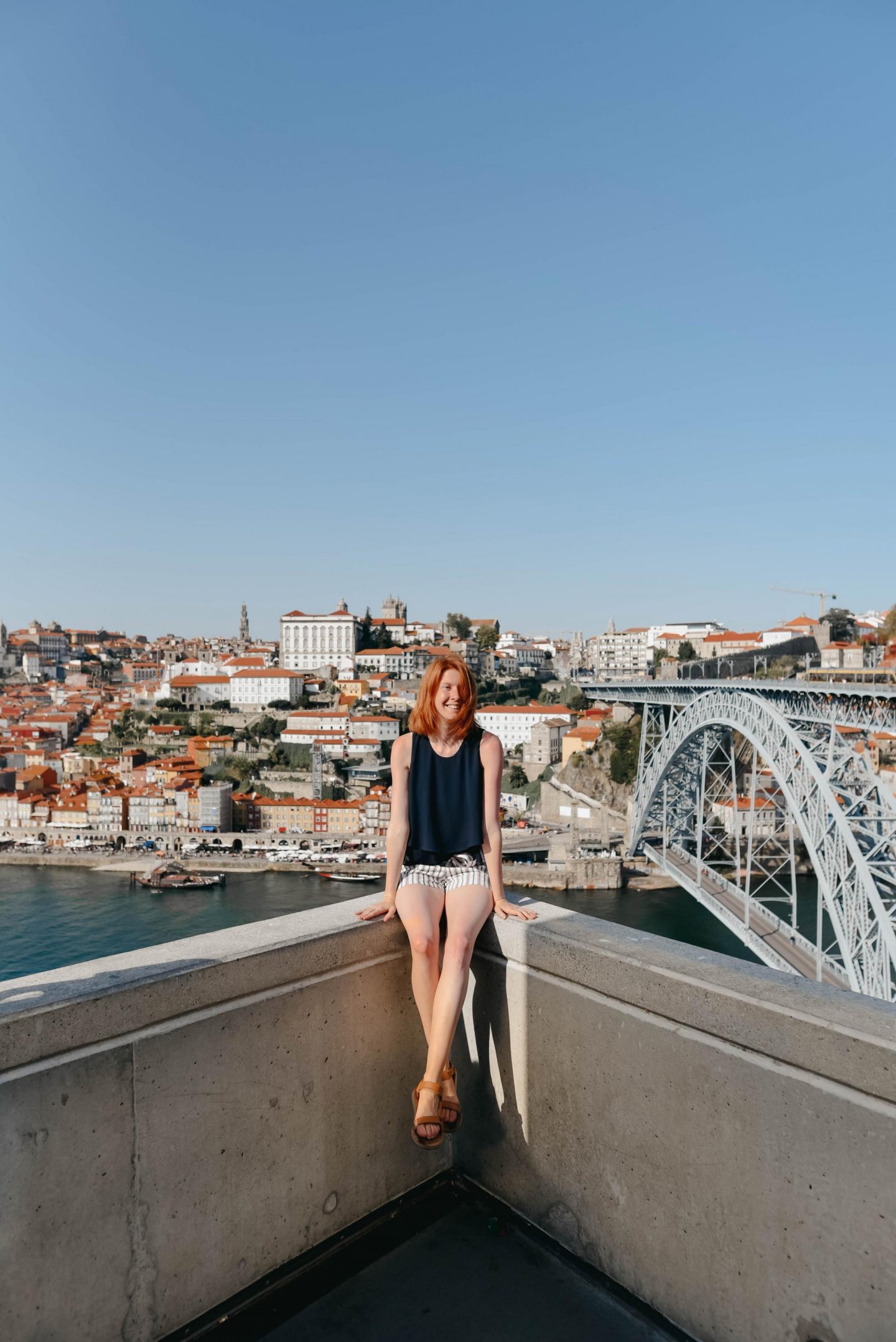 Have francesinha for dinner in Porto
France-what? My friends googled it and then looked at me like I was crazy.
"You want to go and eat THAT!?" They said.
Francesinha is a type of sandwich that is supposedly derived from the croque monsieur (a Belgian-French classic, FYI!). Not sure if that really is the case, but if it is than the Portuguese have really, uh, advanced it. While a croque monsieur is simply a toasted sandwich with one slice of ham and one slice of cheese, a francesinha typically has, oh yes, ALL of the following:
two slices of bread (the thicker, the better)
thinly sliced pork meat or ham
bacon
smoked (pork) sausages
a steak
an egg (usually a fried egg)
cheese sauce (the thicker, the better)
Then the whole thing is drenched in a brown sauce and served with French fries.
You better not be counting calories.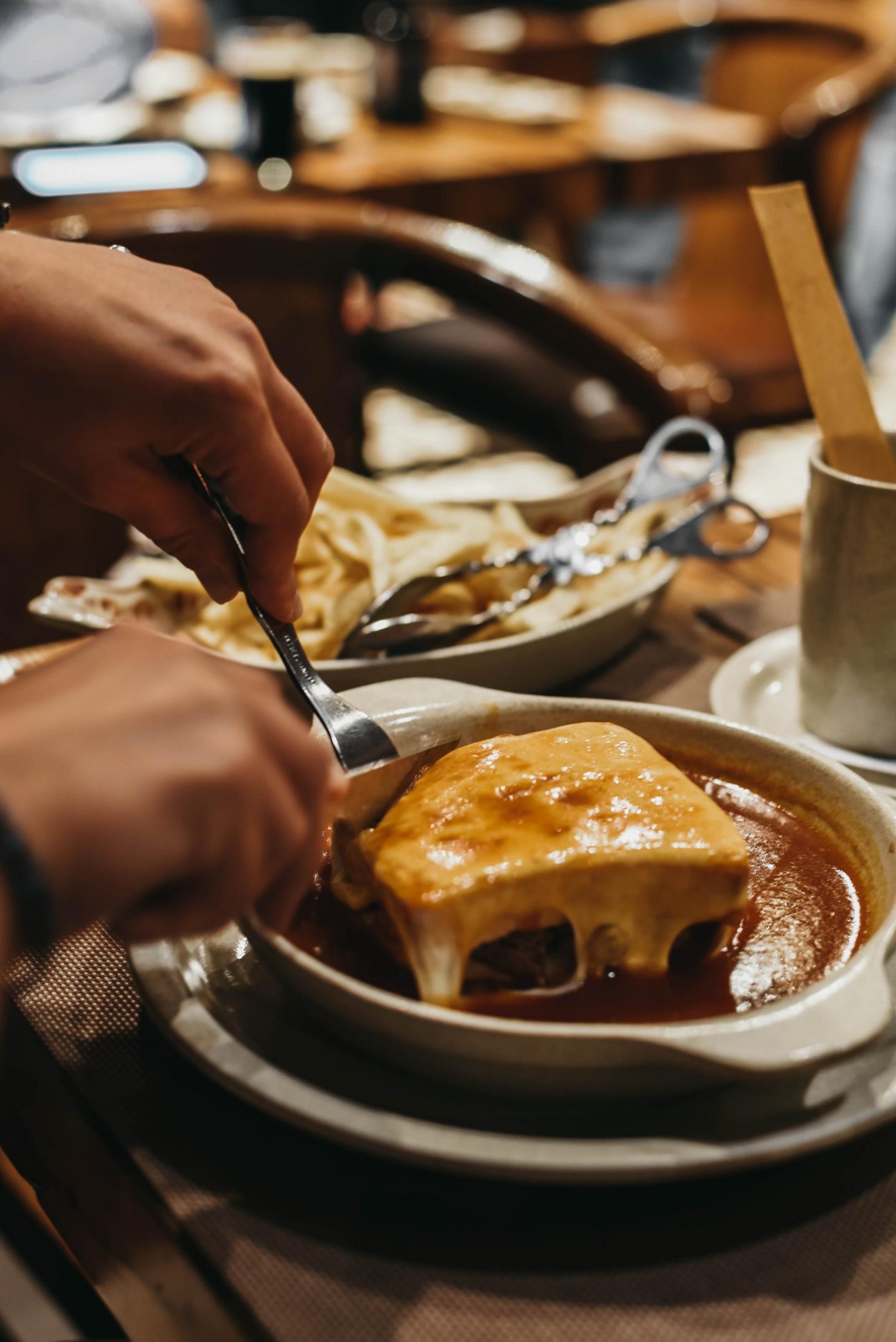 Watch the neon lights on R. de Passos Manuel
I had seen a photo of a vintage neon sign on the Instagram stories of wishwishwish and had been wanting to see it for myself all weekend. I had been too tired to actually stay up late enough, so it was only on our last day that we finally managed to walk to the R. de Passos Manuel. It was so much more than I imagined!
While I had only seen one sign on her Instagram, it turned out that the whole street is basking in bright pink neon. It was such a lovely surprise!
We were still hanging out with the colleague of my friend and he showed us Maus Hábitos, a bar/restaurant on the top floor of on old garage. If you didn't know it was there you would probably walk right by it, but man, was I bummed that we hand't known about this place before!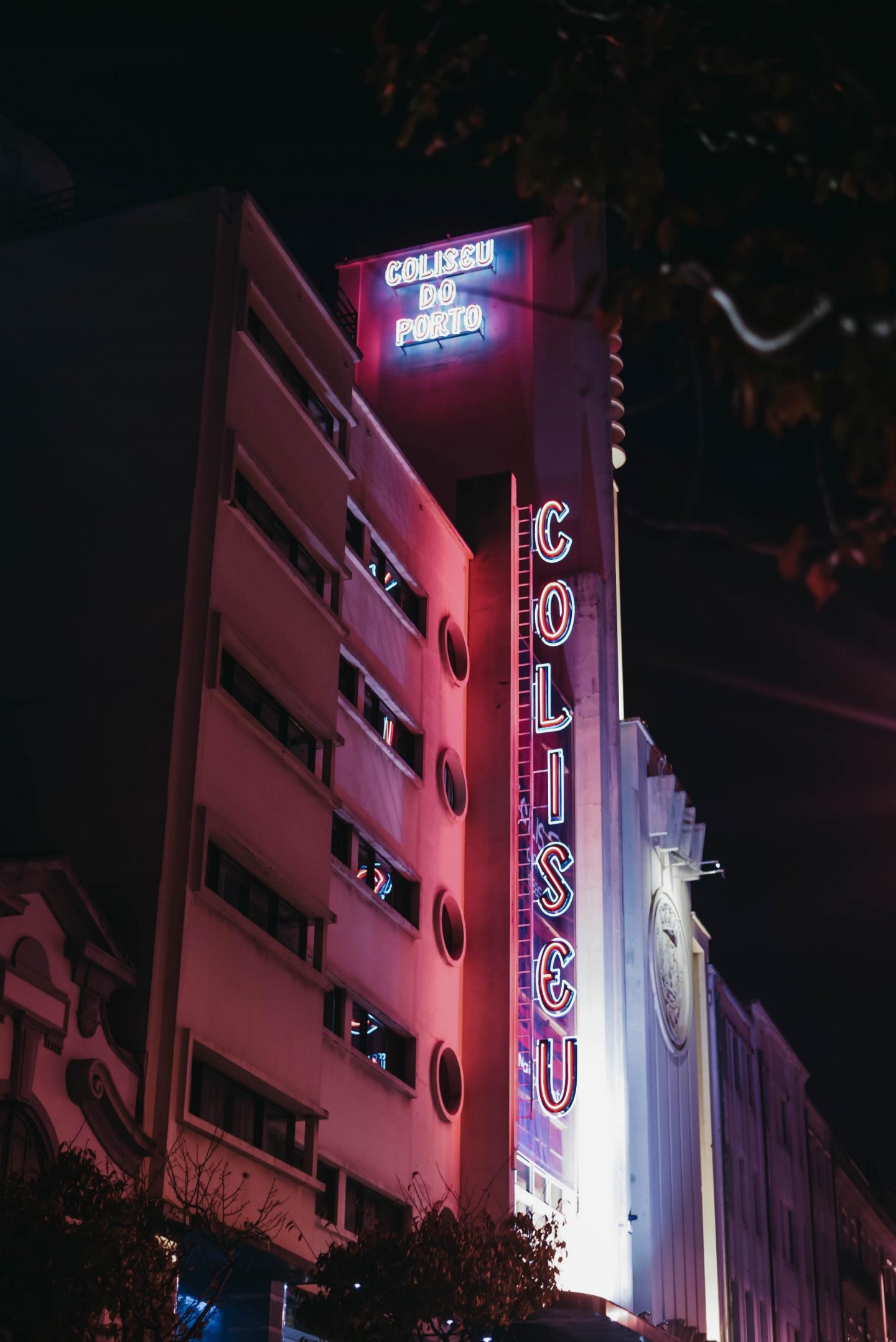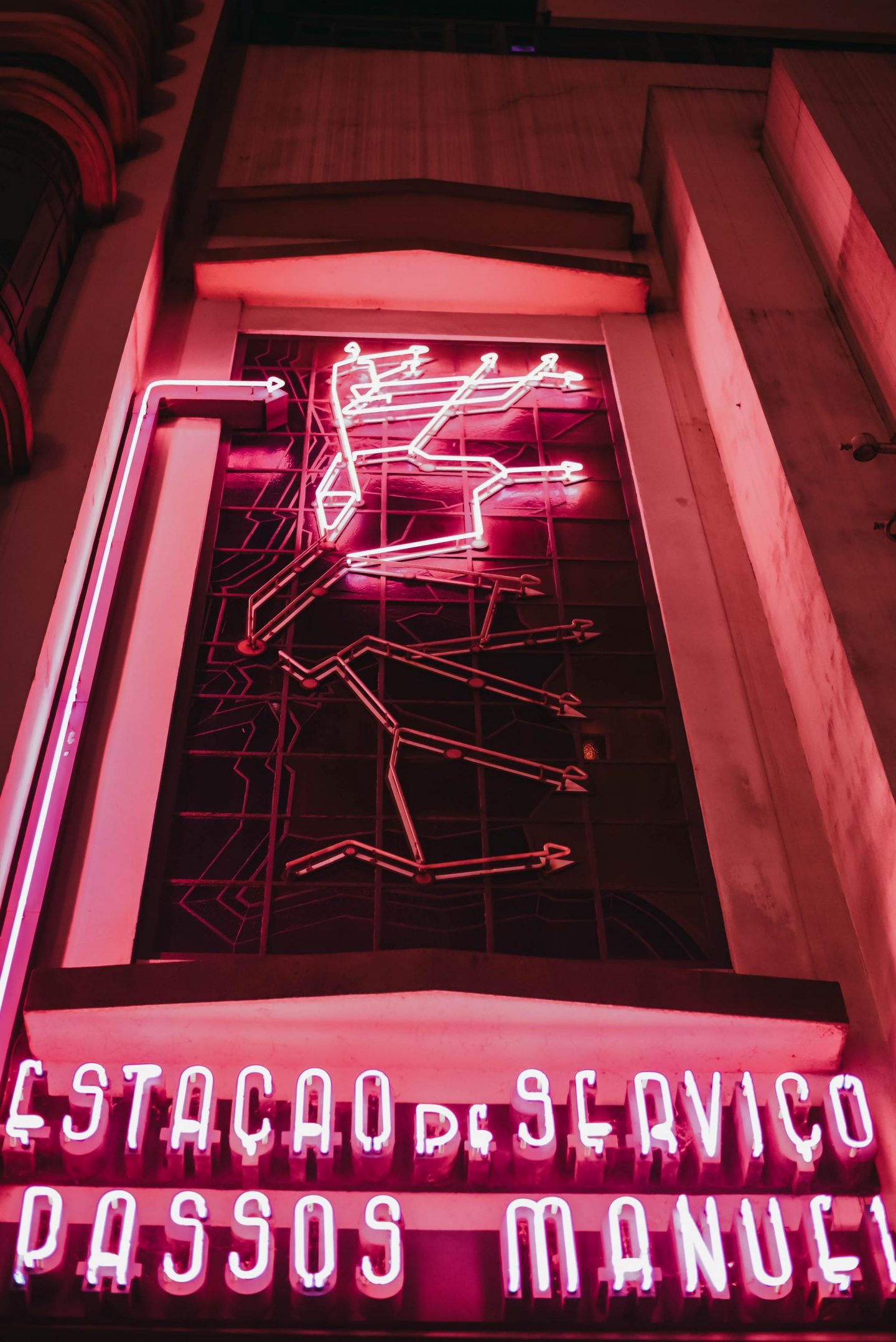 Well folks… that's it!
The 18 best things we did in Porto in three days.
PIN FOR LATER!