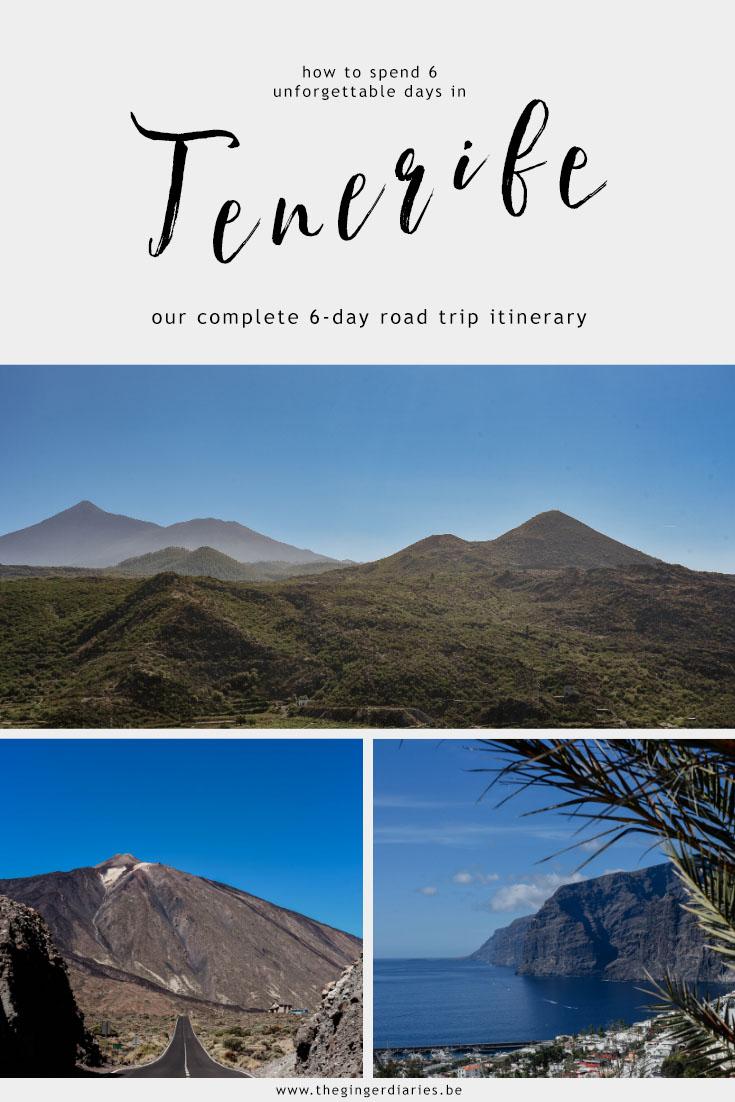 Tenerife. To most people that means 320 sunny days a year, yellow sand beaches and all-inclusive resorts as far as the eye can see. I'm going to give you none of that. Instead, I am going to show you sides of Tenerife you never knew about. If eerie mist, black beaches and breathtaking mountain views sound good to you, than you might want to read along. It's going to be good, I promise.
Since I always talk too much and am an avid photographer, I have to split this travel guide into two posts. In today's post I'm sharing:
Day 1: Arrival in Palm-Mar
Our Holiday Apartment in Tenerife
The friend who I was travelling with had been to Tenerife a few times before with her parents. They always chose Palm-Mar in the South-West of the island as their home base and so logically we did the same. My friend also knew the owners of an apartment in Palm-Mar, so we didn't have to look very far for our accommodation.
We stayed in a two bedroom apartment in the Terrazas del Faro complex. The apartment complex has a private pool and an underground parking. It is located in central Palm-Mar with proximity to most of the restaurants and the beach walk. The only thing that was a bit further was a supermarket. Our condo had an outside eating area overlooking the mountains behind Palm-Mar.
Palm-Mar lies between Tenerife airport and Los Cristianos, a popular tourist destination on the island. It is a small and quite town, but it has a good selection of restaurants (Osteria Italia was our fave!), caafes and ice cream shops. There was even an Belgian cafe/bakery where we could get bread and pastries that tasted just like home!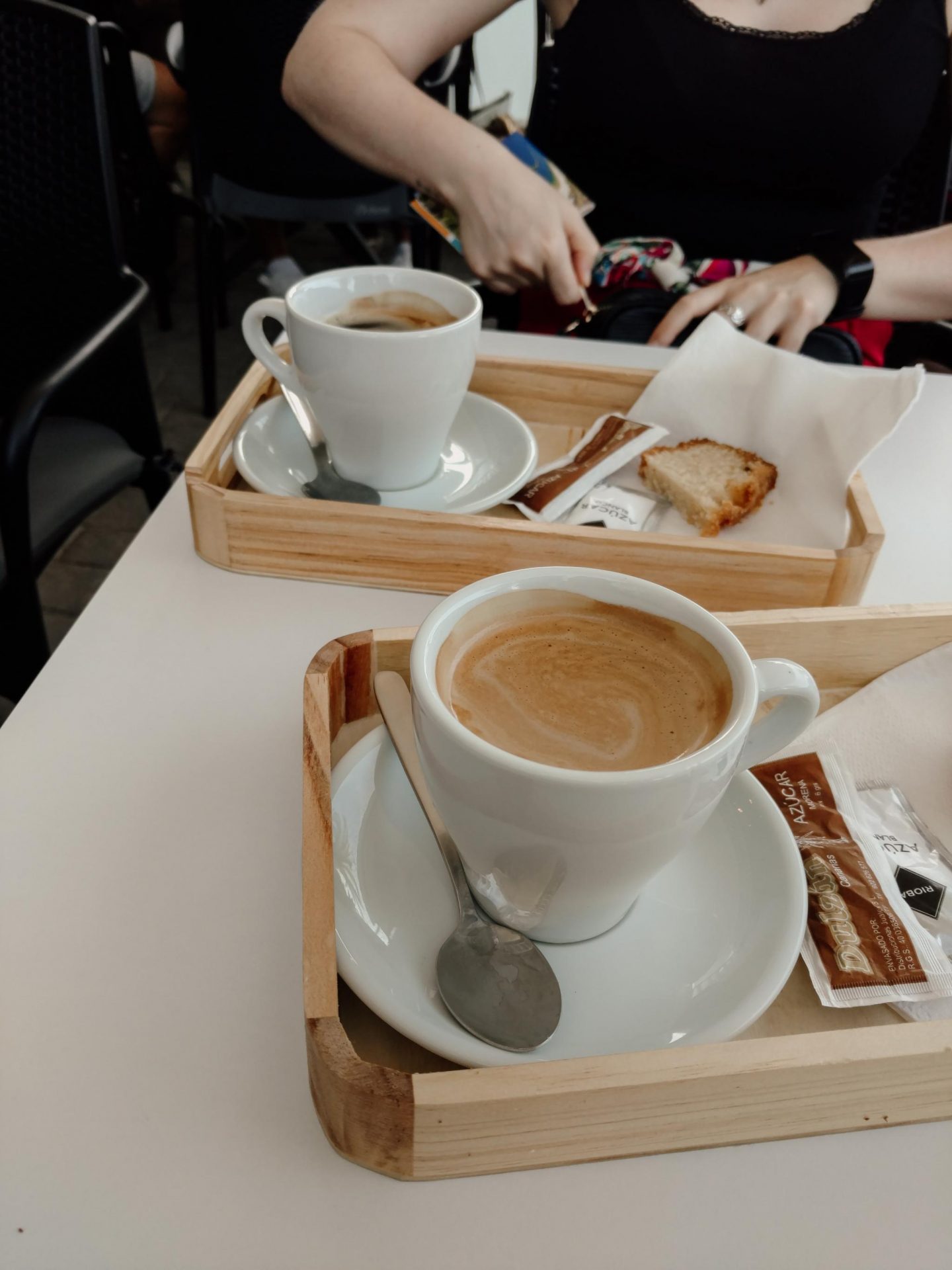 Car Rental in Tenerife Sur
We rented a car to get around the island. Renting a car in Southern Tenerife is super easy! You'll find a booth for every large rental company just outside the arrivals in Tenerife Sur airport. Pick up is a short walk outside the airport's main entry. The correct way to walk and the difrferent rental company parking are clearly indicated by signs. You shouldn't have any trouble finding your rental car.
Renting a car can get expensive. We compared the car rental companies online before departure, so we were sure we'd get the best value for money. At the time, AutoReisen S.L. was our best option.
When we checked in with AutoReisen, we learned that we had been given an upgrade. They sent us off with a Peugot Partner. When we saw the car we were both a bit hesitant because of it's size and the travel plans we had. We decided to give it a try, but once on the high way the car could barely manage the steep climb to Palm-Mar. We went back the next morning to ask for a change of car and AutoReisen S.L. Immediately worked with us to find a solution. They managed to find us a Seat Leon which worked a lot better for us. If you are planning to drive around the island or head into the mountains of Tenerife, I would suggest talking through your plans with staff before so you get a car that can manage.
Day 2: Los Cristianos, Costa Adeje and dinner in Las Galletas
Walking from Los Cristianos to Costa Adeje
We start our tour around Tenerife in one of it's most well-known spots: Los Cristianos. This seaside town is mostly known for it's promenade lined with yellow sand beaches on one side and restaurants, tourists shops and hotel resorts on the other. There's always something to see here!
First things first. We went to the Black Market to buy aloë vera products. On an island where the sun is unforgiving, it is best to always keep some soothing skin products at hand (especially when you are a fair-skinned redhead like me, haha).
You will find Black Markets scattered across the island, but the one if Los Cristianos is probably the best-known and also the busiest. In the past, you could do a good deals on fine leather goods, but these days it's mostly fake Michael Kors bags, Gucci belts and Rolex watches. I wouldn't recommend buying anything, but there is a special atmosphere to be taken in here. Don't forget to keep careful watch of your personal belongings, because these busy markets are a paradise for pickpockets.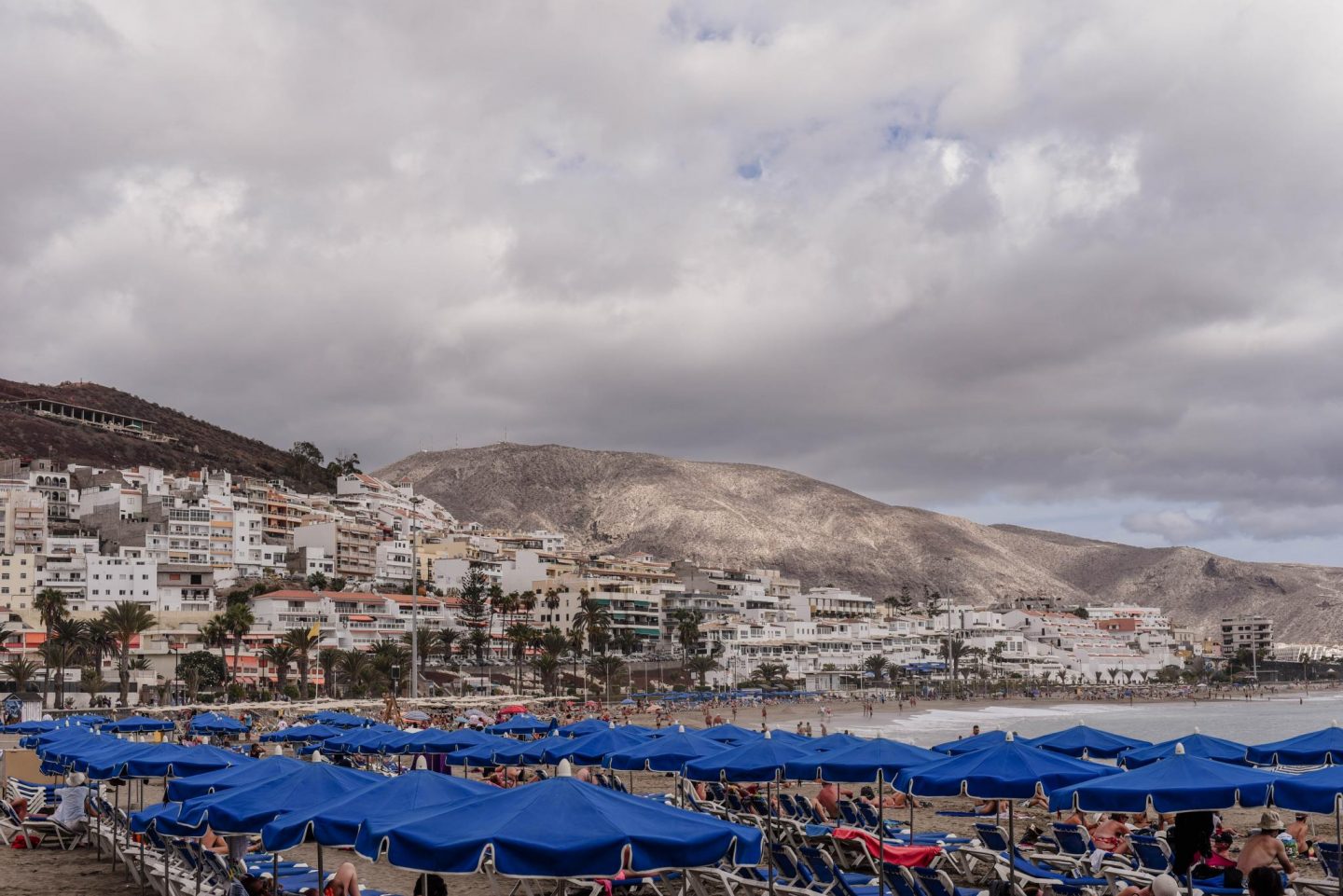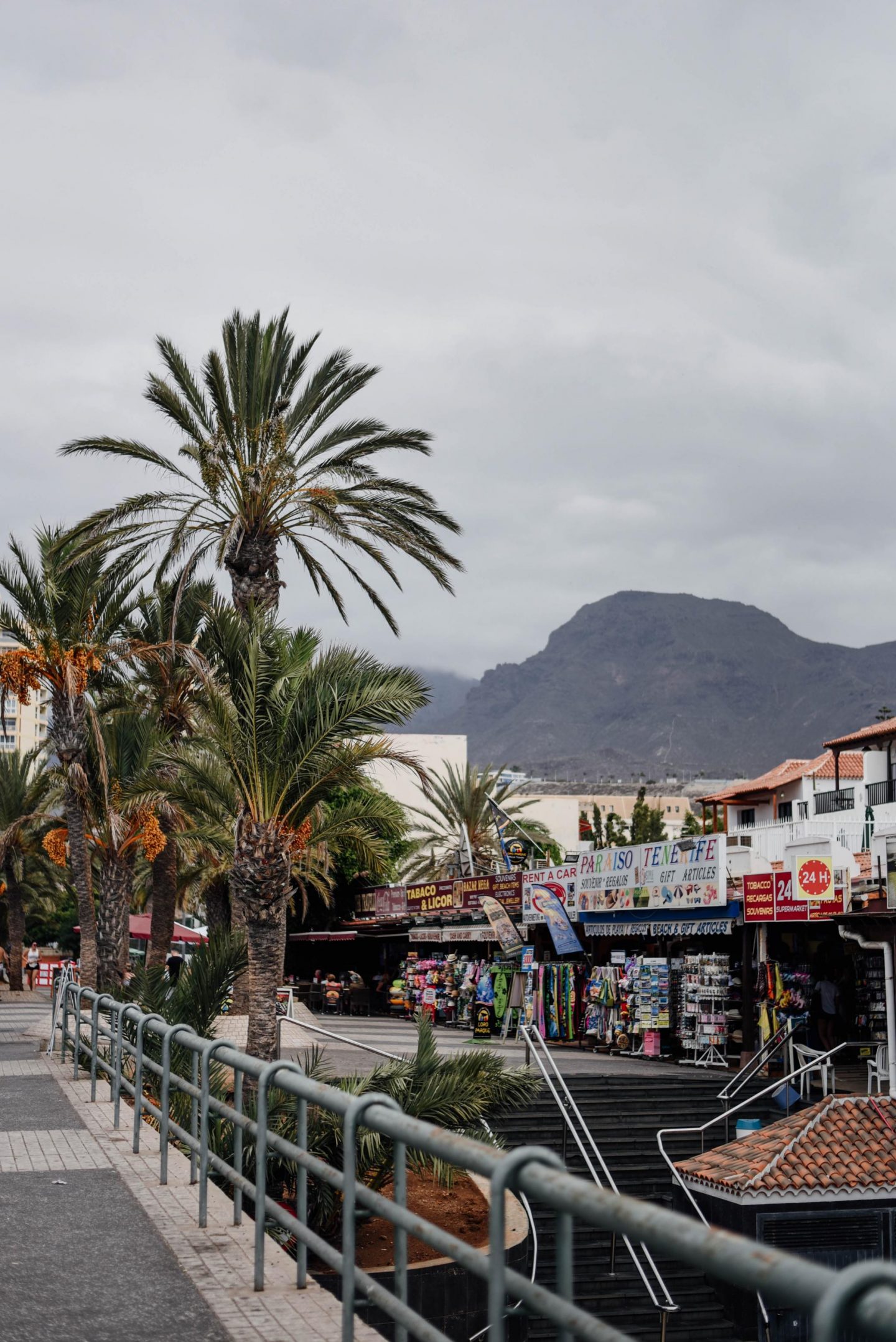 After the Black Market we decided to follow the promenade in the direction of Adeje. I'd say it about 2.5 kilometers walking from Playa De Las Américas to the center of Costa Adeje. The promenade was first laid out in the 1960s but has recently been renovated. With all the tourist shops, bars, clubs and restaurants it is the beating heart of Los Cristianos both day and night.
First you'll see Playa De Las Américas, a man-made yellow sand beach. Tenerife is a volcanic island and due to that the beaches are naturally black from the volcanic sand. To make them more appealing, yellow sand was brought in from the African dessert. If you want to enjoy some time on the beach, you can bring own towels or you can rent chairs and parasols from one of the many stalls on the beach.
Since I burn easily, I didn't really fancy tanning and chose to sit on one of the many shaded terraces instead with the first of many sangria!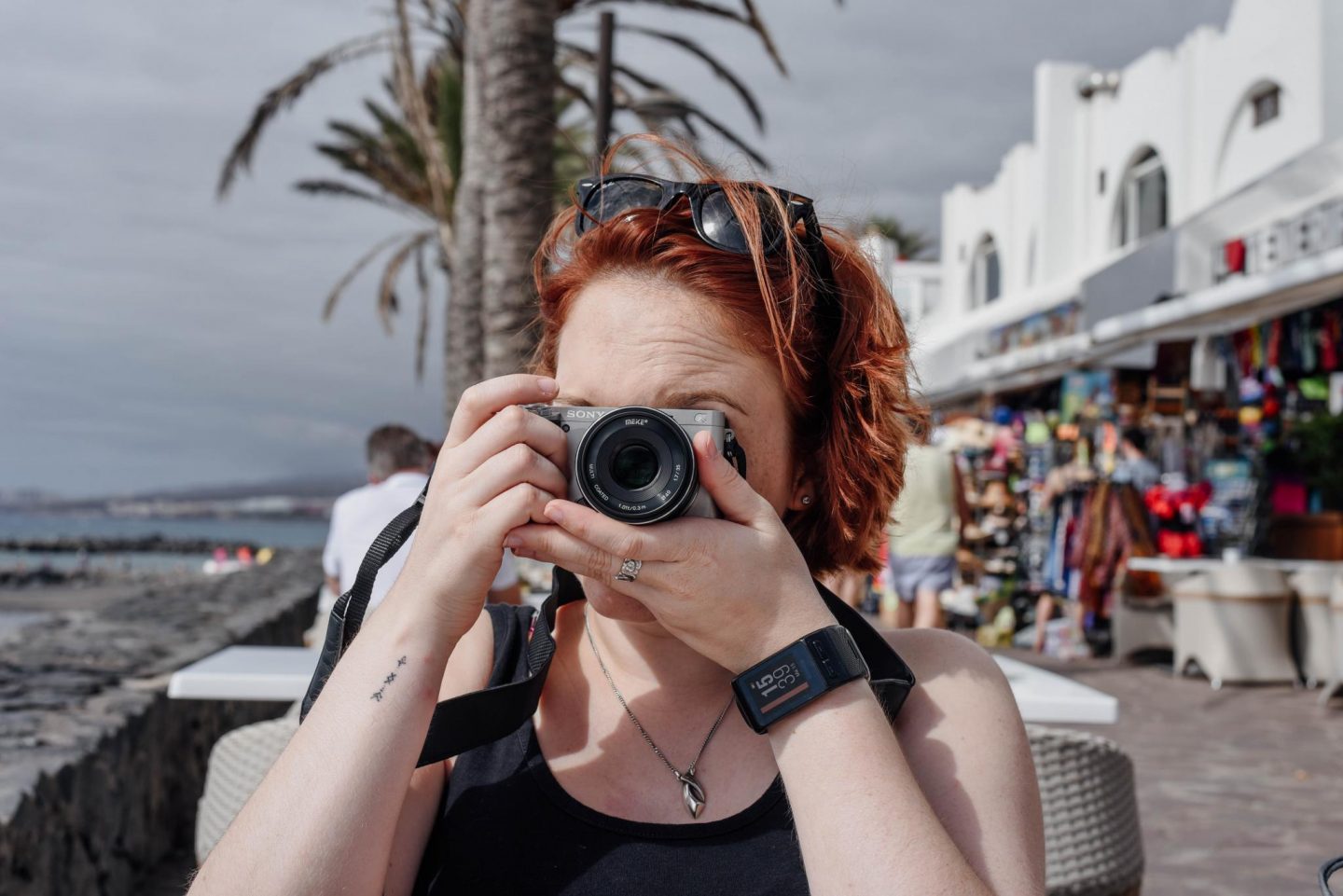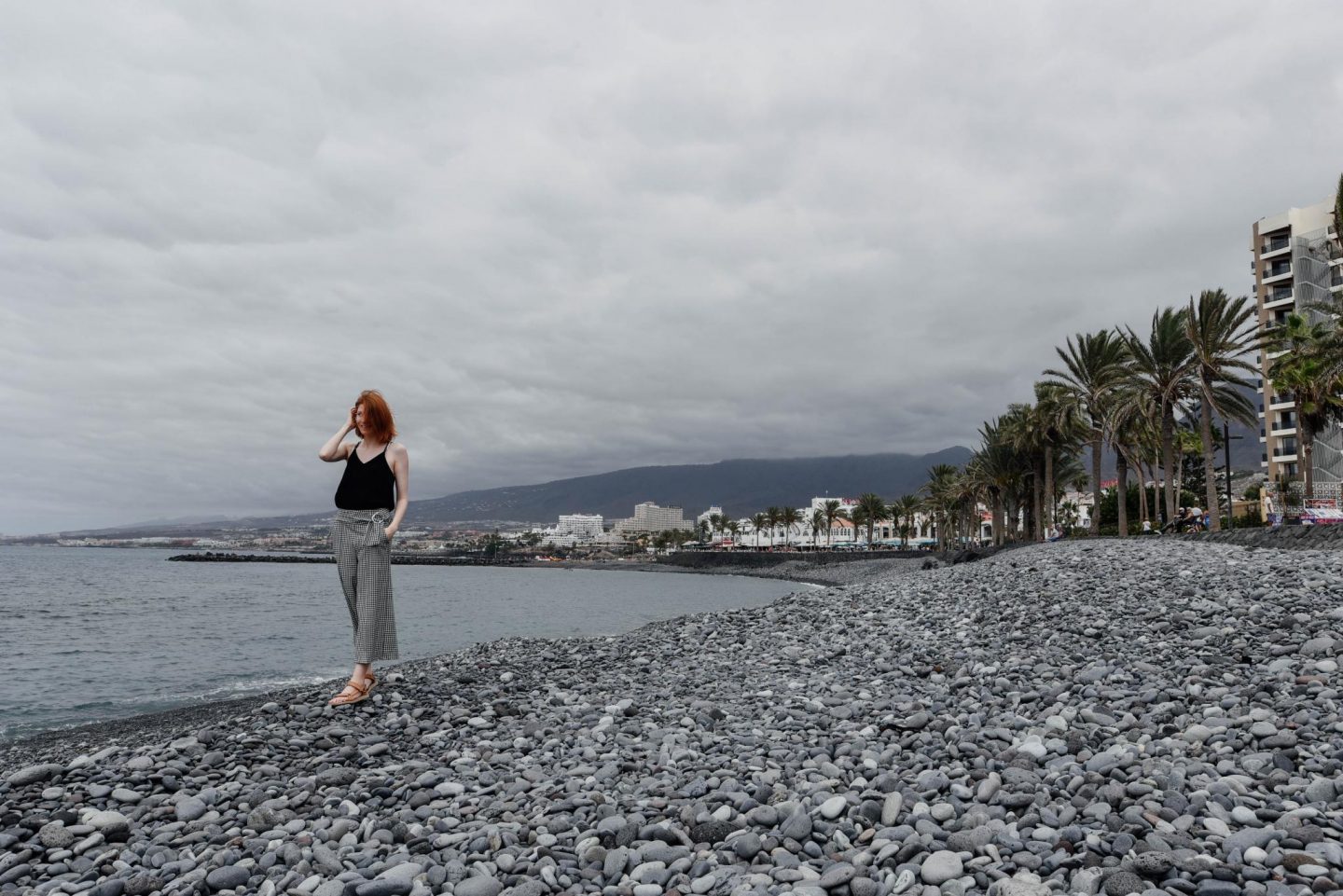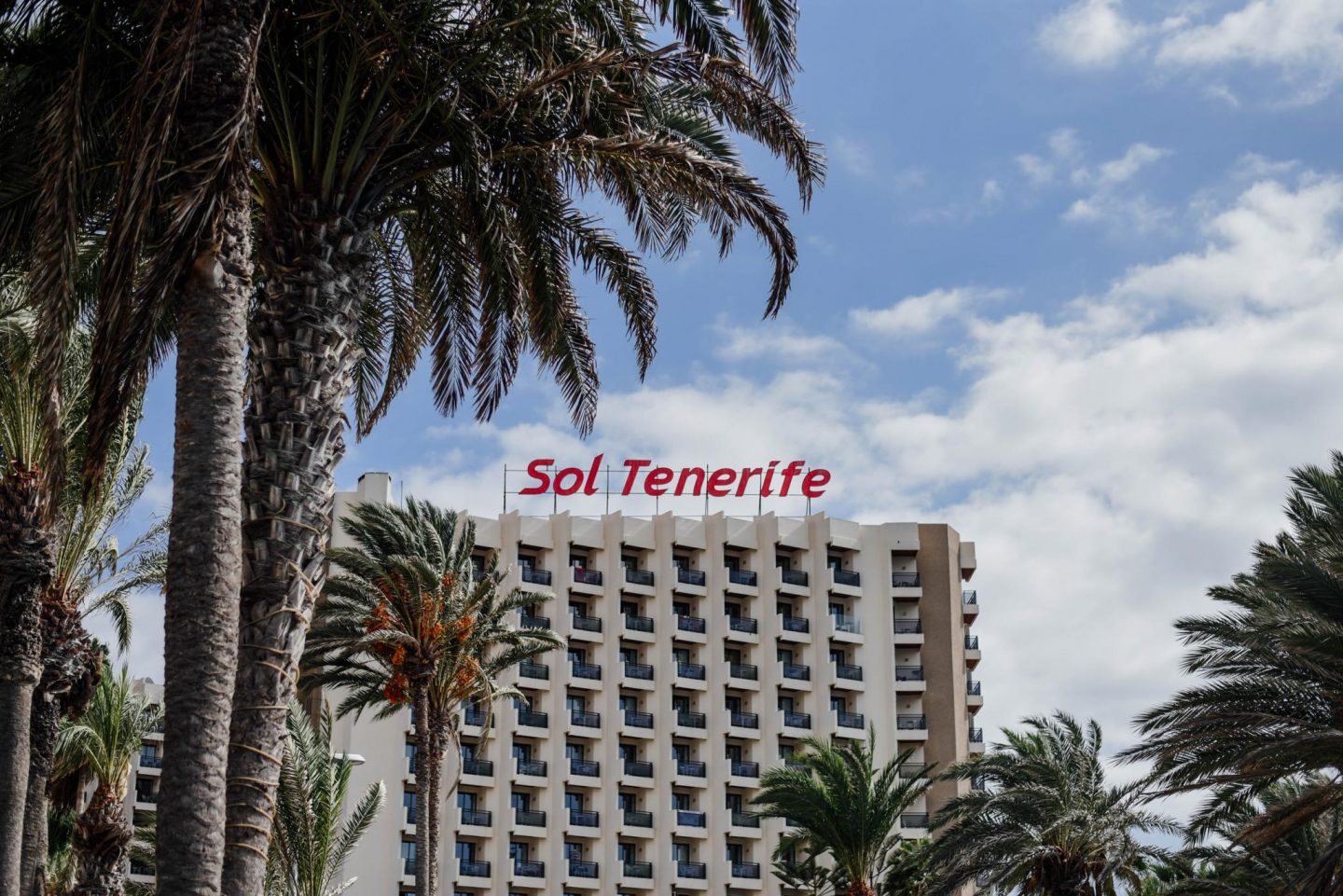 Dinner in Las Galletas
All that walking made us pretty hungry! Since it was the weekend and every place in Los Cristianos was crowded, we decided to head to Las Galletas for dinner. This fishermen's town has little else too offer. Lifeless grey facades make up the coastline and the town has fell into disrepair through the years. The harbor does make for a pretty sight, especially when the sun is setting. We enjoyed some Paella and watched the sun set from the boulevard.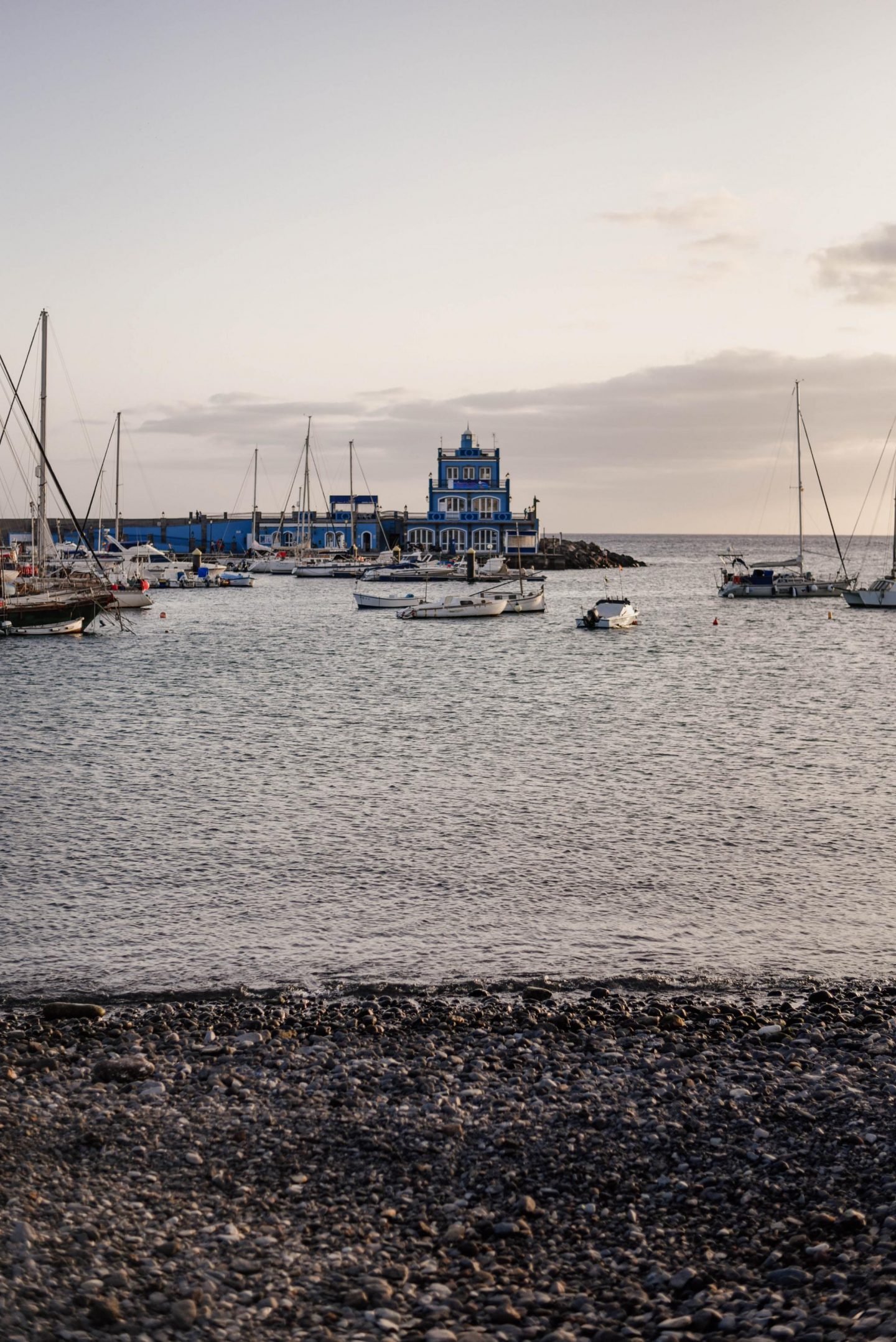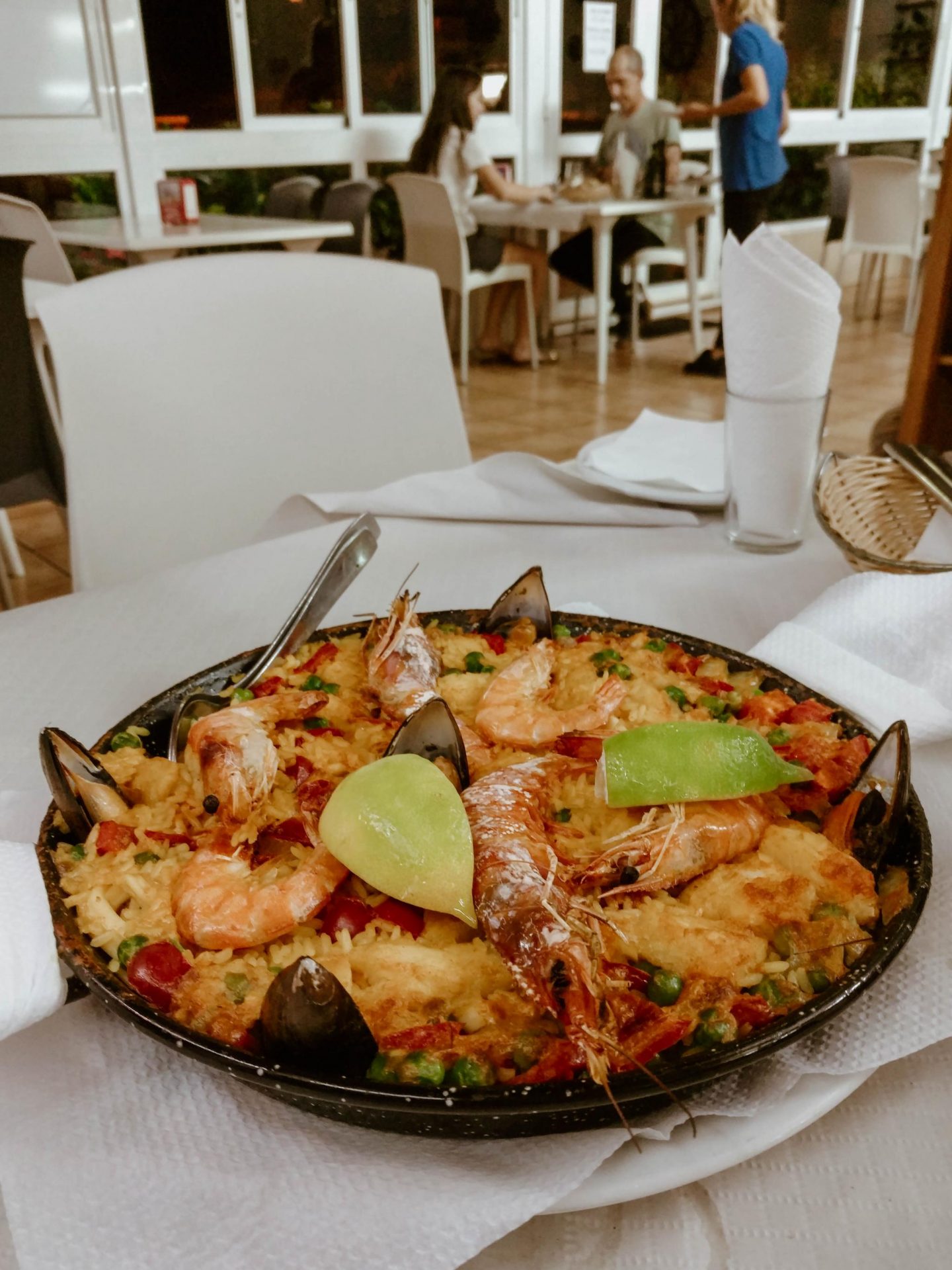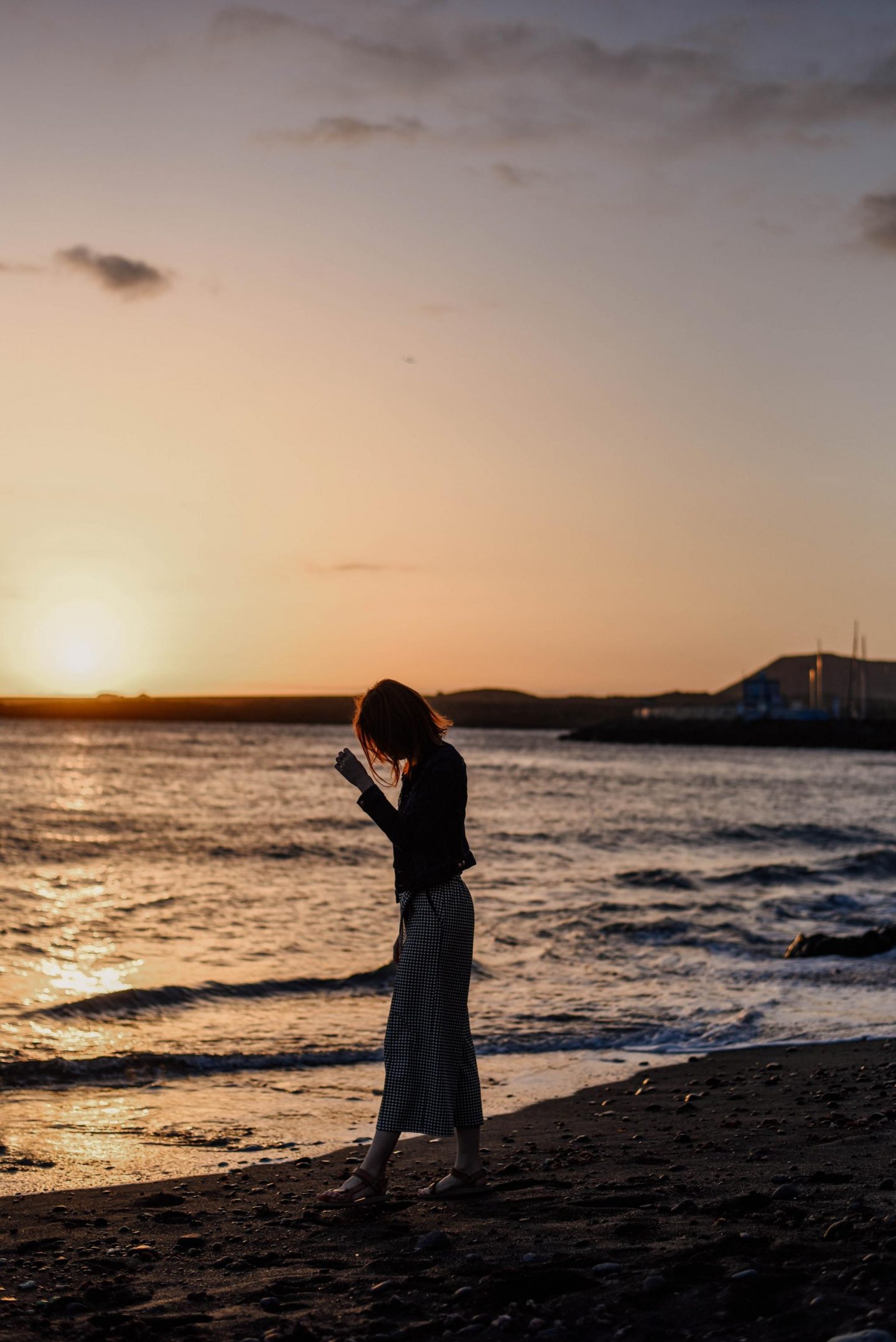 Day 3: Icod de los Vinos, Los Gigantes and Sunset at Playa Abama
Driving to Icod de los Vinos and visiting Parque Del Dragó Icodemsa
On the morning of day three we hopped in the car to fulfill my friends dream and the reason we came to Tenerife. She wanted to recreate a childhood photo with The Dragon Blood Tree from Parque Del Dragó Icodemsa. The tree is estimated to be a thousand years old!
The only way to Icod de los Vinos is up! And the roads in Tenerife take you to terrifying heights fast. The small roads twist around mountains with narrow turns and steep climbs. You go from sea level to a thousand meters above see level in mere minutes. However beautiful the sights may be, this is a recipe for car sickness (trust me). Be prepared and make use of the viewing platforms along the way to catch your breath. They make for excellent photo opportunities too!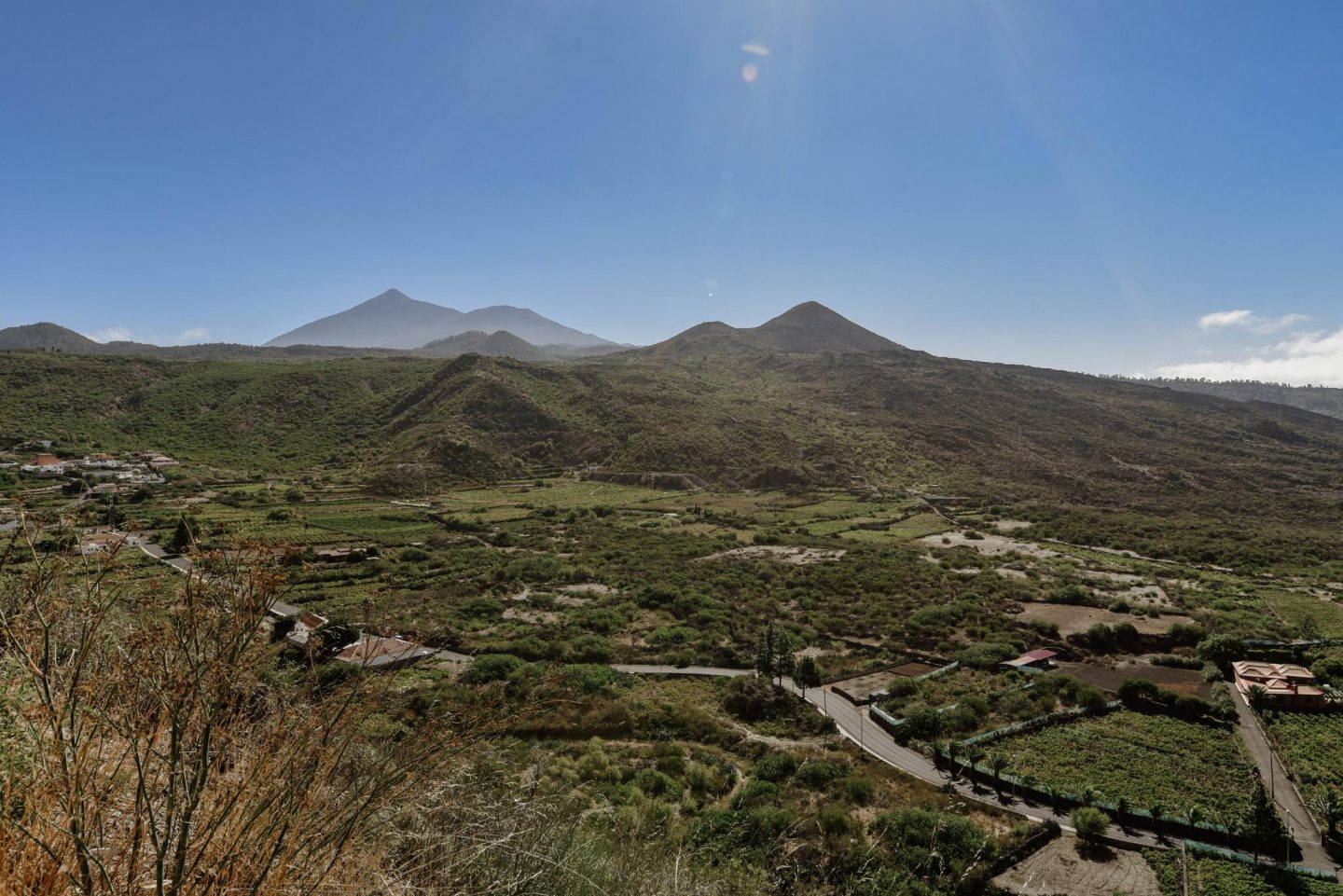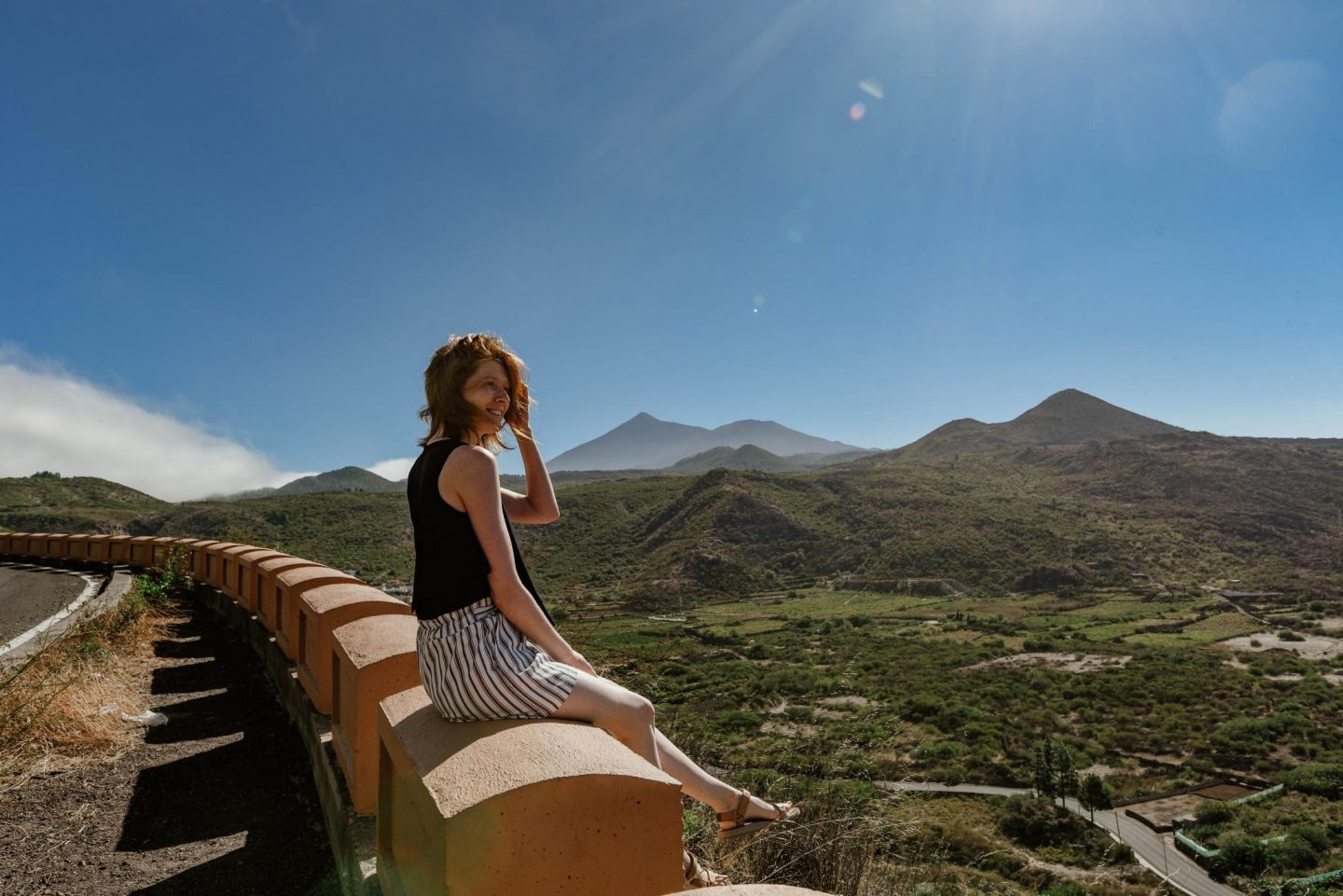 Icod de los Vinos is an historical town in the north-east of Tenerife. The whole town is is decked out with beautiful greenery and flowers such as the Bird of Paradise. It was a dream for me! We wandered around a for a bit and then paid the small fee to get into Parque Del Dragó Icodemsa.
The park is like a botanical garden with species that naturally only appear on the Canaries. It's not too large and can be visited in under an hour. You can walk all the way to the foot of the Dragon Blood Tree and also make friends with the dozens of salamanders living in the tree's shadow. The views on the surrounding hills aren't too bad either.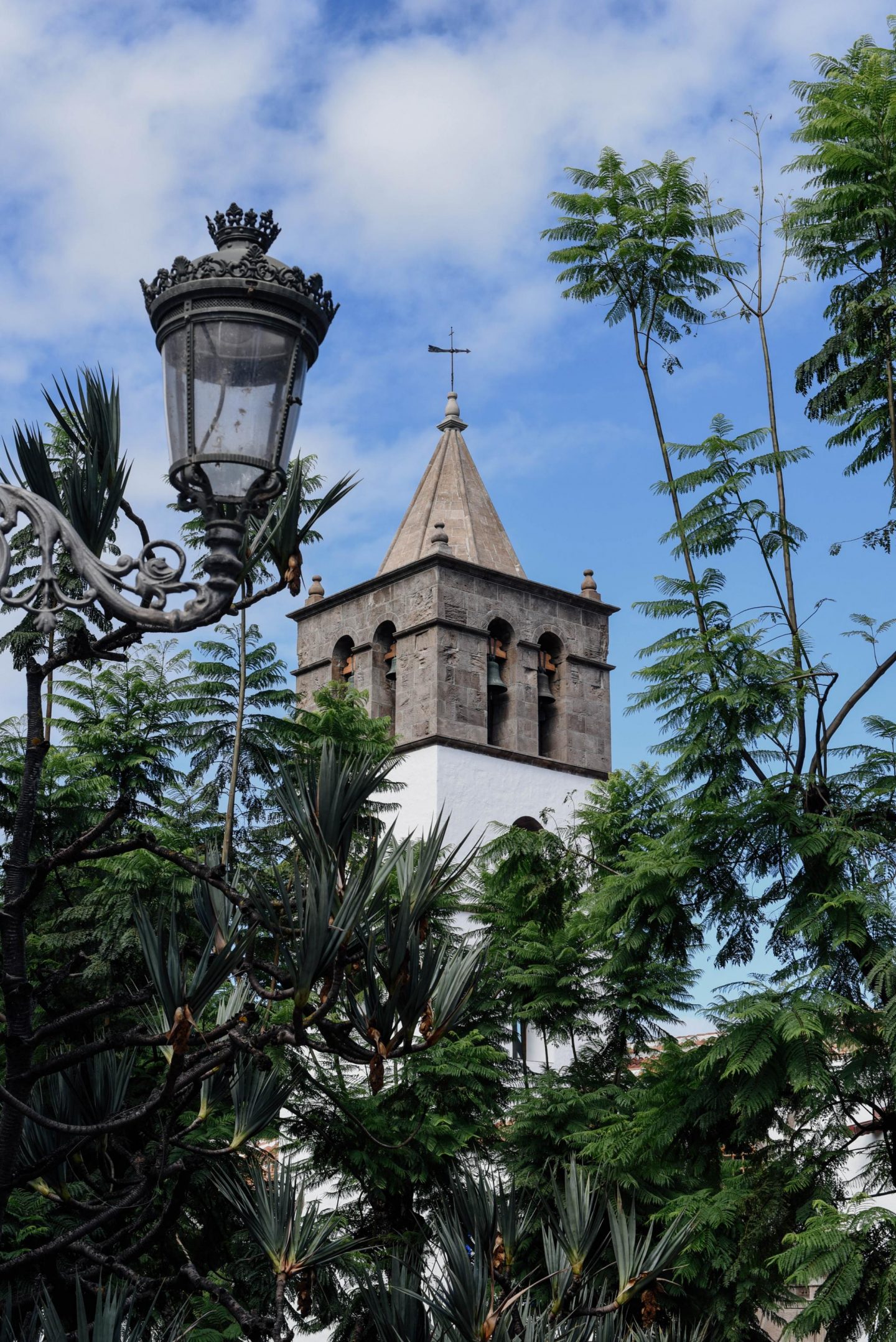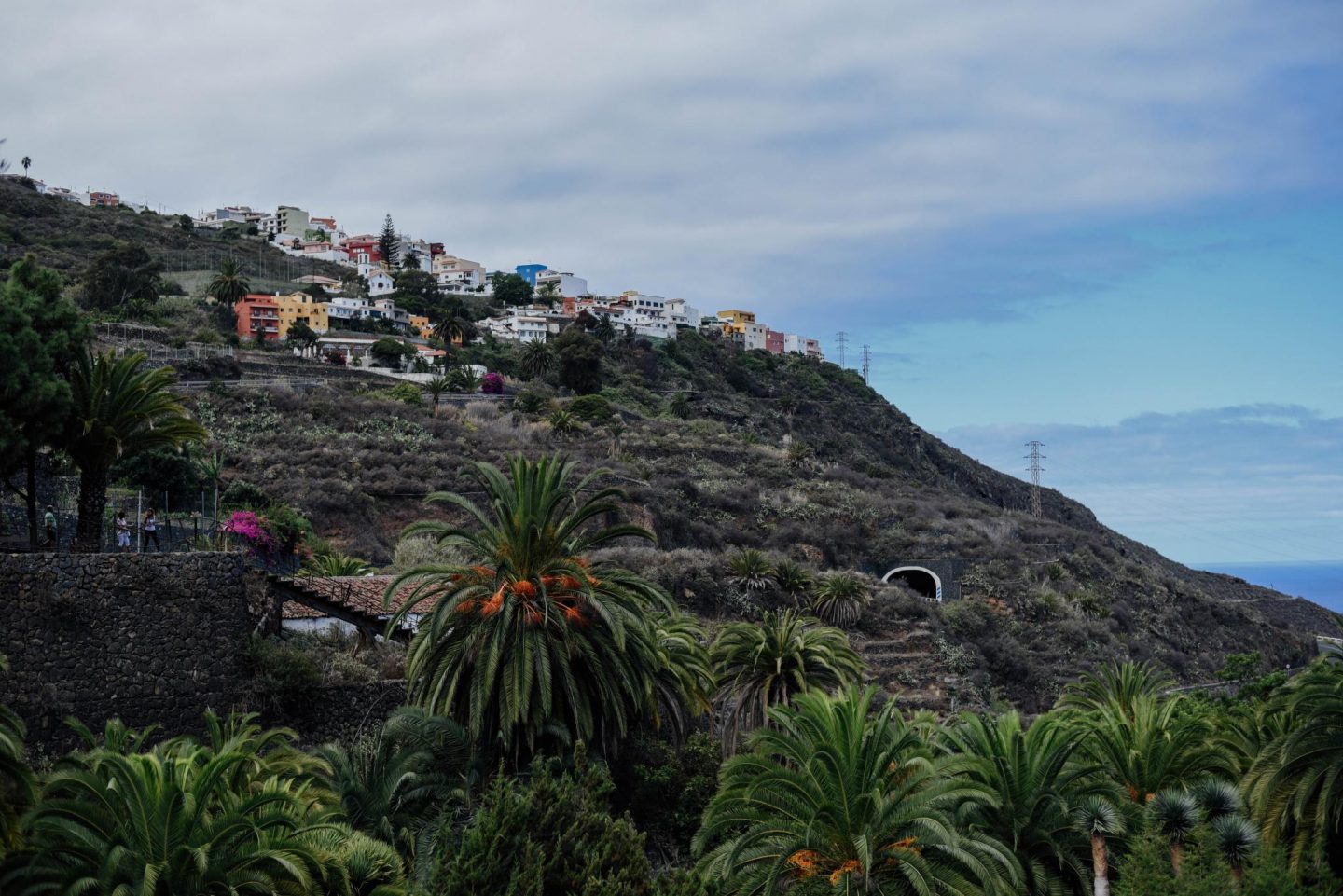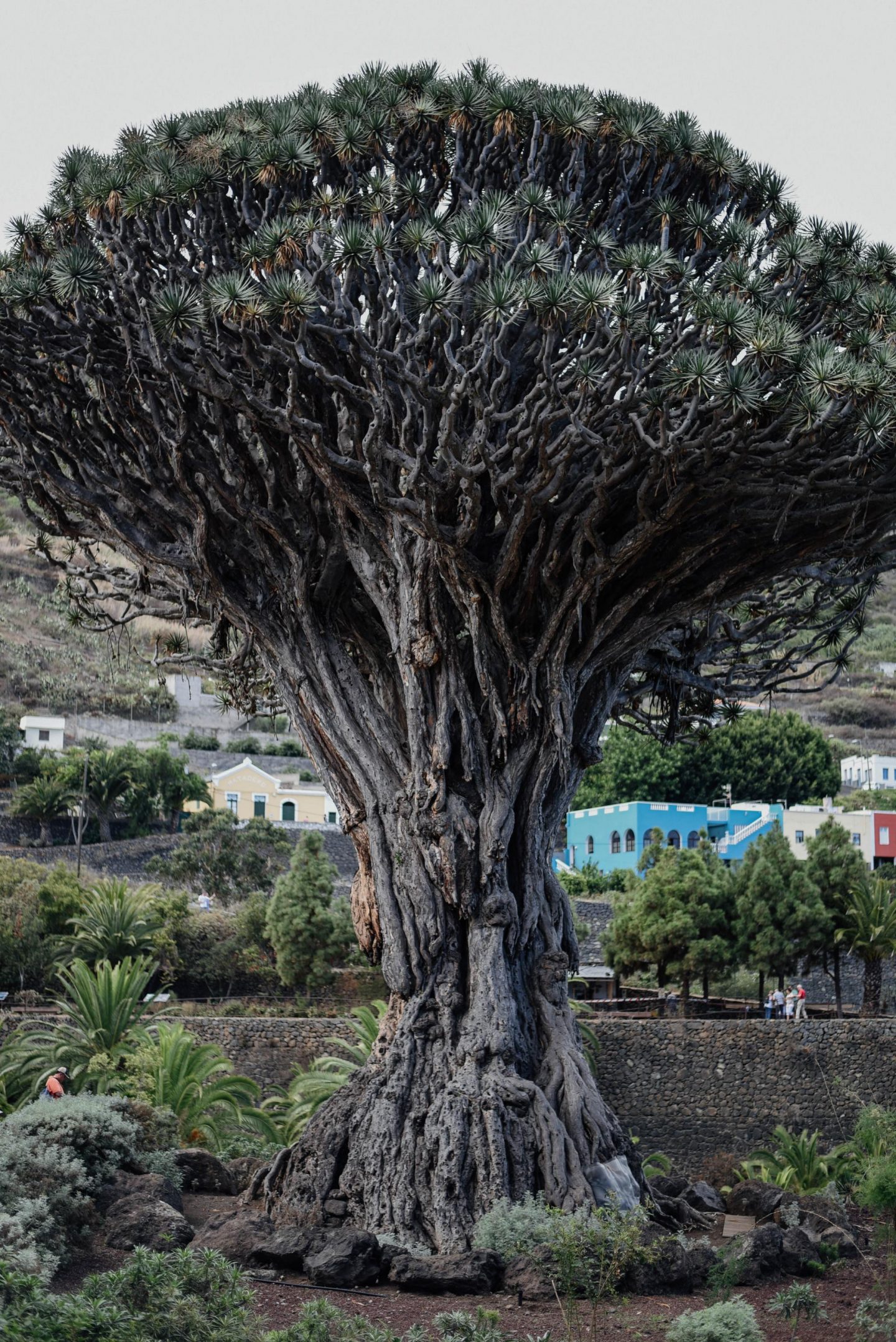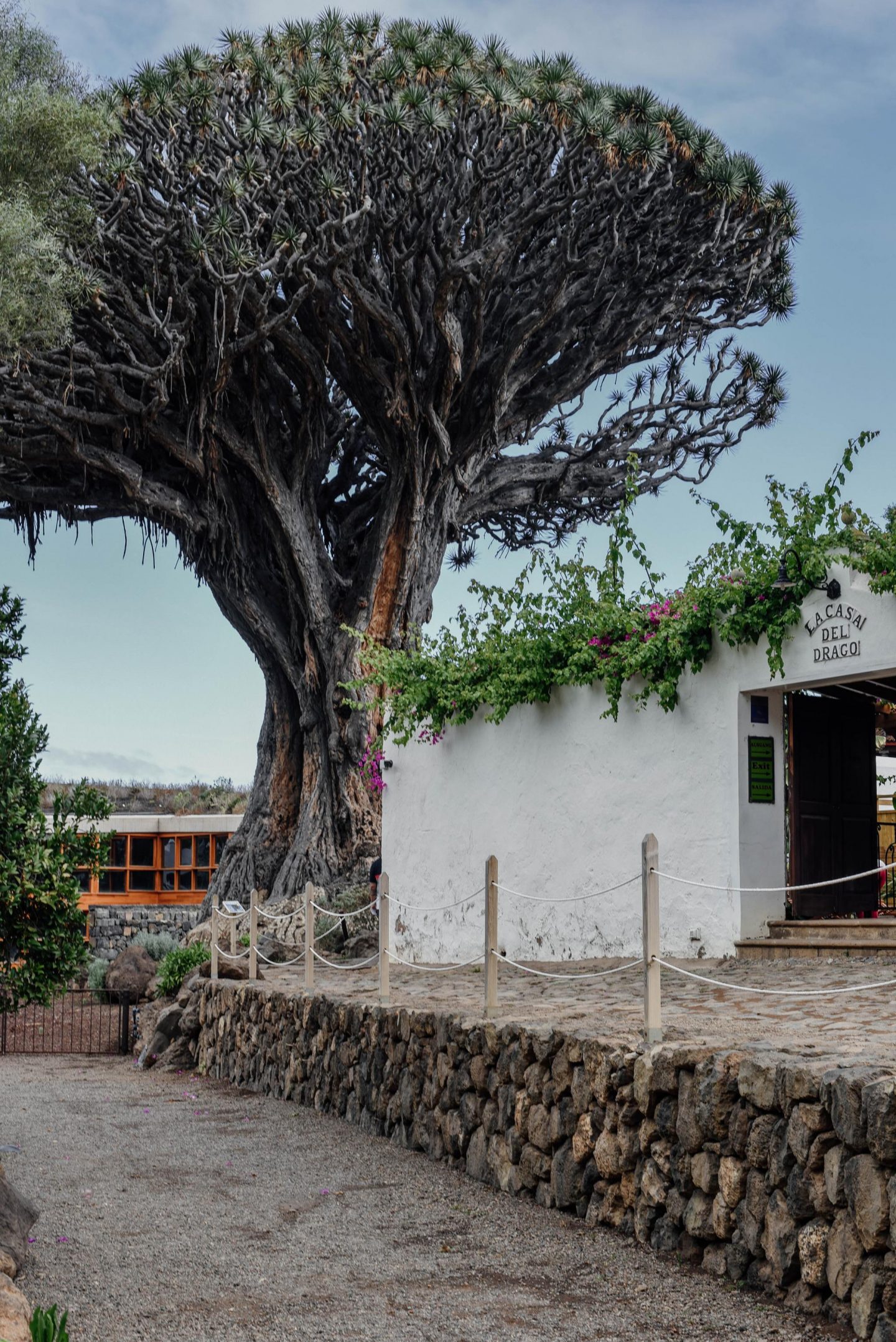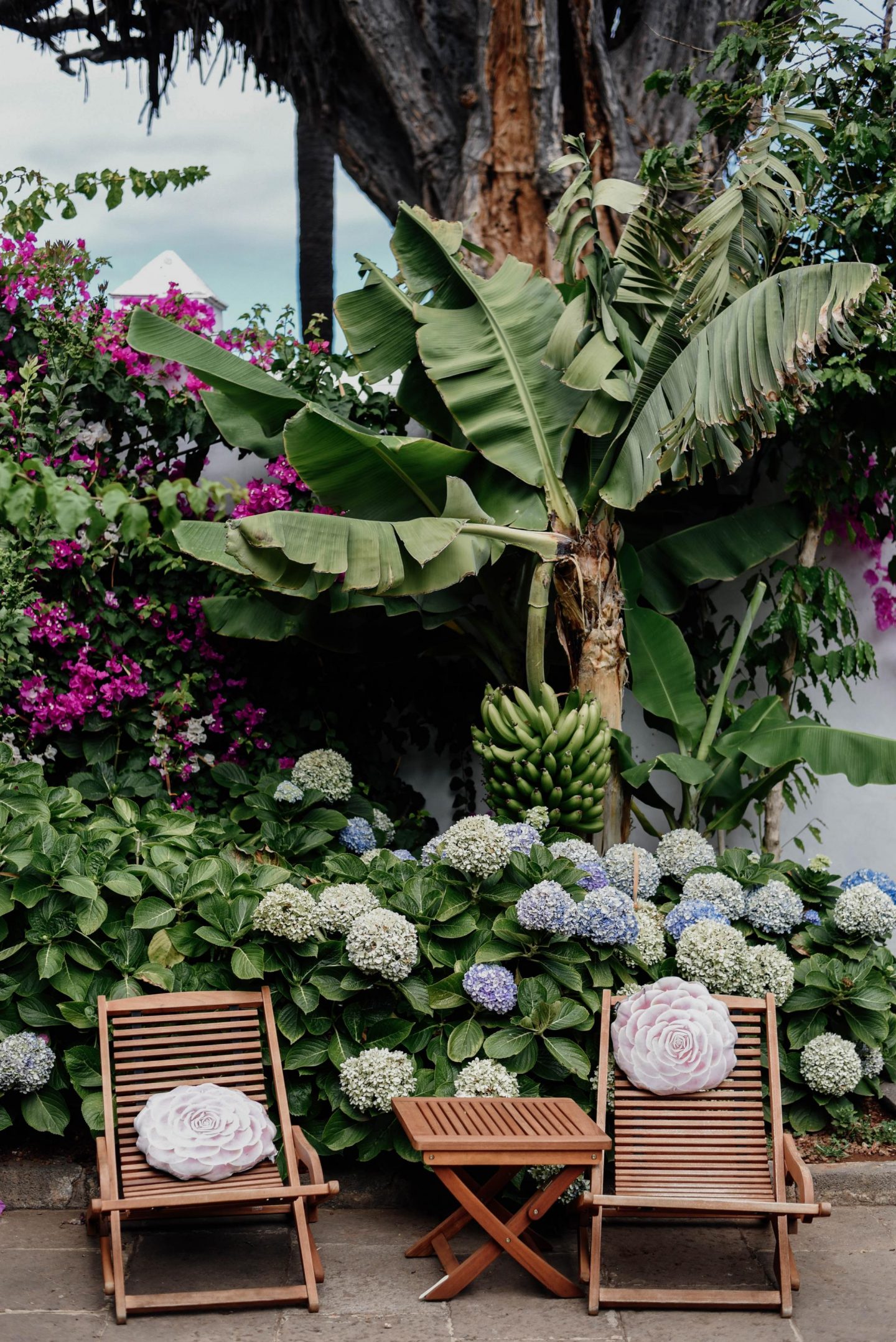 In La Casa del Drago you can have a bite to eat, dink or shop a souvenir under the careful watch of a cheerful Ara.
Next to Parque Del Dragó Icodemsa you will find San Marco's church and a balcony with a view towards the Dragon Blood Tree. Here you can get the best photo with the tree (and the view point is free to enter!). We had a little photo shoot (while a hurdle of people were watching) and recreated my friends childhood photo. It was a perfect match!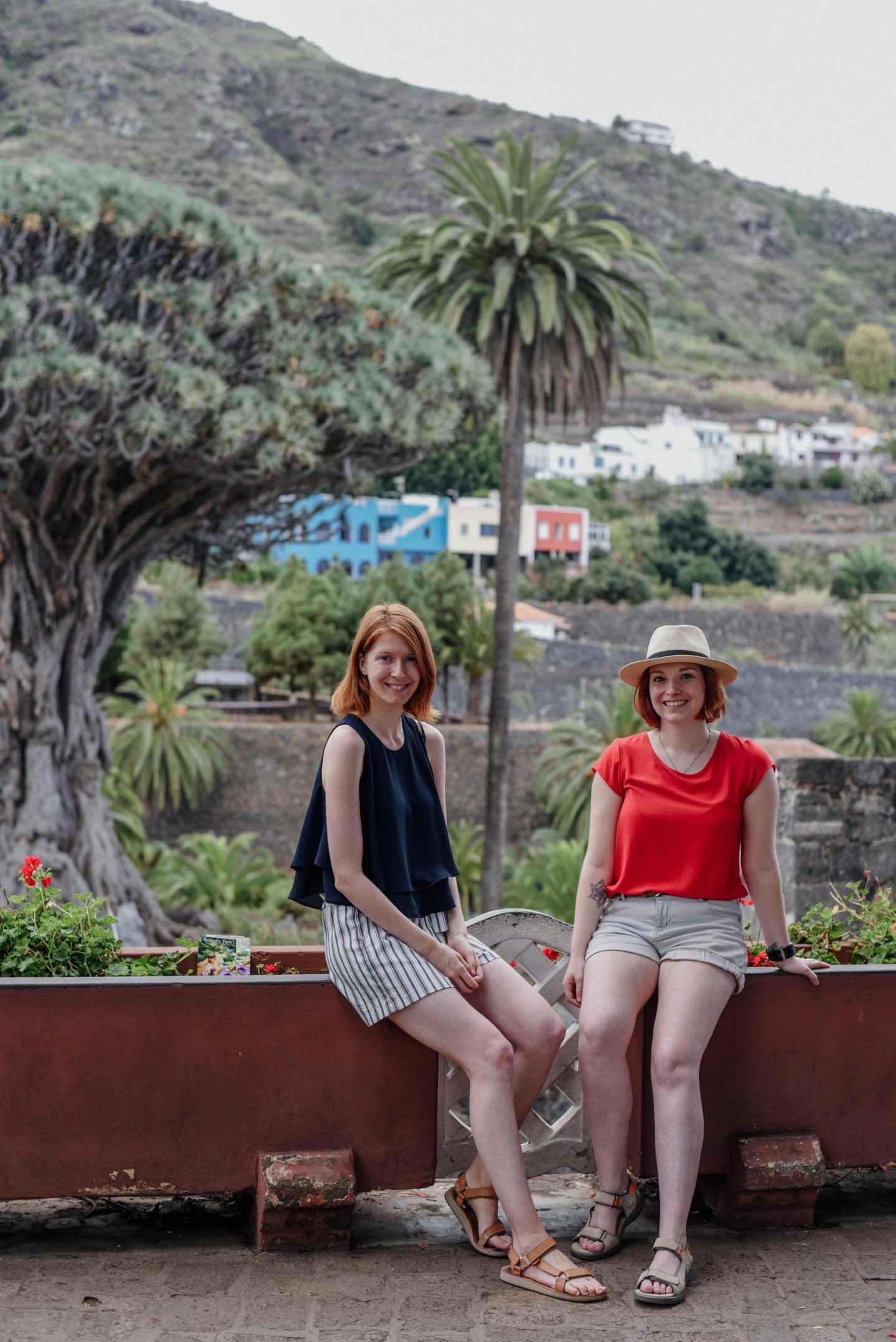 After such a full day it was time for lunch! We tried our first papas arrugadas and mojo sauces in a local tapas bar (Restaurante El Mortero, Calle San Sebastian). Papas arrugadas are small, unpeeled potatoes, boiled in very very salty water and then sprinkled with some more salt before being served. Mojo sauce is best described as an oily salsa. There are two variants: mojo rojo (a spicy red salsa) and mojo verde (a savoury green salsa made from parsley/coriander).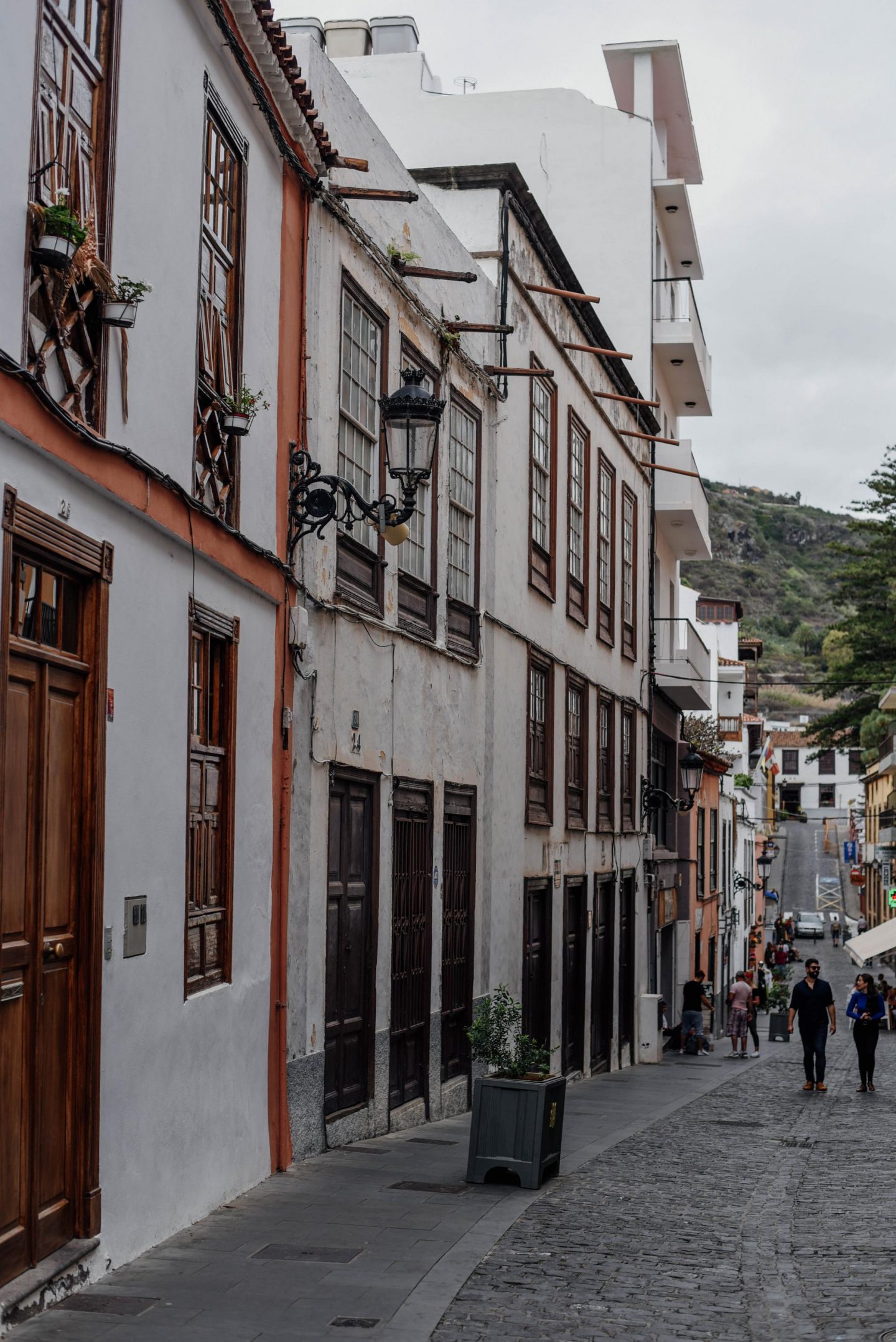 Los Gigantes
After a nail-biting drive through the Tenerife mountains we were happy to set foot on solid sea level ground again. Well… solid might be the wrong word here because those lava stones on Playa Los Guios are definitely not easy to balance on.
When you drive into the town of Los Gigantes, you'll come across a viewing platform called Mirador Archipenque. We stopped here first to take a few photos before heading further down to the seaside. We parked our car in the harbor.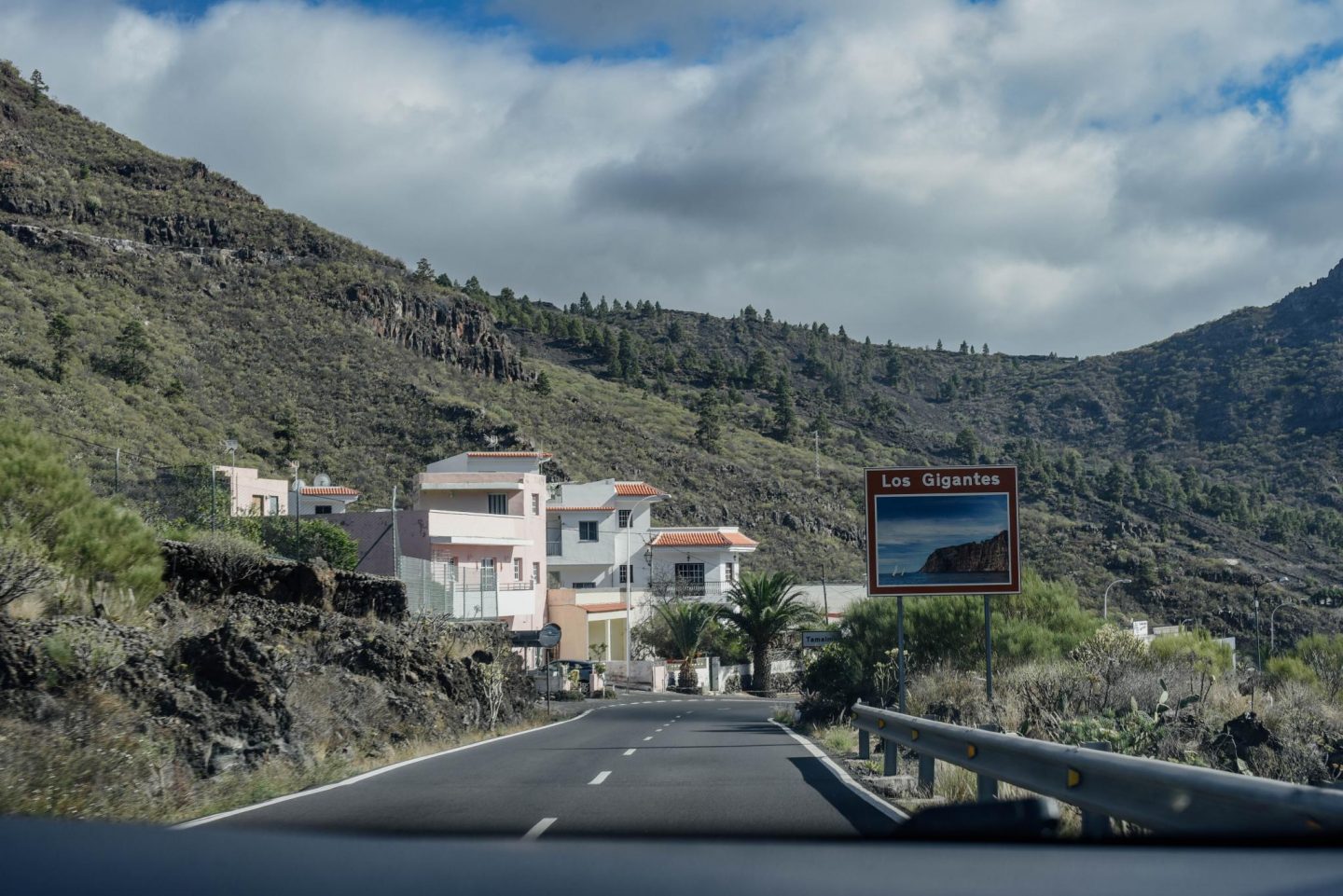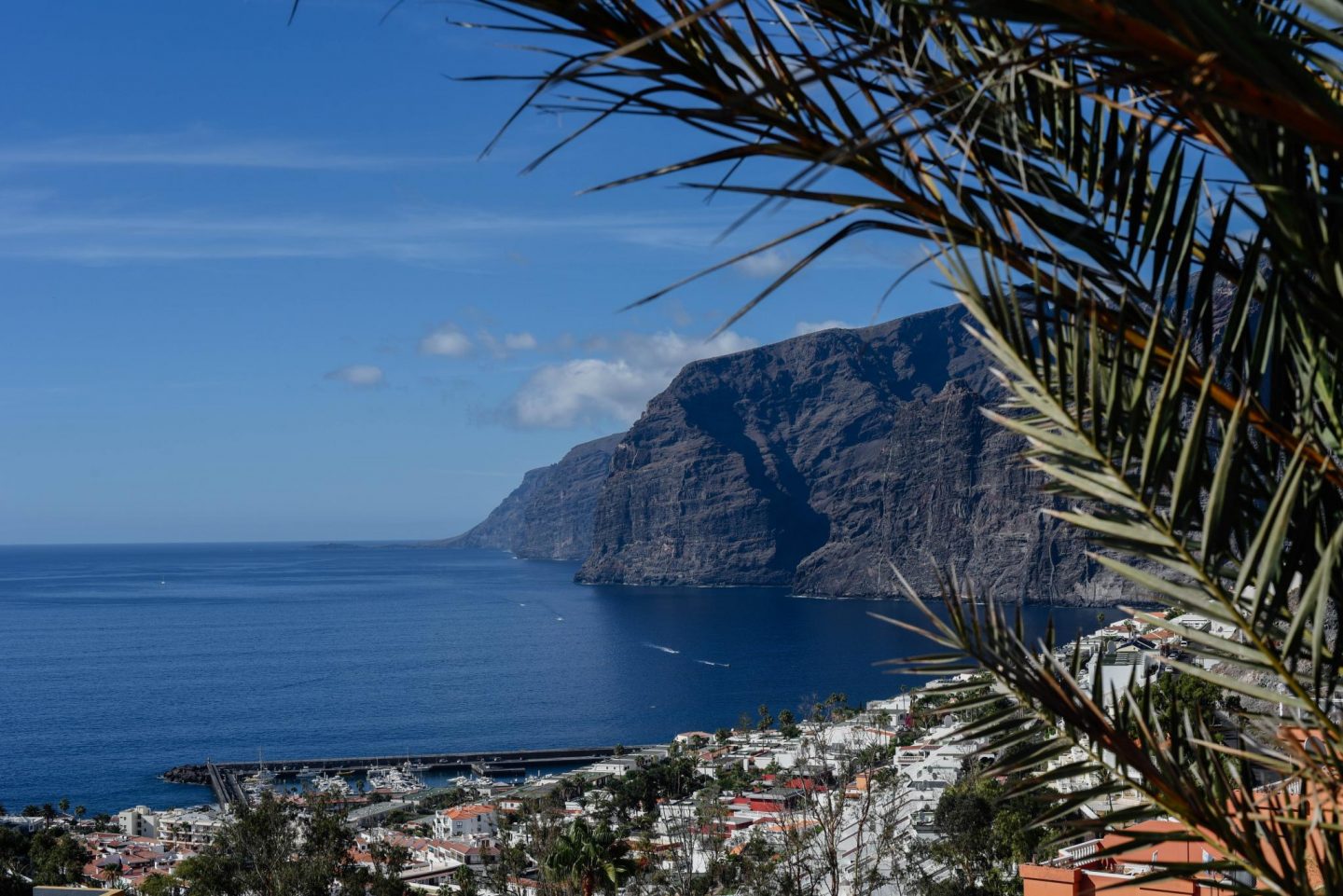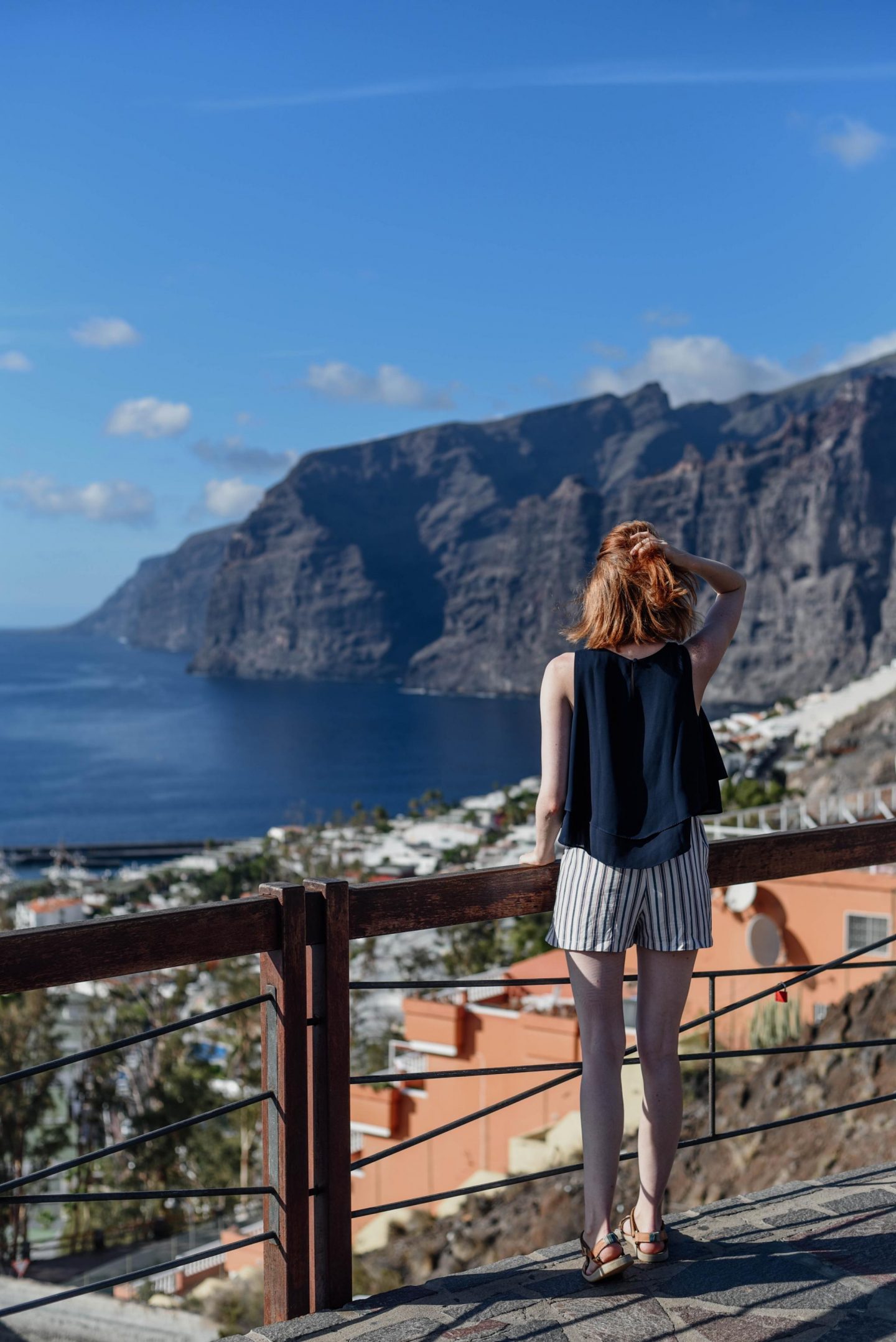 Los Gigantes or 'The Giants" is a nickname for the enormous rock formations on the north side of town. At their highest points the cliffs rise between 750-800 meters above sea level. No picture could ever show how magnificent these cliffs look in real life. We sat on the lava stone beach for a while to gaze at so much natural beauty, before the waves started coming in a bit to hard (no swimming here!) for our liking, haha.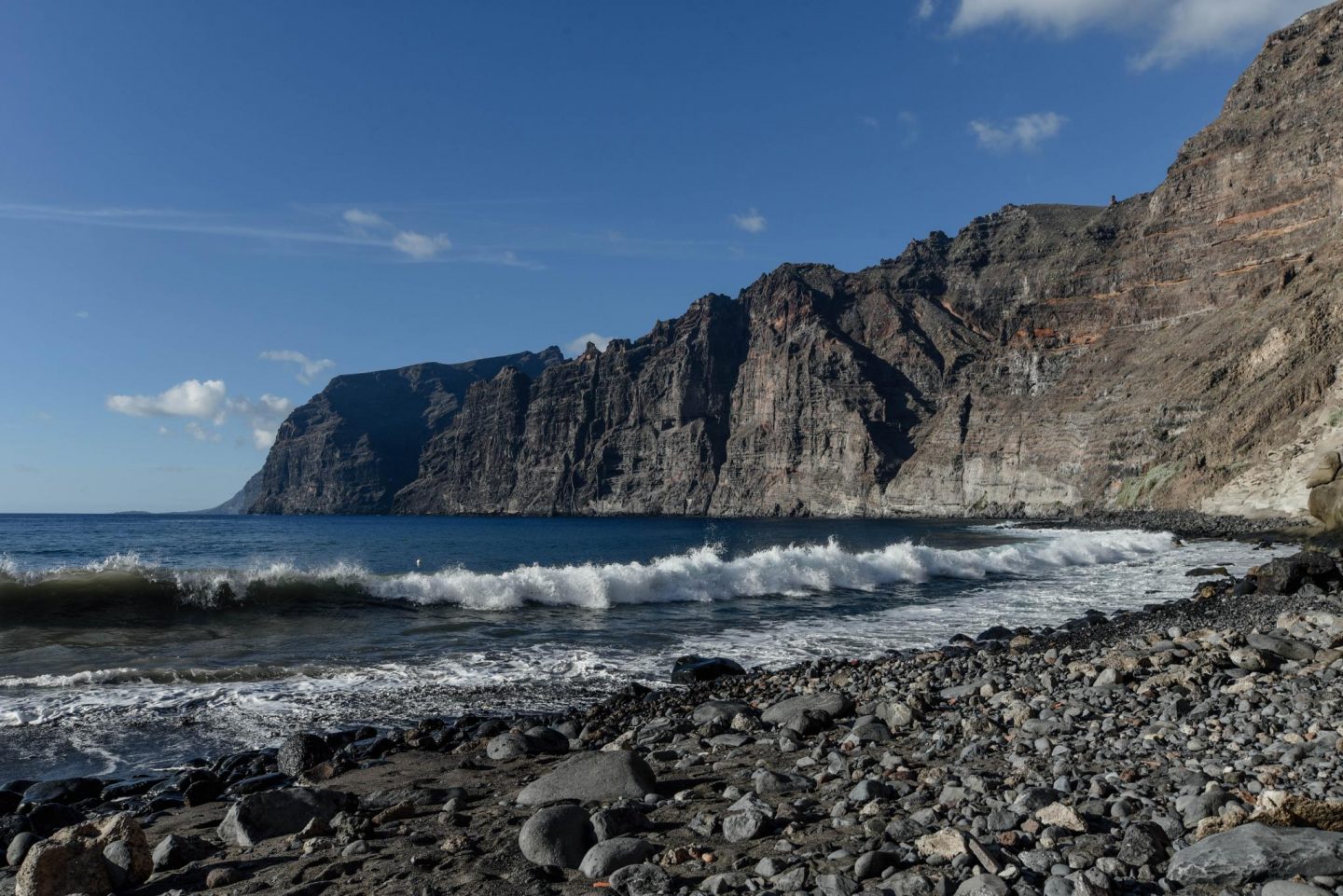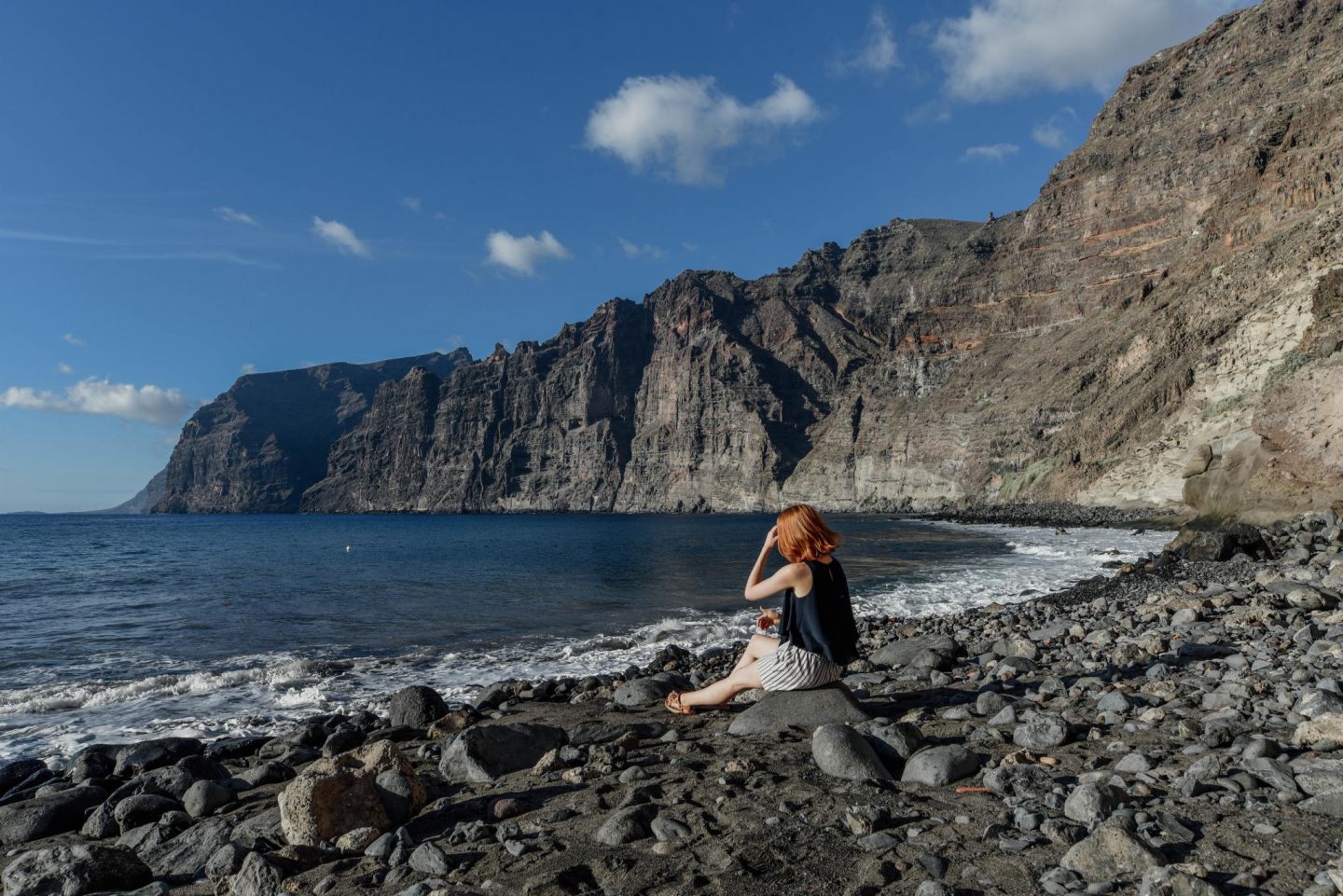 Watching the sun set on Playa de Abama
Labelled as the most beautiful beach on Tenerife, Playa de Abama was very high on our list of places we really wanted to visit. We were unsure if it would work out as the beach is right next to the luxurious Ritz Carlton Abama resort and got somewhat "claimed" by the hotel. The only way to get to the stairs that decent to Playa Abama is to follow a service road from the hotel that goes past the garage, some of the bungalows, the garden and their terrace overlooking the ocean. Not going to lie, it feels really awkward to be there as you constantly feel like you are trespassing. I tried not to look at the fancy hotel and its guests and instead looked the other way. The views from the service road on the banana plantations aren't too bad after all… .
Abama beach is located in a deep cove. Ritz Carlton hotel guests can use an elevator or a shuttle service to get down. Us regular visitors will have to do some stairs (read: a lot of stairs). But anything for a good sunset, right?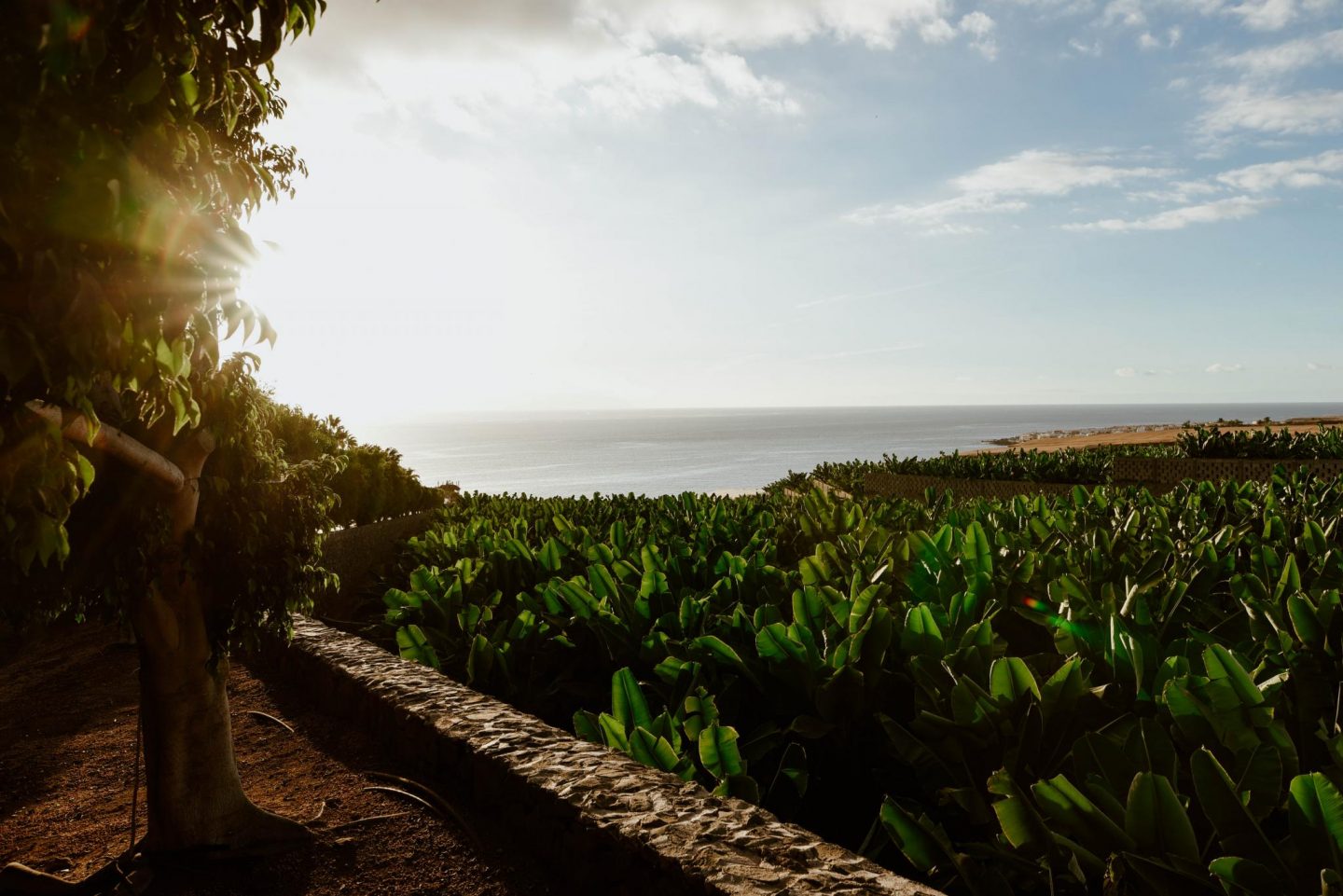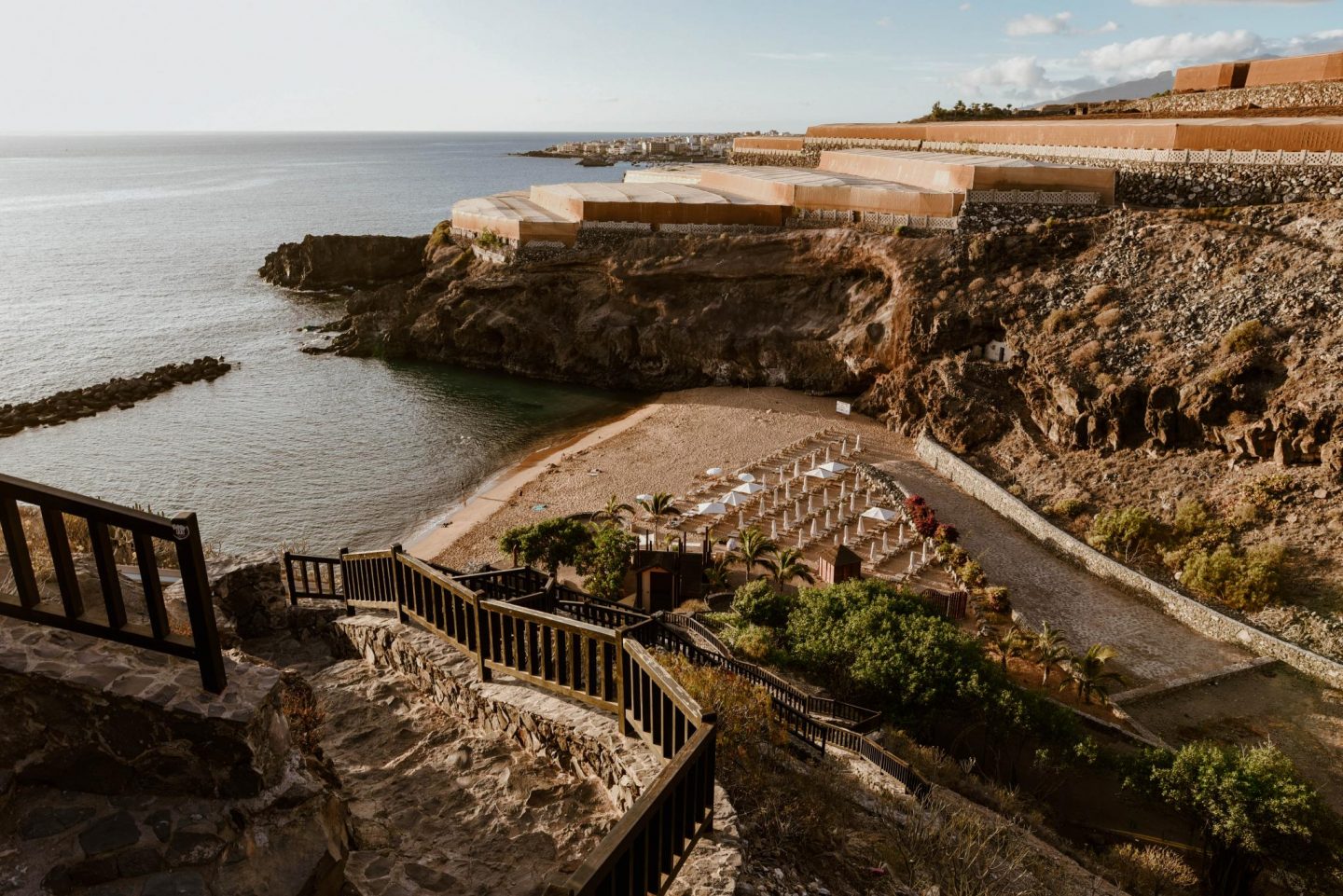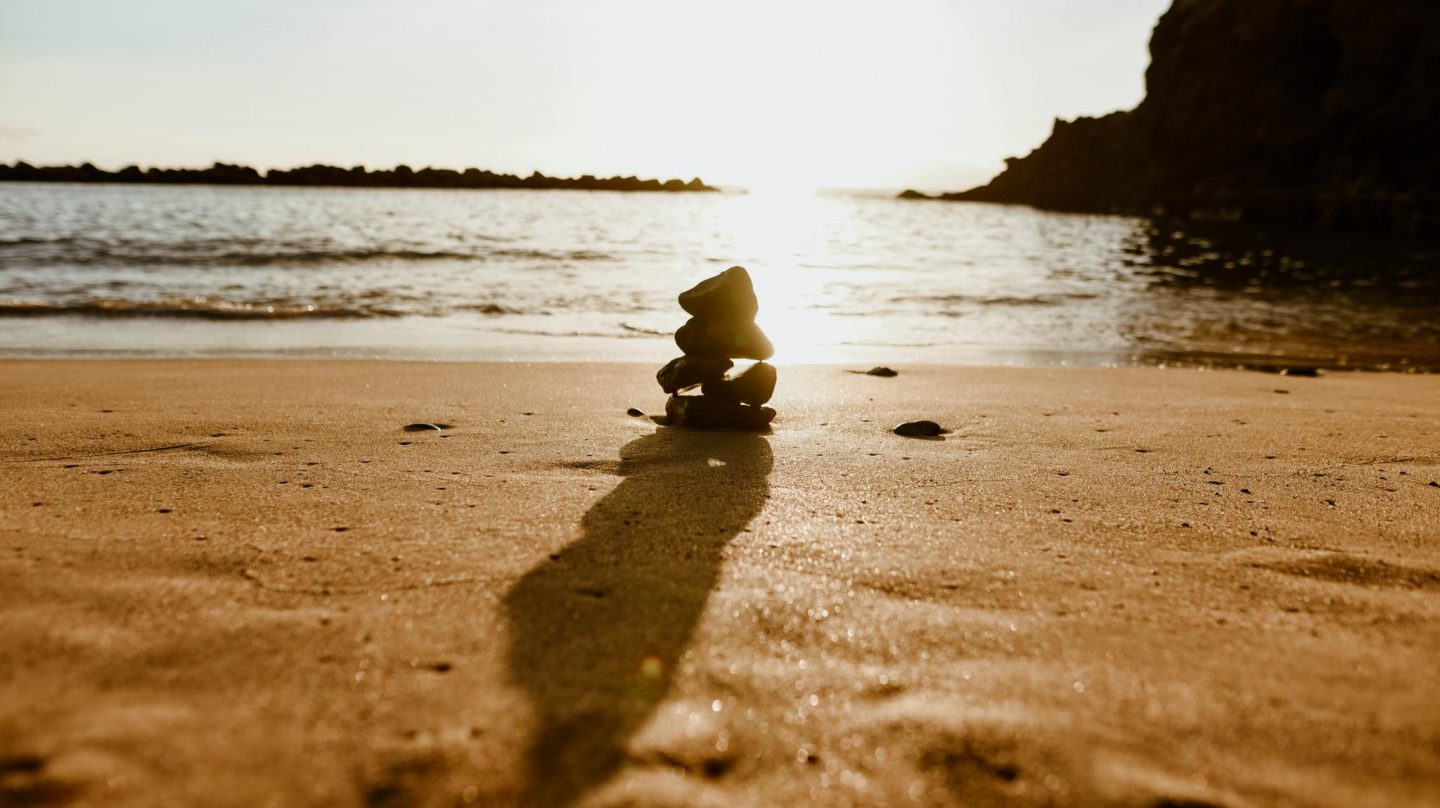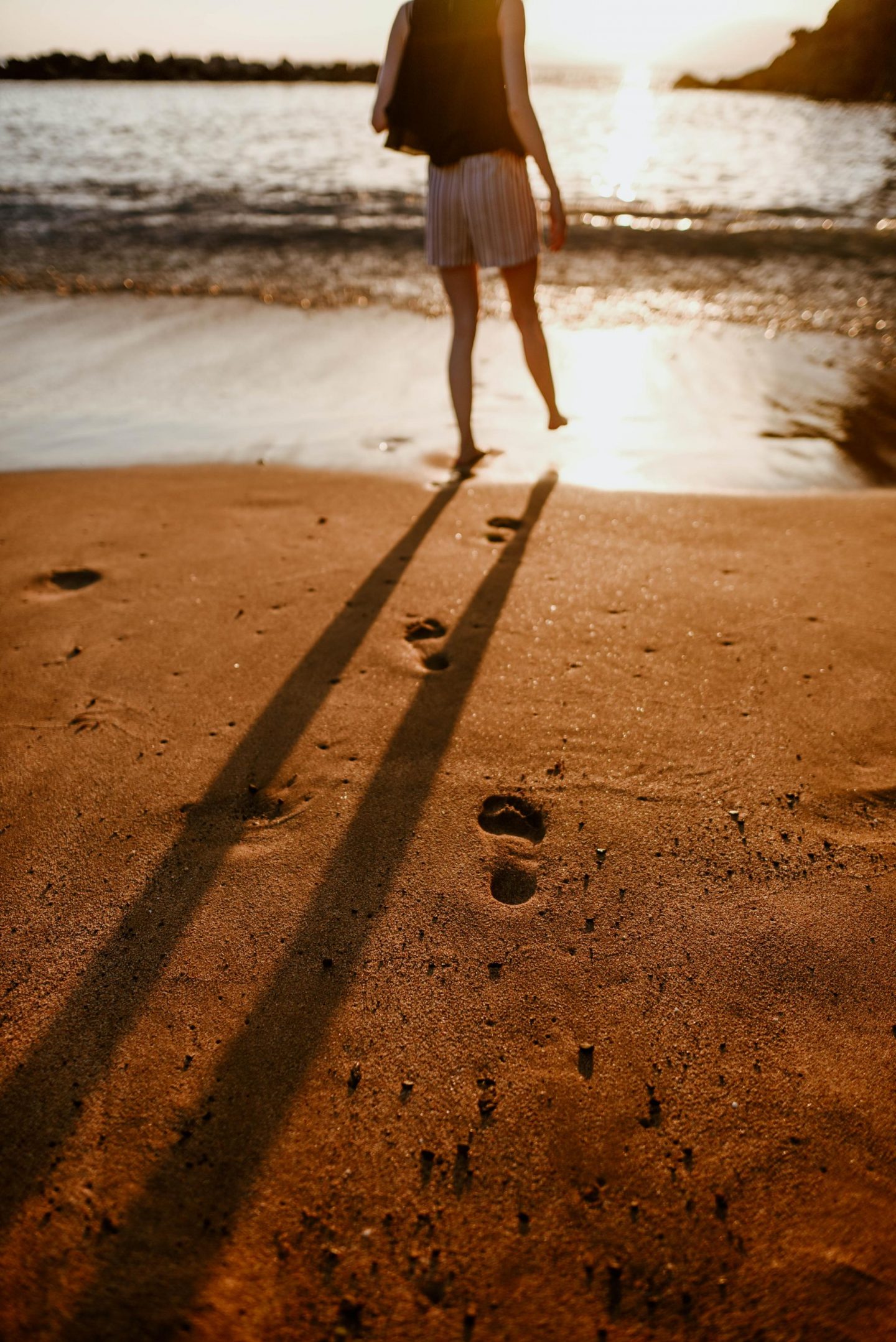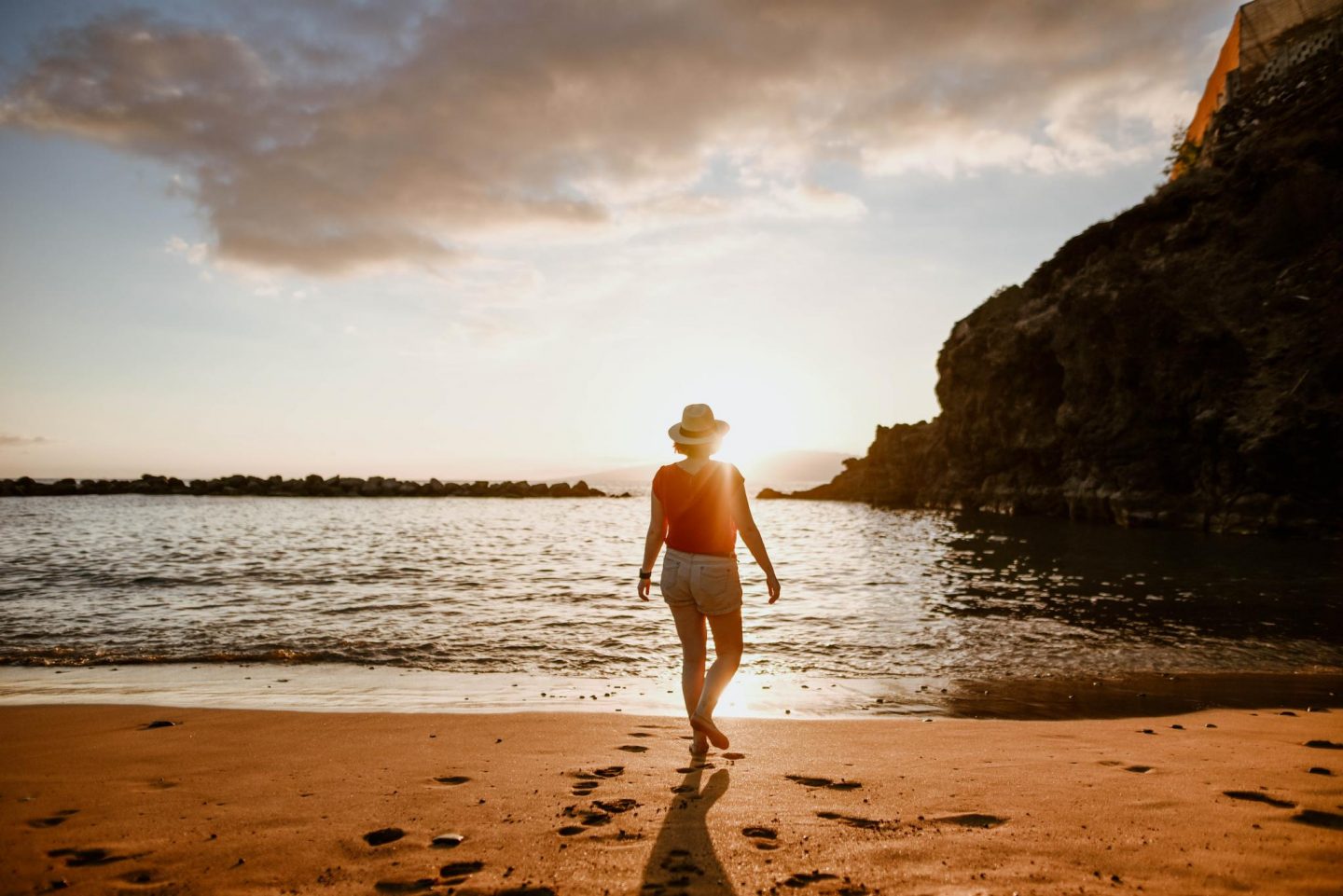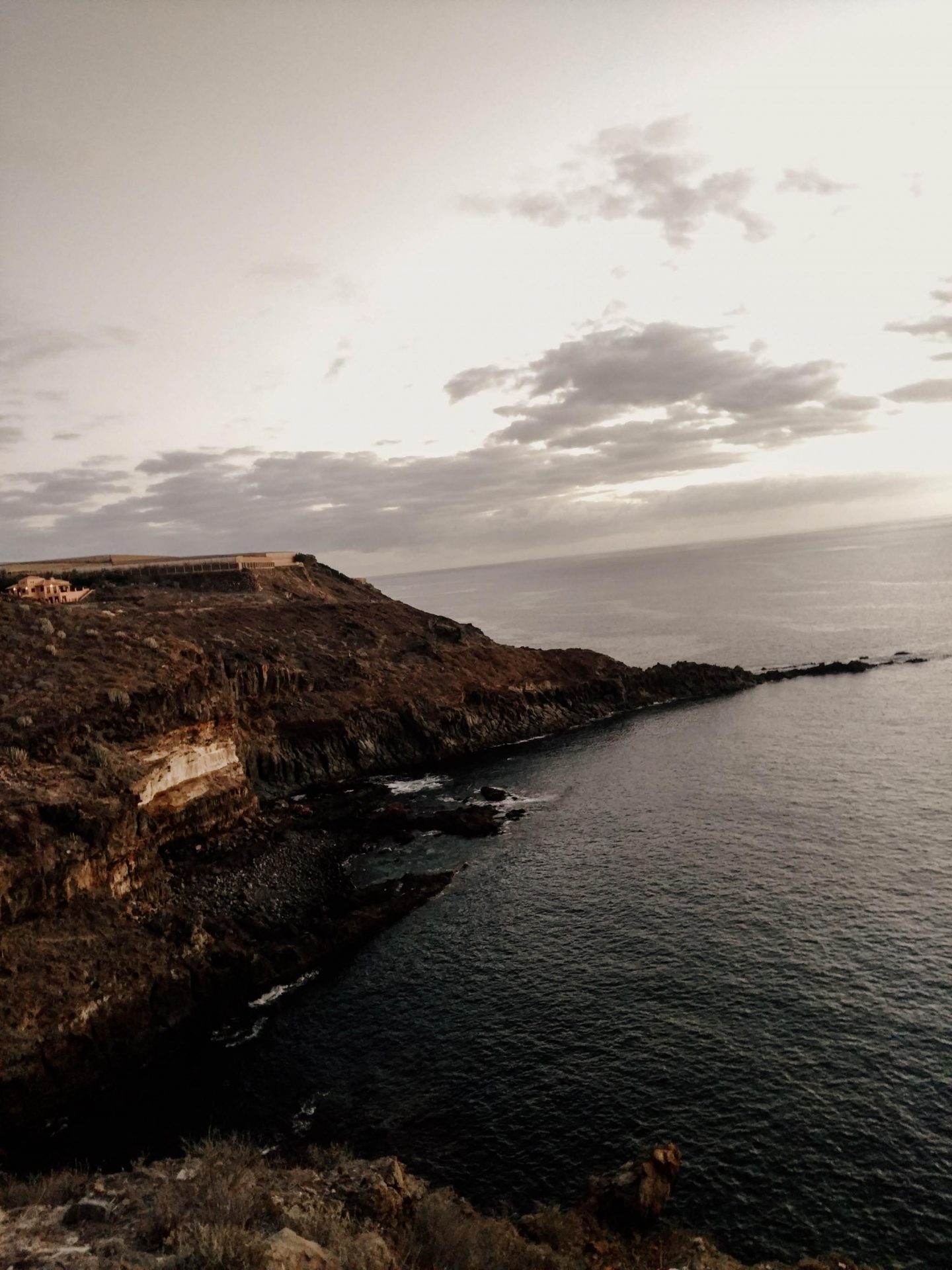 Day 4: El Teide National Park and Sunset at Playa Palm-Mar
Since we survived the drive to Icod de los Vinos, we thought we'd challenge our driving skills some more and head to El Teide National Park. El Teide is a now sleeping volcano that shaped the island of Tenerife. It rises a staggering 3700 meters above sea level and is considered the third highest volcano in the world. Driving 75 km of mountain roads to see a sleeping volcano? Challenge accepted!
Just like when we drove to Icod, we got out of the car a few times to take a breather. It's nerve wrecking to drive on these often small cliff-side roads and a lot of people also feel nauseous while driving up (including me). So, for our safety and that of others, we parked in some of the designated areas along the road to El Teide.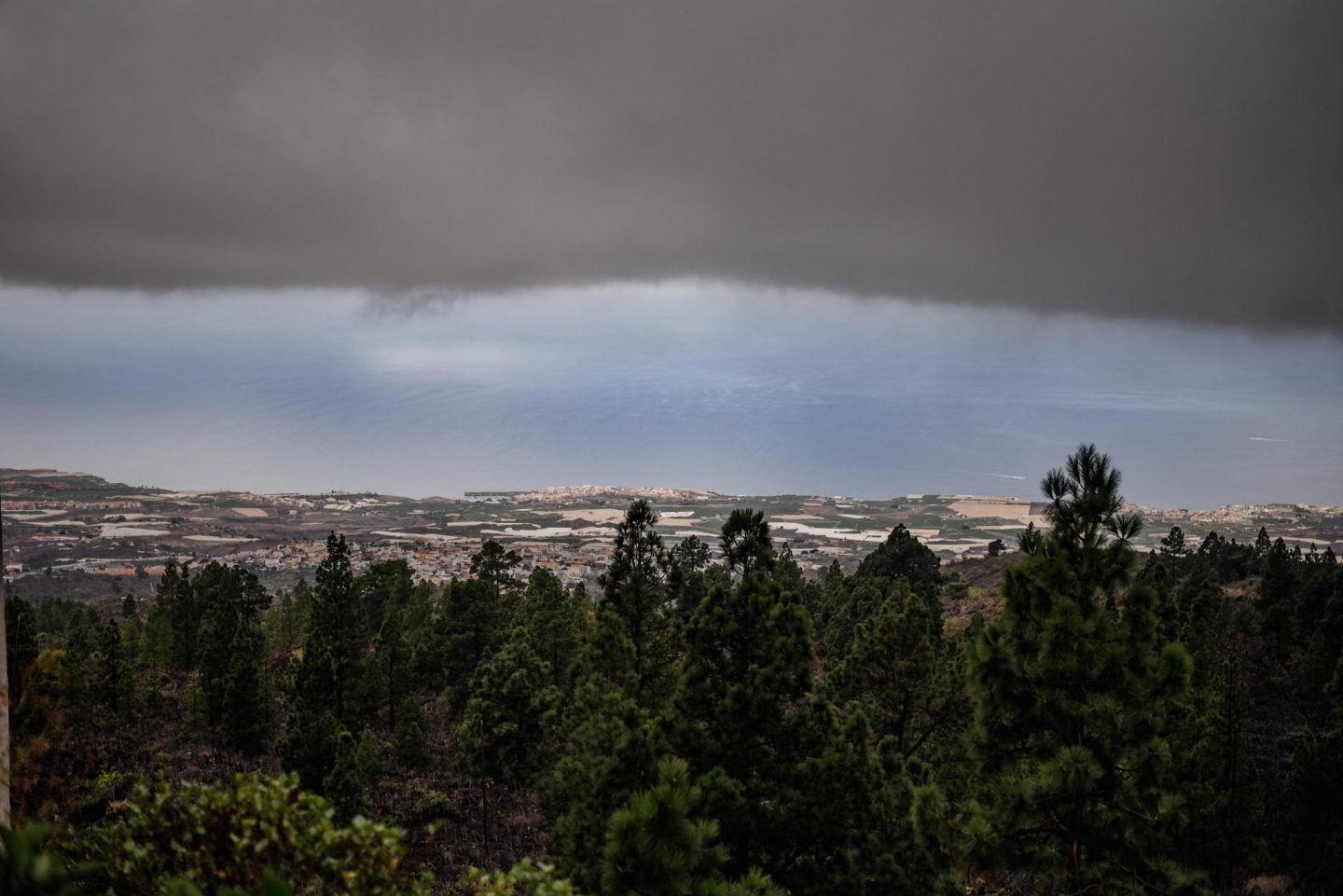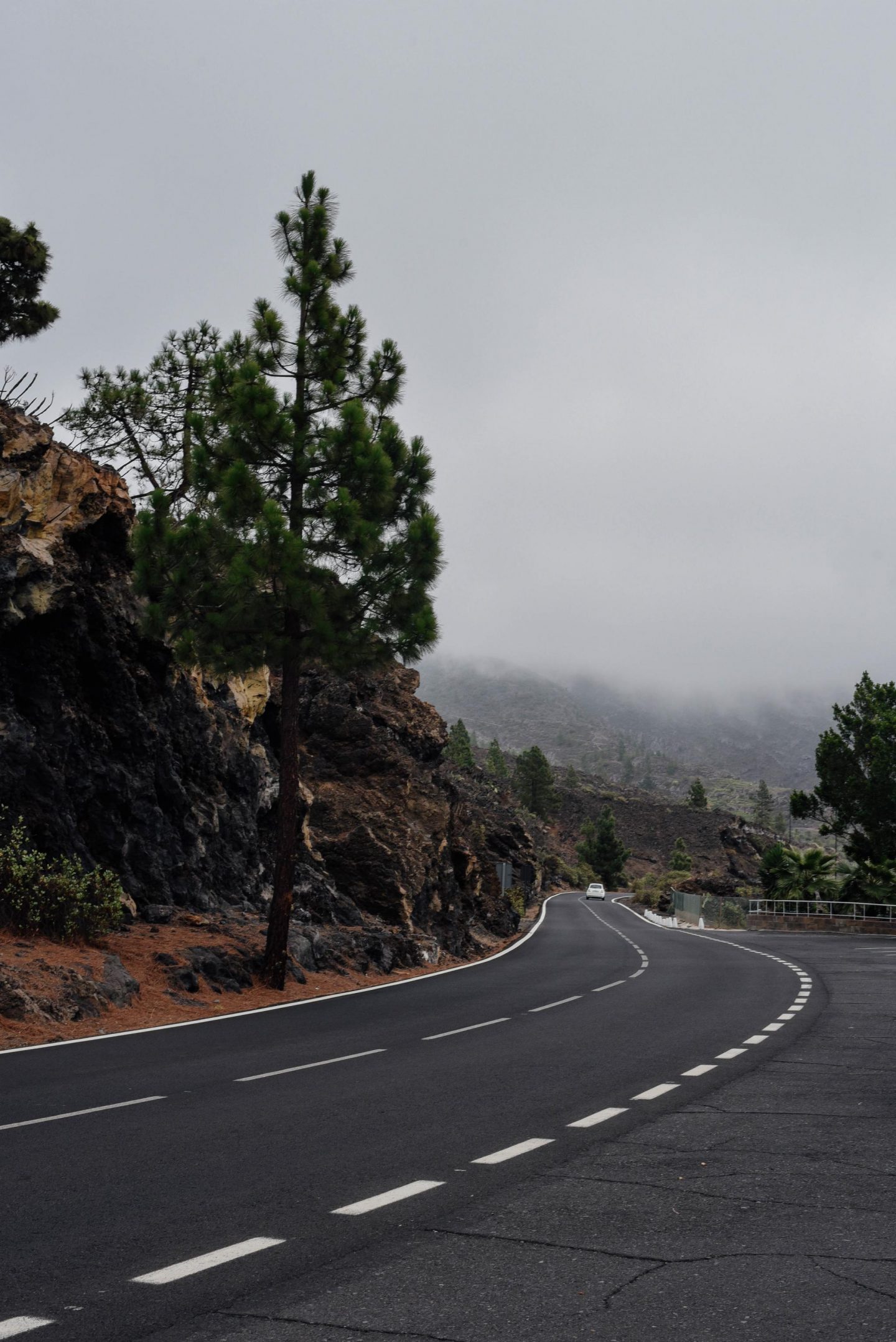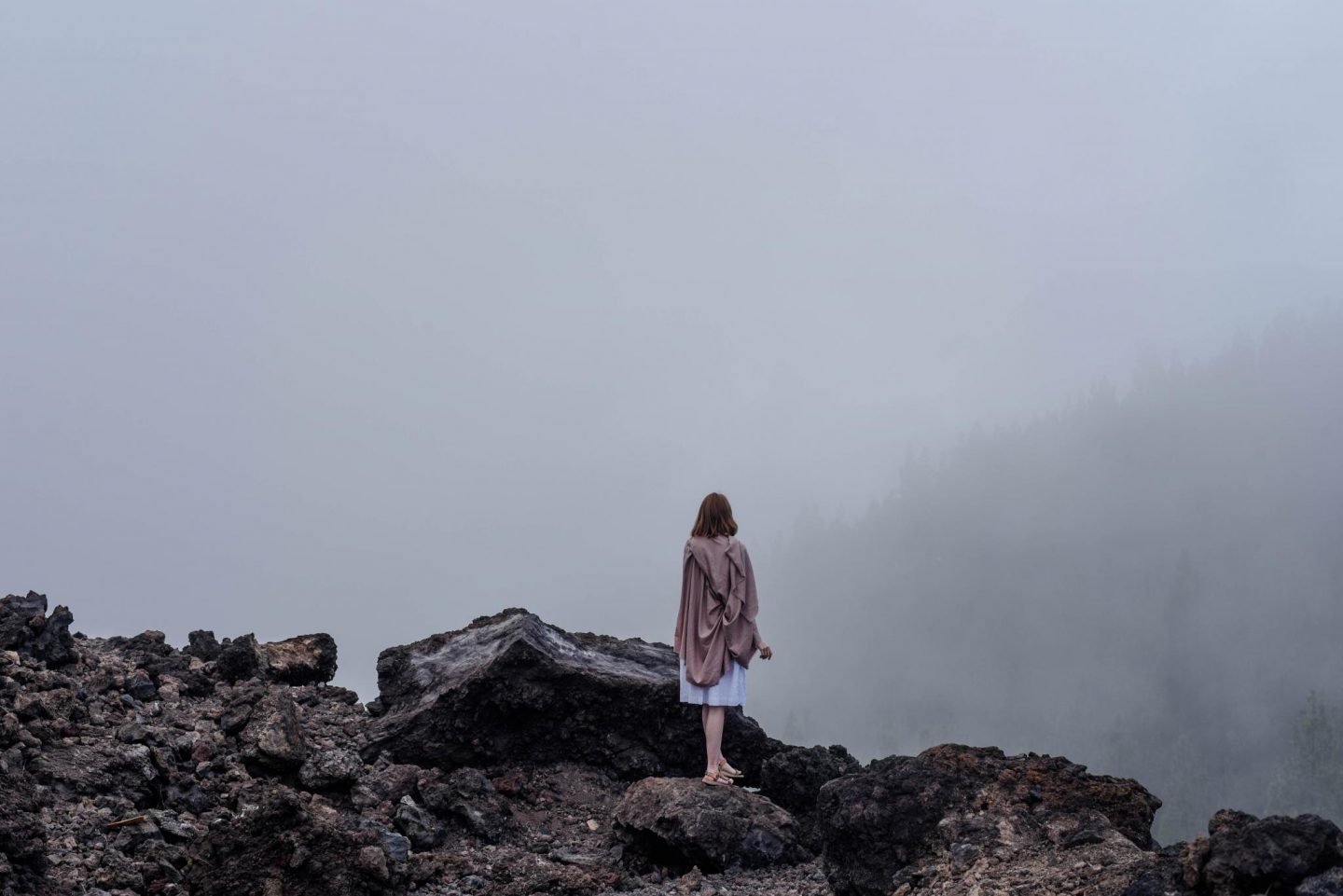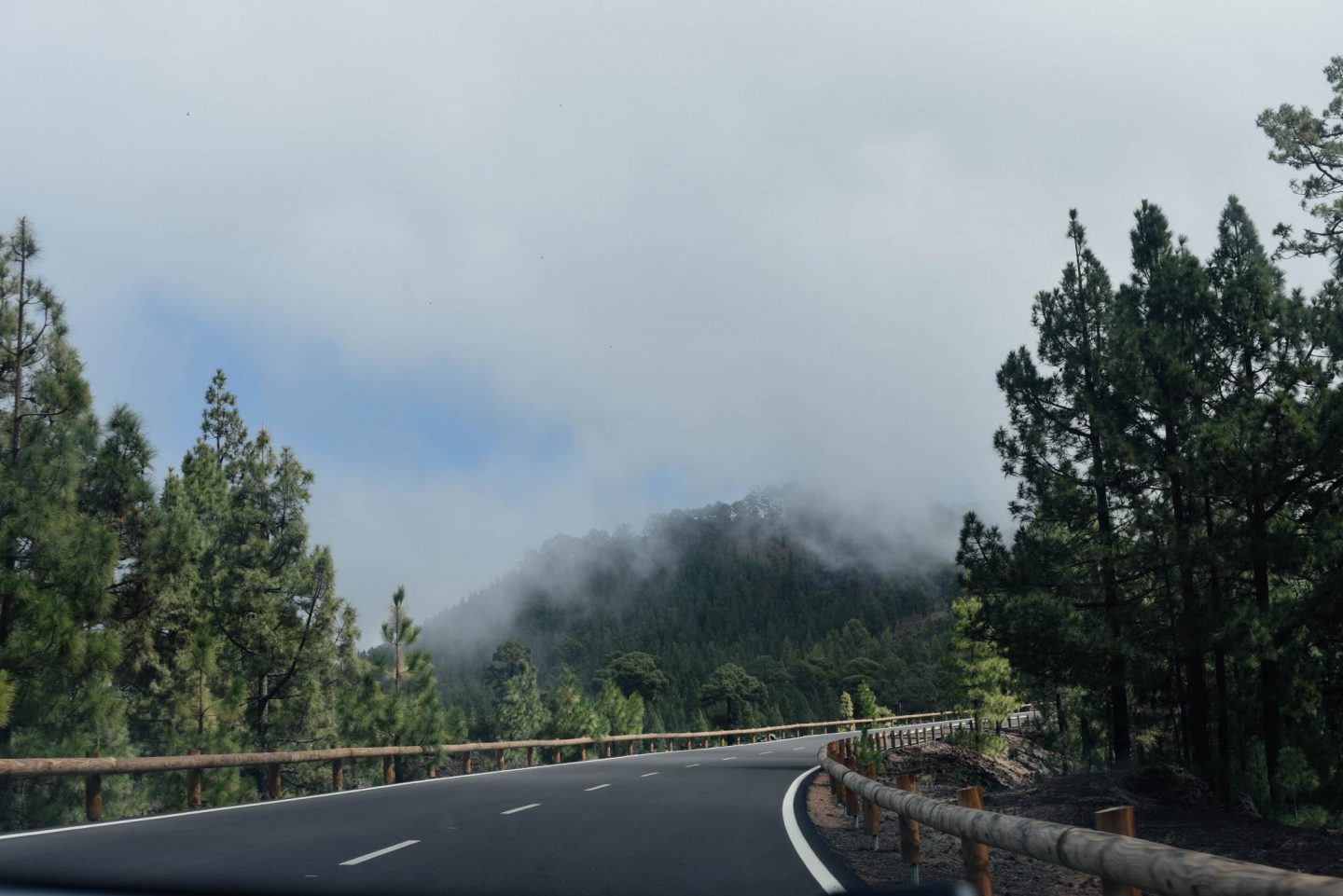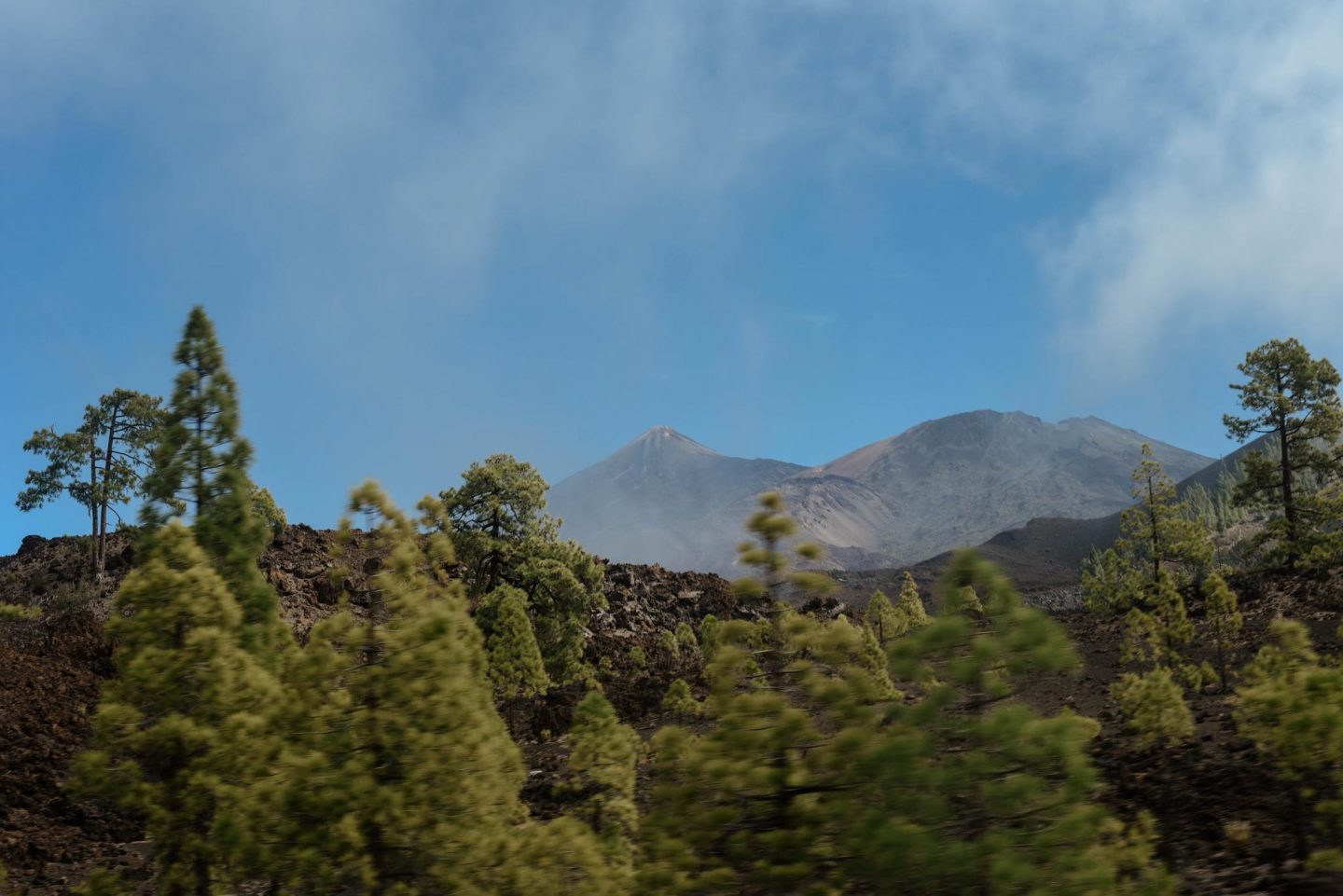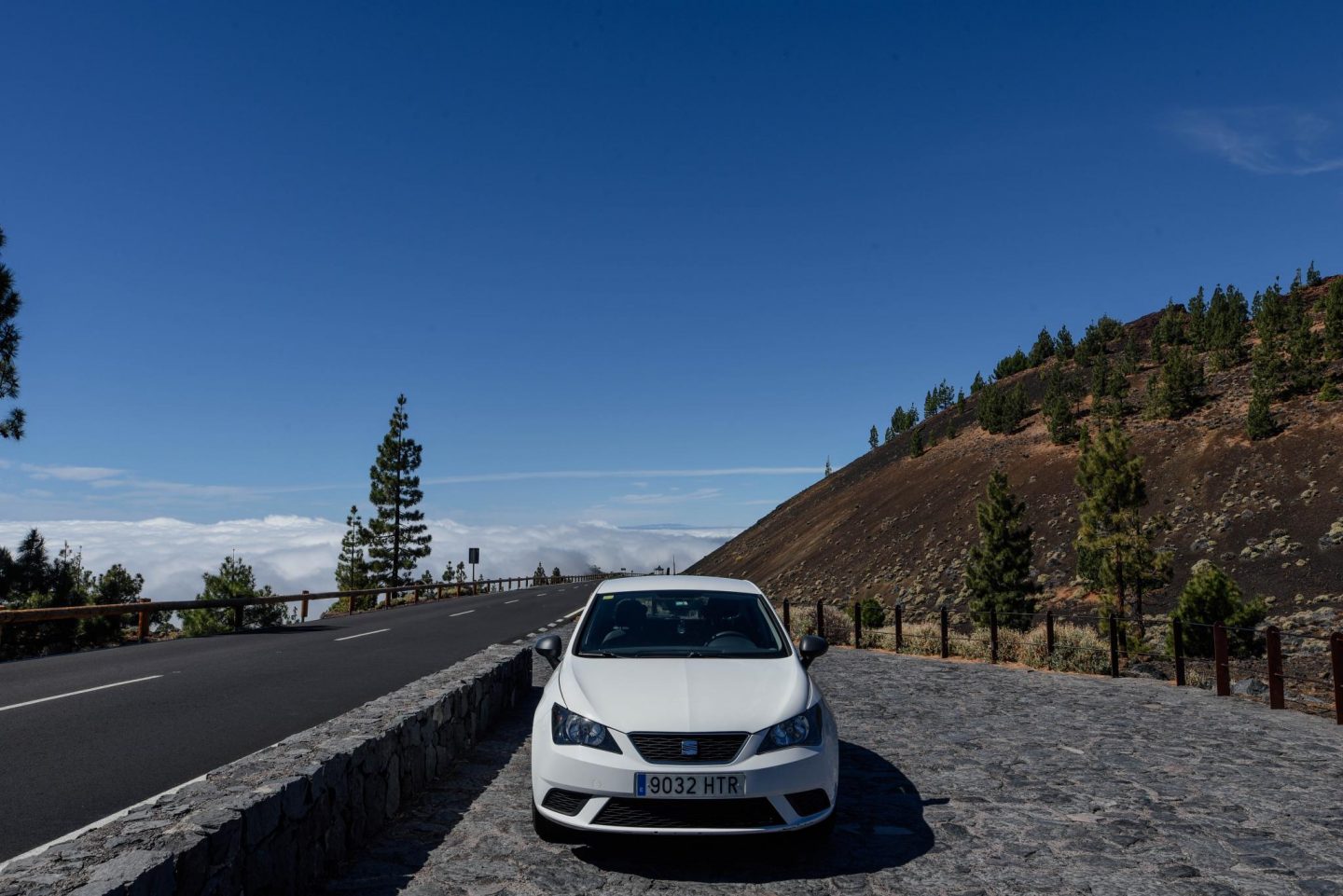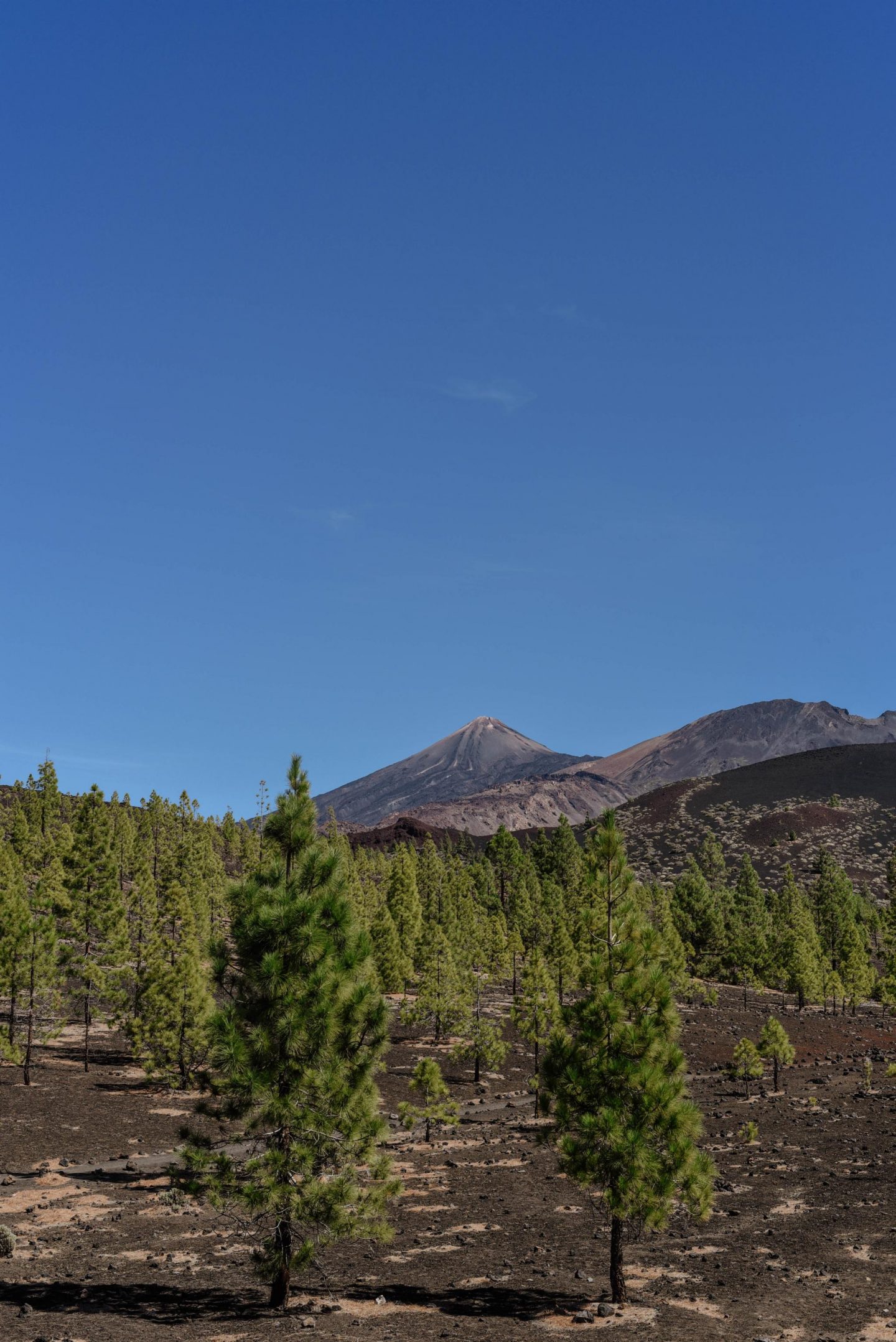 Head in the clouds! Not even half way there and suddenly we were in a magical landscape where the floor was actual lava and clouds were wrapping themselves around us. I was blown away by all the natural beauty as I had never expected to find it on an island like Tenerife. so, so amazing and definitely a drive you should make!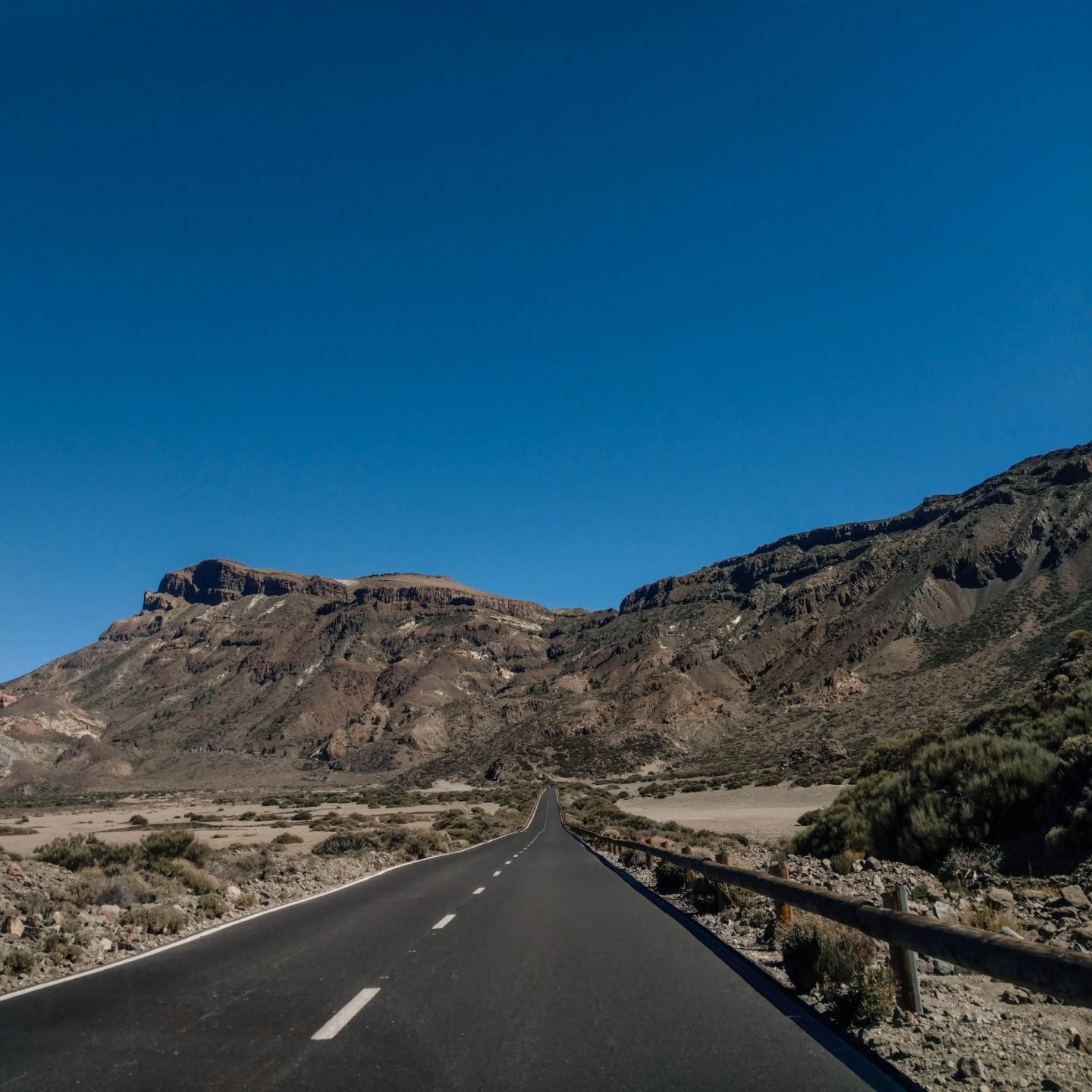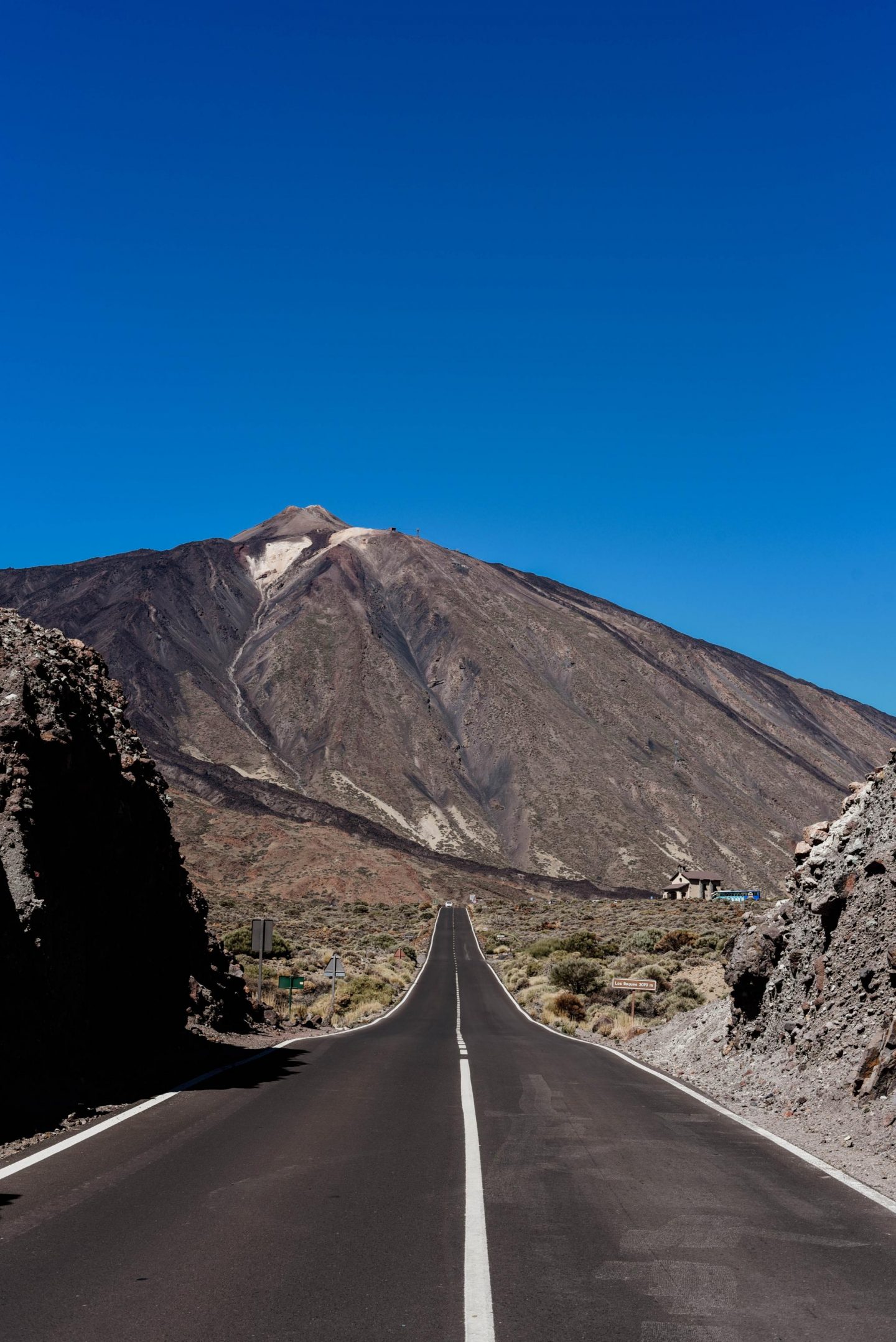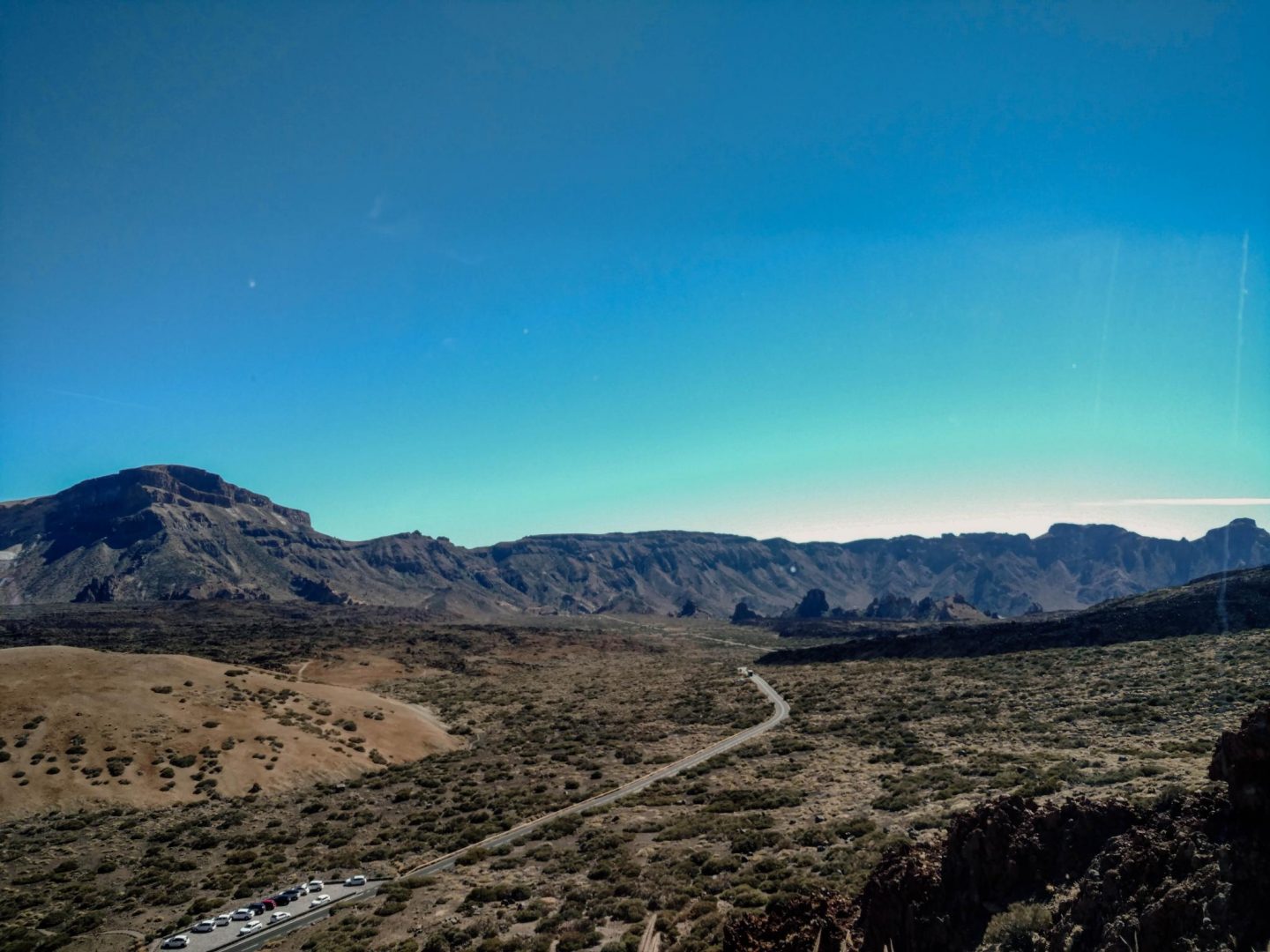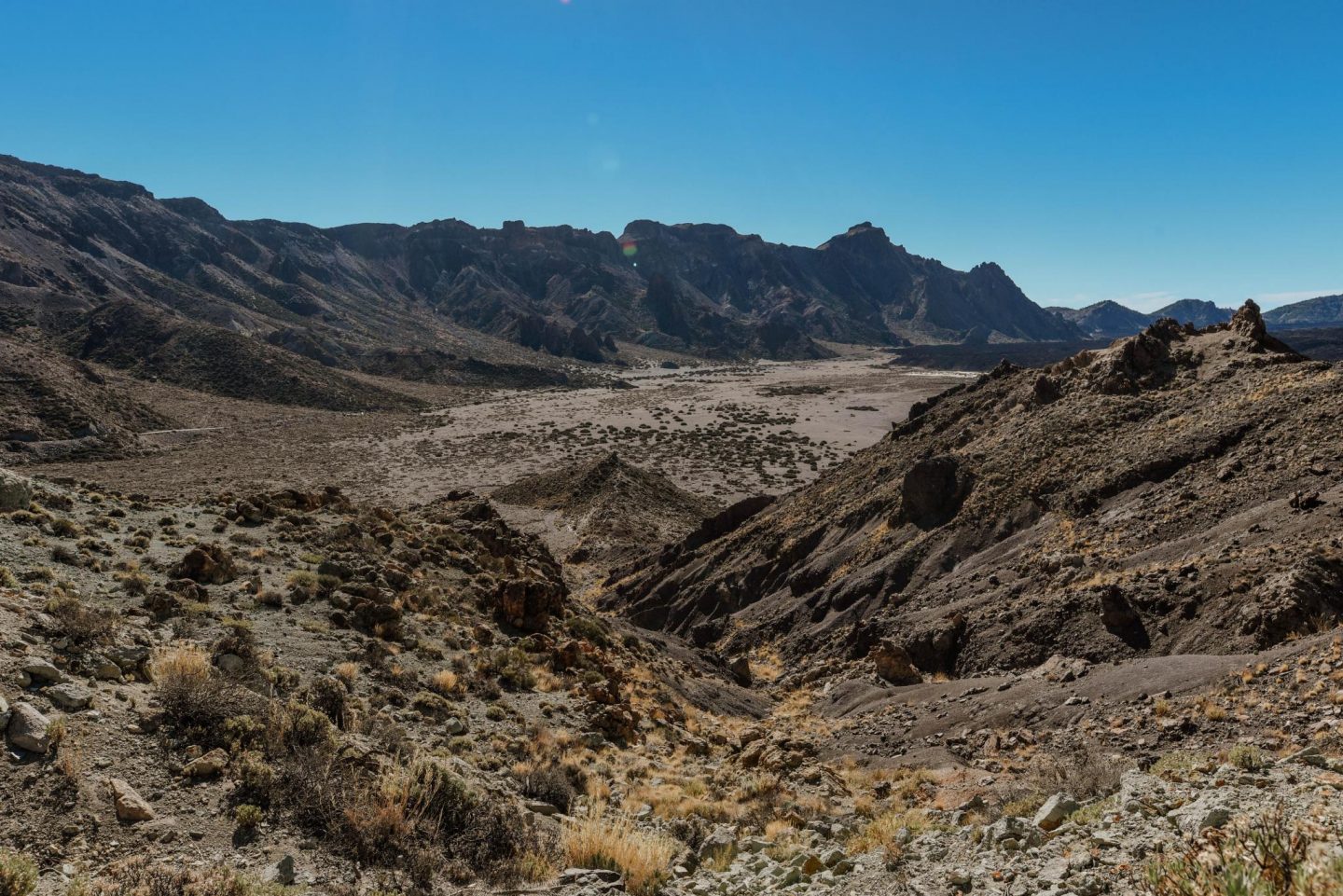 The last stretch of the road makes you feel like you have left earth and landed on Mars. The volcanic landscape is like nothing I had ever seen before.
Once you reach this part, you'll notice that there is nothing out there. Eventually you'll reach visitor center El Portillo. Several walks start here as well as the cable car to the volcano's crater. For around €15 the cable car takes you in 8 mins from the visitor center (2356m) to the mountain station (3555m). Not for the faint hearted! If your legs aren't trembling by then, you can also follow a hiking path to the crater at 3718m above sea level. We didn't take the cable car because we both weren't feeling too well after the long drive.
Online you can find various tour operators who offer guided tours in the El Teide area such as guided/private tours around the national park, visits to the observatory and telescopes, nighttime drives to the top, etc …. . We doubted to take one of the night buses to go and watch the galaxy, but eventually decided against it because my friend easily gets carsick in buses.
Sun set in Palm-Mar
Treated ourselves to a well-deserved helado from Heladeria Chocoloco and went off to the beach again! There is a little bar on the beach in Palm-Mar and the bartender improvised a very special kind of sangria for us (read: there was more vodka in there than anything else). Then we sat and watched the sun sink into the ocean. We could actually see the sun sliding behind the horizon. It blew my mind, as I had never seen that before! My friend also took one of my favorite photos of me ever that day.
Pure contentment.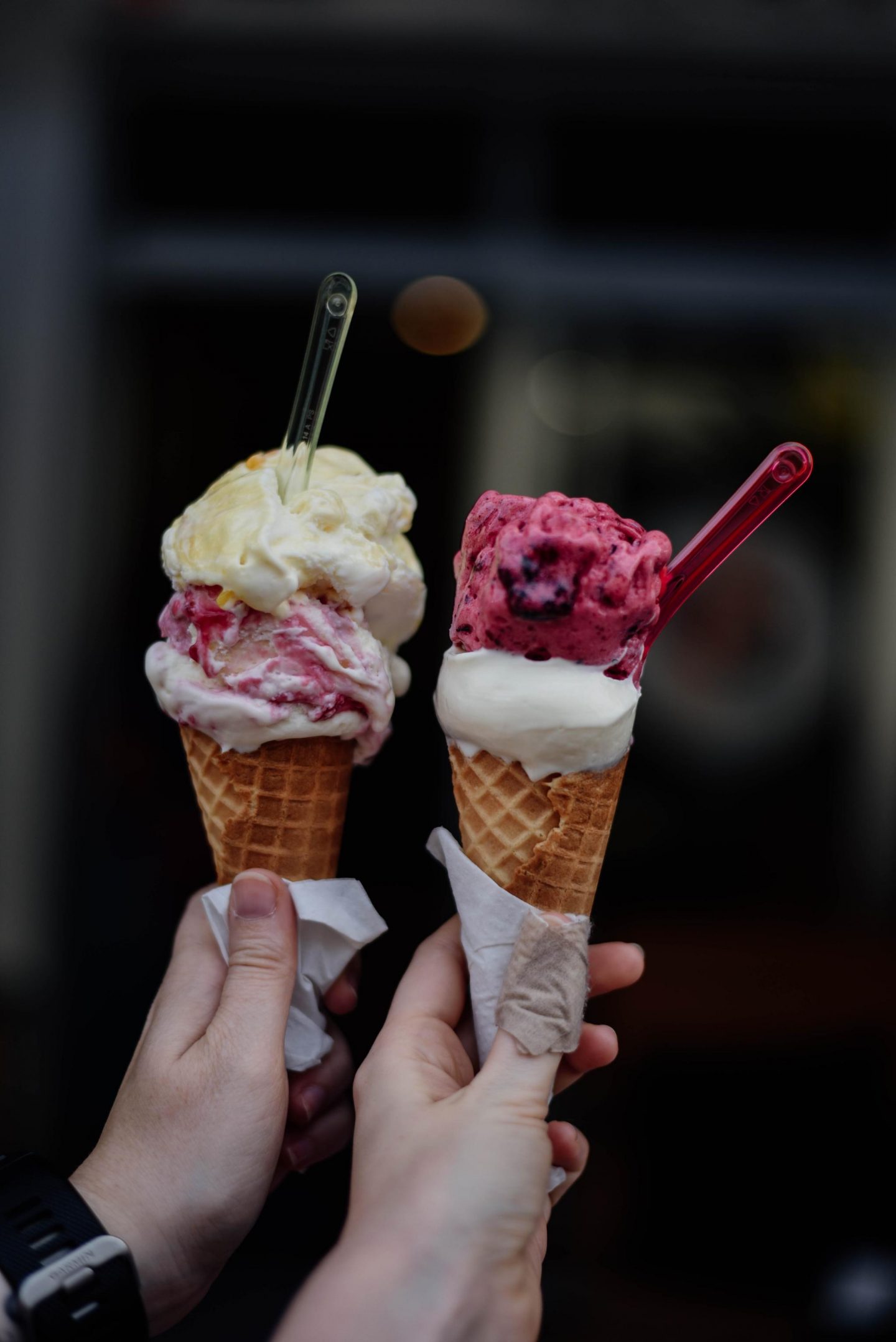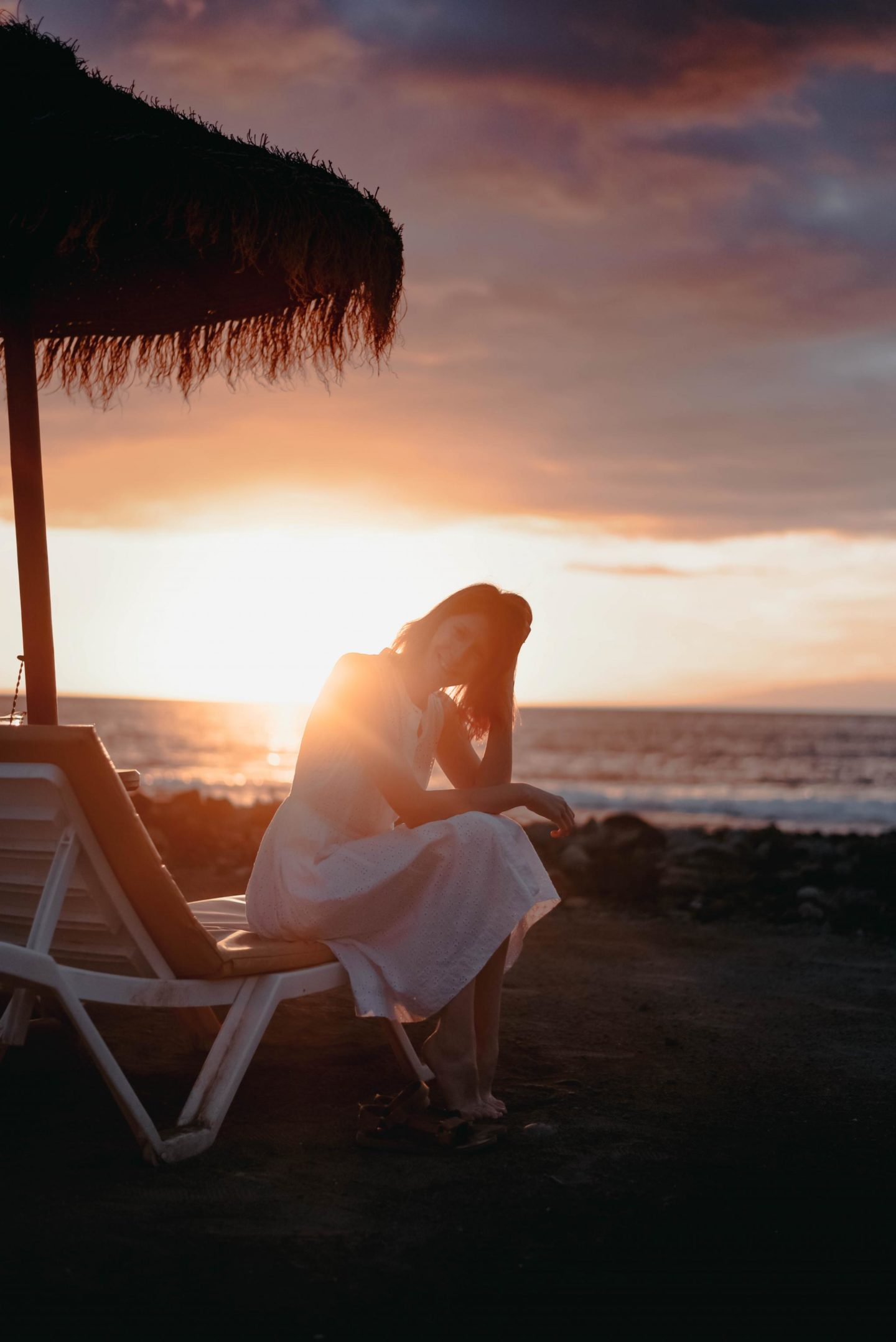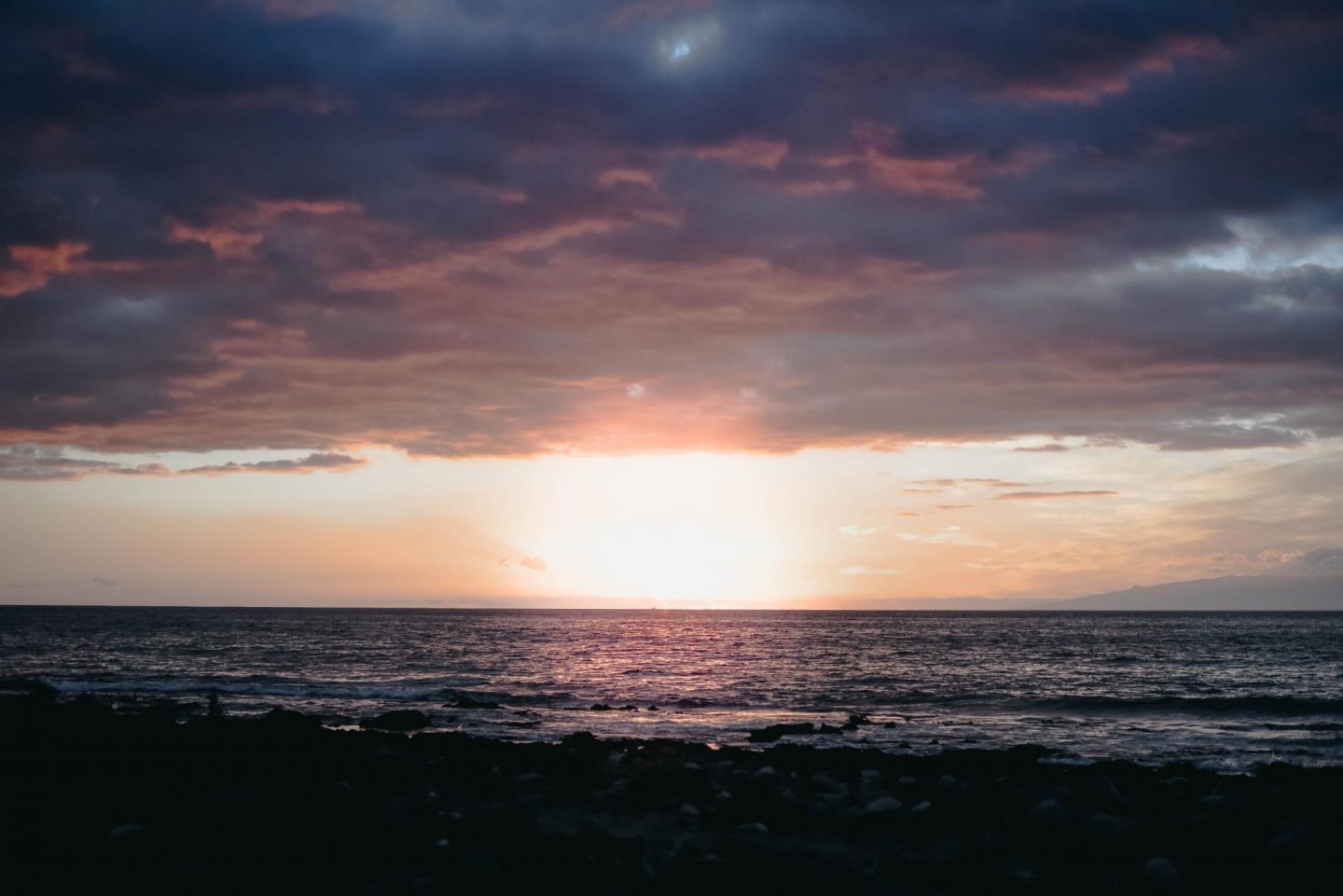 Part two coming soon!