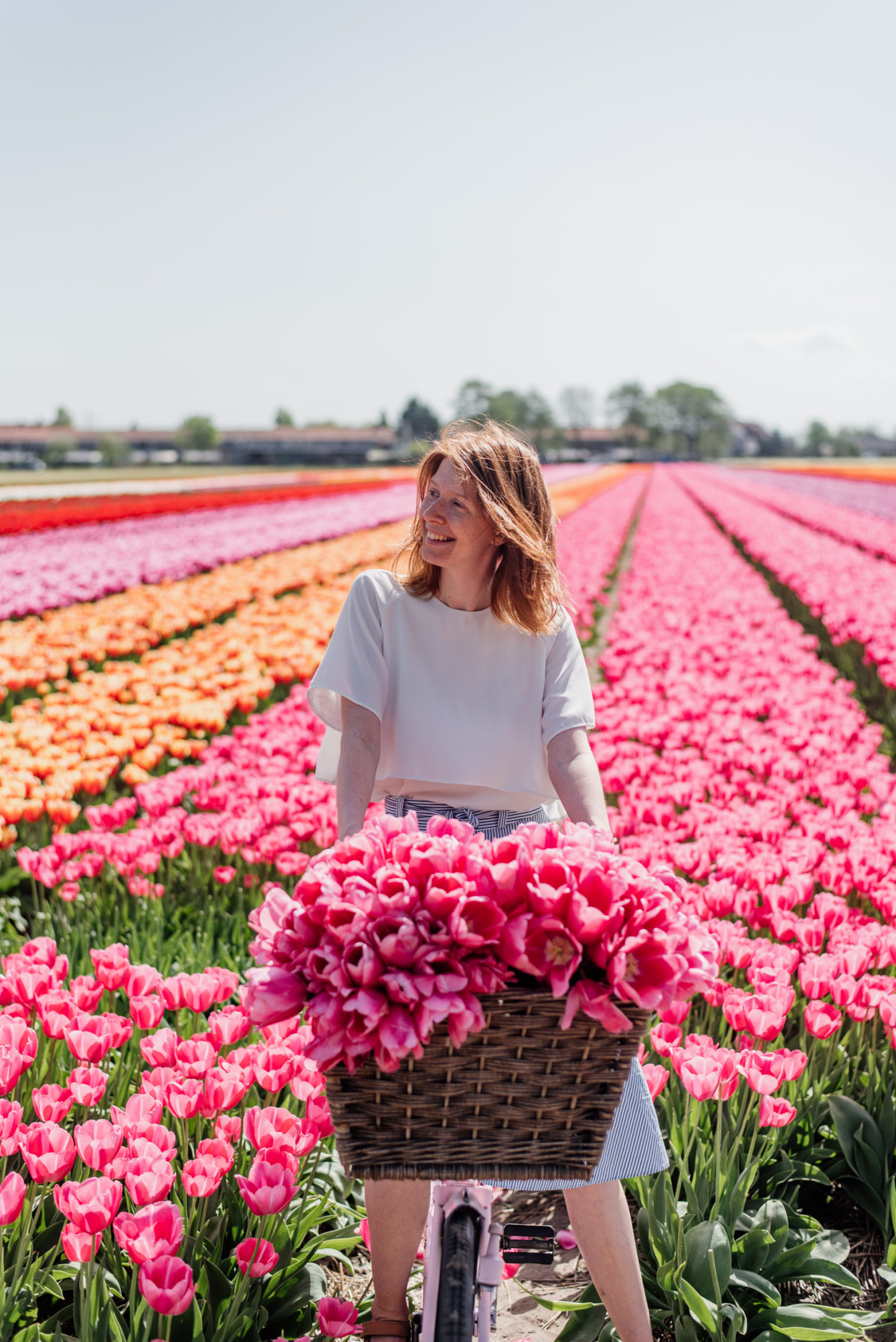 Fam Flower Farm
Hello from Barbie's dream world! I'm not even kidding. After a visit to the Keukenhof Tulip Gardens for my 26th birthday, my boyfriend upped his game and took me to an even more beautiful floral location when I turned 27. The 1911 photos I have of my birthday say it all.
Fam Flower Farm, also know as Instagram Girlfriend Paradise, is the initiative of Marlies and Linda, two joyful jump-in-the-field women who's families run flower bulb cultivation businesses in Lisse in The Netherlands. Lisse is world famous for its flowering fields and attracts many tourists during the blooming seasons. I'm pretty sure you've seen the pictures of influencers dashing through the colorful fields on Instagram. So did I!
A lot of people come to the region looking to make similar pictures in the fields. Sadly, it is forbidden to enter the fields without explicit permission of the farmer. By stepping into the fields, even if you stay on the tractor paths, you hurt the bulbs below the ground, causing less flowers to grow and regrow qualitatively which means a loss of revenue for the farmers. The problem has become more and more apparent and every year measures are being taken to discourage tourists from entering the fields.
Then how do the influencers do it? Some of the bigger ones set up collaborations with local growers. If you, like me, don't belong in the group of the select few, then initiatives like Fam Flower Farm are perfect!
Fam Flower Farm reserves one of their large fields for fun events like photo shoots. You can enter the field under supervision and have a play in it. Yes, you need to pay to enter, but in return you get a set time with a select group of others to take as many pictures as you want. Marlies and Linda also give you props, bouquets of tulips, stroopwafels for snacking and even a private spot where you can change outfits, haha. Once you're ready to leave you get a bouquet of tulips to take home with you as well. I secretly got two because it was my birthday, haha.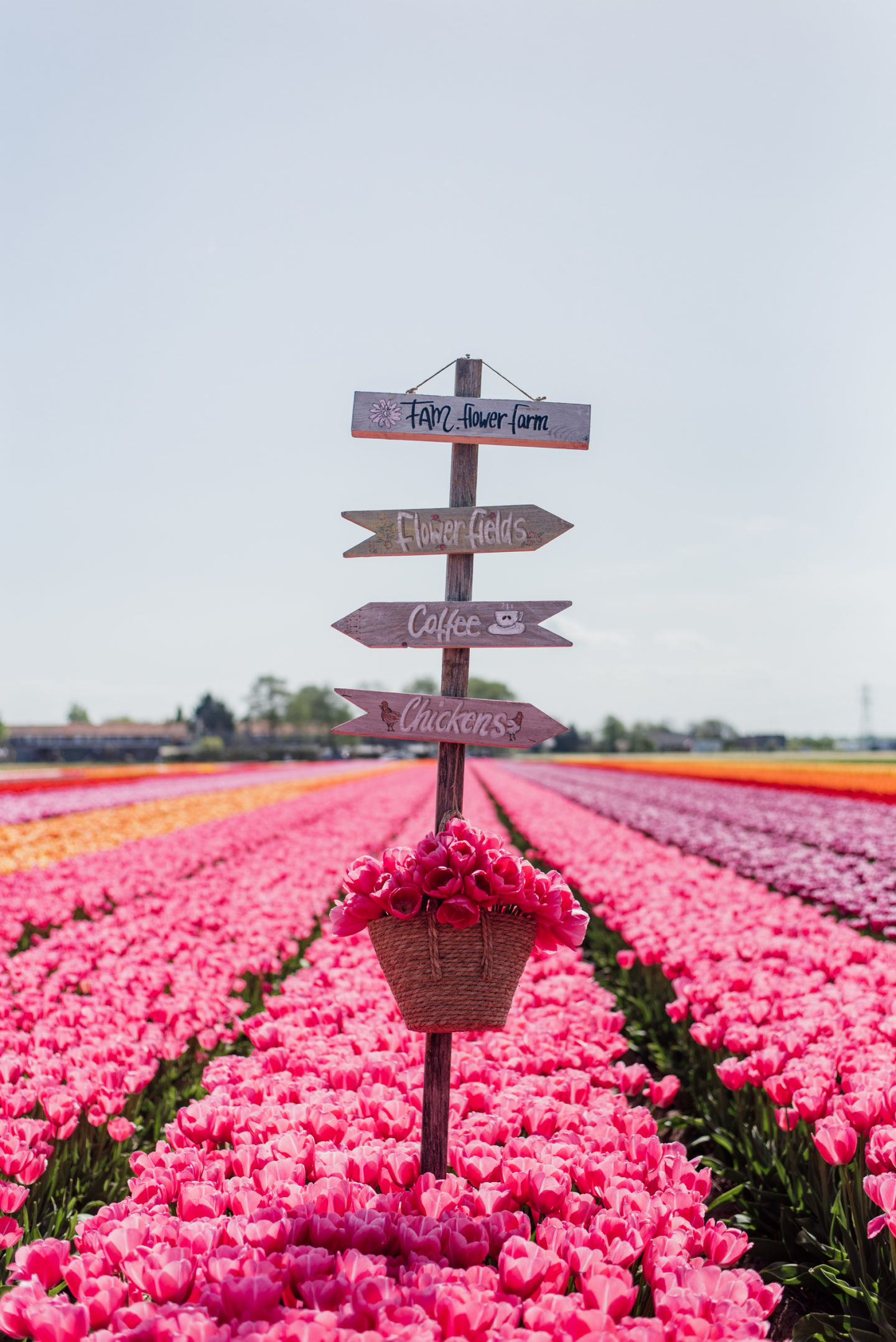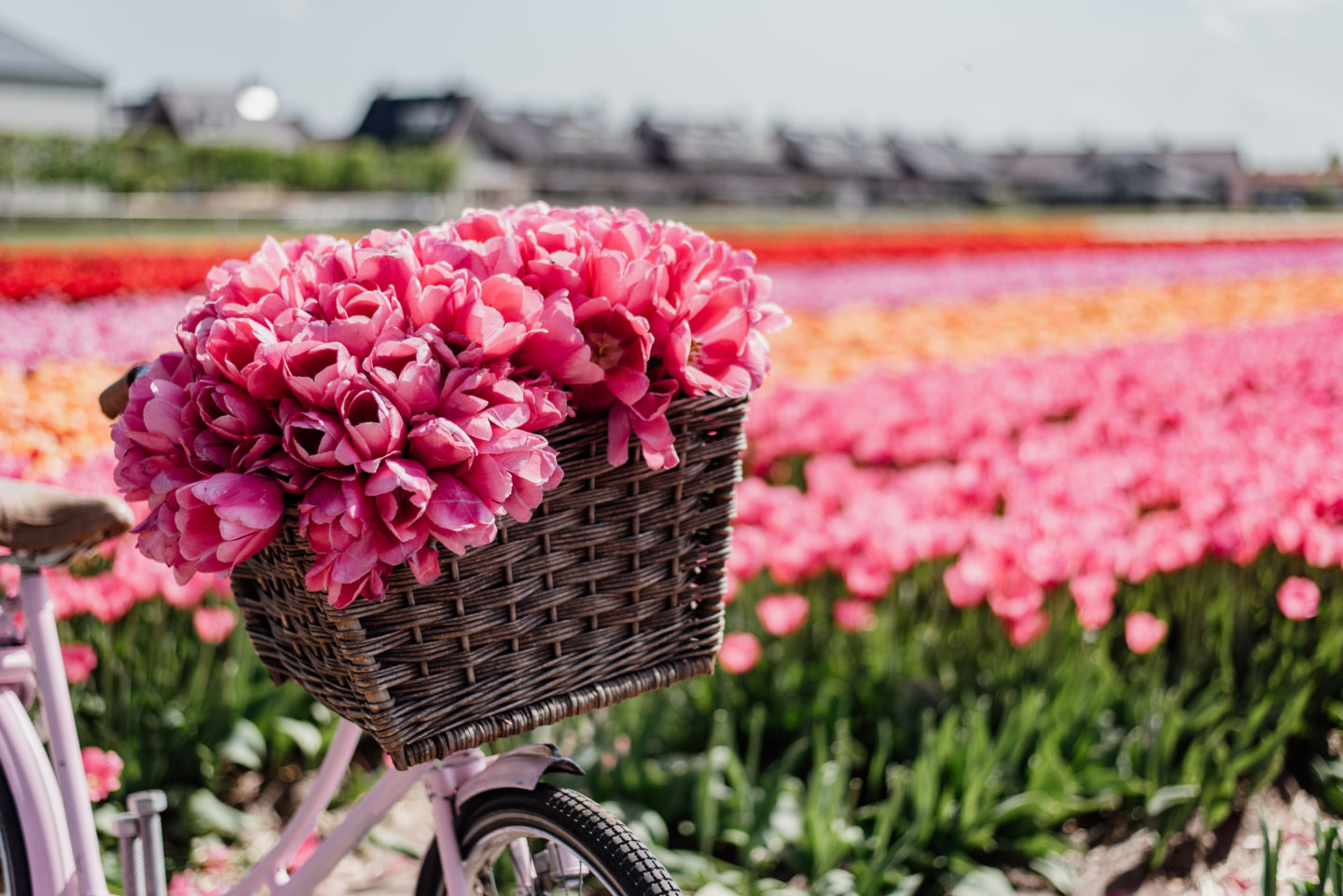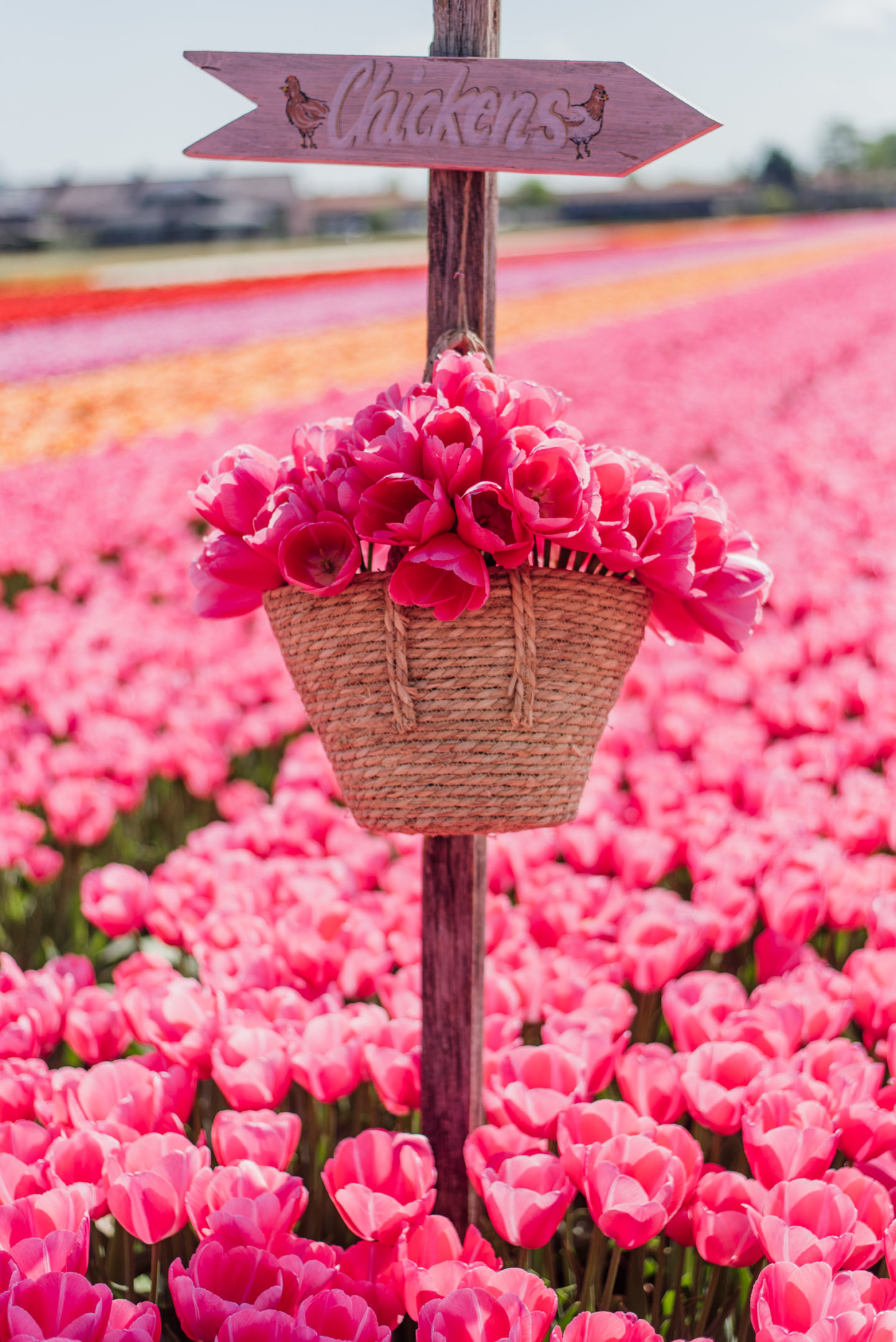 As soon as we arrived my jaw dropped to the floor. A wide field of tulips in every color stretching from my feet to the horizon! Stroopwafel in my hand and the sun shining bright. What could this birthday girl ask more?
Our visit started with an introduction session where we got to know more about the local farmers and the growth process of the tulips. Marlies and Linda both actively work in the bulb growing business. Linda's family runs a tulip farm and Marlies's family owns a dahlia farm. Their products usually go to wholesale or florists, who then sell the bulbs or flowers to the customers (you and me!). This means that as farmers, Marlies and Linda rarely get to meet the people who end up enjoying their tulips the most and also don't know what people actually think of their products. They started thinking up ideas on how to get closer to their end customers et voilà, Fam Flower Farm was born!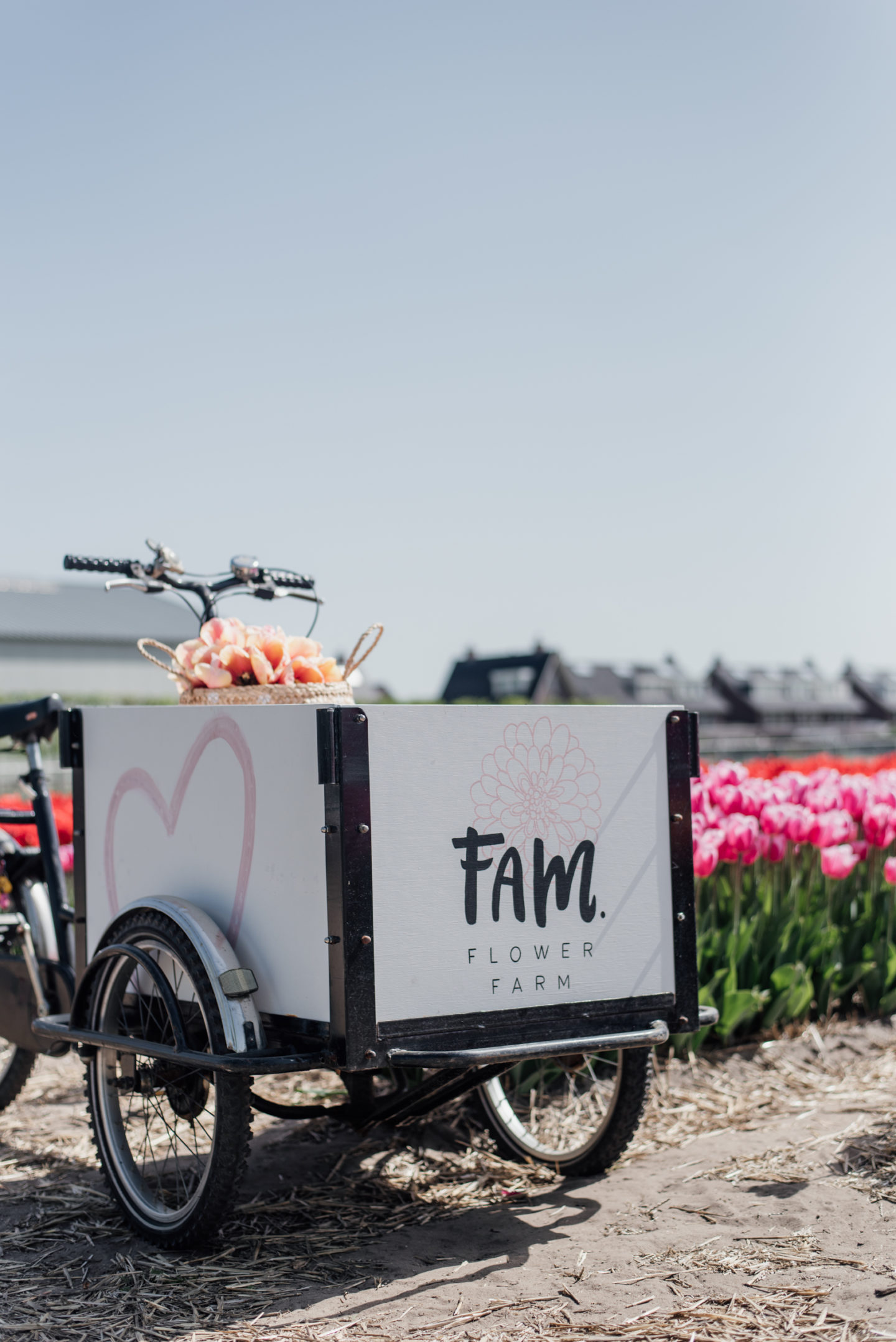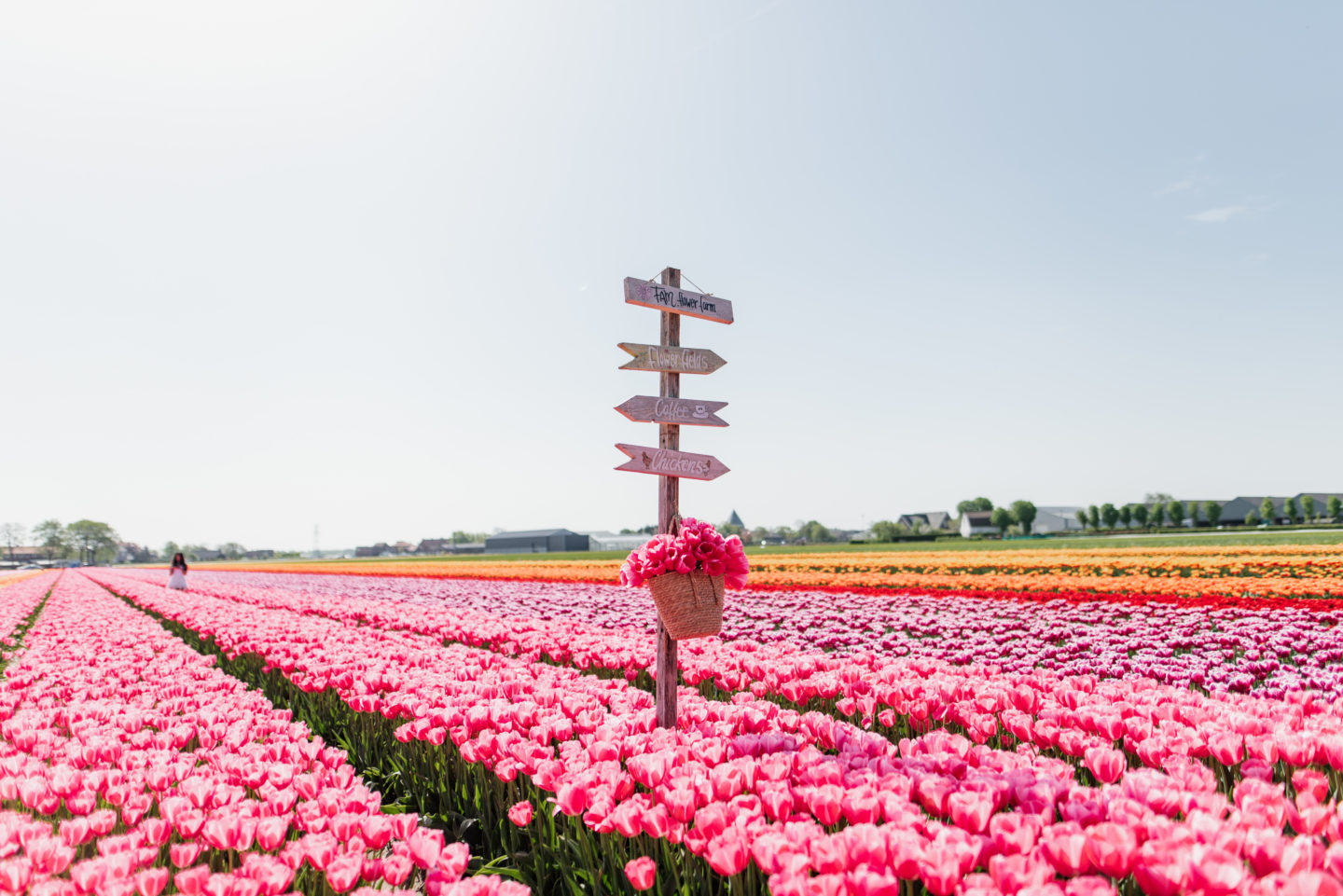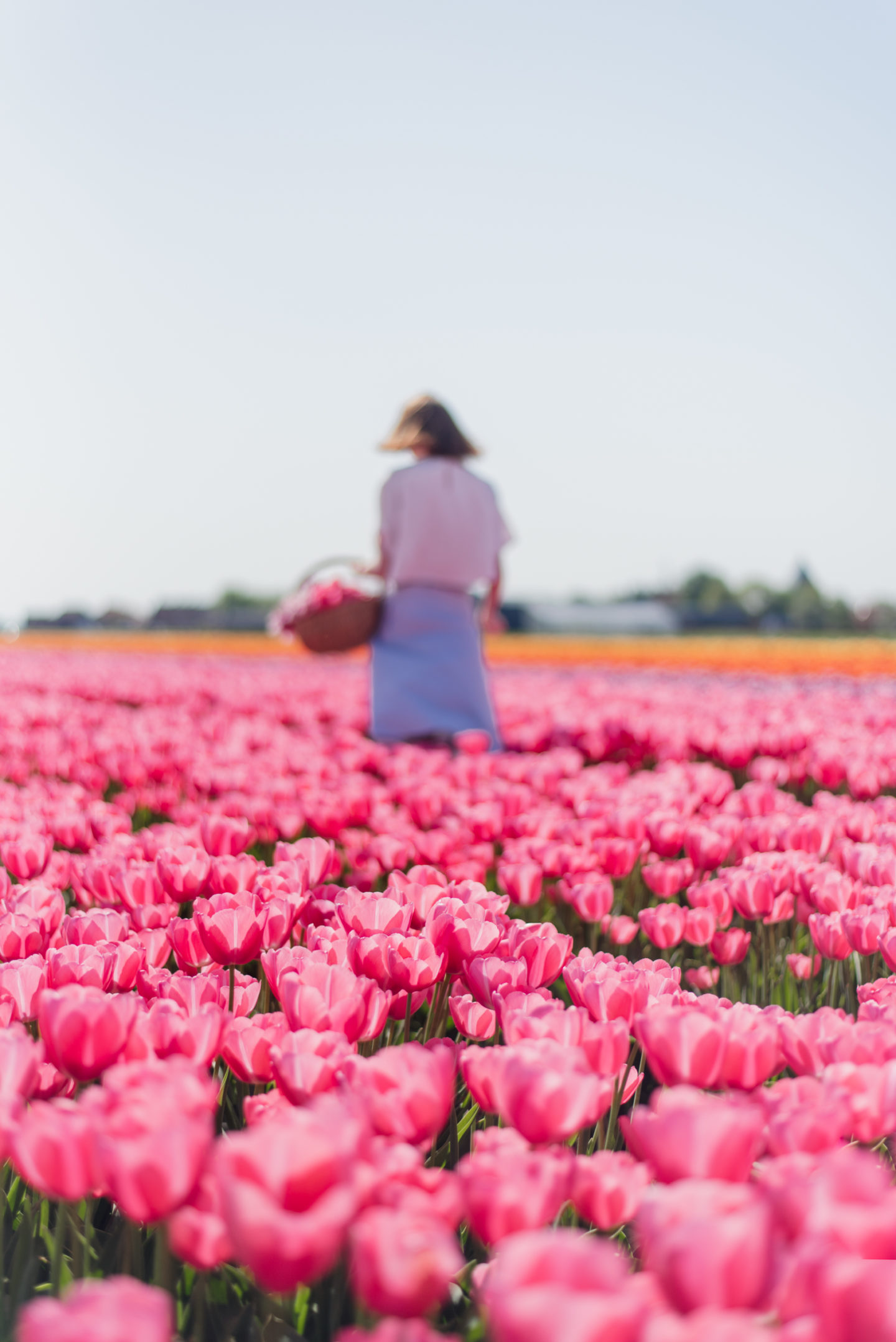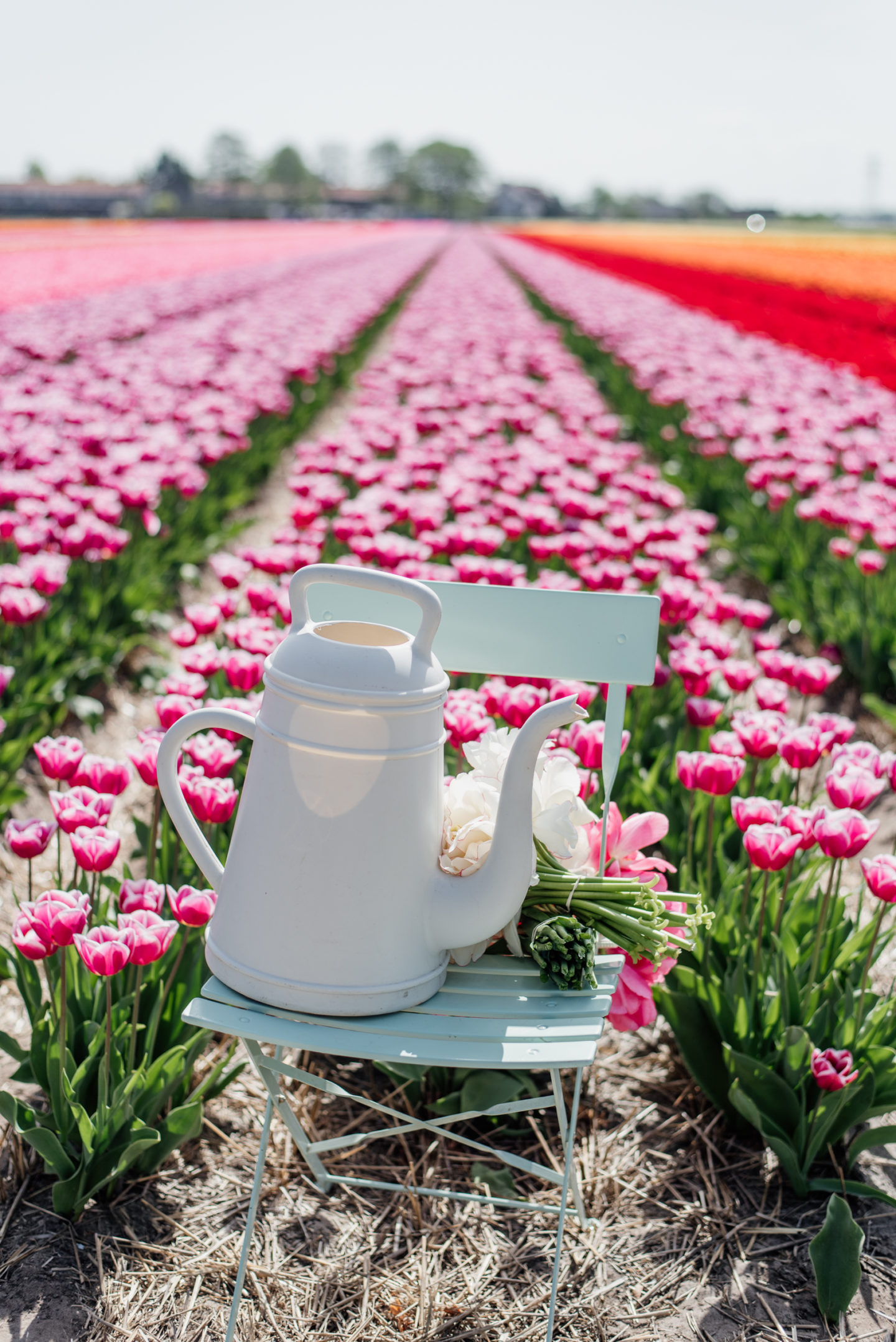 At the end of the introduction, Marlies and Linda explained the rules to enter the field. These rules are completely fair and include 'don't step on the flowers' and 'don't pick any flowers'. The field we were about the enter is still used to create revenue for them, so we had to be careful while on it.
They allow groups of up to 15 people in the field at once. We got lucky and had a smaller group. The set time is about 1 hour, but we got lucky again and stayed a little longer because there was no group after us.
We were allowed to use the complete field. That meant we could go all the way to the other side so we wouldn't be in anyone else's pictures. I think most of us were bloggers and Instagrammers anyway, so everyone was cautions not to ruin each other's photo shoot, haha.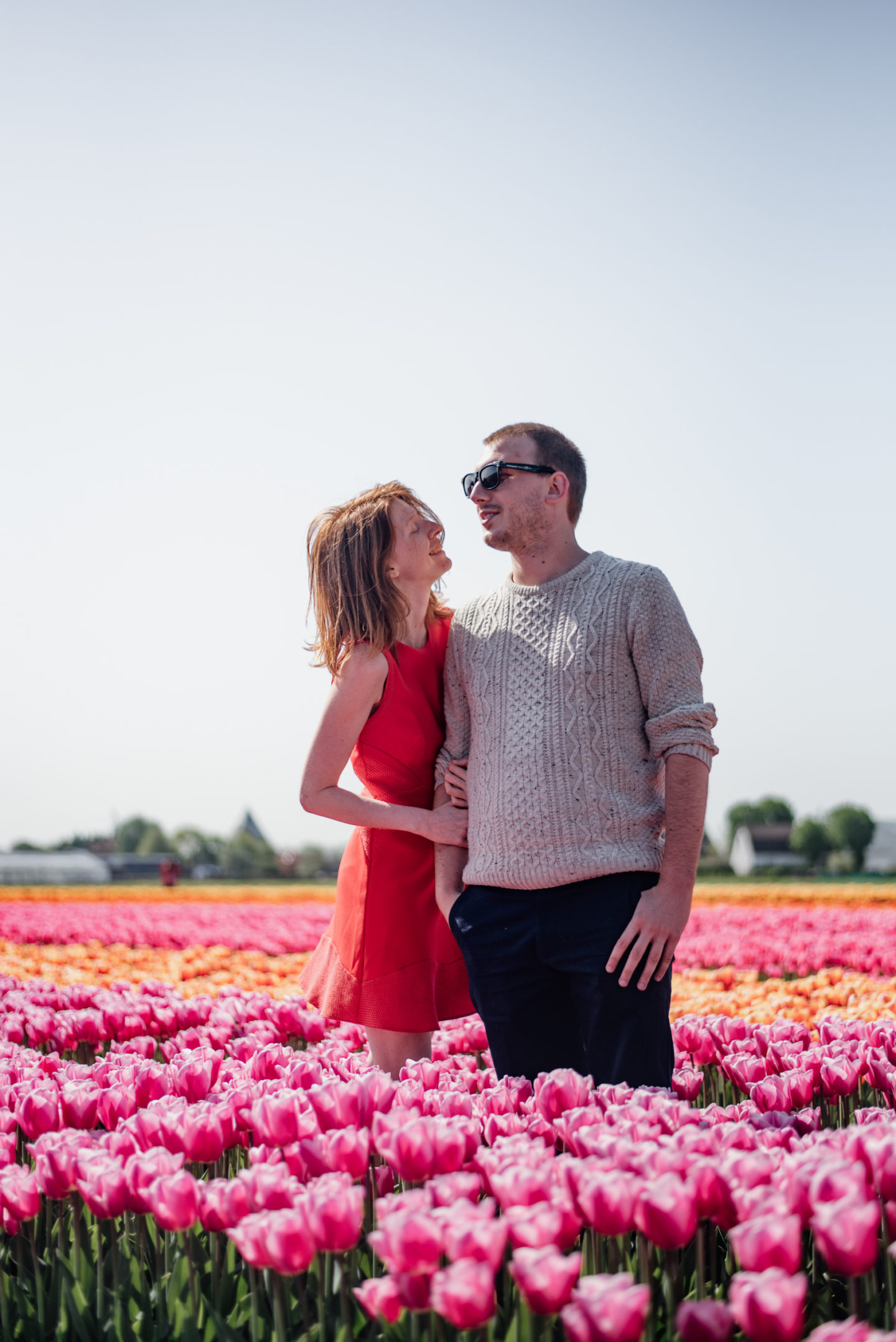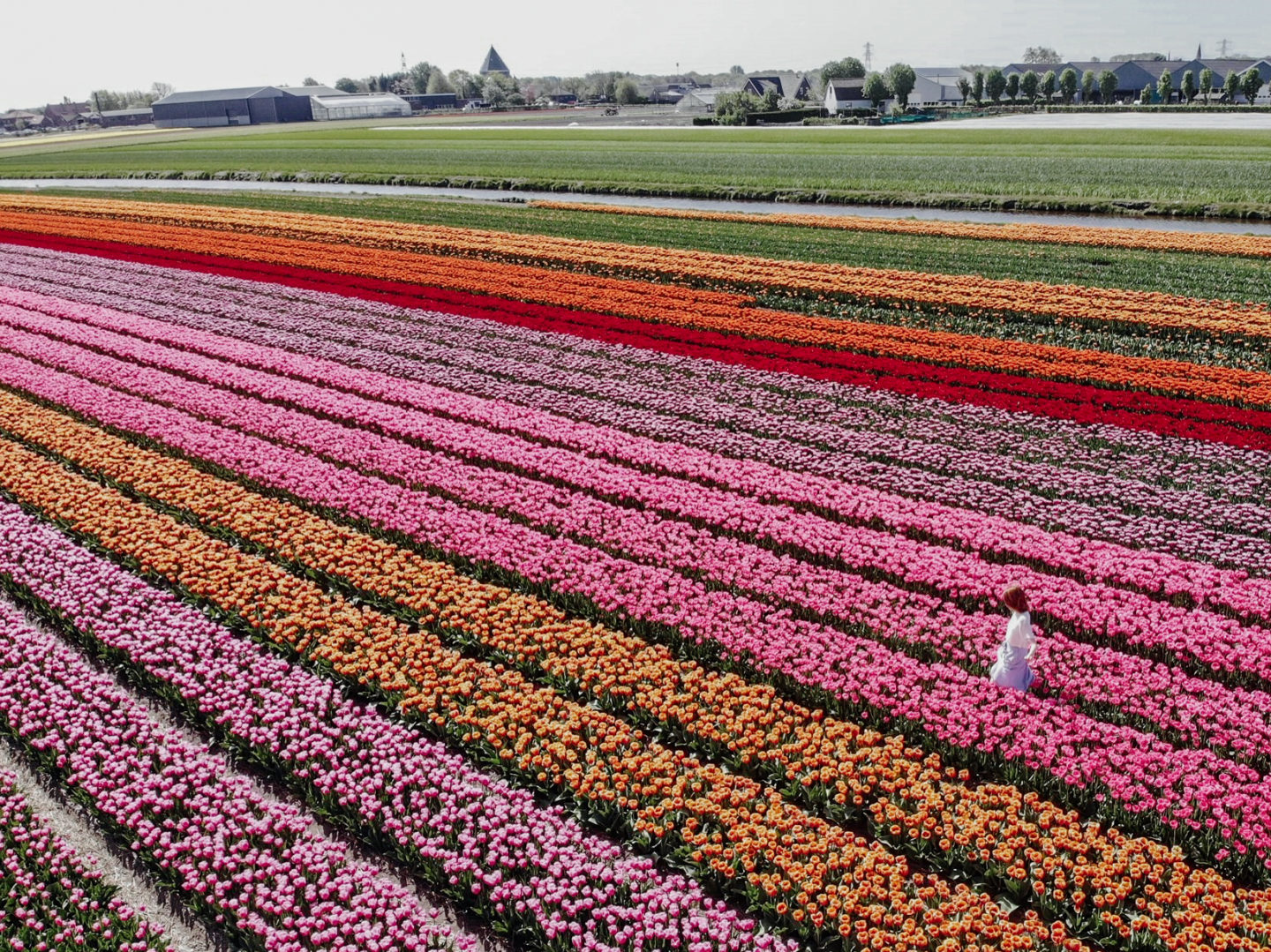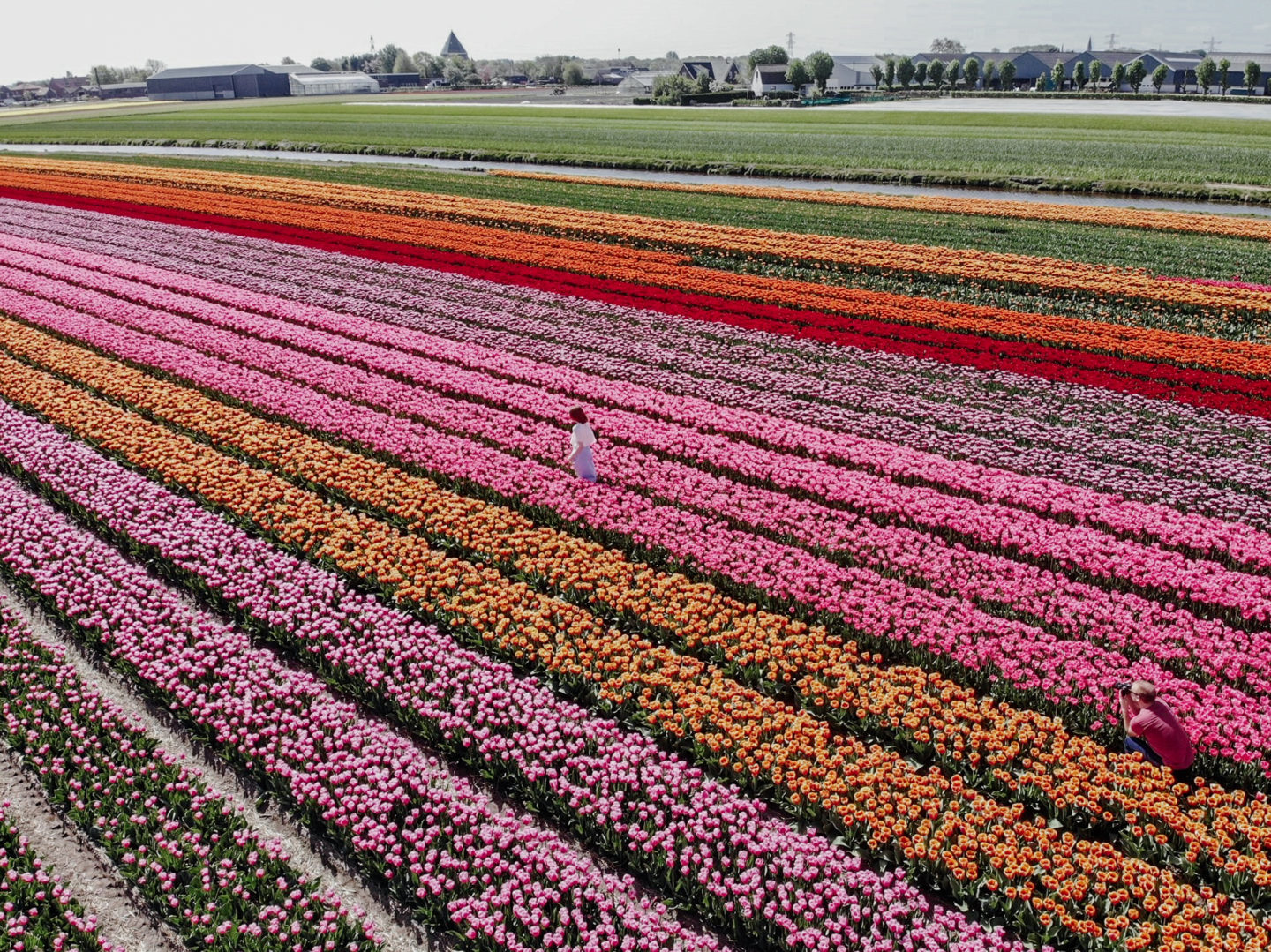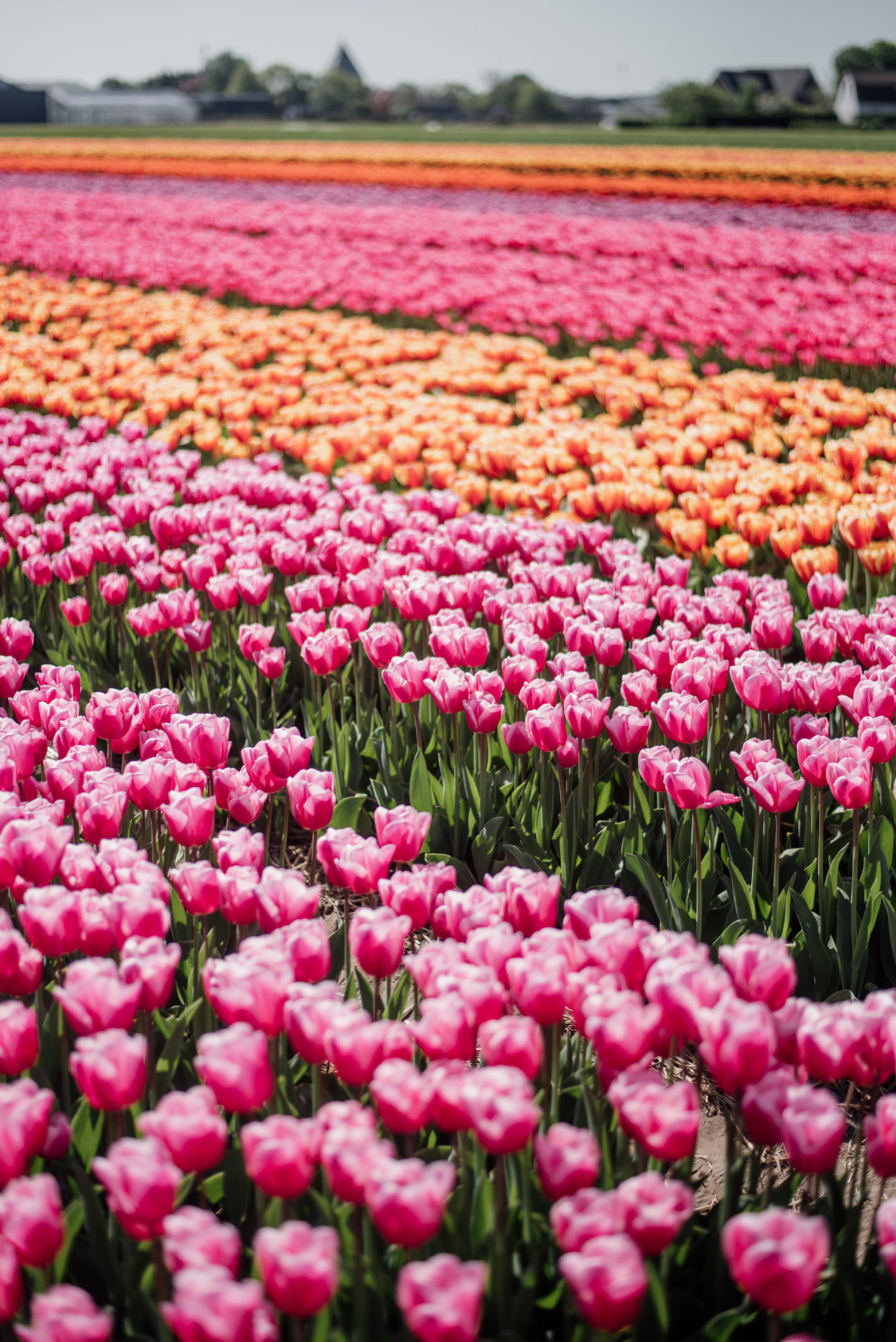 Marlies took a rare photo of me and Mr. Ginger. He doesn't like to have his picture taken, but he agreed on this one because it was my birthday and a special occasion. It's one of my favorite pictures of us together ever!
One girl came up to us with another fun surprise. She had been flying a drone across the field and made a few photos of me when I was frolicking around by myself. How freaking cool is that?? She sent them to my email later that day just like that. I love them!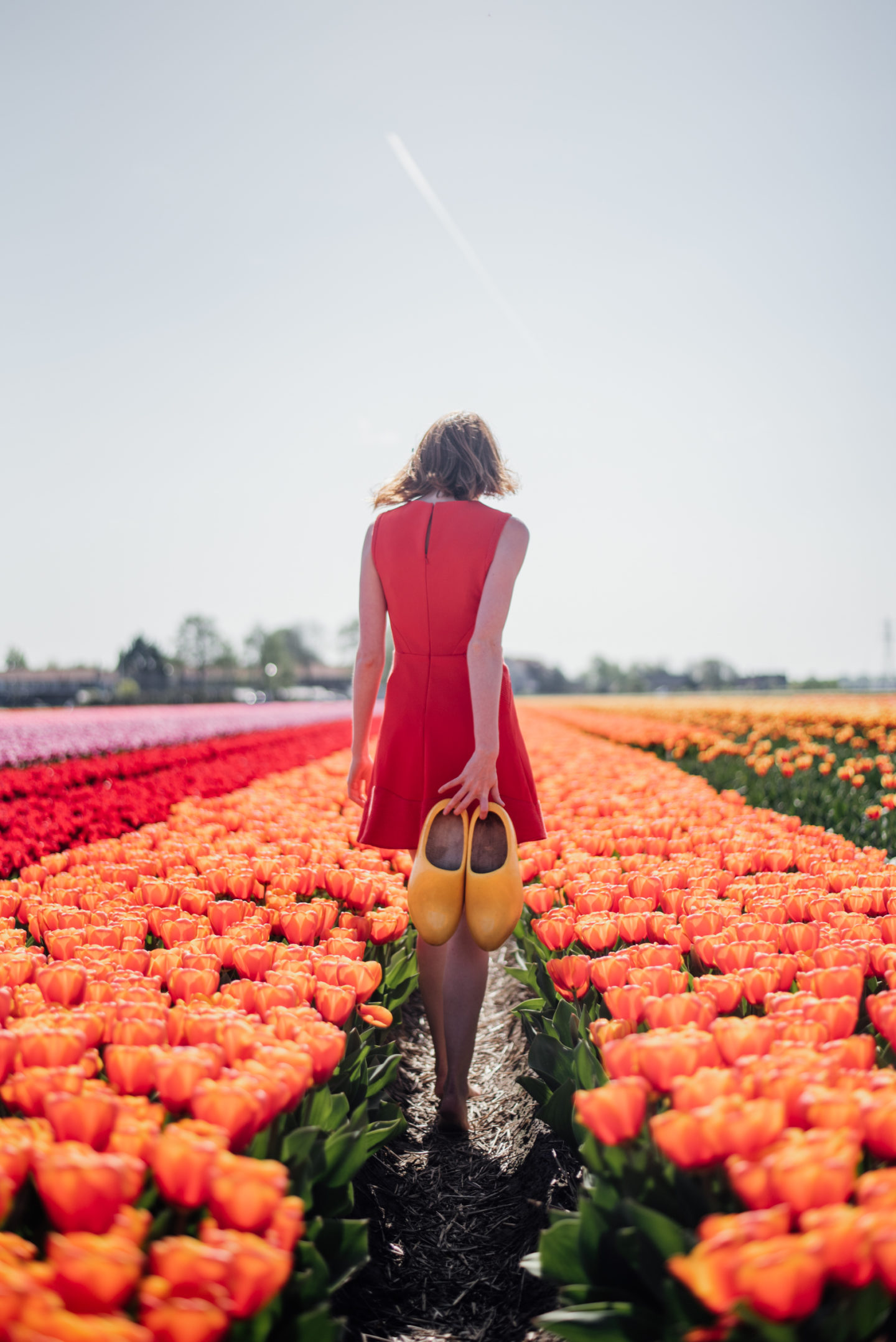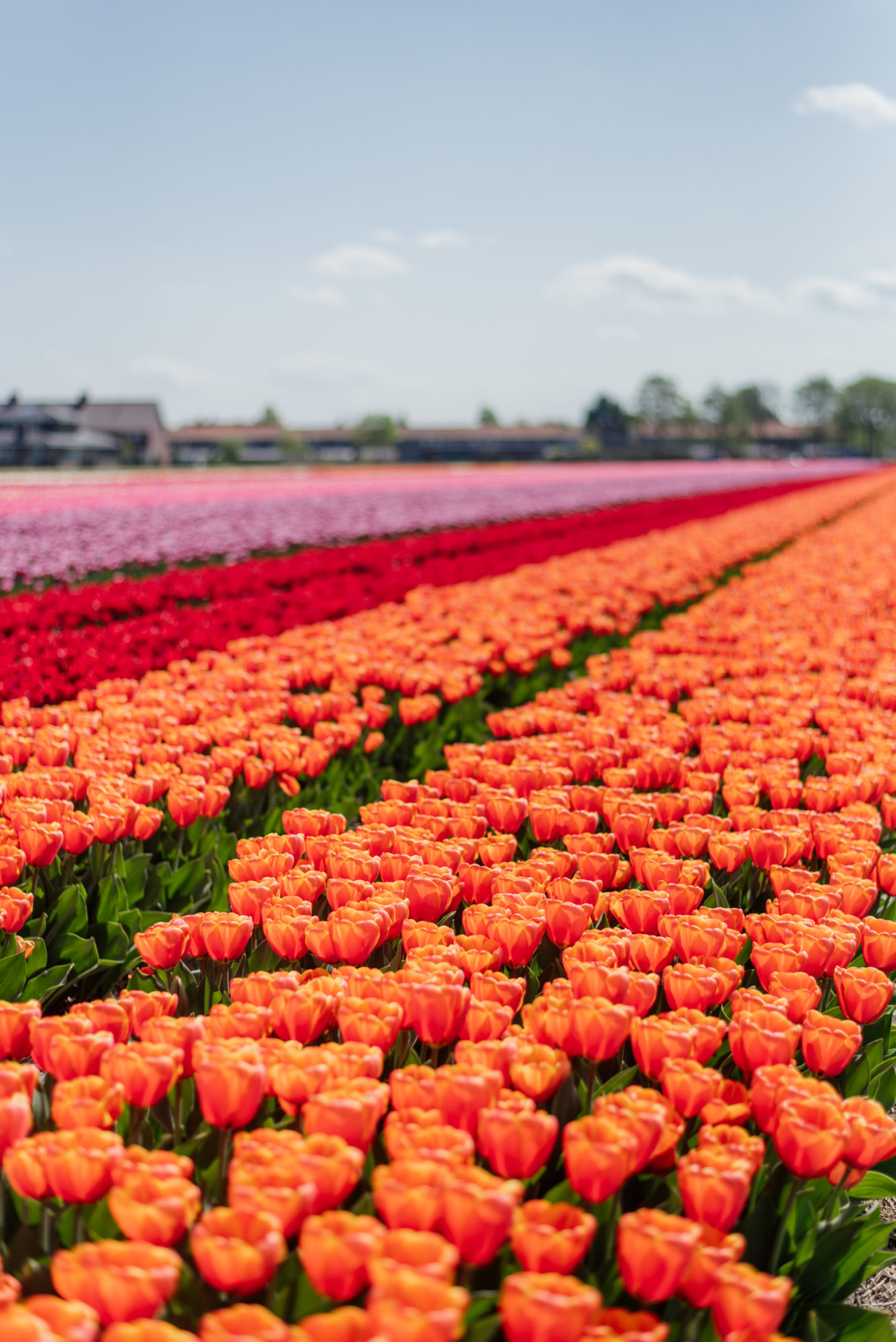 We made a few serious photos in the field, but then my eyes fell on this enormous pair of Dutch clogs. Let's just say the combination of a muddy field and wooden shoes that are 10 sizes too big is not great. I felt like Little Thumbie in the Ogre's Seven-League boots, haha!
Noordwijk-aan-Zee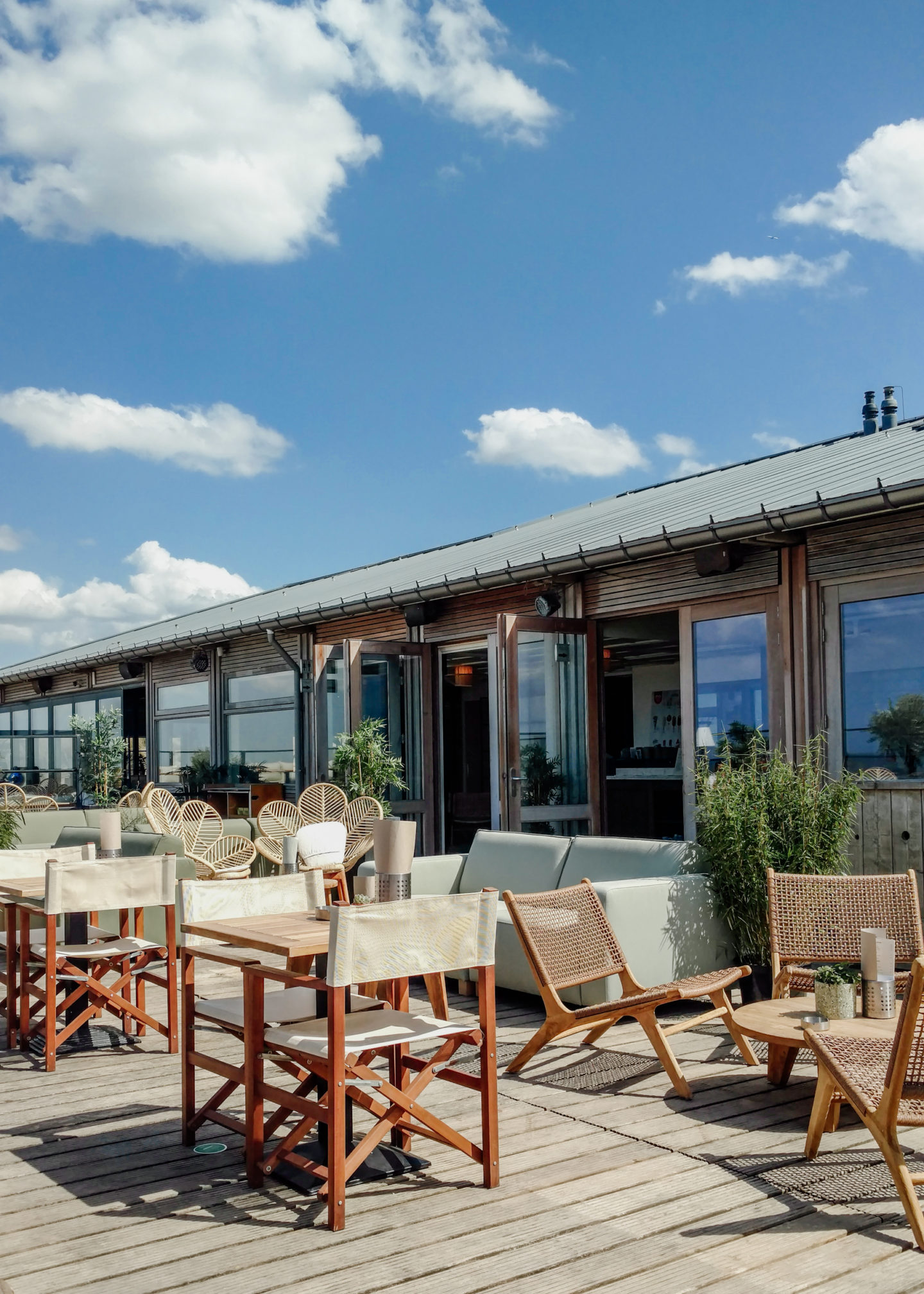 After our visit to the Fam Flower Farm, we decided to drive down to Noordwijk for dinner. Noordwijk is known as a spa town by the Dutch sea. There's a 13km long sand beach, dunes, hotels, shopping street and best of all: 5 hipster beach bars that I had been wanting to visit for a while. We ended up in Nomade Beach House because I loved the interior (I am that easy). The Ibiza vibes are real here! I had croquettes because I'll take any chance to have croquettes I can. Apérol Spritz on the side and I was content.
After dinner we strolled across the beach and then back across the dike to find dessert. I spotted the lively interior of Vivaldi's and promptly decided to have ice cream, haha. Vivaldi's serves 40 different flavors of gelato following the classic Italian recipe. Be prepared to wait a little because it is hard to choose from their menu!