Hi there, welcome back! I hope you guys are having a lovely week so far. I missed posting yesterday because it was a holiday (Mothersday) here in Belgium and I got so caught up in house work that I completely forgot to finish this blog post. But, here we are. Better late than never, am I right?
Well, this post *really* is a latecomer. I'm throwing it way back here, back to a time where I was closer in age to 20 than 30, my hair was still long and I proudly wore leggings as pants out in public (apparently, if I look at these pictures). That glorious time was April 2017 and I was roaming the streets of Paris!
Fellow blogger and friend Eline joined me for a three days short trip to the French capital. She drove and I co-piloted us across the Peripherique and into the city. If you've ever driven in Paris, you know why this is worth mentioning. Next time we're taking a Thalys train.
I had been to Paris many times before and over the years I learned what my favorite parts of the city are and what place aren't worth my time. For this visit I also wrote a list of new places that I wanted to see, because even after 6 visits there were still a few attractions that I had yet to see for the first time. Below I'm sharing a few of my favorite stops in the city as well as a bunch of random snapshots that I liked, but didn't really fit in anywhere, haha. Let's go!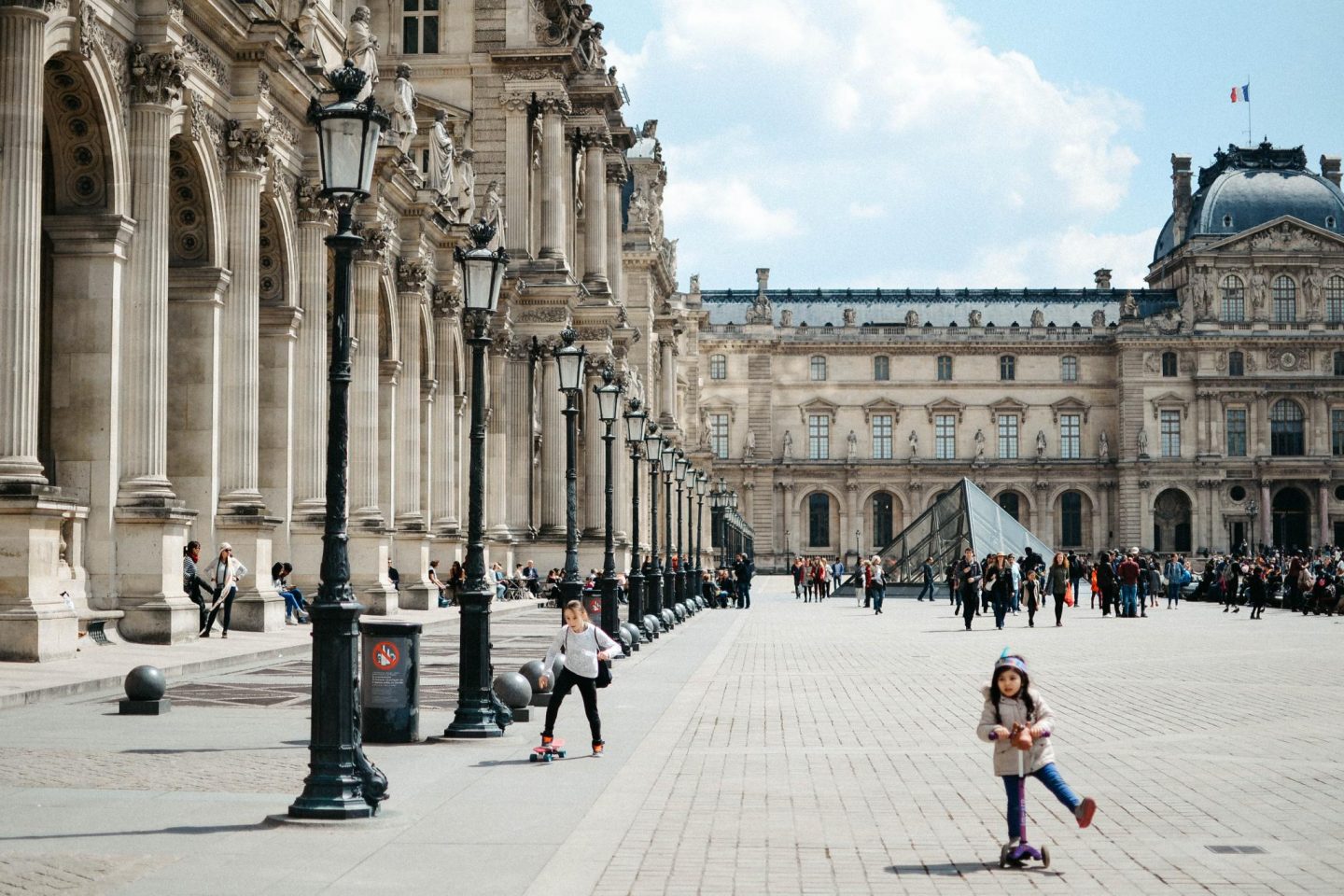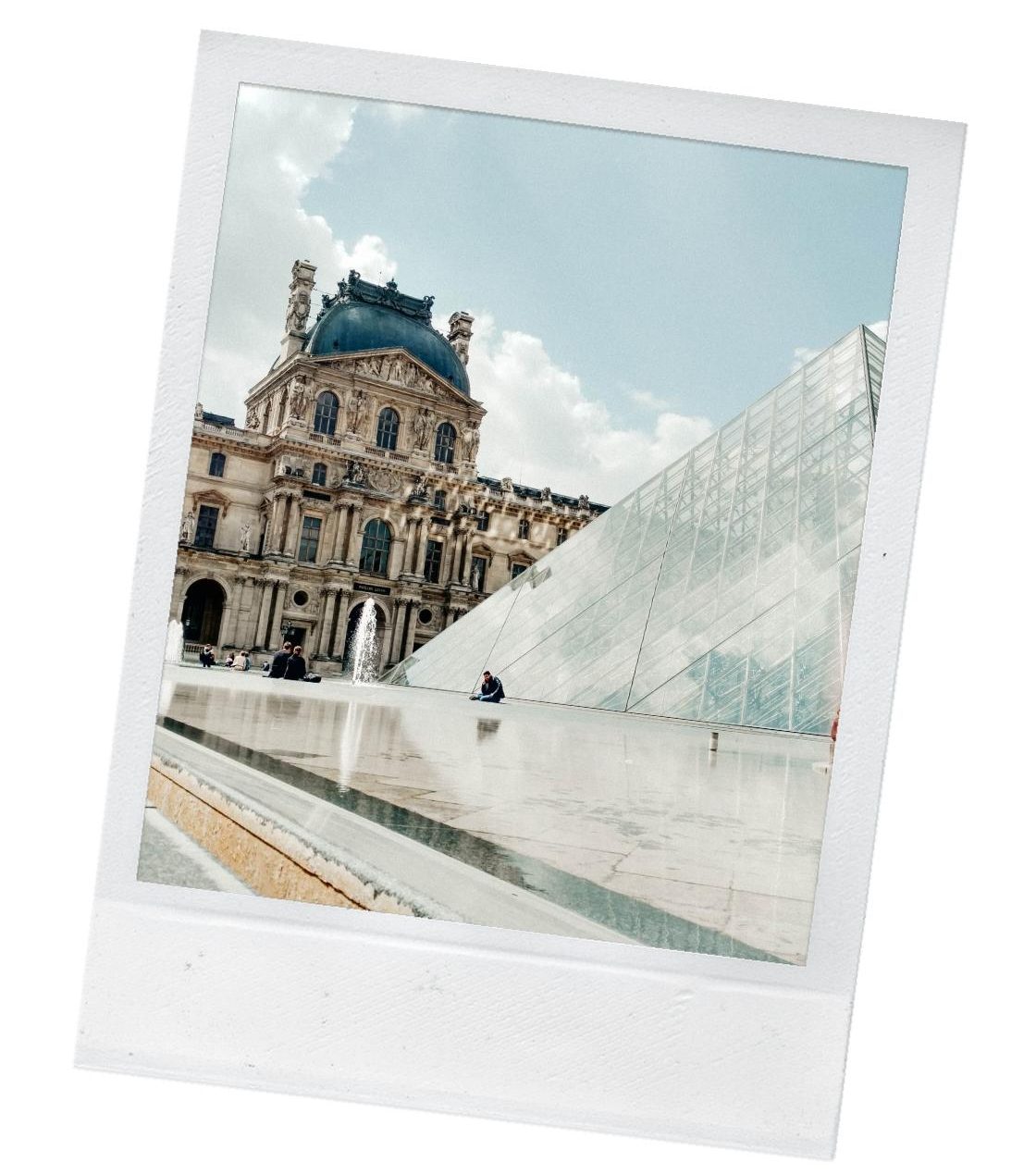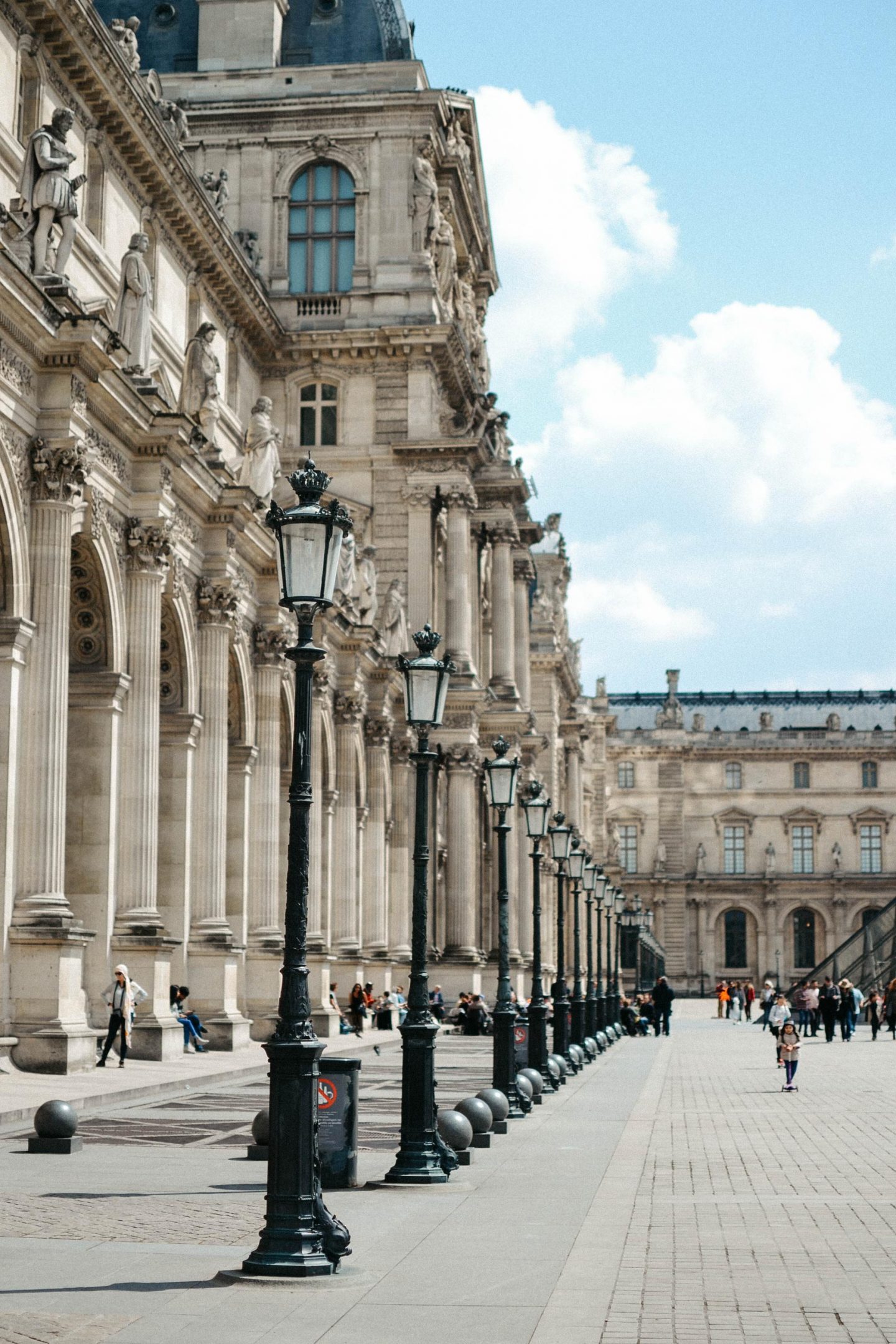 Musée du Louvre
Starting my list with a classic: The Louvre Museum. Because I had visited the museum a few times before, we didn't bother the 2+ hours waiting line to go inside. We were only in Paris for two and a half days, so we chose to spend our time on other things. Eline wanted to have a photo shoot on the central courtyard of the Louvre, so we did just that and moved along. If I have more time, I always love sitting here and watch the people pass by. There's also a gorgeous cafe inside the Louvre, Café Marly, that overlooks the courtyard.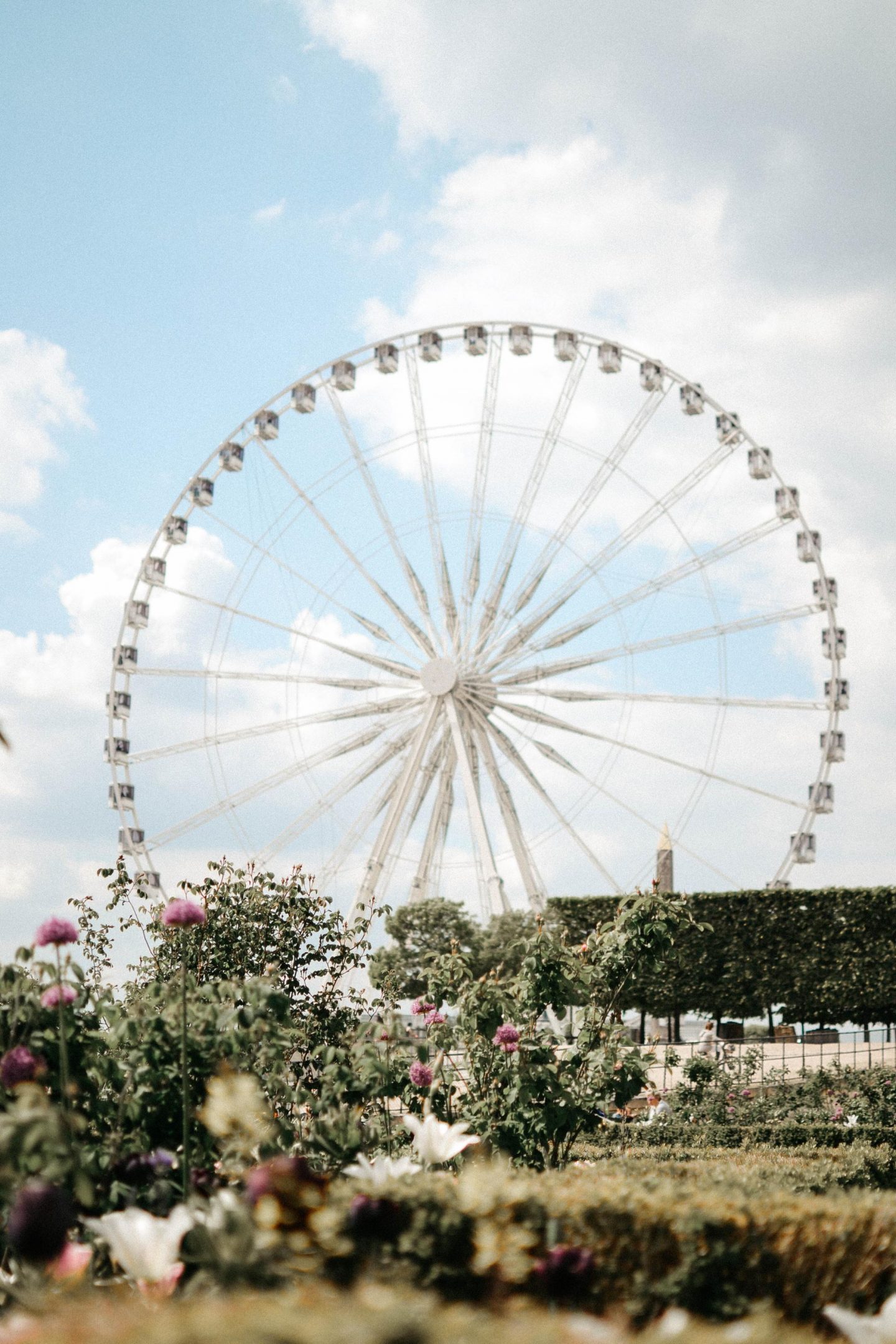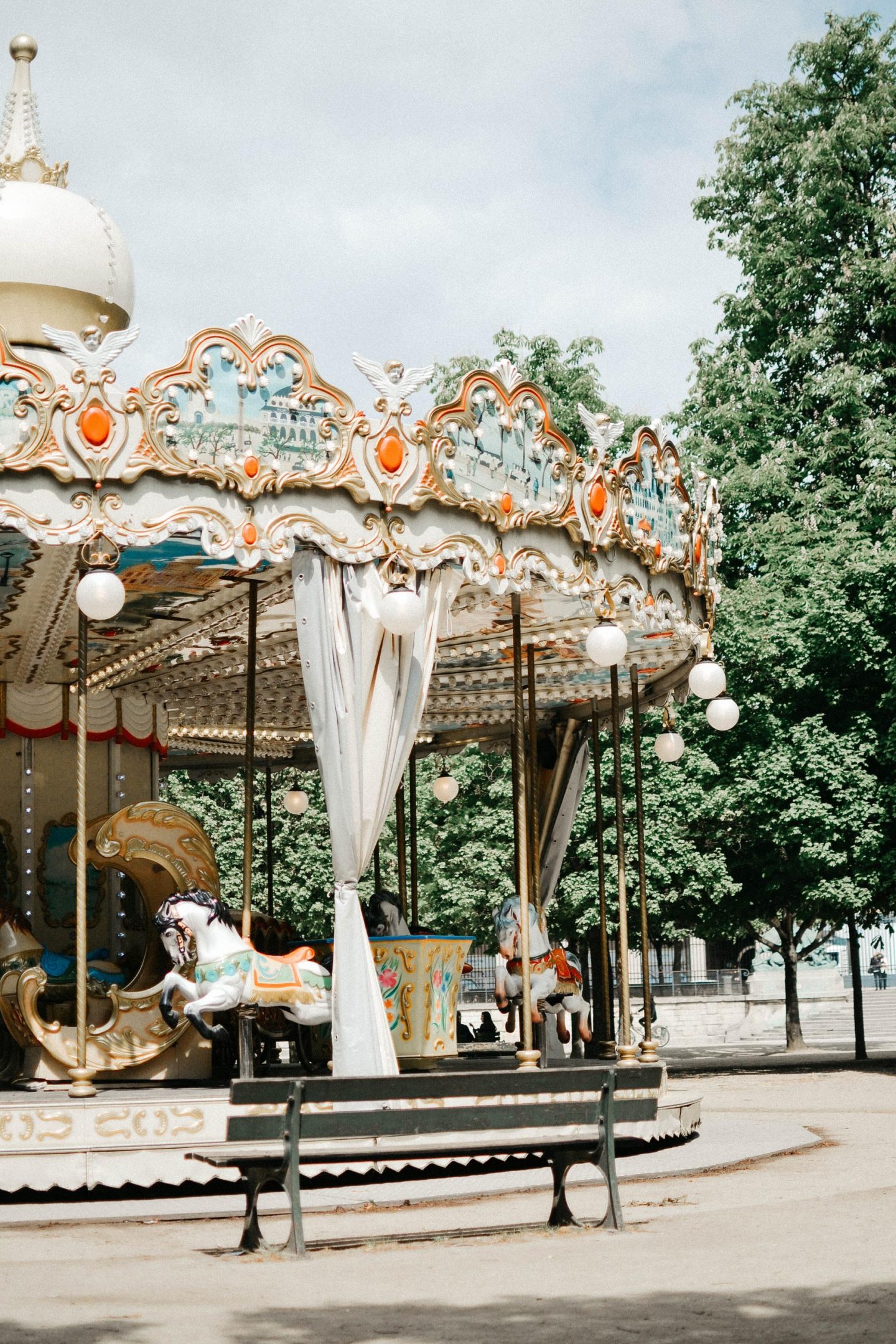 Jardin de Tuileries
Looking for a place to rest your feet after exploring the 60.000 square meters of the Louvre? Look no further. The Jardin de Tuileries is a park-style garden that stretches from the Louvre to the Place de la Concorde. It's the perfect place to pause for a while. There are plenty of terraces, benches and those typical green metal chairs scattered through the garden. From here you have beautiful views over the Louvre and the Ferris wheel. A few of my must-do's in Tuileries include having a coffee by the fountain, finding the carousel for that Instagram-perfect picture and look for garden inspiration in the beautiful flower beds.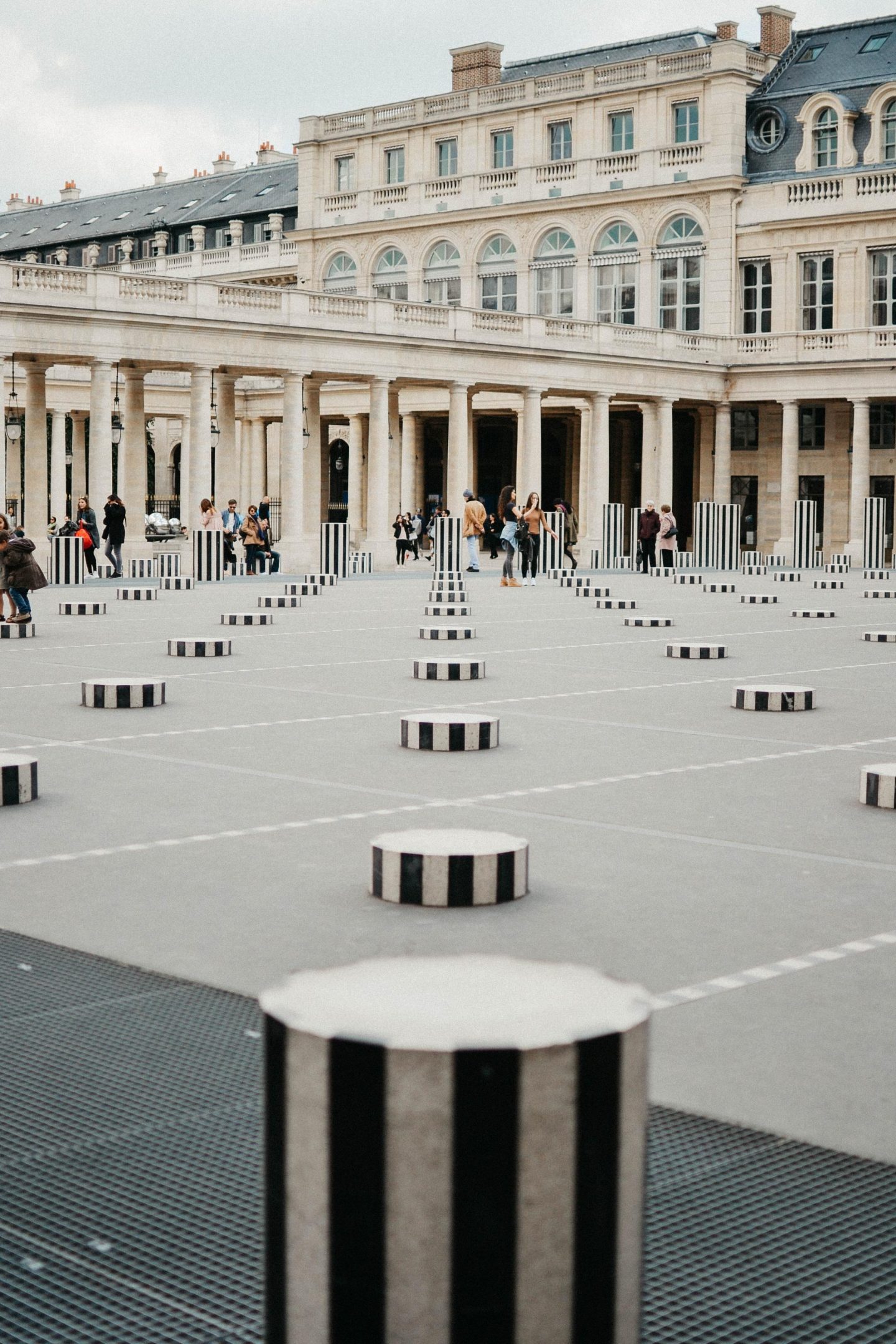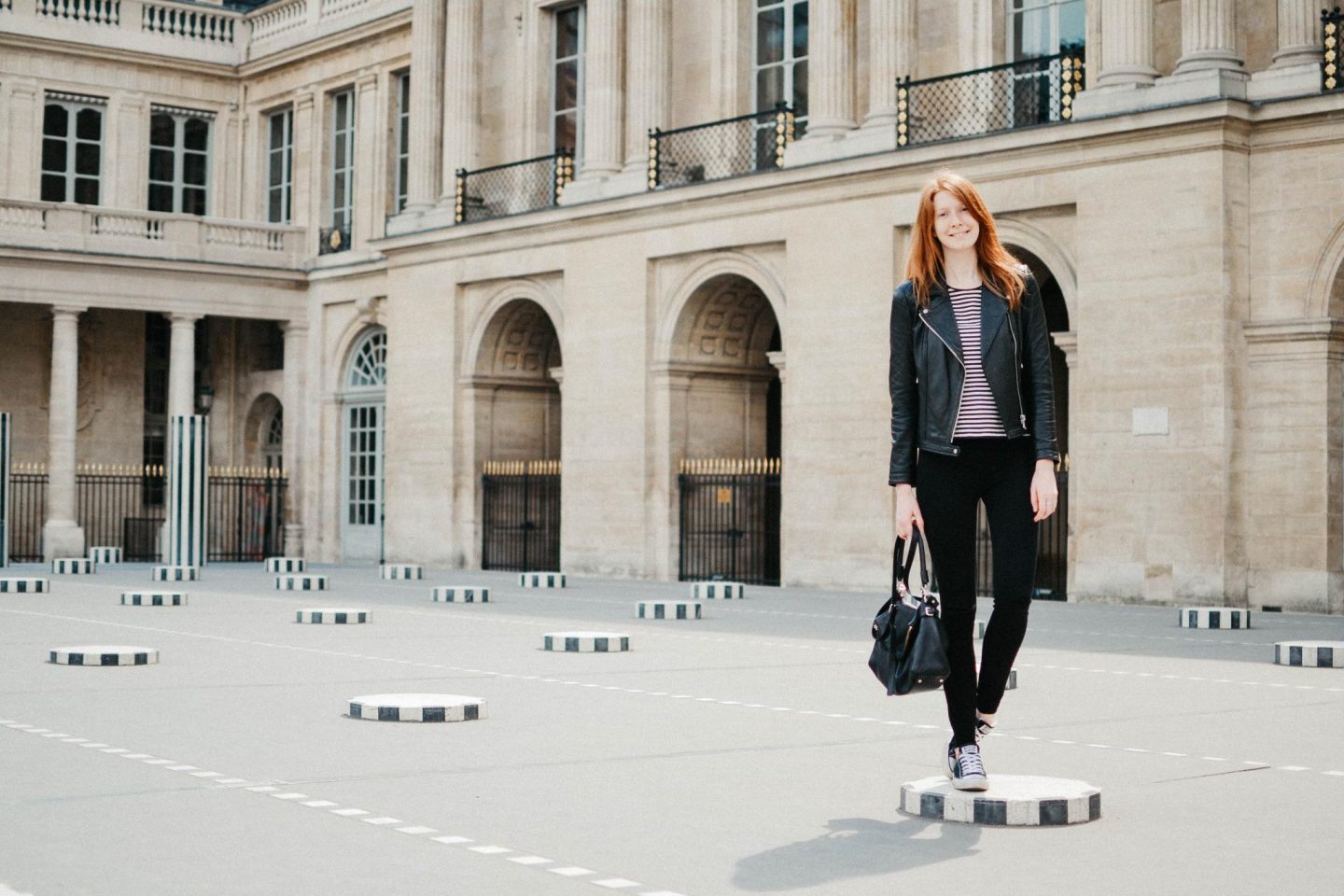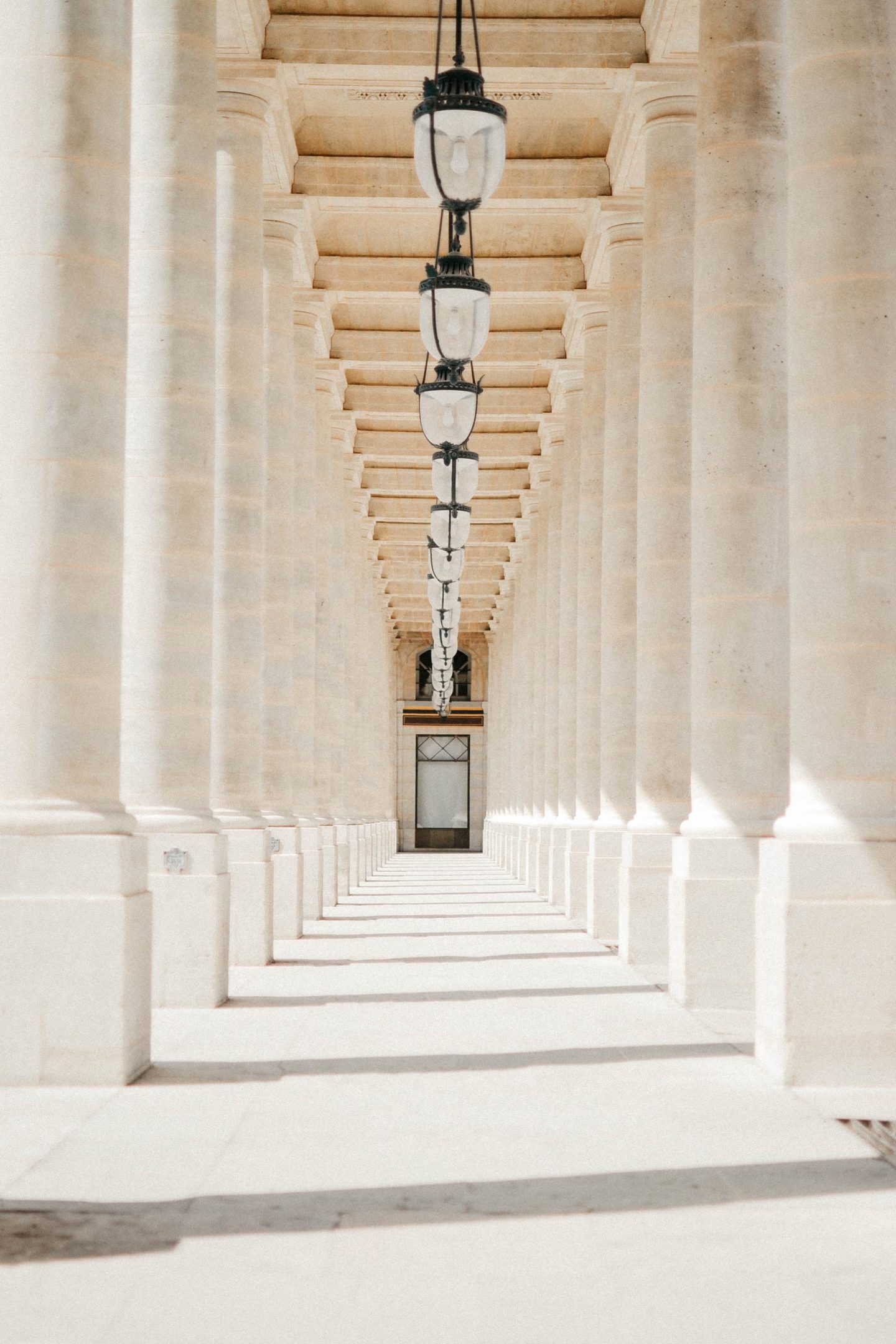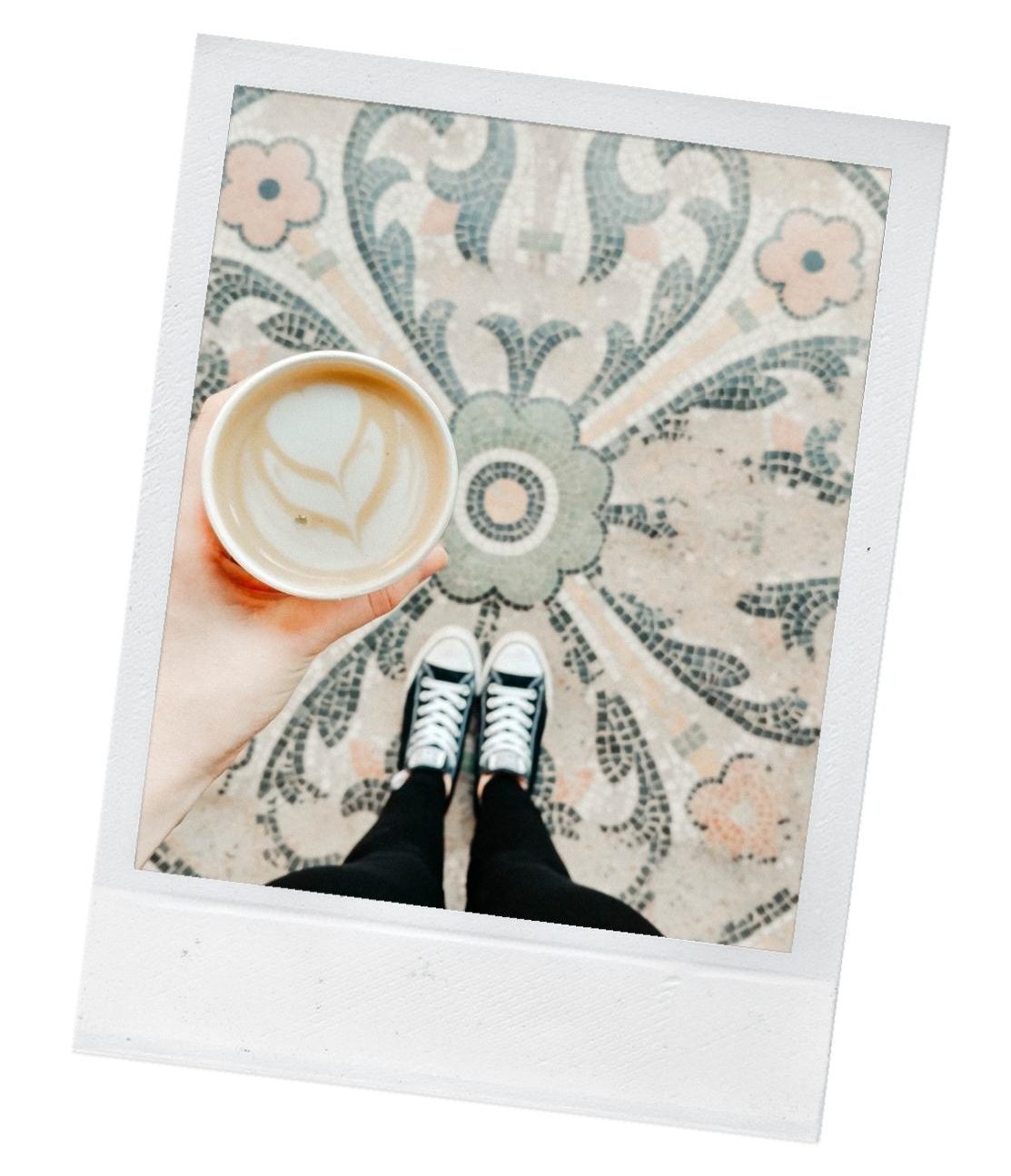 Palais Royal & Place des Vosges
Would you believe that I had never visited Palais Royal before? Le Palais Royal is the former royal palace of France and now serves as a government building. The inner courtyard is the main attraction. Here you'll find Les Deux Plateaux (also known as Les Colonnes de Buren), an art installation by Daniel Buren that you might know as "that place with the striped columns". The installation is popular with tourists and you definitely notice that when you're there. Everyone wants a picture on, with or around the famous striped columns.
Next to the Palais Royal lies Place des Vosges, the oldest planned square in Paris. Here you'll find more of those typical green metal chairs and lots of benches under perfectly maintained trees. A perfect spot to hang out in the summer! Don't forget to look up at the beautiful buildings and down at the mesmerizing floors of the galleries surrounding the square.
On Place des Vosges you'll also find one of my favorite coffee bars in Paris: Café Kitsuné.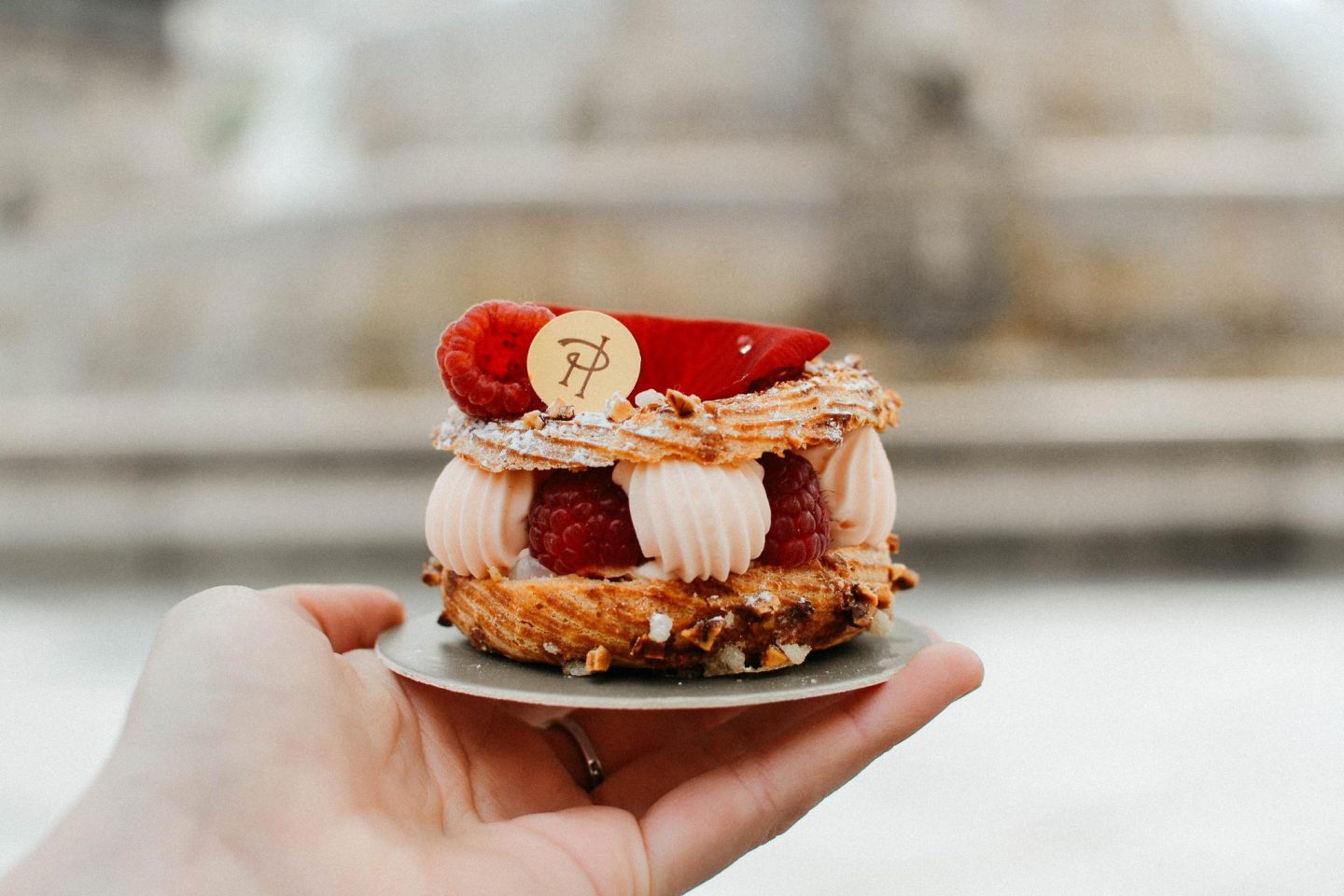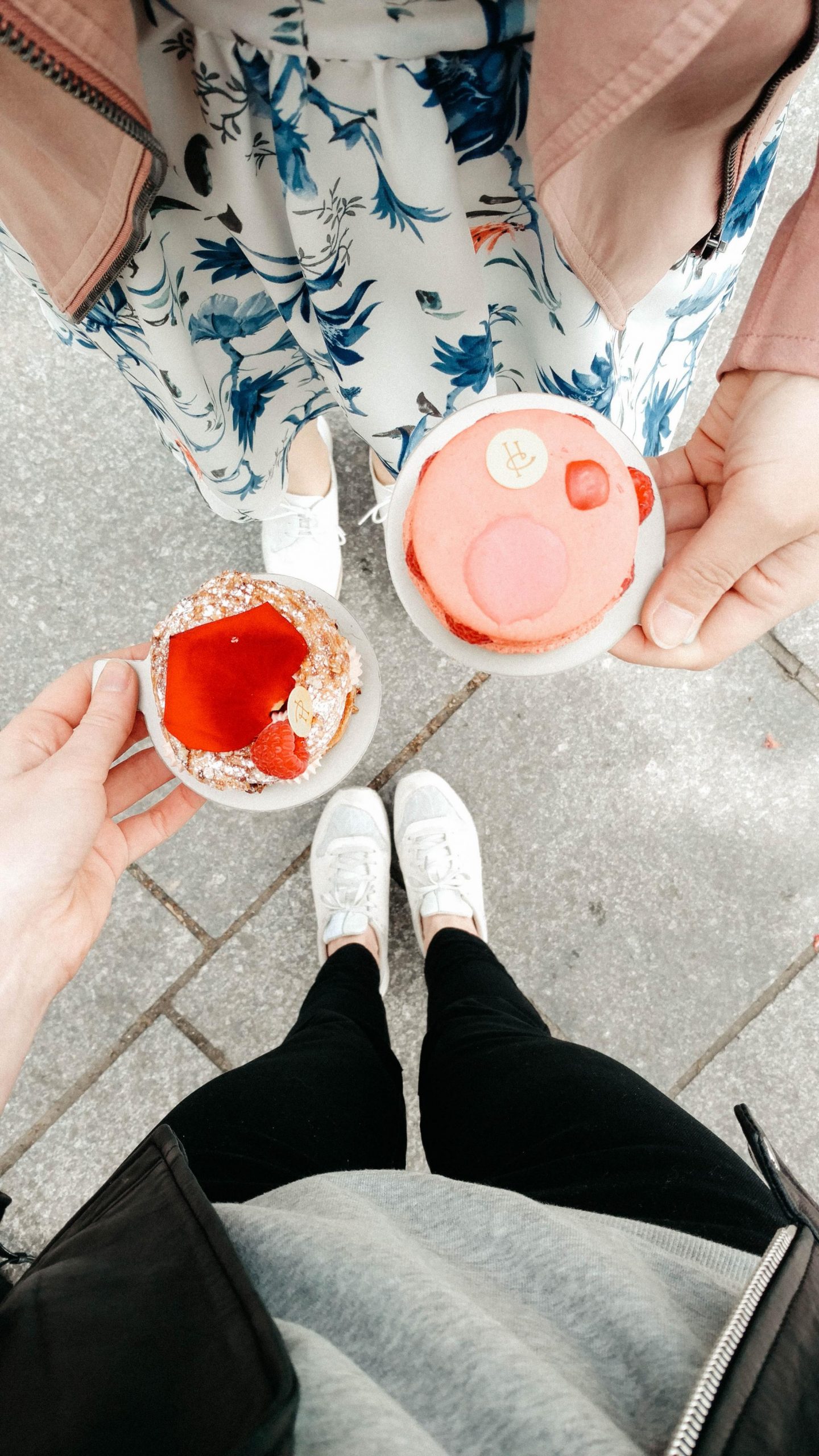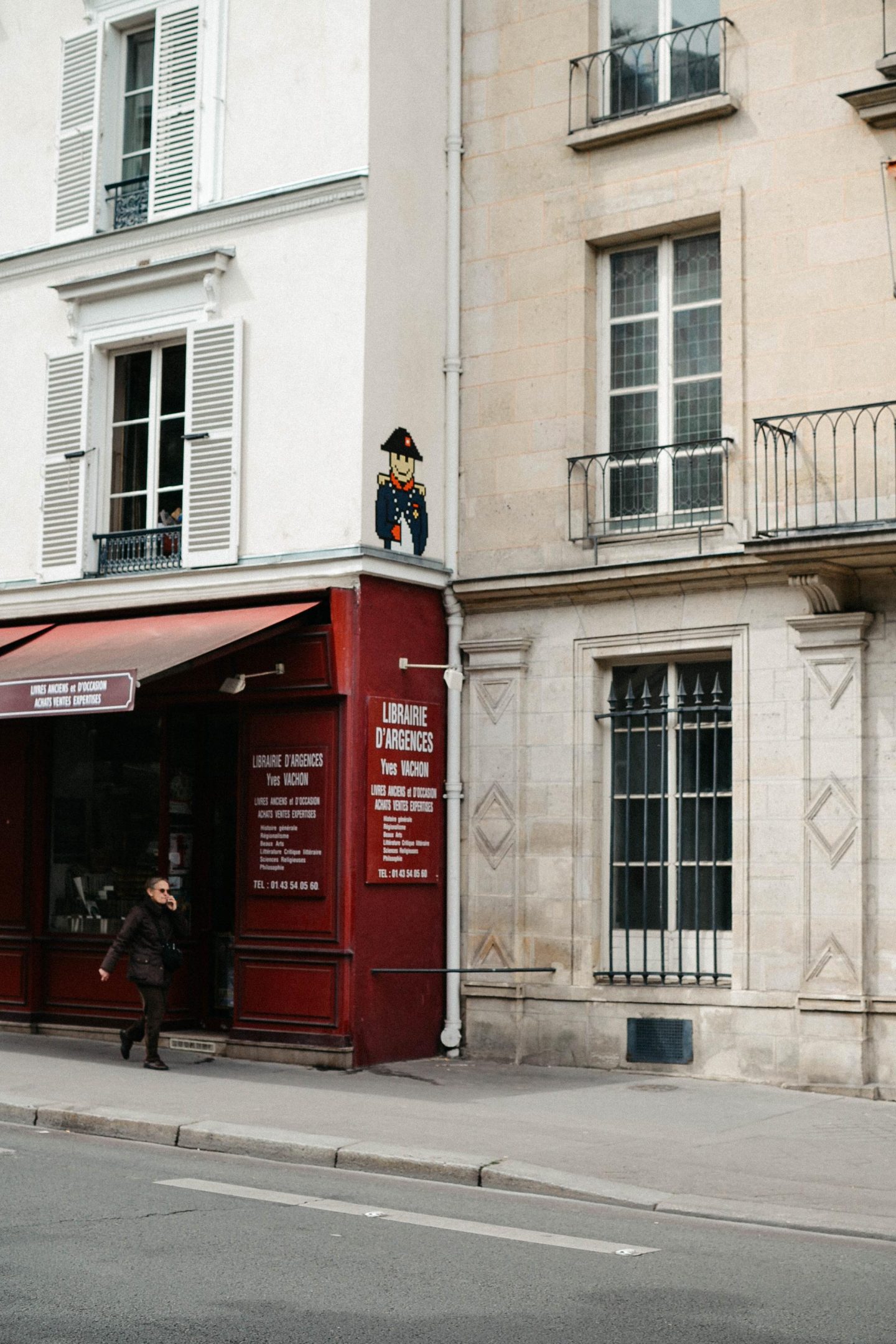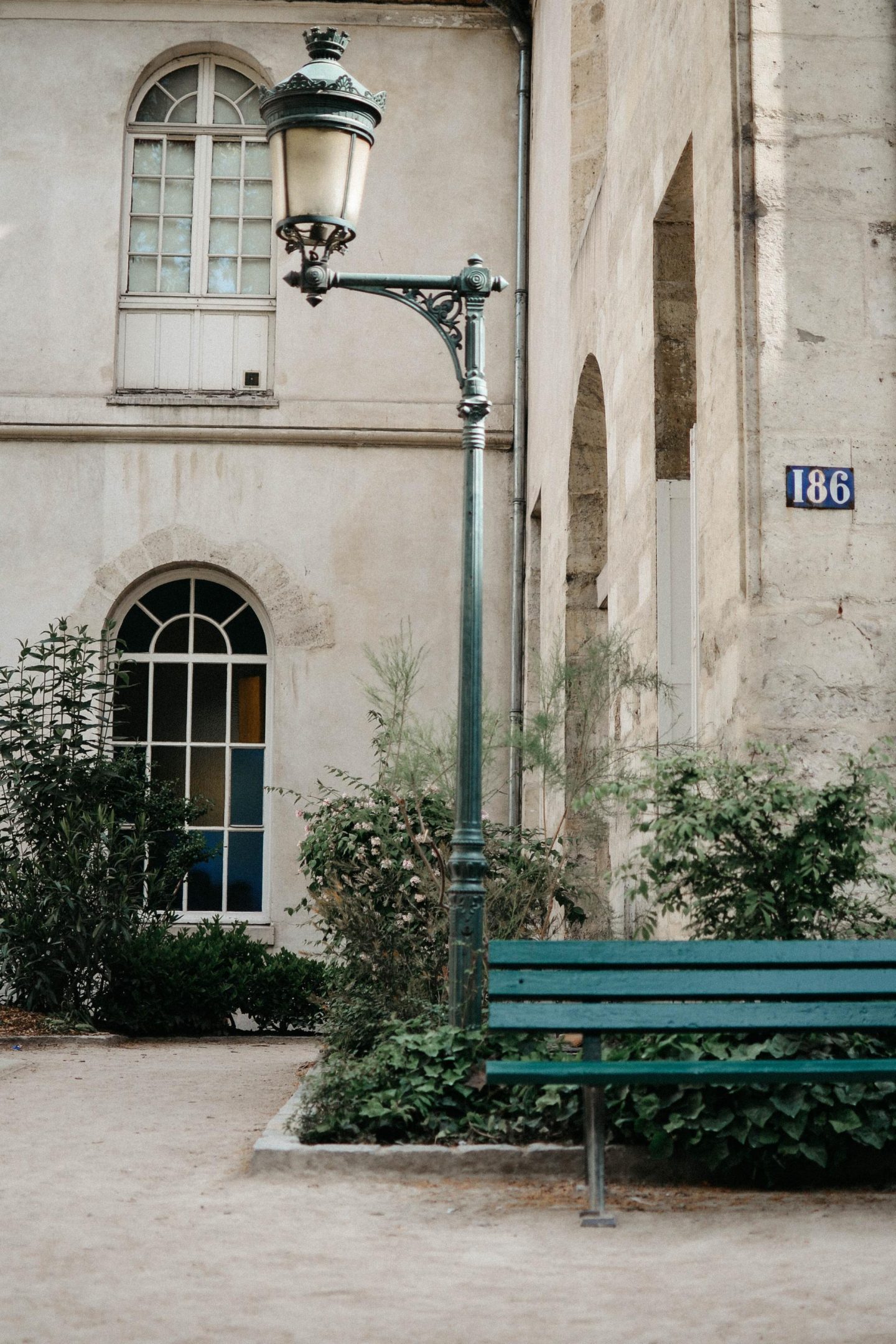 Saint Germain & Saint Sulpice
Saint Sulpice and Saint Germain are my absolute favorite neighborhoods to stroll through. This part of Paris has the charm of Le Marais, but is far less busy.
I get off the metro at Saint Sulpice (M4) and usually head straight for Pierre Hermé on Rue Bonaparte. Their Isaphan pastry with lychee and raspberry flavors is the best sweet treat in all of the city. Once I picked up a treat (or two) I walk back towards Place Saint Sulpice and enjoy the beautiful surroundings and treats. Some of my favorite French brands also have boutiques in this area so I often wander around and do some shopping. Luxury department store Le Bon Marché also isn't far off (go inside to admire the ceilings and escalators!).
Saint Germain is where you'll find some of the best curbside terraces in Paris, but be prepared to pay €5,00 for a coffee. And if you want to go really fancy, may I suggest you make a reservation at Ralph's?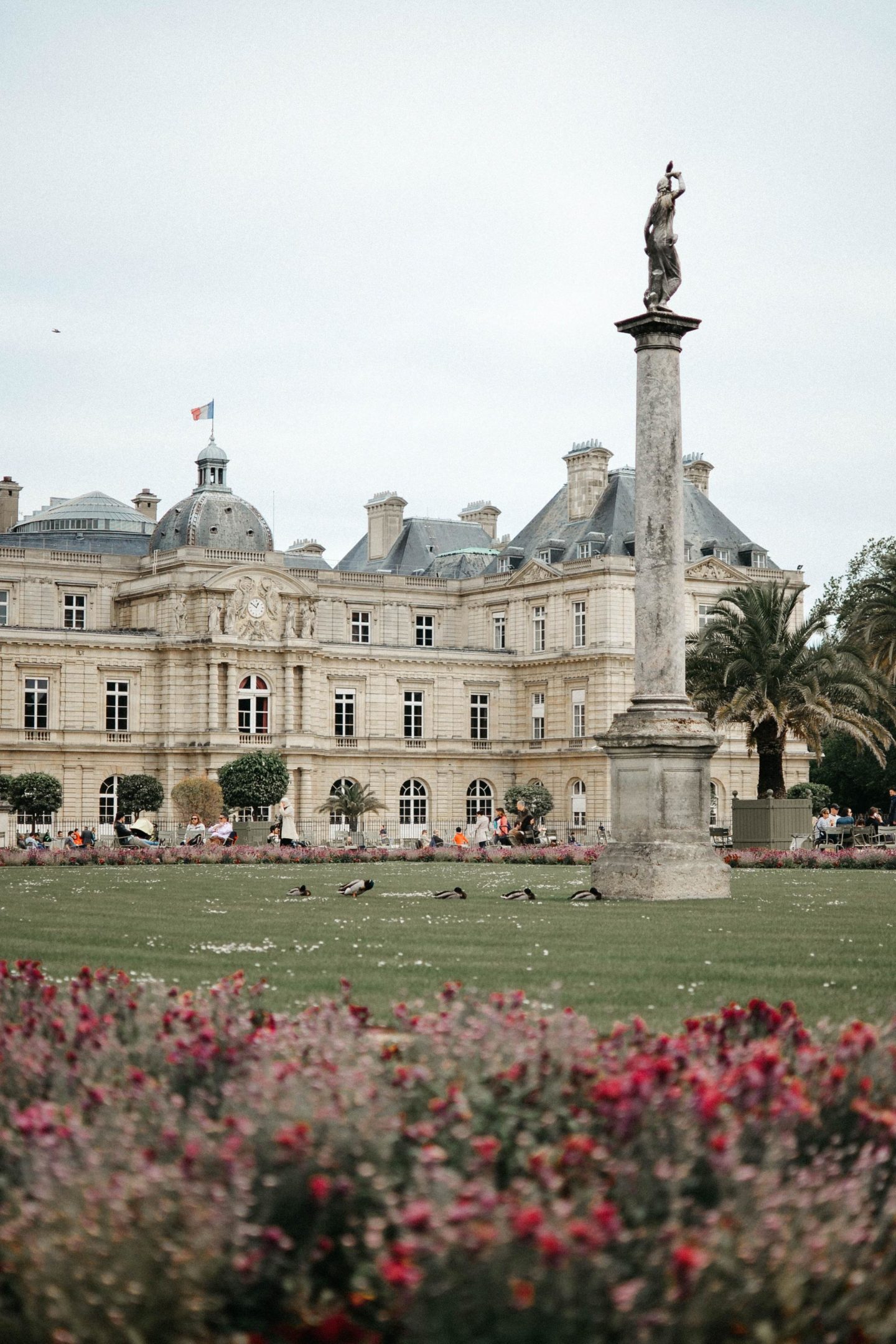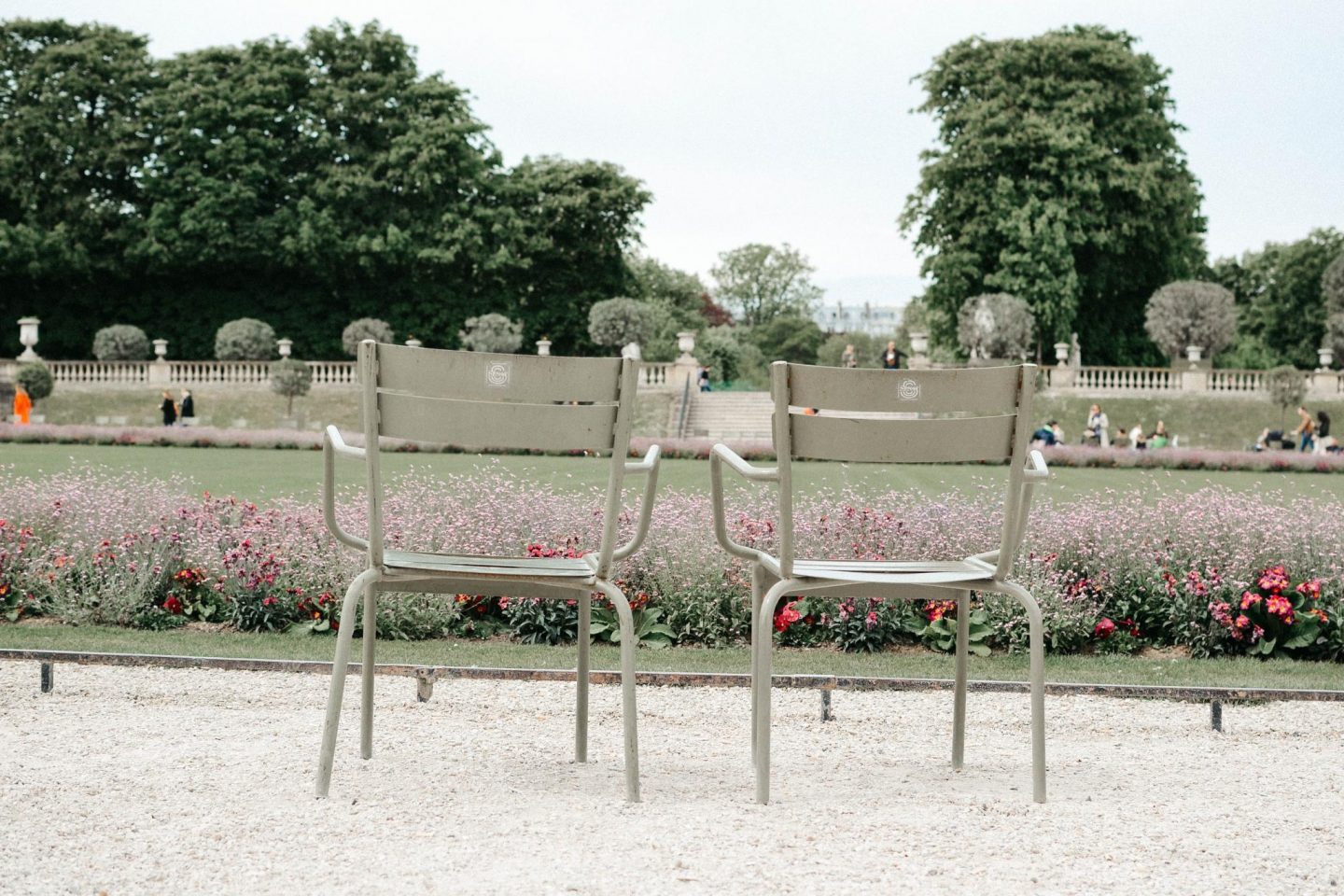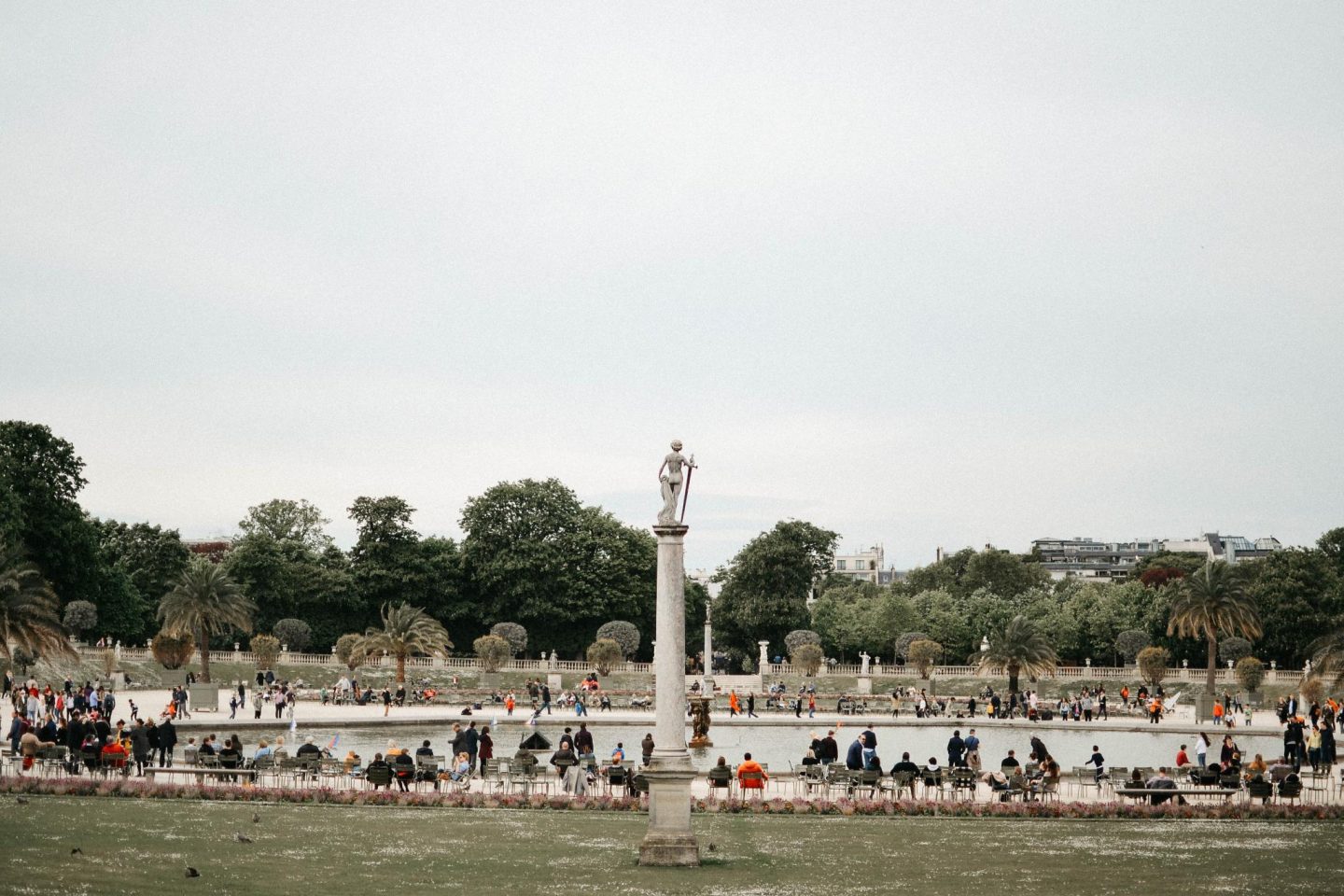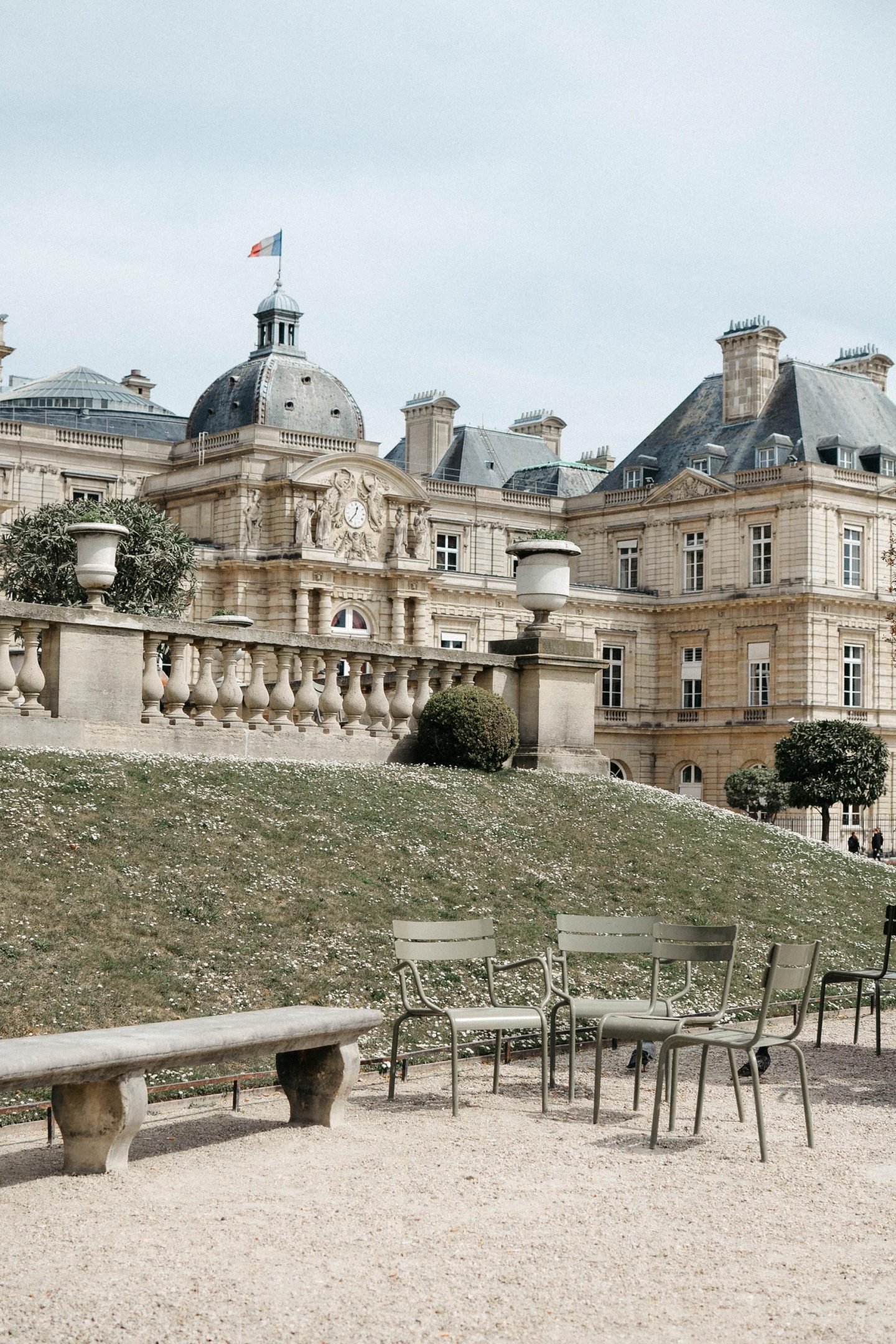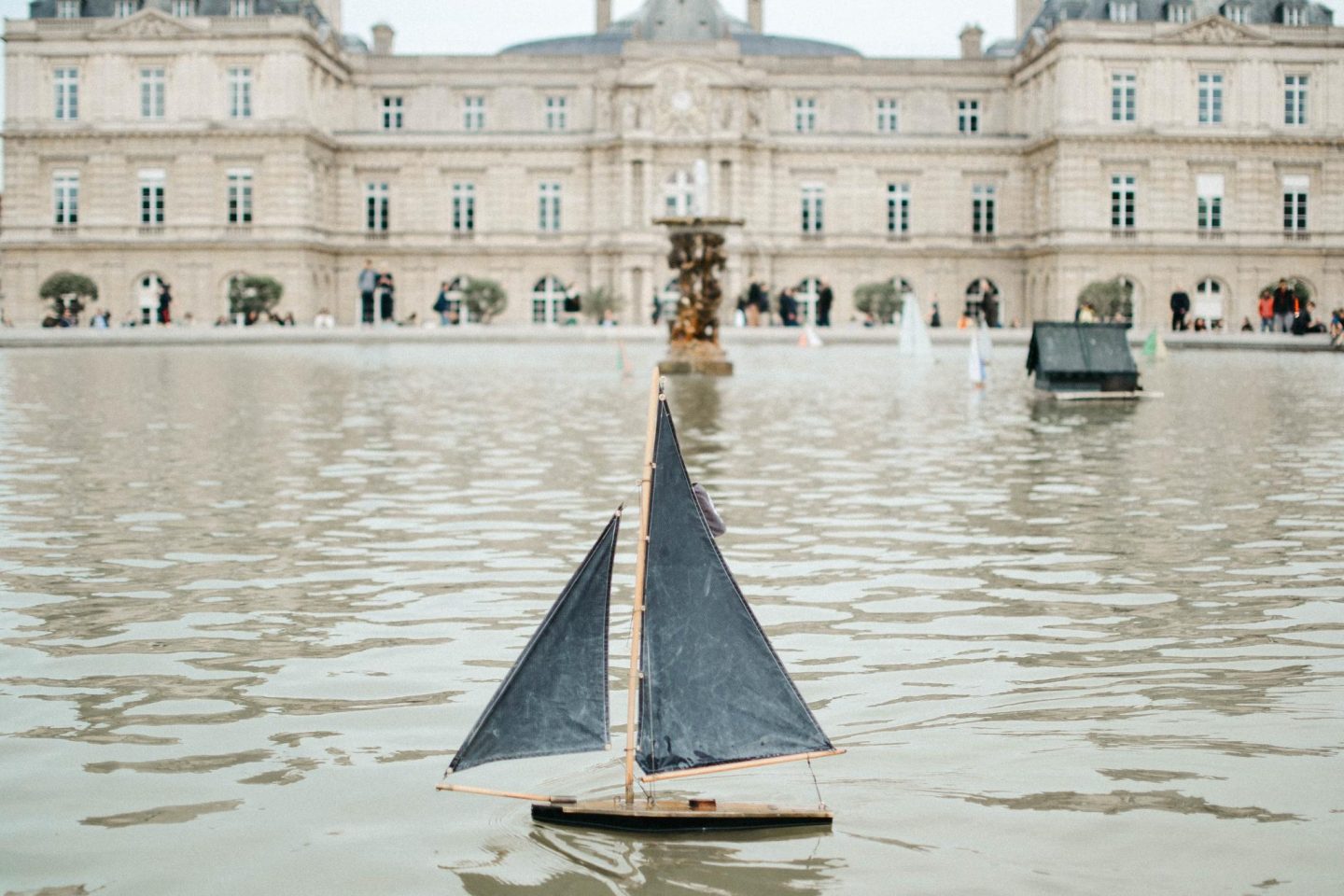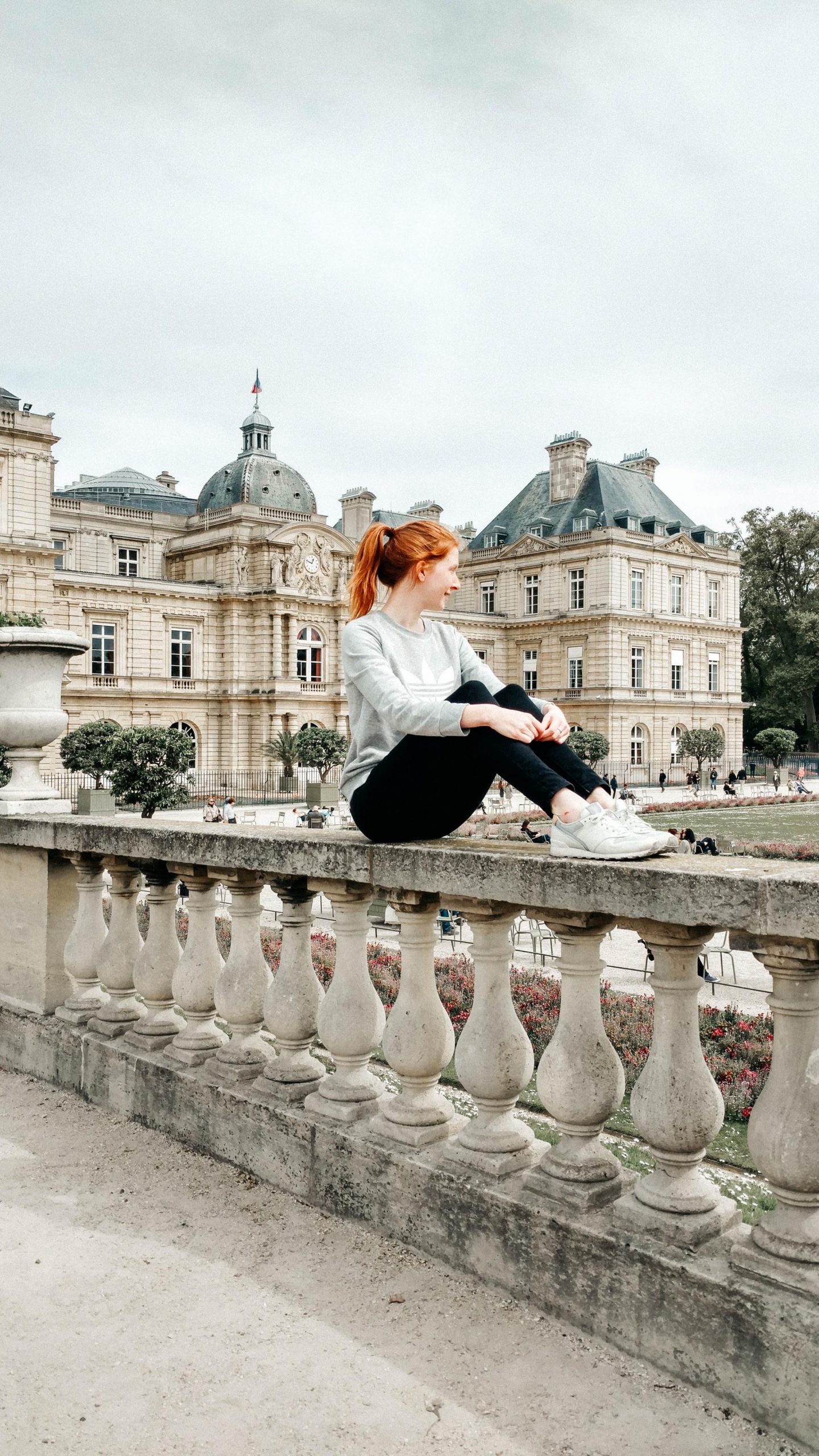 Jardin de Luxembourg
From Saint Germain you should walk further south until you reach Le Jardin de Luxembourg. The most beautiful park of them all, in my humble opinion. I just love it here. There are tourists and locals, people playing pétanque, children pushing boats across the pond, joggers, Tai Chi lessons, … . This place is busting with life! The palace of Luxemburg exudes grandeur and the surrounding gardens are full of little hidden corners and beautiful flower beds. I often stick around for an entire afternoon and pop out only to have lunch at Judy, a fun cantine on the crossing of rue Fleurus and Rue D'Assas.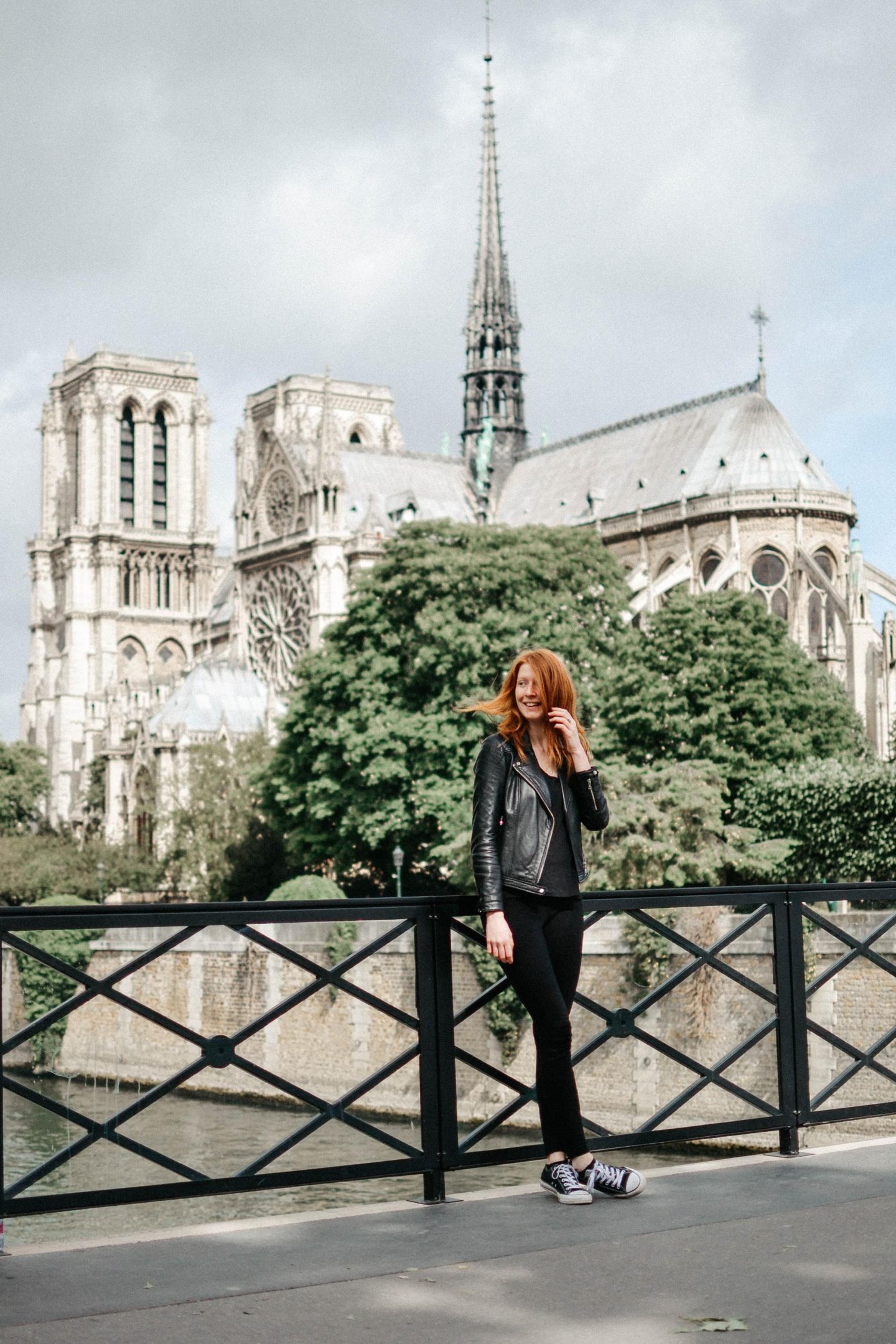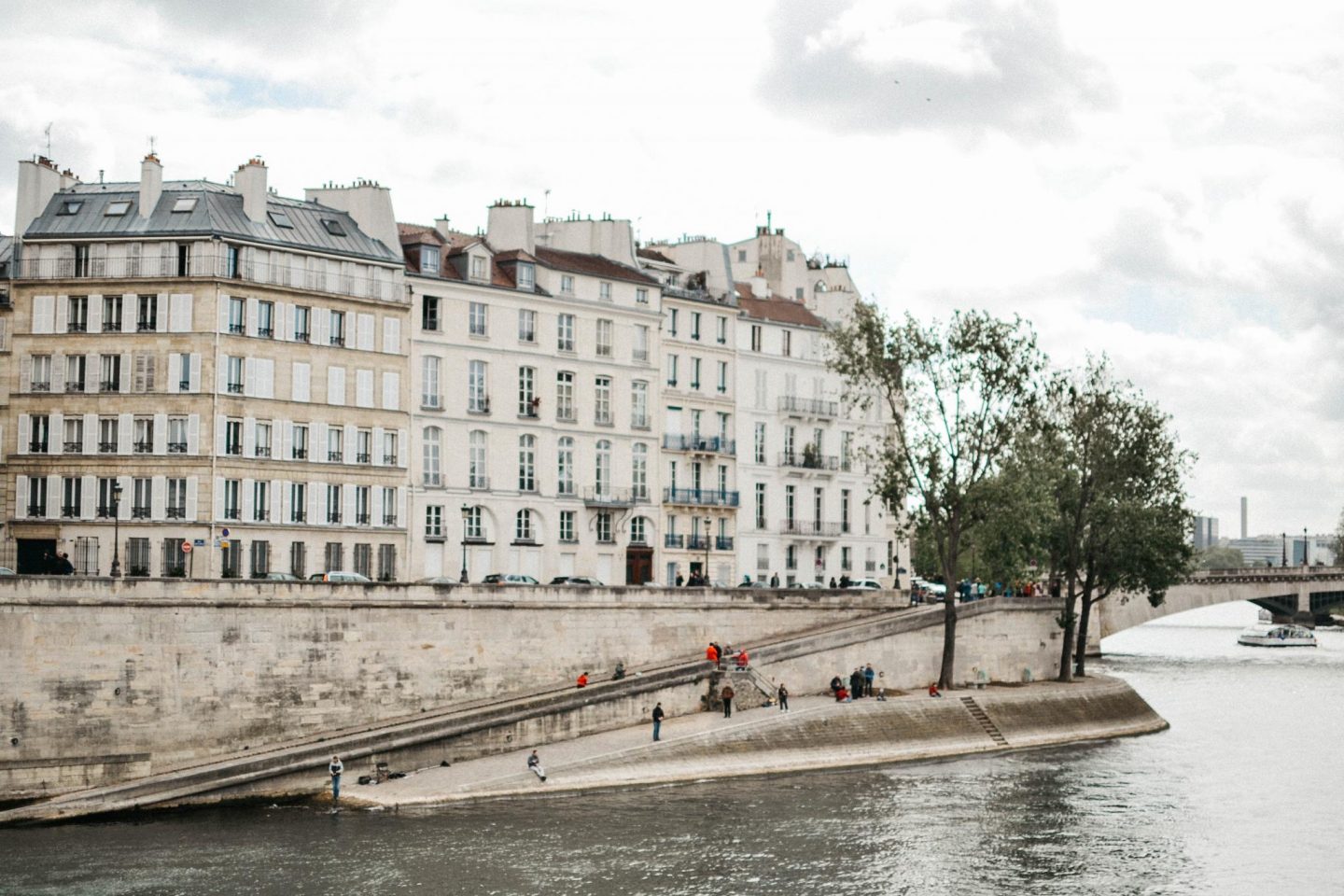 Île de la Cité
please note that these photos were taken in 2017, so long before the fire that damaged the Notre Dame.
Another favorite piece of Paris: Île de la Cité. Especially in Spring, this place is a delight to the eye. Cherry blossoms and purple Empress trees fill up the island. The fun starts as soon as you step out of the metro in Cité. First yiu can wander across the flower market, then you can visit Notre Dame and its gardens before making your way to the river side to take in the views over the Seine river. On the other side of the island is Square du Vert-Galant (just behind the Pont Neuf), a good place for photos with a view on the Louvre across the water.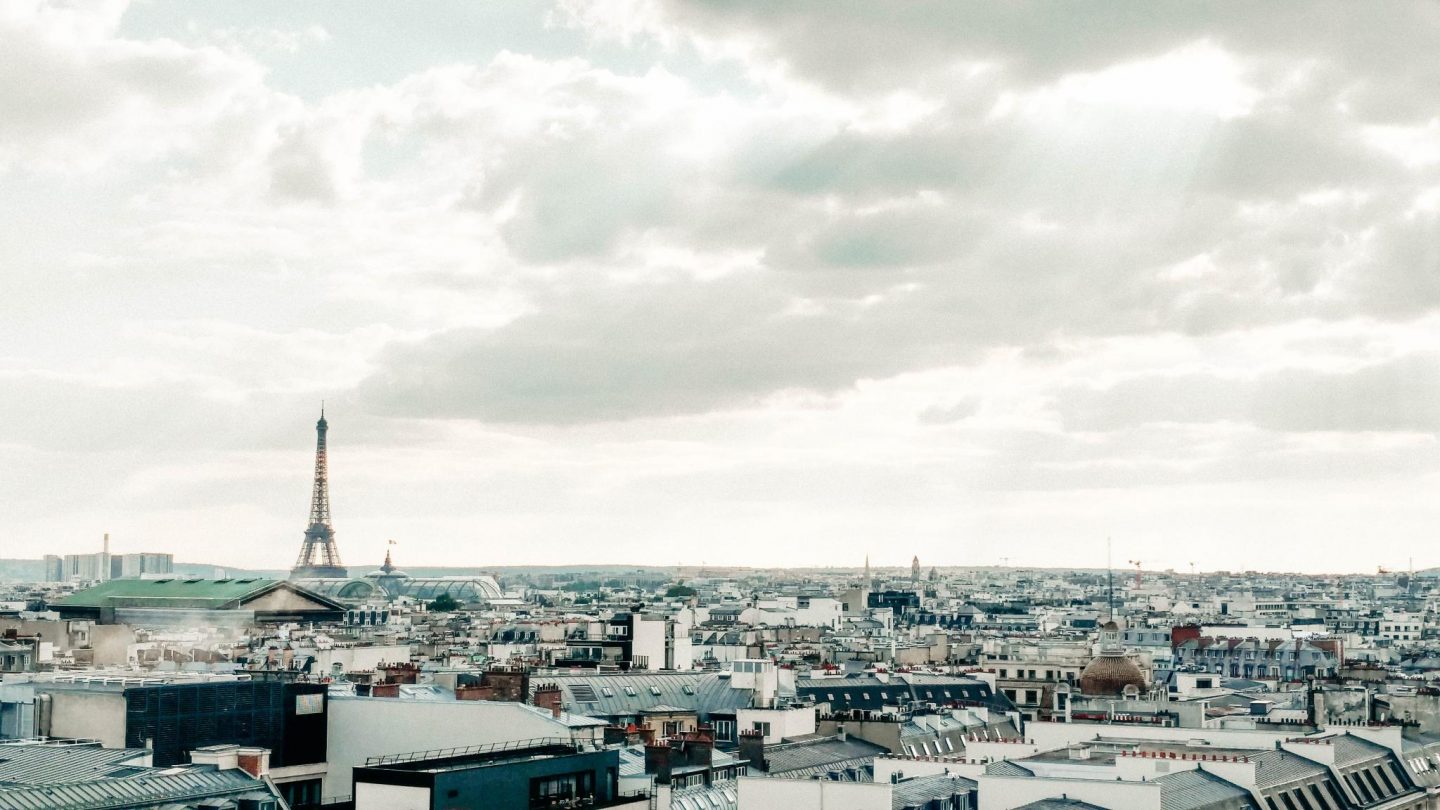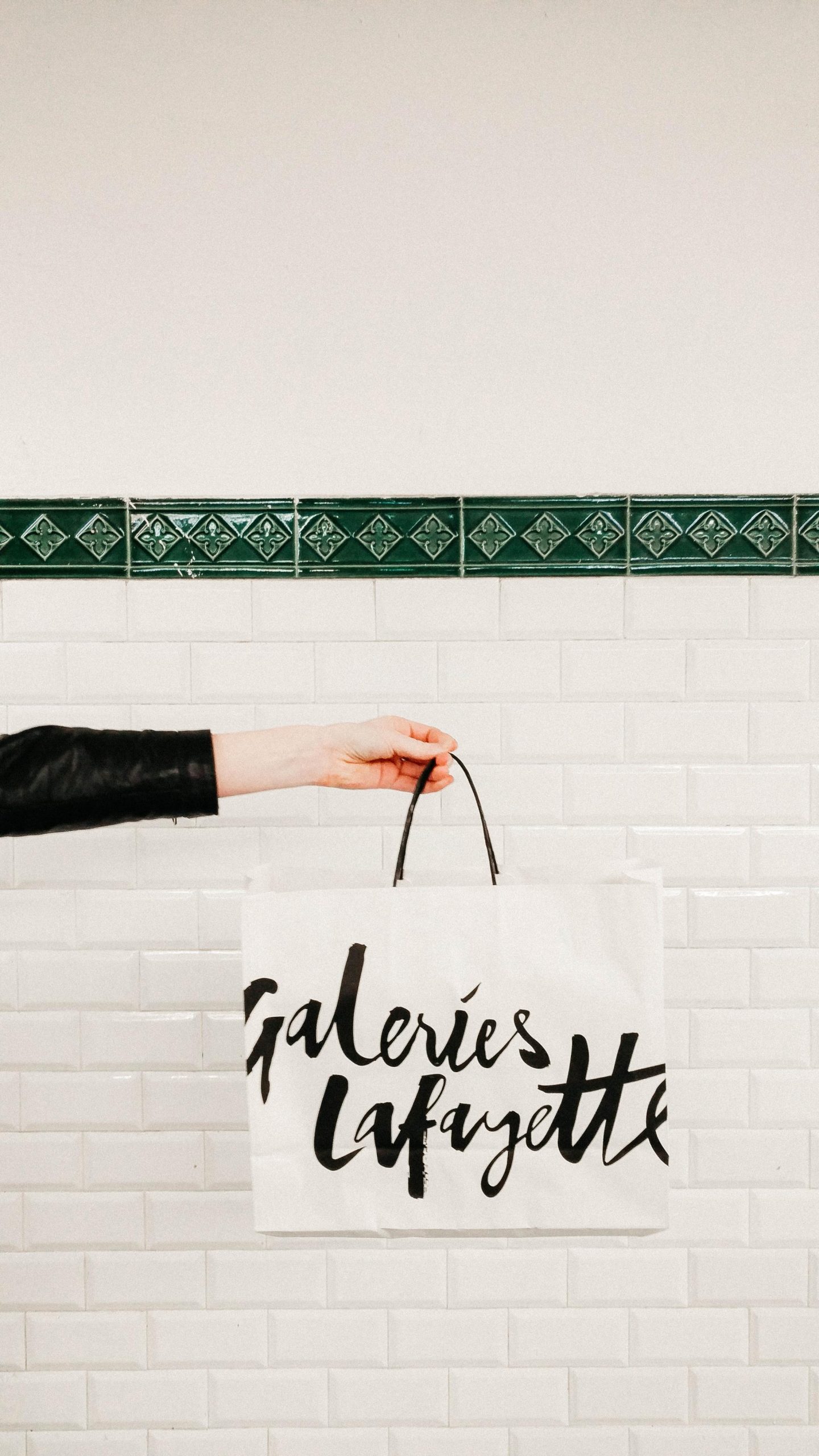 Boulevard Haussmann
The not so romantic history of Baron Haussmann and the urban renewal aside, I love this part of Paris for the typical Parisian buildings, the opera and of course Galeries LaFayette. Go inside LaFayette to admire the beautiful art nouveau interior with the glass dome being the cherry on the pie. Try not to get too distracted by the great selection of brands, or your wallet might get hurt. Their shoe department (located in the basement) is truly a piece of heaven! The rooftop terrace (accessible for free) offers a beautiful panoramic view over Paris, especially during the Golden Hour!
Snapshots
And just a few randoms snaps from around the city….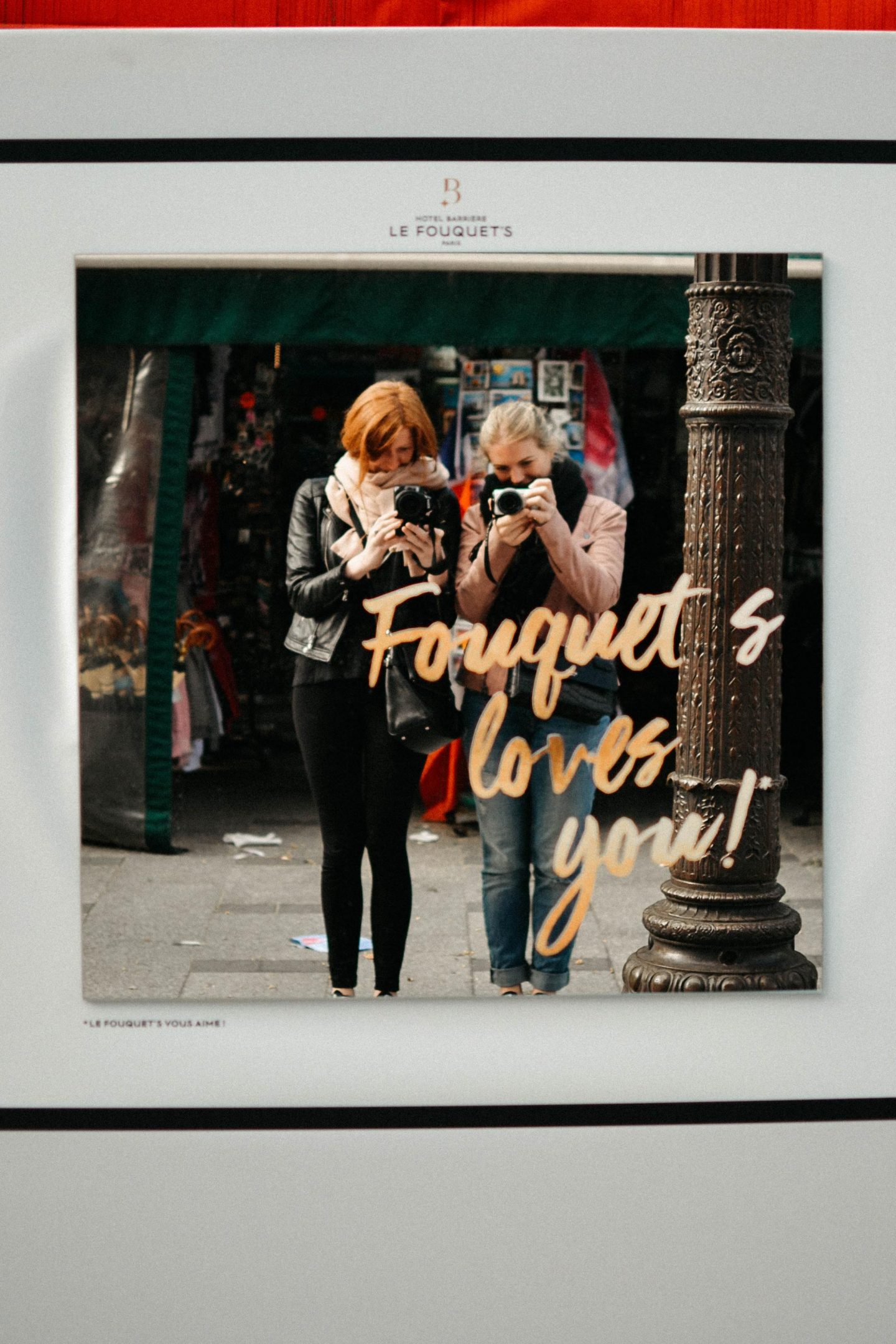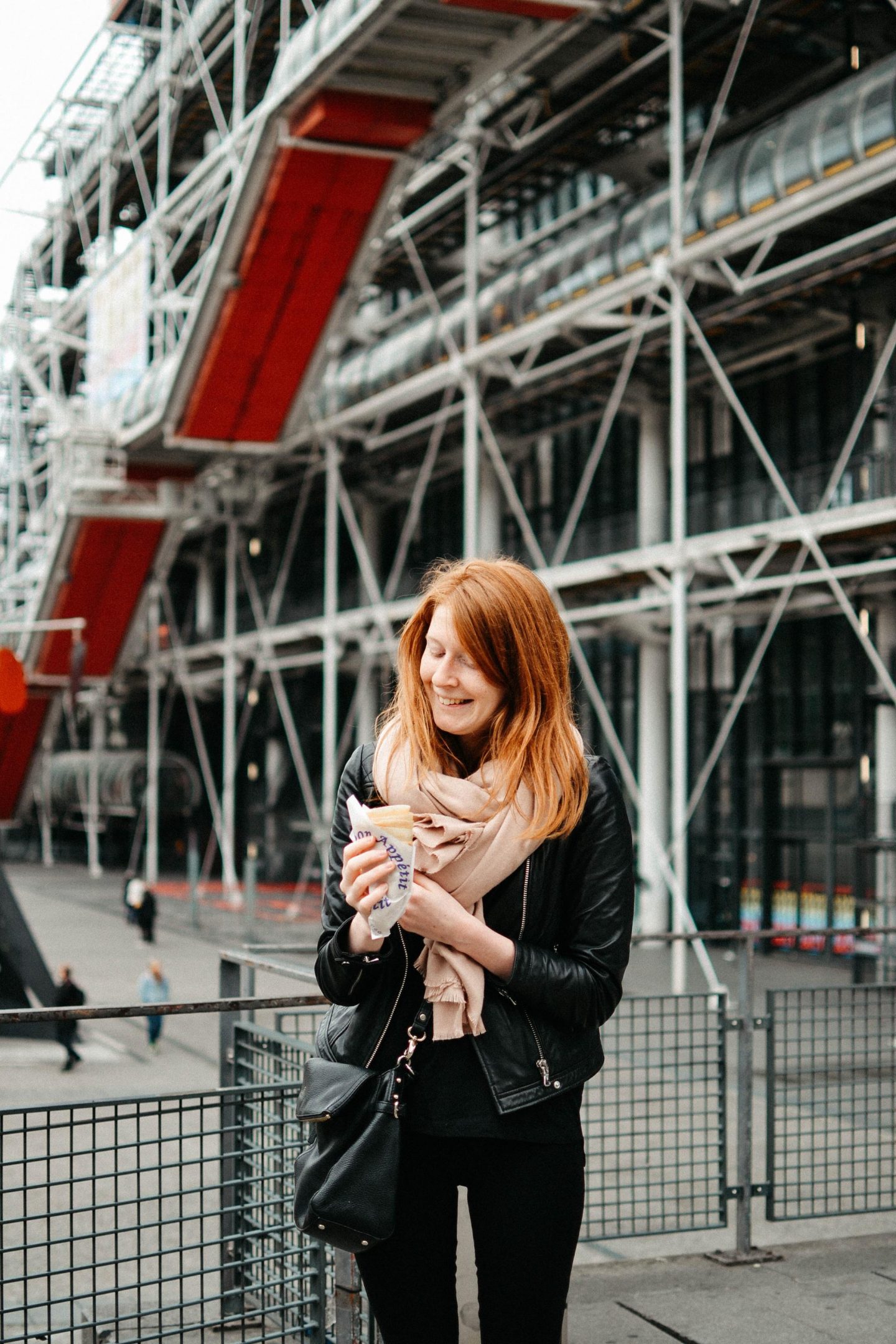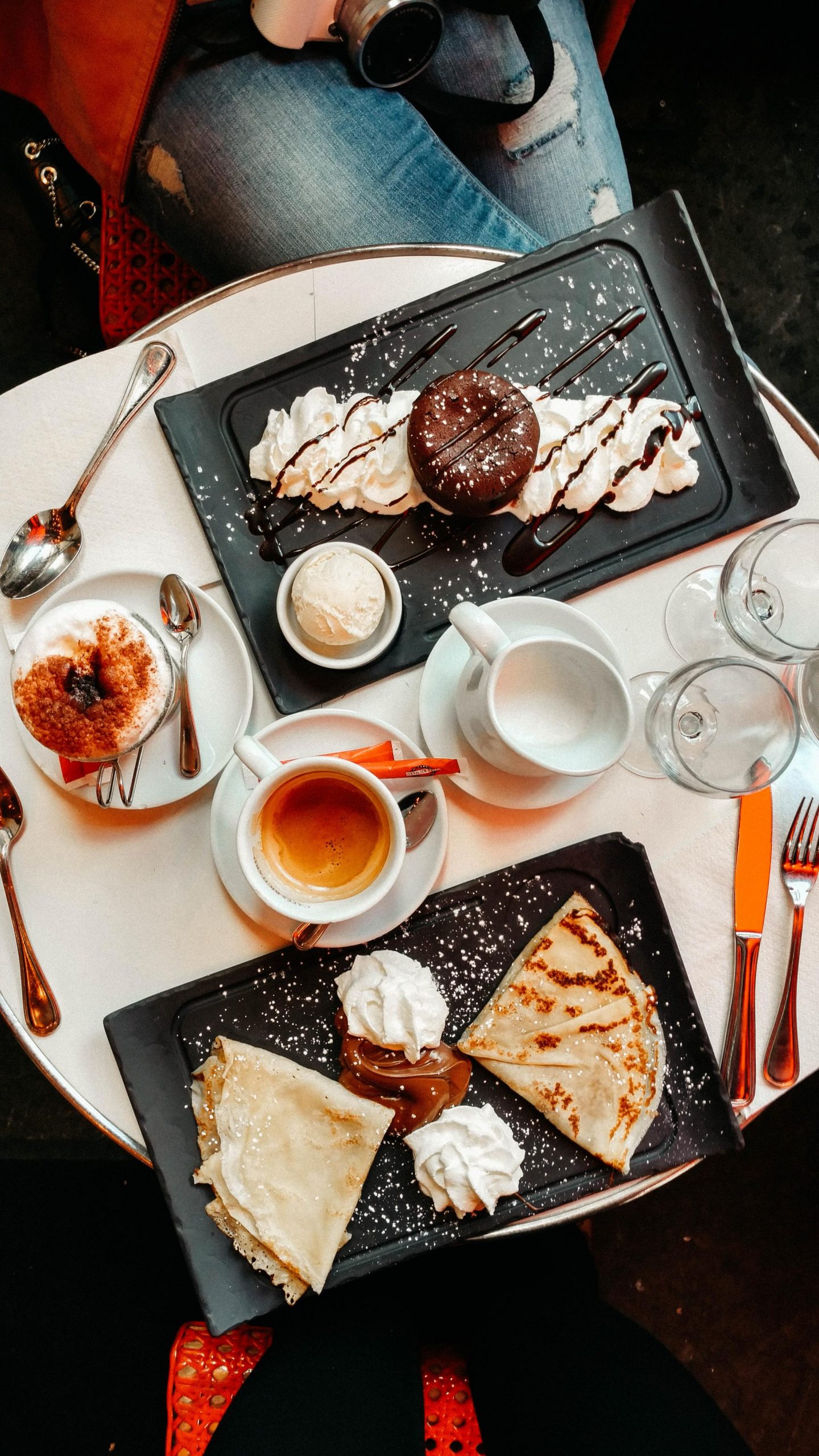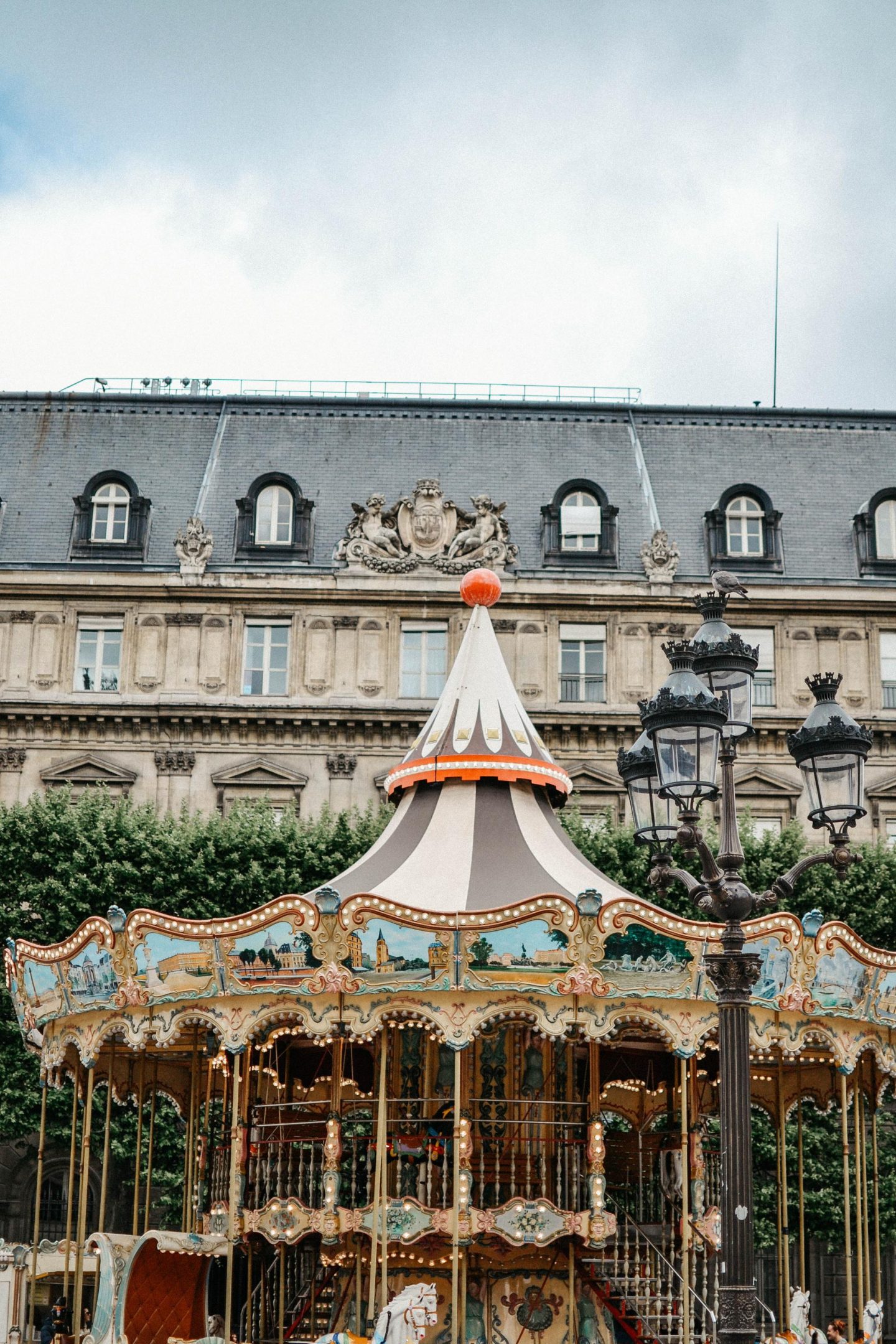 Eiffel Tower framed by a blooming Empress tree
Mirror selfies are still a thing, right?
Enjoying my daily crêpe next to Centre Pompidou
Crêpes et Moelleux, what else?
The carousel in front of the city hall (Hôtel de Ville)
A Few More Favorites!
Lastly I have a short list of favorites that we didn't get to visit this time around, but I feel like you need to know about these. You can find photos and full descriptions about most of these places in my older posts about Paris.
Jardin Des Plantes & Natural History Museum (it's gooood!)
Rue Mouffetard (cozy cafes and restaurants galore – close to Jardin Des Plantes
Les Invalides (my boyfriends favorite)
Sacre Coeur and Mont Martre (find the famous pink house on the crossing of Rue de l'Abreuvoir and Rue des Saules
Château de Vincennes and Bois du Vincennes (if you have extra time)
Pin this post for later!