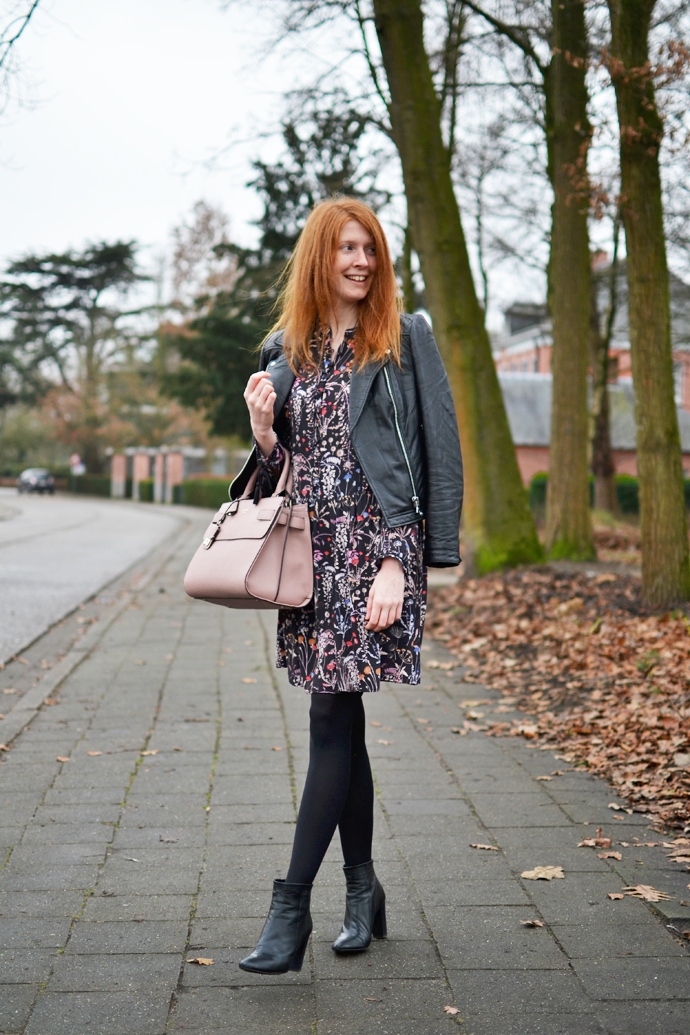 It's not a secret that I love travelling, a good cup of jo and playing around with clothes on a daily basis. What you might not know about me is that I also really love gardening. I can spend hours in the local garden center, mixing and matching plants for that perfectly styled border or planter. When we travel we always, always, always go for a walk in the botanical garden. In Spring I try to have fresh cut flowers in the house somewhere (white tulips are my favorite). And my living room is slowly but surely turning into a jungle. When nature goes into hibernation during the winter time I look for new ways to get my daily flower intake. Exempli gratia: dark and moody floral prints!
This Max & Co floral dress is a current favorite of mine. I've been wearing it to work loads and I'm pretty sure my colleagues are starting to think I only own one single dress. It caught my eye on our first day in Vilnius and I kept telling myself I didn't need another frock (note to colleagues: I have 36!) until eventually K told me that I should just go for it. For work I usually tone the look down a little with a knitted cardigan and flat booties, but for the holidays I chose a tough style and teamed the dress with my new moto jacket from Massimo Dutti. Heels so high I can't wear them longer than the duration of an outfit shoot and my "fits half of the Christmas gifts we brought" Cate bag from Guess made this a good outfit for sitting at the dinner table on Christmas Eve. Bonus points for the loose fit of the dress to hide a possible "food baby".
This Christmas didn't really feel real because we just came back from the Caribbean (hello 35°C!) and have been working in the house non-stop since. I didn't get to live towards the day this year and even now its seems odd to have a Christmas tree in our living room. We also didn't manage to go to the shops and find our Christmas gifts in time, so I am still faced with the impossible task of figuring out what to gift my dad by January 1st. We did receive presents already and I found the exact coffee maker I wanted for my old dorm room under the tree! I hope you guys all had a wonderful heartwarming weekend with friends, family, good food and plenty of holly jolly! I'm off now to find something to eat (I think I have chocolate covered peanuts in the pantry…) and watch some The 100 on Netflix. Ho ho ho!