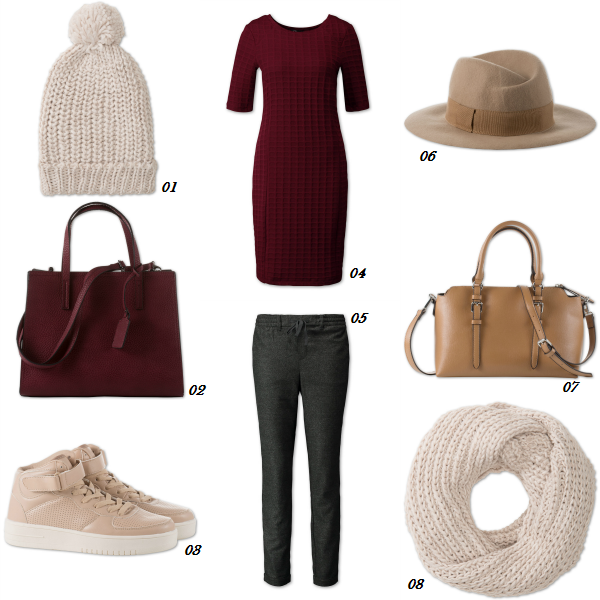 C&A is one of those stores that I often pass. I used to shop there with my parents when I was little, then moved into my H&M and Zara phase and never really went back. In recent years, however, I discovered that C&A has the best collection of cozy cardigans and when a friend told me she was looking for one I advised her to go take a peek. She asked me to come with her after our coffee break and little did I know I'd fall down the rabbit hole. My wishlist grew longer as we walked through the store, but thinking about my current shopping budget brought me back to reality fast. It's just about €0.   
01/ cream pom pom hat (€7) – Because even at 23, I sometimes still want to dress cute.
02/ Burgundy handbag (€29) – Love at first sight the other day. C&A currently also has another shopper in this gorgeous burgundy shade color that has a tassel and is made out of a smooth faux leather. This one has a more structured look which I love in the fall/winter.
03/High top sneakers (€29) – A while ago I wrote about white H&M sneakers that are here, there and everywhere right now. I promised myself I would buy them and then wised up when I realized that white shoes probably weren't a good idea in the next two seasons Then I saw these… I just might.
04/ Burgundy knitted dress (€25) – Love, love, love this dress! I would like to add a few more casual, simple dresses to my wardrobe to wear to my future work. This one would look amaaazing with my tall boots and massive collection of tan/brown/cognac colored bags. The only thing I'm worried about is the sizing. C&A sizes run rather large meaning that not much of their dresses fit my non-existent curves properly.  
05/ Woolen sweatpants (€19) – I just bought a pair of light grey sweatpants with a high dose of class (I now, the paradox!). These are just regular, comfy ones with pockets and in a darker shade of grey, meaning they'd work better with my winter wardrobe. At €19 they're also much cheaper than my other pair. #wishlisted!   
06/ Fedora (€19) – I don't think I'd actually buy this because I feel rather silly with a hat on, but it looks really pretty and has that perfect tan color. It would work beautifully when worn with a black, cream, grey or burgundy coat (which are the most frequent colors for winter coats I believe). A must have for all hat lovers out there!  
07/ Handbag with shoulder strap (€25) – I own 4 bags in this color (or just a tad bit lighter or darker) so I really really really don't need another. But the classic shape, not-too-big-not-too-small size, the handy compartments inside and the shoulder strap make this the perfect everyday bag.
08/ Cream infinity scarf (€9) – Because you can never have enough infinity scarves! In the past I've worn my cream colored scarves the most, but both raveling and need to be replaced. This one might just be what I am looking for, but first I need to find myself a new winter coat. Guess what my next wish list post will be about?