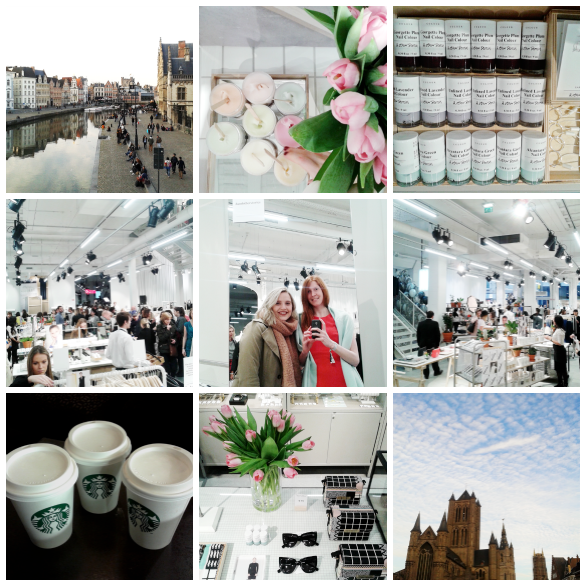 The & Other Stories store in Ghent has been open for a few weeks now, but I still wanted to share about the opening night with you. A short train ride took
Inez
and me from Antwerp to Ghent, where we arrived a little early so we could go for "dinner" first. Dinner being at McDonalds – so classy – to save some €€€ on food to spend on clothes later. That's how we roll. I made her walk to the Glaslei with me just for Instagram purposes and then we met up with
Naomi
and
Marlies
to discover the world of & Other Stories.
& Other Stories is a fashion brand that wants to help women tell their own story through their personal style. The collection includes everything you need to create a new outfit, from head to toe. My eye fell on a beautiful fresh green
zip pencil skirt
and the
Clare Vivier co-lab
. The perforated
leather shoulderbag
drew most of my attention. Naomi and I also had some fun testing the beauty products and I still regret not brining the Floral Momento
body scrub
and
lotion
home. My dry winter skin could use some love! Eventually I left the store empty handed, because
I kind of sort of
spend
way
to much on new sportswear earlier that week, but it was hard to control myself. My birthday is coming up though… .
At the end of the evening the photographer made me pose about ten times with the hundreds of balloons and then the girls and I made our way back to the station where we arrived two minutes after our train had left. Just perfect. We sought and found comfort in Starbucks and eventually arrived home an hour late, but very, very satisfied.
Thanks for another great party PURE!