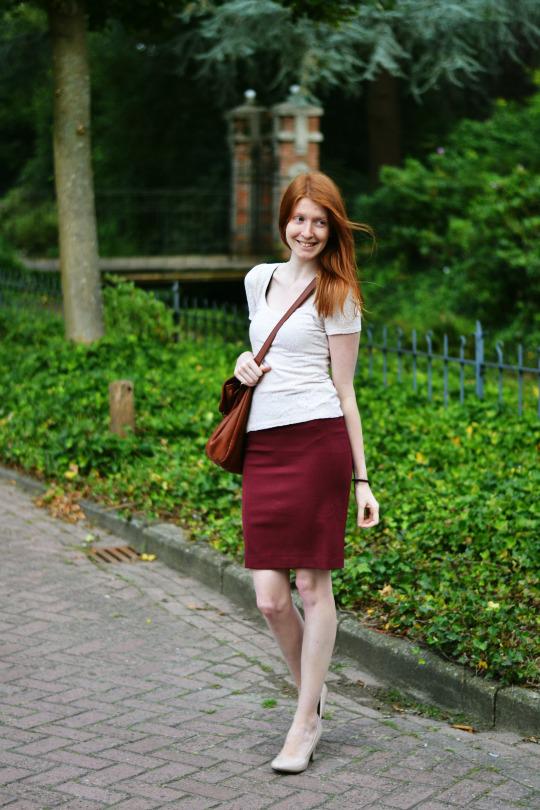 H&M skirt & top // Essentiel bag // Brandless shoes
I always do the opposite of what "the normal people" are doing. Like when we are in Psychology class and we have to choose the right solution for a case study and everyone says A and I say B, or like this post. Everyone is saying how much they love fall and sum up a million reasons why, but I have to come in and ruin the magic by pointing out why I don't like it. Sometimes I am right when I go left (weird formulation) and sometimes I am not. Let's see if you can agree with me on some of these?
Leaving home before the sun is up, and coming home after it went off to shine over America. Short days, long school hours.
Waiting in the dark for the bus to college, 95% of the time I'm doing so in pouring rain.
Pouring rain.
Leaves sticking on my heels. SO not classy.
The ice cream car doesn't pass daily anymore 🙁
There are no strawberries!
Untameble flyaways from pulling wool sweaters over my head.
People with really big umbrellas on narrow sidewalks. They almost poke your eyes out when they cross you.
Extra crowded busses
Leaving your big umbrella on the crowded bus home after school when you have to walk home in the dark and pouring rain. #justgreat
Ofcourse the list of reasons I love fall is endless. For example: the colour scheme. I love the warm colours you see in both nature and fashion stores. Mustard is overrepresented in my wardrobe, but oxblood really is the it-colour this fall. I bought this skirt at H&M last week without thinking it over. Not that it needed much consideration as it was only €15, it's a pencil skirt and it's oxblood. FYI, oxblood is a really horrible name for such a pretty colour. I like bordeaux better. Just say it with a french accent. Fancy smanchy! Once I got home I realised I had no idea how to wear this colour. My issue of Instyle mag suggests dark navy and black, but I wanted someting more fresh looking for the early days of fall. I randomly started throwing on  my T-shirts and this (old) pastel pink lace number from looked suprisingly good! An outfit was born. I love it! What would you pair oxblood with?