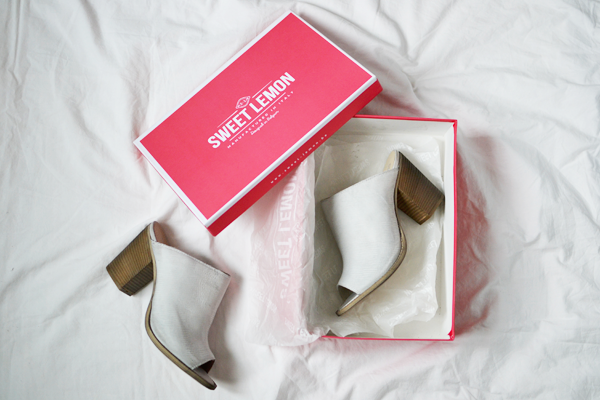 Oh sweet goodness I did it again. This time with a little help from my friends though, as these elegant mules were a gift from Sweet Lemon. Sweet Lemon kindly asked me to make a small wishlist from their webshop and later sent me one pair as a surprise to style in future outfits. When the shoe box came I had no idea which pair I'd find inside, but to my excitement they were my favorites from the bunch! I already have a few different outfits in mind and I'm sure my mules will be the finishing touch to them all!
Mules are everywhere this Spring. The nice block heel makes you feel sturdy, assures comfort and the style works well with so many different looks. I already now these are going to be one of my Spring staples! The functionality of the style cannot be underestimated either: easy to slip on and off!
I've taken my job as a brand ambassadress very seriously and have been convincing everyone around of the comfort, beauty and quality of the Sweet Lemon collection. The edgy designs with fun details are sure to make a statement under any outfit and my mules have definitely been eye-catchers in my everyday looks. The leather is perfectly soft and beautifully textured, as you can see in the photo's below. The mule style isn't for everyone and it's not something you see every day, so my shoes have gotten both positive and negative comments. My friend K thinks they look like clogs (we're best friends, I can handle her), but I totally love them and surprisingly so does the boyfriend! And if the man agrees… .