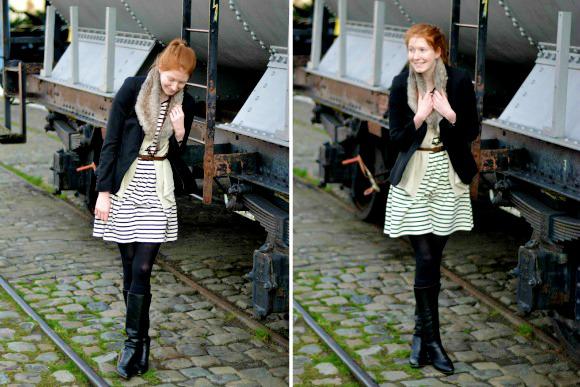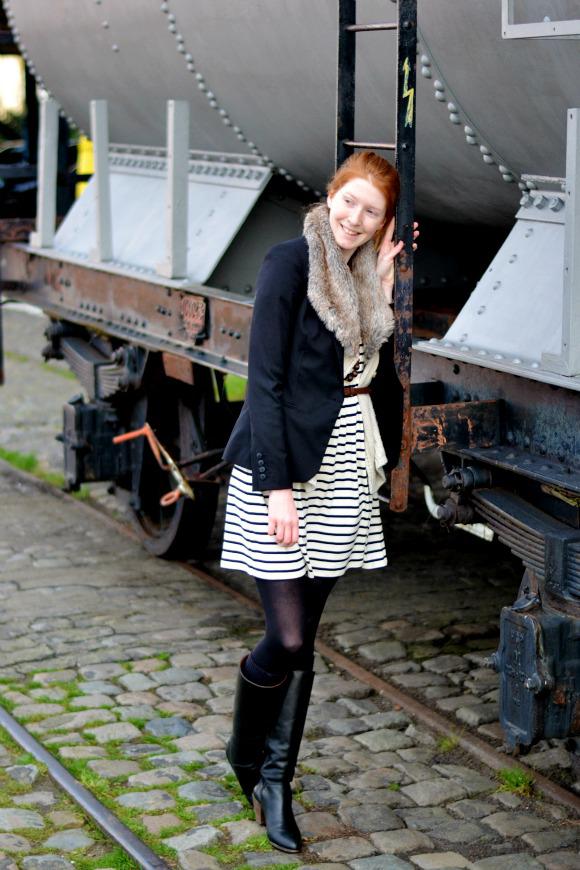 Zara vest // mango blazer // Oasis dress via Asos // H&M Belt // Six necklace // Footwork boots
We have this guy on campus that always catches my eye. I don't know his real name, but I like to call him Keanu. In fact, the whole campus calls him that way. He has this slick black hair, and he has never been seen without his floor length leather coat, summer or winter. He always wears it open, and tails fly up as he walks, like he was an extra in The Matrix. People stare at him. A lot. And they're not as subtle as they seem to think they are. But me, I admire this young man (pretty sure he's older than me, so I can't call him "kid", now can I?). I feel like he's completely himself, and comfortable with who he is, no matter how much people start whispering when he enters the agora (main hall). Watching him walk by every day for the last two and a half years has made me realize I could learn something from him. Because honestly, I'm always to busy thinking about what other people may think of me. It's one of the things I'm still battling after my teenagehood. (that's not a word according to my Auto Corrector) and that has had me feeling down for so many times. I do it even on my blog. For example: when I'm ready to publish a post, I ask myself the question: would my readers really enjoy this? I go through all the sessions photos again, edit a ton more and mess around with my written words. Heck, what am I doing? Keanu would not approve. Nope, he wouldn't. His jacket tails would hit me right in the face as he turns around to tell me: "Don't think you are, know you are. Come on. Stop trying to hit me and hit me.". Well, actually, It's not Keanu who says that in the movie, but all well, I think I know what he means. Stop thinking, just go for it. Let's make this resolution 1 for the new year.
There are many other perfect strangers that I come by everyday, but never talk to, that have learned me things in life. Oh, I could tell you a few stories, but it might be better to stick with just one for now. Do you have any Keanu's in your life? What did they teach you? I'd love to hear!