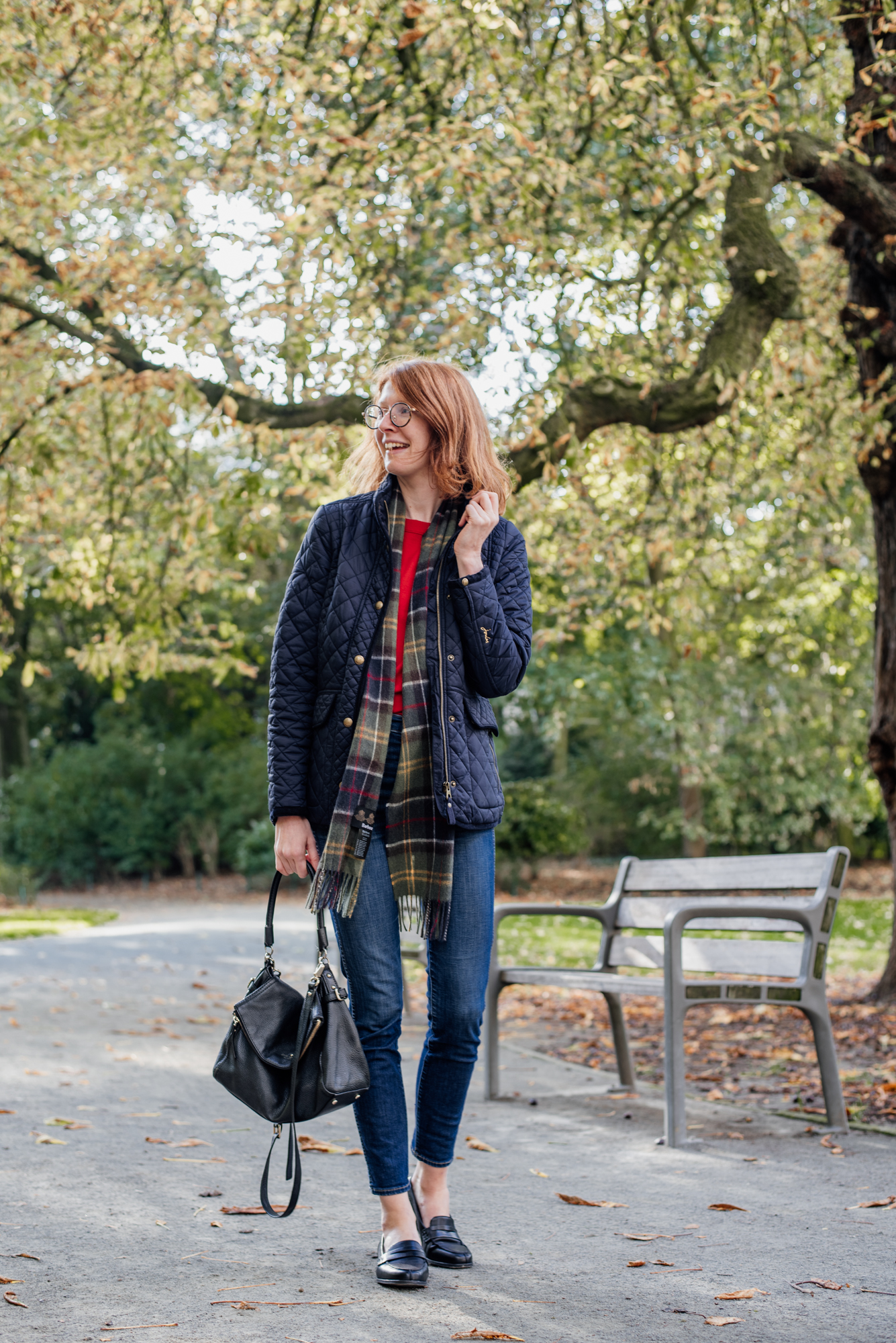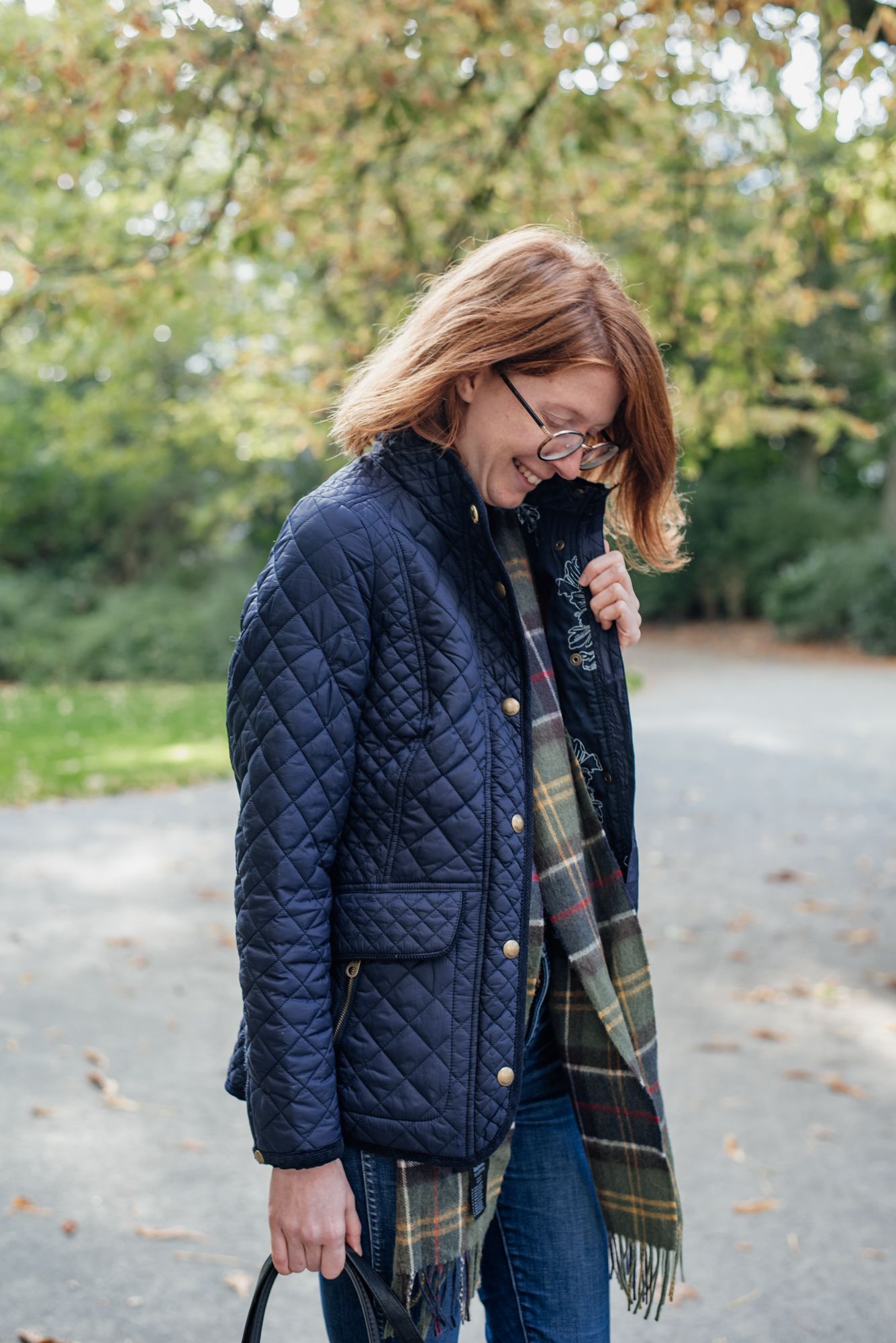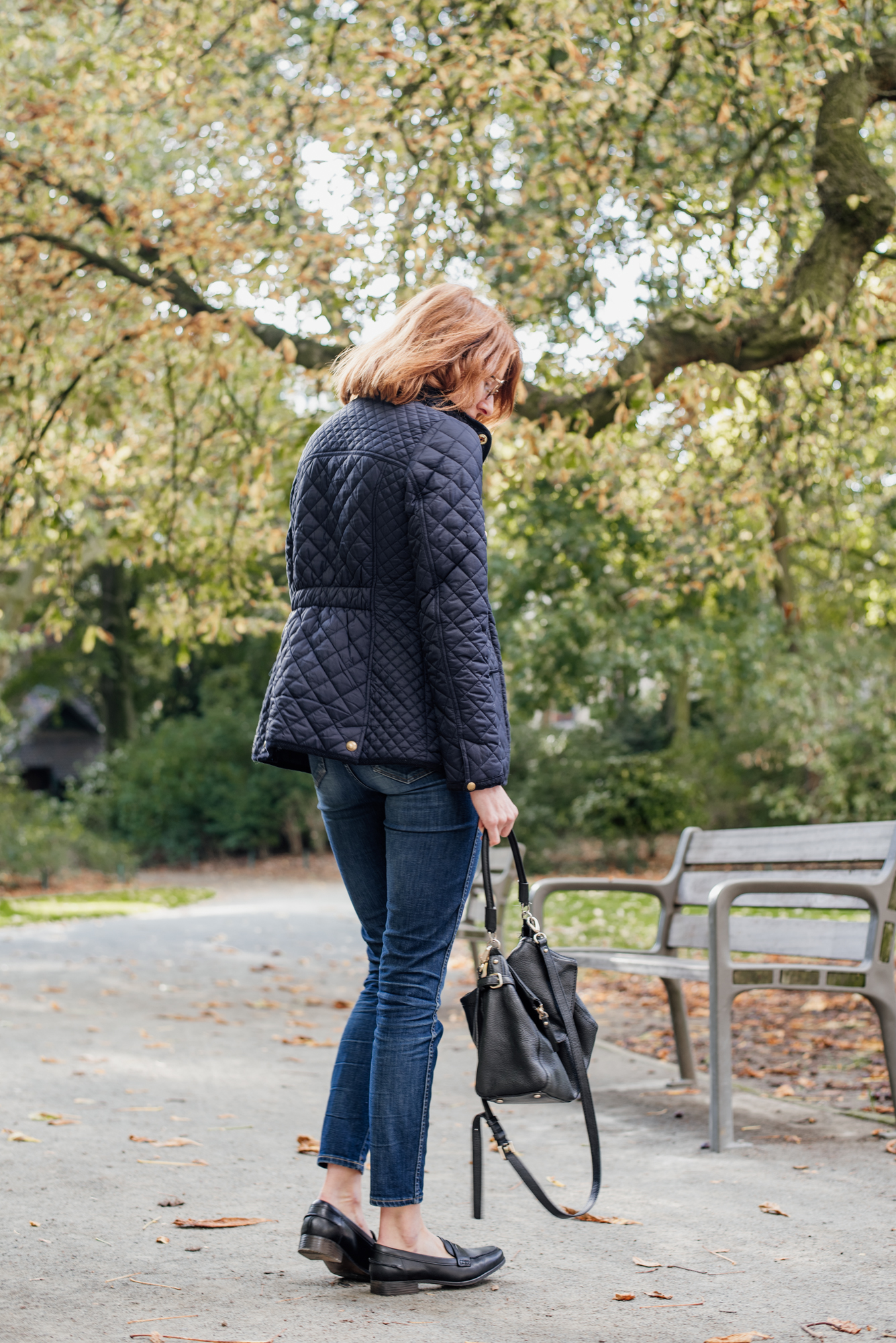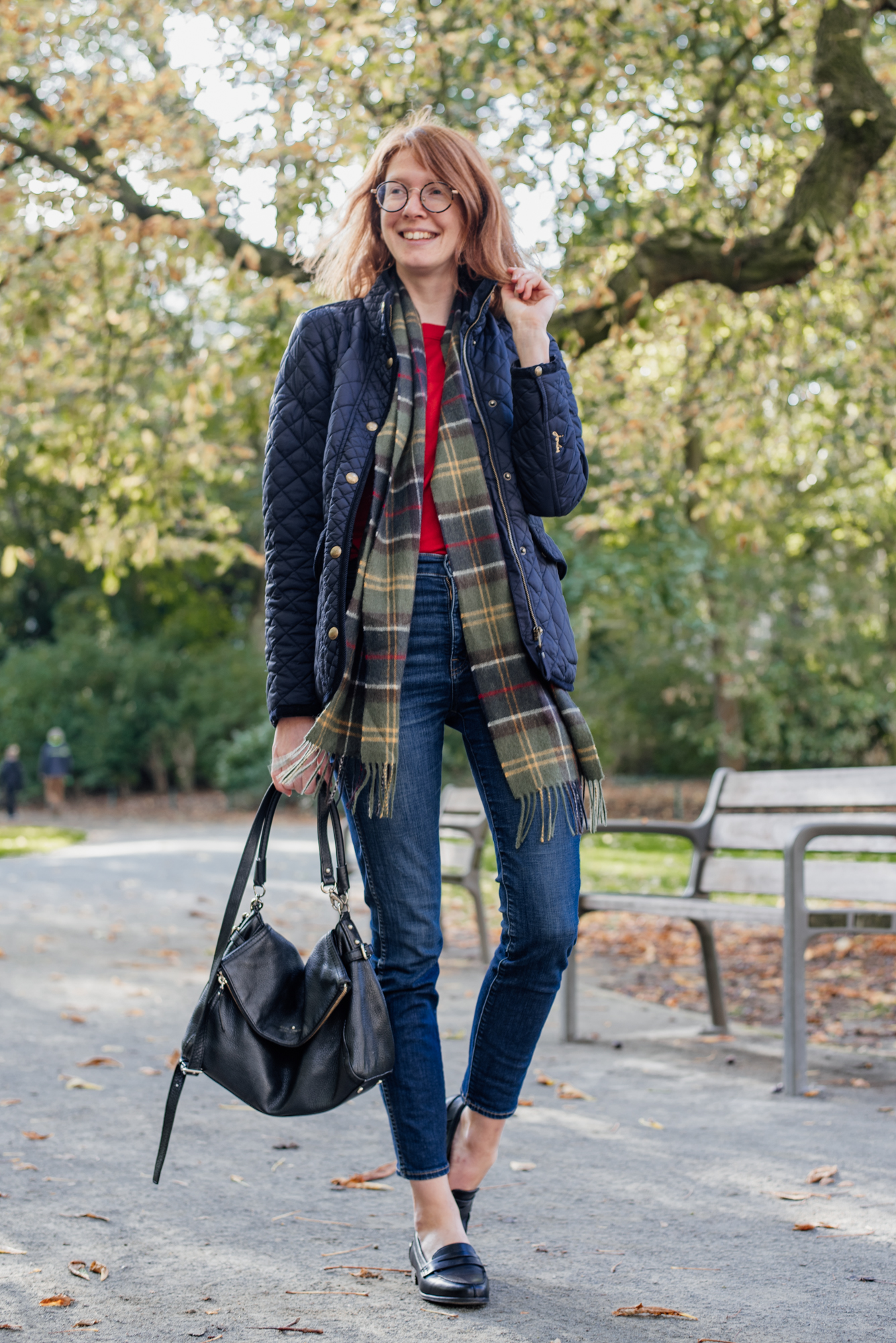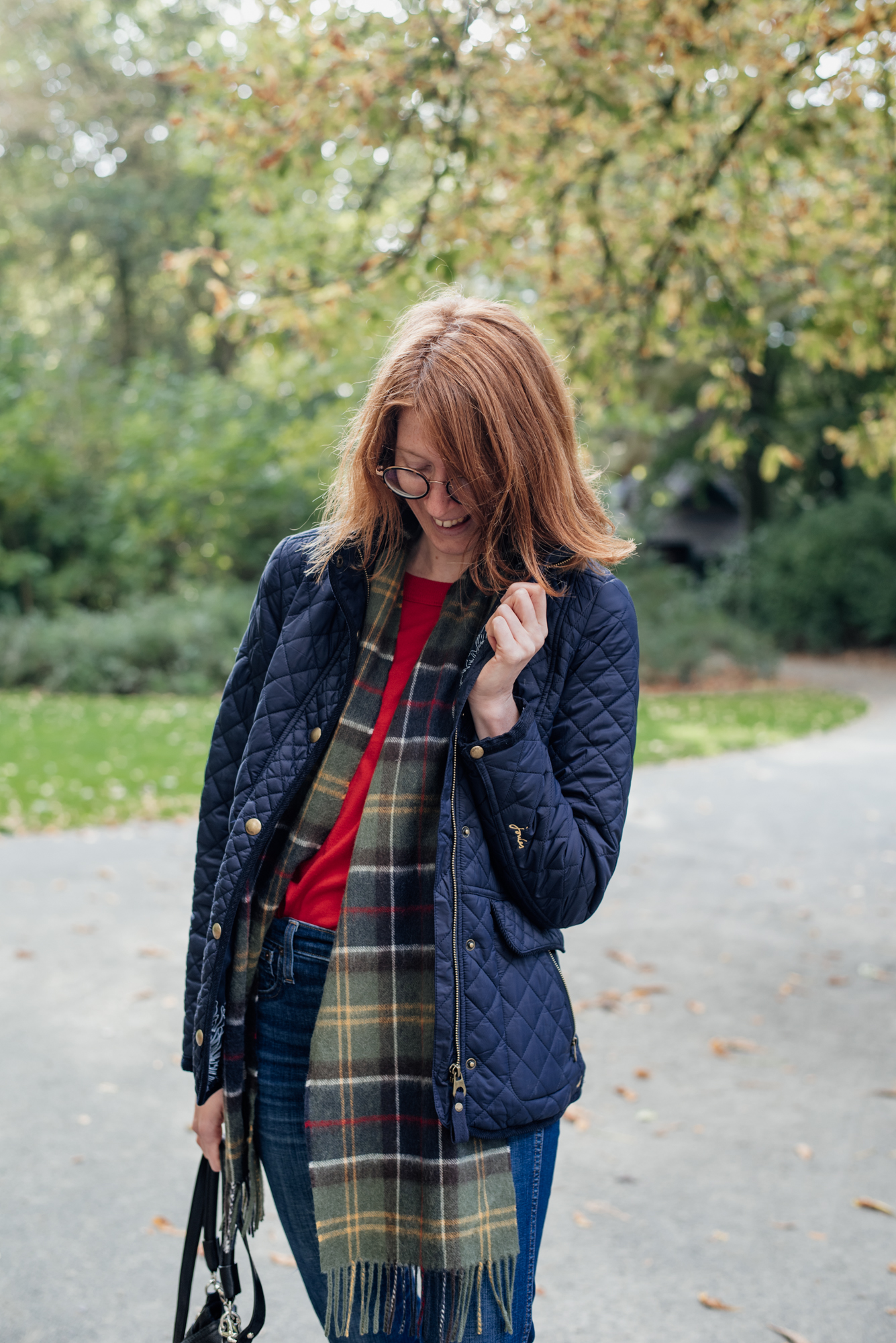 I'm a big fan of semi-formal wear. Blouses, tapered pants and blazers are definitely the most worn items in my wardrobe. Wearing those items makes me feel the most like myself. They mix and match well and they never fail to make me feel put together. It took me a good few years of wardrobe planning to finally achieve that curated wardrobe I always dreamt of.
And then, since a year or two, I noticed there is an entirely different style that I tend to shop for in Autumn: Country Style. Brands such as Barbour, Irelandseye, Aigle, Joules,… take over my search history as soon as September rolls around. I could live in fisherman sweaters, waxed jackets and riding boots if only I didn't live in the city.
Two years ago I bought a Barbour Beadnell jacket and I got so much wear out of it I decided to also buy a Quilted jacket too. Now, I have never owned a quilted jacket and feared I'd look like a girl lost on her way to the horse stables, so I wanted to buy a more affordable option first to see how I liked it. Enter the Joules Newdale Quilted Coat.
The Newdale Coat is designed to be an all round staple with the perfect fit. I found mine on sale for €30,00 in last year's boxing day sales. The regular price is somewhere around €100, which is still cheaper than Barbour's quilted jackets. I sized down and got a size UK6 based on the comments on the Joules website. It fits perfectly and I even still have room for a thin sweater. The quality is also amazing. It is well made, the fabric is sturdy and the quilting is done right. The quilting is so thick and soft that this coat feels super warm and snuggly on colder evenings. I love the printed lining, washed gold hardware and the cute logo on the sleeves. It's an understated, basic coat that's perfect for casual autumnal outfits. I went with the marine navy color because I also love that color for Spring.
Truth be told, at first I didn't really wear the coat. I like it, but it didn't make me feel amazing so I left it on the hallstand for a while. Then when we got our dog Ozzy this coat turned out to be a lifesaver. It has 4 pockets on the front (one with a zipper and one with a flap on each side) that fit her treats, a toy and a drinking bottle for when we go on longer walks. I put the treats behind the zipper for easy access so I can reward her while walking. It's so easy! When Ozzy was a puppy, she'd bite our arms sometimes when we tried to put her leash on and still the fabric hasn't ripped or damaged. It holds up so well! Bonus points for making me look stylish while I walk my dog, haha.
Final verdict? This coat is amazing for its price. I would advise to wait until the sales because that's when I bought mine and I've seen in go on sale a few times more the past year. The fit doesn't really change, but the pattern on the lining and other details updated every season. I think I bought the wrong color for me and that's why I don't wear it as much as I'd like to. Should have gone for the olive color after all. I think I'd wear that more. Might keep an eye out for it during the next Joules sale!
Outfit details:
coat: Joules Newdale Quilted Coat (mine is an older version, also comes in olive)
sweater: J.Crew Tippi Sweater (old, but still available in different colors)
jeans: Madewell (old)
loafers: Clarks (this year)
bag: Kate Spade 'little minka' (old)
scarf: Barbour in 'classic tartan' (new, bought at The English House)