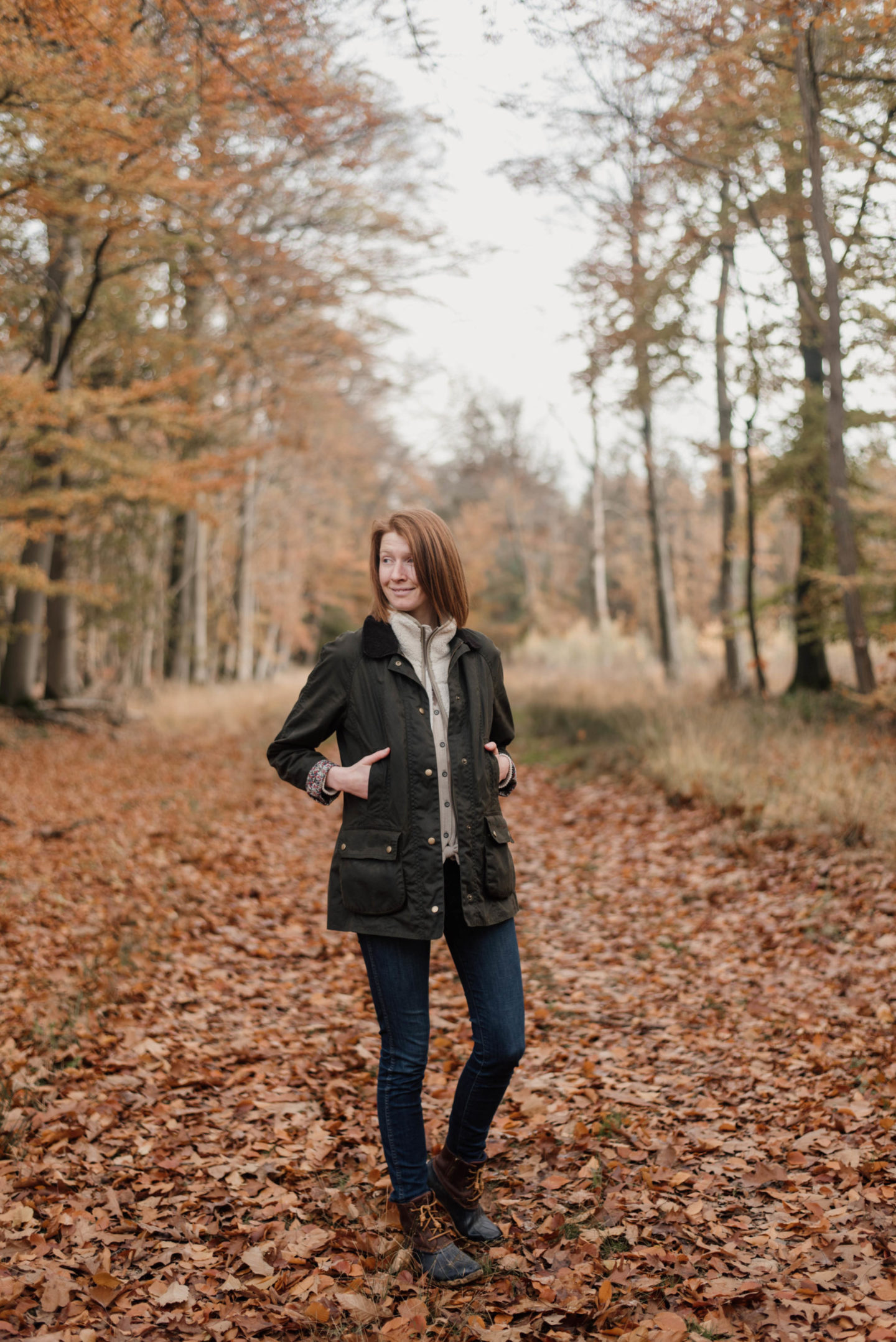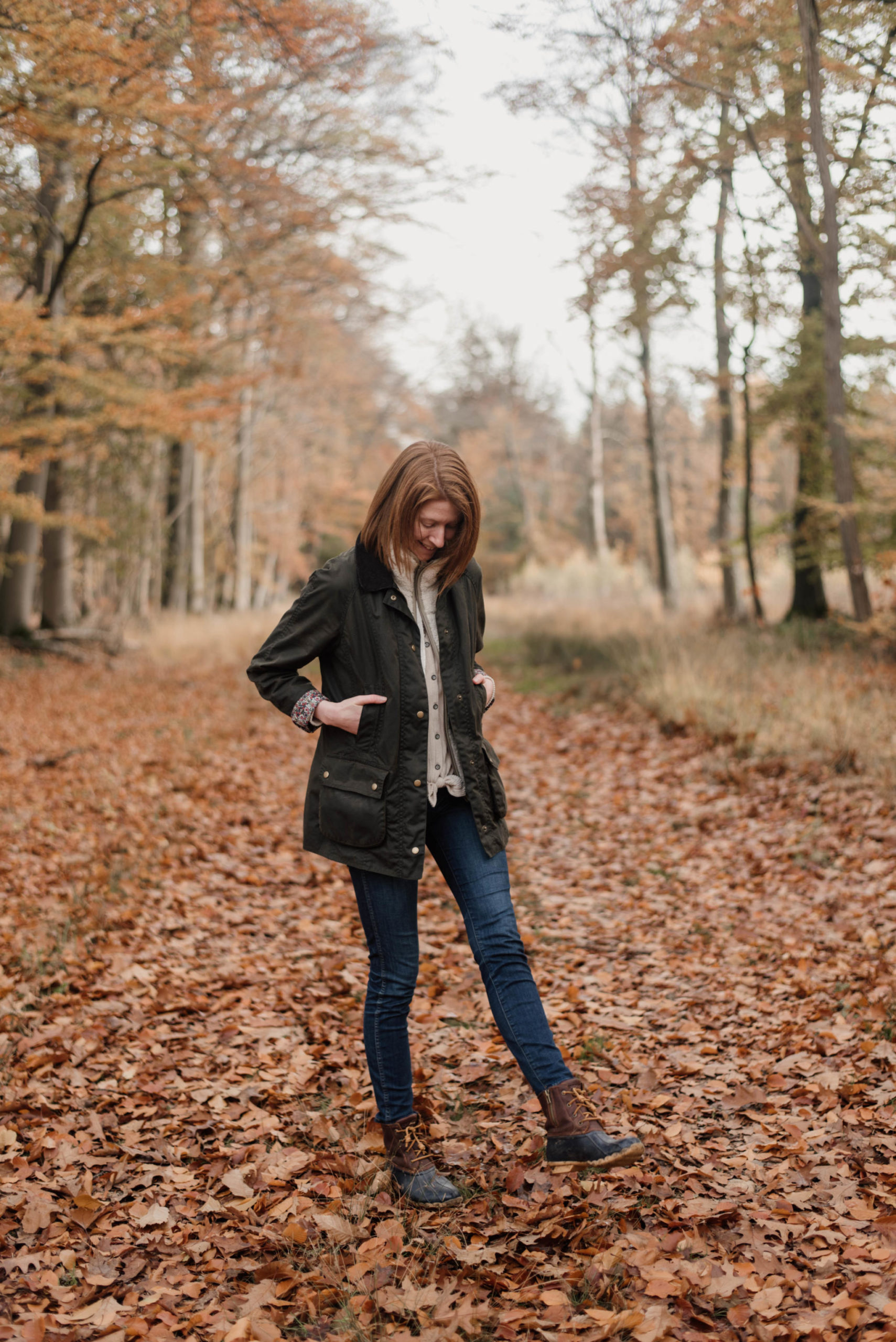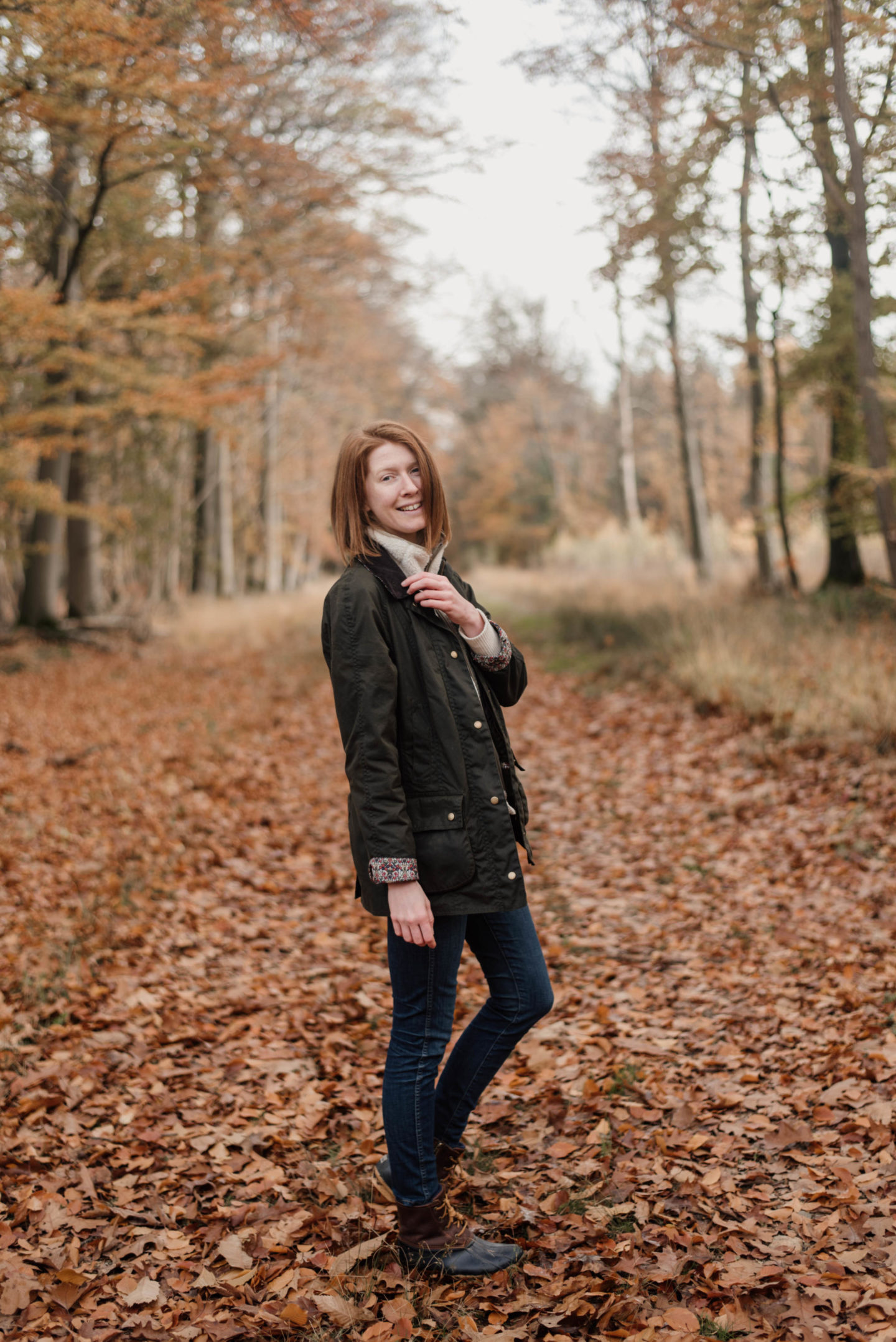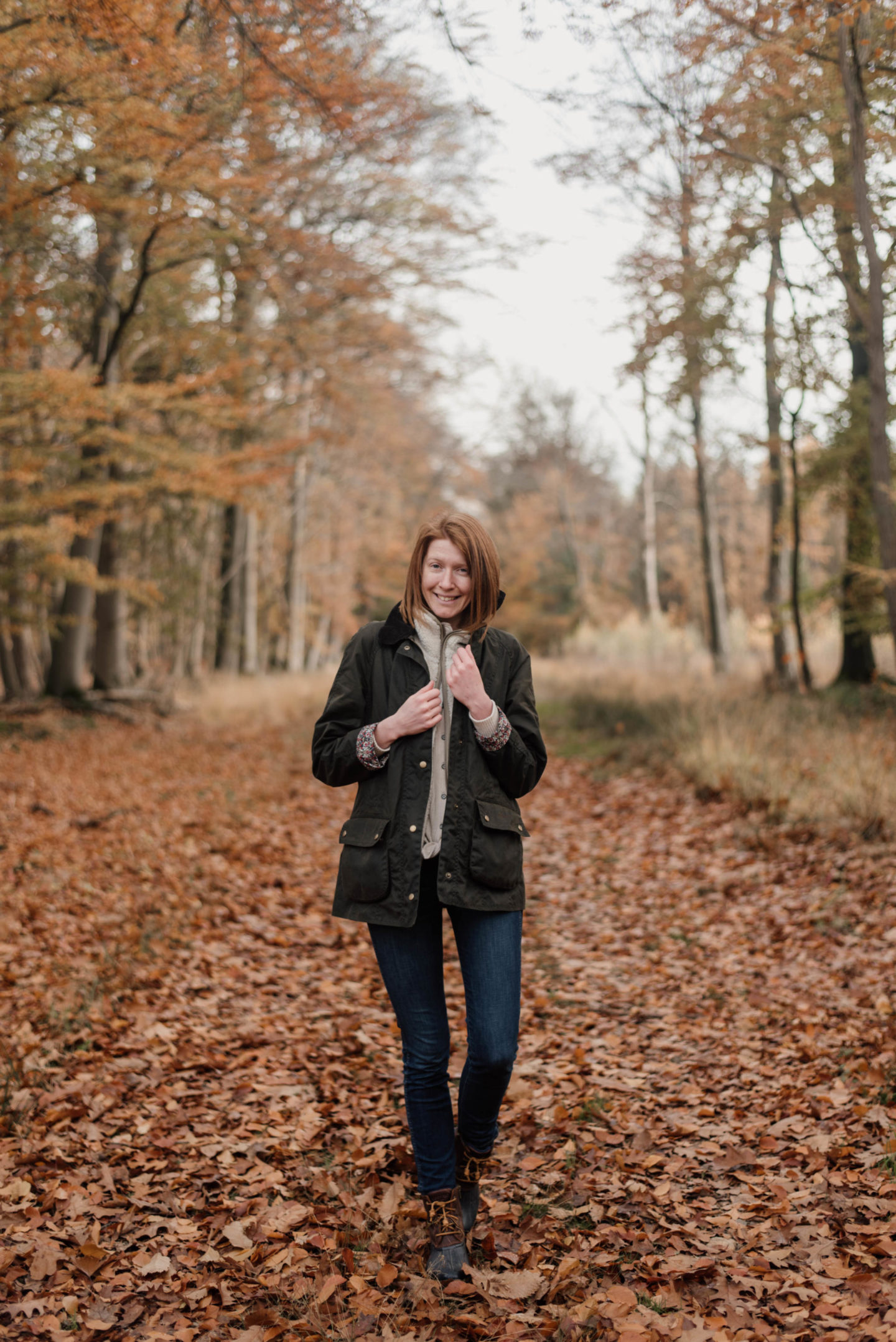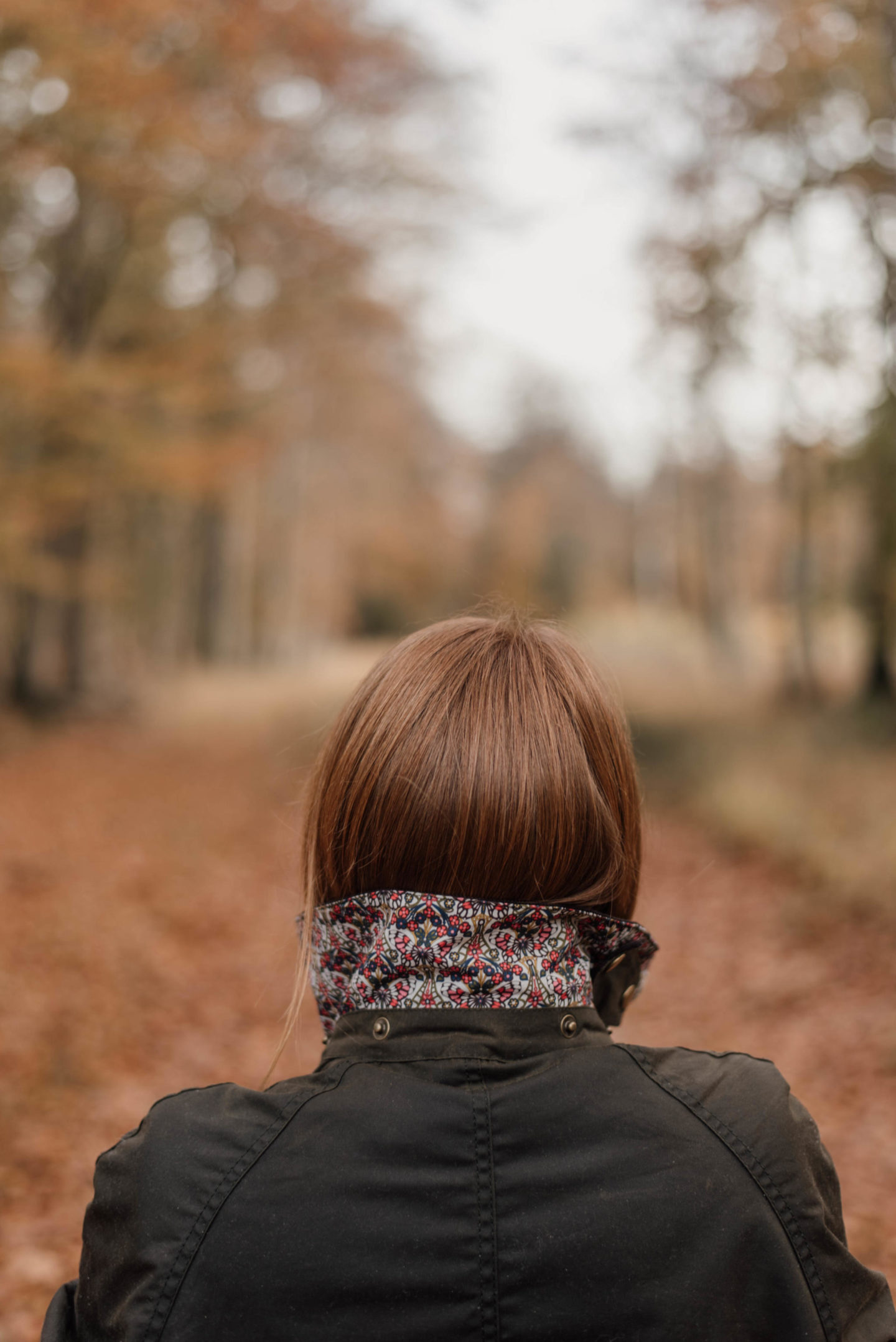 Behold, my favorite fall outfit photos of the year. Would you just look at all those beautiful orange birch trees? What a sight to see!
Today I wanted to review my Barbour Beadnell Wax Jacket. You've probably seen it around on blogs as it is a very popular all season jacket among the style blogging crowd. I've had it on my wish list for years and years and finally picked one up in the summer 2019 sales for… you're never going to believe this… 50% off!
Pricing of the Barbour Beadnell Wax Jacket
The Barbour Beadnell jacket has a retail price of around €300-350. I found mine on sale for something of a €127. Truth is, I don't think I would have been able to justify spending €300 on a jacket. No matter how good or timeless it is. That is just a lot of money for me. Fortunately, Barbour does variations on the Beadnell jacket from time to time, such as the Harriet jacket. It is 100% the same design and make as the Beadnell, but instead of the classic plaid lining, the Harriet comes in a Liberty print (which I honestly love more!). While the classic plaid version rarely goes on sale, the 'funky' variations do! I advice you to keep an eye on online retailers such as Zalando or About You during the sales to score a mighty good deal. I got mine on About You in the last week of the July sales, when they did an extra 30% off all sale items.
Quality of the Barbour Beadnell Wax Jacket
As soon as I opened the box that contained my jacket, I fell in love. This coat has such a beautiful design, lots of thoughtful design details and feels sturdy and qualitative. It just looks hella good.
Materials and functionality
The outside is 100% waxed cotton. The lining is 100% polyamide. The waxed cotton outer layer is water resistant, but not waterproof. This means the coat will protect you from a drizzle, but will definitely not keep you dry in a storm. It is not a raincoat. It is, however, a good wind breaker. I was quite surprised by this because when I think of wind breakers, I think of the typical travel brands such as Vaude or Patagonia, haha. In the warmer seasons the jacket itself keeps me sufficiently warm. In the winter I will wear either a fleece or my The North Face shearling vest underneath as an extra layer. The Beadnell isn't the thickest coat out there and even if it breaks the wind, it doesn't insulate like a dawn jacket would.
Sizing, design and details
The Beadnell jacket has a slim fit, but runs a bit large. I ordered my typical size S, but feel like I could have done with an XS. Not that I mind too much, because the extra room is welcome in winter when I want to wear a bulky layer underneath.
As I said before, I really love the overall design of the jacket and the details it features. The zip and button closure can make opening and closing a hassle. I usually leave the buttons open if I'm in a hurry. The Liberty print lining on mine is beautifully visible on the sleeves and under the collar. Did I already mention the collar is corduroy? So soft and therefor very cozy if you pop the collar up for a preppy (and let's be honest, warm) look!
Pockets, this coat has a lot of pockets. The two large utility pockets with snaps can hold everything I would usually put in my handbag: wallet, keys, my (big!) phone, earplugs and handkerchief. I must admit that I am a minimalist, haha. There are two more pockets (hand pockets) slightly above the utility pockets. The hand pockets are fleece lined and keep your hands nice and warm. Those are probably my favorite thing about the Beadnell jacket. And in case you need even more storage on you: there's also an inner pocket!
The Beadnell jacket comes in five colors: black, bark (cognac brown), navy, sage (olive-y green, it's the color I have!), rustic (dark brown)
Barbour offers a range of items that compliment the Beadnell jacket. These are sold separately. You can buy a matching hood, for example, that is easy to attach with the buttons that are hidden under the collar. I've been trying to find one online, but they're mostly out of stock or not the right color which is a shame. Maybe you have better luck in your country? Another item I'm think of buying for my waxed jacket is a zip-in liner. I currently use my shearling vest, but a matching set is always nicer in my opinion.
How to care for the Barbour Beadnell Wax Jacket
Much like with a genuine leather jacket, a waxed cotton jacket requires special care to make it last. The wax is what keeps the jacket waterproof, but it will wear out after some time, mostly in the areas where there is friction or movement. When the wax finish starts to look faded, you should reproof the coat. Barbour advices to reproof your waxed jacket once a year. There are two easy ways to do it: you either do it yourself or you let Barbour take care of it. My mother-in-law has a waxed cotton jacket and does it at home herself. She uses the Barbour Wax Thornproof Dressing in the matching color and follows the instructions in this video. My parents-in-law have an infrared cabin at home which makes the whole process easier.
Barbour offers a repair and reproof service. I haven't personally needed the service, so I don't have a first hand experience. There are, however, many others online who have tried and tested the service. A quick google search for 'Barbour repair and Reproof' should help you find the necessary information.
The coat is not machine washable. Barbour advices to dip it clean with a medium wet sponge.
Overall…
I'd really recommend this coat for anyone who loves a good wardrobe classic, the English country style and/or casual outdoors wear. It requires a bit of care, but it's a really lovely jacket to have – especially in the Fall – and super easy to style. I personally love it as a casual alternative to my blazers or leather moto jacket. I'm really happy with my purchase and hope to enjoy the Beadnell waxed cotton jacket for many years to come!
outfit details
Jacket: Barbour Harriet jacket in Sage green
Jeans: Madewell 10″ High Rise jeans
Henley shirt: Abercrombie & Fitch
Vest: The North Face Campshire vest
Shoes: Sperry