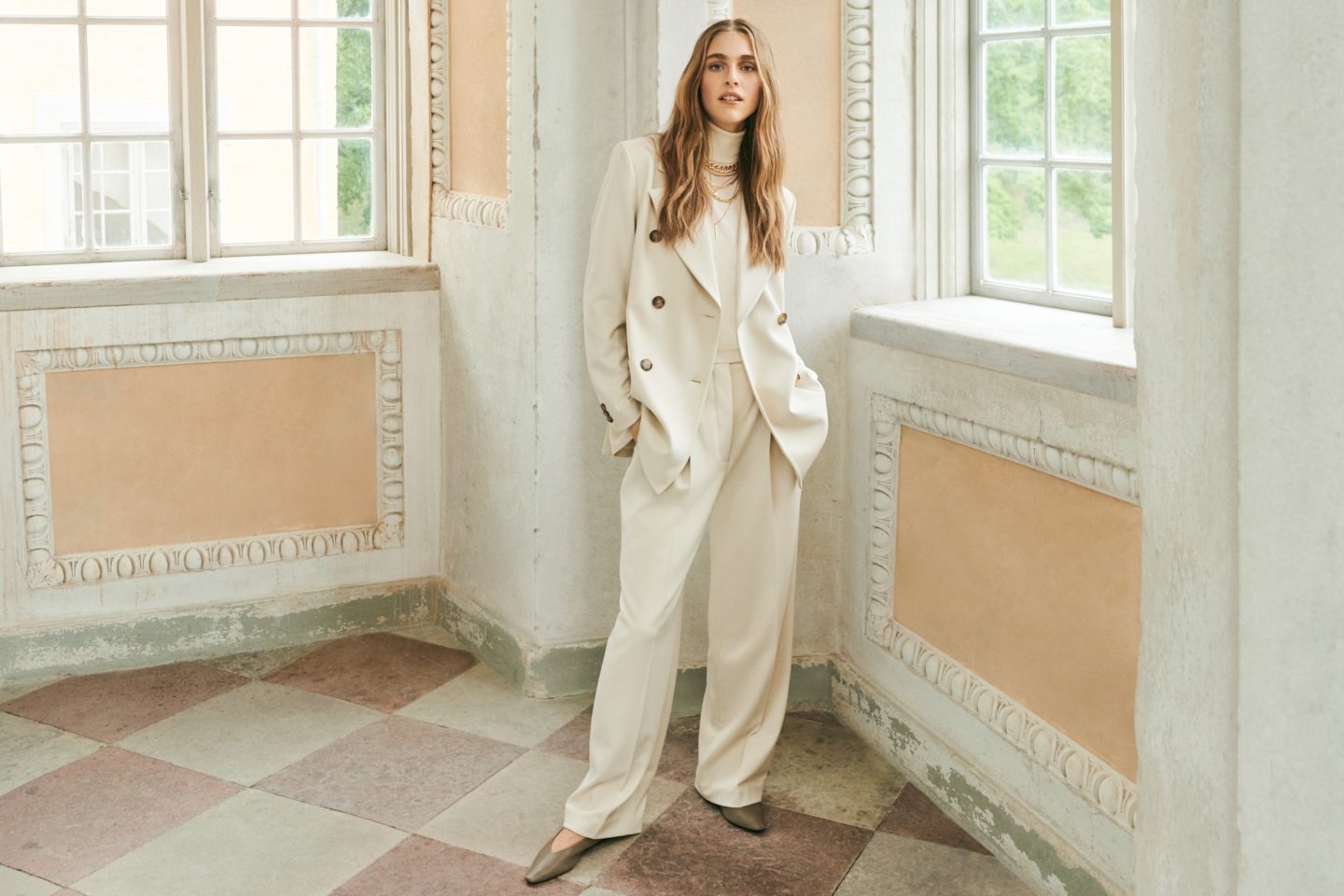 Although my recent posts make it seem like we're still in the middle of Spring, there is no denying that Fall is nearing us in reality. The weather in Belgium went from a 34°C heat wave to 13°C crisp Fall air in under 5 days. I've been wearing my lightest wool sweaters all week and put the can of cinnamon to the front of the spice cabinet. I am counting down the days to my first Pumpkin Spice Latte (yes, capitals) of the season and… the day my paycheck arrives, because I think H&M just released my favorite Fall collection of the year!
A few days ago a Vogue NL article popped up in my Google Now feed, telling me H&M was going to release a designer collaboration with luxury Italian brand Giuliva Heritage. Next to the headline was an image of a perfect-looking camel colored blazer. Needless to say, I clicked that link. Looking at my financial status after the order that I just made, I must admit that I regret that decision. I think… .
I didn't know Giuliva Heritage before seeing the article. Apparently they are a young Italian designer brand, run by a couple who attach great importance to Italian quality and craftsmanship. Their designs are one by one effortless and timeless and most of the items are hand-made in Naples. I personally love the tomboy elements they weave into their women's collection. However beautiful their pieces are, the hefty price tag that comes along with them far exceeds what I can spend.
Luckily for me, they designed a collection with H&M that has all the typical characteristics that I love about Giuliva Heritage at H&M prices. Below are my favorite pieces from the H&M x Giuliva Heritage collection!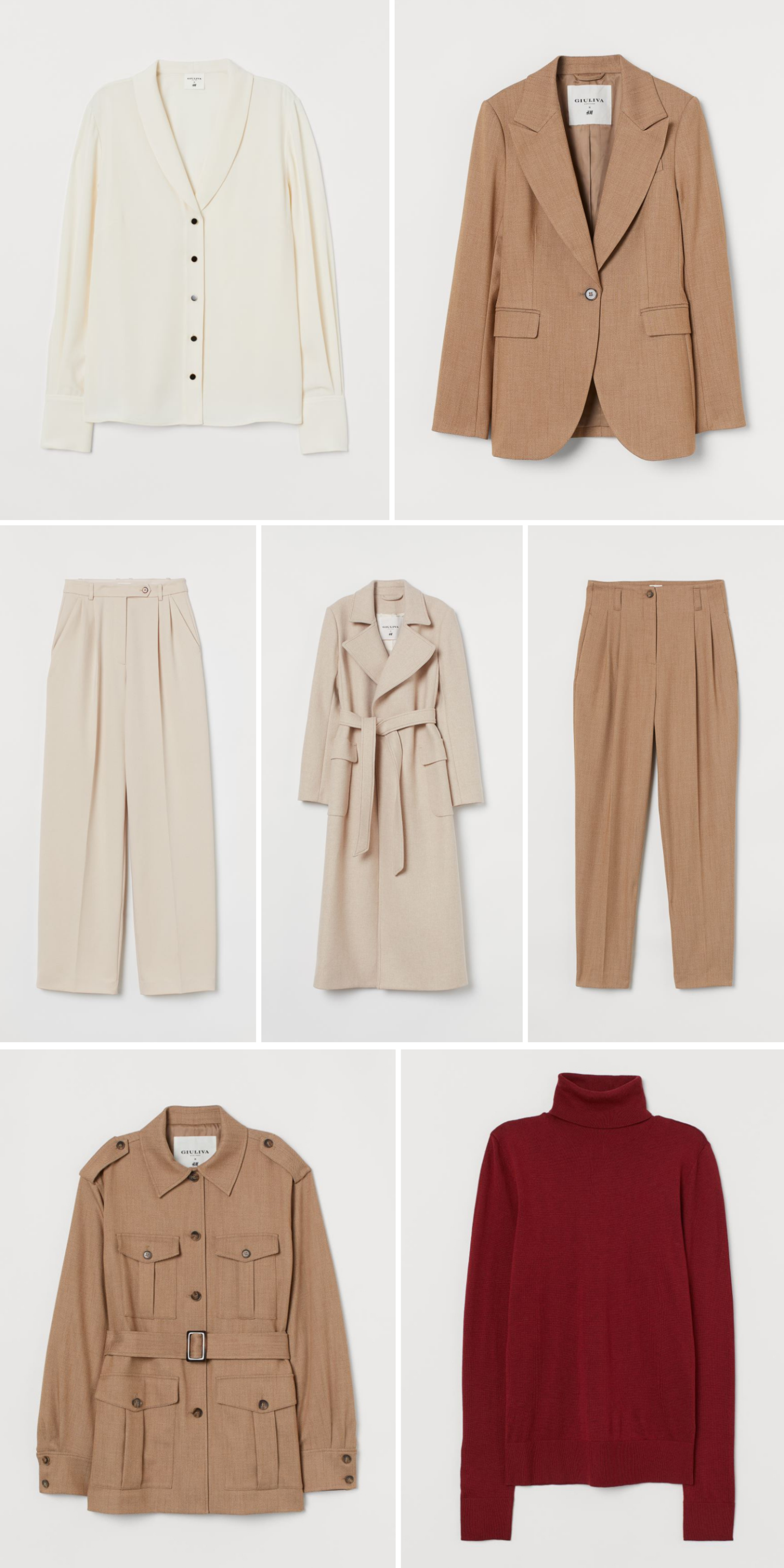 01 / Blouse with shawl collar (€29,99) – The perfect work and play blouse if you ask me! The cream white color pairs beautifully with camel and navy, two of the colors I wear most during fall and winter. I added this blouse to my online order.
02/ Single-breasted blazer (€39,99) – The items that sparked my interest the most is – to no one's surprise – a blazer. H&M does blazers very well. They had a camel blazer last year that I didn't buy and I still regret passing it up. Let's hope this one is as a good in real life as it looks online!
03 / Wide trousers (€39,99) – Wide trousers are my jam. I have a camel pair of wide trousers that I wear weekly and I have been loving winter whites on other people since forever. So, I decided to give these trousers a try, despite having a black-haired shedding dog in the house. Can't wait to try them on!
04/ Long wool-mix coat (€149,00) – Again, winter whites. I am definitely too pale to pull off a cream colored coat, so I didn't get this one. I have a light grey coat of the same model that everybody loved last year, so if you fancied that, this coat might be something for you. H&M also has a navy one currently in stock that I have been eyeing up (not from this collab).
05/ Dressy camel trousers(€39,99) – I might have just shopped three new pairs of trousers elsewhere last week, but I couldn't help myself and added these to cart as well. Most high street trousers come up too short at my ankles (hello long legs!), so I doubt they'll fit. But one can hope, right? I plan on wearing them with my cream jumpers or as a matching set with the blazer.
06/ Belted cargo jacket (€49,99) – If I didn't already have a Barbour wax jacket, I think I would have gone for a cargo jacket this year. I love this style of coat for more casual outfits in Fall. Blazers often look serious, so this could be a good playfull alternative.
07/ Roll neck sweater (€19,99) – I absolutely love this color! It's the most perfect autumnal shade of red. Sadly, I have two roll neck sweater that I barely ever wear because I find them so uncomfortable, so I decided not to buy this. Maybe If H&M does a crew neck version later… .