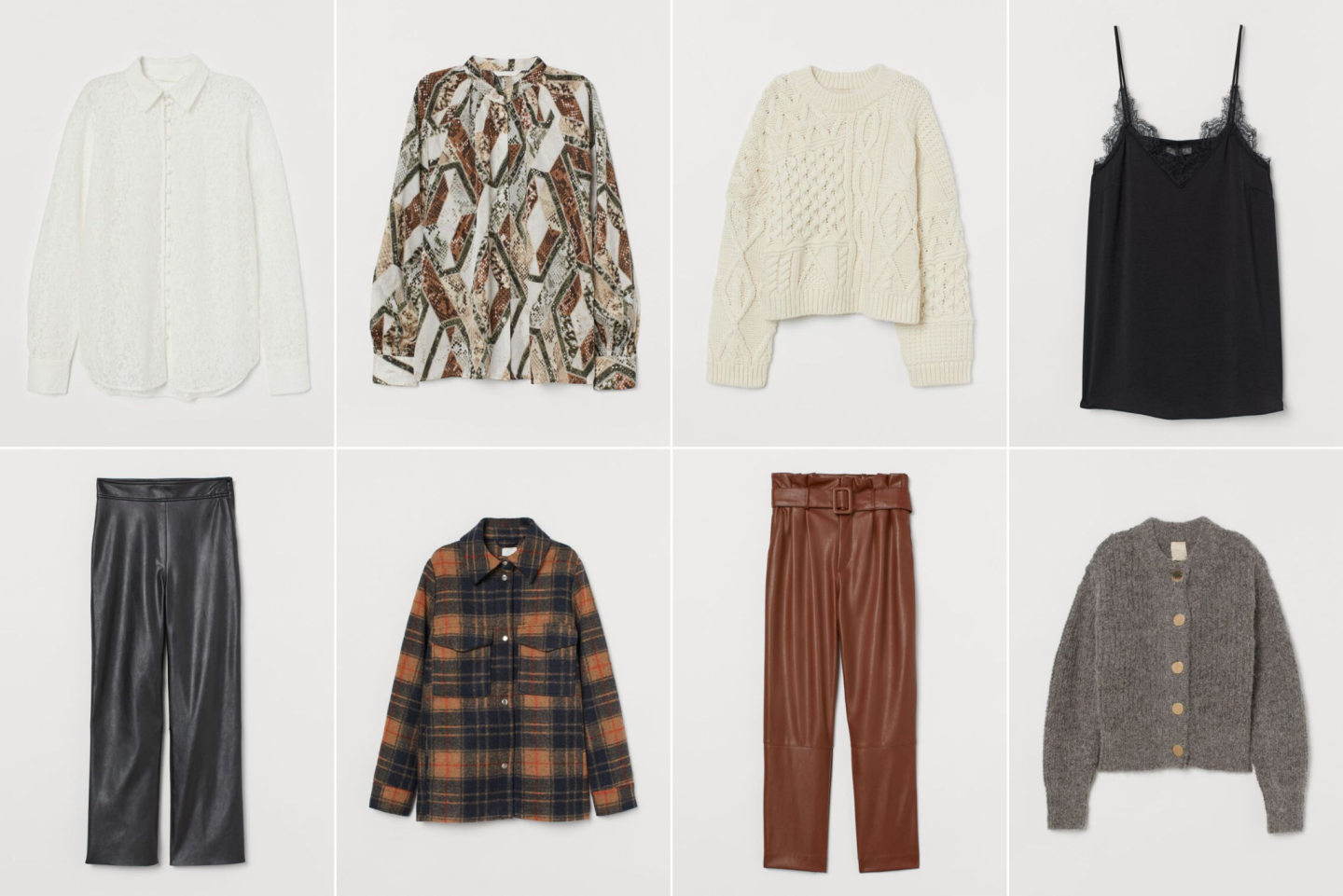 I shopped the new in section of H&M So you don't have to!
Who am I kidding… This post is the result of broke girl's late night scrolling session. I spotted a cosy-looking buffalo check shirt-jacket on Gaby Burger's blog and reeeeeally liked it, so I went on H&M's website to look for it (spoiler: didn't find it!). Anyway, it was the start of an entire wishful shopping session and before I knew it I had a Pinterest board full of clothes I can't afford to buy this season. I guess I had that coming for me when I booked 4 trips in one go.
I often get comments on my Instagram saying how much you guys enjoy my 'basic' and 'classic' style and that you'd love to know where I find affordable, but good basics. H&M is the secret!
While I'll be stomping around Europe this season wearing favorites from Fall's long gone, I thought it could be nice to share my finds from the New In section from H&M on my blog. The good news is that everything should still be in stock. The bad news is that your wallet might get hurt. FYI: I'm not responsible for any accidents or injuries to your bank account.
Oh, just one teeny tiny more thing I'd like to disclose: I haven't seen any of these item in real life. I made this selection purely by the way the items look online. They look promising, but there can always be something 'off' in reality like a fabric that feels wrong, a bad lining inside a coat, pants that don't fit well, … . Just so you know!
Cosy casual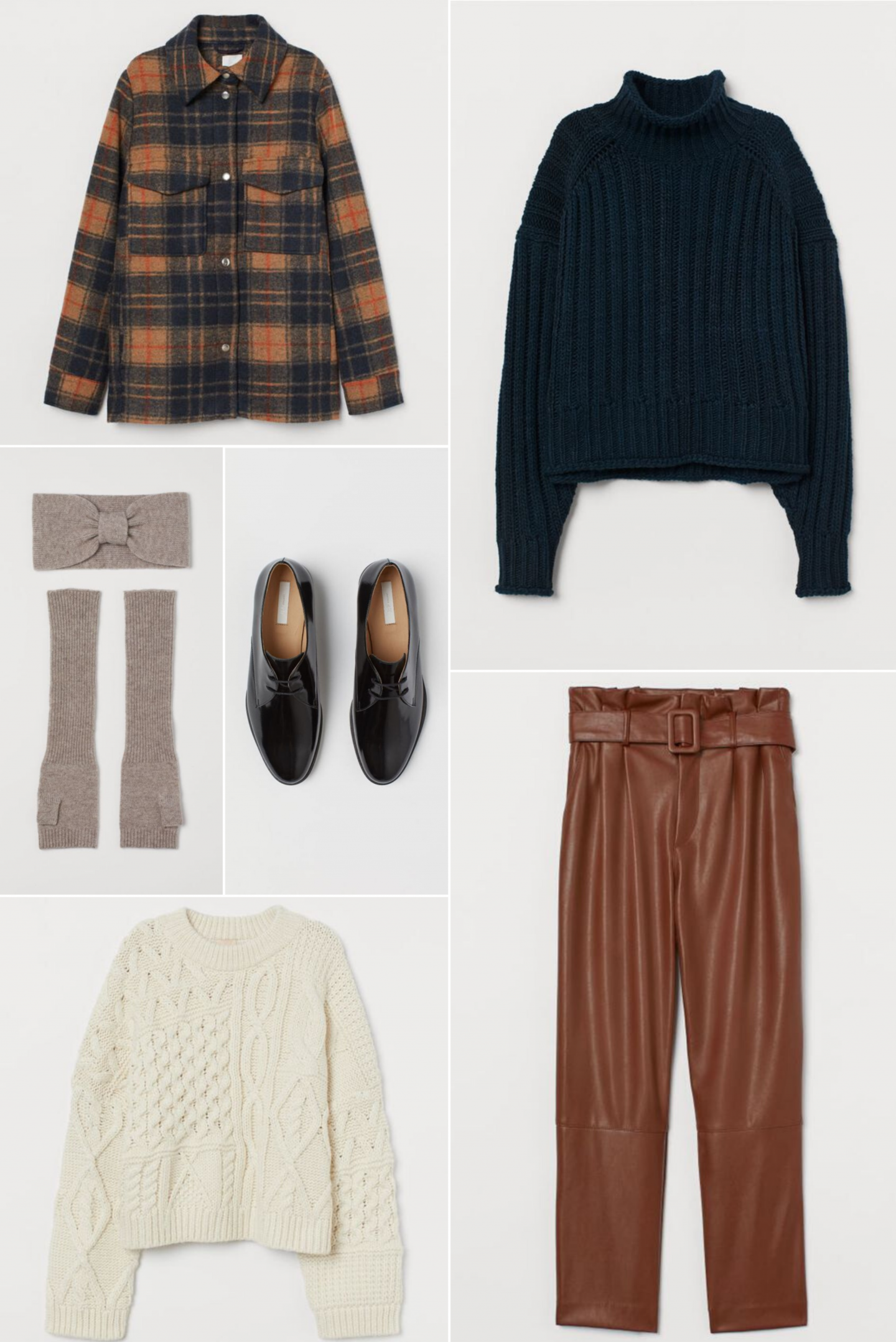 01/ plaid shirt jacket (€59.99) – So while I couldn't find the buffalo check jacket that I was looking for, I did find put that H&M has a few different shirt jackets in stock right now. I think the colors and patterns on theirs is a lot nicer than that one shirt jacket from Topshop that seems to have taken over Instagram. I'm still hoping the buffalo jack jacket will come into stock (again) soon but this one would be a really good alternative!
02/ navy ribbed knitted sweater (€29.99) – I actually wanted this in the camel color first, but the navy one fits better in this collage, haha. I actually already have a navy knitted sweater from COS, so I probably wouldn't buy this one (even if I had money to spend). Maybe you like it?
03/ cashmere blend set (€29.99) – Those headbands look SO freaking cute, but the truth is I just can't wear them. They slip off my hair within the first five minutes. Also: they make my head look like an egg? Or am I just being weird? & Other Stories have a 100% cashmere version of this that I really wanted to get last year, but these cashmere-blend ones from sister brand H&M are half the price, just as cute AND come with a matching set of gloves. Winner winner chicken dinner!
04/ derby style shoes (€69.99) – I had derby style shoes from & Other Stories once and they HURT. Like really, really, really bad. But I still am in love with the look and am debating getting another pair in the January sales (guessing that'll be the first month I'll have a shopping budget again, haha). This ones from H&M probably won't be suited for long wear either, but they do have all the right looks!
05/ faux leather trousers (€29.99) – These look really good online, but I know H&M and it's faux-leather well enough to realize that these will 99% certain not look half as good in reality. A girl can dream right?
06/ cream cable knit sweater (€39.99) – I need this in my life. It's perfect: oversize, affordable, cream, cable knit. A true blogger wardrobe classic!
Easy-to-wear classics
01/ tie-waist faux-silk dress (€24.99) – I don't love this dress per se, but it has so much potential! Good basics don't always have to wow you, but they do have to be building blocks for outfits that will make you feel good. This dress is pretty plane, but with the right styling it'll be a versatile fabulous fall outfit maker!
02/ blouse in snake print (€19.99) – I have a feeling that this is a marmite piece. I personally loved it the moment I spotted it. Snake print has pretty much become a basic print just like leopard, and has earned the 'classic' status. There also are no outrageous colors in here, just beautiful muted fall tones. Imagine it with jeans and a cream vest for daytime casual. Or with camel trousers and a blazer for the office. Date night? Pair it with the matching skirt to make it look like a flow-y maxi dress. Again: this piece has endless styling possibilities.
03/ midi skirt in snake print (€24.99) – Same reasons I mentioned above. I also see some great styling options like a creme knit sweater and tall boots, leather biker jacket, black bodysuit and heels, … so many optioooons!
04/ mock neck knitted dress (€19.99) – I sued to have a bodycon burgundy dress from Primark that I loved and wore a million times. Just to prove that even Primark sometimes has clothes that last! This dress from H&M has a different silhouette, but that seem deep red color that I love. It's one of those dresses that will always look good. Just at opaque tights and cognac brown accessories. Good to go!
Classy, sassy and a bit bad-ass-y
01/ wool vest with gold buttons (€59.99) – Okay, so H&M had a similar vest last year that I really loved and when I finally found it in store, it turnedout to be a mess. The fit and look of the vest were on point, but I was shedding wool everywhere. I didn't buy it. This one looks like it might be made from a different wool-blend, so maybe they solved the shedding problem. Big, fluffy, Cosy vests like these are never a bad item to invest in in my book!
02/ cami with lace trim (19.99) – I own a black lace trim cami from Samoe & Samsoe and you guys really love it. I understand that, because it basically is the softest and most flattering little top ever. At €59.99, however, it isn't exactly the cheapest one out there. H&M has been selling dupes for a couple of years now and they're actually quite good!
03/ lace blouse (€29.99) – You guys also love my white lace blouse from Whistles. They do still make a similar lace shirt every year, again their price point is a lot higher than H&M. This one is a steal at €29.99. Wear with edgy faux-leather trousers or dress it up with a dressy pant or even a pencil skirt for work.
04/ kick flare faux-leather trousers (€29.99) – I really love the look of these, but again, I'm not a fan of faux-leather. It's not a breathable fabric so after a few hours of wear you'll start sweating and it will stick to your legs. It is uncomfortable and annoying. But still, the cut of these trousers looks good on the model on the website and they're a good basic to build edgier looks on.
05/ pointy toe heels in faux-suede (€29.99) – Ending this post with a bit of a whimper. I put these shoes in just to finish the collage, haha. I picked them out for that beautiful deep red shade, but I actually don't wear heels anymore (foot arch problems, hey!). I used to wear mostly H&M shoes in High School and actually enjoyed their sneakers and ballet flats a lot back then. They have a lot of choice, albeit it sometimes a bit uhm… let's say 'surprising styles', haha!