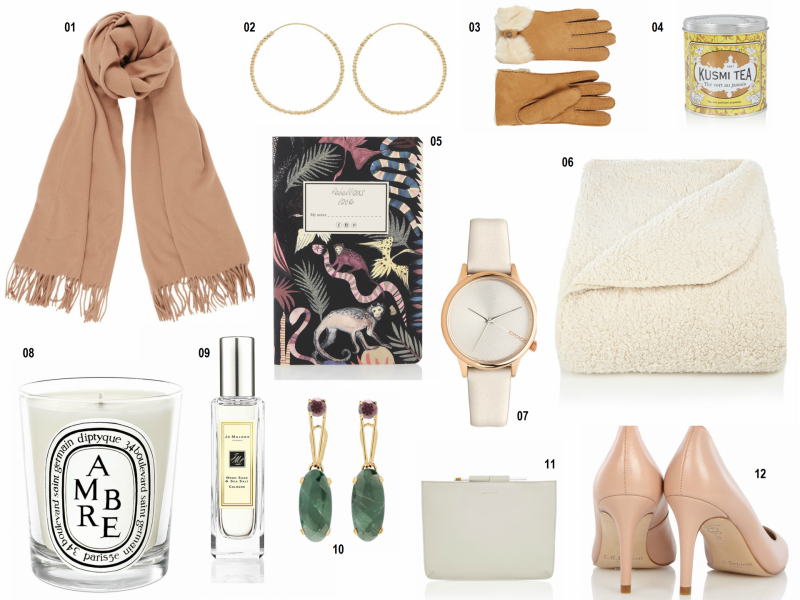 01 Acne Studios Canada scarf in wool 200x70cm (€160) / 02 Anna + Nina Gold Pleated Bird Leg Creoles (€59,95) / 03 Ugg Bow Gloves in Suede (€159,95) / 04 Kusmi Tea Jasmin Green Tea 250g (€21,95) / 05 Becksöndergaard Rebellious Love Notepad (€7) / 06 Essenza Lammy Plaid in faux fur 200x150cm (€49,95) / 07 Komono Estelle Watch (€89,95) / 08 Diptyque Ambre Candle (€48) / 09 Jo Malone Wood Sage & Sea Salt Cologne 75ml (€53) / 10 Wouters & Hendrix Stud Earrings with Green Spinel and Red Crystal (€400) / 11 Monograph Tablet Cover for iPad Pro (€122,95) / 12 L.K. Bennett Floret pump in Leather (€225)
---
Wait… Christmas is in one week?!
Oh dear goodness. I still haven't finished my holiday shopping! I am always late when it comes to gift shopping, but this year we're doing Secret Santa with our family and so I can't really afford to be late! With a full-time job, a household, early holiday parties, after-work events and whatnot, I was starting to worry about how I was going to manage gift shopping this year. I like my social life and I do not like crowded shopping streets. What's a desperate shopper to do? Well… Online shopping of course!
The one-stop online shop
A few years ago De Bijenkorf launched a Belgian web shop, making all their goodies available for us Belgians too! De Bijenkorf is that perfect one-stop shop for all your holiday gifts. Bonus points: they deliver online orders within 1-2 days if you order before 10 PM. Ain't that good news to all the procrastinators out there? The online shop has a wide selection of brands and is an endless source of inspiration. Their fashion departments houses personal favorites such as Reiss, Ted Baker and Coach. I also love browsing the beauty and home sections as those spark some great gift ideas. Above you can find items that I think could work for any woman on your list and my own current favorites from the web shop (read: items I wouldn't mind finding under the Christmas tree myself)!
PS: If you have some budget left after the holidays, be sure to check out their online sale. It's insanely good. I scored an awesome flannel Rails shirt for 70% off last year. Just sayin'.
My last-minute gift picks
01 / I actually put the smaller size of this scarf on my own wish list. I'm trying to make an effort at buying more qualitative items fdor my winter wardrobe and really want to add a luxury scarf to my collection. The Acne scarf is an established value in the fashion scene and the camel color will never go out of style.
02 / Beautiful gold pleated earrings that are basic, but a little twisted. What jewelry-loving girl wouldn't love these?
03/ Okay, I just had to look at these gloves for 1 second to know I wanted them. They are cute and will keep you perfectly warm during the winter months. Winner!
04/ I'm a coffee girl aaaaall the way, but I have many friends who prefer tea. Kusmi Tea has recently opened a flagship store in Brussels and I got to taste-test some of their teas. Their loose-leaf teas are known as some of the best on the market and every flavor comes in a different colorful package!
05/ A handy little stocking filler, this notebook! For the monkey in the family.
06/ In my house there's one rule: you can never have enough blankets! I actually asked for a thick, knitted blanket in cream white for Christmas. Those are pretty hard to find though, so this faux fur one could be a good alternative!
07/ Watches are a typical gift. I personally love the Komono watches. They are beautifully design and not too expensive at all. This white, gold and silver one would go so well with so many outfit.
08/ After years and years of lusting after Diptyque candles online, I'm finally going to make the splurge and get myself one. I love deep scents such as this one.
09/ I one wrote a blog post about Jo Malone, so you might remember that it's my favorite perfume brand. I will always be happy to receive an extra bottle of my everyday perfume: Wood Sage & Sea Salt.
10/ For the luxury lover. Wouters & Hendrix is a Belgian jewelry brand based in Antwerp. I've admired their designs for a long time. They use gems, shapes and colors that I truly appreciate. A little bit special, but still classic. These earrings would be the perfect finishing touch to any of my outfits.
11/ I don't own an iPad, but if I did… . The most luxurious tablet cover I ever did see, this Monograph cover is made from a beautiful, soft grey genuine leather.
12/ Oh, just a pair of shoes that I've been eyeing for almost a year. Fingers crossed they're going to go one sale after the holidays. How perfect wouldn't these be when Spring rolls back around?
You can shop all items at De Bijenkorf!