On almost all of my city trips I travel with hand luggage only. Check-in luggage usually means extra costs, more waiting time at the airport, extra weight to carry,… . Just a whole lot of hassle that I can't be bothered with! I'm currently using a very old Converse Bowling Bag as my carry-on bag. It's big enough to keep an outfit or three, my camera gear and basic necessities. The back pocket of the bag is useful to store my passport and boarding pass for easy access when going through customs and check-ins.
I use the Converse bag mainly because it was the only bag I had on hand when I first started travelling. Over the past 8 years or so it saw me through many airports and cities. Although I really love it, it hasn't always been the ideal carry-on bag. There have been times where I wished for wheels, or a better shoulder strap, or just a tad more space… . After 8 years by my side, I started a quest for a worthy replacement!
I quickly learned there are three things to consider when choosing the perfect carry-on bag for hand luggage travelling.
1: Should You Roll With It?
There are times where I curse my sports bag for not having wheels and a pull-handle. Having to carry my belongings from the airport to the hotel on my shoulders gets really heavy sometimes. But, wheels and a pull-handle make your bag larger and heavier and pulling a two-wheel trolley will weigh on your shoulders after a while too. If you want wheels, I suggest going for a four wheel trolley because you can roll those around without having to pull the weight. Thirdly, the cobble stone streets and uneven pathways you find in many European cities are not a good match for the often fragile wheels of on a suitcase.
Another useful advice for those travelling with hand luggage only: take a sports bag or backpack rather than a trolley. If you're with the last ones standing in the boarding line, chances are the overhead compartments are full by the time you get to board. The service assistants might order you to leave your luggage at the gate where it will then be checked-in and shipped into to main luggage compartment free of charge. Still, No one likes that to happen! Sports bags almost always fit under the airplane seat in front of you and will be easier allowed when the overhead compartments are full.

Experience S Urban (€79,90) • Art M (€104,90) • Defea Satin (€114,90)


Darcey 30L trolley (€139,90) • Taegan S Metallic 39L trolley (€149,90) • New Ceroc Essential (€179,90)
---
2: Hard case or soft case luggage?
Think about what you usually bring with you on a trip. If you travel with expensive, breakable items such as a laptop or camera gear you might want to opt for a hard case. Hard cases protect your items better than a soft case, but are also less flexible and more heavy. I personally am a soft case kinda girl. Soft case luggage can easily be pushed underneath a seat or shaped to fit in the overhead compartments.
Hybrid suitcases exist too, but are harder to find. Hybrid suitcases have a hard back case and a soft front. Kipling has a few in different sizes.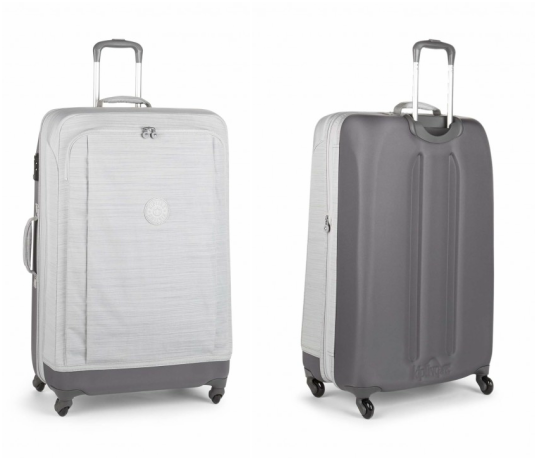 3: Sizing matters!

Always always always check the size and weight limits for carry-on luggage of the airline you're travelling with. Learn those numbers and measure your bag because you do not want to be charged extra! Also note that some airlines do not allow you to bring your everyday handbag on top of your carry-on luggage. If you're shopping for a suitcase or trolley to use as a cabin bag, than also note the capacity. 20-33 liters is allowed on most commercial airlines.

Licia backpack 20L (€169,90) • Cyrah Printed 37,5L (€159,90) • Youri Spin 55 Metallic 33L(€179,90)
---
My Perfect Match
Kipling kindly offered me a replacement for my trusty ole Converse bag. There were a few options that I considered, but in the end I choose a soft case trolley. The Darcey measures 35x55x20,5 centimeters and has a capacity of 30 liters. It weights just over two kilograms and most of that weight comes from the pull-handle and the four wheels.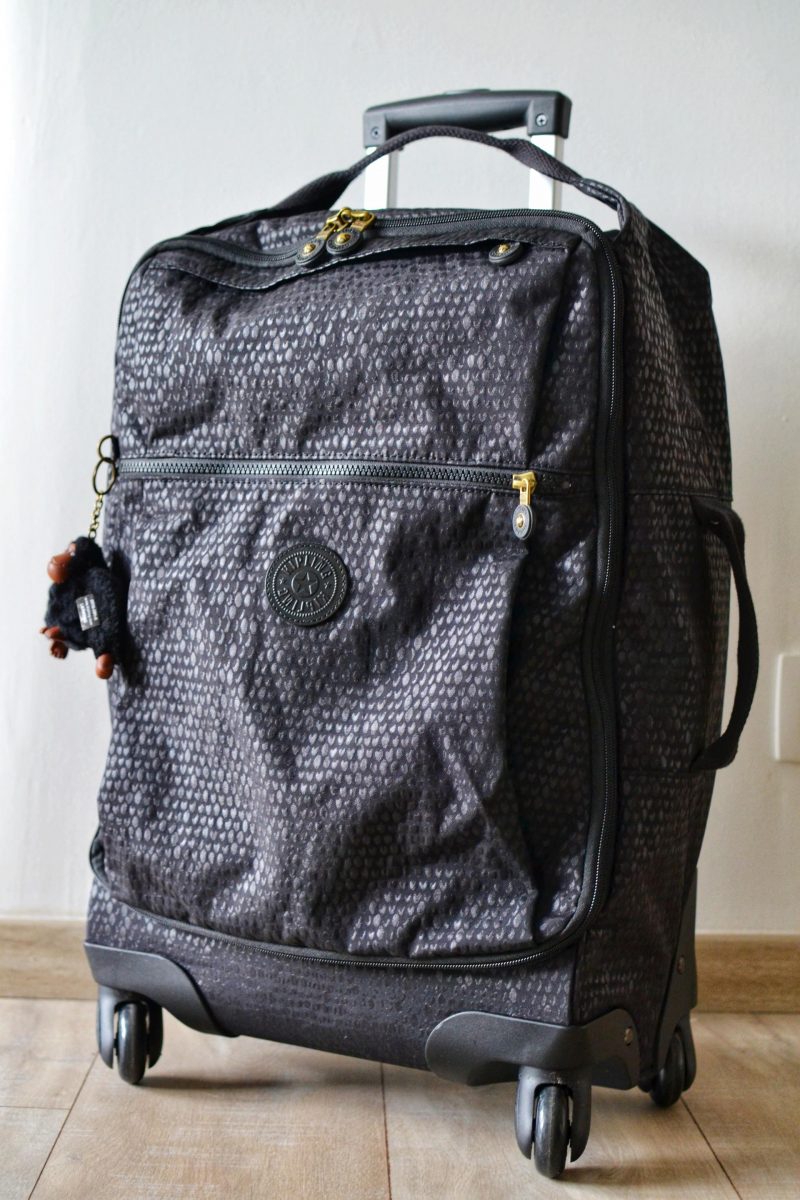 I took my Darcey out on its first trip last week. I was in London for four days with a friend. First impressions? SO HANDY! The four wheels are such an arm-saver. I can't figure out why it took me so long to switch to wheeled suitcases! Next to the pull handle, this trolley also has a top and side handle that make it easy to quickly lift it up. A good feature to have when running through busy subway stations with multiple staircases.

In short:

+: 4 wheels, top and side handle, soft cover, size, fashionable print
-: No smaller pockets inside the main compartment to store small loose items

Can't wait to roll with it in Madrid tomorrow!