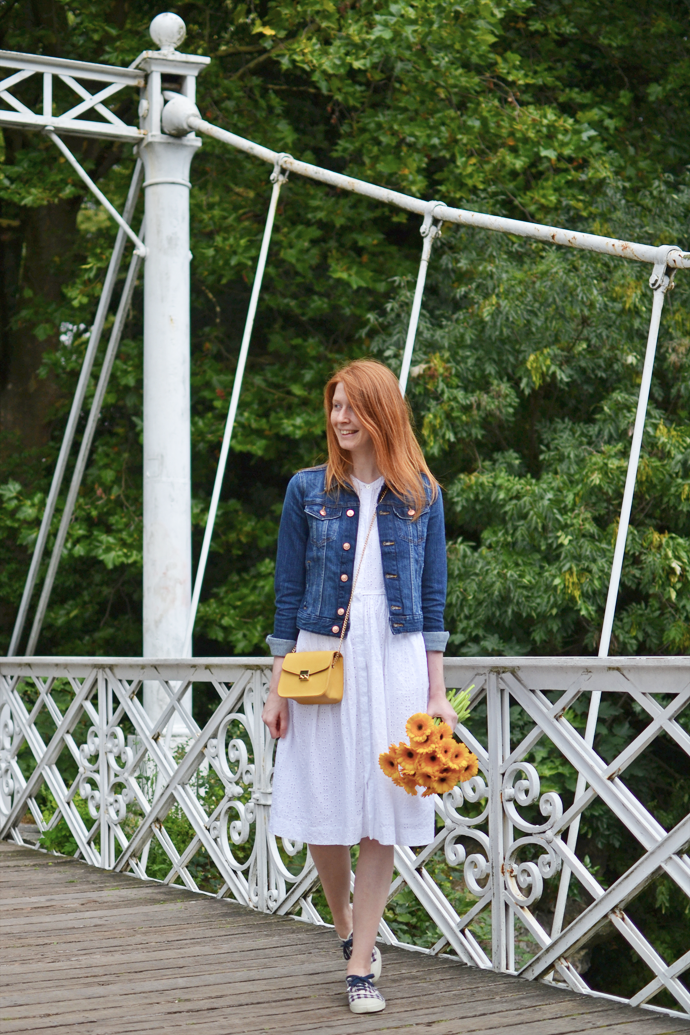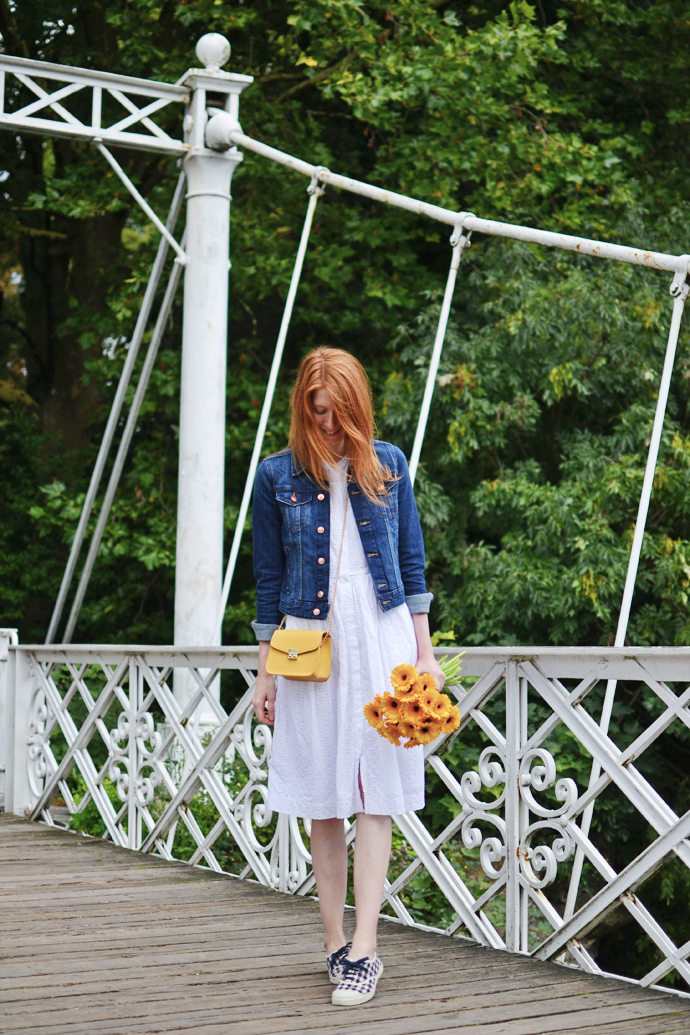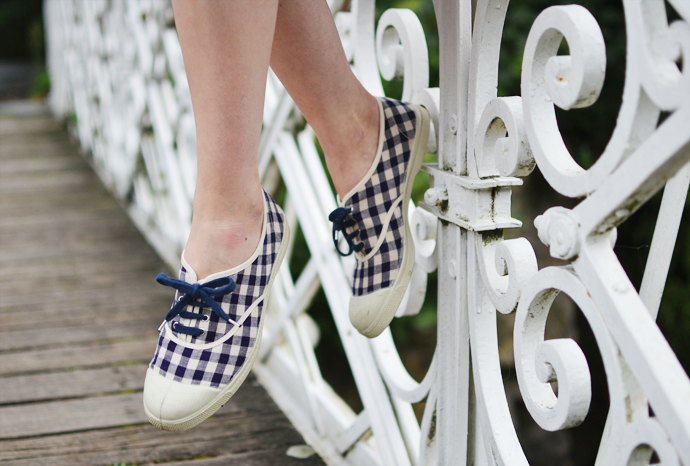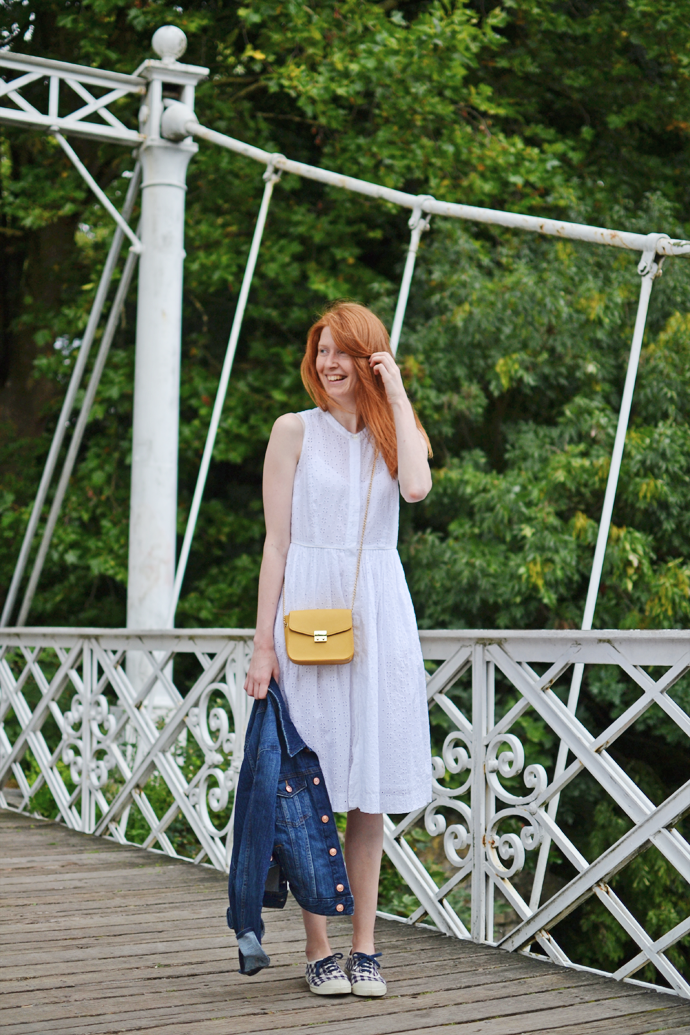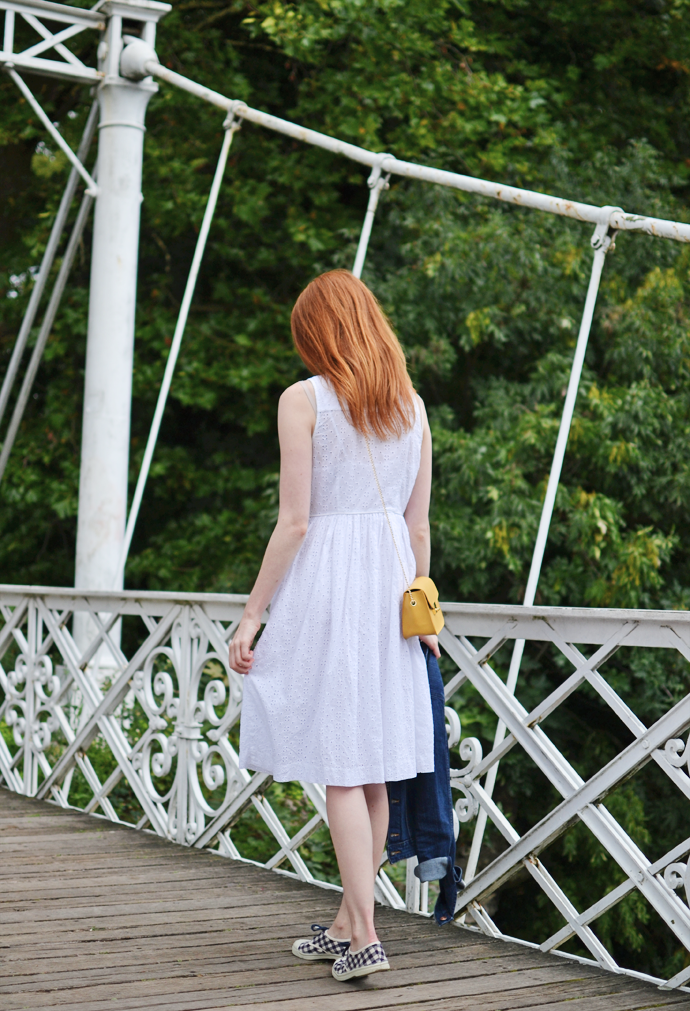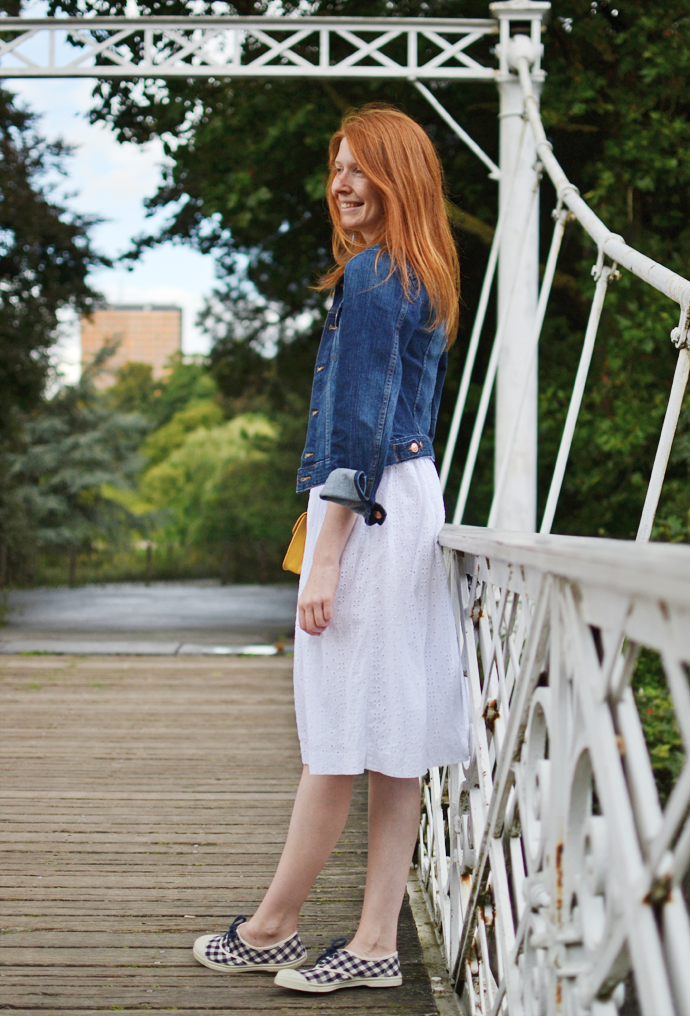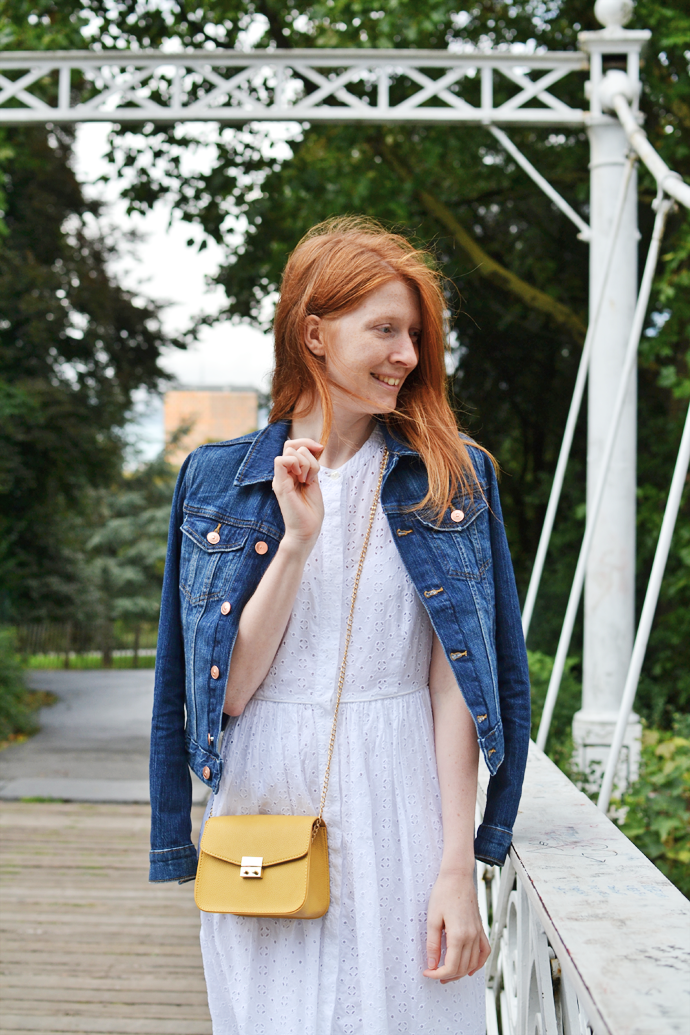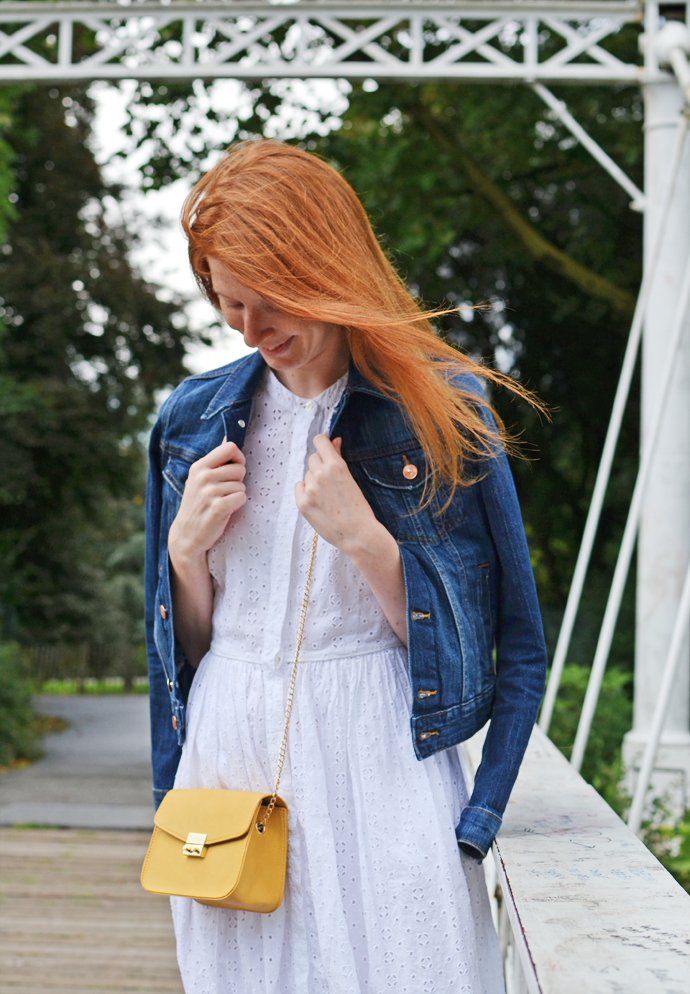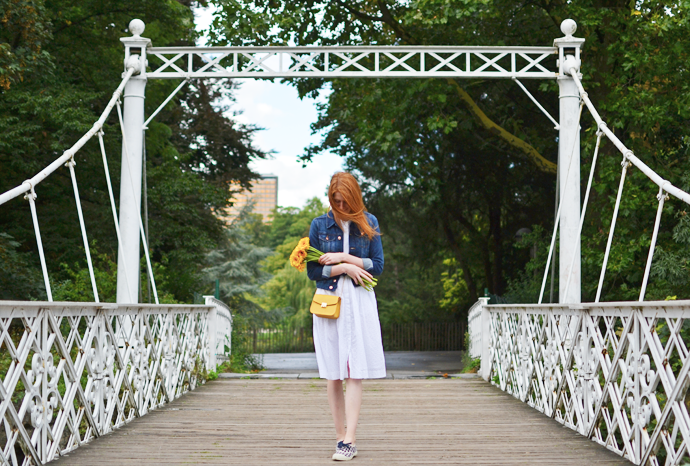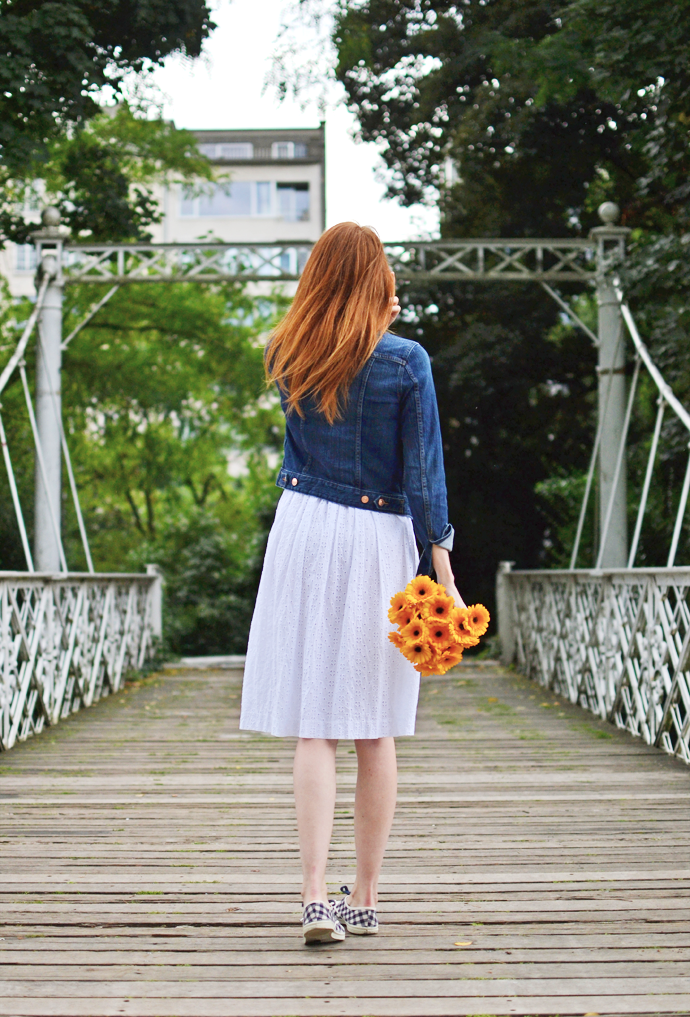 dress: J.Crew | jean jacket: H&M | shoulder bag: Sacha (c/o) | shoes: Bensimon
This weekend I found out that Starbucks has brought back their autumn flavors and to me that means fall has officially started! I've brought back my favorite plaid shirts, folded my sweaters and dusted off my ankle booties, but before I start sharing my favorite fall looks I wanted to write a post about transitioning my wardrobe. I'm not fully ready to give up on my Summer clothes yet! Knowing that I'll have plenty of time to wear my winter clothes later in the season, I've been trying to get the most out of my favorite summer pieces.
Case in point: this J.Crew midi dress. I don't think there was one week this summer where I didn't wear this dress. And still I am not tired of it. With the first signs of fall I desperately started to look for ways to wear my favorite dress just a few more times before finally having to stow it away until spring. My fail-proof recipe? Just add a jacket! It's not rocket science. Fall is the best season to wear blazers, but this year I also bought a denim jacket. Denim jackets made a comeback long ago, but only this year I became convinced that I needed one for myself. For a long time they reminded me too much of the nineties and I'm not a fan of the return of the 90s fashion trends, haha. See all my must-have items to take your wardrobe from summer to fall below!
Jackets

Massimo Dutti • J.Crew  • Zara • H&M
Every Fall I buy myself a new blazer. This year I added a burgundy blazer (the exact one featured above) to my collection. I also finally caved and bought a jean jacket after noticing that I kept pinning outfits featuring denim jackets on my Pinterest outfit inspiration boards. Blazers and denim jackets are the ideal pieces for the changing season. They add warmth, but don't cover up your entire outfit like a winter coat would! My favorite places to shop for blazers are Massimo Dutti and J.Crew, but you can sometimes find pretty good ones in H&M's formal department too!
Dandy shoes

Jonak • Compoir Des Cottoniers • Jonak • Compoir Des Cottoniers
I love cute ballet flats and sandals in the summer, but once fall rolls around I make a 180 degree turn! The more dandy the shoes, look the more I'll like them. I bought myself a gorgeous par of shiny derbies for the new season and I also have two pars of loafers ready to roam around the streets of Antwerp. Now all I need is that one perfect pair of Chelsea boots… .
Long sleeved tops

Massimo Dutti • Vero Moda • J.Crew • Lacoste
Early Fall is about the only time of the year where I wear long sleeved T-shirts. J.Crew does them best. I've also been really into polo necks this year and we all know what brand to look at for those: Lacoste! I never thought I'd say this, but I really want one of their classic polo's this fall. Their shops in Brussels was having a clearance sale but I came in too late and my size was already sold out. I bought a Belgian waffle afterwards to comfort myself.
Light weight sweaters

J.Crew • Uniqlo • J.Crew • Envii
I'm absolutely not ready to bring back my chunky knits, but I did dust off my lightweight sweaters. Again, J.Crew is one of my favorite places to shop for those good basics. Their Tipi sweater is SO good! Uniqlo is also a great place to find the basics and a lot closer to home than J.Crew, haha. I have the black turtle neck on top of my wishlist! Wouldn't it look perfect with that check Zara blazer I mentioned above!?