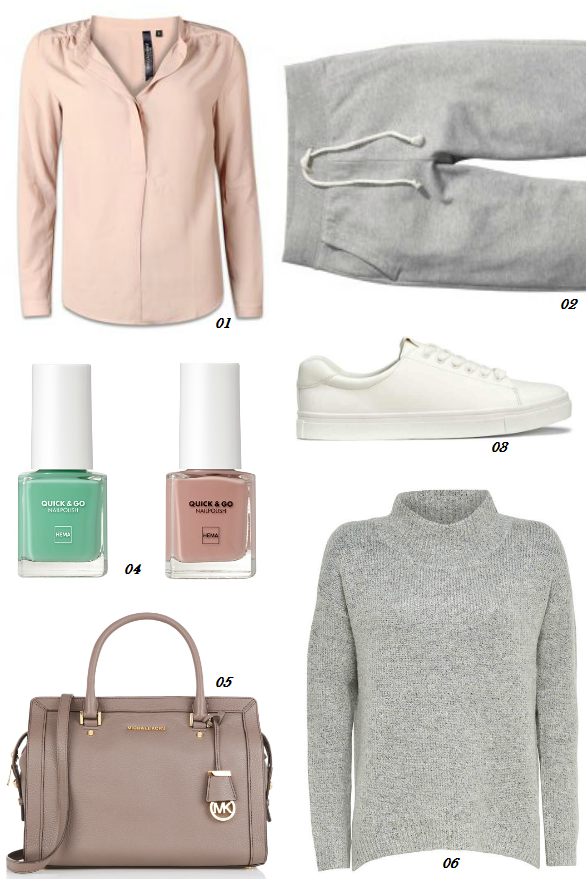 01/ Blouse from Broadway Fashion via Zeb –
I worked my summer job at Zeb this year and have been pretty good at keeping my money in the bank. Until I unpacked this beauty the other day. The color is a
liiiittle
difficult for someone as pale as me, but maybe with some burgundy touches I can pull it off?
02/ Sweatpants from H&M –
I don't own sweatpants. I know. Am I human? It might also be a little strange to buy sweatpants after I graduate and have to join the work force. But still: WANT.
03/ White sneakers from HM –
These white sneakers are not just something that I want. I am convinced that I
need
them. My Converse and my Sperry's have sparked my inner flat-shoe collector and I ain't stopping. These would be perfect for those last days in uni. For any day, really.
04/ Quick & Go nailpolish from Hema –
I have no patience and I definitely don't have the patience to do my nails. These quick & go nail polishes from Hema promise to meet me in my impatient nature. Must try this at home!
05/ Collins from Michael Kors via De Bijenkorf –
Yes, I already own a Michael Kors. No, one is not enough. Just kidding, I have to be careful with my budget (because jobless and household), but if I was able to spend a little extra, the MK Collins in this blush shade would be my first choice. It's so pretty.
06/ Roll neck sweater from Only –
The cardigan vests are everywhere this fall, but I already have a few of those that can still last me through this season. And I am seriously lacking in the cozy sweater department. You can never go wrong with a classic roll neck sweater, and with the splits on the side, this one is sooooo 2015. For a friendly €40, this one will probably end up in my closet along with the white sneakers.