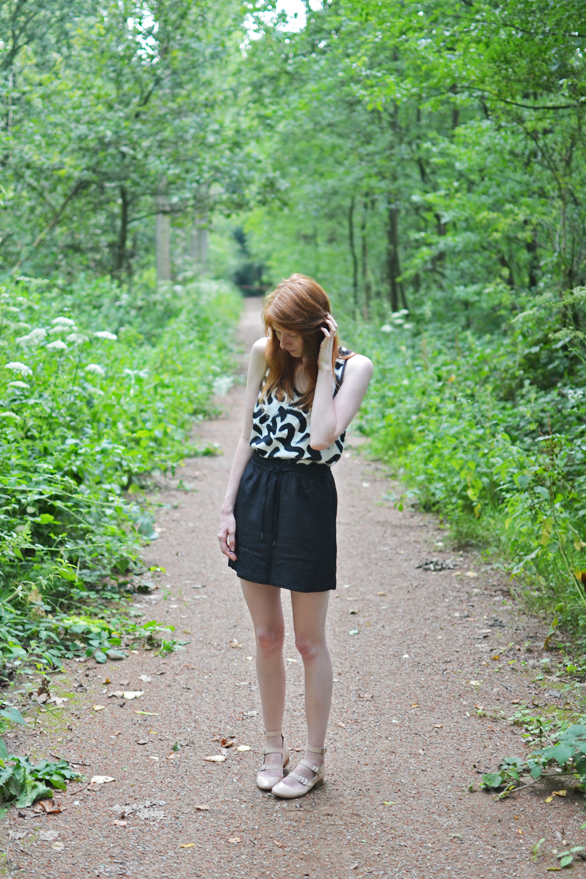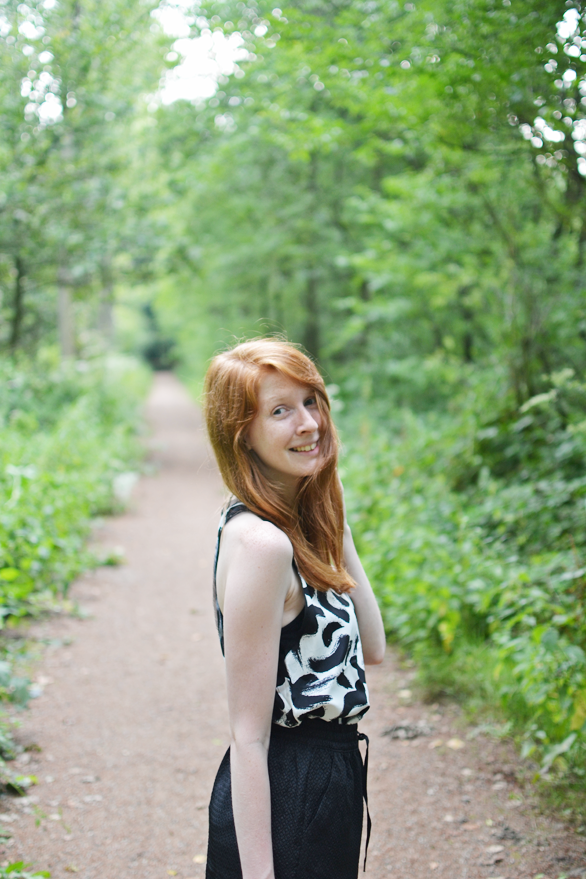 top: H&M • skirt: H&M • ballet flats: Jonak Paris
I'm a social worker. I know "how to handle things", you know? Except for the two things in this world that I have never been able to cope with: cats and babies. I have the enviable super talent to make cats hiss and babies cry. Always. But something changed this weekend and it left me feeling a little upside down.
I was playing fetch in the garden with Dasha, our German Sherphard, for some time already when I suddenly heard soft miauw-ing. At first I didn't think much of it. Both our neighbors have cats, and their cats like to tease our dogs. I threw Dasha's ball once more and she went to get it, but was apparently not in the mood to return it. She lay down in the grass on the other side of the garden, chewing and drooling all over that poor tennis-ball. Miauw. I was at the backdoor when I noticed the two tiny white paws sticking out under the garden fence. Two seconds later a white kitten with black spots appeared on the patio, staring at me with the biggest green eyes and… miauw. Uh-oh. I turned around and called Dasha to her cage while picking up the kitten. Our dogs will be friendly to other dogs, but they will not give cats the same friendly treatment. Kitten or not. When it was safe for him to wander through our garden again, I the kitten go and headed back inside, thinking he'd go home soon. But he didn't go anywhere. When I went outside to pick him up and go around the neighborhood to see if he was missing somewhere, he started purring, nuzzled up against me and climbed into my arms by sticking his claws into my leggings and crawling up. That one hurt, by the way. I went from door to door, but no one was missing this cute little fella. I took him back home and we played a little in the garden. I then left him on the patio to go and call a vet to bring him to a shelter, as that's what my mom said I should do. That's when he caught the eye of our Jack Russel. She started barking at him from inside the house, and she scared the kitten so much that he quickly jumped over the fence. I went back outside to search for him because the vet wouldn't come for nothing and I didn't want this little cat to wander the busy streets around my house alone. I had no luck finding him.
A good few hours later, I spotted him on the neighbors doorstep. They have this huge glass front door and he had his paws pressed up against it. I could see my neighbors come to the door and look at him and then walk away. To see a tiny kitten sit on that doorstep, all alone and outside in the rain, just broke my heart. By the time I got to the neighbors house he was again nowhere to be found. It rained a lot that day, and I couldn't help but think about Oscar (that's what my younger sister named him) being out there alone. Sometimes I just have a "click" with animals. I could tell you endless stories of how my dad and I went into a pet shop to buy a hamster and came home with a bunny because the bunny and I just "clicked". I felt that click with Oscar. As I was trying to finish my study schedule that afternoon I couldn't help but look out my bedroom window every now and then and wonder: where did he come from? And where did he go?
I will never know the answer to the first question. The answer to the second, I do have. No, he's not staying with us, but Oscar did find a home. At 9 PM that night, our doorbell rang. In a small town like ours, doorbells don't ring at that time in the evening. I peeked through the curtains and saw a man with a young girl, but no car. I live along a busy hiking trial / cyclist route so I figured they were lost or needed to use a bathroom. Happens all the time. But juuuuust to make sure I asked K to come to the door with me. It was only after I opened the door that I noticed the girl was holding little Oscar in her arms. Her dad said Oscar had shown up at the party they were having at a location two houses down. The young girl asked me if he was ours, or if we knew where he had come from. When I said I didn't, her dad told her they would take him home and take good care of him. My heart could rest assured, but I can't help but still think about that little white kitten with the black spots, huge green eyes and sharp-as-hell nails. The first cat that ever liked me. Now how long before I can handle babies?