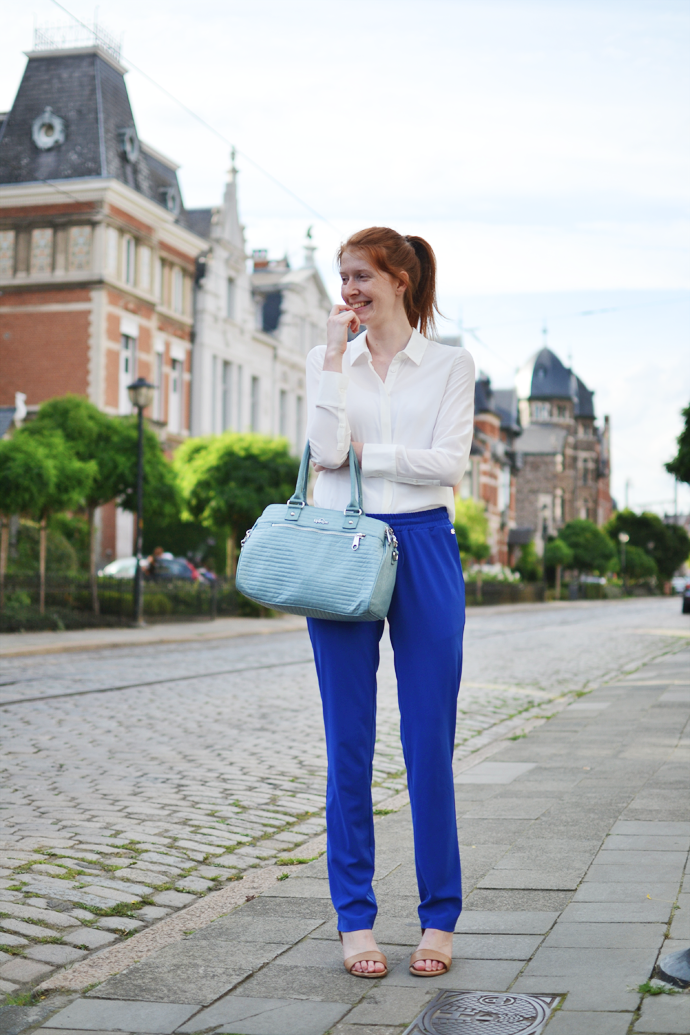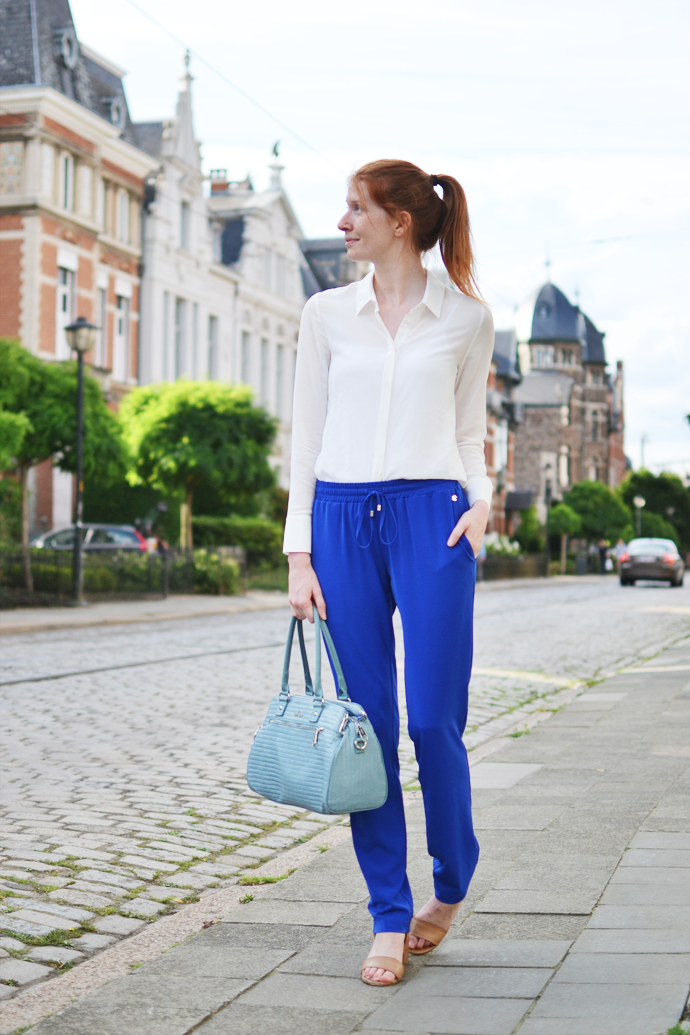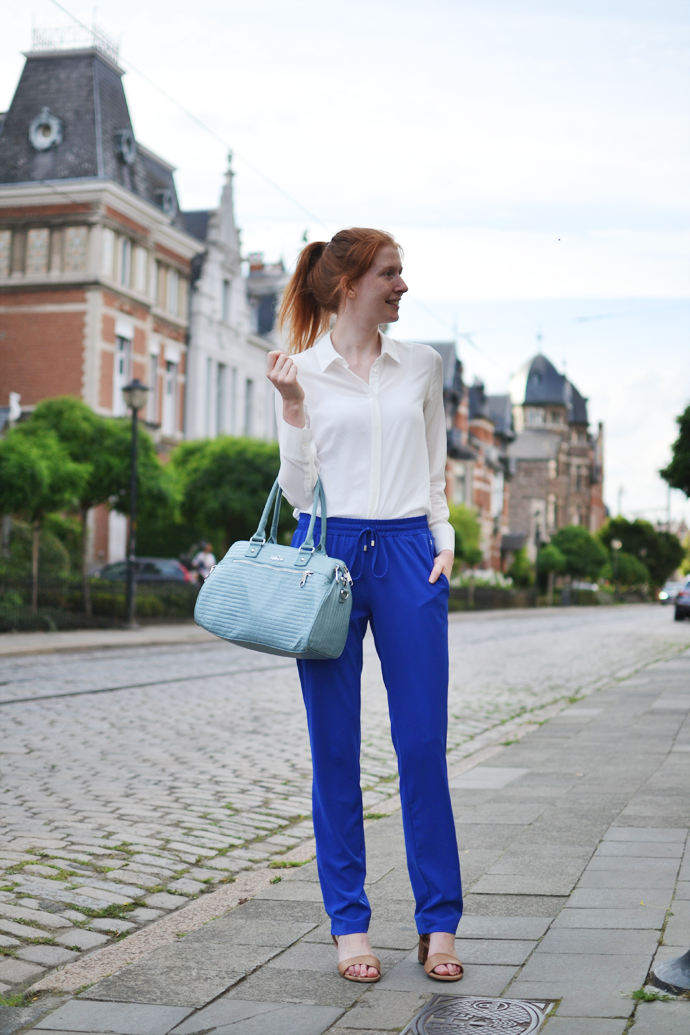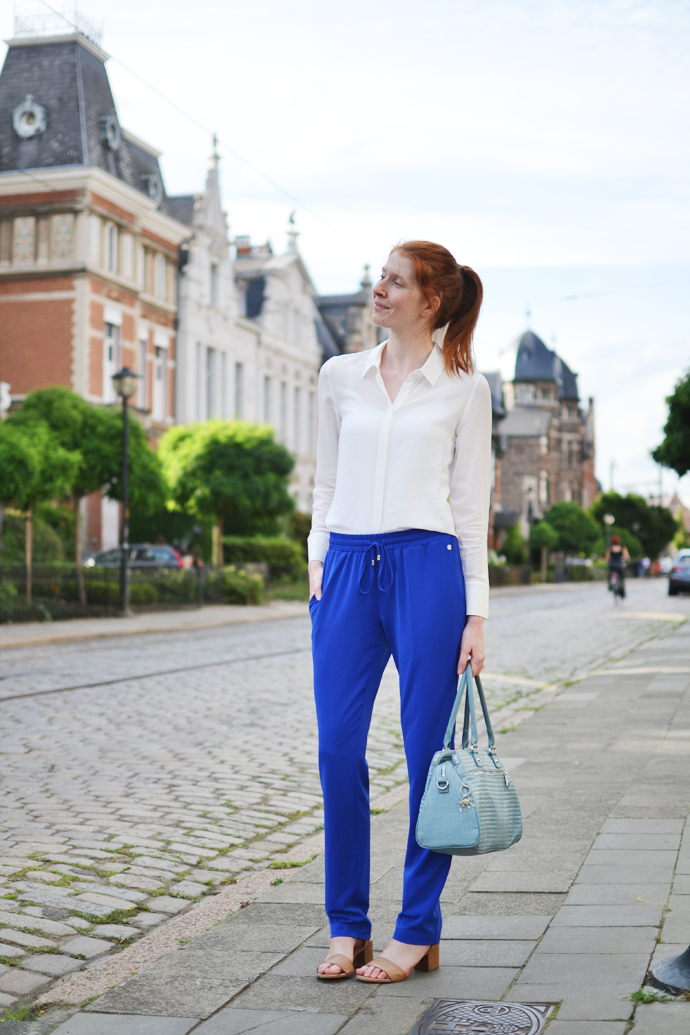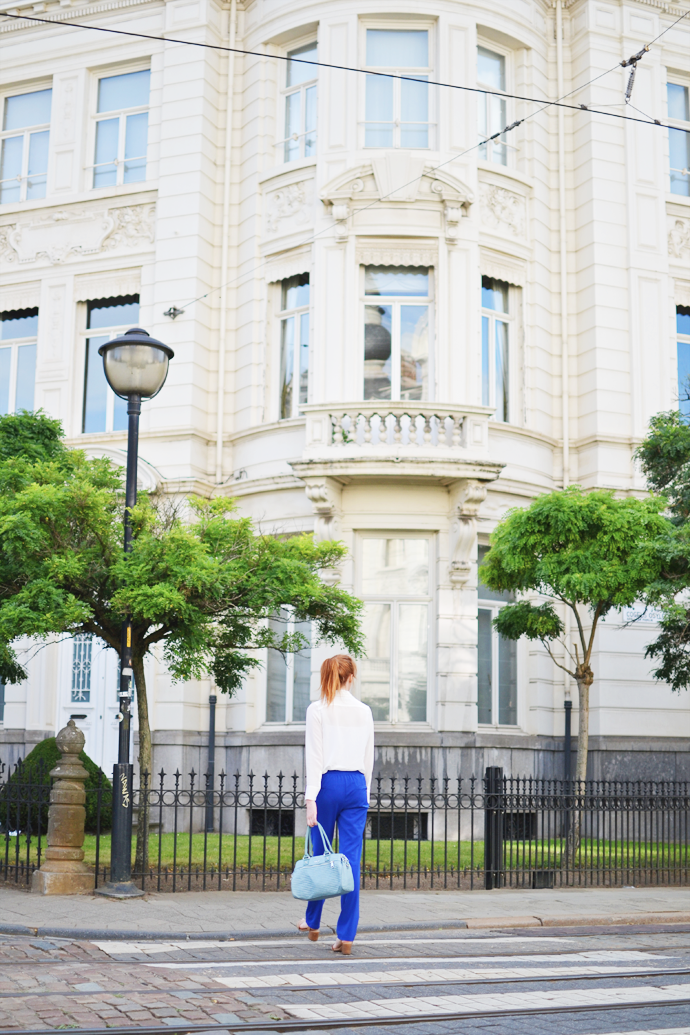 pants: Scapa | blouse: Comptoirs des Cottoniers | bag: Kipling (c/o) | shoes: Aldo
Confession time: I wear sweatpants to the office. I have done so repeatedly. And I will do it again.
I work in the public sector and meet with citizens every day, but my workplace is definitely far from the classic corporate office. When I wear a dress I get asked who's wedding I'm off to and pencil skirts might as well be coil tubes in the eyes of my colleagues (they read my blog so I better be careful about what I write here, hehe). To test where the boundries were I thought I'd wear sweatpants to work one day and see if anyone would notice.
It was love at first sight between me and this bright cobalt blue pair of pants. I was looking for a statement pant, but those typical loose-fitting floral print or vertical striped culottes that were all the rage this season were not exactly my style. I don't know if you've ever noticed but I rarely wear anything with a print! A subtle stripe is as brave as my patterns get. I experimented with pattern mixing when that trend was still going around the blogging block and left it as that: an experiment. I've since then turned to a much more classic style and try to inject punches of color here and there. My favorite colors to wear are poppy red, grass green and cobalt blue. This pair of pants came in cobalt blue and a bright red and I must admit that I came THIS close to buying them both. In the end I realised I would wear the blue pair most and saved my pennies for another time.
I love how I can dress this sweatpant up and down. Throw on my favorite sweater and kicks and I get a laid-back look for the weekend. Add sandals and a silk white blouse et voilà, not a soul in the world that realizes I am in fact wearing sweatpants to work. They are incredibly comfy, the fabric doesn't crease and they look so, so chic and perfectly fit with the athleisure trend. I can't get enough of them, but sadly they make a statement and people tend to notice when I wear them for a few days in a row. That's when I switch them for my Massimo Dutti or H&M pair, because comfort above all! Even at the office.
xoxo
---