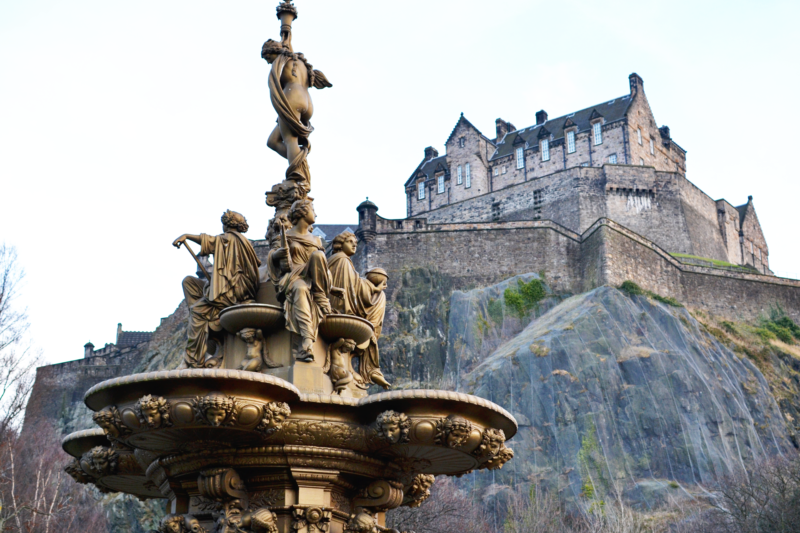 At the end of 2016 it became pretty clear that 2017 would be my biggest year so far when it comes to travelling. I had only just returned from my Caribbean cruise adventure and my next three holidays were already booked. The first destination for the new year? SCOTLAND! Edinburgh really stole our hearts the first time we visited. I'm not sure whether it was the charming cityscapes, the equally charming residents or the darn good pub food, it was clear that we'd be coming back even far before we left the first time. It was at our family Christmas party that K let out the idea of returning for Burns night and both my mom and sister really wanted to join us. Quite spontaneously we booked our trip that same night and just a short few weeks later we were boarding an Easyjet flight to the Scottish capital… .
Edinburgh is not the biggest city in the world, so we opted to stay three days. The first time we visited we were in Scotland for five days so we would be able to take a train to Glasgow as well. This time we had no plans of leaving the main city area so three days was perfect. To make things easy, I will split this post into three sections. One for each day!
Day 1: Sightseeing & Southpour restaurant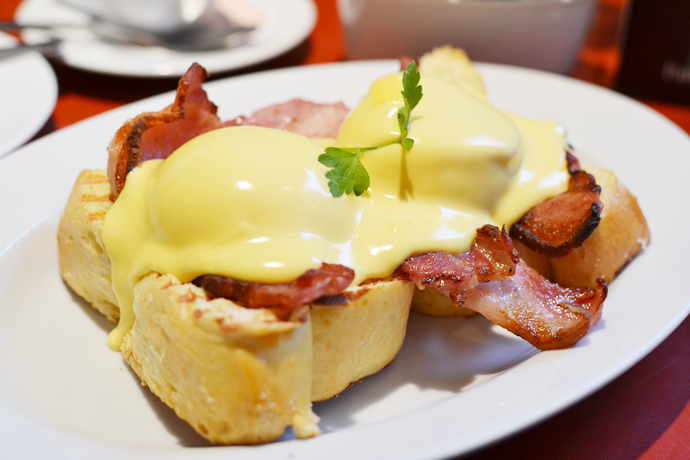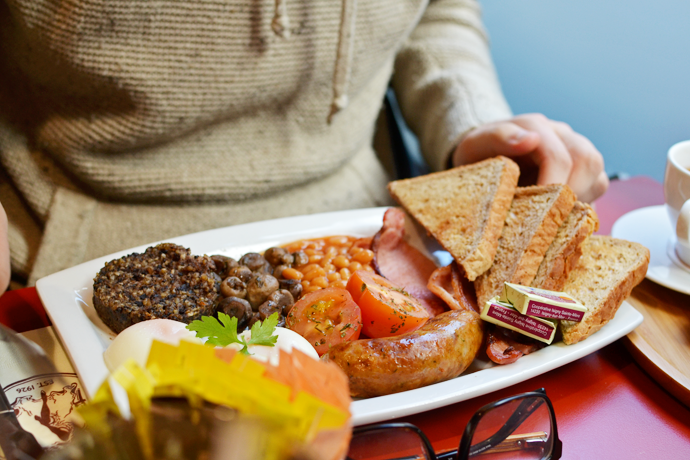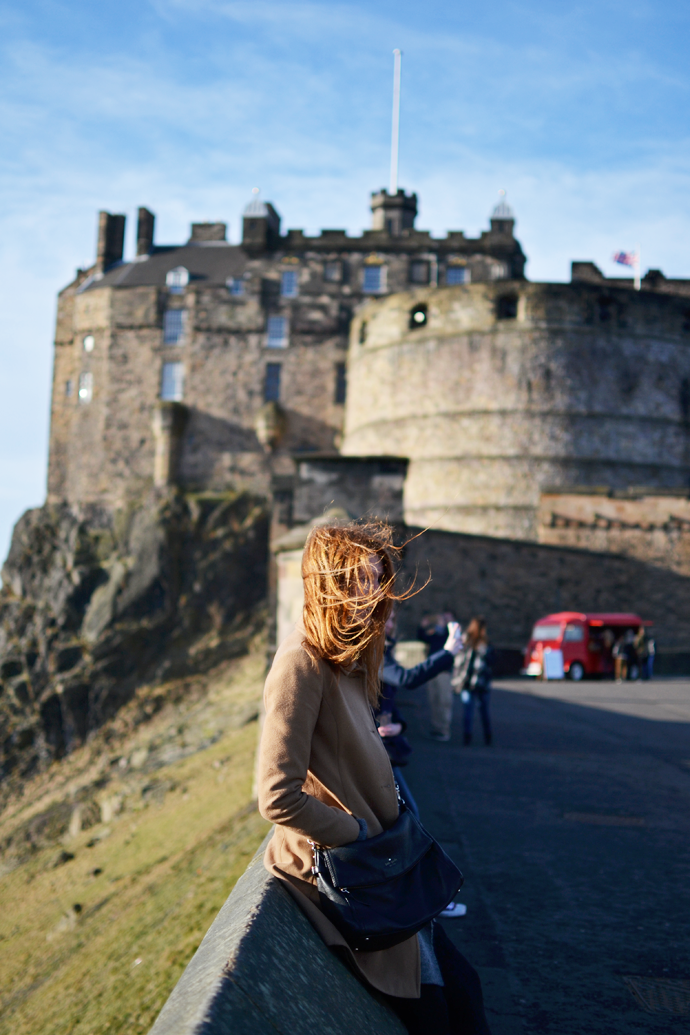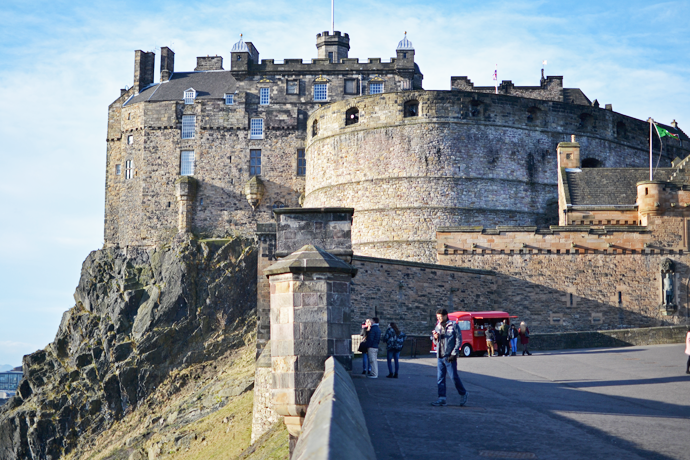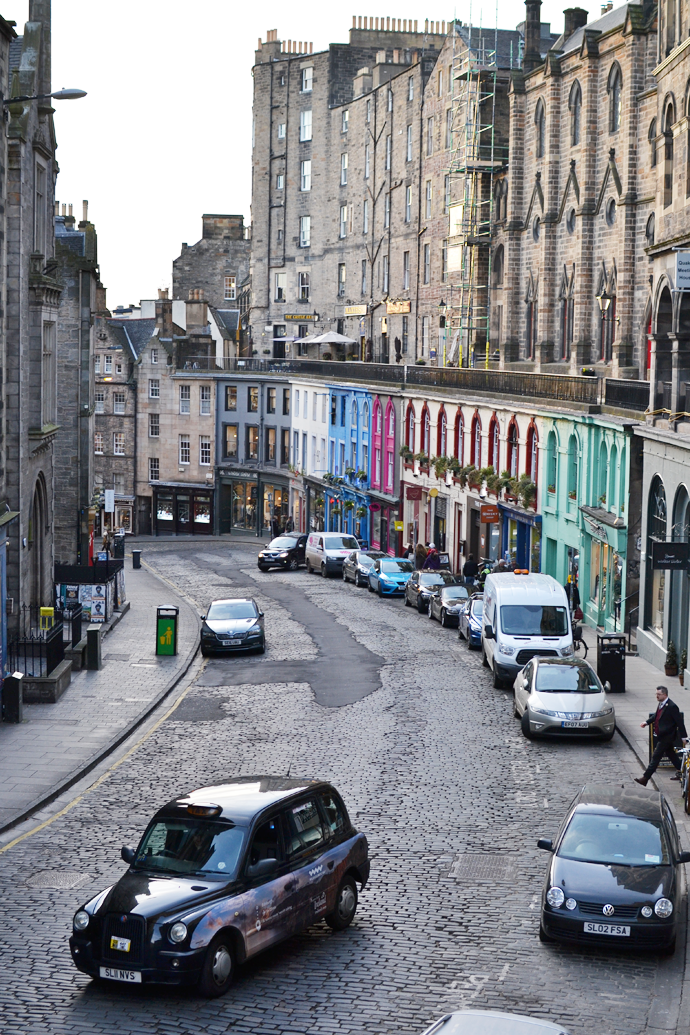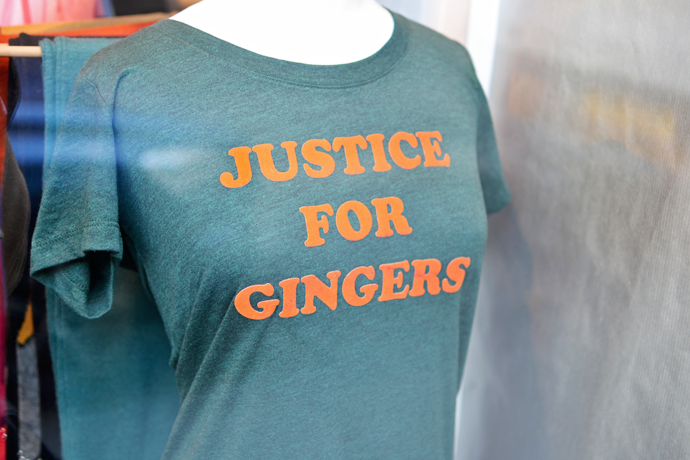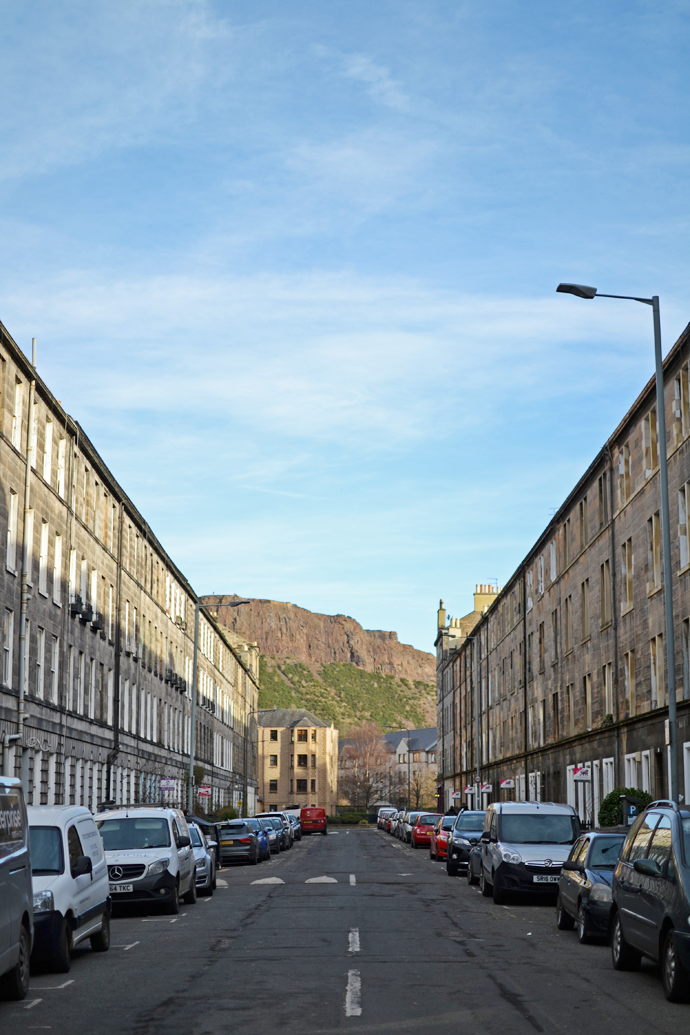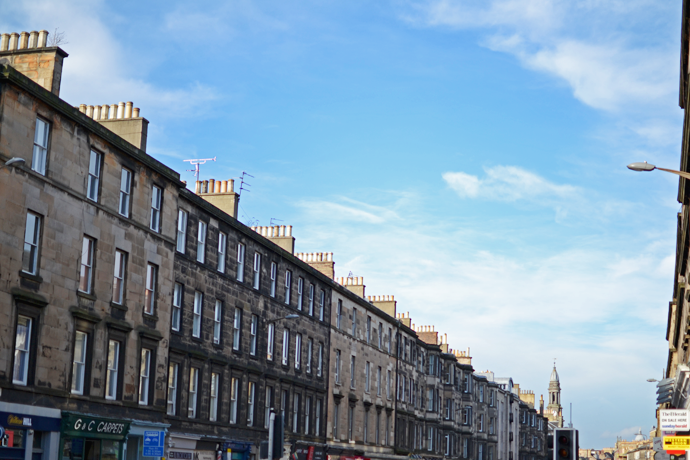 We started our first day exactly the way we did the first time: with breakfast at Patisserie Valerie. No-nonsense, easy food and an excellent selection of your favorite Scottish cuisine (haggis, anyone?). I went with hearty eggs Benedict to kick-start my day! After breakfast we hurried up to Edinburgh Castle. My mom and sister had never visited the city before and were really eager to see the castle. We took a few family photos and walked around the main square a bit before we chose to separate as my mom wanted to visit the castle but K and I wanted to wander off and explore some neighborhoods. We walked back down the Royal Mile and followed the winding Victoria Street down to the Grassmarket. Here you'll find plenty of budget-friendly food options, vintage stores, artsy shops and pubs. We saved the must-do's here for later.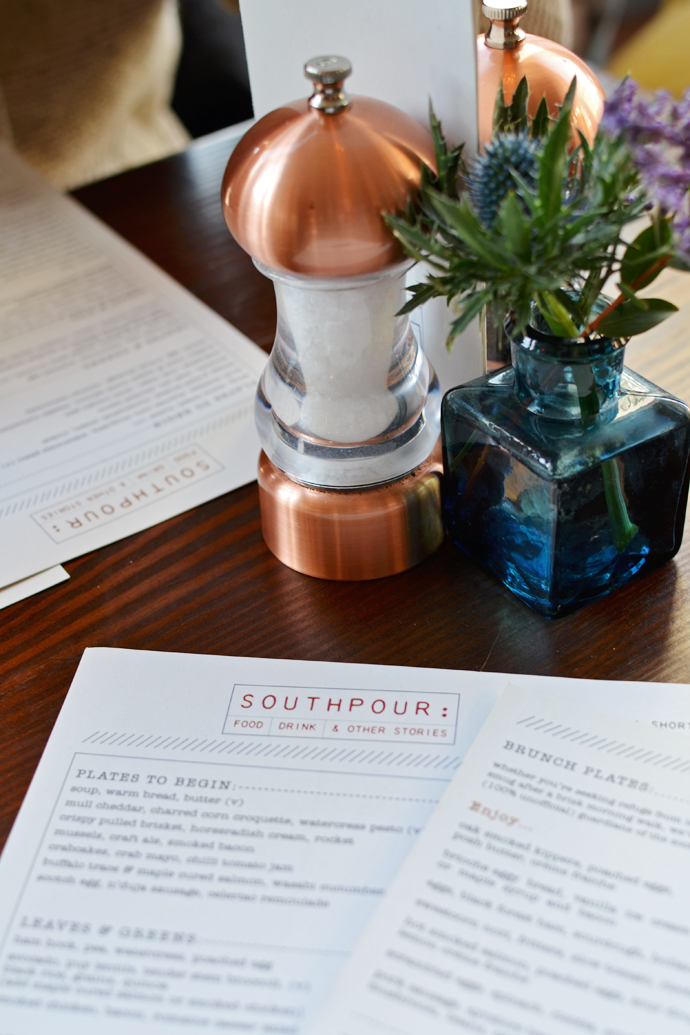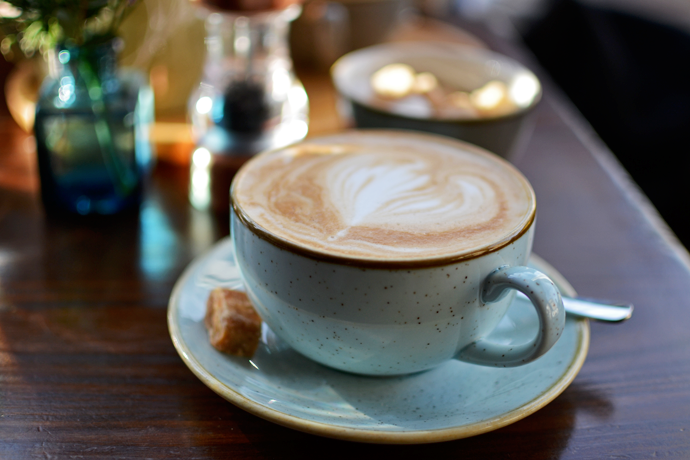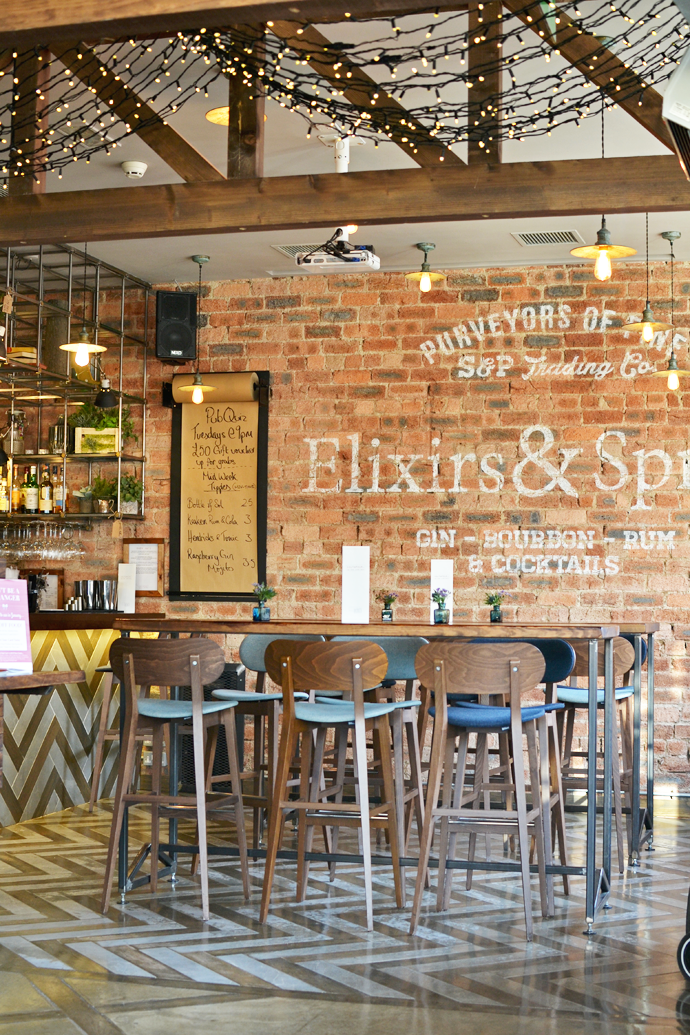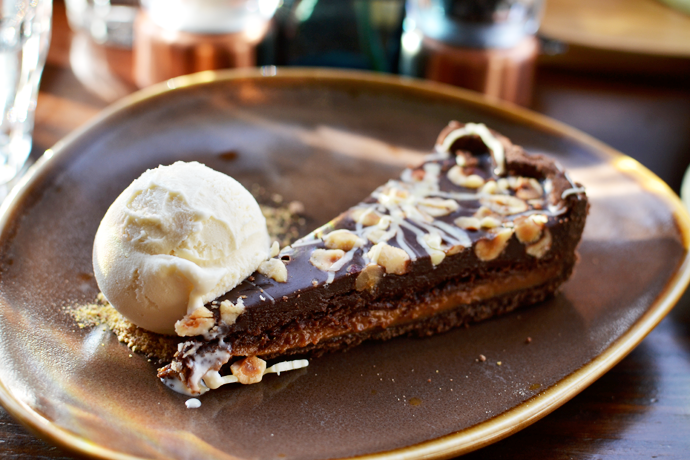 We started walking in the direction of The Meadows and ended up on Newington road. I was starting to get a little hungry again so we popped into Southpour for a quick bite to eat. Guys, the interior of this bar/restaurant is everything I want my house to be. Industrial, but with a lot of soft touches like velvet and pillows. It made my heart skip a beat! Even if the food would have been only half as good as the place looked, I'd have been fine with it haha. That's how much I loved the interior. Southpour is mainly a bar, but they had a few great lunch options and coffee too. When I spotted the chocolate/salted caramel tart I was sold. Probably the most sinful lunch I ever had!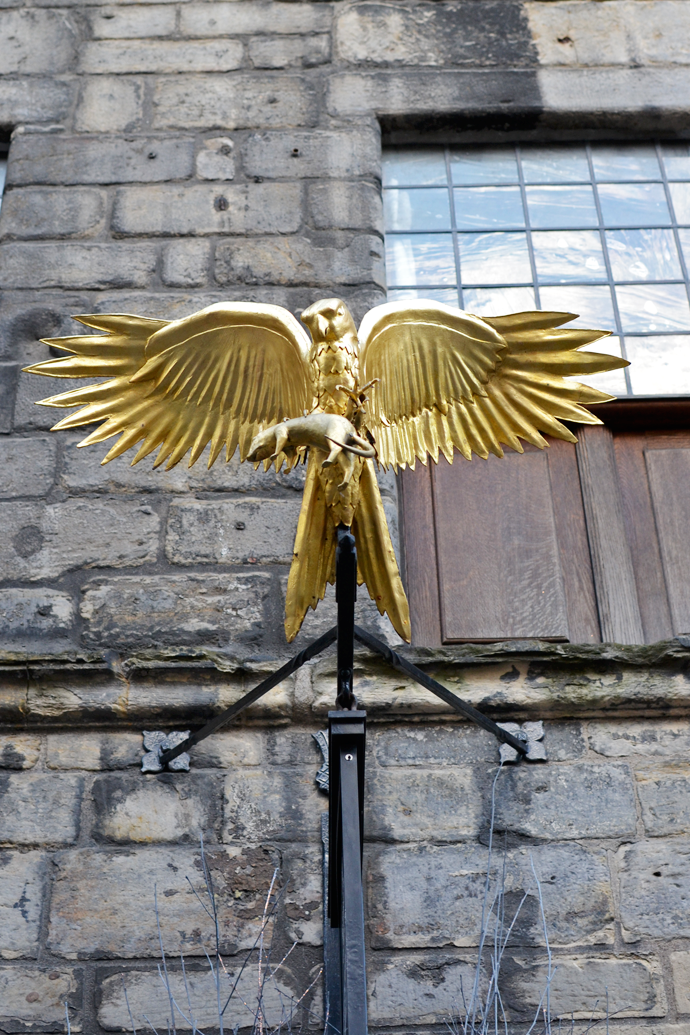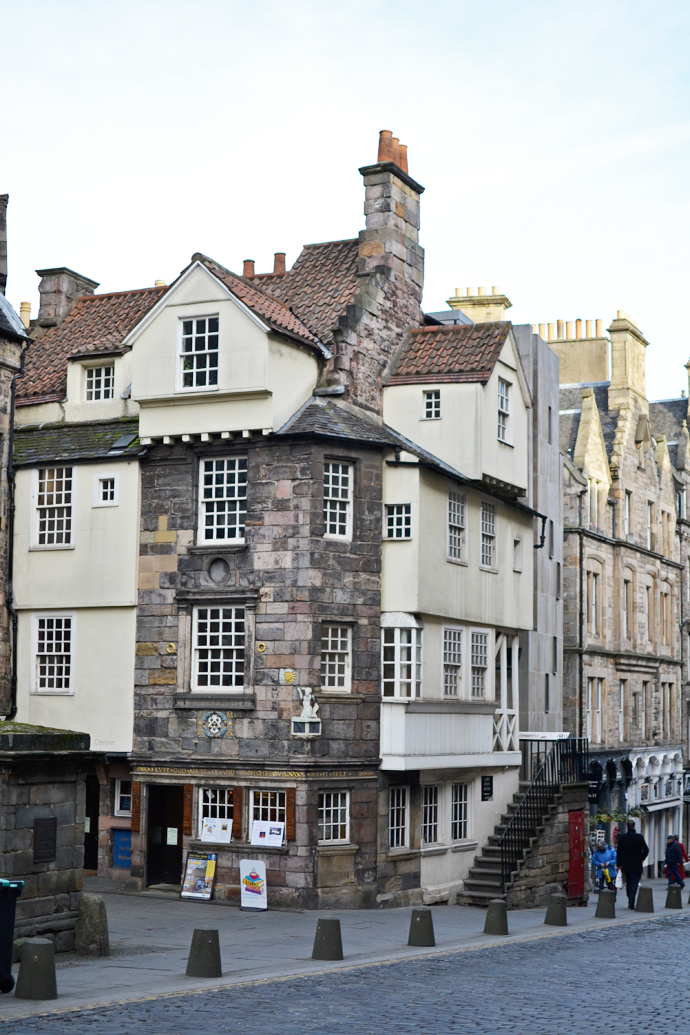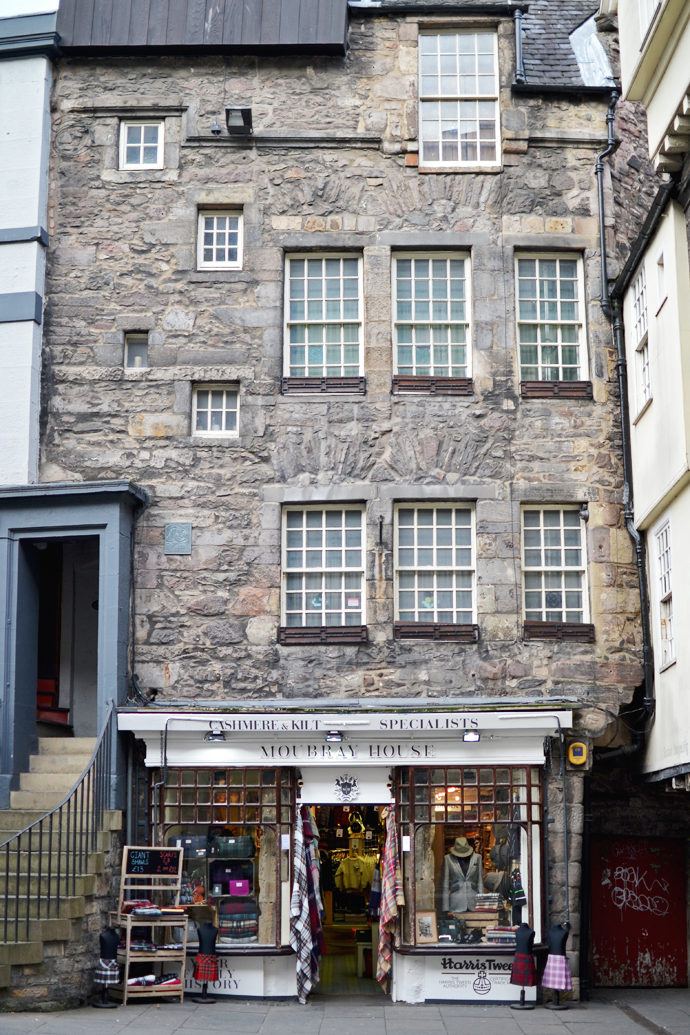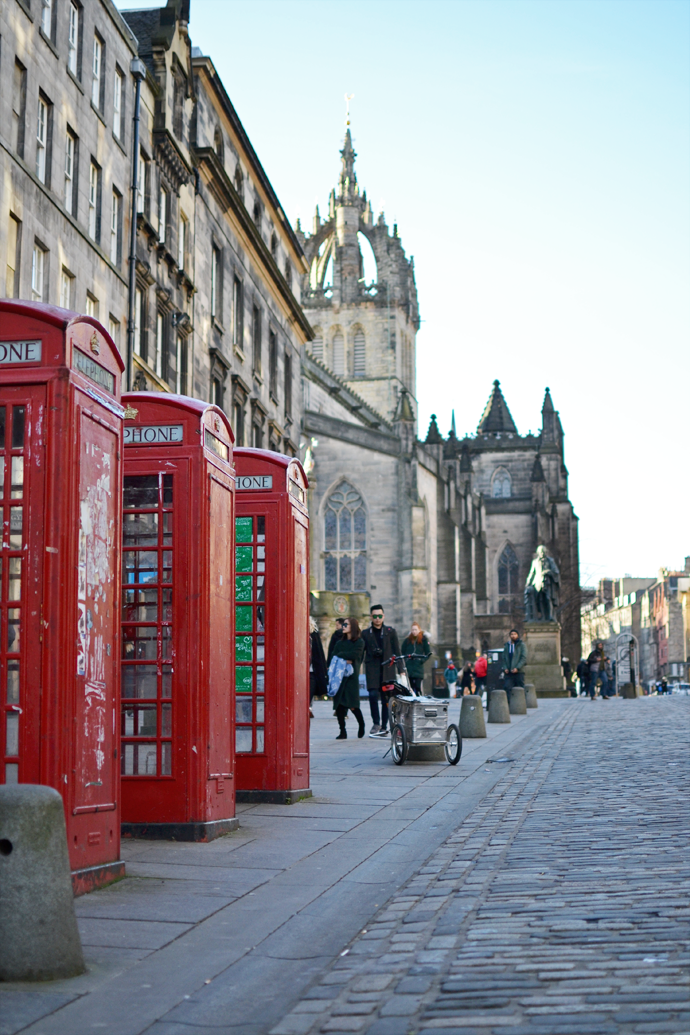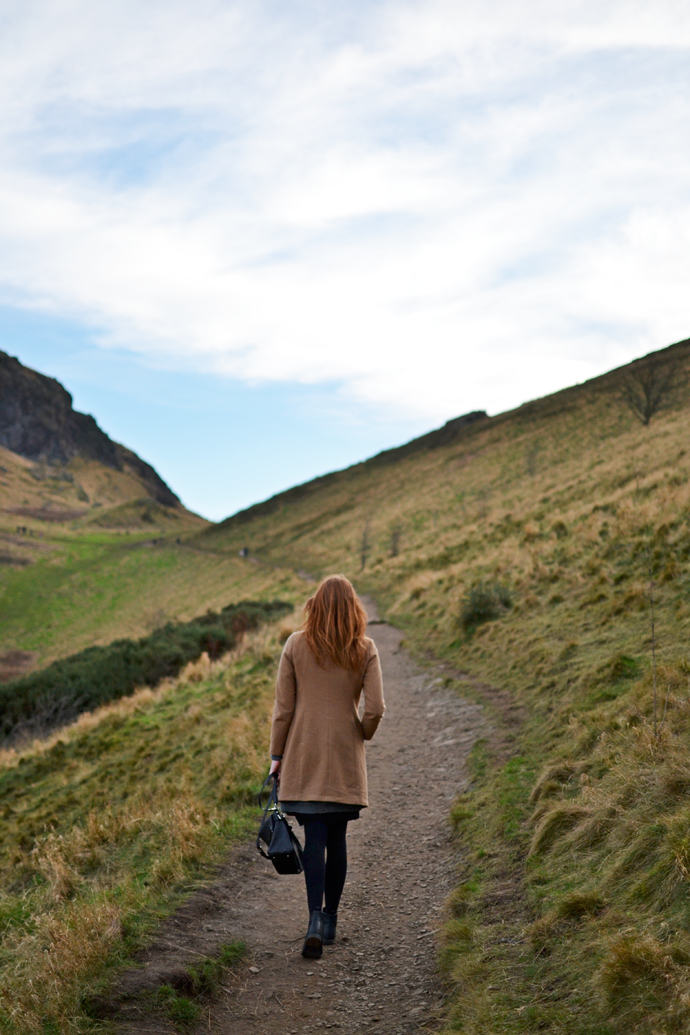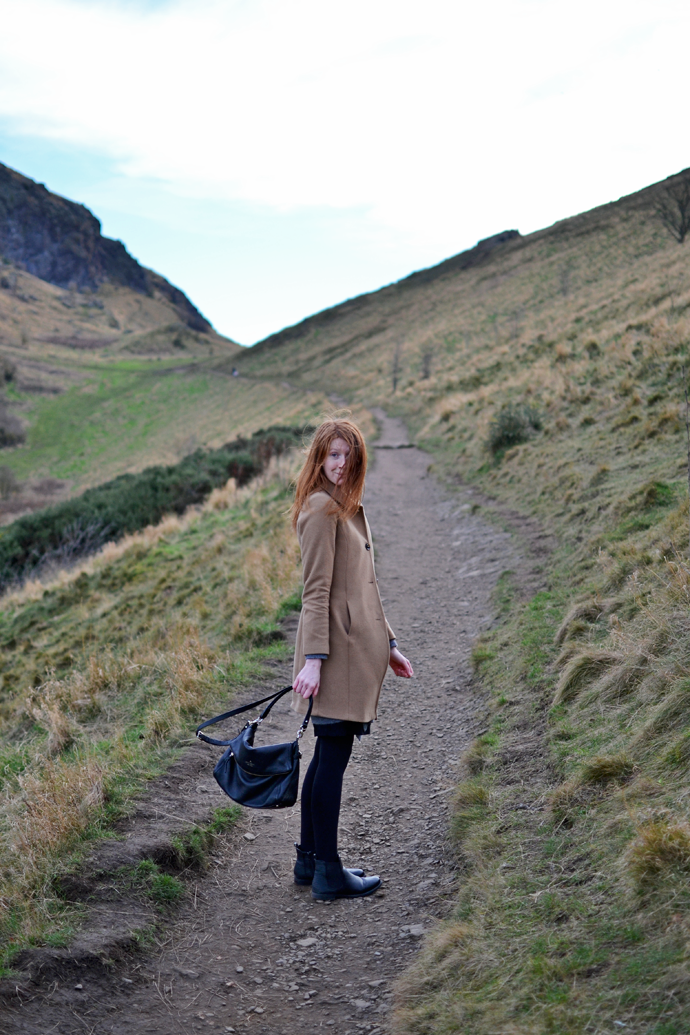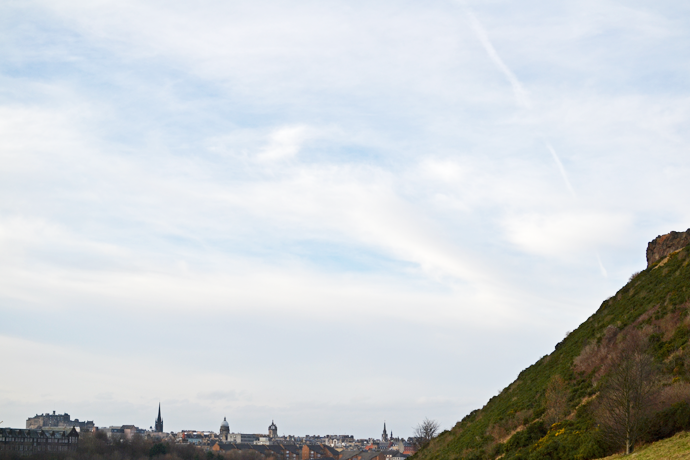 After lunch we walked back to the Royal Mile because I hadn't had the opportunity to shoot photos of the lovely old buildings yet. It was a rather cold day in January and so there weren't a lot of tourists in the city. It made shooting pictures so much easier than usual, haha. We walked the Royal Mile from beginning to the Holyrood Palace and as the sun started setting we went for a short walk through Holyrood park (not all the way up to Arthur's Seat though!) before returning into the city to meet my mom and sister for dinner.
Day 2: Leith & Golden Hour In Edinburgh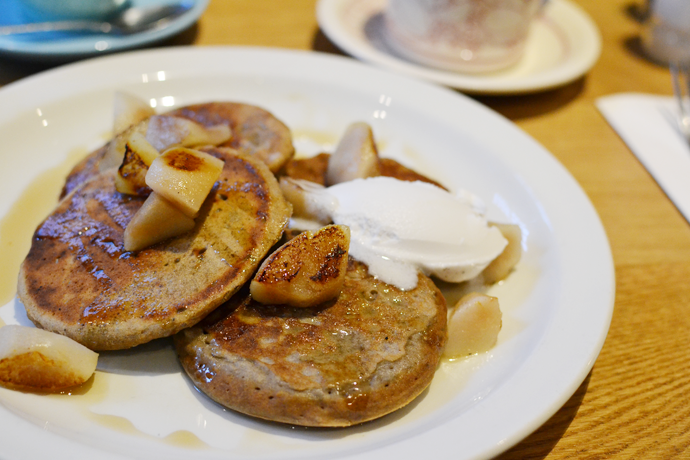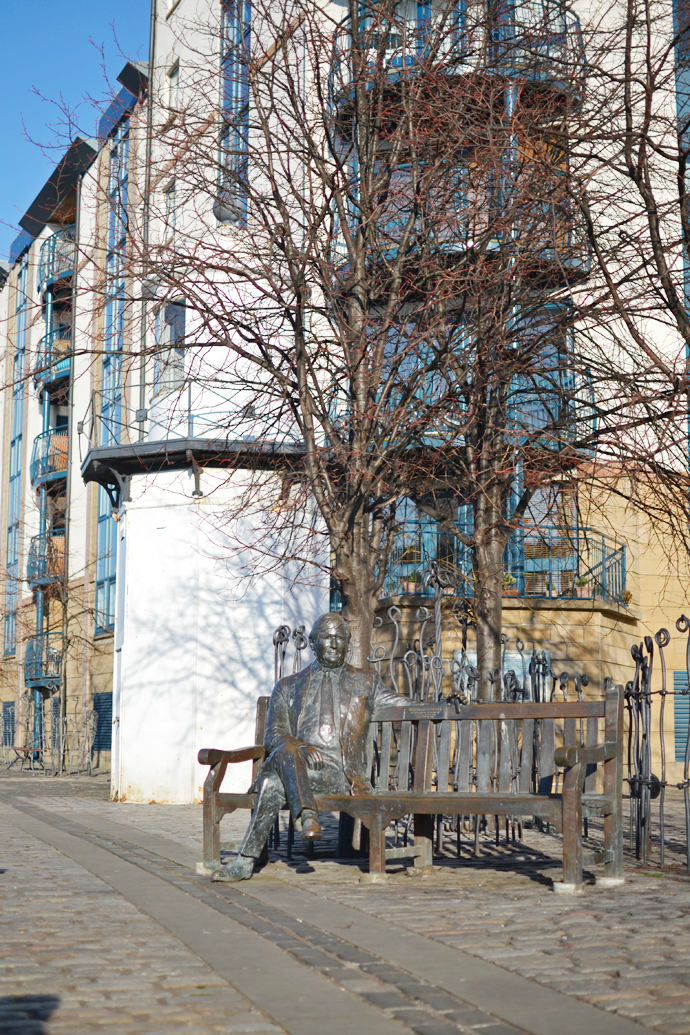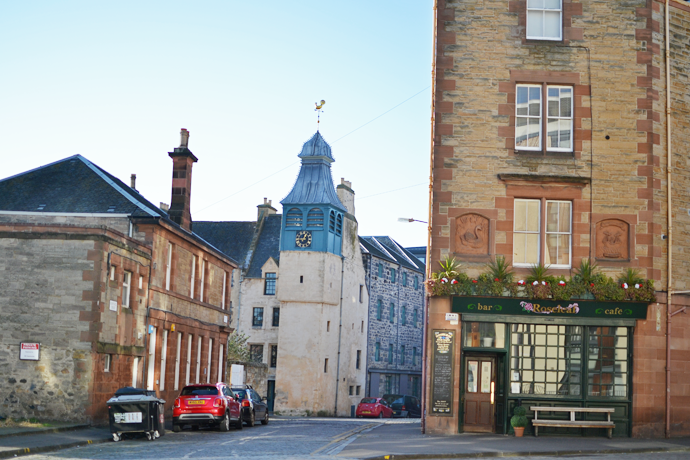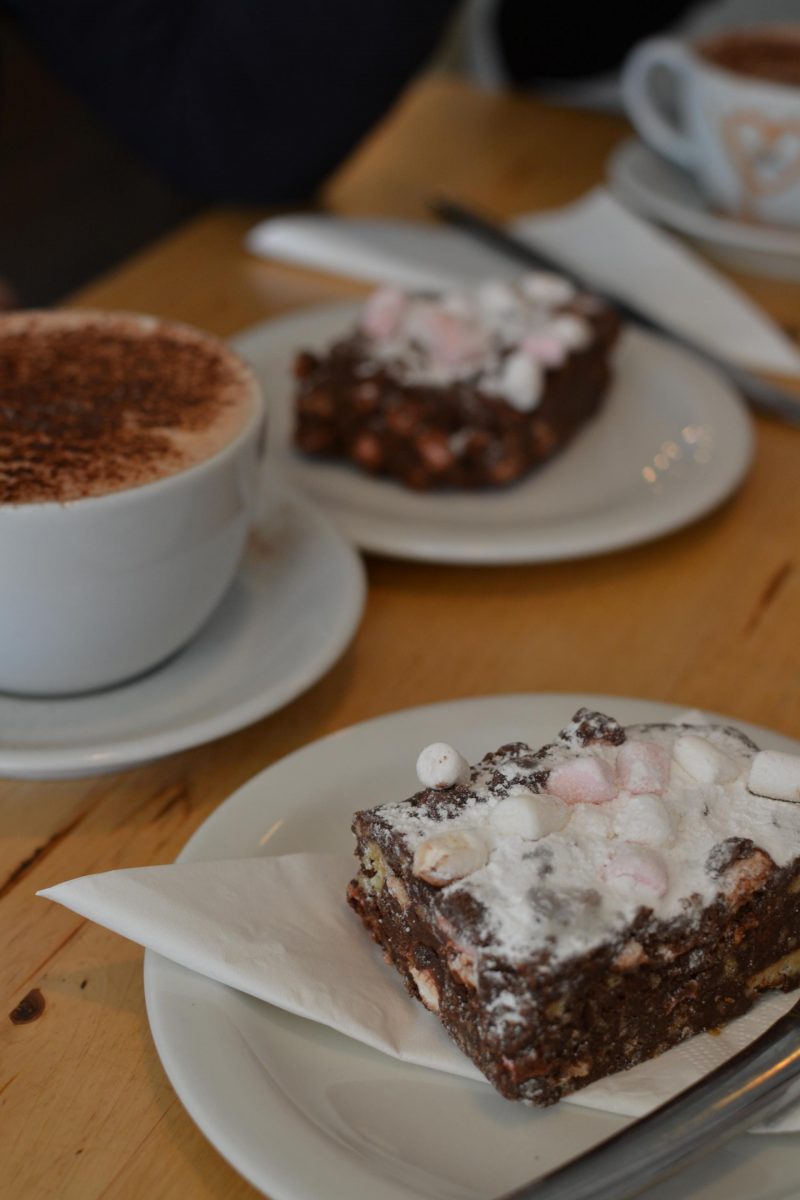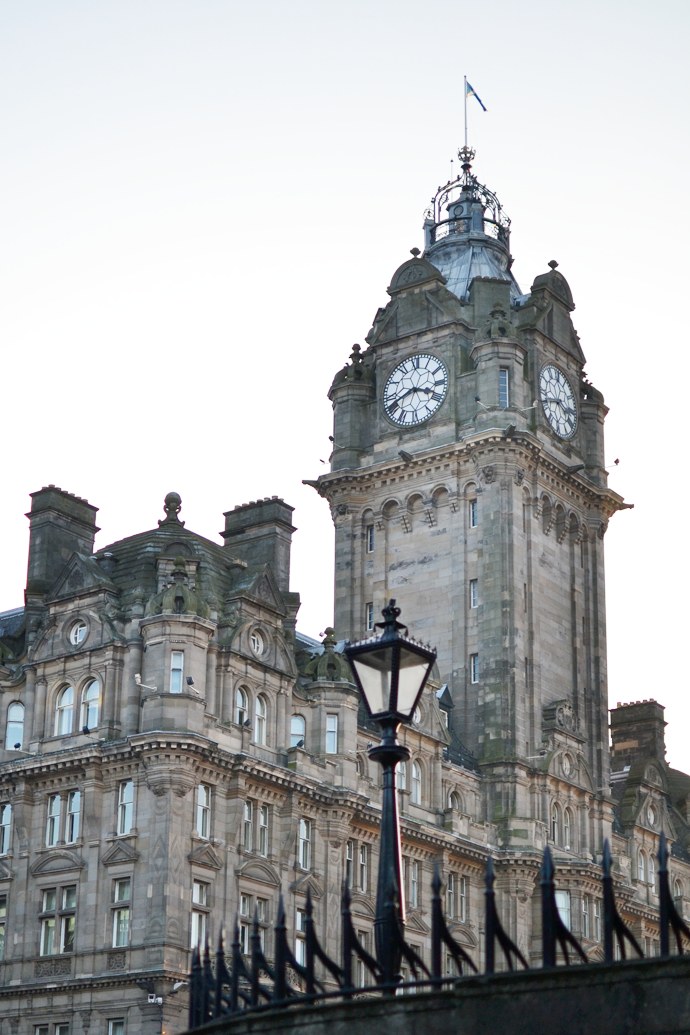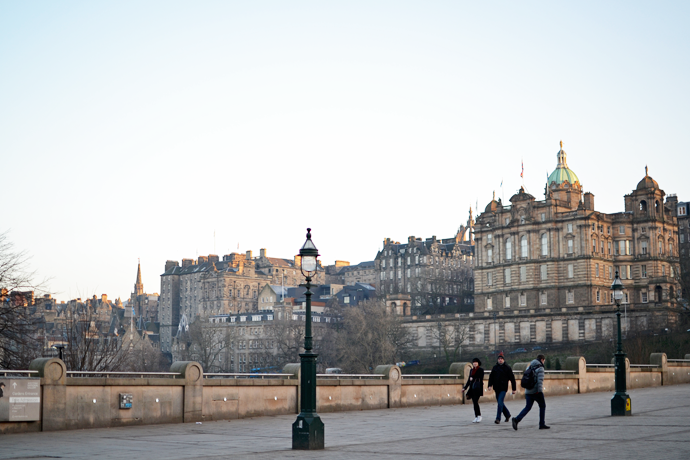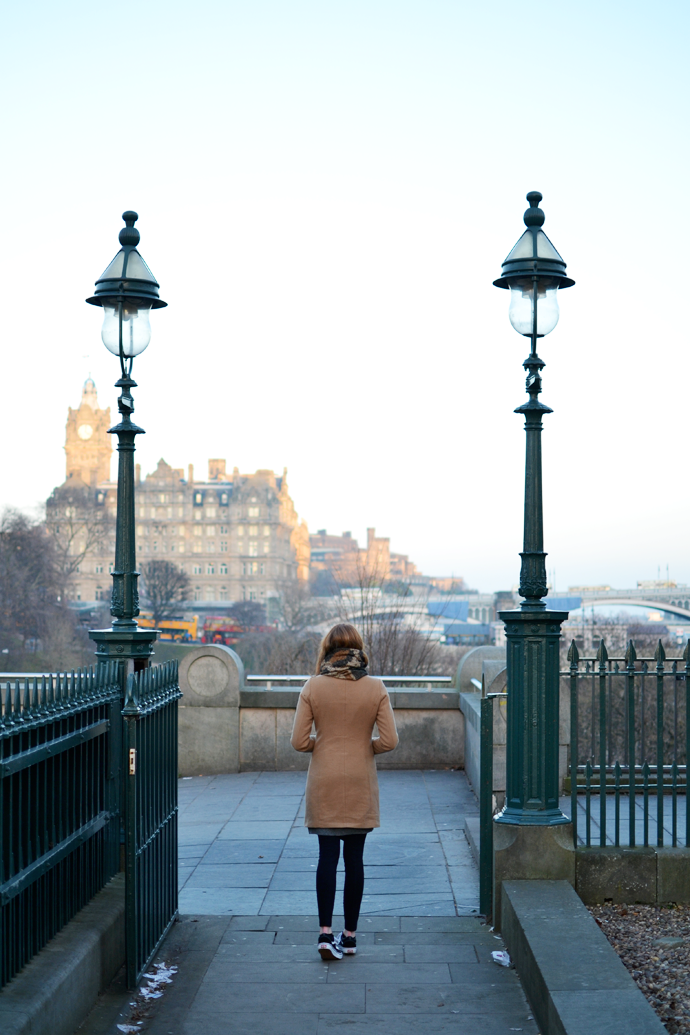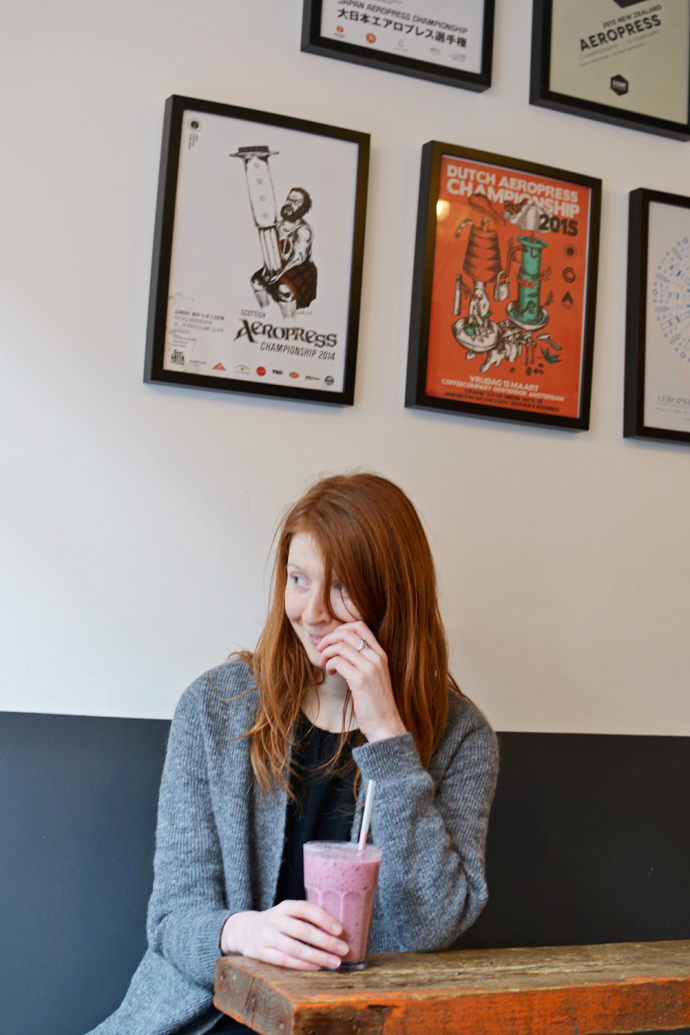 My mom and sister weren't really pleased with the fact that K and I didn't book the hotel breakfast (To be honest, we never do!), and so they ushered us into the first breakfast place we came across after leaving the hotel. It turned out to be a vegan place called Hendersons, just off of Princess street. I had buckwheat pancakes and coffee with hazelnut milk.
After breakfast we boarded a red bus to Leith. Upon arrival we weren't very "wowed", but we chose to stick around for a few hours and see where we'd end up. We came past a few interesting looking coffee bars and restaurants but none of us was really hungry. We took shelter from a sudden rain shower in a coffee bar and all of us got a comforting piece of rocky road pie. My mom and sister took a bus back into town while K and I decided to walk the whole way back following Leith Walk. We read in a travel guide that Leith Walk was an interesting road to follow, but guys, honestly I felt like this was a little bit of a lost day. We spent the rest of the afternoon in a pub near Princess street and got out only to enjoy seeing Edinburgh finest sights during golden hour. Before dinner we held a pit-stop at Flament and you guessed it: That's another coffee bar! This time I had a smoothie though.
Day 3: Shop until you drop!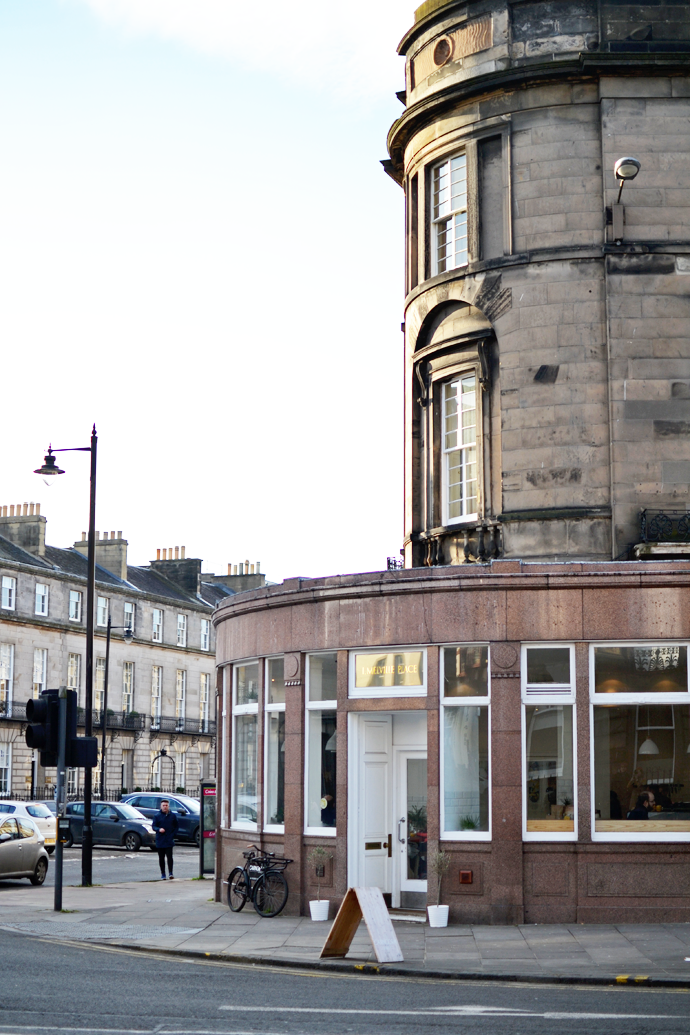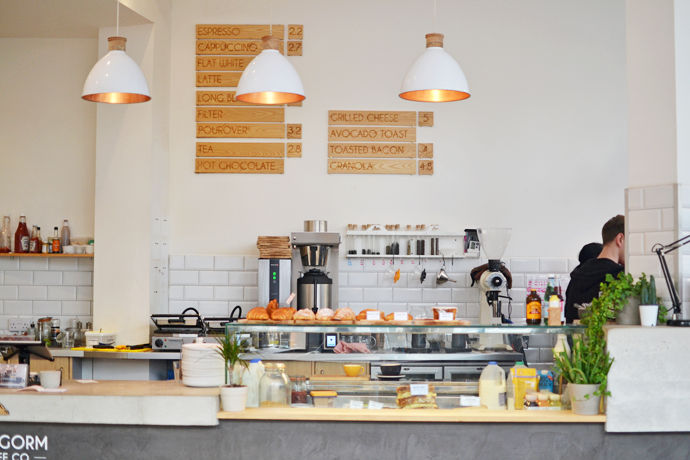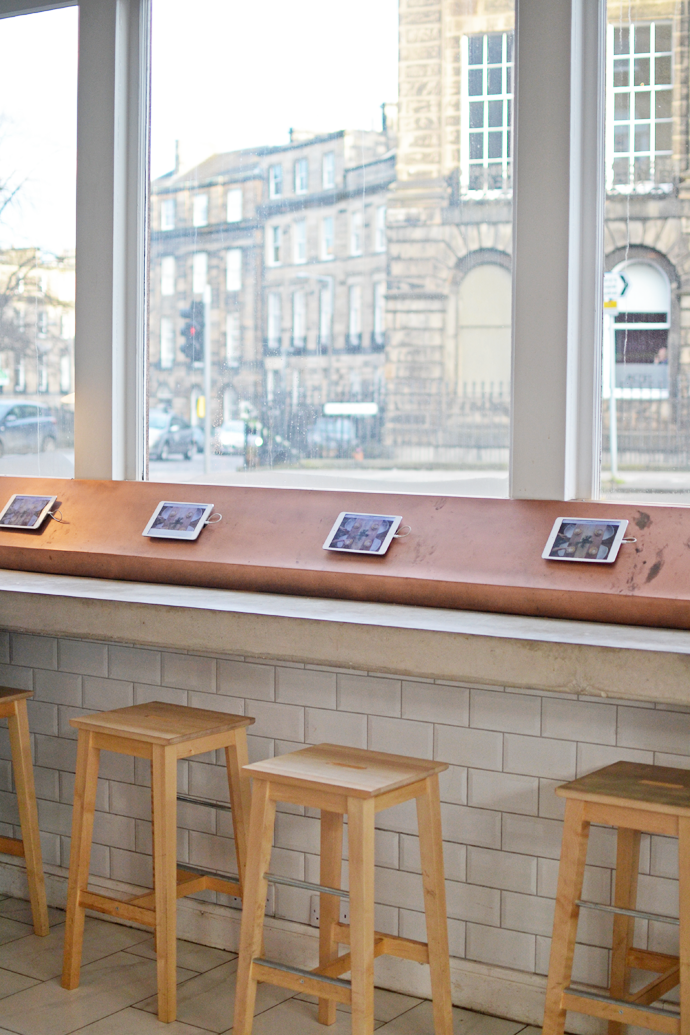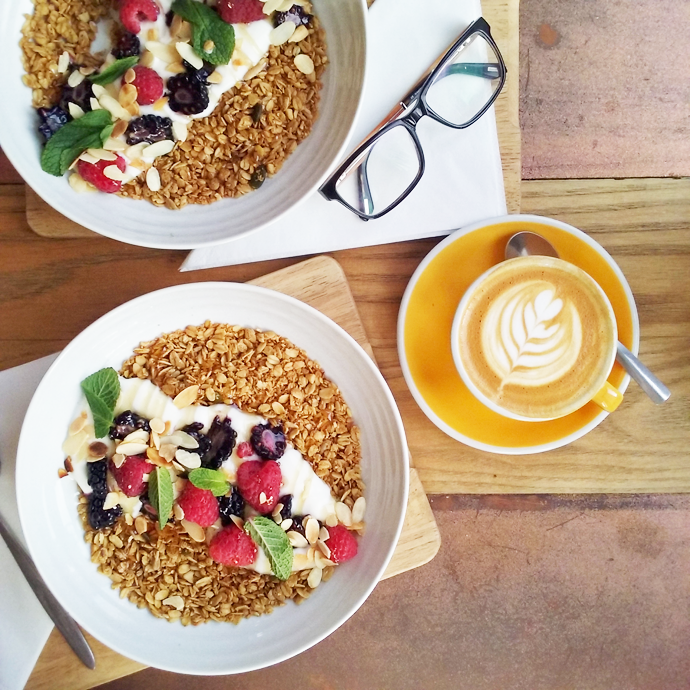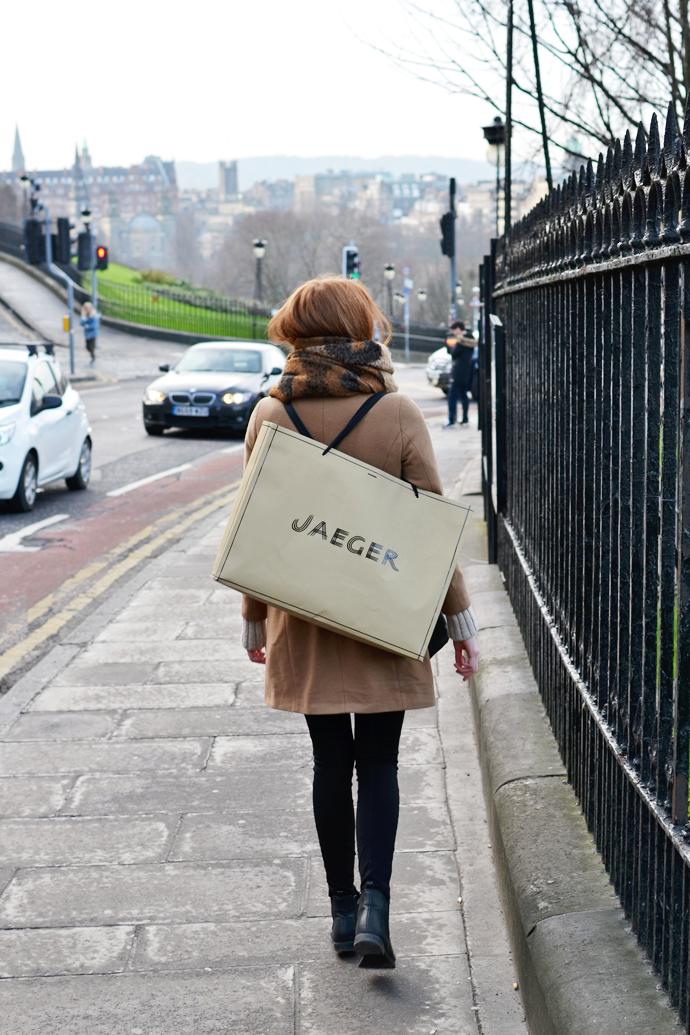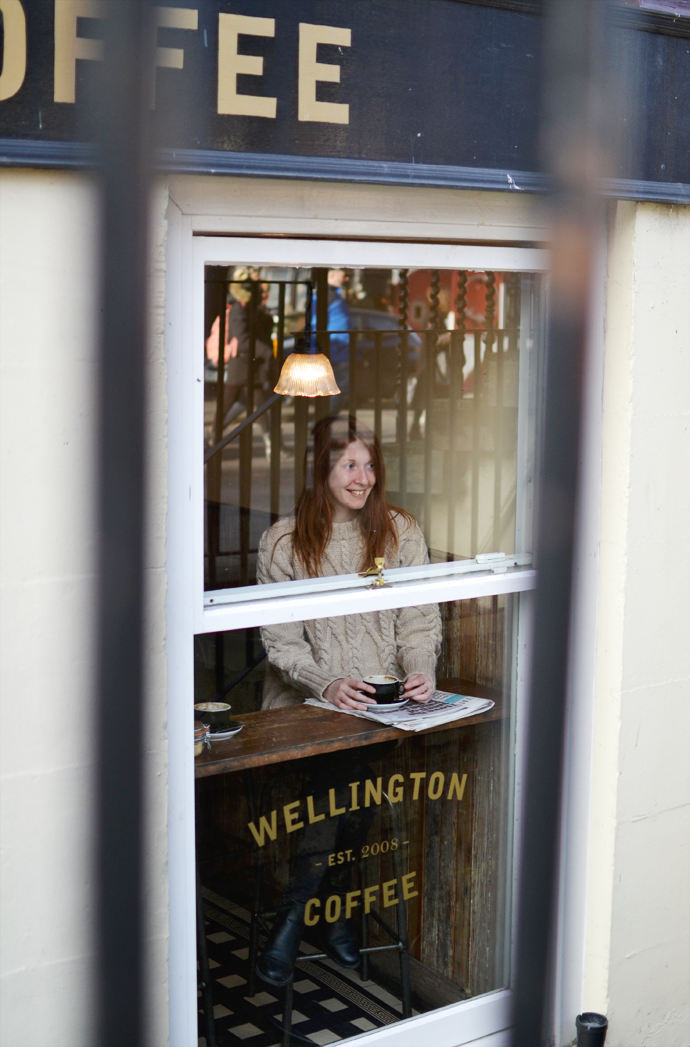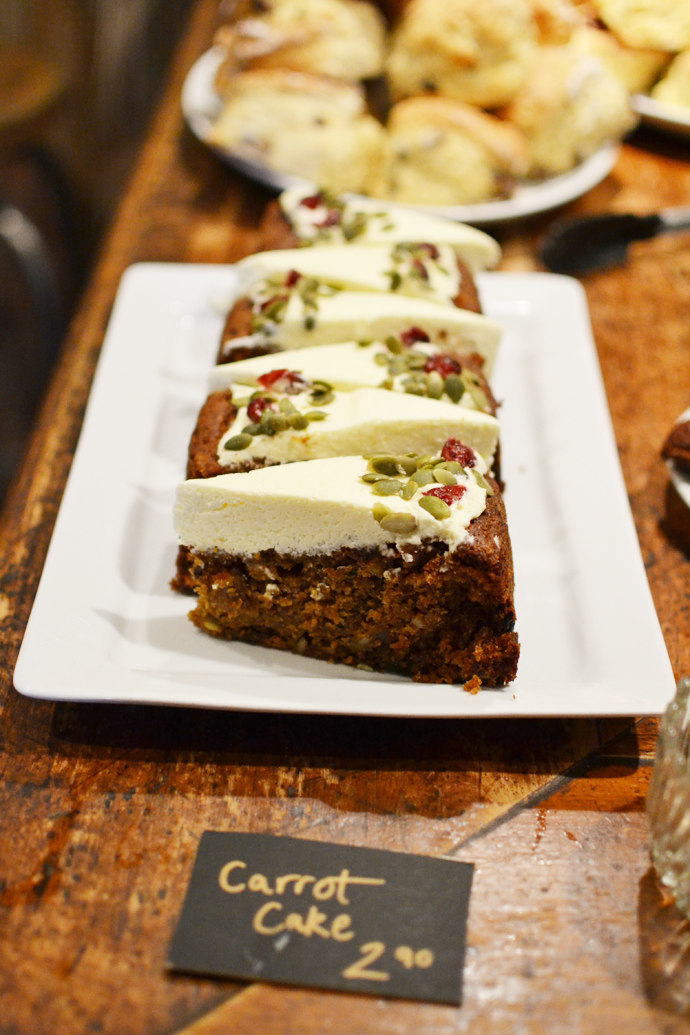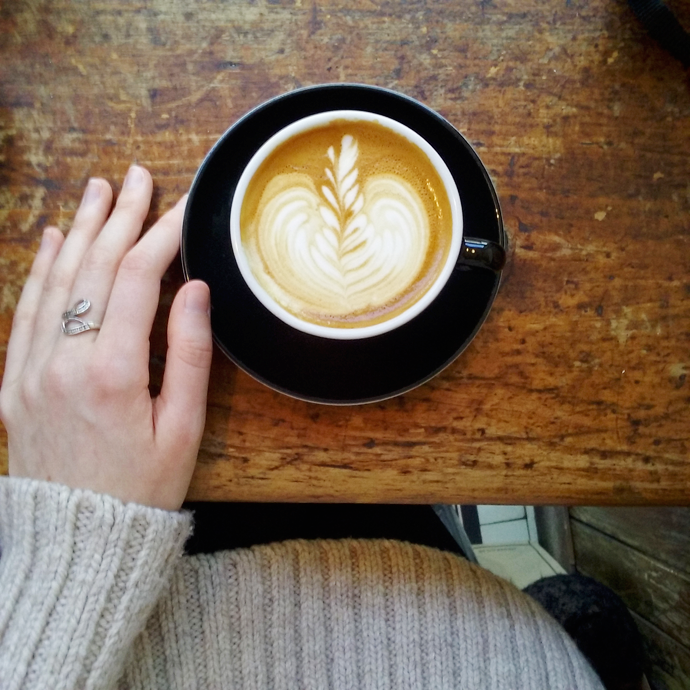 I do not have a lot of photos from day three as it was mostly spent shopping. Before we dove into the sales madness on the high street we stopped by this cute little cafe called Cairngorm Coffee for breakfast. Again, this is one of those places that looks like the cover of an interior magazine. It was so beautiful and light inside! To balance out all greasy pub food I had I opted for yoghurt + granola this morning, haha. After breakfast we took the back streets to the city center and K gave me permission to shop until noon. My favorite places to shop in Edinburgh? Most of them are on George street, which is the street going parallel to Princess street (the main shopping area). Whistles, Anthropologie, Jo Malone, Cath Kidston, The White Company, … (just to name a few) can all be find on George street! Jenners is my fave department store to shop for all my beloved upper high street brands under one roof. Of course a trip to the UK would not be complete without a stop at Marks & Spencer or John Lewis. I love to discover their homeware sections and have never left without one or two pretty bits and bobs for the house. This time however, due to baggage limits, I had to restrain myself! The only thing I bought in Edinburgh this time was a beautiful wool coat from Jaeger (on George street, where else?) which I had to wear under my old coat to board the plane. Thanks Easyjet, for making travelling so easy haha. After all that shopping one last coffee seemed more than deserved. We stopped at Wellington Coffee, which is tucked away in a basement on George street, for the best cappuccino of the whole trip!
Travel information: We flew with Easyjet from Amsterdam to Edinburgh and stayed in the Tune Hotel right across from Haymarket station.