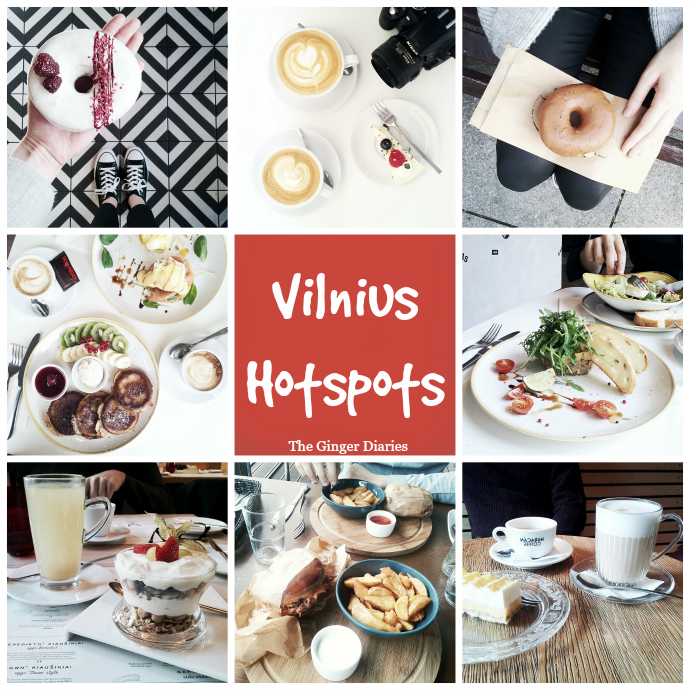 When my boyfriend first suggested Vilnius as our next destination I was a little unsure. Not only was I completely unfamiliar with the culture and history of the country, I also had no knowledge about the Lithuanian cuisine. I love food (don't we all?), but from what I remember from my last visit to Eastern Europe the food is well… not my cup of tea. Filled with joy was my heart, when I learned that Vilnius has a lot more to offer than Cepalinai and Zrazai. Here's a list of my favorite addresses!
PS: My apologies in advance for any hungry feelings you might have after reading this post.
Coffee
Strange Love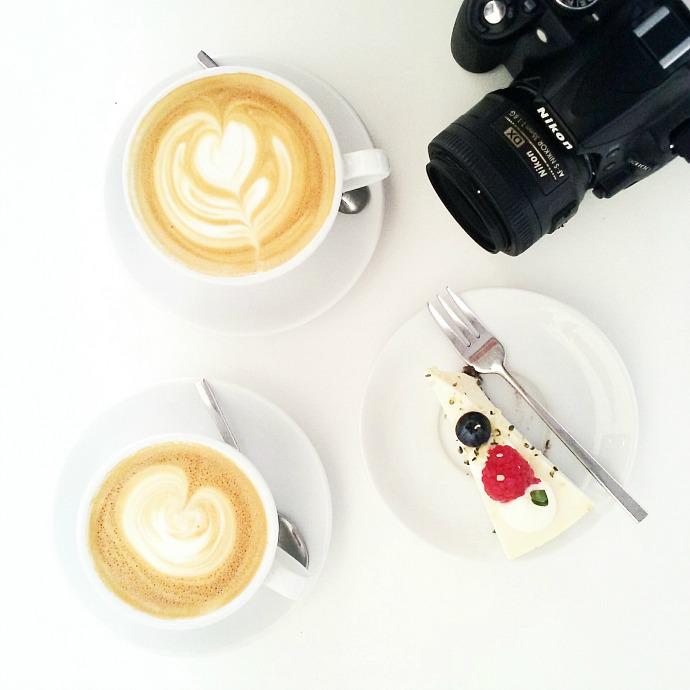 This place is every instagrammers dream! Clean white tables, latte art and perfectly decorated cheese cakes make for an instant perfect picture. To top things off these coffee's were the best we had during our stay in Vilnius (and we had quite a few). The location ain't bad either, just a few hundred meters from the cathedral and right outside Kalnų parkas. (address: B. Radvilaitės g. 6B)
Huracán Coffee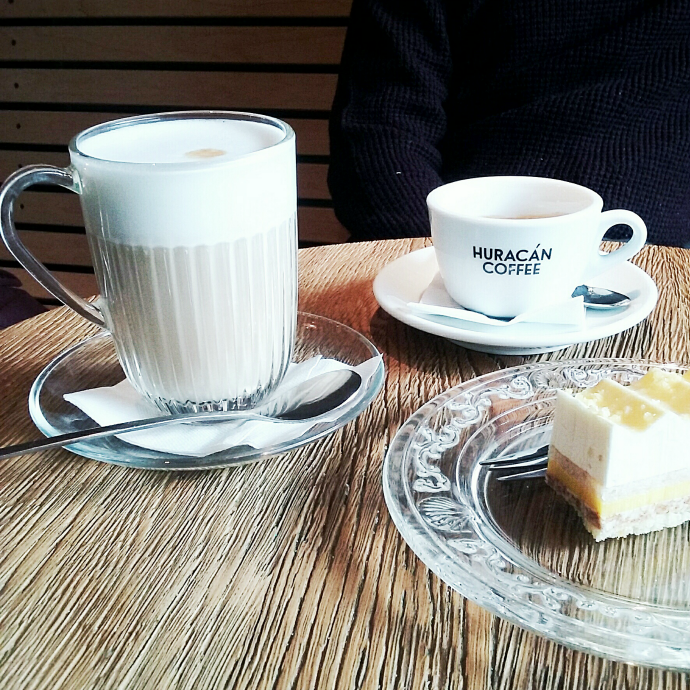 I spotted this one on Instagram before we left and was overjoyed when one of their cafes was right around the corner from our hotel. We loved the industrial interior and good ole brews so much that we stayed in for a couple of hours before moving on to the next stop. (address: Vokiečių g. 15 + other locations)
Small Talk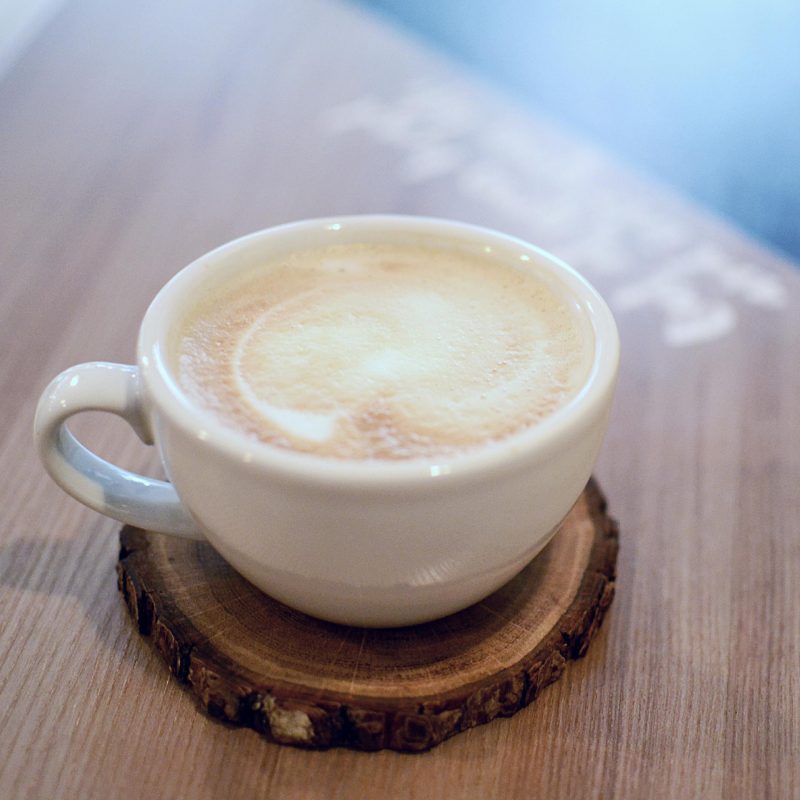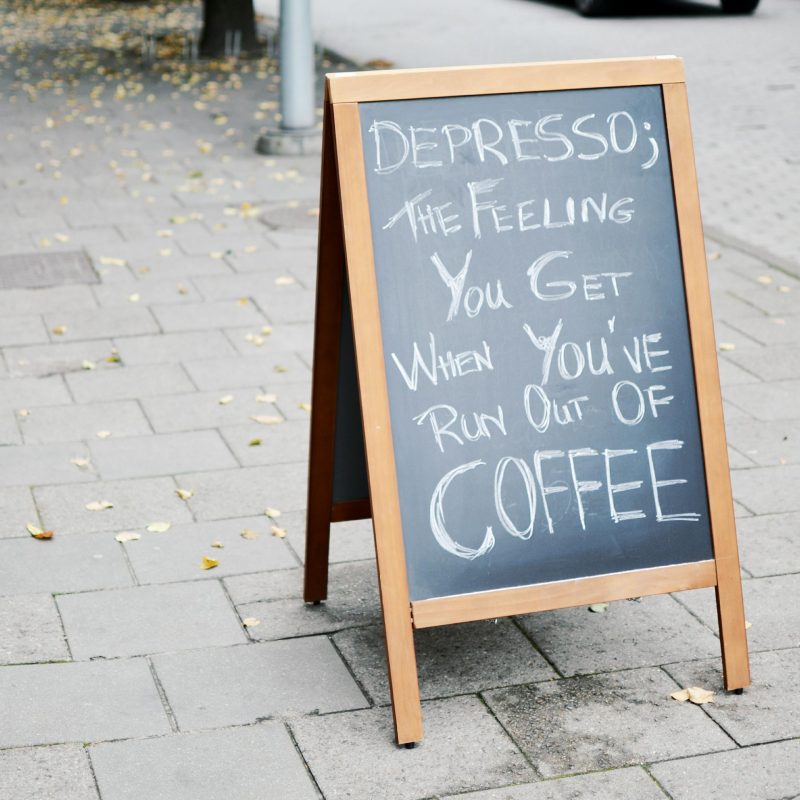 Tucked away in a rather dull-looking side street of the Gedimino ave is Small Talk. The barista of this cafe knows what a good brew is! We both enjoyed a creamy cappuccino while discussing our plans for the day and afterwards had a look around the shop-in-shop filled with cute gift material. (address: A. Stulginskio g. 2)
Opera Café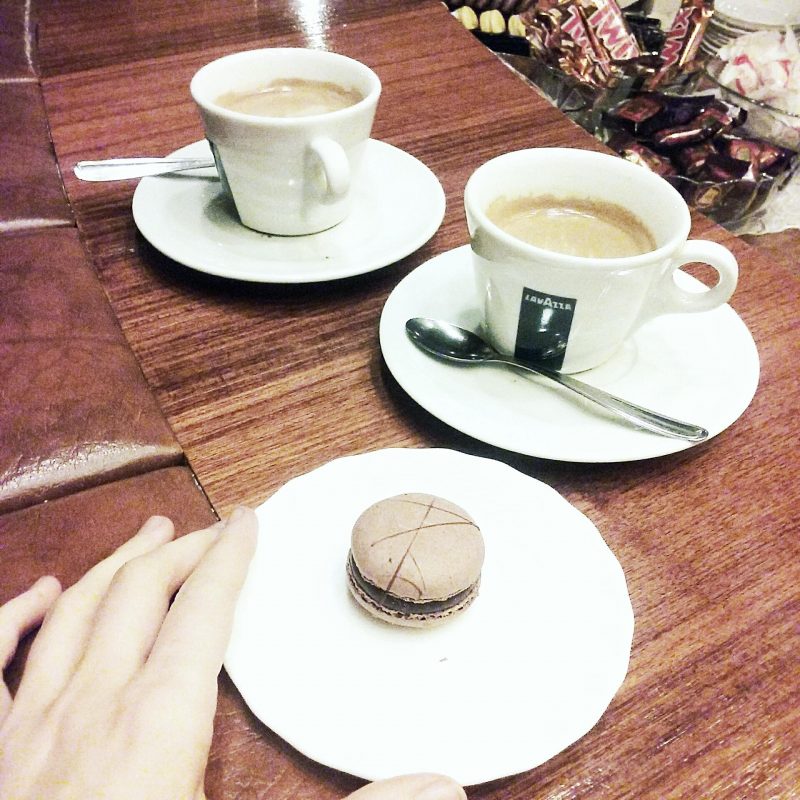 On our first day in Vilnius we went to see Fidelio by Beethoven at the opera. During the break we had a coffee in the Opera Cafe and I couldn't resist the sweet treats. From pudding to macaroons, the sweets were too good to pass up! The interior of the cafe looks and feels like it hasn't changed since the opera house was built in 1974. When you step inside it feels like you've stepped back in time and landed in the seventies. I loved it!
Coffee Inn & Vero Cafe
With one of these on literally every street corner they are worthy of the label "coffee chain". Think of Coffee Inn and Vero Cafe as the Starbucks of Lithuania. Great for when you experience a sudden crave for caffeine, but all a little same-y and not the most cozy of places.
Breakfast
12 stories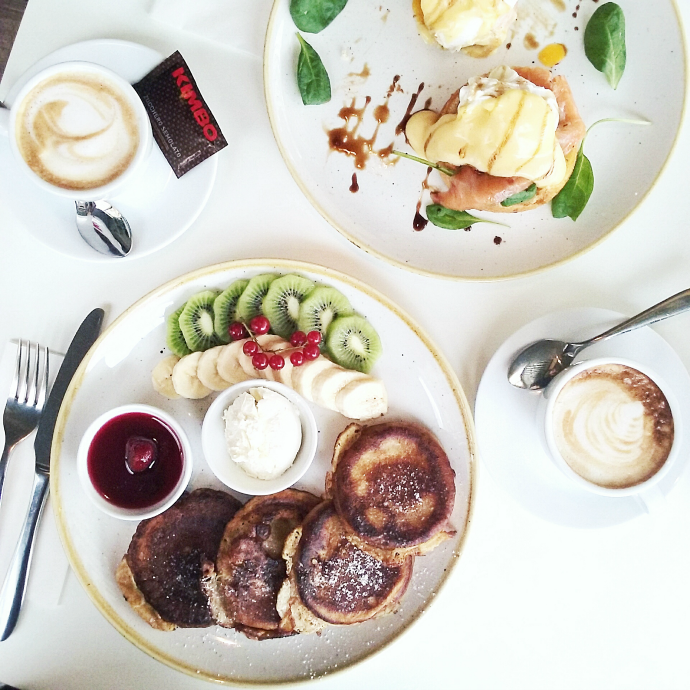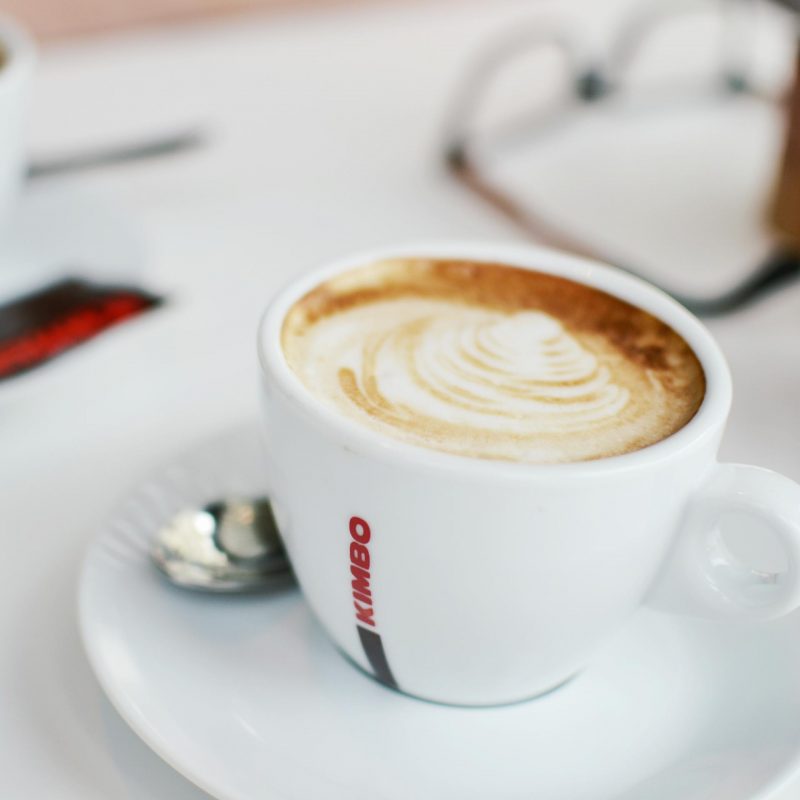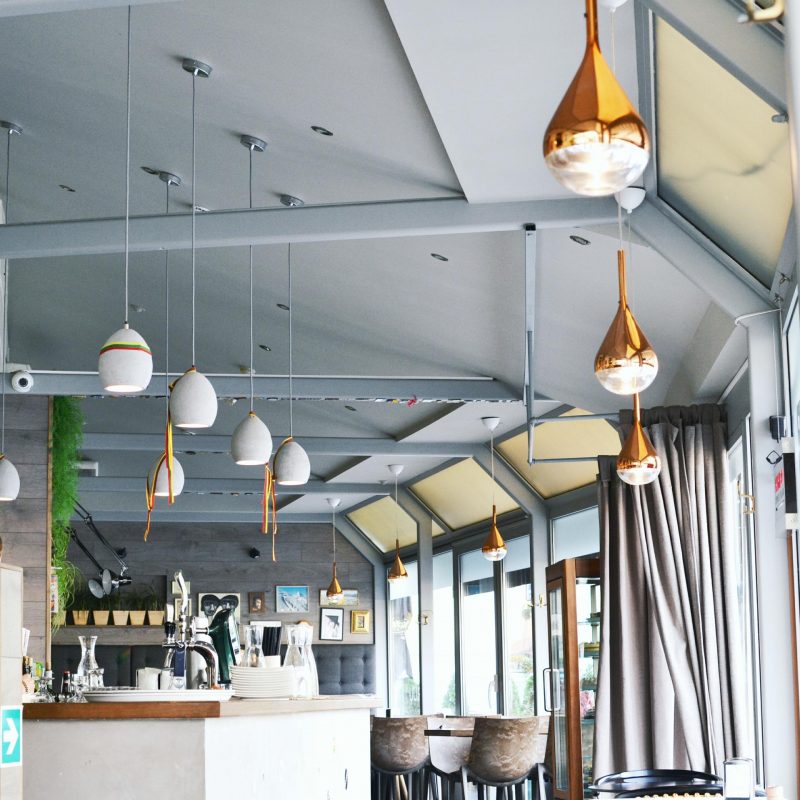 So, I went to Lithuania and had my first ever American pancakes. Let's just say the traditional sturdy breakfast that Lithuanians eat is not something my stomach can handle at 8 in the morning. We landed in 12 stories somewhat by accident as we originally wanted to eat at the French restaurant across the street but I didn't fancy croissants with jam and my boyfriend got hangry. This place looked somewhat decent among the – admittedly – not always legit-looking restaurants in the old town. As soon as we stepped inside I knew we hit the hipster jackpot: from the ginormous Mostera Deliciosa to the copper light fixtures, this place was a hipster palace. The menu? Just like your typical hip place. Pancakes, granola, eggs Benedict, … everything I like to Instagram, haha. The place is a little higher priced than most Lithuanian restaurants, but compared to Belgium this was still cheap AF for what we got. (address: Aušros Vartų g. 2)
The Town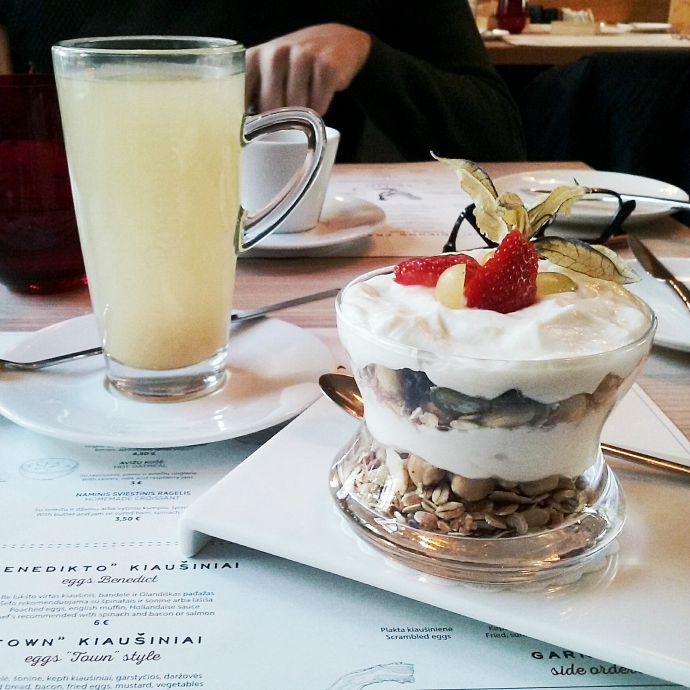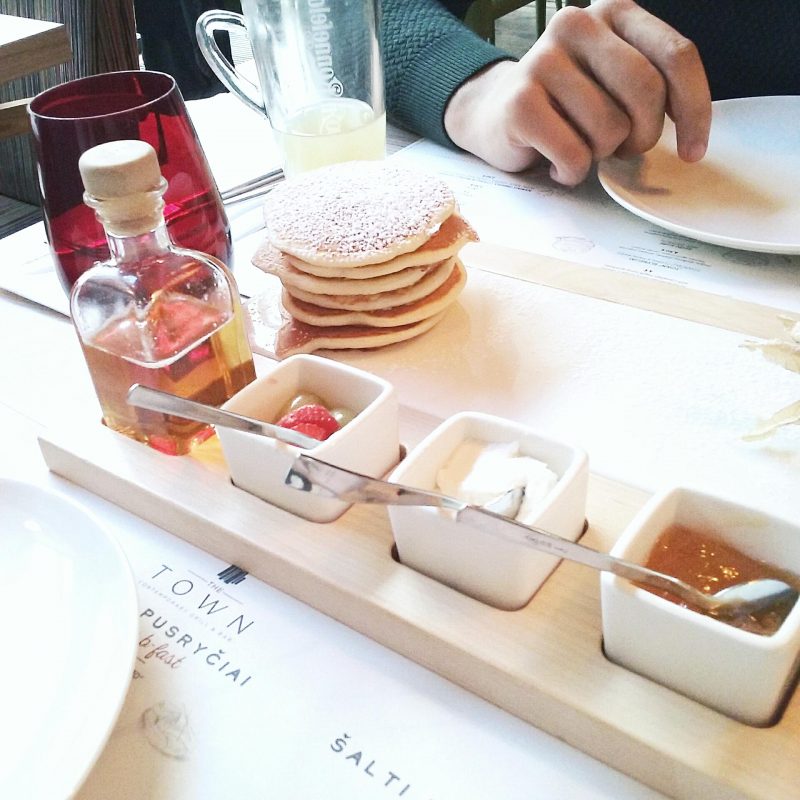 We saw a group of young people have breakfast here, so we went back the next day to see what this place was all about. Again I was pleasantly surprised by a fresh, contemporary menu with all the hyped classics and a more modern take on the traditional Lithuanian breakfast as well. I still went for my trusty continental breakfast classics, but the boyfriend tried and approved the eggs + sausage brekkie. I had flavorful, thick and creamy yogurt with red berries and warm granola + cottage cheese pancakes with 3 types of jam to tackle a busy day in the city! My home made lemonade was pretty gross, but the flavored table water made everything better! Also a big shout out to our waiter because he still served me my pancakes even though the breakfast hours were over. (address: Gedimino pr. 26)
Lunch & Dinner
12 Stories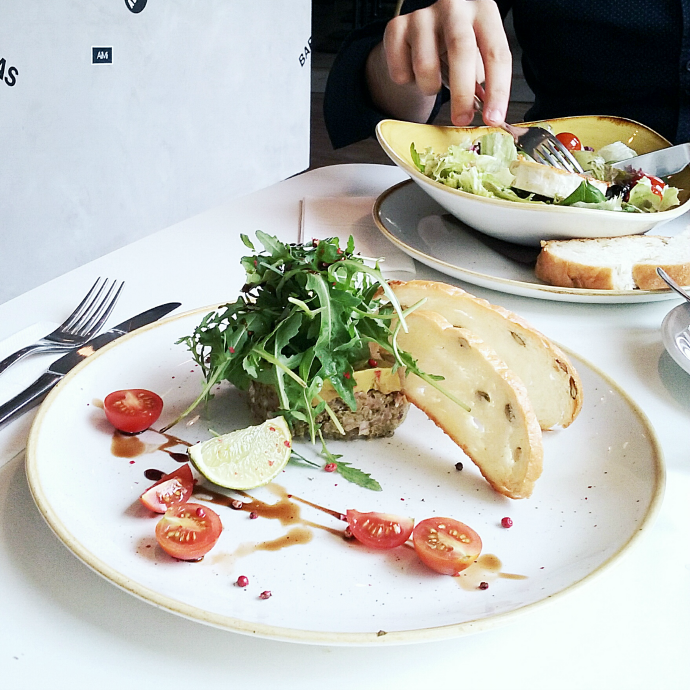 Yes, we went back to 12 Stories. Three times actually. We went to discover the Old Town and ended up near 12 stories again around lunch time. Too tired to look around for another place to eat we decided to step in again and test the lunch menu. I had an avocado-tuna salad which was perfectly spicy. (address: Aušros Vartų g. 2)
Grill London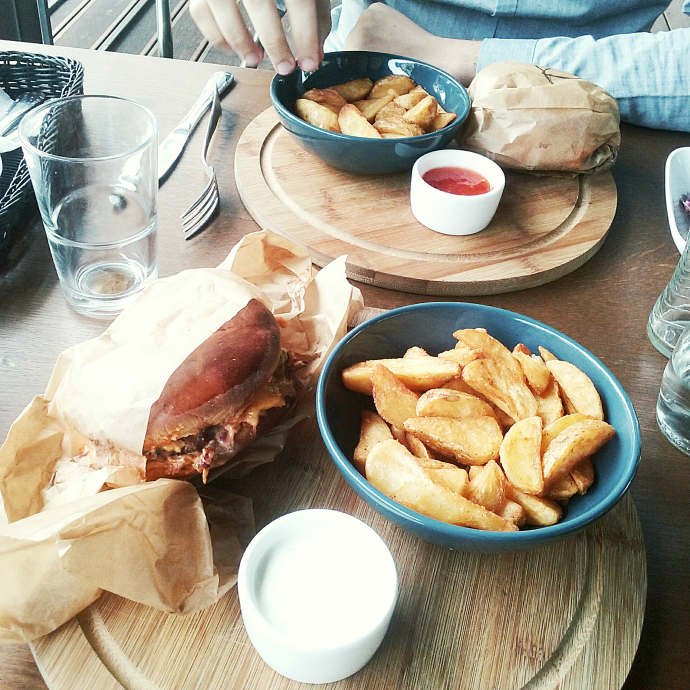 If you can grill it you can get it here… if you have a lot of patience. The food was good, but we had to wait 1,5 hours for our pulled pork burgers and fried potatoes to be served. Not funny if you consider that this was our first day in Vilnius and we had A LOT of exploring to do. There seemed to be no logic or reason for why every order (we weren't the only hungry ones waiting) took so long as there was nobody inside and the terrace wasn't that full. The food was good though, and Grill London also deserve bonus points for the English Menu. (address: Vilniaus g. 33)
No Forks
Quick Mexican lunch that's also available for take-away. Jam-packed with people and seems to be a favorite among students. No wonder with such a great price point! Stuff your belly here with customizable burrito's, taco's or salad bowls and have a coffee afterwards next door in Huracán Coffee! We were so hungry that I totally forgot to take a photo of the food, haha. (address: Vokiečių g. 9)
Drama Burger
Whenever I read "pulled pork" on a menu I have to get it. If the place also has a big sign out saying "homemade rosemary lemonade" I can't resist. I even had so little resistance that I forgot to take a picture first. Again. But trust me friends, it was good. Drama burger seemed to be one of the favorite hang-out places for students so it can be full around regular dinner hours. (address: Gedimino pr. 31)
Forto Dvaras
For those who are curious about the traditional Lithuanian cuisine I suggest stopping by Forto Dvaras in the old town. They serve everything Lithuanians eat from breakfast to dinner and snack time. We didn't want to leave Lithuania without having at least tried some of the local meals, so I got brave and ordered Cepalinai for dinner. You can best describe Cepalinai as sturdy, zeppelin-shaped dumplings filled with various kinds of things such as meat and veggies. They are served on their own with a creamy sauce. I'm going to be honest here and admit that I didn't finish my meal and went to still my hunger in La Crepe afterwards. I'm totally laughing at myself now, but the slime-y outside and the grained texture of the zeppelins really made me wish I had just gone for a soup.
dessert
Donut Lab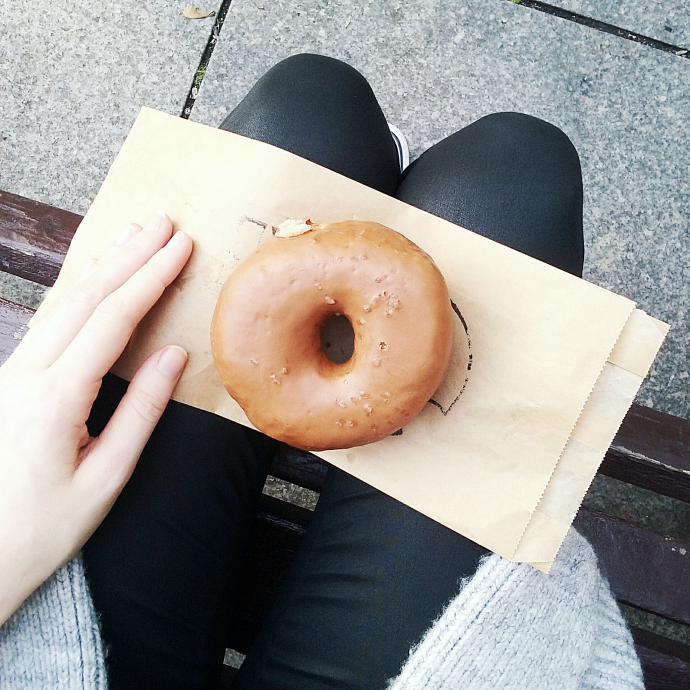 Just like the words "pulled pork" make me instantly hungry, the words "salted caramel" make me long for a good dose of sweetness. When we passed the Donut Lab counter and I spotted the caramelized donuts I just HAD to get me one. Took them outside and enjoyed them on a bench in Lukiškių aikštė, just next to the shop. (address: A. Jakšto g. 3)
Holy Donut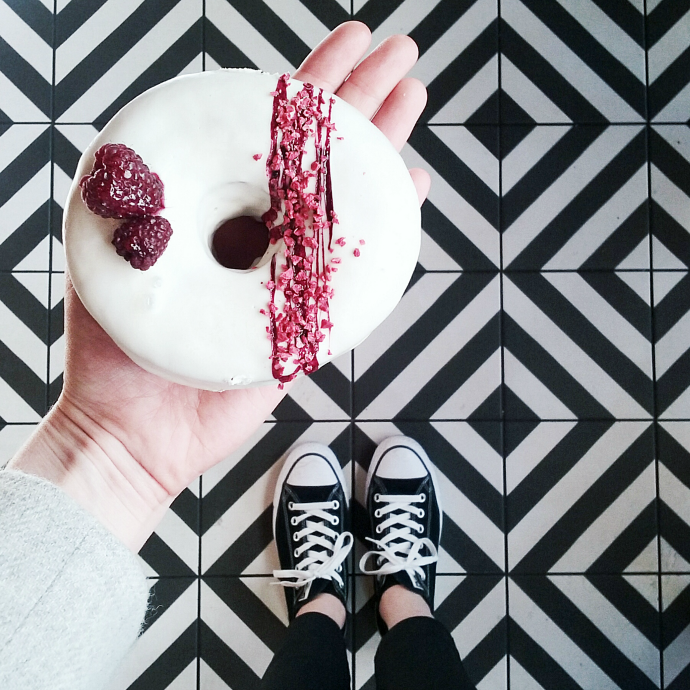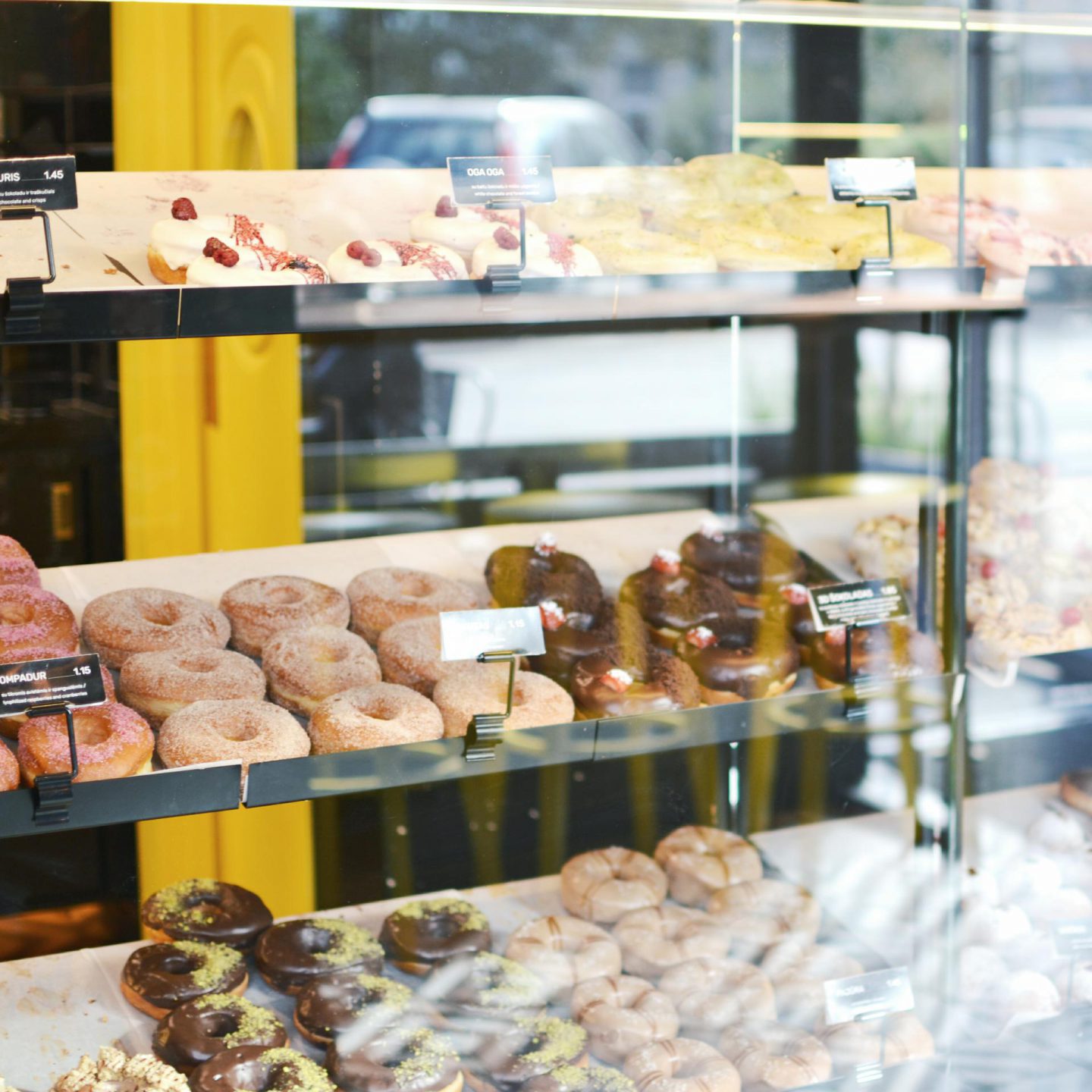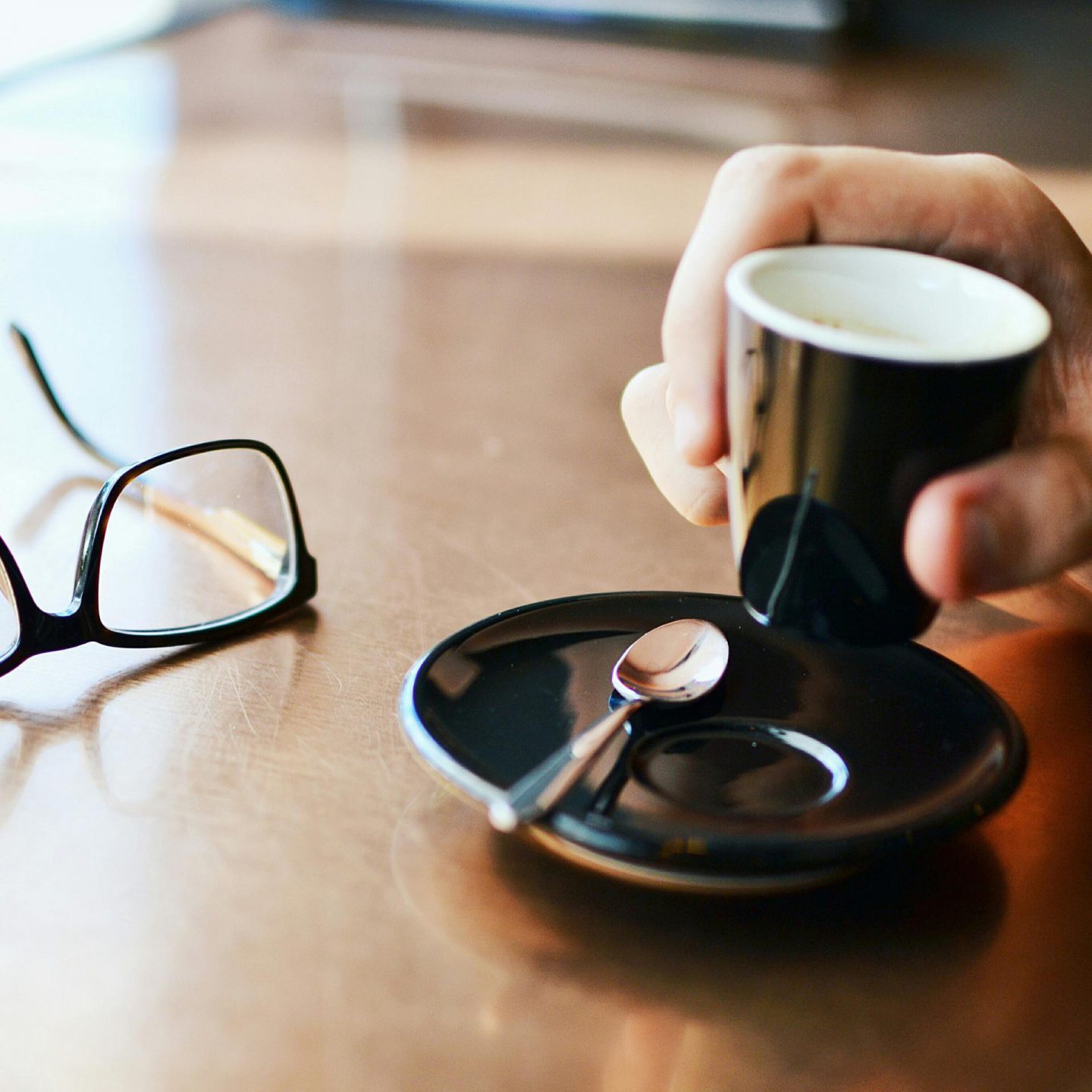 Seemingly much less known than Donut Lab, Holy Donuts definitely was my favorite of the two! Exciting and delicious combinations served with a good cup of coffee. They also have ginormous milkshakes topped with all kinds of sweets and donuts in case you are looking for an instant sugar overdose. I went with a white chocolate and red fruit donut while my boyfriend enjoyed an espresso. SO GOOD! (address: Vokiečių g. 9)
La Crêpe
I live for pancakes. When I spotted this restaurant in the middle of the Gedimino avenue my heart fluttered. With very gentle prices it was hard not to step inside La Crepe each time we passed. From sweet to salty, they have SO many options to choose from! Apart from pancakes they also do yummy salads. I took photo, I am 100% sure, but I can't seem to find it back on my computer. Alas! They serve a good quick bite and that's all that really maters right? Right. (address: Gedimino pr. 13)

Read all about Vilnius must-see sites in my "Postcards from Vilnius" post.