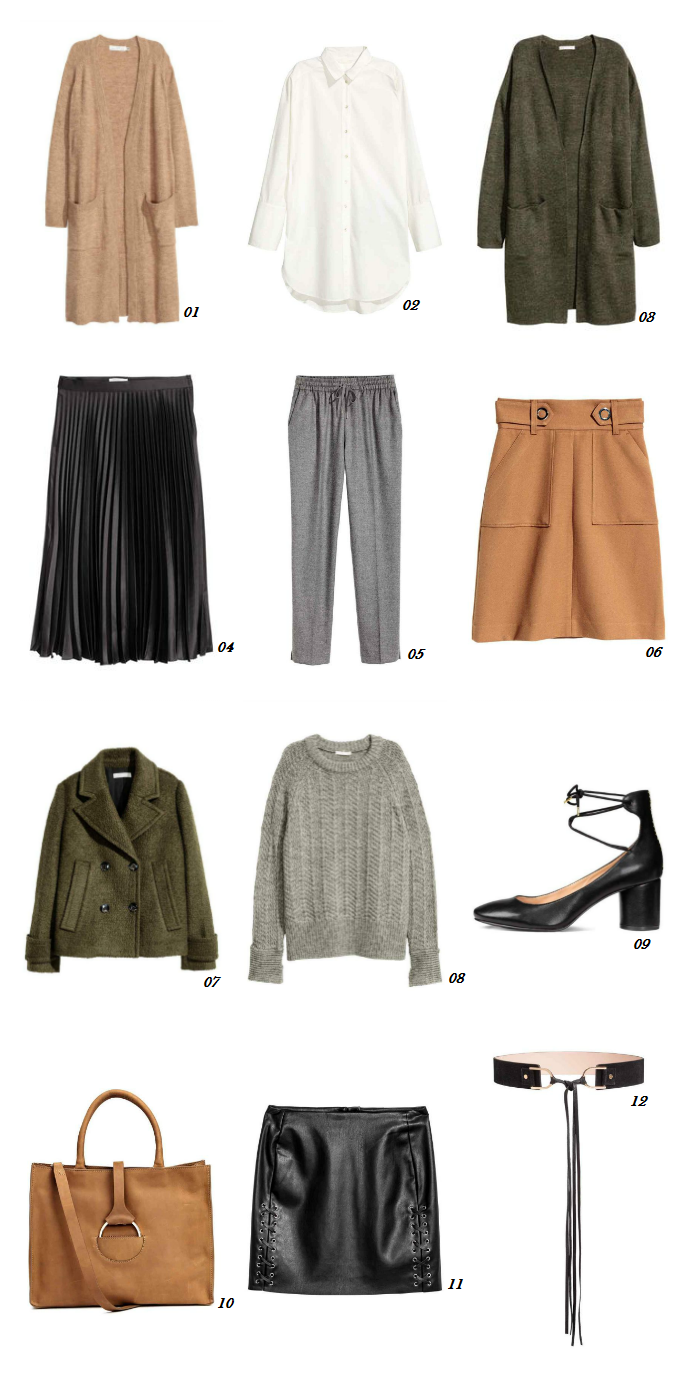 01/ Long knitted cardicoat (€39.99) – I have a thing for extra long cardigans this fall and it's bad. I want one in every typical fall color: Beige, burgundy, olive, grey, cream and everything inbetween! I'm not sure how this warm beige will work out with my skintone, but I'm definitely going to check for this gorgeous tan colored number next time I pass by my local H&M.
02/ Long cotton blouse (€24.99) – I strongly believe that you can never have enough white tops. They are my go-to item to pair with jeans and a blazer and they always make me feel confident. This extra long shirt would be perfect for layering under sweaters!
03/ Long cardigan (€29.99) – I think I already said something about cardicoats, didn't I?
04/ Plissé skirt (€34.99) – I wasn't really sure about the plissé trend until I spotted this skirt on the H&M website. It's airy and coated to give off a leather-look, without losing twirl. We've already established that I am way too much into my coated jeans so maybe this skirt would be a good subsidiary piece, haha.
05/ Dressy sweatpants (€24.99) – There's nothing more contradictory than "dressy" and "sweatpants", but H&M brought the opposites together and got this lovely pair of sweatpants that would do well within any wardrobe! My favorite way to wear them is with a white top… here we go again.
06/ A-line skirt (€29.99) – I don't just want this skirt, I have a feeling that I need it in my life. The color is perfect, the details on the waist band are perfect, the knee-length is perfect… . PS: Club Monaco has a very similar skirt that retails for literally 10x the price.
07/ Short coat (€59.99) – Secretly I have already bought my new fall coat, but this one was definitely the second option. I love the color and a short coat is a nice change from all the long winter coats I've had the last years.
08/ Knit sweater (€19.99) – Slightly cropped, this sweater is perfect for layering! I have actually tried this one on in the store already and the only reason I haven't bought it is that I couldn't decide whether I wanted the grey or the tan color. Now that I'm looking at it again I'm thinking I could just snag them both for that price!
09/ Lace-up pumps (€39.99) – Halleluja! Finally a pair of lace up pumps that has a round toe. Sadly enough I couldn't find them in the shop and now I'm rather torn because I've had some painful experiences with H&M shoes in the past and I'm a little scared to order them online because of that. I think I'll be jumping in-and-out of H&M every day after work for the next few weeks to see if I get lucky, haha.
10/ Leather handbag (€129,00) – Clearly inspired by a certain French design house, this bag is minimal with a punch. It just looks like a nice, handy handbag to have and because of its simplicity, I feel like it could work with about every outfit I can think of.
11/ Faux-leather lace-up skirt (€24.99) – No comment, haha. Probably way to daring for me, but I love leather, I love the lace-up trend and the combo of the two ain't bad either. With that neat grey sweater, opaque tights and some cute ankle booties it could really work.
12/ Waist belt (€12.99) – This is the one item that drew me into H&M and made me leave with an enormous wish list. I was looking for a black waist belt with a little extra touch to pair with my new boho Max & Co dress and this belt totally fits the bill!