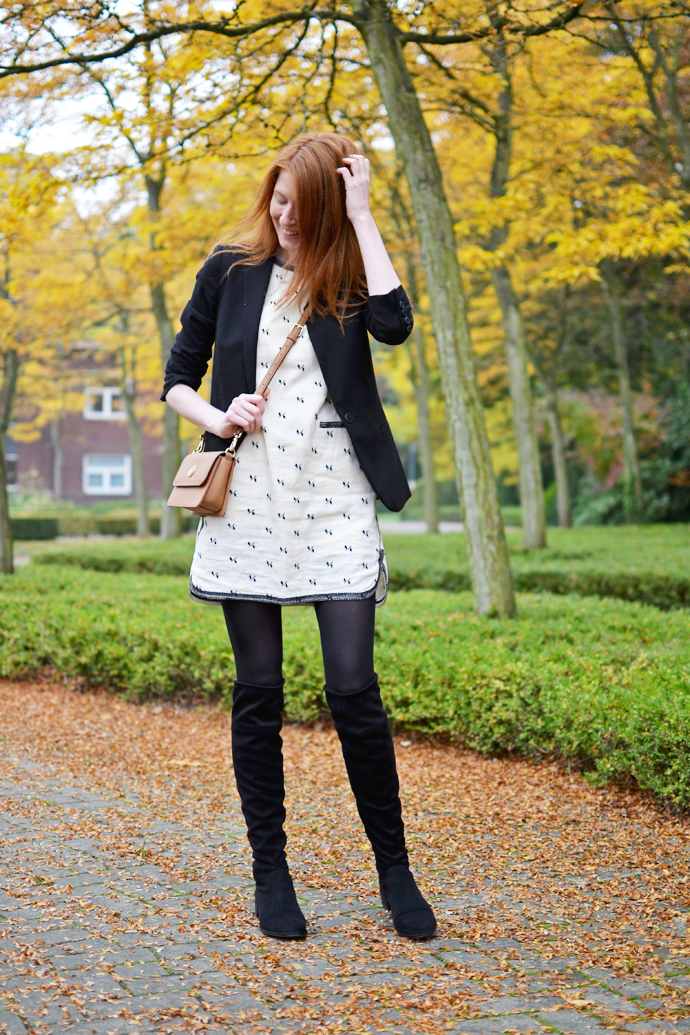 It's 20:55 PM on Halloween night, I'm home alone and I noticed that the blog post I had scheduled for tonight has somehow disappeared into the darkness of the internet. So here I am – with my steaming cup of hot cocoa and covered in a fleece blanket – to warn you, not for horror clowns and other creatures of the night, but for the dangers of online shoe shopping.
When the Over-The-Knee boots trend took off again last year I was kind of undecided about whether or not I wanted a pair myself. They are a little bit out there and therefor also a little bit intimidating. To me, OTK boots give off a certain attitude and I didn't know if I'd get away with it. They are still immensely popular this year and I am finally convinced that they would be a great addition to my wardrobe this Fall/Winter. My trusty tall black boots came out of storage looking completely beaten, so when the lovely team behind Bent Merkschoenen kindly offered me a pair of boots from their new collection I took the chance and went for a pair of extra tall boots. There was only one tiny issue that I had overlooked… .
Shopping for winter boots has always been troublesome for me. I am 1) really picky and 2) I need boots with XS shafts so I don't look like Tom Thumb in the seven-league boots. These are issues that I know I need to think about and I also had them in the back of my mind when I picked my favorite pair of OTK's from the web shop. Some of my friends have also bought this type of boot in the past and I learned from their mistakes: pick a pair in a stretchy fabric, make sure they lace-up so you can adjust, … . I was convinced I had successfully chosen the perfect pair of boots! I went to the post office the next week and proudly came home with my – perfectly packaged! – new boots. I fell in L.O.V.E. as soon as I took them out of the box. The suede was buttery soft, pitch black and perfectly even. Excitedly I put the boots on… to learn that my over the knee boots do not reach over my knees. I'm too tall. At first I was really bummed, but now I'm having a good laugh about it. I cannot believe that I totally forgot to think about the most basic issue when it comes to this type of shoe: the length of your legs! Because they reach to the middle of my knees they tend to slide down after a while. Wearing leg warmers helps, but I still find myself pulling up my boots every five minutes. I can live with the little annoyances and have been wearing my boots a lot. They are the perfect companion for some of the mini dresses that I have in my wardrobe (such as this Madewell number) that my regular tall boots looked a little odd with.
It's 22:14 now and my hot chocolate is cold. The heating turned off about half an hour ago and I haven't seen a soul pass by outside the window for a while either. Maybe this means it's time for bed. Good night ya'll and happy Halloween!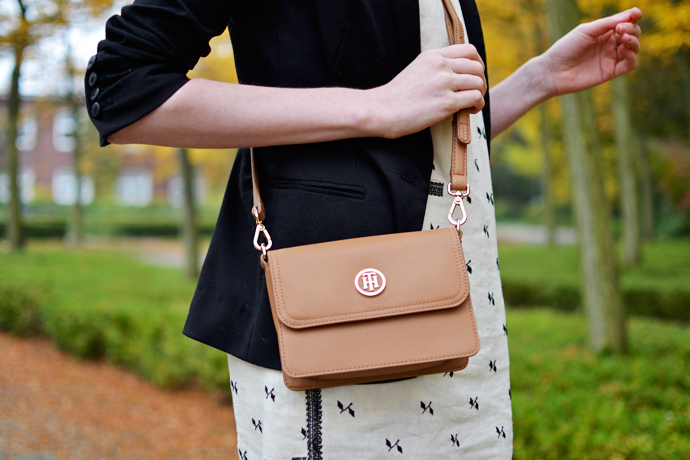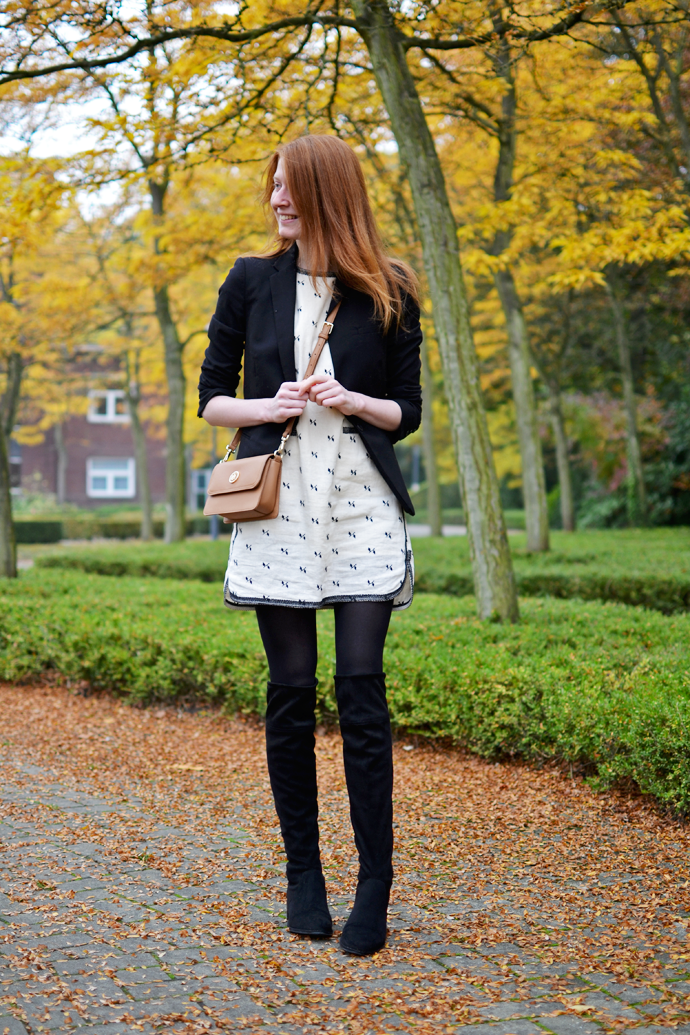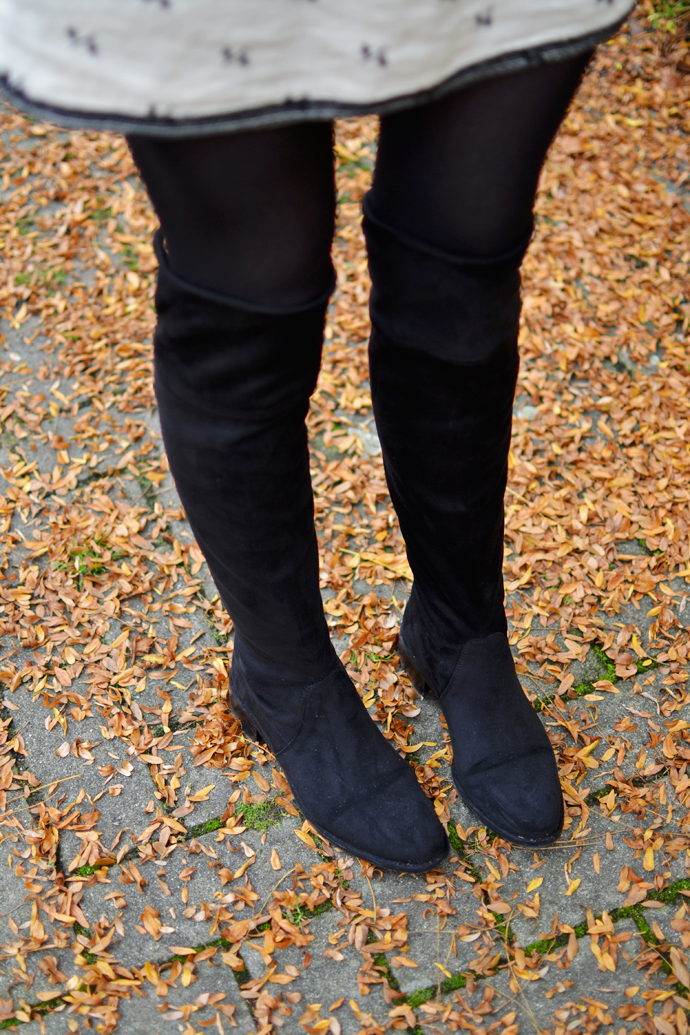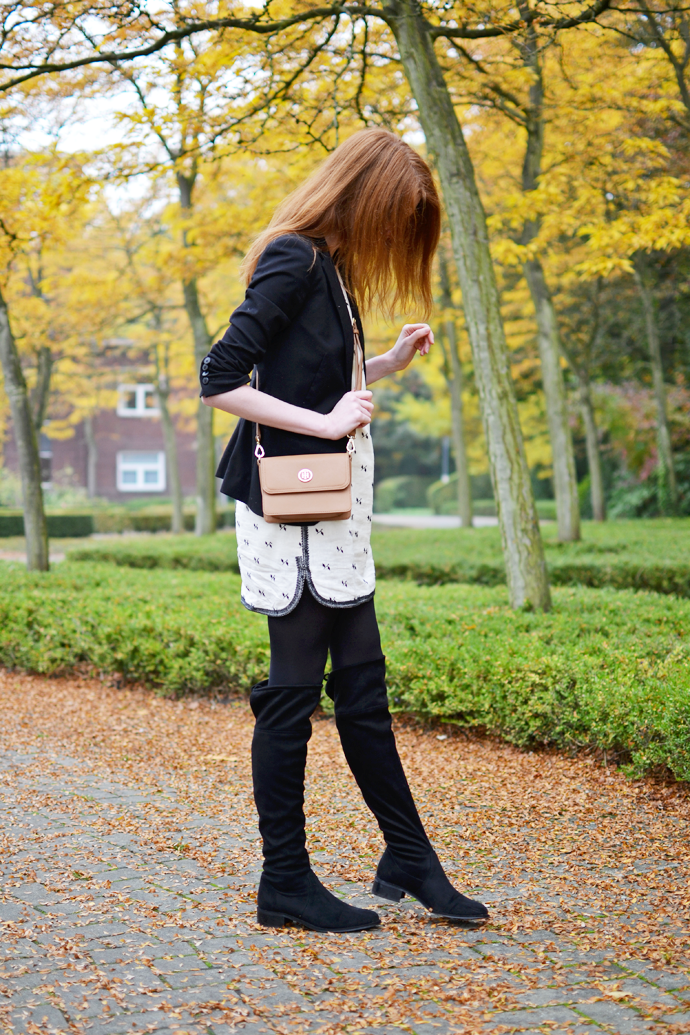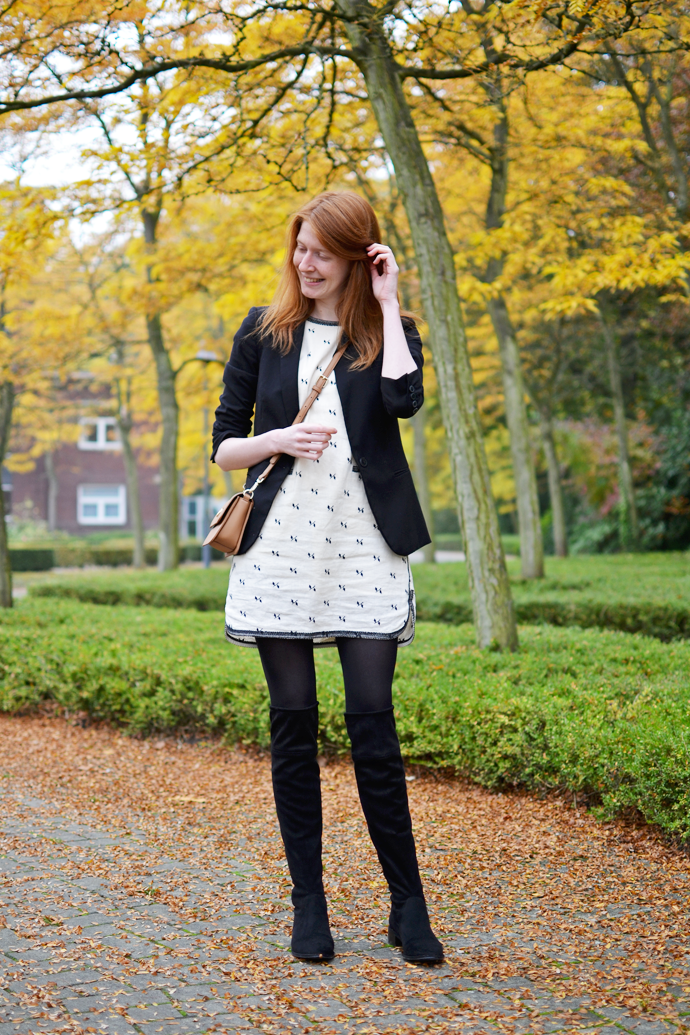 In case you are wondering about Bent, I can tell you a little more about them. Bent retails in shoes and handbags. They have real life shops as well as a web shop where you can ooooh and aaaah over all the pretty things they have in stock. I find their collection a little modest, but here and there you'll spot something special such as blue velvet ankle boots or suede creepers. Most of the shoes range between €70-€130. When you place an online order you can opt for delivery in a post office so you can live your life while your package is on its way. Now that's service.
dress: Madewell
blazer: Mango
bag: Tommy Hilfiger via SKM (c/o)
boots: Pedro Miralles via Bent (c/o – meer Damesschoenen)