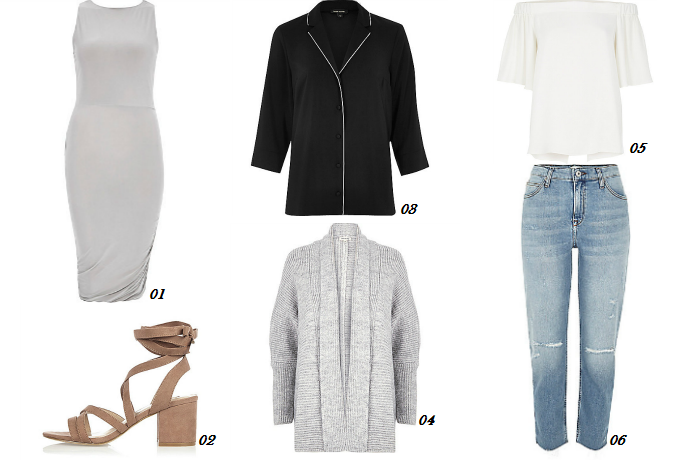 01 Grey ruched slinkt dress (€40) / 02 Soft tie block heel sandal (€55) / 03 Black pajama shirt (€45) / 04 Grey knit cocoon cardigan (€50)/ 05 White bardot top (€33) / 06 Light blue wash Ashley ripped jeans (€55 – similar)
Okay, Okay, we're still in the middle of Summer and trust me, I don't mind, but with all the new arrivals coming into the shops I can't help but think about fall. The nineties aren't going anywhere next season (despite my prayers) and I must admit that I'm somehow falling for the trend. Not that I'm ever going back to cami over T's or chokers, but those funky and light washed jeans? Yes please!
The midi trend that arose a few years ago is still going strong as well. Where everyone is looking at midi-length slip dresses and metallic plissé skirts, I have been eyeing this draped midi-dress. It's elegant, the color is great and I feel like I can get away with it even though I am skinny AF. I haven't found it our River Island store, but since I recently made my first purchases from the River Island web shop I am confident that it will somehow still land in my wardrobe! The block heels are its perfect companion.
The River Island web shop has meant sincere damage for my wallet recently. I had been lusting after the white bardot top all summer and when I finally decided to go for it, it has sold out completely in the store. I went looking for it online and stumbled upon the grey cocoon cardigan as well. Slouchy cardigans are my jam, so I couldn't help but click it into my digital shopping basket. Both items are now proudly hanging in my wardrobe. I've featured the top in my most recent outfit post and the grey cardigan is patiently waiting for cooler weather.
I'm a sucker for the weird trends. The pajama-style has been steadily growing on people and I'm really happy about that. There's some pretty cute pajama blouses to be found in the high street shops, but this one from RI must be my favorite. My local store has it in stock, but I haven't had a chance to try it on yet and maybe that's a good thing (considering that I also have an endless wish list for several other fall collections…).
This post is a long way of saying that I am fully ready for the fall transition. The cooling temperatures mean I can finally cover up the milk bottles that are my legs, while still wearing my summer favorites (in new ways!). Have you guys shopped anything for fall yet? I'm curious to learn what trends you are looking to try!