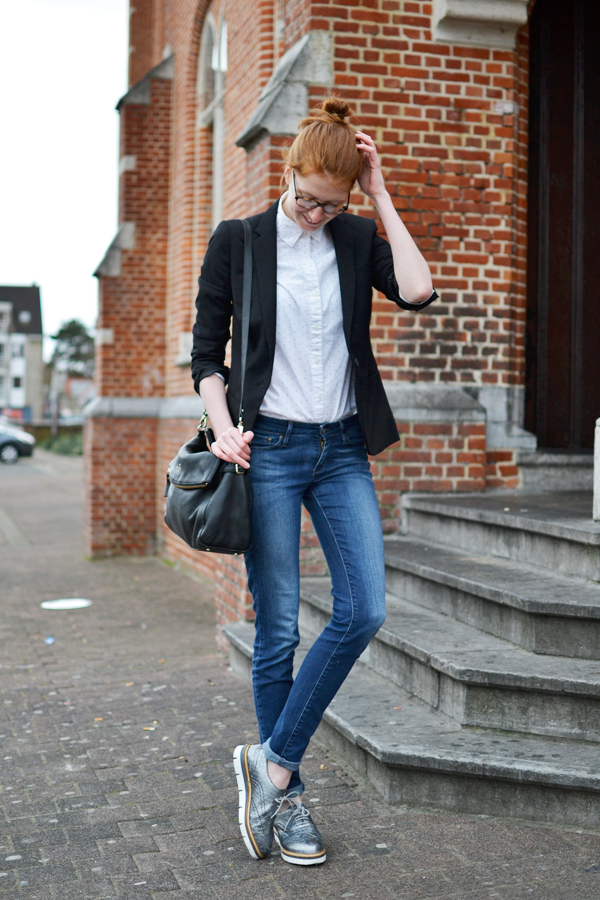 Howdy mates! K has been playing Irish shanty's all morning so please excuse me if I write like a pirate today. I should not have dug up Assassin's Creed during our Spring clean this weekend. After living together for little over half a year, we decided to go through every drawer and every closet to see which items we haven't used in all this time. We collected a lot of random bits to donate to our local second hand store.
The one space I love to tidy up the most is my closet. I know, not something you hear a lot of women say. This time I payed special attention to clearing out pieces that didn't fit me right and this shirt is one of them. I bought it in London years and years ago, but realized only when I got home that the sizing was off. The tag says UK 4, but it fits more like a size 10. I do really love it, even after all this time, so before I put it in my "closet sale" box, I wanted to make it appear on the blog one last time. Tucked into jeans and topped off with a blazer, you can't really tell that the shirt makes me look like a dwarf in a giant's clothes. With my shirt buttoned all the way up, glasses on my nose and dandy silver brogues on my feet I feel like this outfit was perfect for the coffee date K and I had after the shoot.
How was your Easter weekend? Thanks to daylight savings I stayed in bed until 10:30 on Sunday and then spent the day doing laundry and other exciting stuff. Because our families are on holiday or had to work we haven't had our Easter family brunches yet and thus no chocolate egg hunts either. We're meeting family next week to catch up.
Have a great week xo