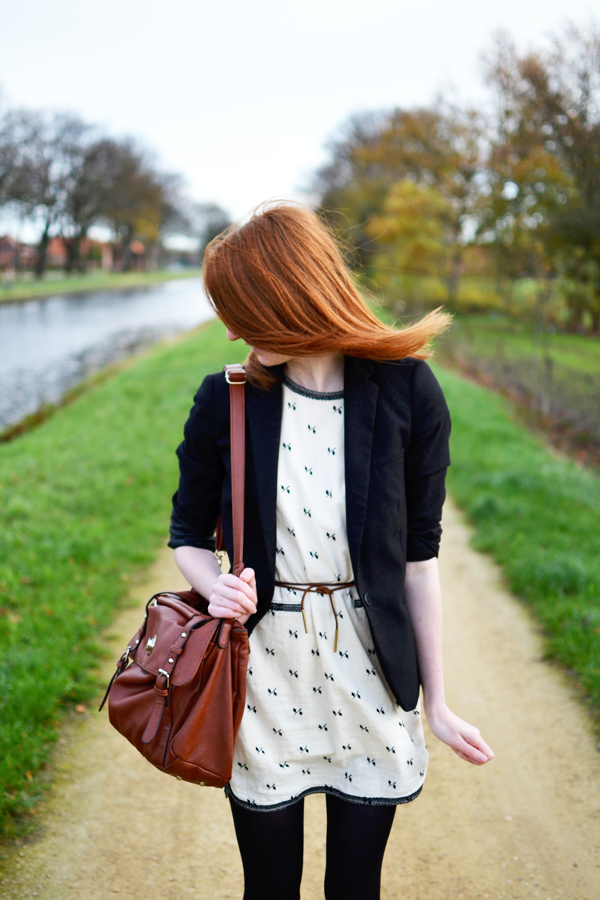 The fields are covered in an ice cold white dust. The heat in the bus is on. It came ten minutes late, by the way. My feet freeze as soon as they touch the Roosevelt stones. Maybe All Stars weren't the best choice this morning? I do not have a new winter coat and I've thrown out last years, so I'm covered in ten layers of sweaters. When I walk by my favorite coffee place I'm dying for a hot chocolate and warmth. I can't feel my feet by the time I'm in the library. Winter fell. It's so surreal to see the bare branches, feel the frost, see the first snow.
But before we dive into the Holidays, hot chocolate with whipped cream, snow walks, campfires and fireworks I have one last fall look to share. The dress is from Madewell and it's a little (or much?) too short, but for some reason I don't care so much. With opaque tights, tall boots and blazer the whole outfit stays modest I think. This blazer was never a favorite, but because the dress doesn't seem to work well with anything in my fall/winter wardrobe, I've been pairing the two together. Two negatives give a positive!
I don't really have much to say. My inspiration level currently stands at 0, because I'm quickly typing out this post between reading two papers for my thesis. That thing just won't ever finish. Grrrr. I have childcare policy and uptake of parental leave on my mind and should probably get back to it. I hope you guys had a splendid weekend, and I'll see you soon!