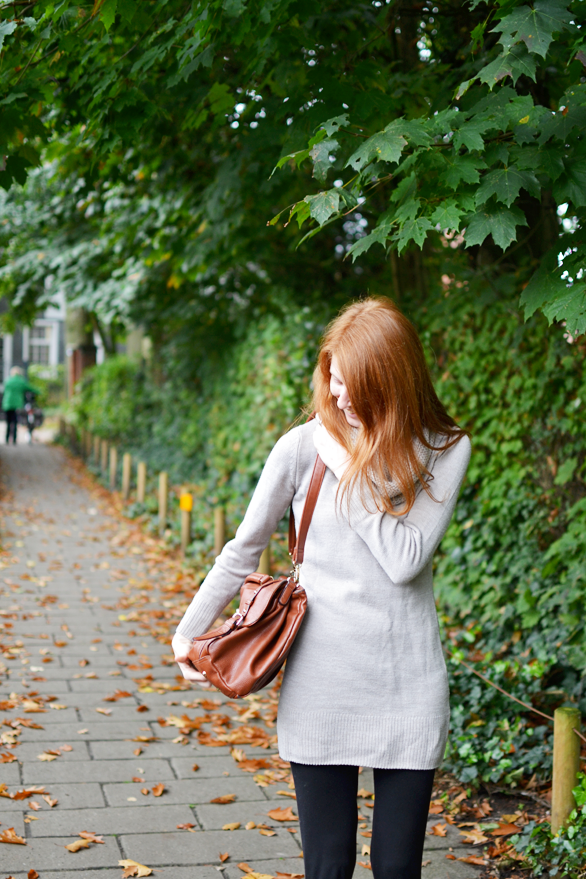 Alas, no new sweatpants and also not revealing what was in the Street One shopping bag I showed off on Instagram yesterday. Today, I have an outfit featuring fall favorites from the past.
The sweater was an impulse buy from H&M a couple of years ago. I already owned a grey one and really wanted another color. I regretted my purchase afterwards, but kept the sweater anyway and then made it disappear into the depths of my closet. Last year I went through all of my clothing and when I came across it and tried it on, I surprisingly really liked it. By now my grey one had been worn and washed so much that I didn't wear it out of the house anymore and this oatmeal colored sweater turned out the be a great replacement. Worn it loads last year and I've worn it a few times already this season too. Sometimes holding on to things turns out good!
The boots are the only pair I found and liked that fit my skinny calves. You've seen them on the blog a few times last winter (when I got them) and as these are the only pair of tall boots I have together with one black pair, you're going to see them a lot this year too. But they're pretty.
The handbag is a golden oldie that has also been a popular item on the blog around 2012-2013. I stopped using it when I got my Kate Spade for Christmas last year and then my Michael Kors in 2015. But since it has the same color as my boots, I have refound my love for it. And love is
essentiel
.
I have no excuse for the leggings as pants.
My friend J and I had a lovely breakfast date this morning and decided to do an impromptu shoot afterwards. The location of Mokkamour was so ideal! The small pathway leading to the place was covered in leaves and it just looked SO pretty. Too bad the thick white clouds cause the photos to be slightly overexposed and leave my face white as snow. BUT, I had to.
Now that the evening has come, K and I are going out to see The Martian. It's everywhere and I'm curious to see it, but really I like our date nights most for the time together and the McFlurry I almost always get afterwards. Which topping do you choose? I aaaaalways have Oreo. Always.
Also: today pretty much felt like a Saturday. Going back to uni is going to hurt tomorrow.