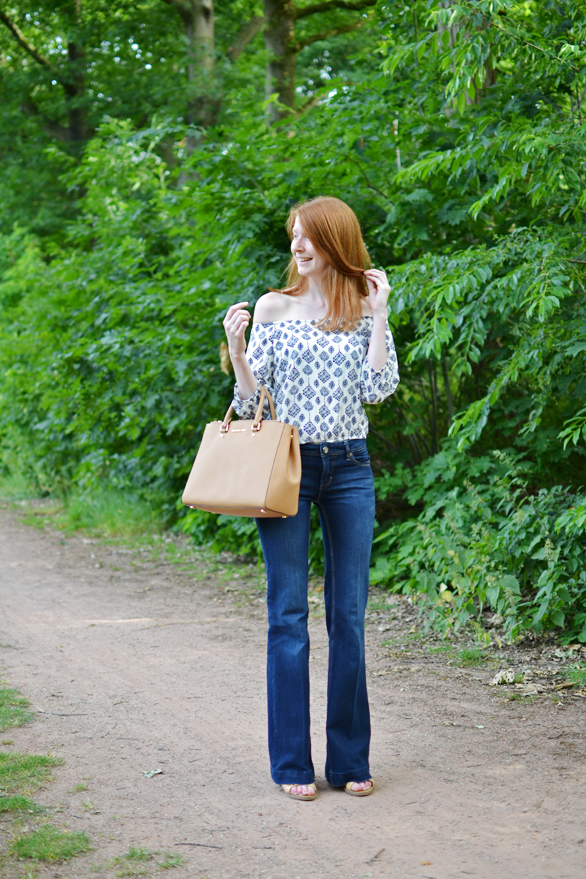 Being a kid from the early nineties, most of the current summer trends get the label "been there, done that". I might not be ready to give some things another go, but there are some revivals that I have grown to appreciate. Bardot necklines are one of those. They are definitely not everyone's cup of tea, but I fell in l-o-v-e when I saw this top in a haul video on YouTube (guilty pleasure!). When it went on sale a couple of weeks ago I clicked one right home to me! It took me a while to bring it to the blog due to bad weather, but I finally present you my new fave go-to look for a not-to-warm summer's day. The wide legged jeans are pretty old ones from Zara that have always worked well on my blog and my bag was a gift I received from my parents for Christmas. I love how the Michael Kors Sutton fits the seventies mood of this look. It makes it all just perfect. Not all of my friends love my off-shoulder top as much as I do and the occasional Aladdin joke has passed by, but my boyfriend really loves it and he's the only one I'll (sometimes) listen to when getting dressed.
Talking about my boyfriend, I have a big life update! We received the keys to our apartment today and will be moving in by the end of the week. Time went by so fast and we still have a lot of shopping to do before we can start living in there. Our couch, kitchen table and kitchen chairs will be delivered in late August, but we are going to pick up old furniture from family in the next couple of days. It's going to be a mismatch of things, but that's only temporary and that way we can also spread our costs over the next couple of months. Sooooo, I'm not sure I will be able to blog on Thursday, but I'll definitely be on Instagram and Twitter to keep you all posted.
I hope you all have a lovely weekend and will enjoy the amaaaaazing weather we're having this week. See you later!