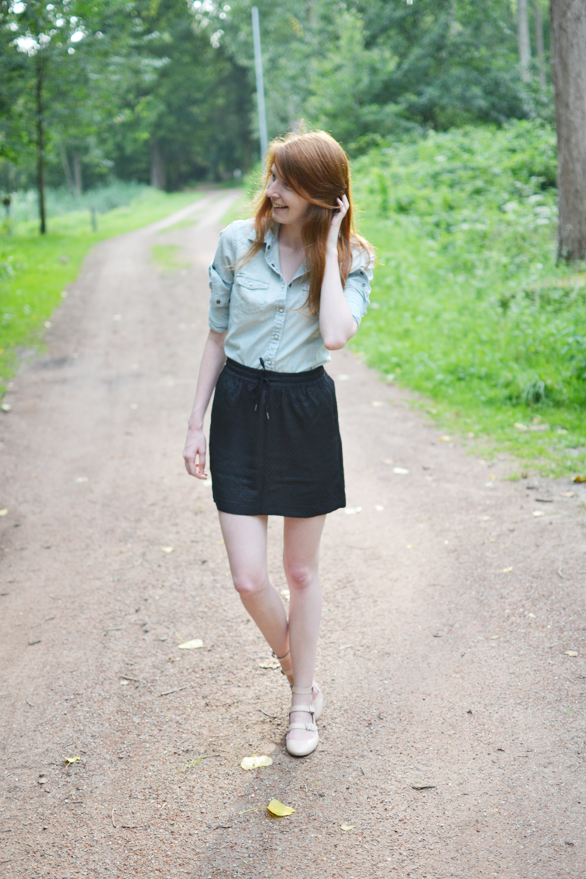 skirt: H&M • denim shirt: American Eagle • ballet flats: Jonak
What do you guys do when you come home after a successful shopping trip? I always run up the stairs and try on my newest wardrobe addition, open my closet and create as many outfits as I can. I prance around in front of the mirror like a ballerina and hope the neighbors don't see me. Because, you know, that would be a little bit awkward.
This fall I have to do with a €40 shopping budget. You read that right, €40 and not a cent more. I've had my fair share of complete shopping-bans (and like most this one too involves a city trip that needs financing), so €40 ain't that bad. However, those €40 are loaded on a H&M gift card and I haven't shopped at H&M in over a year. My mom also informed me the gift card was about to expire because she had it in her wallet for years. Now does it sound like a challenge? To H&M I went… .
I came, I saw, I conquered. This perfectly basic, textured black mini-skirt dangled in my hand in a shiny plastic bag while I made my way out of the store. I came home and I ran up the stairs to try on my new skirt and prance in front of the mirror. I used my boyfriend for a hanger as I mixed and matched outfits and wrote down combinations for when I have an off-day (really guys, do this!). My new skirt reached an easy 9 different looks that I can rock this summer and fall and that isn't bad for a H&M find. This is the first outfit I wanted to share, and I already have a second one photographed and ready to blog, so expect to see this skirt here again soon!
When I was walking the dogs earlier today, I ran into one of my neighbors on a local trail and he gave me a compliment on my dancing skills. #awkward.