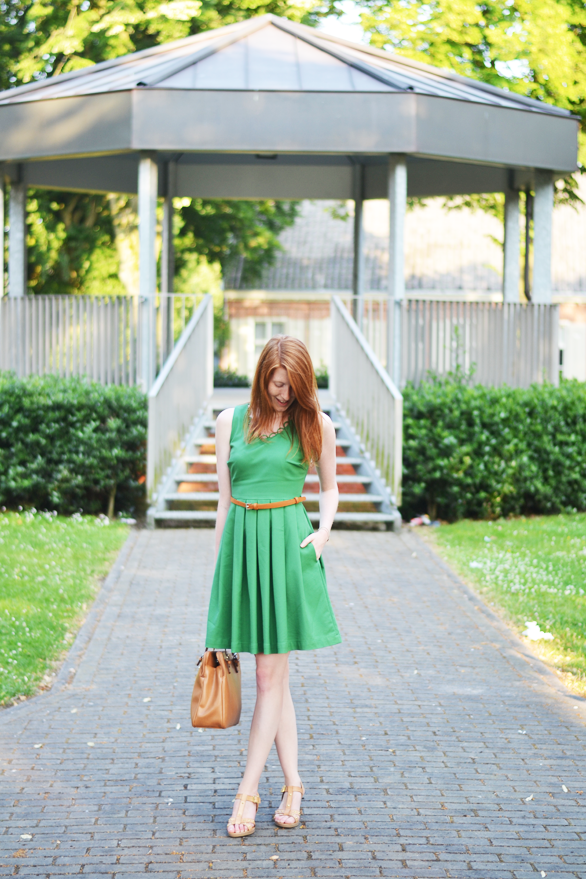 "To be or not to be, that is the question…" – Shakespeare in Hamlet
The rain is softly clattering on the glass roofing of our porch. Our Jack Russel is looking at my zooming laptop with confusion from across the room. It's the first time I ever sit here to write a blog post, but now that I'm here, I think I should do it more often. It has been raining since the beginning of the week, so I've locked myself inside and am working away a few projects around the house. We spent the last three days re-paining the last room on our to-paint list: my bedroom. I did this last paint job on my own and, if I may say so, I did a pretty good job! No stripes, no skew-y corners and no paint residue on the woodwork, hooray!
Being home alone and painting, with the doors closed and the windows wide open to let in the fresh rainy air, gave me a lot of time to think. And did it do me good. I had been feeling restless the past months. Something wasn't feeling right, but with school and all I didn't have much time to stop and think things over. These rainy days came as a blessing, and when I sat down on the ground, slowly painting my walls from bottom to top, the old gears in my head started turning to the beats of Bon Jovi and Roxette. I was processing things, and the main thing on my mind was my blog.
I've been worrying about The Ginger Diaries for a good year now. Proof of that is a desperate post in my drafts titled "To Pull The Plug". I have re-written and edited that post probably a thousand times by now, but I never found the courage to hit the publish button. And to tell the truth, I don't want to publish it. I might not be retiring my blog just yet, but I can also no longer deny that it's time to make a change. Because today and after six and a half years in the business I no longer take joy in blogging. It's a feeling that came gradually and grew stronger and stronger with every new blog post I published. I wasn't doing something that I loved anymore.
The blogging world has changed a lot over the course of the last six years. When I first started keeping an online journal blogs were simply blogs, but like everything with the internet they evolved into so much more. Some of us got picked up by PR, and grew their web spaces into careers. With the media presence of bloggers growing, so did the population. Suddenly, everyone had a blog and we all wanted a piece of the cake. At the same moment, the feeling that The Ginger Diaries had fulfilled its purpose (help me build a more colorful wardrobe) grew and being lost without goals to direct me, I blindly started following the examples of others.
I began doing what every other blogger was doing: trying to establish connections with PR, trying to get invited to events, trying to grow my blog into something more. But my trial was followed by error. And the more I tried, the more errors followed. I felt like a small fish, trying hard to swim against the current of negative feelings and rejection by others. After struggling like that for a few years, I was left without energy, drifting away into the very deep ocean of life & style blogs. I lost myself.
In February, I finally hit a wall. I started to question what I was doing. Do I really want all these things I'm chasing? Am I still writing with passion? Am I still happy? The answer to all these questions is no. No I am not. I realized was doing it all wrong.
I don't have the right skills to pitch myself. I do not stand out to PR. I do not know how to market a blog. I don't know how to use social media for self-promotion. And that's okay. Because my heart lies with people and friendship, not with business and monetizing. The Ginger Diaries (and Go Home My Dear and Chronicles Of A Ginger Girl before that) was always my happy place. This blog is something light and fun that takes my mind off things and that connects me to people all around the world on a lonely evening. It is possibly the biggest internet-cliche ever, but I've met so many amazing people through blogging. Some of you are long gone, but some you are still here for me everyday. And that is what makes blogging worth it for me.
I don't want to pull the plug out of this blog, but I want to change my attitude towards it. Like I've said, my blog is something light and fun. I don't want to take it too serious. It doesn't have to be the best blog in Belgium. It has to be the best I can make it, and that's what I hope to share with you in the future. I'm going to go with the flow, not swim against the current, and do what I do best: write too much and share about my daily life, travels and wardrobe. Hopefully everything will fall into place soon, and I can turn The Ginger Diaries into a blog I'd love to write again.
Thank you for reading.
I'll shut up now.