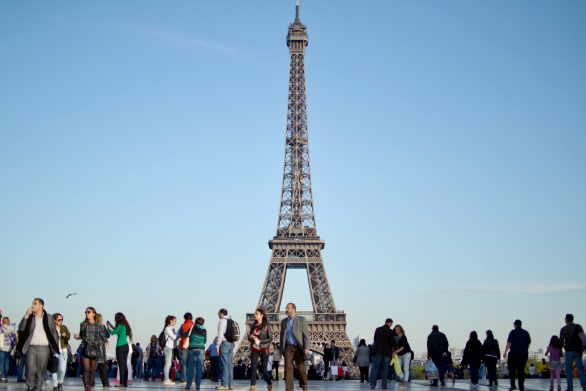 We celebrated in Paris this weekend!
Last week, a few good friends and I went to a cocktail bar for a last good night out before our exam stress sets in. You probably known them: that group of young teenage boys occupying more seats than there are group members, while other people in the venue are standing. They were teasing a group of young girls when I tried my own luck getting a chair. Their reaction made me feel a little unsure about myself. One of them immediately jumped up, apologised and handed me an empty chair while saying "here you go madam". Madam!? 22 is only… 6 years older then they were. Oh boy!
Today I celebrate my 22nd birthday. The "horrorscope" in a magazine predicted I'd be kissing 10 people today, but I can assure you that my friends made sure I went well over that number, haha. Veronique brought a mini-cherry pie to class and Joke gave me Mentos candy. After class we went for coffee, and I ran into two fellow bloggers at our lunch spot. K took me out for Nando's en frozen yoghurt and now we're being lazy on the couch watching a random gardening program. It was a good day, despite the rain that forced me to switch from my birthday dress into jeans.
Last year on my birthday I wrote about the wishes I had for my 22nd year on this planet. I personally love reading retrospective posts and see how people go about their goals, so I though it would be fun to write about my own year today. Let's see how I did!
"For the next year I mostly hope to graduate from college and decide what I want to study for my Masters. I hope to travel even more, maybe to northern Italy, southern Spain or Scotland but preferably to all. I am still doubting whether I should go to Canterbury or not and I really, really should get back into blogging. Like… really."
I'm pretty proud to look back today and say that almost everything I wished for has happened! I graduated from college as a social worker in June, and a few days before that big event I finally made a decision about my Masters. In September I started my study in Sociology at the University of Antwerp. The new environment and moving into a small studio in the city, caused me some stress at first, but everything has fallen into place by the start of October. Northern Italy was visited in July, with stops in Bologna, Venice and Florence. The South of Spain became Portugal, when we visited Lisbon in February of this year. After lots of doubting, I nervously boarded a bus to Canterbury in August for my first solo day trip and spent so much money shopping, that I had to go on a shop-stop months later. The only thing that I haven't accomplished is a better blogging routine. For the past year, I've been blogging with ups and downs, taking a break in March and seeing my schedule fail multiple times. I really want to work on this during my summer break, but I am completely indecisive about how I'll actually do this. I'll see where I land my feet, and when.
Today I don't really have much wishes and prospects. I hope to successfully take my exams in June, and spent a few weekends in my parents' new vacationing spot in The Netherlands during my summer break. A low key and relaxed year, where school takes a central place but with enough me-time to stay sane, that's what I wish for.
I hope you guys had a splendid day too, and wish you all a happy weekend!