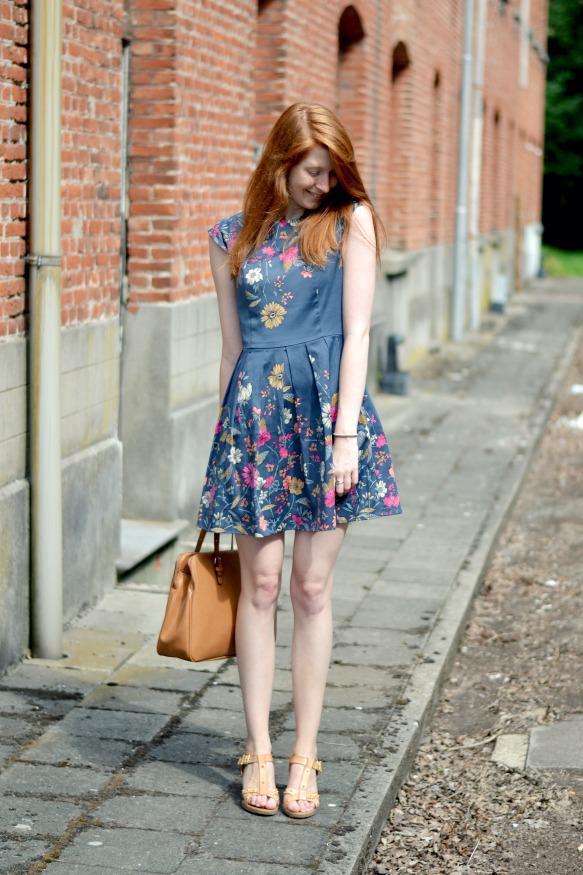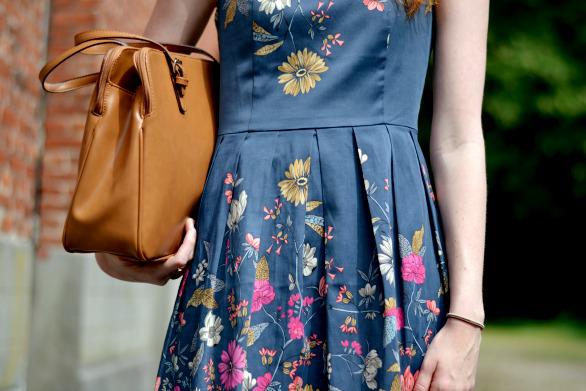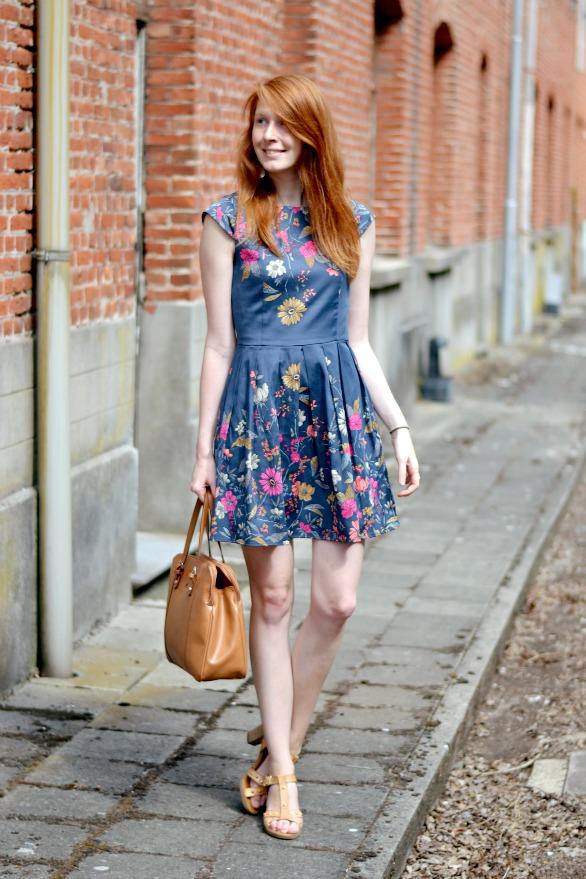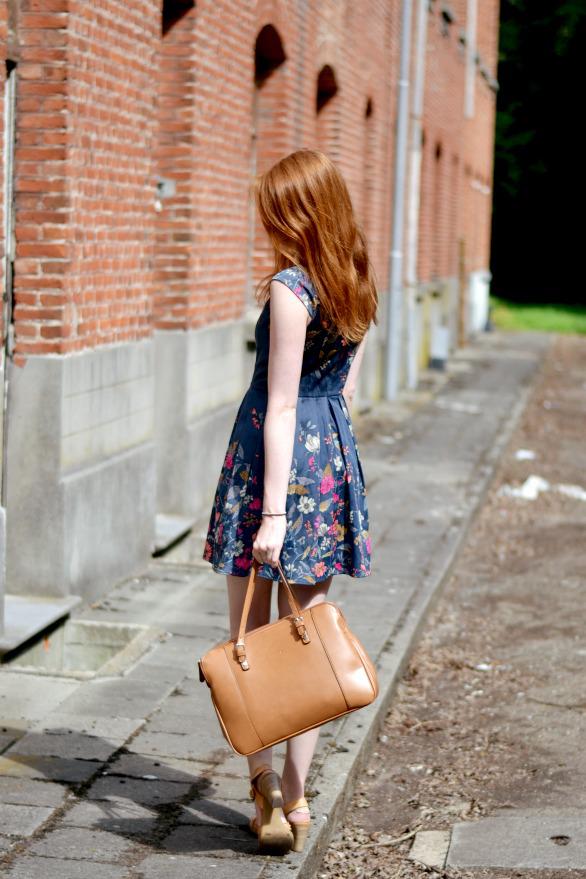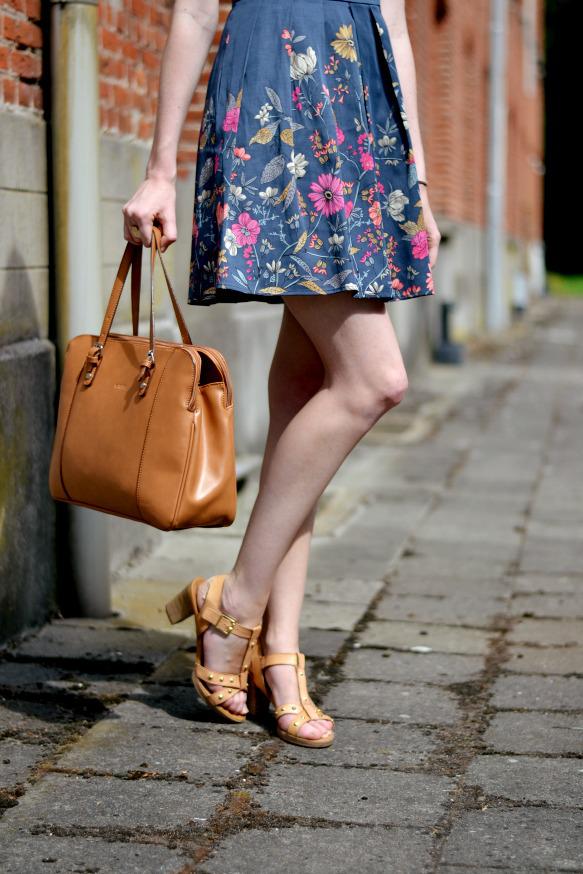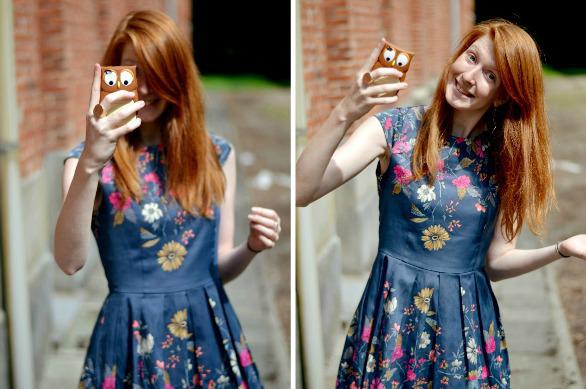 Pepe jeans Dress • Carpisa bag • Oasis earring • Louche ring • Christian Di Riccio sandals
It's raining outside. There's a rainbow even. Wait, I should get an Instagram picture of it, because my feed has been rather dead the past week. Rain has been coming down with buckets lately. Last Friday I attended
Antwerp Fashion Festival
, where my friends and I were treated to make-up and hair styling services, a heavenly glass of Bordeaux wine, late-night shopping and a not-so-welcome shower
courtesy of
our lovely weather gods. I was absolutely soaked, and for the first time this year I pulled out my flannel PJs and steamed a glass of milk and honey to help me fall asleep. It didn't help me much. I feel like
I have caught a minor cold here and am doing nothing but coughing and sneezing.
So the AFF. It all started with a visit to the beauty lounge in
Berlin
, a restaurant I had been dying to visit, as it's featured in so many of those foody gift boxes everyone gifts each other, but somehow we never went. All bloggers gathered there to start our AFF 2013 adventure (
Paris & London
,
Renée
,
Maya
,
Eline
,
Amélie
,
Anouk
,
Naomi
and
Sven
– For Your Information ) and socialized over a glass of wine. When the clock struck five,
An-Katrien and Ellen
gathered us to start a real Antwerp Fashion Festival guided tour lead by the organisational talent behind it all: Elise. The rain couldn't spoil our fun while we walked by the press bar, the Blogger Closet Sale, The fashion walk of fame and the Jutka & Riska vintage store. After the tour Eline and I teamed up to tackle some of the shops, while others went to exclusive side-events. Eline found a few treasures and I was a good girl and did not spend a dime. London cost me a small fortune and my bank account will need to recuperate for the rest of the year. Oops. We had a quick bite to eat before we went back to the group for the Pinko late-night opening event, where we were joined by even more fabulous people – oh hey,
Inge
,
Inez
and
Charlotte
! I had an absolute blast. I met so many incredible people and it was super fun to finally see some of you guys in real life. I hope we can all meet up again real soon… and that I don't lose my SC card again when we do.
I was going to talk about my outfit too, but this blog post is probably already way to long. I graduated in late June, but only now found the time to recreate my outfit of the night and share it on the blog. This will also probably be the last outfit with bare legs for this year. Bring it on fall!