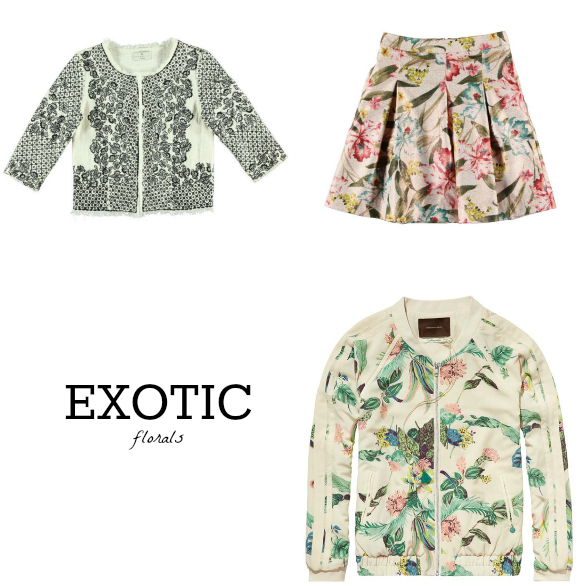 When the spring-summer pack shots from Scotch & Soda came into the mail in January, I fell in love with the silk bomber jacket from above. I've known about Scotch & Soda for a couple of years, but only recently grew interested in their collections. They were always above my price range, but after going on a high street diet in September I've found my way into their store on the Lombardvest a few times already. Another favorite of mine is the Essentiel jacket. I've already tried it on in a store and that was a big mistake. I can't get it out of my head! On the website, the model is wearing it with a bright yellow neoprene skirt, another piece that I absolutely love!  
Silk bomberjacket Scotch & Soda (€129) • Black and white print jacket Essentiel (€235) • A-line floral print skirt Essentiel (€165)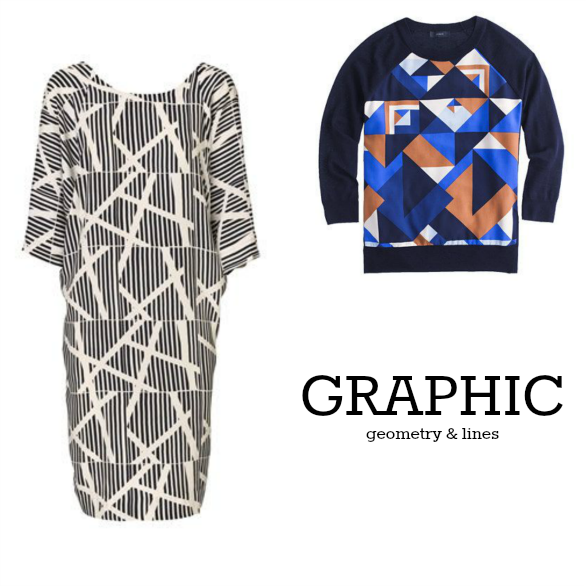 That I frequently visit the J.Crew website to do some window shopping is not a secret and most definitely not to my Pinterest followers. I've been pinning what is probably their entire look book for years now! When their new collection hit stores I faced a big dilemma: would I buy the antique floral silk-panel sweater or go with the cubist print featured above? As you can tell from my last outfit post, I went for the floral print, but this sweater keeps coming back to me. Last week I also set foot into the By Malene Birger store in Antwerp for the first time and was awed by the Spring collection. No matter how long I'll continue my high street diet, it's probably safest that I do not enter this store again for as long as I'm a student with a tight budget.
Printed silk dress By Malene Birger (€359) • Merino silk-panel sweater J.Crew (€112.46)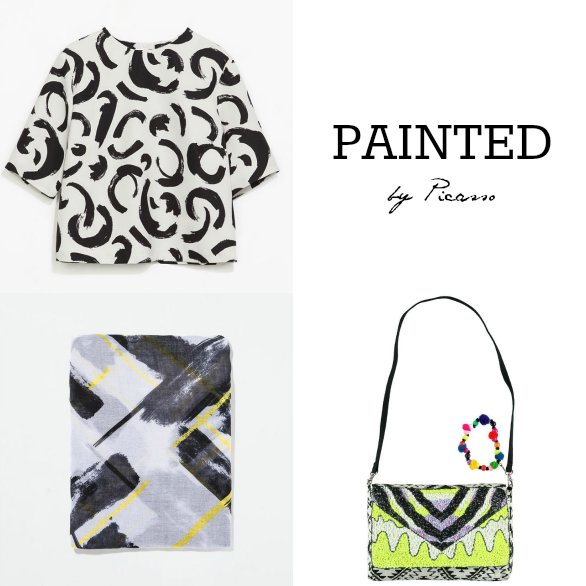 I went into a Zara for the first time in months and noticed a huge amount of brushstroke print items. From dresses to scarves, if you like this print as much as I do: Zara is the place to be! Unfortunately I scratched Zara from my shopping diet and didn't allow myself to shop while I was there. I would have loved to take the scarf home with me! After a bit of searching I spotted the trend at Essentiel too, be it mostly in their accessories. Gimme!  
Printed top Zara (€39.95) • Brushstroke print scarf Zara (€19.95) • beaded shoulderbag Essentiel (€95)