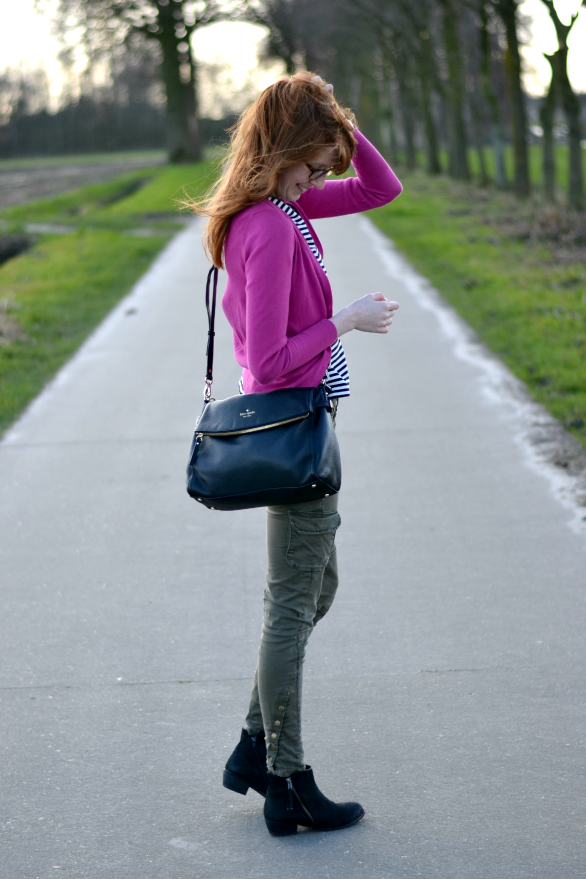 top: Massimo Dutti • cardigan: Zara • pants: Zara • booties: via Spartoo.be • cross body bag: Kate Spade • Glasses: Kinto
If we would be real life friends, and you'd rummage through my wardrobe like many of my girlfriends do, you'll notice I have a seemingly endless collection of simple Zara cardigans. I have them in every basic color, from black to white, and one in a striking hot pink. One day in late January, I remembered I still had a few euros left in my PayPal account after buying two Christmas presents on Etsy earlier. Zara was having their famous after-sale and these cardigans were going for a mere €6 a piece. I was feeling brave that day, very brave and bought the pink one I'm wearing in the photos, instead of my usual suspects black or navy. I wore it twice (the first time and the second time) before it disappeared into the depths of my wardrobe (being the bottom of my colored cardigan pile) to be forgotten and unworn.
Sales are always hit or miss with me. It's big love between me and my purple French Connection dress and the Massimo Dutti olive-colored dress from my last post, but other items remained unloved for long stretches of time. When the PR team behind Solden.be reached out to me and wanted to work on a post about sale shopping, I opened my closet doors and went through each pile, trying to remember what was bought with a coupon or on sale. Somehow while throwing things over my shoulder like a wild teen trying to decide what to wear to tonights party, this cardigan, striped top and pink cardigan landed on the floor in each others proximity. Ta-dam: an outfit was born. With the cargo pants being a big favorite of mine (long time readers might remember it from 99% of last Springs outfits) and the misfitted cardigan this outfit was perfect for my February outfit series. My boyfriend didn't like the look so much, and maybe he was right when he said it would've worked better with a pair of blue jeans. But hey, these cargo pants are awesome and if I want to wear them, I'm wearing them.
Those who I've made curious about Solden.be, can check out their website or brand new blog Daily Solden. The principle behind the website is easy: if you live in Belgium and enjoy online shopping, you must always check the website for coupon – and sale codes, before you check-out. I've made it my routine, and I hope you do too!