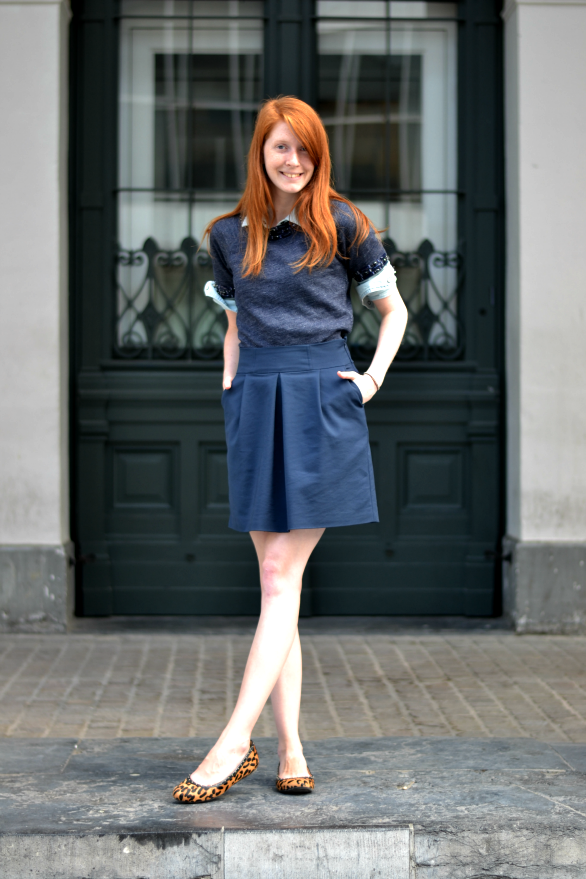 sweater: J.Crew • denim shirt: American Eagle Outfitters • skirt: Ichi via Zalando • flats: Anne Klein
You were not intended to see these photos. Ever. Never ever. But exams tend to mess with people's schedules and all my photographers are either in Leuven or Antwerp, putting their best foot forward and nailing those inhumane questionnaires. And I'm at home. Trying to memorize 400 PowerPoint-slides full terminology that I strongly suspect my professor invented on scene. Due to the circumstances I had to dive into my image archives and pull out a series of photos I previously had stamped "not fit for the blog".
These photos were taken on the stairs of the Munt, in Brussels, when we visited in September. I loved the outfit, but the pictures just didn't feel right. So I made them disappear and hoped the boyfriend would never ask where they had gone. There sunlight was harsh, and kids started playing on the stairs mid-shoot and unknowingly photo-bombed about 99% of the photos, haha. I was left with these two, and tried to make them work. I'm still a bit insecure about them, but hey, I can't fail on my resolutions so soon in the year right?
I hope you had a lovely weekend? Mine was spend (once more) behind a desk, studying for tomorrows exam. After tomorrow, there's only one more to go and afterwards I can finally focus again on the things I love to do. My social life is a mess, my Instagram feed nearly dead and bloglovin' says I have more than a thousand posts waiting to be read. And that my friends, is what I'll be doing that whole first week of February.
Have a great week everyone!