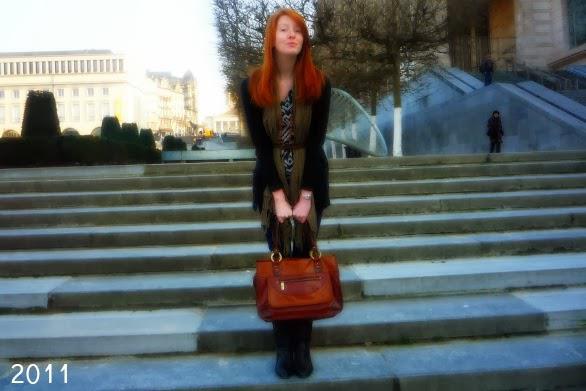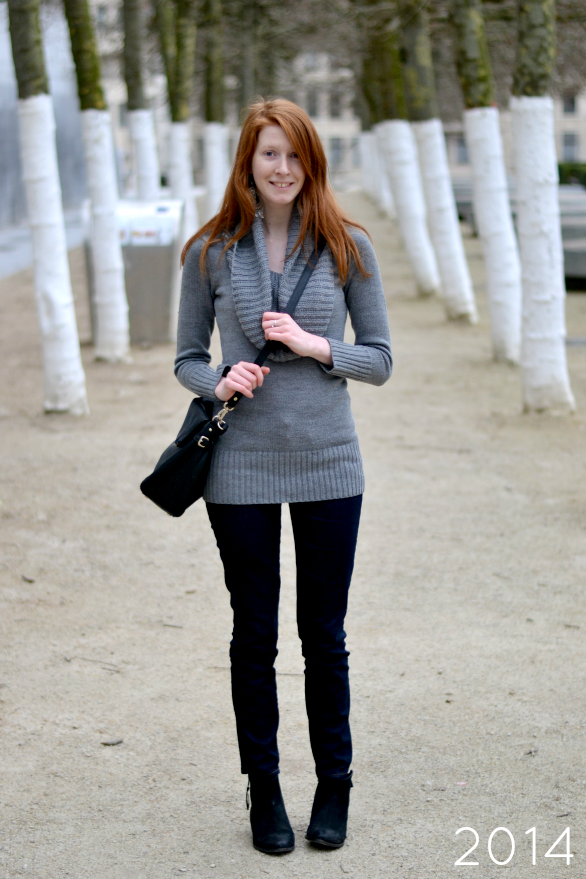 The first outfit photo back in 2011, and the last one in 2014. Both are, coincidentally, taken at the Warandeberg in Brussels. The 2014 photos are to appear on the blog next week! 🙂
Six years ago the online platform I used for blogging decided to stop before the new year, and that decision forced me to move my space on the web to Blogger. You might remember how you first felt after leaving MySpace and moving to Facebook? Or after every update Facebook has done since (hello Timeline!)? That feeling is exactly the feeling I had about Blogger. It was new, it was strange and it was un-understandable. I quickly found my way back to a Dutch micro-website builder and didn't look back. My blog, Chronicles Of A Ginger Girl, lingered around the internet for a while, gaining dust while I tried hard to find a new spark and the motivation to kick it back to life.
On New Years Eve 2011 I made the resolution to do something creative again, after quitting art school two years earlier. I always loved to write, but never finished my stories. The idea of writing a short few paragraphs everyday appealed to me, and it was also a great way to train my English and communicate with people all over the world. I had seen an article about fashion blogging not too long before and knew that it was going to be my subject too. On the second of January 2011, I changed the name of my blog, gave it a new look and launched a first blog post on the internet. I also deleted my old archives, A move I deeply regret today.
We're three years later today and still online and well. I know I sometimes lost my goals out of sight, didn't always make the right outfit choices, wrote a few too personal things here and there and have neglected parts of my blog that deserve much more attention. So I think it's time for some new resolutions. A new wind to blow through this blog in the new year. These are my very un-SMART-ly formulated ways to make it happen:
Two post a week, every week.
Update my Belgian page with more recent visits and my favorite addresses
Write about daily life a little more
Write about my favorite songs
Share more of my photography without being afraid what readers might think of it
Schedule shoots and posts for Holidays, special occasions and birthdays
I still need to write a studio tour too…
Here's to a happy new year!
Cheers, mates!