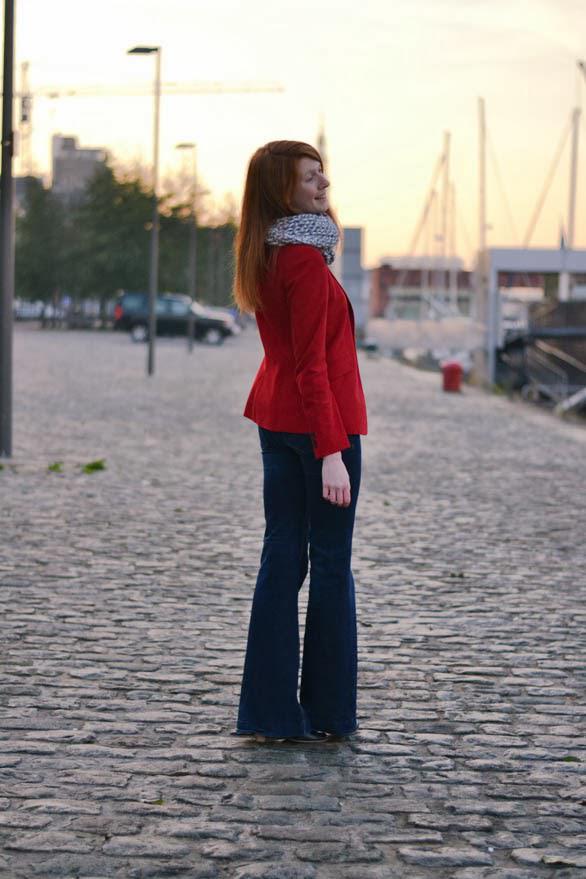 Blazer: Massimo Dutti • Jeans: Zara • Top: J.Crew • Shoes: Cypres • Scarf: handmade gift
It's 22:50 pm and I just did my dishes. I know, but the idea of playing the most annoying Facebook game of the year (also known as Candy Crush Saga), suddenly became very interesting when I looked at the table full of dishes waiting to be done. And who knew I could make it to level 29 with only 5 lives? Right now I really just want to go to sleep, but the boyfriend went out to a party while I worked on an assignment (I prefer homework over doing the dishes) and I am kind of hoping he stops by on his way home for a goodnight kiss. I think my hope is in vain though. Kid's not been answering his phone since the afternoon, haha.
We're both studying in Antwerp this year, but we decided to each have our own studio and not live together. He's only two blocks away though, and his best friends actually reside in the dorm house three doors down from mine so we are seeing each other everyday. It's kind of weird to see him so much. Back when I was working on my Bachelors degree, I was studying in a different city and we only saw each other on the weekends and during school breaks. This year we've been sitting on his couch watching Lost almost everyday of the week! He also makes me lattes. Lots of them. We have lunch together in the cafeteria, and when I forget my coat at his place he brings it after me. I sometimes run into him unexpectedly on campus (SO weird!) and steal a kiss. He cooks and goes grocery shopping most of the time. And we have more opportunities to take outfit photos for the blog. See, only good things!
We're a good team for doing the dishes too. He does the dishes and I dry them off and put them away again. If there's one thing I hate about cleaning it's putting my hands in the dirty water. Especially in the end, when you have to pull out the stop. No way. Nu-uh. I know it's only food and it's not a big deal, but hey, if the boy wants to do it the girl ain't complaining. He's my main man, and I if we one day decide to move in together we have already one chore less to argue about.
Or we could buy a dishwasher.

I'm sorry about the quality of these photos. We're not entirely adjusted to the winter hours yet and didn't realize that 4pm is already too late to take photos. Oops.