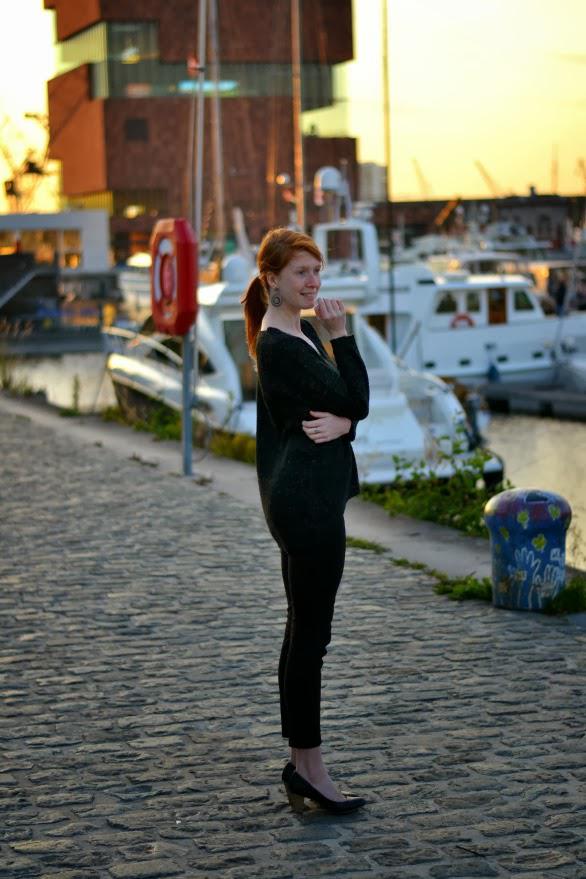 Ichi sweater • Uniqlo leggings • Cypres heels • Twice as Nice earrings
My landlord just left the building and our water is back on. Yesterday around four, I heard water running through my wall. At first I didn't think much of it, as I knew that the pipes of the studios above and next to me are running through that very wall. But when I could still hear it as I lay in bed later that night, I was starting to worry a bit. Was it a leak? No one showers randomly at 2AM, right? The next morning the water was still leaking, and when I arrived back after lunch I called my landlord for advice. He demanded I closed off the water for the afternoon in hopes to minimize any possible further damage. My housemates were not very pleased with that decision, but it needed to be done. My landlord lives outside the city, yet he stood at my door a few minutes later with a toolkit and a smile. There was a leak, but not a big one so no real damage was done. Or maybe just a little. The leak was in the wall right behind my bed, and hearing the constant stream of water behind my head kept me awake all night. Needless to say I am in a bad mood today, and the fact that I just had to pay for my schoolbooks surely doesn't do my mood much good. There goes the plan to buy new shoes!
Yesterday the boyfriend and I went for a late-evening walk. The sun is almost completely gone by 6 these days, so maybe it wasn't such a good idea to snap my outfit of the day. There also seems to be something up with Bloggers image controller because the photos in my last few posts are very grainy and seem to lose a bit of color. Has anyone else had that happen? Anyway. I bought my first real jumper in a few years last week! I work in the a clothing department of a larger store, yet this oversized jumper from Ichi is only the third item I've bought there in four years. I like to believe that I have incredible self-control and that my low spending has nothing to do with the average price of a dress being around $100. This sweater immediately caught my eye when I got to unpack the new fall collection in early summer. I waited and waited, and now that the temps had finally cooled off, I allowed myself this simple pleasure. It's a mix of black and silver wool, has a long back which i LOVE and the open neckline is not too revealing. Just perfect!